17 Legit Ways to Sell Amazon Gift Cards for Cash [2023 Update]
Many or all of the products featured on this page are from our sponsors who compensate us. This may influence which products we write about and where and how the product appears on a page. However, this does not influence our evaluations. Our opinions are our own. Here is a list of our partners and here is how we make money.
---
The information provided on this page is for educational purposes only. The Modest Wallet is a financial publisher that does not offer any personal financial advice or advocate the purchase or sale of any security or investment for any specific individual.
Do you have an Amazon gift card sitting around and need to make some cash quickly? There are quite a few legit ways to sell your Amazon gift cards in exchange for cash.
According to a recent study, Approximately $3 billion worth of gift cards go unused every year in the United States alone. So, why let your Amazon gift cards go to waste when you can sell them for cash?
With so many different categories of items able to be purchased on Amazon, there should be plenty of buyers interested in purchasing your unused or partially used Amazon gift cards. It's not as hard as you might think and, done the right way, you can even make additional profit off the transaction.
---
Best Ways To Sell Amazon Gift Cards for Cash
There are many ways to make some money selling Amazon gift cards, all you need is to find the best ways to maximize your earnings. We've listed a few ways and companies where you can sell your cards today. Make sure you check out our guide on how and where to get free Amazon gift cards as well.
1. Raise
Raise is a site dedicated to buying and selling unwanted gift cards, so it makes sense that this would be one of the first places you'd look if want to make money fast.
It's free to list your gift card on the site, and you get to set the selling price. However, once your card sells 15% is deducted from the selling price. You can then choose to receive your remaining funds via direct deposit, PayPal, or check.
At this time, Raise is only accepting Amazon gift cards from select sellers. So you'll need to check if Raise is open to accepting your cards when you're ready to sell.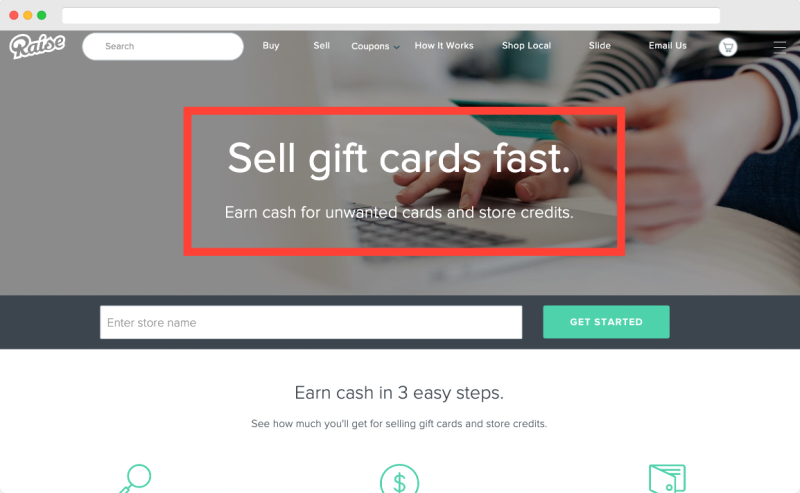 See Also: 22 Best Places To Sell Your iPhone For Cash
2. BuyBackWorld
When you sell an Amazon gift card to BuyBackWorld you don't have to wait for someone to buy your card to get paid. Once you enter your card balance, BuyBackWorld will immediately calculate an instant cash quote for you.
When I tried selling a $50 Amazon gift card, I was offered $34.25 for it by BuyBackWorld. Instant cash quote amounts are guaranteed for up to 30 days. BuyBackWorld provides prepaid shipping labels for shipping gift cards to them. They issue cash payments within two business days of verifying the amount on the card. The other cool thing about BuyBackWorld is that you can also sell your old electronics for cash.
3. Gift Card Granny
Gift Card Granny requires you to list your gift card for sale on eBay first. They will then find your listing automatically on eBay and list your card for sale on Gift Card Granny.
There are several requirements for your eBay listing, including creating a proper title, a listing that is less than 10 days old, and making the "buy it now" price less than the face value of the gift card. Gift Card Granny suggests that a seven-day auction that is initially listed on Sunday evening is an ideal scenario.
4. Gameflip
Gameflip is a buy-and-sell marketplace – mostly used by gamers – that also allows you to sell unwanted Amazon gift cards. You can access Gameflip through their website or mobile app. Gameflips accepts unused, prepaid, and non-reloadable gift cards for listings on their site.
They suggest setting your price between 2% and 15% off the original amount, although you may need to adjust the asking price to attract buyers. Once the buyer receives your gift card and completes the transaction, sales are immediately deposited into your Gameflip wallet. You can then withdraw your cash at any time.
See Also: 21 Sites Like Craigslist to Buy or Sell Used Stuff
5. Gift Cardio
Gift Cardio is a site that is constantly searching the web for discounted gift cards for people to buy, as well as finding the best websites on which to list your Amazon gift cards for sale. One very useful feature Gift Cardio has is that it shows you what percentage of the card value an Amazon gift card usually sells. At the time of writing, that amount is 96.1% of the total value.
When I entered a $50 Amazon gift card for sale, Gift Cardio suggested that I sell the card on either Raise or eBay and that I should be able to make between $42 and $43. Gift Cardio suggests that eBay should be a last resort since I'd have to take care of shipping the gift card to the buyer.
6. Gift Card Outlets
Gift Card Outlets allow you to make an offer for your unwanted Amazon gift card. You fill out a quick form, pick your price to sell for, and then submit it to Gift Card Outlets. Within 24 hours, you will either receive acceptance of your offer or a counteroffer from Gift Card Outlets that you can accept or decline.
Once a deal is made, you'll have to upload your ID and credit card details within 24 hours. Then you can either enter your gift card details electronically or mail them in. Once it is received by Gift Card Outlets, they will verify the amount and process your payment.
7. Reddit
If you are a regular user of Reddit, then selling your Amazon gift card on the popular gift card trading subreddit /r/giftcardexchange is a good option. Typically potential buyers will be more trusting of your offer if your profile shows that you're an active Reddit user. There are rules on this subreddit regarding your minimum activity on Reddit before you'll be allowed to sell.
To avoid getting scammed, this subreddit suggests only making the transaction on your desktop (not mobile) and installing a Universal Scammer List extension for your browser that will label Reddit users who are known scammers. You'll get to set your price for selling your gift card or you can check the posts of people who are looking to buy specific cards.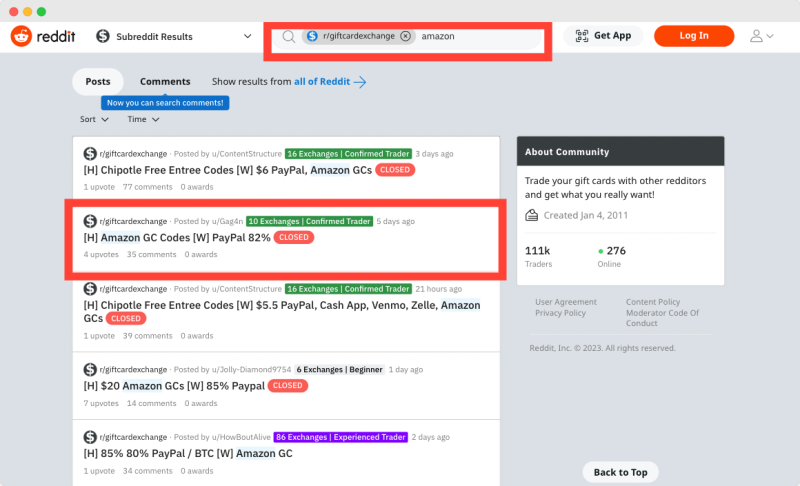 See Also: 18 Best Places to Sell Used Furniture for Cash 'Online & Locally'
8. Craigslist
Craigslist is a popular site to buy or sell almost any item locally, so it only makes sense that Amazon gift cards can be sold here too. You'll want to list your card for sale in the general category on Craigslist.
People can be wary of gift card scams on Craigslist, so you'll want to do what you can to help ease the mind of your potential card buyers. You can do this by meeting in a highly public place and verifying the amount of your gift card in front of them by pulling up the balance on your phone or calling Amazon customer service.
9. Facebook
Now that Facebook offers Facebook Marketplace, it has become another go-to site that many people use when buying or selling unwanted items from their homes. With Facebook Marketplace, you'll have the option to restrict your sale to only local areas, and in this case, you'd want to follow similar safety procedures to the ones described for Craigslist. You can also offer your gift card up for sale nationally if you don't mind shipping it, however, this may be a harder sale due to the additional difficulty to verify the amount for your buyer.
10. eBay
Selling your Amazon gift card on eBay can be an attractive option because it is one of the few places where you have the potential to make more money than the value of your gift card, however, it doesn't come without risks. International buyers will be interested in buying "cheap" Amazon gift cards in US dollars due to the gift card exchange rates, which are advantageous to them.
By selling your gift cards for more than their value, you have the opportunity to recoup your eBay's seller fees which are 10% of the sale price, plus shipping fees. However, eBay does have fewer policies to protect gift card sellers in place, so you've got to be smart. Never email the gift card number to a buyer. You must ship the physical gift card to be eligible to sell it on eBay.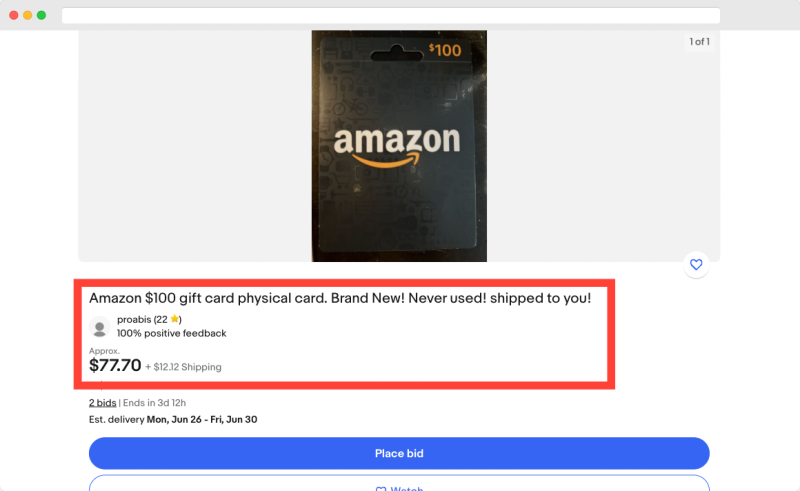 See Also: 15 Best Places to Sell a Wedding Dress Online and Locally
11. Sell Back to Amazon
Amazon is known for its amazing customer service and trying to keep its customers happy, so it's worth it to see if you can sell your unused Amazon gift card back to Amazon. You can easily connect with an Amazon representative through their chat feature. The worst that could happen is you lose a few minutes of your time and they say no, but it's a worthwhile try due to the ease of receiving your money if they do say yes.
12. Sell to Family & Friends
Amazon offers such a variety of products for sale, that it's likely that one of your friends or family members is planning to make a purchase from Amazon soon. Since you already have a relationship, it's also likely that they would be willing to help you out by buying your gift card.
You can offer them a slight discount on the card's value to make it more enticing, or they may be kind enough to buy it from you at face value. The nice thing about this type of transaction is that you already trust your buyer, and there are no additional fees involved with the sale.
13. Flip Amazon Items
This option takes a few additional transactions on your part, but if you know that certain items are easy to sell in your area, you can buy an item on Amazon using your gift card and then sell that item for cash. It's best if you can buy an item that is offered at a sale price.
You'll need a reason for someone to buy your item off of you versus going to Amazon themselves, so your ability to offer it at a cheaper price or a quicker purchase process are two things you have going for you.
14. Purse.io
If you're looking to build up your bitcoin holdings, Purse provides an easy way to exchange your Amazon gift card balance for Bitcoin. It is a slightly more complicated process, however, because to receive the Bitcoin payment, you'll need to purchase the merchandise for other Purse users on Amazon. Once that merchandise arrives and the shopper confirms the order on Purse, then the Bitcoin will be released to you from escrow.
If you want to use Purse in this way, search the current "Earn" offers on Purse. This is a list of wish-list items you can purchase on Amazon in exchange for a specific amount of Bitcoin, which is listed along with the offer.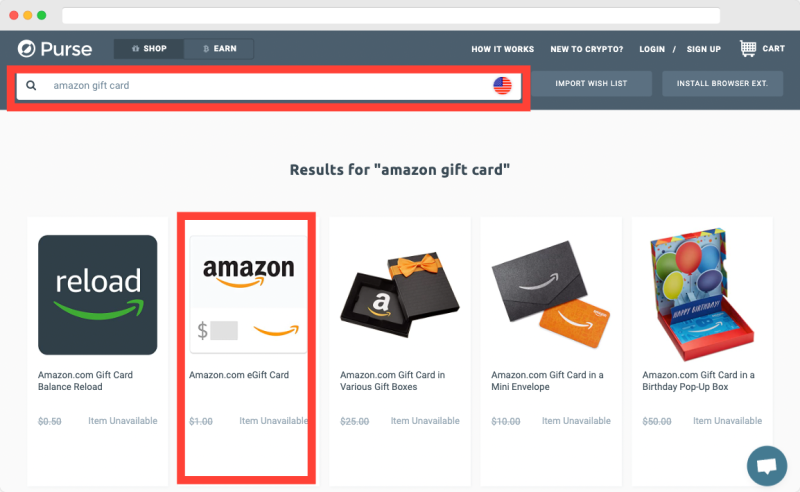 See Also: 28 Best Selling Apps to Sell Your Stuff Fast 'Online or Locally'
15. LocalBitcoins
LocalBitcoins is a website that facilitates over-the-counter trading of local currency for Bitcoins. They act as escrow for people that want to post their offers on the website, including their preferred exchange rate and payment methods for buying or selling Bitcoin. This makes it a safer transaction for both parties.
You can check the Amazon gift code section of the site to see if there are any existing offers from people who wish to purchase Amazon gift cards in exchange for Bitcoin. If you don't see any, you can post an offer and wait for someone who is interested.
16. CoinCola
CoinCola provides a similar service in that they act as escrow to help people buy and sell their bitcoin in exchange for other currency or trading for gift cards. On the CoinCola website, you'll select "Gift Card Trade," along with the Amazon gift card option. You can view the available traders, and then select "Buy BTC" once you've selected who you would like to complete the transaction with.
17. Paxful
Paxful is a peer-to-peer finance company that allows you to exchange your Amazon gift cards for cryptocurrency. On the Paxful website, you'll find a large number of offers from people interested in trading cryptocurrency, and you can easily filter out only the people willing to accept Amazon gift cards.
Each offer includes a rating of the seller based on the feedback from past transactions, the speed of the transaction, and the rate per Bitcoin price. Select the offer you'd like to accept and complete your transaction.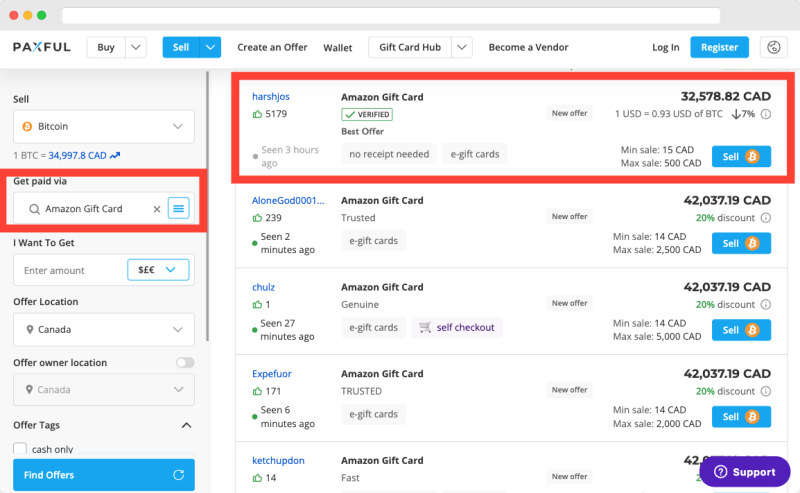 ---
FAQ On How To Sell Amazon Gift Cards For Cash
We've found some of the most frequently asked questions regarding how to sell Amazon gift cards, here are our answers to help you navigate this market.
Can I Sell Amazon Gift Cards?
Yes, Amazon gift cards can be sold through various online platforms and services. Several websites facilitate gift card sales and exchanges, some of which include Raise, Gameflip, Gift Card Granny, Gift Card Outlets, and BuyBackWorld.
Can I Sell Amazon Gift Cards For PayPal?
Yes, it is possible to convert Amazon gift cards into PayPal cash, however the process might not be as straightforward as selling them for cash. There are a few methods and strategies you can explore:
The first option is to use gift card exchange websites. Some gift card exchange websites allow you to trade or sell your Amazon gift cards for PayPal funds (e.g., Raise and Gift Card Outlets). These platforms often act as intermediaries, connecting you with potential buyers. Just keep in mind that they may charge fees or offer you less than the face value of the gift card.
The second option is to via peer-to-peer transactions. You can try finding someone who is willing to buy your Amazon gift card and pay you through PayPal. You can use online marketplaces or social media platforms to connect with potential buyers. However, be cautious of potential scams and make sure you're dealing with trusted individuals (good luck!).
You can also try online communities and forums dedicated to gift card trading that may have users interested in buying Amazon gift cards with PayPal funds. Reddit's r/giftcardexchange is one such example.
The last option is to go to websites specializing in buying back gift cards, including Amazon gift cards, and they may offer PayPal as one of the payment options (e.g., Gameflip, Gift Cardio, and Gift Card Granny).
When attempting to sell your Amazon gift cards for PayPal funds, be prepared to receive an amount less than the card's face value, as buyers will likely want to pay less to make it worth their while. Additionally, be aware of the potential risks and scams associated with online transactions, and only use reputable platforms and trusted buyers.
Can I Sell Amazon Gift Cards For Cash App
Cash App does not have an official feature to directly sell or convert Amazon gift cards into cash within the app. Cash App primarily focuses on peer-to-peer money transfers and does not have built-in support for gift card exchanges.
However, you might still be able to sell your Amazon gift card for cash and then transfer the funds to your Cash App account using alternative methods. Some possible options include gift card exchange websites (e.g., Raise and Gift Card Outlets), peer-to-peer transactions, or online communities.
Where Can I Sell Amazon Gift Cards Instantly?
There are several reputable platforms where you can trade or sell Amazon gift cards instantly. Here are some options to consider:
● Gift Card Exchange Websites: Websites like Raise and Gift Card Granny allow you to sell your Amazon gift cards online quickly. You can list your gift card on these platforms, and once a buyer is found, you can get paid instantly.
● Gift Card Kiosks: Some grocery stores or retail locations may have gift card kiosks, such as those provided by Coinstar, which allow you to exchange your Amazon gift cards for cash instantly. However, keep in mind that the payout rate might be lower than the card's face value.
● Gift Card Marketplaces: Online marketplaces like eBay and Craigslist also offer a platform where you can sell your Amazon gift cards instantly, but be cautious about dealing with strangers and potential scams.
● Peer-to-Peer Transactions: You might find individuals interested in buying your Amazon gift cards instantly through peer-to-peer platforms like Facebook Marketplace, NextDoor, OfferUp, or other local online communities.
From our research, the best platforms to sell Amazon gift cards instantly is through Raise and Gameflip.
---
Final Thoughts
Amazon offers so many products for sale, that you should have no trouble finding someone who will be interested in buying your Amazon gift card for cash. Using the options that we looked at in this article, you may even be able to profit from the transaction.
Remember to follow the key safety rule of never giving out your Amazon gift card number before receiving payment for the card and you should stay safe from any potential scammers. There are plenty of people looking to purchase your Amazon gift card in a safe and secure manner, so get out there and get your cash! It's a win-win transaction for all involved.
Up Next
Get our free Side Hustle Handbook with the best strategies to multiply your income sources today.
Plus our best money tips delivered straight to your inbox.

Summer Tannhauser is an entrepreneur, online educator, and freelance writer who is passionate about helping others to create additional income by leveraging their life experiences and passions. Summer works with budding entrepreneurs through her online courses and workshops and has appeared in numerous online publications and podcasts including Inc., Teachable, and USA Today.