Many or all of the products featured on this page are from our sponsors who compensate us. This may influence which products we write about and where and how the product appears on a page. However, this does not influence our evaluations. Our opinions are our own. Here is a list of our partners and here is how we make money.
The information provided on this page is for educational purposes only. The Modest Wallet is a financial publisher that does not offer any personal financial advice or advocate the purchase or sale of any security or investment for any specific individual.
Selling your stuff has always been a great way to make money fast. Not that long ago, garage sales, newspaper classifieds, and advertisements in local venues were proven ways to earn some cash. Now, selling apps and websites like eBay and Amazon have made it possible to sell used items online to people nationwide.
Recently, there has been a huge surge in the number of selling apps. There are now websites and platforms that allow you to sell pretty much anything — from clothes to cars to services — all from the comfort of your home.
These sites connect sellers and buyers in different ways. While some take the route of eCommerce giants by making it easy to sell your stuff online, others are inspired by garage sales and newspaper classifieds, and make selling locally a breeze.
Best Selling Apps to Sell Your Stuff Fast
In this article, we'll look at 28 of the best selling apps that can help you sell your stuff fast, either online or locally, so you can make money fast.
Flyp
Flyp allows you to sell your clothes across different selling apps without doing any of the selling work yourself. It works by connecting you to a network of vetted Pro Sellers who will sell your stuff on your behalf.
After you download the Flyp app, you'll be able to create a "lot" where you will put all your clothes, shoes and handbags that you wish to sell. Pro Sellers will offer you a price estimate and set their commission rate and all you have to do is pick your favorite seller, print off a shipping label, and mail it to them at once. Pros will pay you as soon as they sell your goods and you're always covered by Flyp's protection policy.
What makes Flyp special is that you won't have to worry about any of the usual back and forth with buyers, pricing, photographing or packing and shipping each item. You just send it off to a Pro and let them handle it for you.
One thing to keep in mind is that Pro Sellers will aim to sell everything you send them, but in the case some items don't sell after 90 days, your Pro Seller will offer you several options: You can get the items shipped back to you, have them donated on your behalf for a nice tax write-off, or extend the selling period and try to sell the items at a discounted price.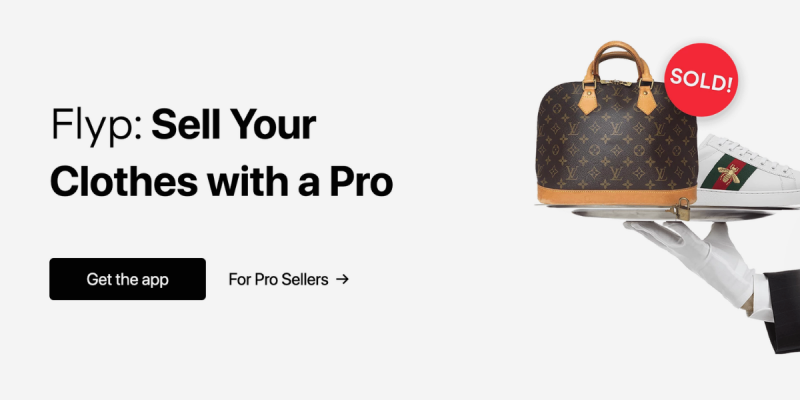 See Also: 40 Proven and Legitimate Ways to Make Money Fast
Decluttr
Decluttr is a platform that makes selling your old tech and media (CDs, games, etc.) easy. To sell your stuff, just head over to the website, use the instant valuation tool to find out how much your tech is worth, and then package and send your items.
Decluttr sends a free shipping label to simplify sending off your items. Then, when your products arrive at the Decluttr warehouse, the team checks the items, and sends payment to you the next day. You can choose to be paid by either direct deposit, PayPal, or check — or, you can choose to make a donation to charity.
The only conditions are that if you choose to sell media, you need to sell at least 10 products at a time, and the total order value needs to be over $5.
While Decluttr makes selling simple, you may not get as much money for your products compared to selling them on your own. Nonetheless, this selling app is a good option for people who don't have the time or inclination to sell products on their own.
Check out our full Decluttr review to learn more.
Buyback Boss
Buyback Boss is an online marketplace that allows you to sell or sorts of new or used electronics like laptops, tables, phones, Apple watches and even drones.
All you need to do is fill out an online form to let them know about the condition and specifications of the product you want to sell. Once you submit this form, they will send you an estimate or quote.
If you accept their offer, they'll take care of all shipping costs for you. They will even send you a shipping label. You only need to put your device in a box and off you go.
Read our full Buyback Boss review to learn more.
Letgo
Letgo is a classifieds app and website that works similarly to Craigslist. It allows you to sell pretty much anything you own to people in your local area.
The platform is free to use. Just upload a photo of the item you want to sell, provide a description of the item, and include the area where you live. This will let local people see your listing, and if they are interested in buying, they can contact you to arrange the transaction.
When making a sale, it is common to meet up with the buyer in person. The app does not process transactions, which means you have to arrange payments yourself. The good news is, this means there are no transaction fees.
Poshmark
If you want to sell your unused clothes, Poshmark is a good place to start. Just create a listing for each of the items you wish to sell by uploading a photo to the website, and then, adding a description. Once you finalize your listing, it will be available to the app's users.
Poshmark makes shipping easy by sending you a prepaid, pre-addressed shipping label once an item sells. This tracks the package, meaning you are covered should it go missing.
While creating a listing is free, Poshmark does charge a commission on every sale. If your item is under $15, the website charges $2.95, and if it is over $15, they charge 20% of the total value. (Considering the site covers shipping, the fees are reasonable).
thredUP
thredUP is a consignment store that takes much of the hassle out of selling old clothes. To start, you have to order a "clean out" kit from the company's website and then fill it with the clothes you want to get rid of.
When the parcel arrives at thredUP, they will sort through it and either accept or reject your clothes. The company will then take care of the entire selling process for any accepted items. thredUP sends your payment after your clothes sell.
thredUP has strict standards about the items they accept. The website states that clothes should be like-new, with no signs of wear, damage, or alterations. Be sure to check out the terms and conditions before sending your clothes — There is a $10.99 charge to get your rejected items back.
thredUP is an easy way to sell a high volume of clothes. For the convenience, the company takes a commission of between 5% and 80% of the total cost of each item. The exact percentage depends on the price your items sell for.
See Also: 23 Best Places and Apps to Sell Clothes Online or Locally
Facebook Marketplace
Facebook has two tools that make selling on the platform easy.
Facebook Marketplace is a classifieds platform where you can list items and sell them to people nearby. It's free to use Facebook Marketplace to sell to people in your area.
Facebook also gives you the option of local buy and sell groups. Many areas have active marketplaces where people list items and sell them to other members. Just use the Facebook search function to find groups in your local area.
One of the major benefits of selling through Facebook is that the platform has a huge audience. Plus, you can gauge what a potential buyer is like by looking at their profile, which could make selling safer. (However, scams do exist, so you should stay vigilant.)
OfferUp
OfferUp is a classifieds app that lets users sell to people nearby. Just upload a picture of the item you want to sell, create a description, and then add your location. All communication on OfferUp is done via the app, which means sellers and buyers don't have to give out personal contact details. Listing on the platform is free.
Many transactions on OfferUp take place in person. Although, the company has recently begun providing the option of shipping your item. If you do this, OfferUp will provide you with a prepaid label and will process all shipping from within the app.
The downside to this is that the company takes a 12.9% fee of the total cost of the item, at a minimum charge of $1.99.
eBay
eBay is a giant in the world of secondhand selling and is still going strong, despite the increase in competition from new services.
The site's reputation means it has a huge audience, so you can sell pretty much anything. It also stands out due to the auction feature, which can be a good idea if you aren't sure about the value of an item.
Users get 50 free listings per month, which means most people won't have to pay to list their goods. eBay takes a 10% fee of the total selling price.
eBay uses a rating system to gauge the trust of buyers and sellers, which means if you are new, you may find it harder to sell items than existing sellers. Once you have built some trust, selling should become easier.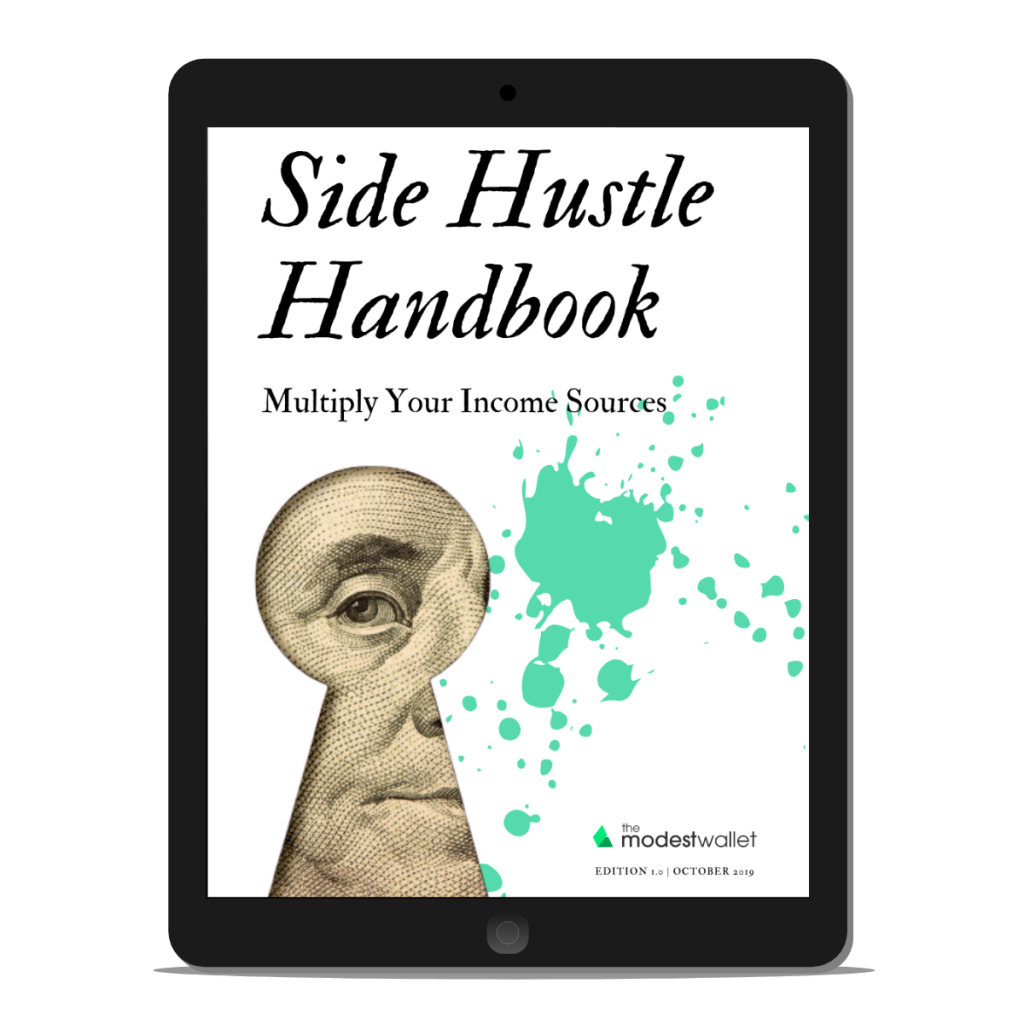 Get our free Side Hustle Handbook with the best strategies to multiply your income sources today.
Plus our best money tips delivered straight to your inbox.
Craigslist
Like eBay, Craigslist is a selling platform with a long history and a large user base. It is a classifieds site that lets you sell to users in your local area. Just visit the homepage, and then navigate to the section for where you live.
It is free to use Craigslist, though the site doesn't provide anything beyond the ability to post an item. This means you have to take care of payments and shipping. People often choose to meet up in person when buying and selling items on Craigslist.
Chairish
Chairish is a site for selling used furniture. It is free to create a listing, though you should be aware that the website only accepts items its audience will be interested in. If your furniture is accepted, Chairish facilitates the transaction by letting you communicate with verified buyers. You'll also be given the opportunity to offer discounts to interior designers.
Once your item sells, Chairish helps with shipping (moving furniture can be a pain). Local pickup is also an option. The buyer has a 48-hour window to return a piece after they've received it. If the buyer decides to keep the item, Chairish sends you payment via PayPal. The company takes a 30% cut of the total price.
NextDoor
NextDoor is a neighborhood social network that has a section for selling local goods to people in your community.
To sell on the platform, you have to search for your local community and then join the group. All users are verified before they're allowed to use the platform. This ensures you can trust people on the site.
To sell an item, just create a post and choose the category "For Sale and Free." You can then create a listing and add a photo. This will show your item to people nearby, although you can also choose to make it available to people in neighboring areas.
Whether NextDoor is a good option for you will depend on how active the community is in your town or city.
See Also: Free PayPal Money: 20 Legit Ways to Earn PayPal Cash Now
Fiverr
So far, we've covered plenty of options for selling physical products. However, there are also lots of options for selling services online.
Fiverr is a freelance marketplace that lets you list a professional service. While the name of the site suggests you can only earn $5 for your service, you're free to set whatever fee you'd like.
You can offer a wide variety of services, including web design, digital marketing, translation, and music. Just create a listing that contains details of your service and set a price. If someone searching for the service you offer likes your profile, they can hire you to do the job.
While signing up for Fiverr is free, the platform takes 20% of the total transaction fee. The good news is that they offer payment protection which guarantees payment for work you complete.
Each person on Fiverr has a rating based on the jobs they have completed. This means it can be challenging for people without any experience on the platform to get started. (We suggest building a good profile and waiting patiently.)
Upwork
Upwork is a freelance marketplace where you can sell professional services.
To get started, you need to create a profile that details your experience and what you offer. Once your profile is complete, you can request approval. The more experienced you are, or the more in-demand the service you offer, the more likely your profile will receive approval.
Once you are on the site, you apply for jobs using connects. Each connect costs $0.15, and a single application can use up to six tokens. You can buy them in bundles of up to 60.
If you get hired for a job, complete it. If the project is fixed price, you can request payment on Upwork once the project is done. (With hourly contracts, you're paid automatically.) Once the client approves the payment, Upwork will place the money in your account within a few days. You can then transfer this to your bank or PayPal account.
Rover
Rover is a platform for selling pet-based services. You can offer pet sitting, dog walking, daycare, or drop-in visits.
To get started on Rover, create a profile that includes information about the services you offer, when you are available to work, and your location. You can start selling once your profile is approved.
Rover lets you set your own price, though competition from other people in your area may restrict you unless you have a competitive advantage. All payments are made via Rover, and the company takes a 20% fee. This fee goes up to 25% if you use RoverGo, the company's on-demand dog walking service.
While this fee may seem like a lot, all your work is covered by the Rover Guarantee, which protects you from costs that may be incurred from some types of injury or damage while you are working.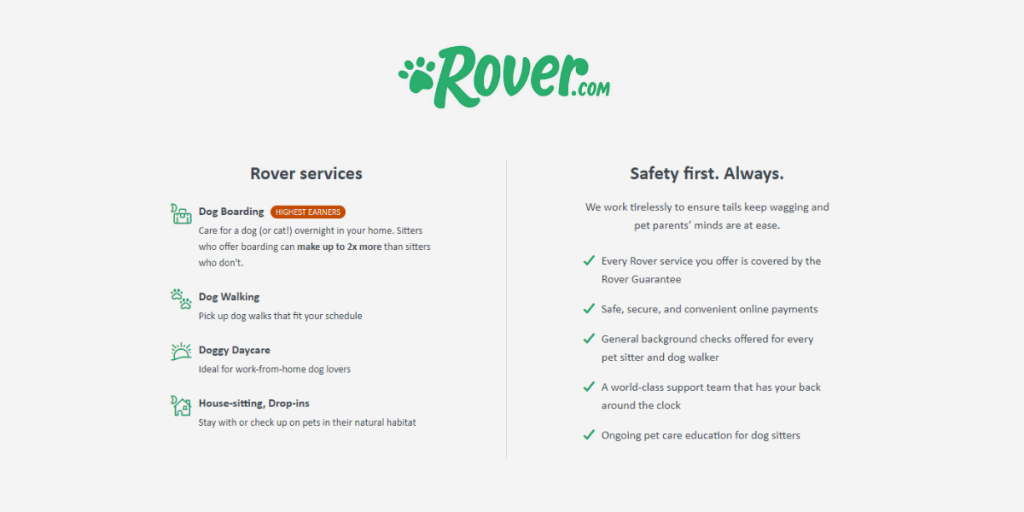 See Also: 25 Creative and Legit Ways to Make Money as a Teenager
TaskRabbit
TaskRabbit is a platform that connects people skilled in manual work with people who need manual work done. You can offer services such as delivery, furniture assembly, cleaning, and more.
To start with TaskRabbit, you need to sign up to the site and attend an in-person onboarding session in your city. There is also a $25 registration fee. Once accepted, you can begin to search and apply for jobs. If you are chosen, you have to complete the job before TaskRabbit releases your payment. The buyer pays all fees.
Ultimately, TaskRabbit is a good way to sell your service(s) if you have skills that are in demand in your area.
Vinted
Vinted is a selling app for buying and selling clothes — from designer brands to high-street or mainstream labels. As with other selling platforms, you just need to snap a picture of the item you want to sell and then fill out your listing.
Buyers can contact sellers about items through the Vinted platform. Be sure to answer any questions to have the best chance of selling.
Delivery is easy. Vinted provides a prepaid shipping label. Once an item sells, you have five days to ship it.
The best thing about Vinted for sellers is that the buyer pays all the fees. This means you get 100% of the listing price. Vinted passes the payment to you once the buyer receives the item and confirms everything is ok.
Bookoo
Bookoo is a site that lets you join communities of buyers and sellers in your neighborhood. The site claims to be for "yard sale fans," and this comes across in the community aspect of the site.
To sell on the platform, you need to sign up to a group in your local area. You can then gather all your old belongings and create listings. If someone wants to buy an item, you have to meet up in person.
Bookoo doesn't process transactions. This means there are zero fees.
Care
Care.com is a site that lets you sell services such as babysitting, pet care, housekeeping, and senior care.
To get started on the platform, you need to build a profile that includes information such as your experience with the service you want to offer, and your area, so people can find you. Once you are set up, you can apply for jobs posted on the platform — or sometimes people searching for your service will come to you.
Care.com lets you choose your price. Whether people will pay it depends on how competitive your profile is compared to others in your area.
It is free to use Care.com, although there is a paid premium membership that can increase your visibility on the platform.It will also provide you with a free background check which may be necessary for some types of service.
See Also: 33 Best Money Making Apps: Cash at Your Fingertips
Carousell
Carousell is a classifieds-style buying and selling app. Sellers can list both physical items and services. Listing your product is easy; just snap a picture and upload a description. You can use the app to chat with buyers and arrange your sale.
The good news is there are no fees for listing or selling your item for most products and services. The downside is that you will be responsible for both shipping your item and organizing payments. Carousell recommends cash-on-delivery or bank transfers.
VarageSale
VarageSale is a classifieds platform with the unique selling point in that it requires all users to verify their identity before using the service. The verification process uses both Facebook and a manual process, which should make using the platform safe.
The downside to this is that signing up to be a seller takes longer than on other sites. Once your profile gets accepted, you list your items by taking a photo and adding a description and price.
All contact between buyer and seller is made through the app via either private message or comments. Sales are made through in-person meetups. There is no payment processing, so you should use cash or electronic money transfer — whatever you and the buyer feel most comfortable with.
Gazelle
Gazelle is a platform that lets you trade in old smartphones and other tech. You sell your devices directly to Gazelle (not to individual buyers), which simplifies the selling process. But you may receive less than if you went to a buyer directly.
Selling your device is easy. You just need to tell the company what you want to sell, answer some questions about its condition, and they will provide you with an instant quote. Gazelle will then provide a prepaid delivery kit so you can send the gadget. Payment is made via PayPal, Amazon gift voucher, or check.
Gazelle even pays for broken phones. The main downside is that the service only accepts certain models — if you have a device that isn't listed, you won't be able to sell it.
Check out our full Gazelle review to learn more.
See Also: 15 Legit Ways to Get Paid to Walk, Fast and Easy
Recycler
Recycler is a classifieds site that originated from a traditional classifieds paper called Recycler Classifieds. Users can sell anything, although there seems to be a focus on cars, vehicles, and pets.
The website lets users set up an account, then create an ad for the site. It says it has hundreds of advertising representatives in local markets that users can consult with to help increase the chance of a sale.
5miles
5miles lets you sell used items and offer services to people in your area. The site is free to use, and people can easily create and upload ads using the app and their phones. The site has several features that make it secure, including user ratings, in-app messaging, and Facebook verification.
When creating your listing, you can choose to include either a set price or an auction-style listing. In addition, you can decide whether you want to ship nationwide or just sell to local people via a meetup. You can also choose to either ship the item yourself or have 5miles provide you with a shipping label.
Instagram
Instagram doesn't have a dedicated section for selling used items, but some people do use it to sell their clothes. While you could create a business account and sell your clothes directly through that account, another option is simply to make a post telling your followers that you are selling your items and then include pictures and a description in the post.
The downside to this method is that you are limited by the number of followers you have. Some people on Instagram do try to increase their reach by including hashtags such as #secondhandclothes or #usedcars.
As Instagram doesn't have a dedicated used item selling platform, you will have to take care of the entire process yourself. If you're just selling to people you know, this may not be that much of a problem.
Swap
Swap.com is a consignment store that lets you sell clothing. To get started, gather your items and send them to Swap. If your box meets the acceptance criteria, you will be made a premium seller so you can continue to send items to Swap.com.
Swap then takes care of the selling process by creating listings for each of your items. Be warned that if 40% or more of your box fails to meet the criteria, Swap charges a $5 to $10 processing fee. There is also a fee of $25 if you send an oversized or overweight box.
The amount you receive for each item will depend on the price. You get just 15% of the total for items that sell for under $8 — or 70% of the total for items that are listed at over $8.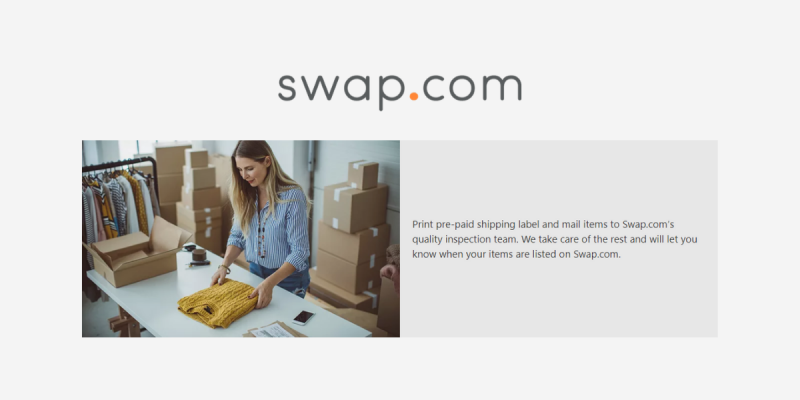 See Also: 23 Best Work from Home Jobs: Start a Career from Your Couch
Kijiji
If you live in Canada, you may find success selling your secondhand items with Kijiji. Kijiji is a classifieds board similar to Craigslist in which you can list pretty much anything you own for sale. The site has a large number of users in Canada, so the chances of finding success are pretty high.
Listing for most items is free with Kijiji, although there is a limit to the number of items you can list for free at any one time. It's a local selling app, so if you choose to meet up to complete a transaction, there is no fee.
Zaarly
Zaarly is an app that lets trade workers and manual workers sell their services. You can advertise anything from services such as plumbing to manual work like helping move heavy objects. If you find a customer on Zaarly, you complete the job, and then charge them through the app. You then receive payment in your bank account after three days.
While there is no fee to sign up to the site, there is a 10% transaction fee when you complete a job.
Final Thoughts
Selling apps and websites have made it possible for people to sell pretty much anything. From services to pets to cars or clothes, there is a platform for whatever you want to sell.
Whether you decide to sell online or locally will mainly depend on whether you would rather meet up with the buyer in-person, or whether you'd rather deal with shipping.
The item you sell will also affect your decisions. It is more convenient to sell cars, furniture, and pianos locally, while clothes or electronics can be easily sold online.
Up Next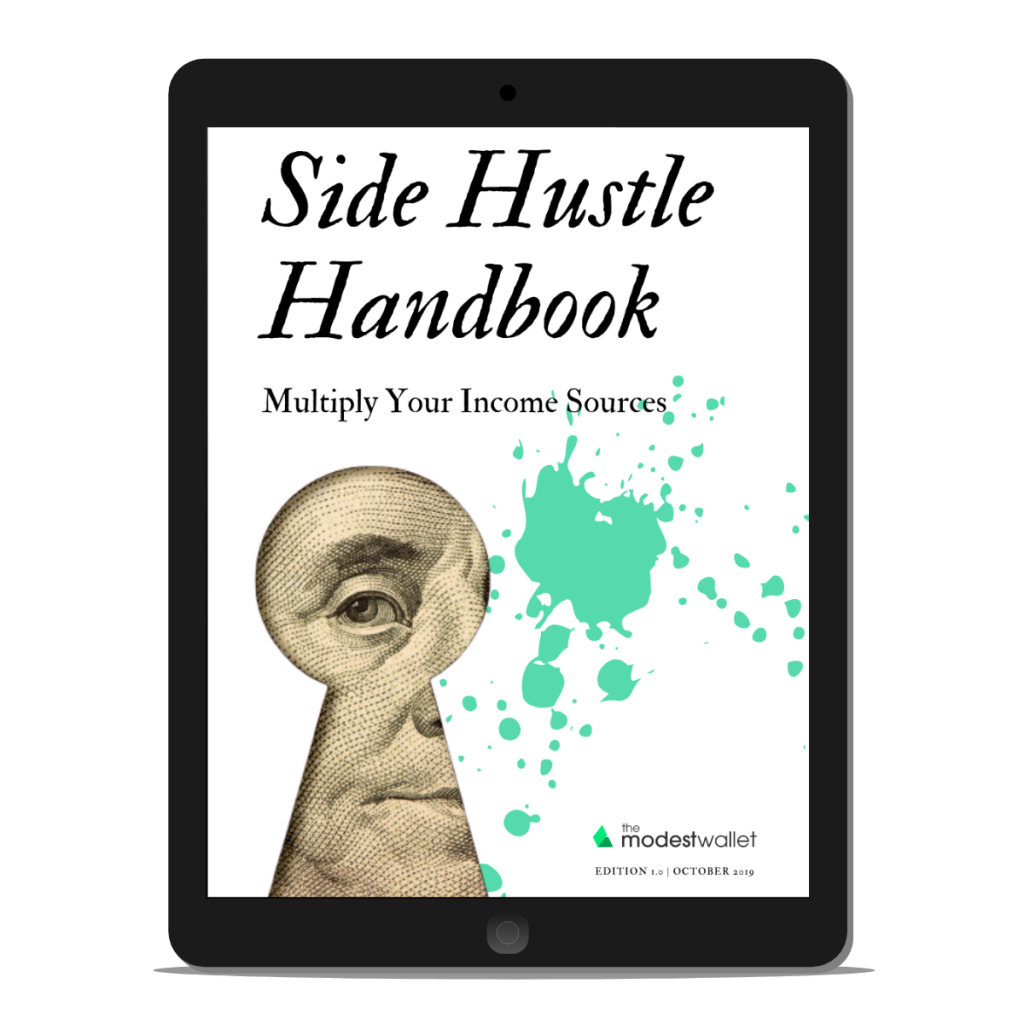 Get our free Side Hustle Handbook with the best strategies to multiply your income sources today.
Plus our best money tips delivered straight to your inbox.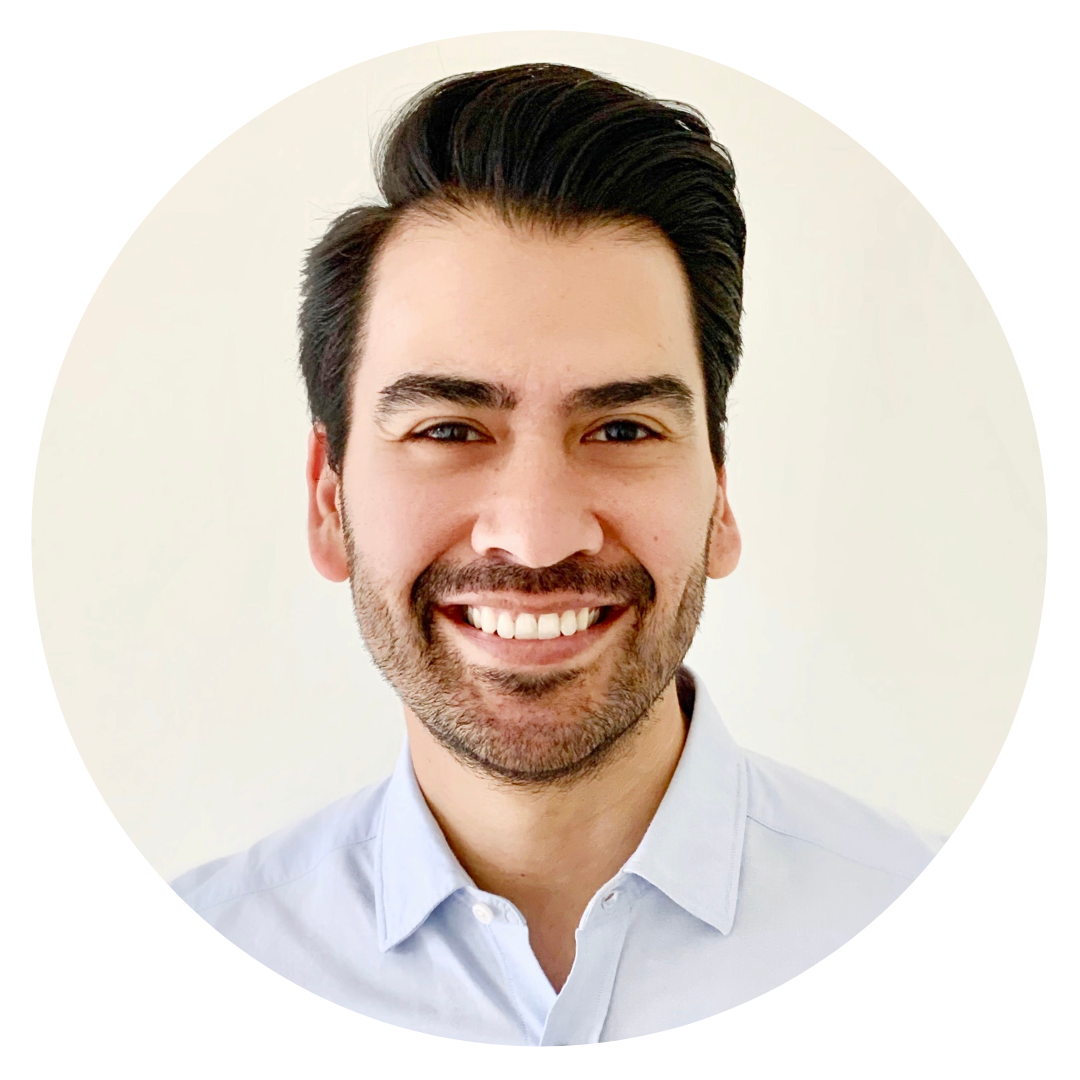 Ricardo is an entrepreneur, investor and personal finance nerd who enjoys spending time with his family and friends, travelling and helping others achieve their financial goals. Ricardo has been quoted as a personal finance expert in several online publications including Healthline, Bankrate, GOBankingRates, MSN Money, Yahoo Finance, U.S. News & World Report, Forbes and USA Today.