SoFi Automated Investing Review 2023: A Robo-Advisor For Millennials
Many or all of the products featured on this page are from our sponsors who compensate us. This may influence which products we write about and where and how the product appears on a page. However, this does not influence our evaluations. Our opinions are our own. Here is a list of our partners and here is how we make money.
---
The information provided on this page is for educational purposes only. The Modest Wallet is a financial publisher that does not offer any personal financial advice or advocate the purchase or sale of any security or investment for any specific individual.
Offering a hands-off way to build a nest egg with minimal fees, SoFi Automated Investing is a user-centric robo-advisor service that's perfect for newer investors.
But, is it the right robo-advisor service for you?
With so many automated investing platforms out there, it can be hard to know where to invest your hard-earned money. So, we created this SoFi Automated Investing review to help you do just that.
Coming up, we'll dive into the nitty-gritty details of SoFi's robo-advisor service so you can make wise decisions about your investment plan.

Quick Summary: SoFi Automated Investing is a robo-advisor part of SoFi, an American personal finance company that offers everything from checking accounts to self-directed investing. They offer low-cost ETFs and unlimited access to a team of certified financial planners.
Promotion: Free advice and loan discounts (*for qualified deposits)
---
What Is SoFi Automated Investing?
SoFi Automated Investing is the robo-advisory service of SoFi Finance, an American personal finance company that offers everything from checking accounts to self-directed investing.
That being said, SoFi Automated Investing is one of the company's newest ventures, having hit the market in 2019 as part of SoFi Invest.
Essentially, SoFi Automated Investing allows you to invest your money without the need to do stock research and analysis. The platform makes it easy for you to place your investments on auto-pilot while you go about your day-to-day life.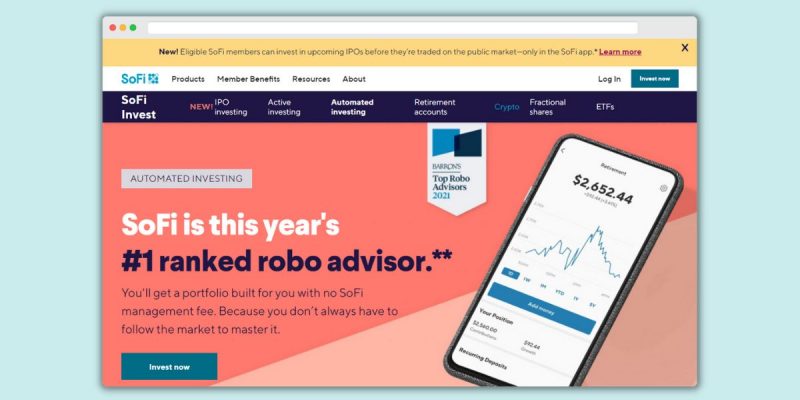 See Also: 12 Best Robo-Advisors: Automate Your Investments
---
How Does SoFi Automated Investing Work?
As a robo-advisory service, SoFi Automated Investing effectively plays the role of both brokerage and financial advisor. Here's how it all works.
Investing Account Types
With SoFi Automated Investing, you have access to many different account types. The specific account type that you choose to open will depend on your personal investing goals. These are your options:
Individual and joint brokerage: Your standard taxable account for general investing, brokerage accounts are great for non-retirement financial goals.
Traditional IRA: With a Traditional IRA (individual retirement account) you get a tax break now on all your contributions and tax-deferred earnings later in retirement.
Roth IRA: Similar to a Traditional IRA but without any tax breaks on your contributions, all qualified earnings in a Roth IRA are tax-free after you retire.
SEP IRA: A type of self-employed individual retirement account, SEP IRAs are great for certain small business owners that want to maximize their savings.
Rollover IRA: If you had a 401(k) at a previous employer that you'd like to convert into an IRA, a Rollover IRA is often a good place to start.
Opening an Account
Once you've decided what type of account is best for you, it's time to open your account. The good news is that doing so is usually a quick and straightforward process.
SoFi Automated Investing accounts are open to US citizens and the majority of permanent residents. To open an account, you'll need to go to SoFi's online application portal, fill in some forms, and submit proof of your identity.
Most SoFi accounts are approved within a few minutes. As soon as you're approved, you can transfer funds into your account to start investing (the minimum investment is just $1).
Then, after your funds post to your account, you'll answer some questions about your financial goals. Doing so provides SoFi's robo-advisor with the information it needs to determine your investment strategy.
---
SoFi Automated Investing Features
SoFi Automated Investing comes with many features to help you make the most of your money. These are some of the many features you can look forward to:
| | |
| --- | --- |
| Minimum Investment | $1 |
| Fees | 0% Annual Management Fee |
| Investment Types | Diversified low-cost ETFs from 13 asset classes |
| Account Types | Individual Taxable, Joint Taxable, Traditional IRA, Roth IRA, Rollover IRA and SEP IRA |
| Assets Under Management | Unknown |
| Advice | Human assisted |
| Promotion | Free advice and loan discounts (*for qualified deposits) |
| Socially Responsible Investing | |
| Portfolio Rebalancing | |
| Tax-Loss Harvesting | |
| Support | Live Chat, Phone and Email |
No Advisory Fee
When it comes to keeping costs at a minimum, SoFi Automated Investing doesn't disappoint. Unlike many other robo-advisors, SoFi doesn't charge any advisory fees.
In fact, besides the usual charges for wire transfers and paper statements (which you'll find with every brokerage), SoFi Automated Investing doesn't charge account fees. That means no monthly fees, no low balance fees, and no electronic transfer fees for withdrawals or deposits.
SoFi is one of the few brokerages that doesn't charge a fee for their robo-advisory service. For example, Betterment charges up to 0.4% annually on its automated investing accounts while Wealthfront has a 0.25% monthly fee. So, when it comes to advisory and account fees, SoFi is hard to top.
Access to Low-Cost ETFs
In addition to having no account fees, SoFi Automated Investing also provides access to low-cost ETFs (exchange-traded funds) as part of your portfolio. While many ETFs have expense ratios of around 0.80% or even 0.90%, SoFi minimizes costs by helping you invest in funds with low fees.
In particular, your SoFi Automated Investing account provides you with direct access to the company's five low-cost ETFs, including:
Do note that, at the time of writing, SFY and SFYX are the two primary SoFi ETFs included in their automated portfolios. However, the company can add or remove ETF offerings in their automated portfolios at any time.
See Also: 7 Best Micro-Investing Apps
Goal Planning
As a robo-advisory service, SoFi Automated Investing is all about helping you reach your financial goals. To do so, SoFi set up a goal planning service that helps you identify an investing strategy based on your needs.
When you start out, you'll be asked to identify your current financial goal, whether that's buying a home or planning for retirement. Once you do so, you'll get matched up with a portfolio type (more on that next) that will help determine how the robo-advisor invests your money.
Furthermore, once your account is up and running, you'll have access to all of SoFi's goal planning tools. This includes educational resources, budget calculators, how-to guides, and access to their professional financial advisors.
Portfolio Types
All accounts with SoFi Automated Investing use something called Modern Portfolio Theory (MPT) to help craft the right portfolio for you.
With MPT, the idea is that people with different financial goals, timelines, and risk tolerance levels ought to diversify their portfolios accordingly. As a result, SoFi offers five different portfolio types, including:
Conservative portfolios: Designed for folks with a low appetite for risk, conservative portfolios invest mostly in bonds and fixed income. However, they may have a small percentage (usually less than 15%) in stocks.
Moderately conservative portfolios: Perfect for people who are okay with a little risk but want to play things safe, moderately conservative portfolios aim for an allocation of 40% stocks and 60% bonds.
Moderate portfolios: A nice middle-ground for most investors, moderate portfolios aim to invest in 60% stocks and 40% bonds. This allows for some growth without excessive risk.
Moderately aggressive portfolios: Designed for long-haul investors with a good appetite for risk, moderately aggressive portfolios aim to invest in 80% stocks and 20% bonds.
Aggressive portfolios: Suitable for some folks with large risk tolerance and more flexibility in terms of time, aggressive portfolios allocate anywhere from 90 to 100% of your capital in stocks.
Also, do note that each portfolio type currently invests in low-cost ETFs (not mutual funds or individual stocks/bonds) from SoFi, Vanguard, and iShares. However, this can change if SoFi decides to open its portfolios to different investment products.
Diversify Investment Mix
Although all SoFi Automated Investment accounts invest solely in ETFs, not all ETFs are created equal. Each ETF has its own stated goals and desired allocation of investment products, like stocks, bonds, and the like.
So, once you decide on your portfolio type, SoFi tries to give you a diversified portfolio within your stated risk tolerance. This means that they'll buy ETFs on your behalf that invest in various asset classes, such as:
US stocks: US stocks are shares of US-based companies traded on US markets. They are fairly high risk but are also regulated by US authorities.
International stocks: Similarly to US stocks, international stocks are shares of international companies that are traded on US markets. They are at higher risk than US stocks, but they sometimes offer a high potential for growth.
Treasury bonds: These bonds are backed by the US government and are often considered the highest-quality securities available. They are lower risk, but this means they usually pay out lower interest rates.
High-yield bonds: High-yield bonds offer the potential for higher earnings than treasury bonds because they are backed by companies with a higher risk of default.
Real estate: Some ETFs invest in real estate holdings and real estate management companies as an added source of reliable income.
Broad international markets: Depending on your risk tolerance, your SoFi automated portfolio might include EFTs that track indexes in a wide range of international markets. These broad international market ETFs are ideal for folks who want a highly diversified portfolio with great growth potential.
SoFi Automated Investing offers ETFs from 13 different asset classes to provide diversification to your portfolio mix.
Auto Portfolio Rebalancing
When you first open your SoFi Automated investing account, you'll be able to select a portfolio type (moderate, aggressive, etc.). Then, SoFi will automatically invest your money into ETFs that match your chosen profile.
Of course, the markets change every day, so there's a chance that some of your ETFs will over-or underperform compared to the other ETFs in your portfolio.
To help compensate for this and ensure that your portfolio matches your goals, SoFi offers automatic portfolio rebalancing on a quarterly basis. This means that your portfolio will automatically adjust if it deviates by more than 5% from your goal allocation of stocks to bonds.
For example, if you choose a moderate portfolio (60% stocks, 40% bonds) and your account shifts to 70% stocks and 30% bonds, SoFi will automatically adjust it by buying and selling ETFs. That way, your portfolio always matches your financial profile.
Unlimited Access to Financial Planners
While SoFi Automated Investing is primarily a robo-advisory service, they do provide unique benefits to all account holders: unlimited access to financial planners.
Yep, you read that right: SoFi makes it easy for you to talk with a real, live human being that happens to be a professional financial advisor. SoFi calls their financial advisors Financial Specialists, and they're all registered as Certified Financial Planners.
If you have questions about budgeting, investing, saving, or just want to pick the brain of a professional financial advisor, you simply need to schedule a call to get started. As of the time of writing, this service is completely free and you can use it as often as you'd like.
Access to Other SoFi Products and Services
Since SoFi Automated Investing is just one branch of the SoFi Finance family, your robo-advisory account also provides you with easy access to other SoFi products and services.
For example, SoFi offers a slew of other services, like checking accounts and loans (student, personal, home, etc.). The company also offers credit cards and several different insurance products, so it's a solid one-stop-shop for folks who like to invest and bank with one financial institution.
See Also: 12 Best Investment Apps: For Beginners & Pros
---
SoFi Automated Investing Pricing & Fees
As we've mentioned, SoFi doesn't charge any advisory or account maintenance fees for their robo-advisory service. Like pretty much all financial institutions, they do have fees for things like outbound wire transfers and paper statements, but you don't get charged a fee just for having an account.
Furthermore, the only fees that most account holders pay are those associated with the ETFs in their portfolio. These expense ratios are paid automatically by the fund out of your earnings, though, so you won't have to worry about making any payments to SoFi while your account is open.
---
SoFi Automated Investing Security
If you're going to invest with a brokerage, you should feel confident that your money is in good hands.
Thankfully, SoFi takes security seriously, providing high-end fraud protection features on their platform. This includes access to two-factor authentication as well as 256-bit SSL encryption to stop fraudsters in their tracks.
Furthermore, SoFi is a member of the SIPC, which covers you up to $500,000 in securities or $250,000 in cash should the brokerage fail. Of course, it is possible to lose money through investing, but SoFi's security features are top-notch.
---
SoFi Automated Investing Pros
No management or monthly maintenance fees
Most ETFs have low expense ratios
Can open an account with $1
Ability to open taxable and tax-advantaged accounts
No fees for money transfers
Access to commission-free trading on stocks and ETFs
Automatic rebalancing to help your investments stay on track
Unlimited access to financial advisors
Intuitive and easy-to-use platform to manage your account
---
SoFi Automated Investing Cons
No tax-loss harvesting feature
Customer service phone lines are not available 24/7
No accounts available for non-US residents
Limited ability to customize your portfolio
---
SoFi Automated Investing Alternatives
Not sure that SoFi Automated investing is right for you? Here's a quick look at two great alternatives that might be a better match.
Betterment
A popular low-fee robo-advisory, Betterment is a nice choice for anyone looking to take a hands-off, yet sophisticated approach to investing. While Betterment does charge up to 0.40% in management fees each year, this is still a relatively low rate for the industry.
Plus, unlike SoFi, Betterment offers a bit more in terms of the customizability of your portfolio. For example, the company allows you to choose between many pre-set portfolios and a customizable option, all of which offer tax-loss harvesting.
So, Betterment is a nice choice for investors that want more of a say in how their money is invested and folks who want to lower their annual tax burden.
Check out our full Betterment review to learn more.
Wealthfront
While SoFi Automated Investing is the new kid on the block, Wealthfront is a seasoned vet that also happens to be one of the largest robo-advisors in the US.
Like SoFi, Wealthfront offers automatic rebalancing and access to low-cost ETFs. Plus, Wealthfront also offers tax-loss harvesting as well as enhanced analysis tools, like their Smart Beta and Risk Parity, which seek to maximize your returns while minimizing risk.
Since Wealthfront does charge slightly higher fees than SoFi and has a $500 minimum investment, it's not always great for investors that are just starting out. But, if you're okay with spending a bit more on fees for a more sophisticated robo-advisor, Wealthfront is a solid choice.
Read our full Wealthfront review to learn more.
| | | | |
| --- | --- | --- | --- |
| | | | |
| Our Rating | | | |
| Minimum Investment | $1 | $0 | $500 |
| Fees | 0.00% | Digital — 0.25%/yr and Premium — 0.40%/yr | 0.25%/yr |
| Promotion | Free advice and loan discounts (*for qualified deposits) | Up to 1 year free (*for qualified deposits) | None |
| Highlight | Access to certified financial planners | Social goal-based tools | Free financial tools |
| Best For | Cost-conscious passive investors​ | Strategies involving tax loss harvesting | Passive investors looking for automatic rebalancing |
| | | | |
---
Who is SoFi Automated Investing Best For?
SoFi Automated Investing is an ideal platform for new and passive investors that would prefer to put their investments on auto-pilot.
The company's superb educational resources and unlimited access to financial advisors make it a nice option for anyone that's looking to get their feet wet in the world of investing. At the same time, their user-friendly platform and lack of account fees mean it's a solid choice for people who want a hassle-free way to build a nest egg over time.
However, SoFi Automated Investing's lack of tax-loss harvesting features make it less ideal for folks who are looking to invest larger sums of money. Furthermore, the platform provides relatively little ability for you to customize your portfolio. So, it's not a great choice for people that want a lot of control over their investments.
---
SoFi Automated Investing FAQ
Here are our answers to some of your most commonly asked questions about SoFi Automated Investing:
Is SoFi Automated Investing Safe?
While all investing comes with a risk, SoFi Automated Investing is a legitimate company with high-end security. That being said, all accounts are protected by the SIPC against brokerage failure. Furthermore, SoFi uses advanced 256-bit SSL encryption to help protect your account.
Is SoFi Automated Investing Good for Beginners?
SoFi Automated Investing is a user-friendly and simplified way to start investing, which makes it suitable for many beginners. Since this is a robo-advisory service, however, it's best for folks who take a hands-off approach to investing, rather than people who want to learn more about self-directed trading on the open market.
---
Final Thoughts
Although it's relatively new to the world of robo-advisors, SoFi Automated Investing has quickly made a name for itself as a low-cost way for anyone to start investing. As a result, it's a solid choice for anyone that prefers to take a passive approach to investing but also wants the ability to talk to a real financial advisor from time to time.
That being said, sophisticated investors or anyone who wants more control over their investments might find that SoFi doesn't quite have what they need. But, for a low-cost robo-advisory service, SoFi Automated Investing is hard to beat.
Up Next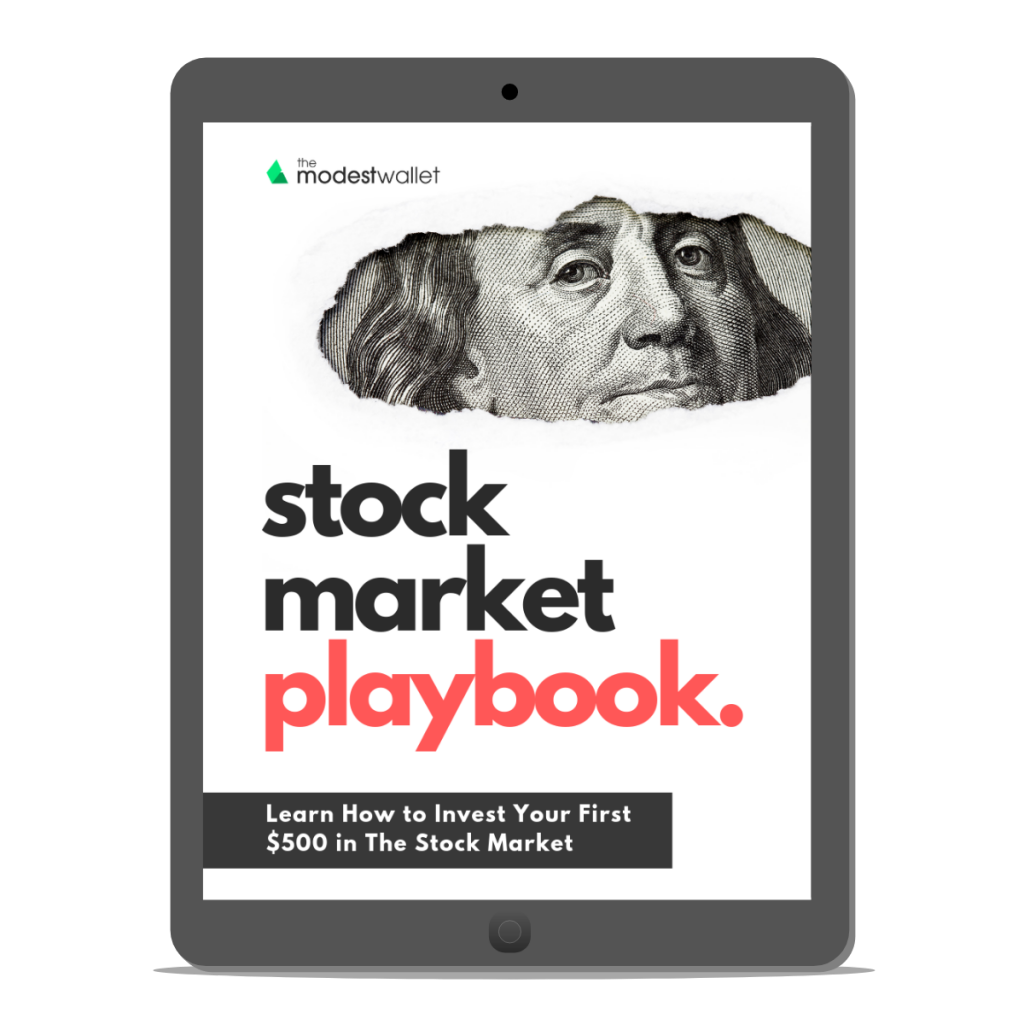 Get our free Stock Market Playbook to learn how to invest your first $500 in the stock market.
Plus our best money tips delivered straight to your inbox.

Gaby is a freelance writer and self-employed business owner with a personal interest in all things finance-related. She has a passion for educating others on how to make the most of their money and loves writing about everything from taxes to crypto.