Many or all of the products featured on this page are from our sponsors who compensate us. This may influence which products we write about and where and how the product appears on a page. However, this does not influence our evaluations. Our opinions are our own. Here is a list of our partners and here is how we make money.
The information provided on this page is for educational purposes only. The Modest Wallet is a financial publisher that does not offer any personal financial advice or advocate the purchase or sale of any security or investment for any specific individual.
Since the introduction of solitaire to personal computers back in 1990, it has become one of the most popular digital games in the world. Whether you're looking for a quick distraction during a break or a way to pass the time on a long commute, solitaire is the perfect game for your mobile device. Not only is it easy to learn and play, but it's also a great way to improve your focus and concentration.
Now you can make money playing solitaire with Solitaire Cash. This game is available to play on mobile devices and can be downloaded as an app from the app store.
Check out our Solitaire Cash review and learn exactly how you can start earning.
Quick Summary: Solitaire Cash is a game app that allows users to enter free and cash tournaments for a chance to win real money prizes. The app is developed by Papaya Gaming, and it is one of the most popular solitaire apps in the Apple App Store.
---
What Is Solitaire Cash?
Solitaire Cash is a brand new revamp of the all-time classic — solitaire.
In this version of solitaire, users have the opportunity to participate in competitions and tournaments against other similarly skilled players for real cash prizes.
Developed by Papaya Gaming, Solitaire Cash is a game designed for mobile devices. It can be downloaded for free, but it is currently only available on the app store for iOS devices and the Galaxy store for Samsung Galaxy devices. It is not available on the Google Play store.
---
How Does Solitaire Cash Work?
Once users have successfully downloaded the Solitaire Cash app and completed the signup process, they will be prompted to play a game.
Their score from this game will then contend with between 4 and 10 other players with a similar skill level. It is essentially traditional solitaire, with the added twist of being matched up against other players!
Here is how to play:
Stack and/or shuffle cards around the main table's seven lower stacks by placing them in descending order with alternating colors (e.g., black, red, black, red).
Place an Ace of each suit to start your upper stacks (also known as foundation stacks) at the top of the table. These foundation piles must be in ascending order from Ace to King.
Pull cards from the stockpile when there are no more move options available to play on the main table.
Continue until there are no more available moves or until all of the cards have been moved out of the stockpile into the stacks.
Submit your final score and see how you rank against a number (4 to 10) of other players that are around your skill level.
Scores and ranking will be based on how quickly players are able to clear their board. Additional points can be earned for submitting a score early and having time left over.
The top three scores will each win a designated piece of the total prize pool.
Players who do not place in the top three can still earn valuable experience points.
---
Solitaire Cash Requirements For Playing
Solitaire Cash is technically considered a gambling application. As a result, players are required to be 17 years of age or older in order to download it from the app store.
Solitaire Cash is not available on the Google Play store but is available for Samsung Galaxy devices in the Galaxy Store. Users must be 18 years of age or older to download the app from the Galaxy Store.
Solitaire Cash can be played by users in any state. However, there are a number of states in which cash tournaments and playing for real money is prohibited.
The states that prohibit playing for cash are:
Arizona
Arkansas
Indiana
Iowa
Louisiana
Maine
Maryland
Montana
South Carolina
South Dakota
---
Solitaire Cash Sign-Up Process
Once you have downloaded Solitaire Cash on your device, open the app.
You will then be prompted to choose an avatar for your profile, as well as a username that will be displayed when competing against other players.
Once this part of the sign-up process is complete, players will then be put into a brief tutorial where gameplay, scoring, and other important aspects of Solitaire Cash are explained.
Players will then receive 10 gems which can be used to enter different tournaments!
---
Solitaire Cash Features
Here is a brief description of the different features that players will be able to take advantage of when playing Solitaire Cash.
Free Practice Rounds
Solitaire Cash offers players a free practice round feature that allows them to play the game without needing to pay an entry fee.
This feature is great for people who are still learning the game and its nuances or who would simply like to test out their skills before jumping into the cash tournaments.
Players can earn gems playing free practice rounds, which are often used as part of the entry fee for cash tournaments. They can also accumulate experience points which will help them level up and earn more gems.
Cash Tournaments
The cash tournament feature that Solitaire Cash provides is what gives players the ability to win real cash prizes while playing solitaire!
There are a number of different tournaments that will be available at any one time. They will feature different player counts, different prize pools, and different entry fee requirements.
The majority of these cash tournaments will require a cash entry fee or "buy-in." However, there are some that allow payment in gems, which can be earned by playing games.
Some of the higher-stakes cash buy-in tournaments have top prizes of over $80!
Multiplayer Tournament
Solitaire is originally a game that is played alone. Solitaire Cash has made it possible to play solitaire against real opponents in multiplayer tournaments.
When players enter a tournament, they will typically be matched up against 4 to 10 other players, with the top three players receiving a certain portion of the prize pool.
Daily Gifts & Bonuses
Solitaire Cash gives players daily bonuses for opening the app once every 24 hours.
Bonuses include gems, bonus cash, and experience points boosts. These daily bonuses will become bigger and better as your daily sign-in streak grows!
Undo Moves
One of the really cool in-game features that Solitaire Cash offers is the ability for players to undo their last move without incurring a penalty of any sort.
Players can take advantage of this feature by taking a peek at multiple cards before deciding what the best option for their next move is.
Ad-Free Games
Many of the typical mobile gaming apps that are available today subject their users to third-party ads and other solicitations in an effort to further monetize their application.
Solitaire Cash does not run any third-party ads, which allows players to enjoy smooth, uninterrupted gameplay.
---
Ways to Win With Solitaire Cash
Solitaire Cash provides players with different ways to win real cash prizes playing solitaire. Here is a quick breakdown of the ways to win with Solitaire Cash.
Cash Prizes
The best way to make money playing Solitaire Cash is by playing cash tournaments and performing well enough to win a portion of the prize pool.
Each player contributes a previously determined entry fee to compete in a cash tournament against other players. The prize pool is composed of those entry fees, and as such, higher-stakes games will have higher payouts.
When the game has concluded, players will be stacked up against each other based on the number of points scored. The top-placing players will receive a cash prize payout!
Earn Gems
Gems are kind of like the digital currency of Solitaire Cash. Players can earn gems in a number of ways, including receiving daily bonuses, playing tournaments, and making deposits.
Gems can be used to enter real cash tournaments, as some of the tournaments have a specific gem entry fee in order to compete.
Use gems to enter these cash tournaments and win real cash prizes.
---
How Much Can You Make Playing Solitaire Cash?
Players can make some decent money playing Solitaire Cash, but exactly how much is dependent on both your skill and your willingness to take risks.
Skilled players who can figure out how to play the game strategically and rack up the most points in the given time frame will, as a result, have a better chance of winning games consistently and making more money.
Some of the cash tournaments have smaller entry fee requirements for players and will thus have smaller prize pool payouts (120 gem entry with a prize pool of $7, for example).
Other higher-stakes tournaments have entry fees of over $10 per player, with overall prize pools of over $80!
Skilled players who can play well enough to win consistently can definitely run their earnings up into the hundreds of dollars playing Solitaire Cash!
---
Solitaire Cash Fees
Solitaire Cash is completely free for users to download and play.
The app offers free games that do not require any financial investment to participate. However, the cash tournaments for cash prizes require an entry fee that is typically paid in cash.
Players can deposit their own money to participate in these tournaments or save up gems and enter the cash tournaments that have a gem entry fee.
---
Solitaire Cash Pros
Cash tournaments with real cash prizes
Free practice rounds
Ad-free gameplay
Ability to briefly pause the game when needed
Ability to earn gems to enter cash tournaments without a deposit
Can easily cash out your winnings via PayPal
---
Solitaire Cash Cons
Restrictions on cash tournaments in some states
Skill and strategy required to win consistently
Only the top three scoring players receive payouts
$5 minimum redemption for cash-outs
$1 processing fee per cash-out
---
Solitaire Cash Alternatives
Looking for some other games to play that are similar to Solitaire Cash?
Here are some alternative games to check out that also offer a way for players to make real money having fun!
Solitaire Cube
Solitaire Cube is just like regular solitaire but faster-paced, and players compete against another player of a similar skill level.
Solitaire Cube has two different ways for users to play. The practice league allows players to participate in free matches that are great for honing your skills and figuring out the gameplay.
The pro league is where real cash prizes can be won. Players must make a deposit in order to participate in these pro league games, but the payouts for consistent winners can be quite substantial!
Blackout Bingo
Formerly known as Blackout Blitz, Blackout Bingo is a bingo-style game that was developed by Big Run Studios and is powered by Skillz.
Blackout Bingo offers players a way to participate in online bingo games against other players of similar skill levels. Competitive cash games offer real cash prizes for players who do well. Read our full Blackout Bingo review to learn more.
| | Solitaire Cash | Blackout Bingo | Solitaire Cube |
| --- | --- | --- | --- |
| Our Rating | | | |
| Game Name | Solitaire Cash | Blackout Bingo | Solitaire Cube |
| Developer | Papaya Gaming | Big Run Studios | Tether Studios |
| Platforms | iOS and Android | iOS and Android | iOS and Android |
| Highlight | Over 4 million downloads | Games only take about 2 minutes to play | Games can be played one on one or in tournament mode |
| Best For | People that like playing Solitaire | People that like playing Bingo | People that like playing Solitaire |
| | | | |
---
Who Is Solitaire Cash Best For?
Solitaire Cash is great for casual gamers who are looking to kill some time by having fun playing an exciting, innovative rendition of a classic card game. The game is simple and easy to learn so that new users can jump into the action and start playing.
Solitaire Cash is also great for people who would like to try their hand at making some extra cash by competing against other similarly skilled players. It may not be a good way to make a living, but players can definitely make a decent amount of money if they are successful.
---
Solitaire Cash Review FAQ
Let's answer a collection of the more frequently asked questions pertaining to Solitaire Cash and the different features that it offers.
Is Solitaire Cash Legitimate?

Yes. Solitaire Cash is a fully legitimate application that has paid out millions of dollars in winnings to players over the past few months alone.

With over four million downloads and well over 100,000 ratings equaling 4.6/5 stars, Solitaire Cash is definitely a legitimate game!

Players can withdraw their winnings without issue via PayPal, with a small transaction processing fee. They can also earn $1 of bonus cash for every friend that they refer.
How Much Does Solitaire Cash Cost?

Solitaire Cash is completely free to download from the app store and play.

Players will only have to make a deposit if they would like to participate in cash tournaments that require a cash entry fee.
Is Solitaire Cash Safe?

Yes, Solitaire Cash is safe.

You will never share any information with other players. Each tournament has a unique identification number which helps prevent errors, scams, or unfairness.

Any banking information divulged in order to make deposits or withdrawals is protected and will not be used for anything other than what is intended.

The game is skill-based and will match you with similarly skilled players, which helps ensure a good level of fairness.
Do Solitaire Cash Points Expire?

Solitaire Cash points do not expire and can be redeemed by players for bonus cash or other prizes whenever they so choose.
What Is the Minimum Age to Play Solitaire Cash?

Anyone over the age of 16 can download and play Solitaire Cash.
 
However, users who wish to participate in cash games for real money prizes must be 18 years of age or older to do so.
Can You Really Win Money With Solitaire Cash?

Yes, players can win real money with Solitaire Cash.

The cash tournaments include a number of players, each of whom pays a set entry fee which is then added to an overall prize pool. The top three scoring players will each take home a certain portion of the cash prize pool.

Earnings can be withdrawn via PayPal whenever players desire (with a minimum cash-out balance of $5). There is a $1 transaction processing fee for withdrawals.
Do I Have to Pay Taxes on My Solitaire Cash Earnings?

Players will only have to pay taxes on their Solitaire Cash earnings if they end up winning and withdrawing more than $600.

In this case, they will be sent an IRS Form W-9 and 1099-MISC to fill out, claim their winnings, and pay the required taxes.
Will I Be Matched With a Player at My Same Level With Solitaire Cash?

Yes, one of the awesome features that Solitaire Cash provides is skill-based player matching.

You will be matched with other players who are all of a similar skill level as yourself in order to ensure that tournament play is as fair as possible.
What Is the Difference Between Gambling and Playing Solitaire Cash?

Solitaire Cash allows players to participate in free games that do not require any deposit to pay for cash entry fees and, as a result, do not have real cash payouts.

There is, however, the option to compete in tournaments that involve real cash prizes and cash entry fees, which in turn technically makes Solitaire Cash a gambling app.

Solitaire Cash offers players the ability to enjoy the app without participating in these "gambling" style cash games, which is the main point of difference.
---
Final Thoughts
Solitaire Cash is a great way for people to enjoy playing solitaire from their mobile devices. The game involves some skill and strategy but is simple enough for new players to catch on quickly.
Players can participate in free games, while cash tournaments have some substantial payouts and can provide the opportunity to make money playing solitaire.
We hope this Solitaire Cash review has provided all of the important info you need to get started.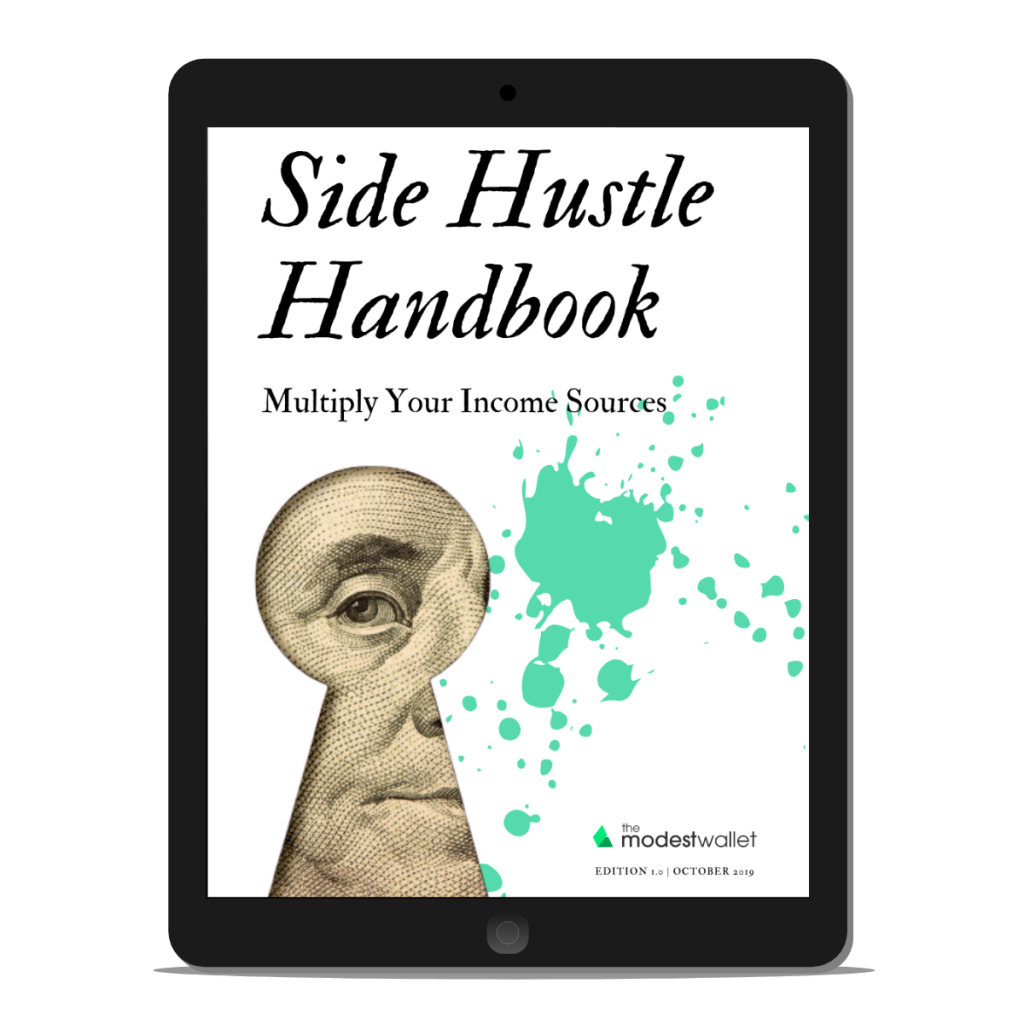 Get our free Side Hustle Handbook with the best strategies to multiply your income sources today.
Plus our best money tips delivered straight to your inbox.
Rhys is an online content writer & editor, student of decentralized finance and amateur botanist. He loves playing video games with his friends, learning new songs on the piano, and spending time in the sun with his dog Levi.