Many or all of the products featured on this page are from our sponsors who compensate us. This may influence which products we write about and where and how the product appears on a page. However, this does not influence our evaluations. Our opinions are our own. Here is a list of our partners and here is how we make money.
The information provided on this page is for educational purposes only. The Modest Wallet is a financial publisher that does not offer any personal financial advice or advocate the purchase or sale of any security or investment for any specific individual.
Stash and Robinhood offer two distinctive approaches to building an investment portfolio. On the one hand, Stash offers fractional share purchases and financial advice. Robinhood (RH) gives investors the chance to buy and sell financial instruments by themselves following one or more strategies of their choosing.
In the following review, we will analyze how each of these platforms works, the features that they currently offer to their customers, and which clients will benefit the most from their services.
Overview Stash vs. Robinhood
Both Stash and Robinhood are US-based entities that are regulated by the SEC and FINRA due to their role as brokerage firms. Here's a brief overview of each.
| | | |
| --- | --- | --- |
| Our Rating | | |
| In A Nutshell | Stash is a subscription-based investment platform that offers fractional shares and ETFs for investors in the United States, with zero trading fees involved. Stash offers various plans with monthly fees starting at just $1. | Robinhood allows you to make unlimited commission-free trades in stocks, ETFs, options and crypto. You can access professional research reports, trade on margin, and make bigger instant deposits with Robinhood Gold for $5 a month. |
| Our Review | Full Stash Review | Full Robinhood Review |
| | | |
About Stash
Stash is an investing platform that offers investors with a small account balance the ability to buy stock, ETFs, and fractional shares, which are fractions of stocks. The broker enables users to incorporate multiple securities within their portfolio regardless of the size of their account balance.
The company was founded in 2015 and currently serves more than five million investors in the United States, giving them the possibility of opening an account as little as $1.
Check out our full Stash Invest review to learn more.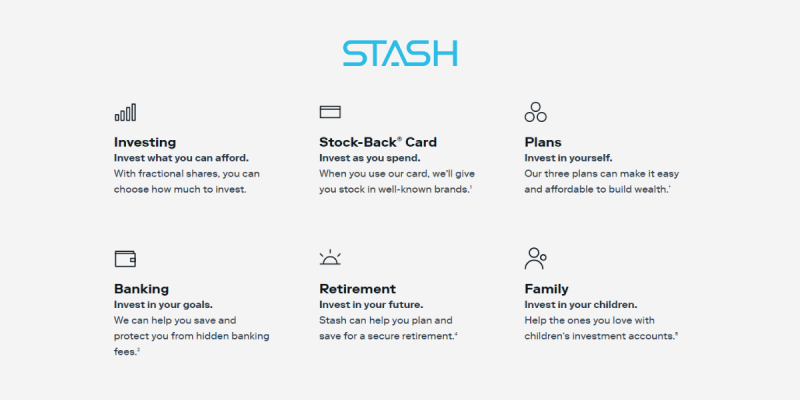 See Also: 12 Best Online Brokers
About Robinhood
Robinhood is a self-directed investing platform that offers access to the United States financial markets through zero-commission trades for US-listed stocks, exchange-traded funds (ETF), options, and cryptocurrencies.
Although the company does not explicitly present itself as a trading solution, some of its features make it an appealing choice for active traders rather than long-term investors – although this last group can still follow a buy-and-hold approach with this provider.
Read our full Robinhood review to learn more.
Stash vs. Robinhood: Main Features
Given the distinctive approach each of these platforms has when it comes to investing, their features are designed to cater to their respective audiences. Here's a summary of what those features are.
| | | |
| --- | --- | --- |
| Account Minimum | $0 | $0 |
| Fees | $1 per month (Stash Beginner), $3 per month (Stash Growth) and $9 per month (Stash+) | $0 |
| Trading Commissions | $0 per trade | $0 per trade |
| Investment Types | Stocks and ETFs | Stocks, ETFs, Options and Cryptocurrencies |
| Account Types | Individual Taxable, Traditional IRA, Roth IRA, and Custodial Account | Individual Taxable |
| Platforms | Mobile (iOS / Android) | Web-based, Mobile (iOS / Android) and Watch (watchOS) |
| Promotions | Get a $5 welcome bonus | Get 1 free stock |
| Fractional Shares | | |
| Individual Stocks | | |
| Dividend Reinvestment (DRIP) | | |
| Investment Guidance | | |
| Best For | Beginner investors | Beginner active traders |
Stash
Stash is a subscription-based service that offers users different levels of access to the platform based on the package they choose.
Stash users can buy US-listed stocks and exchange-traded funds (ETF) to build an investment portfolio.
This can be achieved by either buying multiple shares or fractions of a stock. Regardless of how big their accounts are, all investors can build diversified portfolios by incorporating dozens of different instruments.
Meanwhile, the firm also offers other solutions like retirement planning, financial advice, banking products, and custodial accounts for kids.
In summary, Stash is aiming to become a one-stop-shop for individuals seeking a solution that helps them manage their money and investments. The broker also provides advice and educational resources to those who sign up for any of its packages.
Main Features Overview
Multiple subscriptions to choose from: Stash currently offers three different subscription packages starting at $1 per month.
Free trading: US-listed stocks, ETFs, and fractional shares can be traded for free through Stash's platform.
Fractional shares: Users can buy a fraction of any of the thousands of US-listed stocks and ETFs available within the platform, allowing them to build diversified portfolios without incurring high fees.
Access to financial advice and educational tools: Even the cheapest package offered by Stash entitles the user to access personalized financial advice from the firm's team of seasoned financial professionals.
Banking products: Stash offers a zero-fee bank account provided by a US-based financial institution that is insured by the FDIC while helping the user in tracking his/her expenditures through a user-friendly app.
Low monthly fees: The most expensive plan currently offered by Stash costs $9 per month, a considerably low amount based on the quality of the services offered by the platform.
Smart Portfolio: A new feature offered by Stash to help users build long-term wealth and diversify their investment portfolios. Stash will create and managed a fully diversified portfolio based on the user's financial risk profile, time horizon, and goals. Stash will automatically rebalance your portfolio if the asset allocation deviates by more than 5% from the original asset mix.
Robinhood
Robinhood offers US-based investors access to zero-commission trades for US-listed stocks, ETFs, options, and cryptocurrencies through a user-friendly platform that has been designed primarily to cater to the youngest generation of Americans.
Although the firm allows users to buy and hold these instruments for as long as they wish without incurring any cost, its services are mostly designed for active traders with certain features such as low-cost margin loans and instant deposits being among the most appealing that this provider currently offers.
Aside from this, Robinhood offers access to in-depth market data such as Level II data from the Nasdaq stock exchange for Robinhood Gold accounts.
That said, in the same way as Stash, Robinhood also offers the possibility of buying fractions of an instrument through fractional shares. Additionally, the firm has also introduced a banking solution known as Robinhood Cash Management, an FDIC-insured bank account that offers a 0.3% APY and comes with a debit card.
Main Features Overview
Free trading: Users can trade thousands of US-listed instruments, including stocks, ETFs, and options along with a limited selection of cryptocurrencies without incurring any fees.
Fractional shares: Investors can buy a fraction of any of the thousands of stocks offered within the platform. This helps retail investors with a small account balance to build diversified portfolios without incurring high fees.
Margin loans: Robinhood offers one of the lowest margin rates in the market at 5% per year and even waives any borrowing costs for loans below $1,000.
Instant Deposits: Users can have their deposits cleared instantly instead of having to wait for the usual 24 to 48 hours required by other providers.
In-depth market data: Robinhood Gold users will get access to Level II market data from the Nasdaq stock exchange, which includes the current number of buy and sell orders and their bid/ask price – a feature that is highly useful for day traders.
Robinhood Gold: Robinhood Gold is the premium version of the service and it costs $5 per month. This package entitles the user to higher amounts of margin and a higher threshold for instant deposits.
User-friendly platform: Robinhood's trading platform is one of the most intuitive in the industry, allowing the user to learn how most of the financial instruments within the platform function as they browse through the vast selection of available alternatives.
See Also: 7 Best Micro-Investing Apps
Stash vs. Robinhood: Investment Options
Even though these two platforms possibly have different audiences in mind, they offer almost the same instruments for building an investment portfolio with only one exception.
Stash
Stash is designed as a passive investing platform. This means that all of the instruments currently offered by the firm are viewed as long-term holdings rather than short-term tradable securities.
For this reason, Stash only supports buying and selling US-listed stocks, ETFs, and even American Depositary Receipts (ADR), which can be traded either directly or in the form of fractional shares.
Robinhood
Robinhood is mostly viewed as a self-directed trading platform although its portfolio is quite similar to the one offered by Stash.
That said, Robinhood offers two asset classes that are not currently supported by Stash: cryptocurrencies and options.
At the moment, the only crypto assets that can be traded with Robinhood are Bitcoin (BTC), Ethereum (ETH), and Doge (DOGE). All of these instruments can be traded for free.
Stash vs. Robinhood: Account Types
In this particular area, Stash is possibly a better choice than Robinhood as the firm supports different types of accounts, including retirement and custodial, while the latter only offers individual taxable investment accounts.
Stash
These are the accounts that users can open with this provider:
Individual taxable accounts
Joint taxable accounts
Online debit accounts
Traditional IRA & Roth IRA
Custodial accounts for kids
Robinhood
Robinhood only offers taxable investment accounts at the moment. That said, we can break down the types of accounts offered in the following way:
Robinhood Cash – A basic account that provides access to zero-commission trades and other trading features but does not offer margin trading.
Robinhood Instant – This is Robinhood's margin account. It also gives the account holder access to the instant deposit feature.
Robinhood Gold – This premium account offers advanced trading features such as Level II data and higher limits for margin loans and instant deposits.
Stash vs. Robinhood: Sign Up Bonuses and Promotions
The fierce competition between brokerage firms nowadays to enroll new customers has popularized the use of promotional tools such as sign-up bonuses and stock rewards. Here's what each of these providers currently has to offer to their newly-enrolled users.
Stash
Stash currently offers two types of rewards: one for signing up and one for referring other people.
The sign-up bonus is $5 when you complete the registration process.
Meanwhile, if you get your friends to sign up, you can get an extra $5 per friend as long as they make a deposit.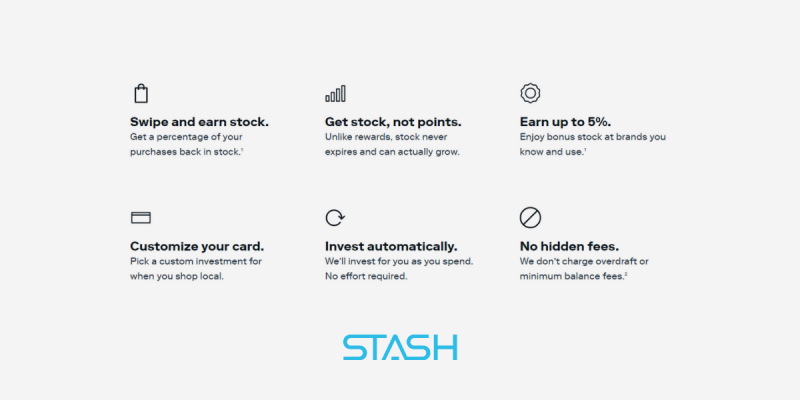 See Also: 12 Best Investment Apps: For Beginners & Pros
Robinhood
Robinhood rewards newly-enrolled users by giving them one free stock. This stock can be valued between $1 and $213.57 although there is a 98% chance that the stock will have a price between $2.5 and $10.
The stock will be credited to the account once the user completes the registration process.
Additionally, users can also earn up to $500 in referral fees from Robinhood by getting their friends to sign up with the platform. These friends will also get a free stock upon completing their registration.
Stash vs. Robinhood: Fees & Pricing
The business model of each of these providers is quite different, although they both offer subscription-based services. Here's a breakdown of their pricing.
Stash
Stash works as a subscription-based service. The platform currently offers three different packages that give the user access to multiple features.
Stash Beginner: Costs $1 per month and gives the user access to the firm's investing and banking solutions.
Stash Growth: Costs $3 per month and allows the user to enjoy the firm's retirement planning services along with giving them access to unlimited personalized advice from Stash's team of seasoned financial professionals.
Stash+: Gives the user access to all of the features offered by the platform including the possibility of opening custodial accounts for their kids while also offering twice the rewards that can be obtained through the company's Stock-Back® debit card.
Other than that, Stash does not charge any fees for buying or selling fractional stocks or ETFs through the platform. That said, ETFs do generate a fee that is charged periodically and it varies depending on the fund – although it tends to be fairly small.
Robinhood
Robinhood is a zero-commission service, which means that investors can buy and sell stocks, ETFs, cryptocurrencies, and options without paying a dime.
That said, Robinhood charges a $5 monthly fee for access to the firm's premium package, Robinhood Gold.
Additionally, margin loans generate a 5% interest rate per year although the first $1,000 taken on margin is free of charge for Gold users.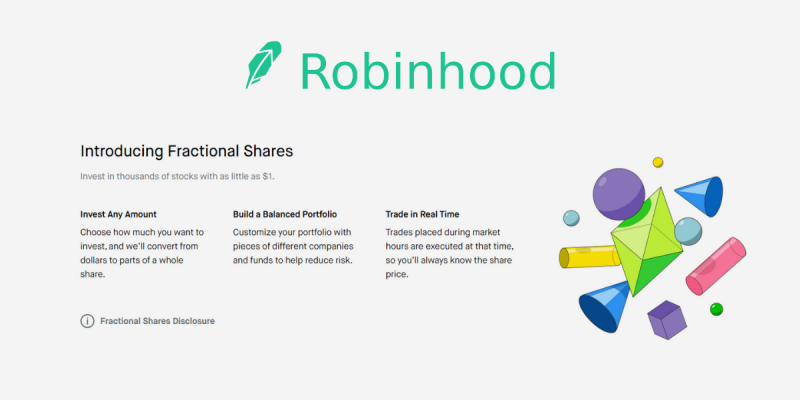 See Also: 12 Best IRA Accounts
Stash vs. Robinhood: What We Like (Pros)
In this section, we'll highlight the best characteristics of these two important US-based brokerage firms.
Stash
One-stop-shop for managing money and investments in the US
Low-cost passive investing platform
Preferred by more than five million clients
Overseen by top-tier regulators in the United States
Zero-commission trades for US-listed instruments and fractional shares
Unlimited financial advice is available for all users
Multiple types of accounts available including retirement and custodial for kids
The firm offers rewards in the form of stock for purchases made using its Stock-Back® debit card
Robinhood
Zero-commission trading for US, ETFs, options, and cryptocurrencies
User-friendly trading platform designed with beginner investors in mind
Advanced features for active traders such as Level II Data from the Nasdaq
Interesting features, such as instant deposits, not offered by rivals
Low margin rates
Stash vs. Robinhood: What We Don't Like (Cons)
Although both platforms are great, they do have some downsides.
Stash
No guided investing solution to help individuals with little to no knowledge in the field
Monthly subscription costs can be quite expensive for portfolios with a balance lower than $20,000
Robinhood
The broker does not offer futures, OTC securities, or forex pair trading
Recently involved in a controversy regarding its decision to halt the trading of multiple stocks, like GameStop (GME) and AMC Entertainment (AMC), even as institutional players continue dealing with these shares
This provider does not offer any form of retirement or guided investing solution
See Also: How to Invest in Bonds: Diversify Your Portfolio
Stash vs. Robinhood: Security
Is your money safe with these two providers? Overall, yes. Here's why.
Stash
Stash is a US-based investing platform that is regulated by the Securities and Exchange Commission (SEC) and the Financial Industry Regulatory Authority (FINRA).
The firm is also a member of SIPC, which means that all accounts held with this provider are covered for up to $500,000 – including $250,000 in cash – in case Stash becomes insolvent.
Meanwhile, Stash's banking products are offered by the Green Dot Bank, an institution that is a member of the Federal Deposit Insurance Corporation (FDIC). These accounts are covered for up to $250,000.
Robinhood
Same as Stash, Robinhood is a regulated US-based entity overseen by the SEC and FINRA and a member of SIPC.
That said, it is important to note that this coverage does not include losses caused by market downturns.
Additionally, all banking products offered by Robinhood are provided by FDIC-insured banks in the United States, such as Goldman Sachs and Citibank.
Stash vs. Robinhood: Customer Support
Although one tends to overlook the importance of this particular area, the quality of a platform's customer support is an important variable to analyze when picking a broker.
Stash
Stash has an entire section dedicated to helping customers solve their issues. This section can be found by clicking the "Help" link in the top menu of the company's official website.
Meanwhile, there is also a chatbot with which the user can interact to ask specific questions about a particular issue they might have encountered when using the platform.
As for other ways of contacting the firm, phone and e-mail support is available for registered users.
Robinhood
Similar to Stash, Robinhood has a "Support" section where users can find answers to their most frequently asked questions.
At the moment, Robinhood does not support live chats for its customers. You will not be able to reach a customer support person. If you want to contact Robinhood, you will either have to email them at "support@robinhood.com" or try @AskRobinhood on Twitter.
Stash vs. Robinhood: Platform and App
Given the different approaches that both firms have to investing – Robinhood being more trading-oriented and Stash being more inclined to a buy-and-hold approach – both interfaces have different designs and cater to different needs.
Stash
Stash offers a user-friendly web-based and mobile app for keeping track of the portfolio of securities held within the account along with information about the user's bank and retirement account.
Meanwhile, the mobile app has a 4.1-star rating on Google's Play Store and a 4.7-star rating on Apple's App Store.
See Also: How to Invest in Mutual Funds: A Step-by-Step Guide
Robinhood
Robinhood's platform features a user-friendly interface that was designed with amateur investors in mind, meaning that it lacks the complexities that other providers tend to incorporate for seasoned traders and professionals from the industry.
The firm's features are highly intuitive and users can buy and sell securities easily by searching them by their ticker or name while placing trades should not take more than a few seconds.
Additionally, the platform incorporates research materials, including a news feed, basic fundamental data for companies and exchange-traded funds (ETF), and analysts' reports.
That said, the mobile versions of the platform were downgraded by users during the GameStop controversy. The feedback reflects both the discontent users have in regards to that particular situation and the performance issues they have experienced while trading on the platform.
Who Is Stash For?
Stash is a low-cost investing platform primarily designed for buy-and-hold investors who wish to build an investment portfolio on their own and have the option to speak with an advisor in case they need guidance.
Additionally, compared to Robinhood, the broker is the best of the two when it comes to retirement planning as it offers educational materials and advice.
Account Minimum: $0
Fees: $1 per month (Beginner), $3 per month (Growth) and $9 per month (Stash+)
Promotion: Get a $5 welcome bonus
Who Is Robinhood For?
Robinhood's features and design seem to have been conceived for active traders primarily although buy-and-hold investors can also use the platform for passive investing.
Meanwhile, the firm's margin account and instant deposit features are quite interesting as is the possibility of investing in cryptocurrencies, an alternative that is not available with Stash at the moment.
Account Minimum: $0
Fees: Zero-commission stock, ETF and per-leg options trading
Promotion: 1 free stock
Final Thoughts
Although we can establish some points of comparison between Stash and Robinhood, each of them caters to a different audience and should not be classified as the same kind of platform. Their individual approaches to investing are quite different.
Stash was designed primarily for beginner passive investors while Robinhood is a great alternative for active traders. You should pick your provider in line with which of these two groups you belong to.
Up Next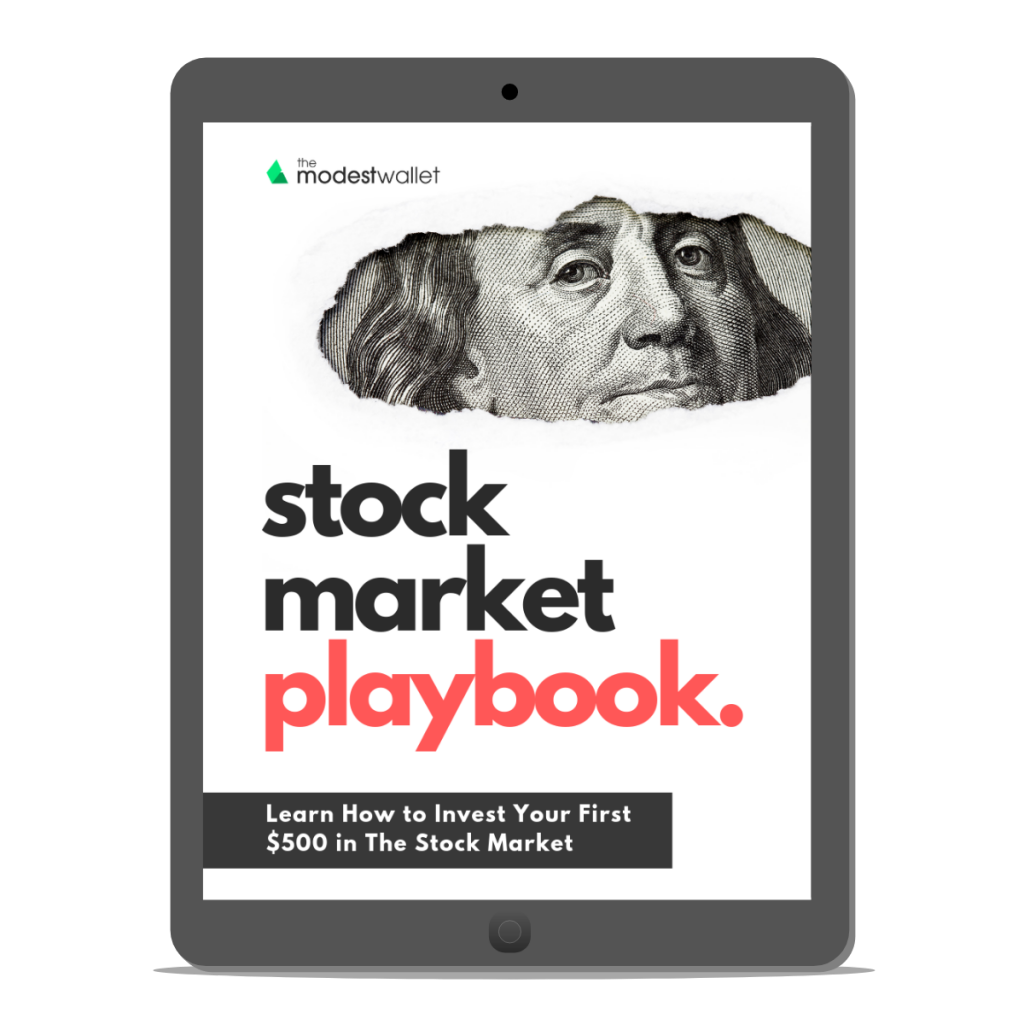 Get our free Stock Market Playbook to learn how to invest your first $500 in the stock market.
Plus our best money tips delivered straight to your inbox.
Alejandro is a financial writer with 7 years of experience in financial management and financial analysis. He writes technical content about economics, finance, investments, and real estate and has also assisted financial businesses in building their digital marketing strategy. His favorite topics are value investing and financial analysis.