Toluna Review 2023: Make Money With Surveys & More
Many or all of the products featured on this page are from our sponsors who compensate us. This may influence which products we write about and where and how the product appears on a page. However, this does not influence our evaluations. Our opinions are our own. Here is a list of our partners and here is how we make money.
---
The information provided on this page is for educational purposes only. The Modest Wallet is a financial publisher that does not offer any personal financial advice or advocate the purchase or sale of any security or investment for any specific individual.
If you're considering doing online surveys as a potential side hustle, Toluna is one survey site that you'll want to check out. Becoming a Toluna Influencer is free, and you'll become one of the millions of survey takers around the world that share their opinions with some of the world's biggest brands through Toluna. We'll take a look at how much you can make with Toluna if it's safe, and who is best suited to make money with Toluna.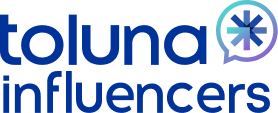 Quick Summary: Toluna is an online community where people can earn rewards for sharing their opinion via surveys. Toluna connects brands and consumers in real-time to deliver insights 'on-demand'.
Promotion: None
---
What Is Toluna?
Toluna is a survey platform that allows you to complete online surveys and earn rewards. As a Toluna Influencer, you'll have the opportunity to influence some of the world's largest brands, share your insights, and be rewarded for your contributions. Toluna has more than 21 million users in 50 countries and 28 languages.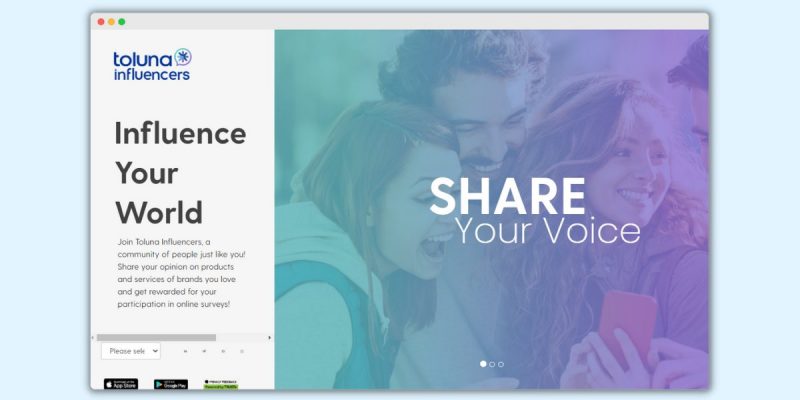 ---
How Does Toluna Work?
To become a Toluna Influencer, you'll need to sign up on the Toluna website. Membership is free and open to individuals that are at least 16 years of age, however, some geographic locations may have laws that require you to be older to participate. Members must be at least 18 years old to redeem prizes, and up until that age, their legal guardian can redeem the prizes on their behalf.
To create your Toluna account, you'll be asked for some basic information, including your:
Name
Birthdate
Gender
Email address
Country
Zip code
To complete your registration, you must click the link in the confirmation email that Toluna sends to your email inbox. Once that's complete, you can start participating with Toluna surveys, content, and games to earn rewards.
Toluna Points are the form of virtual currency that Toluna awards to its members for completing various actions. The actions that will earn you Toluna points include:
Participating in surveys
Completing profile surveys
Playing games
Creating engaging community content
As soon as you join Toluna, you'll receive 600 points as a welcome gift. Once you've earned enough points, you can then redeem them for rewards like PayPal cash or eGift Cards from popular shops and brands. In Toluna's current model, 3,000 points are equivalent to $1.00, except for when redeeming for PayPal cash, in which case 3,500 points are equivalent to $1.00.
---
Toluna Features
Toluna offers multiple ways to earn points on their platform, including their popular point-earning task of taking online surveys.
Online Surveys
Taking online surveys is the primary way to earn points with Toluna. You'll have the option to attempt multiple surveys each day, and you can pick different topics that may interest you, along with survey lengths that fit the time you have available.
Some of the available survey topics include:
Lifestyle
Business
New products
Movies and TV
Technology
Other
Each available survey will list the survey topic, the amount of time needed to complete it, and how many points are available.
Toluna will send an email to you when a survey becomes available for you to complete, and there are typically at least a few surveys available every day.
You can also pick surveys based on the amount of time you have available to complete them. If you pick the category of surveys that take less than 10 minutes to complete, you have the potential to earn up to 1,200 points, or you can choose surveys that take more than 10 minutes to complete and have up to 3,000 points available.
If you take a survey that lasts about 10 minutes and you receive the full 1,200 points available, that means you'd be earning approximately $0.40. If you take one of the longer surveys that take 60 minutes to complete, you could earn $1 for your successful completion of the survey.
After completing certain surveys you may receive the opportunity to complete higher-paying follow-up surveys, however, these are not advertised opportunities and there is no guarantee of receiving one.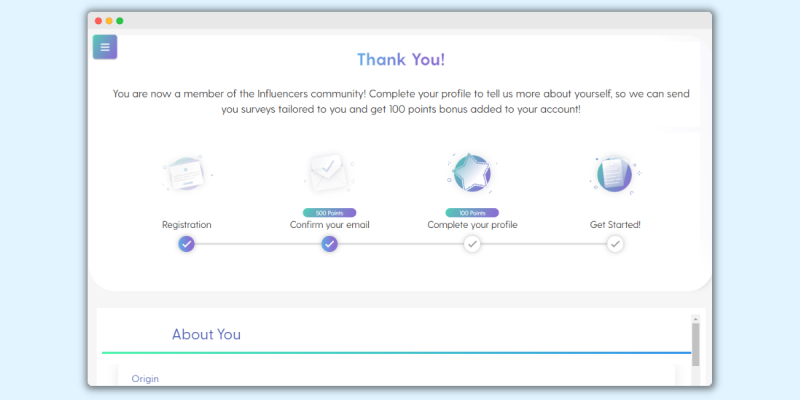 Profile Surveys
Completing short profile surveys is an easy way to earn quick points on Toluna. By completing these profile surveys you help Toluna find surveys that are more relevant to your interests, and you increase your chance of qualifying for the surveys that are sent to you.
Each profile survey should take about two to three minutes to complete. Upon the completion of each, you'll receive 100 Toluna points. Available profile survey topics include:
About you
Home and family
Parents
Media
Health
Shopping
Employment
Internet
Mobile phone
Finance
Sport and beauty
Video games
Automotive
Travel
Participate in Polls
If your goal is to earn points on Toluna, then you'll want to look specifically for Toluna's Sponsored Polls. These are found on the homepage under the "Recommended" stream or by clicking on "Sponsored Content" in the Surveys tab. Sponsored Polls consist of one question and will earn you 15 points for your participation.
You can also create polls and participate in other user-created polls on Toluna. However, only the Sponsored Polls will earn you points.
Posting Content
Toluna encourages its members to interact in the Toluna Community by posting high-quality content, polls, and discussions, and they reward some of the best content daily with 500 bonus points.
The Toluna Team uses its discretion in selecting good quality content that enriches the community, but a few tips they give that will put you in the best position to be selected are:
Always include a photo or video
Check your grammar and spelling
Add new themes and topics to the discussion
Interact with other members
Participate in Contests
Toluna offers a variety of contests throughout the year. Typically they involve completing as many surveys as possible by a certain date and earning large numbers of Toluna Points if you win the top spots in the contest. There have also been Toluna competitions involving earning high scores in Toluna's games. Toluna will send an email about any new contests to active Toluna members, as well as post about them in the Community Forum.
Referral Program
While Toluna has offered a referral program in the past, they are currently revamping their "Invite a Friend" promotion and they encourage you to check back at a later time to see when their referral program will be live again.
Mobile App
Toluna offers a mobile app for both iOS and Android. Using the app, you can complete surveys on the go, along with creating Toluna Community content and engaging with others. You can also redeem your points and earn rewards directly on the app.
Toluna Community
All Toluna users can post content and start a discussion in the Toluna Community. You'll create a basic community profile when signing up for Toluna, which you can edit to include your profile image, bio, and custom username if you'd like.
There are a few different ways to participate in the Toluna Community forum:
Topics: Toluna members can create a Topic in the community and ask pretty much anything to start an open-ended discussion with the other members.
Polls: Creating a poll gives you the ability to ask a question with multiple pre-formed answers that other members can pick from. Statistics from your poll will be viewable in an infographic and will update in real-time.
Thumbs It: If you're on the fence about something, creating a Thumbs It allows other members to give the subject a thumbs up or thumbs down.
Battles: If you can't decide between two options, you can create a Battle to let the community take their pick of the two.
While you are not guaranteed to receive Toluna Points for posting content, Toluna gives out bonus points to members every day for creating good quality Polls, Topics, Thumbs Its, and Battles in the Toluna community. Toluna team members award 500 bonus points to the members with the best content each day.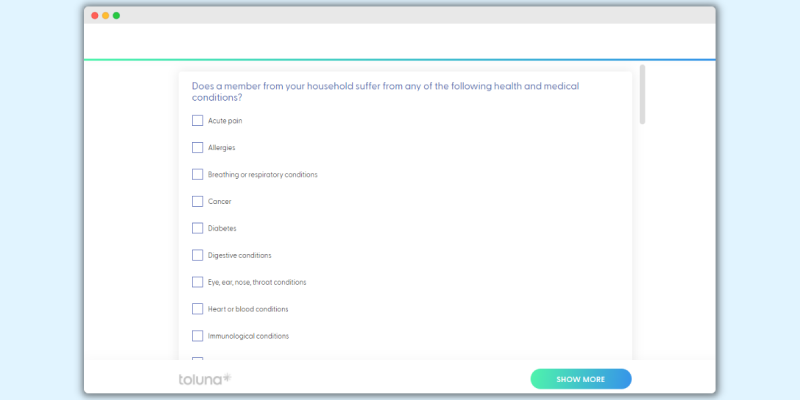 Redeeming Points
Toluna gives you multiple ways to redeem your points in amounts, starting at 10,000 points and going up to 150,000 points. You can view your points balance at any time by clicking on your Profile icon tab and selecting "Points." Here you can view your current balance, the actions that have earned you points, and how you've spent your points so far.
Toluna rewards options include:
Amazon eGift Card — Starting at 30,000 points
PayPal cash (available in $10 and $30 increments) — Starting at 35,000 points
eGift Cards to popular brands including Starbucks, Target, Lowe's, and Walmart — Starting at 30,000 points
Donate to plant a tree in Peru, Thailand, or Uganda — 10,000 points
If you redeem an eGift Card it will be posted directly to your Toluna account, and in some circumstances, to the email address indicated in your account. PayPal requests will be credited directly to your PayPal account.
When redeeming your points for a reward, you'll be asked to confirm your postal address, email address, or PayPal email address, depending on your reward and country. For all reward types, you'll need to allow for up to three weeks for delivery.
Toluna Points remain valid for 12 months from the time that they have been credited to your account. Points that have been in your account for 12 months and have not been used during that time will automatically expire and be deleted from your account. This deduction will occur towards the end of the month in which they are scheduled to expire, near the 28th of the month. Toluna encourages members to not wait until the last moment to redeem points.
---
How Much Can You Make from Toluna Online Surveys?
The amount you can make from Toluna online surveys depends a lot on the effort that you put into it.
Let's say that you qualify for three surveys in a day, and each survey is about 10 minutes long and earns you 1,200 points (the max for under 10-minute surveys). You'll earn 3,600 points in one day in about 30 to 45 minutes of work. If you continue with the same routine each day for 30 days, you'd have 108,000 points, which would equate to about $36. You can also add to your points by completing profile surveys and playing Toluna games.
While it's unlikely that you'd be able to qualify for and complete three surveys every single day of the month while receiving max points for all of them, this gives you an idea of what's possible. Earning $20 to $30 per month with Toluna is possible if you're willing to give it 30 to 60 minutes of work per day.
---
Toluna Pricing
Being a member of Toluna and earning rewards from taking online surveys and other Toluna tasks is 100% free.
---
Toluna Customer Support
Toluna offers an in-depth FAQ page as a first place to check for answers to your questions. If you are a Toluna member and have questions about your account, surveys, or other subjects, you can create a support ticket on their Contact Us page. You can also write to Toluna via snail mail at: Toluna, 21 River Road, Suite 2000, Wilton, Connecticut 06897.
---
Toluna Security
The profile data that you provide to Toluna when signing up is stored on Toluna's secure servers. Your information will never be sold or used to advertise and no company will solicit you as a result of joining the Toluna community. When you participate in Toluna surveys, all responses are held in aggregate, which means that individual responses are not linked to personally identifiable information.
If you're a content creator in the Toluna community, you can pick who can see it by opening the Security drop-down menu. You have three options: Public, Friends Only, or Private. Content that is created for the Public is also searchable by all search engines.
---
Toluna Pros
100% Free – Toluna is completely free to join and use. You'll never be charged any fees.
Modern Interface & App – The Toluna website is fresh and modern and the app is easy to use to take surveys on the go.
Good Selection of Rewards – With eGift Cards, Amazon eGift Cards, PayPay cash, and donation options, Toluna offers a nice variety of rewards.
Survey Variety – There are multiple categories of surveys and you can pick the survey you want to take based on category, points available, and time it takes.
---
Toluna Cons
High Minimum Payout – You'll have to earn a minimum of 30,000 points to receive a $10 eGift Card. This can feel overwhelming when you're just getting started.
Long Reward Wait Time – Toluna says that it can take up to three weeks to receive rewards.
Long Surveys – Some of the available surveys are 60 minutes long, which is a pretty long time to commit to taking one survey.
Disqualifications – Like on any survey site, there will be surveys that you're invited to that you end up not qualified for and are not allowed to complete.
---
Toluna Alternatives
If you'd like to consider other online survey companies that will pay you in rewards for sharing your opinions, you've got several options.
Toluna vs. Branded Surveys
Branded Surveys matches market research firms and Fortune 500 companies with people who wish to be paid to share their opinions through online surveys. The points you earn from taking surveys can then be redeemed for cash or gift cards. They offer a $1 sign-up bonus. Read our full Branded Surveys review to learn more.
Toluna vs. Survey Junkie
Survey Junkie is an online survey company that pays members for sharing their opinions. You'll earn points for each survey that you complete and can redeem them for PayPal cash or gift cards. You'll typically make between $0.50 to $3 per survey. Read our full Survey Junkie review to learn more.
Toluna vs. Swagbucks
Swagbucks helps you earn cash and gift cards for taking part in shopping, taking surveys, watching videos, donating to charity, completing web searches, and playing online games. 100 SwagPoints will earn you a $1 reward. Read our full Swagbucks review to learn more.
Toluna vs. InboxDollars
InboxDollars rewards its members for completing online activities such as taking surveys, playing online games, watching videos, or searching the web. Read our full InboxDollars review to learn more.
| | | | |
| --- | --- | --- | --- |
| | | | |
| Our Rating | | | |
| Avg. Payout Per Survey | $0.50 – $10.00 | $0.50 – $5.00 | $0.50 – $3.00 |
| Payment Method | PayPal or Check | PayPal, Prepaid Visa Card, or Gift Card | Bank Transfer, PayPal, or Gift Card |
| Sign Up Bonus | None | Get $1.00 | None |
| Minimum To Cash Out | $10 (30,000 points) | $5.00 | $10 (1000 points) |
| Highlight | Online surveys and polls | Online surveys | Online surveys and focus groups |
| | | | |
---
Who Is Toluna Best For?
Toluna is best for someone interested in making a little extra money in PayPal funds or eGift Cards in exchange for sharing their options through online surveys. If you're looking for a survey site that makes it easy to take surveys on your phone, Toluna is a good pick with its modern and easy-to-use app. They also have few restrictions as to who can sign up, so if you're 16 years or older, it's likely that you can join Toluna.
---
Toluna Review FAQ
We've found some of the most frequently asked questions about Toluna. Here are our answers.
Is Toluna Legitimate?
Yes, Toluna is a legitimate company that partners with many big brands to provide customer opinion data to its corporate clients. There are millions of Toluna Influencers around the world that complete surveys in exchange for rewards. 
Is Toluna Safe?
Yes, Toluna is a safe company. They have strong privacy measures in place to treat your personal data safely and have a proven track record of over 10 years of following through on the delivery of rewards for the points you earn.
Does Toluna Offer a Mobile App?
Yes, Toluna offers a mobile app for iOS and Android. On the app, you can take surveys, create content, engage in the community, earn points, and redeem for rewards. 
Do Toluna Points Expire?
Yes, Toluna points expire after 12 months from the date that they post to your Toluna account. Any points that have not been used within those 12 months will automatically expire and be removed from your account. 
What Is the Minimum Payout Amount for Toluna?
The minimum payout for Toluna is 30,000 points, which is equivalent to $10. You can redeem 30,000 points for a $10 eGift Card to Amazon or another popular brand. Alternatively, at 10,000 points, you can donate to a charity that plants trees. 
How Much Are Toluna Points Worth?
In general, 3,000 Toluna Points are worth $1. However, if you want a PayPal reward, 3,500 points are worth $1 in PayPal cash. 
Avg. Payout Per survey: $0.50 to $10.00
Payment Method: Check and PayPal
Sign Up Bonus: None
Min. Cash-Out Amount: $10 (30,000 points)
Min. Age Requirement: 16+ years
Availability: Available internationally including USA, UK, Australia, and Canada
Trustpilot Rating: 3.3/5.0
---
Final Thoughts
Taking online surveys isn't going to make you rich, but it's a nice way to earn a little extra spending cash in your free time each month. With Toluna's easy-to-use app, multiple survey invites emailed to you every day, and a variety of survey topics to keep it interesting, there is no reason you couldn't make $20 to $30 in rewards with Toluna in a month. If you're interested in making money with online surveys, signing up for Toluna is worth your time.
Get our free Side Hustle Handbook with the best strategies to multiply your income sources today.
Plus our best money tips delivered straight to your inbox.

Summer Tannhauser is an entrepreneur, online educator, and freelance writer who is passionate about helping others to create additional income by leveraging their life experiences and passions. Summer works with budding entrepreneurs through her online courses and workshops and has appeared in numerous online publications and podcasts including Inc., Teachable, and USA Today.