Trim Review 2023: Features, Pros, and Cons
Many or all of the products featured on this page are from our sponsors who compensate us. This may influence which products we write about and where and how the product appears on a page. However, this does not influence our evaluations. Our opinions are our own. Here is a list of our partners and here is how we make money.
---
The information provided on this page is for educational purposes only. The Modest Wallet is a financial publisher that does not offer any personal financial advice or advocate the purchase or sale of any security or investment for any specific individual.
Even if you feel on top of your subscriptions, stats suggest you could do better. Amazingly, survey data from C+R Research found most people underestimate their monthly subscription bills by 2.5 times. In dollar terms, that's about $130 per month — or over $1,500 per year — that most customers aren't factoring into their finances. And this data doesn't even include higher potential prices for bills, insurance, or credit card interest rates.
You could manually go through each of your expenses to decrease your costs, but who has the time or energy for that? Why not let technology do the cost-saving for you? Yes, there are automated services you could use to filter through your expenses, renegotiate bills, and sift through subscriptions you didn't know you had. For instance, the platform Trim has been helping customers track their spending habits since it started business in 2015. Millions of people now use Trim to, well, "trim" their yearly expenses without spending hours or days dissecting their statement details.
Although Trim is a popular financial health service, it may not be the best fit for your needs. Find out what Trim offers and whether you should add it to your financial toolkit.
Bottom Line: Trim is a financial service that helps people save money in a number of ways, from transaction monitoring and bill negotiation to subscription cancellation. It works with cable, phone, and even internet bills.
| | |
| --- | --- |
| Pricing | |
| Features | |
| Customer service | |
| User experience | |
| Security | |
| Value for money | |
---
What is Trim?
Trim is a money-monitoring software that helps users pinpoint how much they spend on bills and subscriptions. In addition to highlighting your spending habits, Trim lets users cancel paid subscriptions and negotiate better rates for annual phone, Internet, or cable bills. The Trim app also helps people save on their medical expenses, bank fees, and APR rates through its negotiation portal. As Trim expands its services, it has introduced new savings-focused features like "Simple Savings," spending analysis tools and alerts, and a car insurance comparison calculator.
Trim launched in 2015, and its official headquarters is in San Francisco's photogenic Flatiron Building. As of 2021, Trim is a part of OneMain Financial.
---
How Does Trim Work?
Once you set up a Trim account with your email, Facebook profile, or Google account, you must connect Trim to your bank and credit card details to monitor your funds. If you want Trim to negotiate your bills, you'll need to specify the provider you're working with and upload a copy of the latest billing info. Once your Trim account is set up, you'll see notifications on your subscriptions and can cancel any of these plans through Trim free of charge. However, those opting for the Bill Negotiation feature must pay Trim a 15% fee upfront if Trim successfully reduces yearly bill payments. You can also access Trim's other features like Simple Savings, the car insurance calculator, and spending analysis by logging into your online account.
---
How To Sign Up To Trim
Trim boasts it takes about two minutes to set up an account and save cash. While it may take a little bit longer than 120 seconds, setting up a Trim account is straightforward if you have the info you need from the get-go.
Step 1 – Go to Trim: Be sure you're on Trim's official website when creating an account. Trim says to use the domain go.asktrim.com when joining its platform.
Step 2 – Create A Trim Account: You could use your Google, Facebook, or email account to get started on Trim. You'll also need to type your name and create a password to move on to the next step.
Step 3 – Verify Your Account: After going through the preliminary stage, Trim will notify your associated Google, Facebook, or email login to verify your identity.
Step 4 – Connect Your Bank Account & Credit Card: Next, you'll need to connect banking or credit card info to your Trim account so it can analyze your spending. Trim collects all of this data through the third-party platform Plaid, and it uses advanced encryption technologies to protect your identity. Choose the bank or credit card company you want to share with Trim and follow the prompts from Plaid as it links your accounts.
Step 5 – Let Trim Analyze Your Spending Habits: Once you submit your financial data through Plaid, it's time for Trim to work its algorithmic magic! You should start receiving alerts on your associated profile to get started trimming your costs.
Step 6 – Start Saving Money: Shortly after you set up your Trim account, you should see money-saving opportunities like unnecessary subscriptions. Those using Trim's Bill Negotiator feature may also hear back with a reduced yearly rate.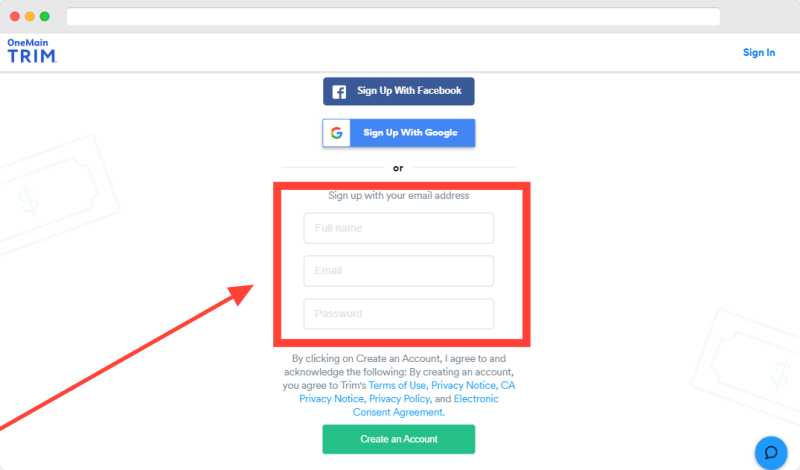 ---
Trim Features
When Trim launched in 2015, it was primarily focused on tracking spending habits to help people save cash. Although money monitoring tools like automatic subscription detection remain some of Trim's most notable features, this platform continues to expand its offerings. Find out all the ways adding Trim could help you budget better.
Pricing
Free and Premium (15% success fee of the total first year of savings for bill negotiation)
Features
Bill Negotiation, Subscription Cancellation, Transaction Monitoring, Car Insurance Comparison Tool, Budgeting Tool, and more
Supported Services
Phone, internet, cable and wireless, credit card APR, medical and more
Trustpilot
4.2/5.0
Better Business Bureau
A- Rating
Mobile Apps
None
Promotion
None
Bill Negotiation
Net Worth Tracking
Free Plan Available
Support
Help center and email:

[email protected]
Transaction Monitoring and Automatic Notifications
Once you sign up for a Trim account, you need to share your bank or credit card account info so it can sift through your spending data. For your safety, Trim has read-only access to your financial information, and it uses high-grade 256-bit SSL encryption to protect your data. Trim's proprietary algorithm helps identify information on your transaction history and will send you alerts whenever it detects potential areas where you can save. You can also set up SMS notifications to let you know about any significant info like overdraft fees, credit card payments, or bank transfers in real-time.
Bill Negotiation
With the optional "Bill Negotiation" feature, you can ask Trim's agents to contact your phone, Internet, or cable provider and try to lower your monthly bills. All you have to do is send a copy of your bill to Trim and wait for their master negotiators to work for you. If Trim successfully lowers your bills, you'll need to pay them 15% of the estimated yearly savings upfront. However, you don't have to pay anything if Trim can't reduce your bills.
Cancel Unwanted Subscriptions
If you feel like you're paying too much on unused subscriptions, Trim can help you identify potential savings and act on them immediately. After connecting your bank and credit card info, Trim notifies you of subscription spending and lets you cancel any of these plans for free using Trim's platform.
Car Insurance Comparison
Recently, Trim partnered with the insurance-screening company Savvy to help users find the best rates on their car insurance. To use this insurance comparison tool, click the "Car Insurance" button on your Trim dashboard and enter details on your vehicle and current insurance rates. With the help of Savvy's software, you'll see how competing car insurance plans compare and switch to a more attractive offer.
Liabilities Calculator
Trim's "Liabilities Calculator" can help you strategize your repayment schedule if you're struggling to pay off debt. With this feature, you can let Trim's algorithms scan your total liabilities, monthly expenses, and interest rates to figure out an estimated timeframe to pay off these debts. Combined with Trim's other cost-saving features, this calculator could help you figure out the fastest way to become debt-free.
Budgeting Tool and Spending Analysis
Trim's Budgeting Tool analyzes your saving and spending habits relative to your income so you get a clear view of your monthly finances. After inputting your monthly expenses and income data, Trim creates an easy-to-read graph showing how you spend your money and your expected savings potential. Using the Budgeting Tool helps you consistently hit your savings goals and watch out for unnecessary expenses.
Lower Bank Fees & APRs
If you feel you're overpaying on APRs for your credit cards or fees at your bank, Trim's agents might be able to renegotiate your terms. Simply send Trim the info on your current credit card APRs or bank fees and see if they can reduce your costs. Trim will alert you if they successfully lowered your contracts.
Cut Medical Bills
Similar to renegotiating phone, Internet, and cable bills, Trim can help patients potentially reduce their medical expenses. Submit relevant info like your insurance coverage, medical reports, and statements to Trim's dashboard and see if they can settle on a more favorable repayment schedule. Trim also offers free and confidential calls with certified patient advocates for more personalized details on your medical bills.
Simple Savings
People who struggle to set aside funds in their savings account may want to enable Trim's Simple Savings feature. With this tool, you choose the amount you want to put in monthly savings, and Trim automatically sends it to an account in the FDIC-insured Evolve Bank. As a bonus, Evolve's accounts often have above-average interest rates, so you'll earn extra for letting your cash sit in savings.
---
Trim Pricing
Trim is free to download, and most of its cost-saving and monitoring services are free to use. However, if you're interested in Trim's bill negotiation feature, you'll need to pay 15% of however much Trim saves you per year.
---
Trim Ease of Use
Trim has a simple installation process that works seamlessly with your Google, Facebook, or email account. You could review your spending data, upload bills, and apply for new services by signing in to Trim's desktop account and checking the dashboard. Trim will also send you alerts via email, SMS texting, or Facebook Messenger. However, if you prefer using your phone to monitor your finances, Trim doesn't have a mobile app (at least, not yet!).
Currently, most clients have positive reviews of Trim's services on websites like the Better Business Bureau (BBB) and Trustpilot. Indeed, on both of these sites, the average rating for Trim is around 4.2 out of 5 stars. Trim also has an official accreditation from the BBB and an A- rating. Although there are some complaints about Trim (most focusing on disputed charges for its Bill Negotiation feature), Trim responds to every criticism, and many have been resolved on the BBB's website.
To get a sense of how people feel about Trim's services, here's a look at a few sample reviews:
"I like how they're able to communicate over text messages and that the service is paid for through the savings. I would like to see more prompt follow-up though. There were a few times when I waited for a call but did not receive it." Trang (Trustpilot)
"I liked that they tried to negotiate my bills but I ended up with calls from the service providers who were pretty upset. I know what the service providers were doing, they were trying to keep Trim from doing their job and slimming my bills down. The thing is, I used this service in order to save time by having someone else negotiate my bills. When the customer service people call the bill owner (me) after their interaction with Trim, with lots of questions, it defeats the purpose. I ended up getting rid of lots of services in order to bring my bill down, but it ended up costing me what I really needed and that was time. Now I'm out time, services, and money to save a few dollars a month which Trim takes a cut of for the predicted savings that year ( I guess they assume the bill collector won't change this for the year). Anyway, it was nice to see how many subscriptions I have but as far as saving time or money this service didn't do those things for me. By the way, this is the second chance I gave them after they double charged me the first time and never did any work at all. I'm going to cancel today. Hope this helps." Josh M. (Trustpilot)
"Got my internet bill negotiated down by $20 per month, for 24 months…saving me $240 per year. I'm looking forward to what Trim can save me on my cellphone bills!! Definitely will be using Trim services again!" Jennifer L. (BBB)
---
Trim Security
Trim recognizes that sharing financial details like your bank and credit card accounts with an online platform takes a lot of trust. That's why Trim emphasizes its security protocols, which include using 256-bit SSL encryption, Amazon Web Services (AWS) storage, and a VGS Vault for sensitive client data. Trim also partners with Plaid's financial services platform to securely share your financial information. When you link a bank account via Plaid, Trim gets read-only access to your transaction history, nothing more. Also, you could always revoke access to this information by canceling your Plaid connection. As a final note, Trim promises never to sell your data.
---
Trim Customer Support
If you run into issues when using Trim, the first place to search for an answer to your query is on the site's official ZenDesk Help Center. For more personalized guidance on an issue, you could contact Trim via email at [email protected]. It's also possible to reach out to Trim on official social media pages like Facebook or Twitter as well as its official TrustPilot or BBB profiles.
---
Trim Pros Explained
Potentially significant cost savings: Trim advertises it has saved millions of customers $86 million since its founding in 2015. While there are no guarantees Trim will save you hundreds per year, many reviews and testimonials suggest it could be an easy way to save extra cash.
Many features are free: Aside from Bill Negotiation, you can use all of Trim's features free of charge. Investors only pay Trim for a bill renegotiation if they successfully bring down your annual payments.
Easy to use: Trim makes it easy to sign up with your email, Facebook profile, or Google account. Trim's desktop app layout is simple to understand, and customers automatically get text or email notifications whenever Trim spots a potential saving.
Solid security standards: Trim promises to use bank-level encryption technology to protect user data. This company also works with high-profile companies like Plaid and Very Good Security (VGS) for high-quality data storage and transfer.
Strong accreditations: Trim has built a solid reputation in the "financial health" category with BBB accreditation and an A- rating. There are also many positive ratings for Trim's services on sites like TrustPilot, and Trim is very responsive to complaints.
---
Trim Cons Explained
You have to pay 15% upfront for bill service: If you opt for Trim's Bill Negotiation service, you must pay the company 15% of the expected yearly savings at the start. So, you will experience a loss when Trim takes this fee, even though you should be paying less over the next 12 months.
Limited customer service: Trim has a Zendesk FAQ portal and an official email address, but you can't call or text Trim directly. People who need a fast resolution to their questions may not be happy with Trim's limited support options.
No mobile app: Although many people find it easy to use Trim's desktop setup, customers can't review their savings on a dedicated mobile app. Trim claims it's working on a mobile experience, but there are no details on when this might be released.
You have to trust Trim with financial info: Trim takes multiple steps to preserve each user's privacy, but you still have to trust this company with sensitive details like your bank account and credit card info. If you feel you need more confidence in Trim's data storage and sharing techniques, there may be better options for you.
---
Trim Alternatives
Trim is a popular resource you could add to your financial toolkit, but other applications exist in this niche. Find out about Trim's competitors before deciding which service best suits your needs.
Trim vs. Rocket Money
Although the company Rocket is well-known for its mortgage sector, it now offers many additional financial services like its personal finance app Rocket Money. First known as "Truebill," Rocket Money is a mobile-friendly app offering subscription monitoring, bill renegotiation, and spending analysis. Unlike Trim, Rocket Money helps users get a clearer glimpse into their financial health with "Net Worth" reports and credit score rankings. Although Rocket Money is free to download, most of its services cost a subscription fee (currently $3 and $12 per month), and it takes a 40% cut on yearly savings for any bills it successfully renegotiates. Read our full Rocket Money review to learn more.
Trim vs. BillTrim
Although Trim and BillTrim both negotiate bills on your behalf, the latter uses a one-time setup fee model rather than taking a cut of each year's savings. If you want to take advantage of BillTrim's features, you need to pay an upfront fee of $99 for a lifetime membership. BillTrim guarantees it will save you at least $300 on your yearly bills, or else you get this $99 back. In addition to bill renegotiation, BillTrim offers clients a virtual "BillTrim Card," which you link to your bank account specifically for paying bills. Unlike Rocket Money and Trim, BillTrim is solely focused on bill negotiation and monitoring, so you won't get access to additional financial planning tools or a subscription cancellation portal. Read our full BillTrim review to learn more.
| | | | |
| --- | --- | --- | --- |
| | | | |
| Our Rating | | | |
| Pricing | Free and Premium (between $3 to $12 per month) | Free and Premium ($99 per year | $99 (lifetime) |
| Trustpilot Rating | 4.7/5.0 | 4.2/5.0 | 4.9/5.0 |
| BBB Rating | B | A- | A |
| Mobile Apps | iOS and Android | None | iOS and Android |
| Promotion | None | None | None |
| Verdict | Best for overall financial monitoring | Best for bill negotiation | Best for bill cancellation |
| | | | |
---
Who is Trim Best For?
Trim is an attractive option for people looking for a simple and cheap way to manage their finances and spot ways to increase their yearly savings. Although Trim is best known for its subscription detection and cancellation feature, it now offers other ways to monitor your cash flows and find potential ways to decrease your expenses. Plus, if you're not comfortable negotiating to lower your bills, you could have Trim's team advocate on your behalf for a 15% fee if they save you money. So, if you're intimidated by sifting through your expenses and trying to find savings, Trim may be a convenient cost-saving tool to use.
---
Trim FAQs
Although Trim has exceptional standards for its safety, you shouldn't feel in a rush to send banking info to this app. Read through the following FAQs to ensure Trim will add value to your life.
How Does Trim Make Money?
Trim primarily makes money charging a 15% fee every time they successfully negotiate a customer's yearly bills. 
Is Trim Free? 
It's free to download and use Trim for every feature except Bill Negotiation. 
Is Trim Safe? How Does Trim Use My Data? 
Trim uses high security standards such as 256-bit SSL encryption, and it partners with reputable data-sharing and storage companies like Plaid, Amazon, and Very Good Security (VGS). When you connect a bank or credit card account to Trim via Plaid, Trim has read-only access to your data, and you can cancel your connection anytime. Trim also promises to never sell your data; it only uses your transaction history to spot potential savings and renegotiate contracts. 
How Much Money Can I Save With Trim? 
Trim claims to help clients save an average of $213 annually, but your results may vary. How much you save with Trim depends on which features you use and the savings Trim spots. For instance, you may discover a subscription you're not using anymore that costs $10 per month (or $120 per year). You might also notice savings for your car insurance plan or get more attractive rates for your Internet, phone, or medical bills using Trim's services. How much you save with Trim depends on how many of its features you use and how much you end up saving in your account. 
Why Does Trim Need Access to My Bank Accounts? 
Trim needs to see your bank account info to use its cost-saving algorithm and suggest ways to save money. The transaction details in your bank account help Trim's team see how you're spending your cash and figure out potential strategies to save on your monthly expenses. Trim also points out it has read-only access to your transaction details via Plaid, and it uses encryption technologies to prevent cyberattacks. 
Pricing: Free and Premium (15% success fee of the total first year of savings for bill negotiation)
Features: Bill Negotiation, Subscription Cancellation, Transaction Monitoring, Car Insurance Comparison Tool, Budgeting Tool, and more
Supported Services: Phone, internet, cable and wireless, credit card APR, medical and more
---
Final Thoughts
Trim is a simple-to-use tool that could help people significantly boost their yearly savings. If you feel like you have too many subscriptions or you're overpaying on bills, it may be worthwhile to download Trim's software and see the potential savings its algorithm detects. Aside from the Bill Negotiation feature, you won't have to pay Trim anything for these services, so there's no way to "lose" money trying this platform. Just keep in mind Trim isn't the only app offering this service, so it's worthwhile reviewing competitors before choosing the one that's best for you.
Up Next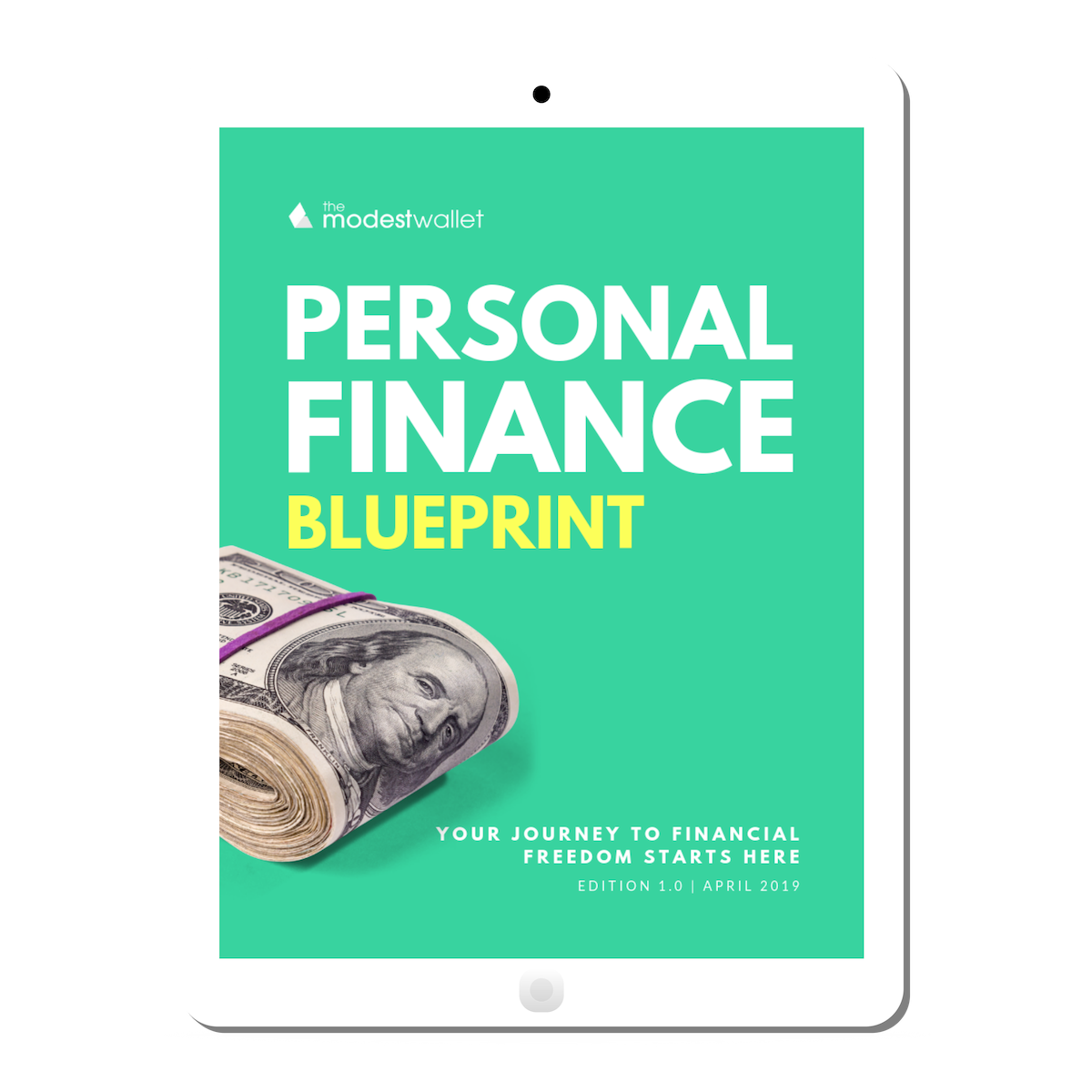 Get our free Personal Finance Blueprint to learn everything you need to know to build wealth.
Plus our best money tips delivered straight to your inbox.

Eric Esposito is a freelance writer, editor, and cryptocurrency enthusiast. Although it took him a few years to grasp the Bitcoin revolution, Eric has become a crypto convert and long-term "hodler." Besides crypto investing, Eric is interested in helping others understand how to safely stack sats with passive income opportunities.