Trim vs. Billshark 2023: Best Bill Negotiation Service
Many or all of the products featured on this page are from our sponsors who compensate us. This may influence which products we write about and where and how the product appears on a page. However, this does not influence our evaluations. Our opinions are our own. Here is a list of our partners and here is how we make money.
---
The information provided on this page is for educational purposes only. The Modest Wallet is a financial publisher that does not offer any personal financial advice or advocate the purchase or sale of any security or investment for any specific individual.
Did you know that it's possible to make huge monthly savings on your bills by renegotiating with service providers? You just have to be willing to pick up the phone and start the conversation.
Unfortunately, many of us either don't know this is possible or don't have the skills, time, or confidence to do so.
That's where services like Trim and Billshark help—by making these difficult phone calls for you.
But how do you choose which platform to use? In this Trim vs. Billshark comparison article, we go over the unique features of each platform and explore how they stack up against each other. Let's dive in.
Trim vs. Billshark: Overview
Trim and Billshark both promise to help you save on your bills. Trim does this by using technology to analyze your spending habits and make recommendations. Billshark uses a manual process, but is just as effective.
In A Nutshell: Trim is a financial service that helps you save money through personalized recommendations. The app helps lower your bills by up to 30%, cancel unwanted subscriptions, automate your credit card payments and savings, and more.
In A Nutshell: Billshark negotiates and cancels bills on your behalf. It can help you get savings on your monthly payments for internet, phone, TV, and other services, and can help you end contracts for a vast array of popular services.
What Is Trim?
Trim is a financial management service. It helps you save money by negotiating bills, identifying recurring payments, and providing users with a high level of visibility into their finances.
The company has a good track record. It was founded in 2015 and says it has saved users over $40 million since then.
The company's differentiating factor is that it isn't an app. Rather, it is a chatbot that you communicate with via Facebook Messenger or text message. The bot makes saving recommendations based on your spending patterns, and you can instruct it to take action via your replies.
Read our full Trim review to learn more about Trim.
See Also: Trim vs. Rocket Money
What Is Billshark?
Billshark is a service that is fully focused on canceling and negotiating your bills. The company hires a team of expert negotiators to do this work, and it says its average user saves $479 per year.
The company has a high profile. It is backed by Mark Cuban, one of the investors on the popular reality TV show Shark Tank. It has also been featured in Forbes, the Wall Street Journal, and CBS News.
The platform released an app in the second half of 2020. The app focuses on helping customers keep track of their savings and gives them visibility into the bill negotiation process.
The site also has an insurance comparison engine that is completely free to use. Check out our full Billshark review to learn more.
Trim vs. Billshark: How Do They Work?
Despite their similar services, Trim and Billshark work in different ways. Here is a rundown of each one.
How Trim Works
You need to sign up for Trim online. During this process, you will be prompted to connect the service to your Facebook Messenger account or phone number so it can communicate with you.
You also need to connect your bank account so the system can analyze your spending habits. By letting it see your transactions, the service can alert you to recurring payments and make savings recommendations.
Trim will send you a message on the platform of your choice when it notices a savings opportunity.
How Billshark Works
Using Billshark is easy. Just head over to the savings calculator on the website's homepage. From there, you can choose to focus on lowering your bills, cancelling your subscriptions, or comparing insurance providers.
Once you know which option you want to use, fill in the information about your service provider and payments. Billshark then provides you with a savings estimate.
If you like this number, you need to upload information about your bills for the Billshark team to use when negotiating. You'll also need to enter a credit card number to pay for your commission should the team successfully negotiate a saving.
When successful, Billshark takes 40% of the total amount saved upfront. Billshark's services are free if it can't save you money.
You're not required to connect your bank account to Billshark. While you may not be able to may not be able to access some automated features if you opt out of connecting your bank account, this is a good option for those who don't like to share this sensitive information.
Trim vs. Billshark: Sign-up Process
Trim and Billshark are both very easy to sign up for. Here are the steps:
Trim Sign Up
Click the Log In button on the Trim homepage. Next, click "Create an account" and you will be prompted to sign up with either your Google or Facebook accounts or email address.
Then, enter your phone number and connect your Facebook Messenger account.
Connect your bank account. Trim uses a secure service called Plaid to make the connection.
You're now signed up. The service will begin to analyze your spending habits and contact you when it discovers ways you can save.
Billshark Sign Up
Users sign up to Billshark via the savings calculator or the signup page.
You can create your account with an email address or with a Google or Apple account.
During the signup process, you have to choose the type of service you want the company to negotiate and provide details about yourself and your bills.
You can upload your bills through the website or the app. Using the app makes it easy to snap a picture with your phone camera and then upload it to the service.
You then need to finalize your details and confirm the order.
Use the app or the online platform to track how the company is getting on.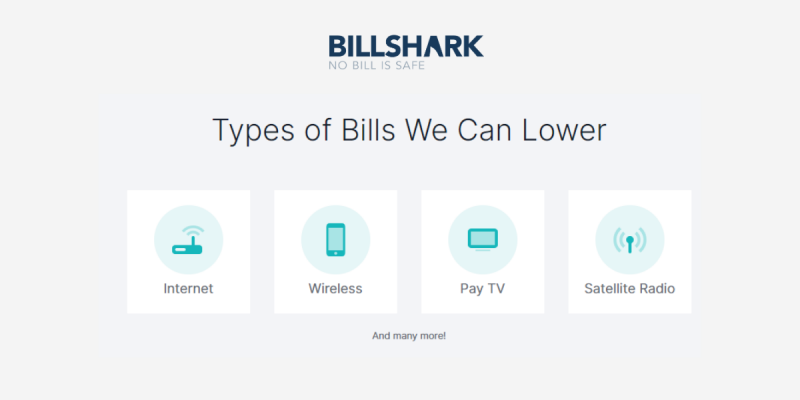 See Also: 20 Best Money Saving Apps
Trim vs. Billshark: Features
Here are the features Trim and Billshark use to help you save money.
Trim Features
Trim has several features that help users save money. Some of the features are paid and some are free, check out our table below to see which feature is paid and which one is free. Here are the highlights.
Bill Negotiation: Trim's headline feature is its bill negotiation service. The company's experts will contact your cable, internet, or cell phone provider and try to get you a better deal.
Credit Card Negotiation: The company will negotiate your credit card APR and try to reduce interest and overdraft fees.
Medical Bill Negotiation: Trim also negotiates your medical bills. The company says it has a 90% success rate with either reducing the overall bill or putting customers onto a zero-interest plan.
Identify Recurring Charges: Trim analyzes your bank transactions to find recurring charges. It then alerts you to them so you can decide whether to keep or cancel them.
Automatic Savings: If you find saving money hard, ask Trim to transfer money to a savings account every week automatically. The Trim account offers 4% interest on up to $2,000.
Spending Alerts: Banks often charge big fees when you spend more than you have in your account. Trim lets you set up an alert that tells you when your balance is low.
Financial Product Recommendations: Trim will recommend financial accounts and services if it spots one that fits your needs.
| | Trim Free | Trim Premium |
| --- | --- | --- |
| Bill Negotiation | 33% of savings | |
| Monitor Subscriptions | | |
| Monitor Daily Transactions | | |
| Personalized Spend Alerts and Reminders | | |
| Debt Payoff Calculator | | |
| Bank Negotiation (Lower Credit Card APR) | | |
| High-Yield Savings Account | | |
| Cancel Unwanted Subscriptions | | |
| Personal Financial Coach | | |
| TrimPay: Pay down Credit Card Debt Faster | | |
| Negotiate Medical Bills | | |
Billshark Features
Billshark concentrates its efforts on the following features.
Bill Negotiation: Billshark will negotiate your monthly bills, including internet, wireless, cable, satellite radio, and more. The service does not negotiate utilities, insurance, or credit card bills.
Service Cancellation: Billshark will cancel services on your behalf for a set fee. These include Netflix, Audible, Spotify, and more.
Insurance Quotes: You can use Billshark to get insurance quotes. If you like the deal offered, you work directly with the insurance provider to switch over.
Service Changes: You can hire Billshark to make changes to your account. For example, upgrading your plan, adding new services, or removing those you don't use.
Savings Trackings: The Billshark app has a savings tracker you can use to keep track of your savings over time.
| | Billshark Freemium |
| --- | --- |
| Bill Negotiation | 40% of savings (only pay when they save you money) |
| Rewards Program | |
| Insurance Comparison Tool | Free to use |
| Bill Cancellation | $9 to cancel each subscription account |
Trim vs. Billshark: Pricing
Pricing for the two services reflects the significant differences in available features. Here is a rundown of what it costs to use each service.
Trim Pricing
Trim has a premium level tier that costs $99 per year. This is a lot, but the company says the average user saves more than $1,000. Trim Premium includes:
Negotiation for phone, internet, wireless, cable, and medical bills
Credit card and bank account fee negotiation
A savings account that pays 4% interest on up to $2,000
Subscription cancellation
Automated credit card payments
If you don't want to pay for the premium service but still want the company to negotiate your bills, you can choose to only pay for the latter.
Bill negotiation costs 33% of the first 12 months of the total savings amount. For example, if the company cuts your bills by $25 per month, your total yearly savings will be $300. Trim will therefore take 33% of $300, which equals $99.
You have to decide whether the amount you expect to save from bills will make it worth signing up for Trim Premium or whether you'd be better off paying the 33% commission.
Trim also has several free features. These include spending alerts and finding and canceling old subscriptions.
Billshark Pricing
Billshark pricing is more straightforward. You pay for the individual services you want to access. Here is what each one costs:
Bill Negotiation: Billshark charges a fee of 40% of the money they save you. If the company saves you $100 over 12 months, it takes $40.
Service Cancellation and Changes: Billshark will cancel or make changes to your account for a $25 flat-fee.
Subscription Cancellation: Billshark will cancel subscription services like Netflix or Spotify for a $9 flat fee per subscription. The company says it has a 98% success rate.
The Billshark insurance quote feature is free to use.
Trim vs. Billshark: Platform
Trim and Billshark have slightly different platforms, which reflects the way each works. Here is a look at each one.
Trim Platform
Access the Trim dashboard via a browser on your desktop or mobile device. From here, you can see information about your spending, cancel subscriptions, or manage your account.
The service also connects with users via Facebook Messenger and text message. This is an intuitive way to interact with the platform. Just reply to the suggestions and the platform takes care of the rest.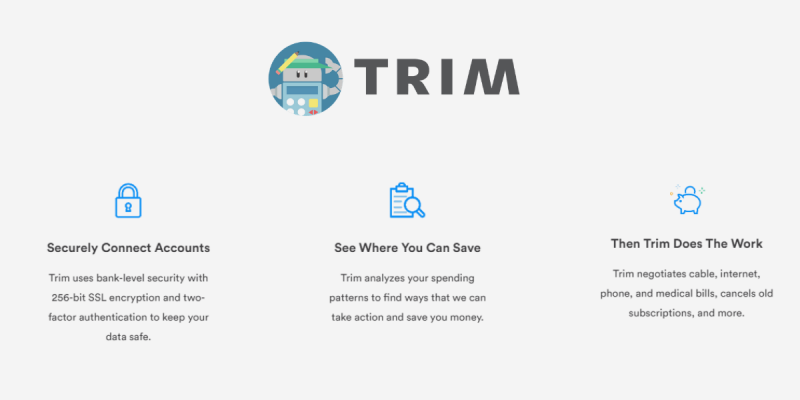 See Also: Ibotta Review: Earn Cash Back When Shopping
Billshark Platform
You can access Billshark via either a browser or the company's mobile app. The app is available on both Apple and Android devices, meaning it is accessible to most of the U.S.
From the app, you can:
Get savings estimates
Upload your bills
Manage your account
Keep track of savings
Schedule new negotiations
Track how negotiations are going
Trim vs. Billshark: Security
As you'd expect from companies that deal in their users' finances, both Trim and Billshark take security very seriously. Here is an overview of what each company does to keep your details safe.
Trim Security
Trim protects your data with 256-bit SSL encryption. This is considered one of the most secure forms of encryption available.
This doesn't mean much if your account login details aren't secure. The good news is that you can protect your account with two-factor authentication. Even if a hacker discovers your username and password, they won't be able to log into your account without access to a second device.
One of the biggest worries customers have is about providing Trim with access to their bank account.
Trim uses a third-party service called Plaid to connect to your account. This means your details aren't sent to the Trim servers.
Billshark Security
Like Trim, Billshark protects its customer data with 256-bit encryption—the same level of protection banks use.
Its payment service uses the highest level of PCI certification available. The company never stores or shares your credit card information.
Negotiators require some access to your data to do their job effectively. Billshark says it has systems that prioritize customer security and only provide limited access to a customer's data.
Billshark doesn't share your data with third parties.
See Also: 25 Best Coupon Websites to Save Thousands
Trim vs. Billshark: Customer Service
Services related to finances must have good customer service so you can get help when you need it. Here is how Trim and Billshark make sure they're there for their customers.
Trim Customer Service
Trim has a comprehensive online help desk that provides answers to common issues. If the answer you need isn't available, you can contact the team by email at [email protected]. Unfortunately, the service doesn't offer help over the phone.
Billshark Customer Service
Billshark has similar customer service options to Trim. You can either search the extensive FAQ section on the website to find answers to your questions or send the team an email. There is no phone helpline.
Trim vs. Billshark: What We Like
At The Modest Wallet, we love tools that help us control our finances. This means there is plenty we like about these two money-saving platforms.
What We Like About Trim
Premium subscription can bring more savings
Lots of money-saving features
Intuitive chatbot-based model
What We Like About Billshark
The platform is focused on negotiating bills
Keep track of savings via the app
No need to connect your bank account
Trim vs. Billshark: What We Don't Like
No service is perfect, though. Here is what we don't like about Trim and Billshark.
What We Don't Like About Trim
The premium service is expensive upfront
What We Don't Like About Billshark
● The 40% commission on bill savings is high
Final Thoughts
Both Trim and Billshark are powerful tools that help you reduce the amount you spend on bills and services. You could save hundreds of dollars over a year using either of these platforms and the lack of upfront costs for negotiation features means they're practically risk-free.
The downside is that you have to consider the costs. Could you get the same deal by calling the company yourself? Possibly, but it will take time and effort. The value you get from one of these services will depend on your ability and willingness to negotiate on your own.
It's worth noting that Trim has plenty of other features alongside bill negotiation. Before signing up to either platform, check out what is available to see if you like any of them.
Up Next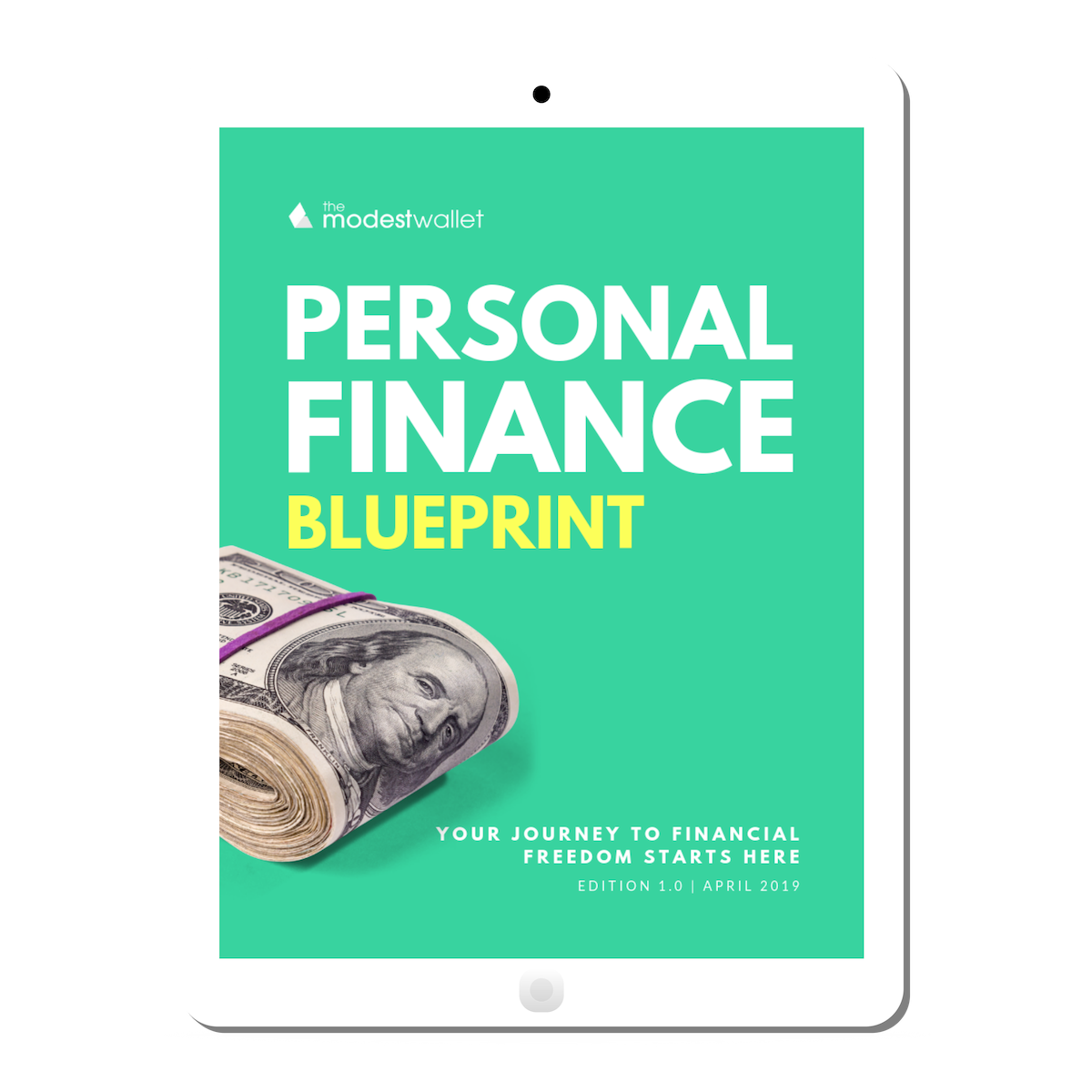 Get our free Personal Finance Blueprint to learn everything you need to know to build wealth.
Plus our best money tips delivered straight to your inbox.

Ricardo is an entrepreneur, investor and personal finance nerd who enjoys spending time with his family and friends, travelling and helping others achieve their financial goals. Ricardo has been quoted as a personal finance expert in several online publications including Healthline, Bankrate, GOBankingRates, MSN Money, Yahoo Finance, U.S. News & World Report, Forbes and USA Today.