Vanguard Digital Advisor Review 2023: No Advisory Fees
Many or all of the products featured on this page are from our sponsors who compensate us. This may influence which products we write about and where and how the product appears on a page. However, this does not influence our evaluations. Our opinions are our own. Here is a list of our partners and here is how we make money.
---
The information provided on this page is for educational purposes only. The Modest Wallet is a financial publisher that does not offer any personal financial advice or advocate the purchase or sale of any security or investment for any specific individual.
The Vanguard Group is one of the biggest mutual fund and exchange-traded fund providers in the United States with a history going back to the 1970s. Due to its size and currently more than $6 trillion in assets under management, Vanguard has the resources to keep fees low for their clients. With its relatively new robo-advisor service called Vanguard Digital Advisor, the firm is continuing its philosophy of putting its investor's needs first.
Vanguard's new service is aimed at investors that don't want to seek out help from a human financial advisor and instead prefer to rely on technology to do all the investing for them. By using the Vanguard Digital Advisor, investors can put their money to work without lifting a finger. They can use an affordable and convenient solution to invest for retirement and other financial goals.
In this review, we will take a closer look at the Vanguard Digital Advisor, dive deep into how this robo-advisor works, and analyse its available portfolio types and its features. From there, we will examine the fee structure, pros and cons, and who the Vanguard Digital Advisor is perfect for.

Quick Summary: Vanguard Digital Advisor is a robo advisory service offered by the Vanguard Group. This robo advisor is relatively new and it uses proprietary low-cost ETFs to create portfolios for investors.
Promotion: None
---
What Is the Vanguard Digital Advisor?
The Vanguard Digital Advisor is Vanguard's robo-advisor service. This automated passive investment service is in line with the broker's low-cost investment philosophy for retail investors. For that reason, the Vanguard Digital Advisor is perfectly suited for cost-conscious as well as retirement investors looking for an inexpensive investment solution.
The robo-advisor uses only Vanguard's low-cost exchange-traded funds (ETFs) to diversify every investor portfolio. In addition, the robo-advisor manages and automatically rebalances the portfolio as needed, so you keep aligned with your financial goals.
The best part of this inexpensive service is that Vanguard doesn't charge any advisory fees for its all-digital financial investment service and offers the lowest management fees compared to other robo advisors.
If you want to learn more about Vanguard's direct investing platform, check our our full Vanguard review.
See Also: 12 Best Robo-Advisors: Automate Your Investments
---
How Does the Vanguard Digital Advisor Work?
The Vanguard Digital Advisor is excellent for investors that don't want to spend a lot of time with their portfolio. To get started, you need to open an account and fund it with at least $3,000. From there, Vanguard's robo-advisor will do all the investing for you, according to your risk tolerance, time horizon, and other factors.
Investing Account Types
As of right now, the Vanguard Digital Advisor offers only a handful of investment accounts for clients looking to save for retirement or achieve personal financial goals. Still, the most common accounts for their primary audience are offered, and more accounts may be available in the future. So far, the offering includes the following account types:
Individual and joint taxable brokerage account
Traditional IRAs
Roth IRAs
Rollover IRA
SIMPLE IRA
SEP IRA
Trusts
Opening an Account
Opening a Vanguard Digital Advisor account is fairly straightforward. New users are asked to provide basic information, including first and last name, date of birth, e-mail address, and retirement status (working/not retired or retired/semi-retired) to open an account. Existing users can open an account after logging in.
From there, users are asked to fill out a questionnaire. Every page lays out why each of the questions is being asked. First, users create a financial profile and set retirement goals. Next users can connect external accounts so that the Vanguard Digital Advisor can consider them for retirement goal calculation (but it won't manage them).
After that, users enter their estimated household expenses and take a risk tolerance quiz. This quiz helps you understand your risk tolerance and determines which portfolio the robo-advisor ultimately recommends. However, you can opt for other portfolios that range from very conservative to very aggressive.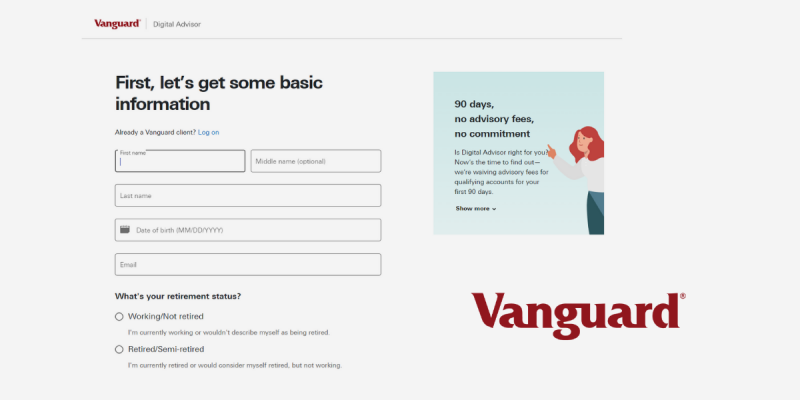 See Also: 7 Best Micro-Investing Apps
---
Vanguard Digital Advisor Features
Since the Vanguard Digital Advisor is a relatively new service offered by Vanguard, the robo advisor has limited features and functionality compared to other robo advisors with more robust and diverse offerings. However, Vanguard sticks to delivering an affordable, trimmed back service. Fees and expense ratios are low, and investment options for portfolio creation include Vanguard's well-known low-cost ETFs on stocks and bonds.
The robo-advisor's features include automatic portfolio rebalancing and a personalized retirement planning tool. Access to human advisors and tax-loss harvesting is not supported with Vanguard's service. Because the service is fairly new, expect more features and account types to be added in the future.
| | |
| --- | --- |
| Minimum Investment | $3,000 |
| Fees | 0.20% annual management fee |
| Investment Types | Portfolios built from four Vanguard ETFs |
| Account Types | Individual Taxable, Joint Taxable, Traditional IRA, Roth IRA, Rollover IRA, SEP IRA, SIMPLE IRA and Trusts |
| Assets Under Management | $6 trillion |
| Advice | Automated |
| Promotion | None |
| Socially Responsible Investing | |
| Portfolio Rebalancing | |
| Tax-Loss Harvesting | |
| Support | Phone (+1 877-662-7447) |
Low Management Fees
Vanguard's robo-investor shines when it comes to low management fees. It offers one of the lowest management fees you can currently find in the robo-advisory industry. You also don't have to pay other account fees or trading commissions that Vanguard's competitors charge for.
This robo-advisor is as pure as it gets; it doesn't offer any bells and whistles or special features. The firm charges about 0.20% of your account balance in management fees per year for its service. With a portfolio of $5,000, that's about $10.00 annually for their management service. This is very competitive, considering that you don't have to invest or rebalance yourself to trying to reach your financial goals.
Keep in mind that you don't get access to human financial advisors or tax-optimized strategies with this service. While Vanguard's competitors offer such features, their offerings usually are more expensive or need enrollment into premium membership.
If you need assistance from a financial advisor, there is also the option to go with Vanguard's Personal Advisor Service. This service provides unlimited access to financial advisors but requires a minimum investment of $50,000 at the same time.
Low Investment Expense Ratios
The all-digital platform further provides investors with some of the lowest expense ratios for the funds used in its personalized portfolios. The Vanguard Digital Advisor charges around 0.05% in expense ratios and these ratios are among the lowest in the industry. This number beats even most of Vanguard's other ETFs and their associated expense ratios.
Due to John Bogle's philosophy of low-cost investing, Vanguard is a pioneer in the index fund industry and created the first exchange-traded fund for retail investors. As an investor, you can benefit enormously from this investing approach. The less you spend on fees and expense ratios, the more money you keep invested in assets and have them working for you long-term.
Portfolio Creation & Asset Allocation
The Vanguard Digital Advisor uses unique algorithms and sets of rules to provide its investment service. It also includes a questionnaire to create personalized portfolios as well as appropriate asset allocations. The methodology of the algorithms and sets of rules are based on Markowitz's Modern Portfolio Theory.
Every Vanguard portfolio incorporates the investor's goals, current lifestyle, risk tolerance, and investing preferences. Taking all these aspects into consideration, the portfolio is tailored to the individual situation of the investor.
The robo-advisor uses Vanguard ETFs as core investments due to their low costs to create well-balanced portfolios for retail investors. These diversified portfolios are constructed in a personalized combination of four key exchange-traded funds:
Although diversification is applied through the use of US and international assets, investors have to stick with these four ETFs. They can't substitute funds with other ETFs offered by Vanguard or various other investment companies. Investing in socially responsible ETFs or REITs (to add another layer of diversification) is also not possible.
Still, by using only these four ETFs, Vanguard and its robo-advisor can keep costs low for clients, allowing them to invest more money.
Automatic Portfolio Rebalancing
Every good robo-advisor balances your portfolio for you to keep your level of risk consistent. Vanguard's automated passive investing solution is no different. To automatically balance the portfolios of its clients, the Vanguard Digital Advisor uses state-of-the-art financial planning tools and time-tested investment strategies.
The robo-advisor from Vanguard effectively maintains your asset allocation and keeps your investments on track by evaluating your portfolio daily and rebalancing as needed. The rebalancing process is triggered when your portfolio is off if one of your asset classes drifts off by more than 5% from the original asset allocation.
If your holdings in cash equivalents are more than $300, the Vanguard Digital Advisor will take this into consideration when rebalancing your portfolio.
See Also: 12 Best IRA Accounts
Personalized Retirement Planning
A tool that will be very beneficial and valuable for retirement investors is the Vanguard Digital Advisor's retirement calculator. This personalized online retirement planning tool helps investors craft their personal retirement plan.
To take advantage of the calculator, users have to create a financial profile that includes factors such as household income and tax-filing status. This feature also determines the investor's risk tolerance by providing different investment scenarios. Ultimately, the tool uses your investment goals, financial contributions, time horizon, and more to recommend a personalized portfolio.
From there, the Vanguard Digital Advisor takes over and manages the portfolio. The robo-advisor also monitors the portfolio daily and automatically rebalances when one of the asset classes deviates more than 5% from the original percentage.
---
Vanguard Digital Advisor Pricing and Fees
Thanks to John Bogle, Vanguard is known for affordable, investor-friendly investing and fee cutting. The robo-advisor solution follows this approach as well and offers one of the lowest fee structures within the robo-advisory industry. This approach makes the solution attractive for every type of investor, not just the cost-conscious ones.
Vanguard Digital Advisor clients only have to pay a mere 0.15% net management fee across accounts per year to have their investments managed. Depending on the holdings in your account, your exact fee may vary slightly.
Vanguard's clients have very low expense ratios of 0.05% for the underlying funds and ETFs in their portfolios. While every ETF carries an expense ratio, Vanguard's weighted average in expense ratios is less than what most competitors ask from their clients.
Except for the low management fees, investors don't have to pay any of the other account fees the broker's competitors charge. That includes annual, setup, transfer, or closing fees.
Still, investors have to come up with at least $3,000 per brokerage account to get started. This can be a barrier for investors that have lower account balances or invest every month instead of making a one-time investment. In contrast, the minimum account balance for 401(k)s is $5.
---
Vanguard Digital Advisor Security
The Vanguard Digital Advisor service is provided by Vanguard Advisers, Inc, a federally registered investment advisor, and a Vanguard Group subsidiary.
Vanguard brokerage accounts are provided by the Vanguard Marketing Corporation, a federally registered broker-dealer and member of the Financial Industry Regulatory Authority (FINRA) and Securities Investor Protection Corporation (SIPC). SIPC insurance covers up to $500,000 an account's balance, including $250,000 in cash claims. Excluded are investment losses due to market volatility.
See Also: 12 Best Investment Apps: For Beginners & Pros
---
Vanguard Digital Advisor Pros
Reasonable management fee of only 0.15% compared to other service providers
No additional account costs
Vanguard uses its stock and bond ETFs that have very low expense ratios to diversify portfolios
Automatic rebalancing is exercised when the portfolio has drifted off more than 5%
A personalized retirement planning tool is available for clients
The platform is easy to use
The step-by-step account opening process is very straightforward
Integration with other Vanguard services is possible
---
Vanguard Digital Advisor Cons
Vanguard's digital advisor requires an account minimum of $3,000 to get started
Limited number of account types to invest in
Automatic tax-loss harvesting is not supported
No access to human financial advisors, which competitors include in their service
Clients must stick to the provided Vanguard ETFs and can't exercise any changes to their portfolio
The robo-advisor service still lacks a broad range of features that are available at its competitors
---
Vanguard Digital Advisor Alternatives
If you are looking for an inexpensive passive investing service, the Vanguard Digital Advisor is an excellent option to consider. This is especially true if you want to let your investments run on autopilot. Still, there is no perfect robo-advisor. You will always have needs that will change along your financial journey.
For that reason, you should consider checking out the following two competitors that offer more bells and whistles and might suit your financial situation as well or even better.
Betterment
Betterment and Vanguard both offer goal-based automated passive investing services to their clients and follow the same approach when it comes to management fees. Looking only at your account balance's management fees, the Vanguard Digital Advisor is ahead of Betterment, the firm's basic robo-advisor.
Although Betterment's entry-level service carries a slightly higher management fee of 0.25% per year (compared to Vanguard's 0.15%), this service doesn't require a minimum investment. This may be a huge benefit for investors who don't have the $3,000 necessary for investing with Vanguard.
In addition, Betterment offers features that Vanguard does not. This includes a high-yield interest-earning cash account, tax-loss harvesting, dividend reinvestments, socially responsible investing options, and the possibility to design your portfolio. Investors can also deposit cash automatically.
Read our full Betterment review to learn more.
SoFi Automated Investing
A second alternative for cost-conscious beginner investors could be SoFi Automated Investing. SoFi Automated Investing doesn't have an initial investment minimum or a management fee. You can start investing with as little as $1.
Both robo-advisors balance your low-cost ETF portfolio if the allocation drifts off more than 5% from the initial setup and don't support tax-loss harvesting. While both services don't offer a vast range of features, SoFi Automated Investing has more in store for its clients than Vanguard.
SoFi Automated Investing gives you free access to certified financial planners who have to act in your best interest. That is very impressive considering that you don't pay any management fees. Besides, SoFi builds its 10 different portfolios from 13 asset classes which provide investors with more diversification than Vanguard's four ETFs.
Read our full SoFi Automated Investing review to learn more.
| | | | |
| --- | --- | --- | --- |
| | | | |
| Our Rating | | | |
| Minimum Investment | $3,000 | $1 | $0 |
| Fees | 0.20% annual management fee | 0.00% | Digital — 0.25%/yr and Premium — 0.40%/yr |
| Promotion | None | Free advice and loan discounts (*for qualified deposits) | Up to 1 year free (*for qualified deposits) |
| Highlight | Low management fee and investment expense ratios | Access to certified financial planners | Social goal-based tools |
| Best For | Passive investors looking for personalized retirement tools | Cost-conscious passive investors​ | Strategies involving tax loss harvesting |
| | | | |
---
Who Vanguard Digital Advisor Best For?
The new Vanguard Digital Advisor's primary target groups are retirement and hands-off investors looking for low-cost services to automate their investments. Vanguard's robo-advisor doesn't disappoint with its fee structure.
Due to the integration with Vanguard's other services, the service is also suitable for existing Vanguard clients that want to bundle their financials in one place.
The Vanguard Digital Advisor is also a great investment solution if you aren't too concerned with tax-optimization strategies like tax-loss harvesting or speaking to a human financial planner to help you plan for retirement.
However, Vanguard's service is not for you if you are a self-directed investor or can't come up with the initial investment minimum of $3,000.
---
Vanguard Digital Advisor FAQ
Looking at this product, you still might have a question or two. That's why we will answer one frequently asked question that interests new investors the most.
Is the Vanguard Digital Advisor Good for Beginners?
The Vanguard Digital Advisor is a great option for beginner investors. The reason is that the robo-advisor does everything for you once the asset allocation of your portfolio is set up.
Moreover, you pay very low management fees and benefit from using Vanguard ETFs that have very low expense ratios and are incredibly cheap compared to the industry average. Besides, this low-fee approach can generate excellent results over time.
---
Final Thoughts
The new Vanguard Digital Advisor follows Vanguard's primary philosophy of focusing on its clients and their financial well-being first. The all-digital platform makes it easy and straightforward to invest in their robo-advisor. Using only four exchange-traded funds is enough to present a diversified and personalized portfolio that incorporates your risk attitude, investment time horizon, and financial goals.
While the investment service doesn't offer many features or account types, it covers the basic needs that long-term and retirement investors certainly have. Low management fees, no account fees, and low expense ratios that beat the industry average by far. That way, you get to keep more money that can work for you and may generate even better results.
Since Vanguard just rolled out this service in 2020, you can expect the firm to make some changes and adjustments in the foreseeable future. This might include adding some more features and account types to bolster its robo-advisor offering. And if you can come up with the $3,000 minimum investment, the Vanguard Digital Advisor is a solid choice for your automated investments.
Up Next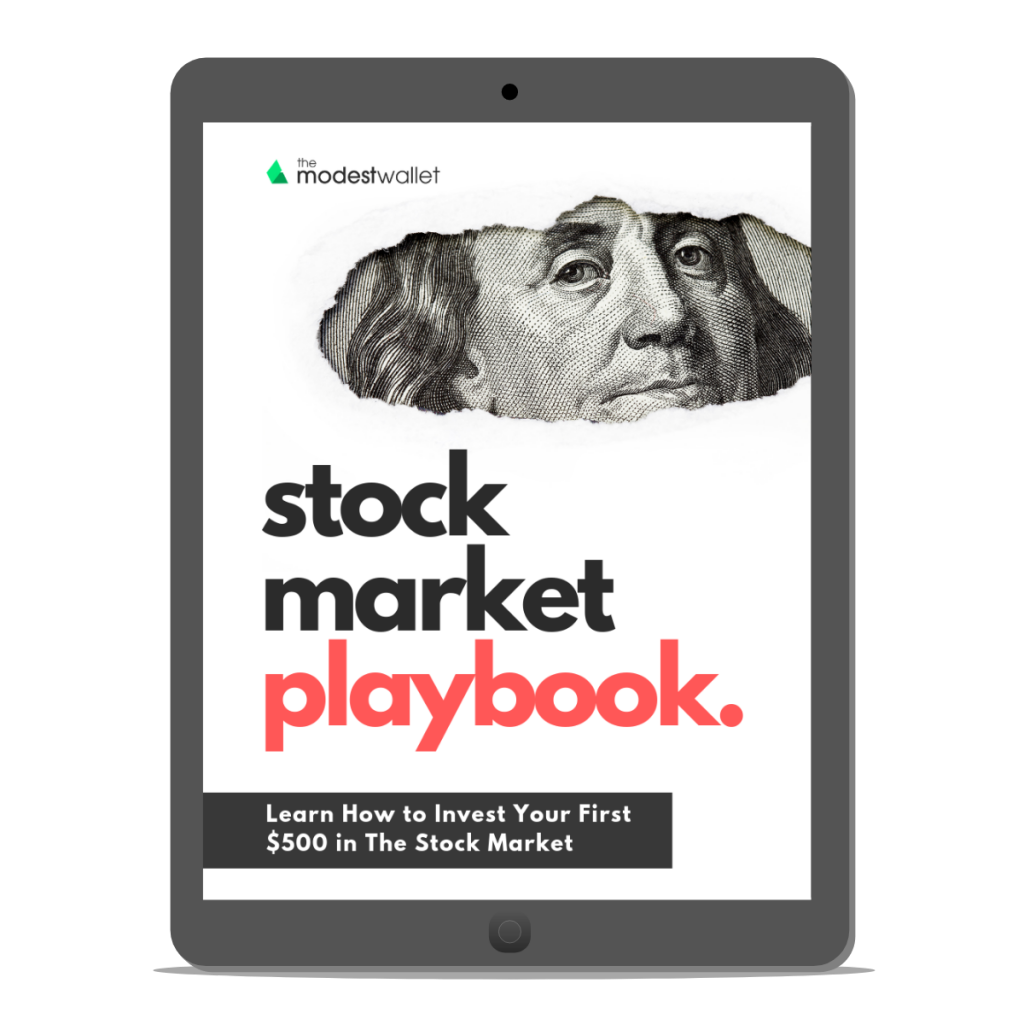 Get our free Stock Market Playbook to learn how to invest your first $500 in the stock market.
Plus our best money tips delivered straight to your inbox.

Carsten is a Freelance Copywriter with a personal interest in money management and investing. Besides taking care of his investments, he loves traveling, reading books, and working out (calisthenics & yoga).