Many or all of the products featured on this page are from our sponsors who compensate us. This may influence which products we write about and where and how the product appears on a page. However, this does not influence our evaluations. Our opinions are our own. Here is a list of our partners and here is how we make money.
The information provided on this page is for educational purposes only. The Modest Wallet is a financial publisher that does not offer any personal financial advice or advocate the purchase or sale of any security or investment for any specific individual.
Fine wine has long been a popular asset class among investors. But buying and storing quality wine can be expensive, so it's traditionally only been accessible to wealthy investors.
That's where Vinovest comes into the picture.
Vinovest is a wine investment platform that lets anyone get a diversified wine portfolio without the need to buy, store, and sell individual bottles.
But how does Vinovest work? What are the fees? Is it a legitimate platform?
In this Vinovest review, we're going to answer these questions and more. We'll discuss the platform's features, fees, pros, and cons, so you can decide if it's the right choice for your needs.

Quick Summary: Vinovest is an online platform where users get access to fine wine investment opportunities for as low as $1,000. The platform comes with many features including wine futures, wine trading and a mobile app.
---
What Is Vinovest?
Vinovest is an investment platform for fine wine. It offers many features for fine wine investors, including managed accounts, wine storage, and self-directed wine trading.
The company's flagship offering is its managed account, which provides you with a hands-off way to invest in wine.
Depending on your account tier, your Vinovest account will be managed either by an algorithm (similar to a robo-advisor) or by a portfolio advisor. The goal of these accounts is to provide you with a diversified wine portfolio that can produce long-term returns.
---
How Does Vinovest Work?
The idea behind Vinovest is that it lets anyone invest in fine wine without the hassle of storing and managing their bottles.
Vinovest is open to investors of legal drinking age in most countries. Getting started with the platform is a multi-step process, which we'll explain in detail below.
Open and Fund an Account
The first step to investing with Vinovest is to open an account. As part of the onboarding process, you'll answer a few questions about your investing goals, time horizons, and risk tolerance so the company can start building your portfolio strategy.
You can then fund your Vinovest account with a bank transfer, credit card, wire transfer, check, or cryptocurrency. You'll need to deposit at least $1,000 to open an account as this gives Vinovest the buying power it needs to kick-start your portfolio.
Build Your Portfolio
As soon as your account is active, Vinovest will start souring your wines. The company's algorithms and sommeliers will figure out which wines are best to invest in and will add them to your portfolio.
Since this process requires buying actual cases of wine from auctions and vineyards, it can take two to three weeks for Vinovest to build your portfolio.
Protect Your Wine
Once your portfolio is complete, Vinovest will store your wines in one of their many bonded warehouses (a secure area where duty-free goods are held).
Your bottles are stored in humidity- and temperature-controlled environments with on-site security. Vinovest also provides you with an ownership certificate for each bottle in your portfolio.
Grow Your Portfolio & Sell Your Wines
You can monitor the value of your wines through Vinovest's web-based platform and mobile app. Additionally, you can add funds to your account at any time to grow your portfolio.
The company then works with experts to determine when your wine bottles have peaked in value. When this happens, you can have Vinovest sell your bottles or you can have your bottles shipped to you so you can drink them yourself.
---
Vinovest Features
Account-holders with Vinovest get access to many features as part of their membership. Here are some of the key features you can look forward to if you make an account.
| | |
| --- | --- |
| Minimum Investment | $1,000 |
| Fees | 2.25%-2.85% annual management fee (paid monthly) |
| Investment Types | Wine |
| Recurring Orders | Automated (daily, weekly, or monthly basis) |
| Account Types | Taxable |
| Lock-Up | None |
| Portfolio Rebalancing | Unlimited |
| Promotion | None |
| Wine Futures | |
| Wine Trading | |
| Dividend Income | |
| Mobile Apps | iOS and Android |
| Support | Email (hello@vinovest.co) and phone (+1 213-410-4546) |
Portfolio Diversification
Most people who sign up for Vinovest open a managed account. You can think of a managed Vinovest account as similar to a robo-advisory service, but for wine.
The benefit of these managed accounts is that they come with built-in portfolio diversification that's based on your risk tolerance and time horizon. Standard and Plus Vinovest accounts have algorithmically managed portfolios that provide exposure to wines with different ages, regions of origin, and potential for value growth.
Premium and Grand Cru members will also be asked to indicate their risk tolerance and time horizon when making an account to help their portfolio advisors create their diversified portfolios. However, at these membership tiers, you also have the ability to select individual wines to add to your portfolio so you have increased control over your assets.
Wine Trading
In addition to managed accounts, Vinovest also lets you create a trading account, which you can think of as a vehicle for self-directed wine investing. With a trading account, you can select individual cases or bottles of wine to buy and sell based on your own research.
Note that you don't need to have a managed account with Vinovest to access self-directed wine trading. Investors can have both managed and self-directed accounts with the platform if they wish.
Wine Futures
Wine futures (called en primeur) are an investment strategy where you buy wine that's still in the barrel. The wines that are sold as futures typically still have a few years left to age before they're ready to be bottled, but they've already been highly rated by industry insiders.
Investing in wine futures is a growing industry as it provides a chance for higher returns. However, wine futures do come with a bigger level of risk than bottled wines.
Vinovest offers wine futures investing to Premium and Grand Cru account holders. To invest in wine futures, you need to have cash available in your managed account. If you do, Vinovest's portfolio advisors will invest in high-potential opportunities on your behalf.
Vinovest 100
The Vinovest 100 Index is the company's method of tracking prices across the fine wine market. Vinovest's index algorithms track the prices of 100 blue-chip wines from nine major regions, including California, Burgundy, and Bordeaux.
Each quarter, Vinovest publishes its index data in a public report. These reports highlight the return on investment in Vinovest portfolios and the overall trends in wine prices, so you can compare the performance of your assets with the market.
Vinovest Portfolio Advisors
Vinovest's Plus, Premium, and Grand Cru members get access to the firm's portfolio advisors, who can provide you with more specific guidance about your portfolio.
Plus and Premium account holders also get bi-annual performance review sessions with an advisor. Meanwhile, Grand Cru account holders can discuss their portfolio's performance with an advisor on a quarterly basis.
Recurring Deposits
To help you grow your wine portfolio over time, Vinovest supports recurring deposits. You can set up daily, weekly, or monthly automatic deposits to your Vinovest account using either a bank transfer or credit card. This is a great feature to take advantage of the dollar-cost averaging strategy.
Keep in mind that the minimum you can deposit on Vinovest (either as a one-off or recurring transfer) is $500. Vinovest has a high minimum deposit requirement because deposits of less than $500 would limit the company's buying power when purchasing new wines for your portfolio.
No Lockup Period
There are no lock-up periods for Vinovest accounts so you can sell your wines whenever you please. Since you own the wine in your Vinovest portfolio, you can also pay to have cases of your wine shipped directly to your door if you'd prefer to drink them instead of holding them long-term.
But keep in mind that there is a 3% early liquidation fee for managed accounts if you sell your wines on Vinovest within three years of purchasing them. There is no early liquidation fee for Vinovest's trading accounts, so you can even buy and sell bottles of wine on the same day.
Vinovest Sustainability
Vinovest has a sustainability program in place to combat the energy-intensive nature of wine investing and storage. Some of the key features of this program include:
Local Wine Storage – Vinovest stores your bottles in bonded warehouses near their purchase location to reduce the need to transport them long distances.
Digital Ownership – While you own 100% of the wines in your Vinovest portfolio, your ownership is digital unless you choose to have your bottles shipped to your home. This digital ownership strategy reduces the need to ship bottles from place to place when they change ownership.
Carbon Offsetting – For every 10 cases of wine that investors purchase, Vinovest plants one tree through its partnership with One Tree Planted.
Vinovest Events
Premium and Grand Cru account holders with Vinovest have access to the firm's exclusive events.
The specifics of each of Vinovest's events vary, though they typically include wine tasting and other similar experiences with professionals from the wine industry.
Vinovest Returns
The fine wine market historically has a solid long-term return on investment. Vinovest releases quarterly reports that highlight the average annual and quarterly return on investment for its account holders.
Vinovest's accounts have seen an average return on investment of around 19% since the company was founded. Its annual return on investment rate is typically between 8% and 13%.
Always remember that past returns are no guarantee of future performance. Wine is typically considered to be a long-term investment vehicle, too, so investors should expect volatility in wine prices from year to year.
Satisfaction Guarantee
Vinovest has a satisfaction guarantee for all account holders. According to this guarantee, the company will do everything they can to deal with any issues that may arise with your account so that you're satisfied with the platform.
In some situations, Vinovest will also waive its management fees for 90 days if there's an issue with your account, but this is handled on a case-by-case basis.
Access to Rare Auctions
Premium and Grand Cru members with Vinovest have the ability to select individual wines that they want to include in their portfolios.
As part of this benefit, Vinovest gives account holders at these membership tiers access to rare auctions. These auctions provide investors with a chance to acquire highly exclusive cases of wine that are difficult to find elsewhere.
Access to Advisory Council
Vinovest's Advisory Council is a team of experts from around the wine industry that advises the firm on all things wine investing-related.
Grand Cru members with Vinovest get exclusive access to the Advisory Council, so they can learn more about the industry and get insider tips to help grow their portfolios.
Educational Resources
To help investors learn more about the world of fine wine investing, Vinovest offers a collection of educational resources.
Most of these resources are available on the company's blog, where they post about nearly every aspect of the wine industry. This includes detailed information about specific wine regions and other tips for how to make the most of your investments.
Mobile App
All account holders with Vinovest have access to the firm's mobile app and web-based platform. The Vinovest mobile app is available for iOS and Android, and it has relatively high ratings from users.
With the company's mobile app, you can keep tabs on your portfolio and make deposits on the go. If you have a trading account with Vinovest, you can also use the app to place bids on bottles and cases that you'd like to purchase.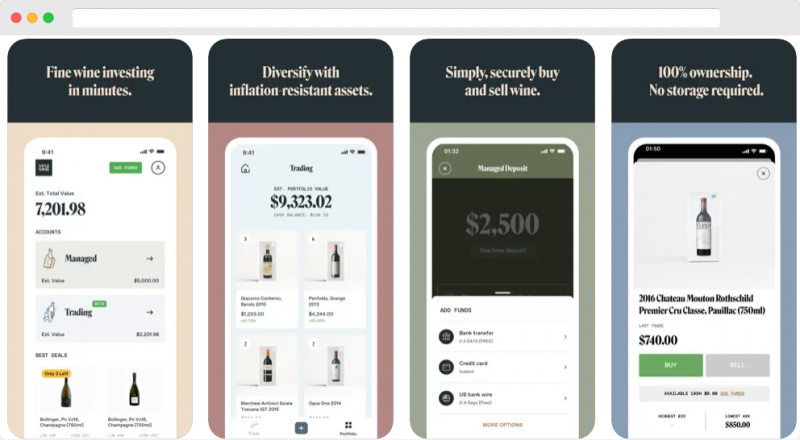 ---
Vinovest Pricing & Fees
Vinovest has a tiered pricing structure for investors. Here's what you need to know before you sign up.
Starter
The Starter tier is Vinovest's standard account level. It has a $1,000 minimum balance requirement and a 2.85% annual fee.
With a Starter membership, wines in your portfolio are algorithmically selected, so you won't be able to choose specific bottles to add to your collection.
Plus
Vinovest's Plus account level has a $10,000 minimum balance requirement and a 2.70% annual fee.
As is the case with the Starter membership level, wines in Plus accounts are algorithmically selected. But Plus members get bi-annual review sessions with portfolio managers and access to rare wines that aren't available to Starter members.
Premium
Vinovest's Premium tier has a $50,000 minimum balance requirement and a 2.50% annual fee.
A Premium account with Vinovest gives investors all of the benefits of a Plus membership. It also comes with the ability to fully customize your portfolio as well as access to exclusive Vinovest wine tasting and events, wine futures, and auction-only wines.
Grand Cru
The Grand Cru tier is Vinovest's highest membership level. It has a $250,000 minimum balance requirement and a 2.25% annual fee.
Grand Cru members get all of the features available at the Premium tier, plus personalized quarterly insight reports on their portfolio. A Grand Cru account also provides access to the most exclusive wine releases and Vinovest's Advisory Council.
Trading Account
Vinovest's Starter, Plus, Premium, and Grand Cru tiers represent the pricing structure for the firm's managed accounts.
If you have a trading account with Vinovest, the fees are slightly different. Vinovest's trading accounts have the following fees:
Buy-Side Trading Fee – 2.5%
Sell-Side Trading Fee – 1%
Yearly Storage Fee (Billed Monthly) – 1.5%
Note that these fees are debited from the cash balance in your trading account.
---
Vinovest Security
Vinovest offers a comprehensive insurance policy for account holders. The company states that this policy will reimburse you for the current market value of your wine if they're damaged due to a natural disaster or mishandling.
Additionally, Vinovest stores all client wines in secure bonded warehouses. The company also works with a third-party auditor to verify the wines held in its global warehouses.
---
Vinovest Customer Support
Vinovest offers email-based customer service for account issues (hello@vinovest.co) and phone-based support (+1 213-410-4546), though it doesn't offer chat support. Premium and Grand Cru members also get priority support from their portfolio advisors.
The company's customer support gets mixed reviews online. Some people find that Vinovest's customer service team is quick to respond to queries while others find that it can take a few days to get a reply. Vino currently holds an A- rating on the BBB and a 4.4/5 rating on Trustpilot.
---
Vinovest Pros
Streamlined platform that makes it easy for you to get a diversified wine portfolio backed by real bottles of wine
Option to open a managed or self-directed wine investing account
Access to investment advisors for Premium & Grand Cru account holders
Fantastic collection of educational resources
Insurance of wine bottles and storage in secure warehouses
Certificates of ownership for each wine bottle in your portfolio
Opportunity to invest in wine futures and rare auctions for Premium & Grand Cru members
---
Vinovest Cons
Minimum investment requirement of $1,000+ for all accounts
All deposits after account opening need to be $500 or more
Starter & Plus accounts can't choose their own wines
Limited information available about Vinovest's insurance policy
Investments are illiquid and can take weeks to cash out
Access to some powerful features like rare auctions, wine futures, and investment advisors requires a very high minimum investment
No tax-advantaged investment accounts available
---
Vinovest Alternatives
Not sure that Vinovest is right for you? Here are two Vinovest alternatives to check out instead.
Vint
Vint is a wine investing platform that lets you get wine exposure in your portfolio without owning individual cases of wine.
With Vint, investors can buy shares of SEC-regulated "wine collections," which are groups of professionally curated bottles of wine. You can buy shares in a Vint collection for as little as $25 and then hold onto them until their expected sale date (usually three to seven years after the collection launches).
There aren't any annual fees with the platform, but Vint takes a large sourcing fee for each purchase (8 to 10%). Additionally, you currently can't sell your Vint shares, so you're locked into your investment until the company sells the collection. As a result, the platform is best for long-term investors who want a well-diversified wine portfolio without any annual fees. Read our full Vint review to learn more.
Vinfolio
Vinfolio is a wine trading platform that offers a wine investment service. With this service, you can get a diversified portfolio without the need to buy and store your own wine bottles.
When you use Vinfolio's investment services, you'll get a fully customized wine portfolio that's tailored to your investment style, timeline, and risk tolerance. You'll get to work with a dedicated portfolio manager, and your bottles will be stored in Vinfolio's climate-controlled storage facilities.
Like Vint, Vinfolio also doesn't have any annual account management fees, but it does have a $25,000 minimum investment requirement, a 12% selling fee, and a $15-per-case annual storage fee. Therefore, it's best for investors with high account balances who want more personalized investment guidance for their portfolios.
| | Vinovest | Vint | Vinfolio |
| --- | --- | --- | --- |
| Our Rating | | | |
| Fees | 2.25% to 2.85% annual management fee (paid monthly) | No annual fees (for investors); Sourcing fee (8% to 10%) | 12% selling fee (trading), $15 storage fee per case (annually), and no annual management fee |
| Account Minimum | $1,000 | $25 | $25,000 |
| Promotion | None | None | None |
| Highlight | Algorithmically-selected wine portfolios for added diversification | Buy shares in collections of fine wine, spirits and similar offering | Build a wine portfolio with unlimited rebalancing |
| Best For | Wine investors | Wine investors | Wine investors |
| | | | |
---
Who Is Vinovest For?
Vinovest is an ideal investing platform for anyone who wants to build wine exposure into their portfolio. The fact that you own the actual wine bottles in your portfolio when you invest with Vinovest is a big advantage as it means that you can sell your assets whenever you'd like.
Vinovest's easy-to-use platform and automated portfolios make it an ideal choice for first-time investors. Meanwhile, the extra features that come with Premium and Grand Cru accounts are powerful benefits for investors with larger account balances.
That said, Vinovest's portfolios are designed for people with mid- to long-term investment horizons. The company's minimum investment and deposit requirements are also fairly high. As a result, it's not an accessible option for short-term investors or anyone with a smaller account balance.
---
FAQs: Vinovest
Here are our answers to some of your most commonly asked questions about Vinovest.
Is Vinovest Trustworthy?
Vinovest is a legitimate company with a solid track record of helping people invest in fine wines. The firm generally gets good reviews on sites like Trustpilot, and it is accredited with the BBB with an A- rating. However, there is always a risk of losing money when you invest, even with a reputable company like Vinovest.
Can You Make Money With Vinovest?
Yes, it is possible to make money with Vinovest. The platform has a historical return on investment of over 19%. However, returns aren't guaranteed with Vinovest, and there's always a risk of losing money on the platform.
How Long Has Vinovest Been Around?
Vinovest was founded in 2019 by Anthony Zhang, a serial entrepreneur and active investor. Although the company is still young, it's backed by a number of big-name venture capital companies, such as 10X Capital and Rainfall Ventures.
How Does Vinovest Select the Wines in My Portfolio?
Every wine that's selected for investor portfolios in Vinovest is assessed by a team of sommeliers. These sommeliers rate potential wines based on a number of factors, including their quality and risk-to-return ratio.
How Does Vinovest Value Wine Bottles?
Vinovest uses a proprietary software to value wine bottles. This software collects pricing information about specific wines from around the world and then provides you with the lowest average asking price for any given wine over the last 24 hours.
Is Vinovest Available Outside the US?
Yes, Vinovest is available outside the US. Anyone over the legal drinking age in their country of residence can invest through Vinovest. However, Vinovest is not available in countries on the OFAC sanctions list.
Can I Sell Wine at Any Time With Vinovest?
Yes, you can sell some or all of the wine in your Vinovest portfolio at any time. It can take two to three weeks to sell your wine as Vinovest needs to find buyers for your bottles.
Can I Choose What Wine Goes Into My Vinovest Portfolio?
It depends. Investors on Vinovest's Standard and Premium membership tiers can't select their own wines as these portfolios are managed by algorithms. However, if you have a Premium or Grand Cru membership, you can select specific wine bottles for your portfolio.
Does Vinovest Rebalance My Portfolio Automatically?
Yes, Vinovest's algorithms automatically rebalance your portfolio whenever you sell wine. Any funds from wine sales in your portfolio are reinvested in other bottles on your behalf.
How Do I Earn Returns on My Vinovest Portfolio?
You earn returns on the wine held in your Vinovest portfolio when you sell your bottles at a higher price than what you bought them for. Returns are not guaranteed with fine wine, but Vinovest's algorithms do the hard work for you by determining the best time to sell your bottles at a profit.
Who Owns the Wine in My Vinovest Portfolio?
All investors on Vinovest have 100% ownership of all of the wines in their portfolio. Vinovest is simply the custodian of your wines. You'll receive a certificate of ownership for any wine in your Vinovest portfolio indicating that you are the sole owner of your bottles.
Is Vinovest Regulated?
Vinovest is not regulated by traditional securities bodies like the SEC because wine is not typically viewed as a security. However, Vinovest states that it has an insurance policy on all wines to protect you from loss if your bottles are damaged.
How Are My Vinovest Gains Taxed?
The taxes on your Vinovest gains vary depending on where you live. In some countries, like the US, fine wine is typically taxed according to the capital gains tax rates. But always consult a tax professional in your region for more detailed guidance on your tax liability.
---
Final Thoughts
Vinovest was one of the first platforms to provide non-accredited investors with a way to get wine exposure in their portfolios.
There are many advantages to investing with Vinovest, including the company's easy-to-use managed portfolios and its support for self-directed wine trading. When compared to some other platforms, Vinovest's fees are also fairly low and its accounts provide much more by way of extra features, such as wine futures trading and educational resources.
Of course, Vinovest has its downsides, including the fact that it can take weeks to sell your bottles when you need cash. But if you want a convenient way to invest in wine, Vinovest is certainly worth checking out.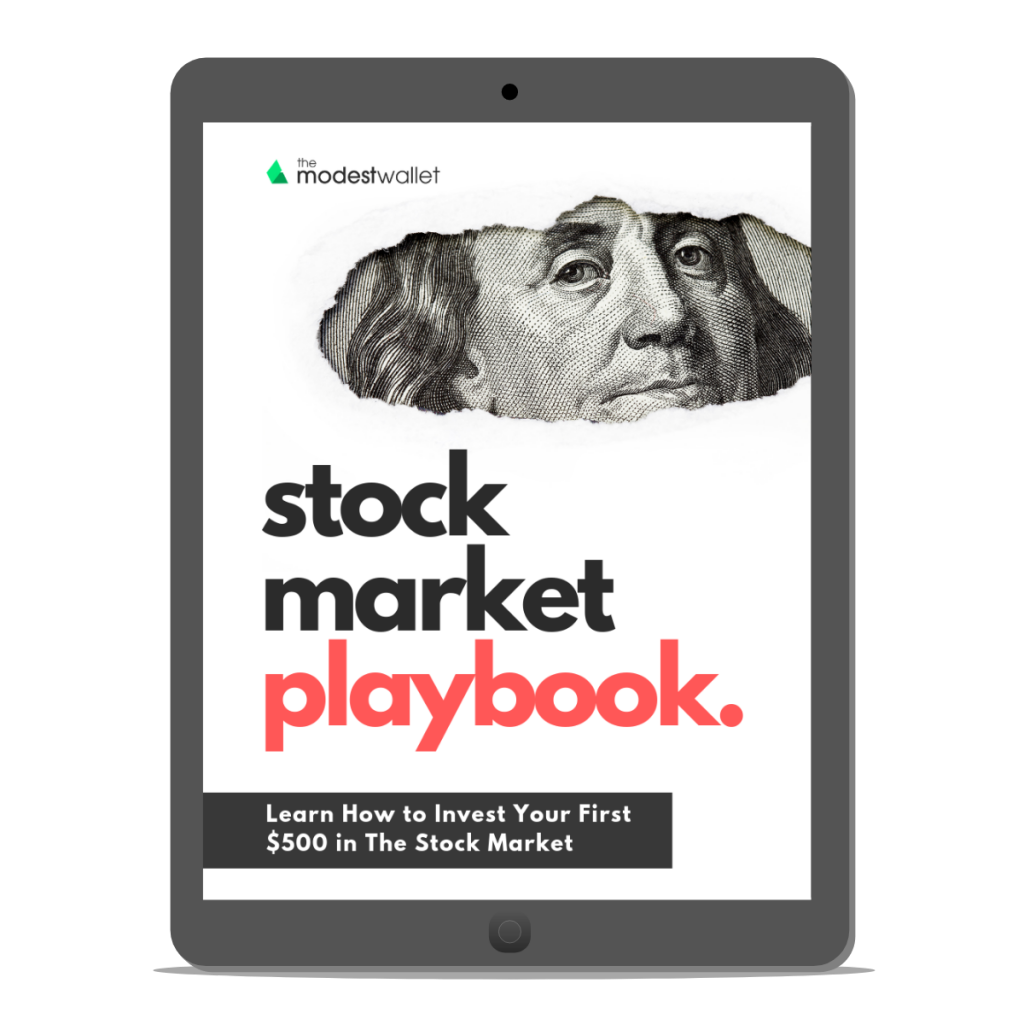 Get our free Stock Market Playbook to learn how to invest your first $500 in the stock market.
Plus our best money tips delivered straight to your inbox.

Gaby is a freelance writer and self-employed business owner with a personal interest in all things finance-related. She has a passion for educating others on how to make the most of their money and loves writing about everything from taxes to crypto.