Wealthfront Review 2023: A Well-Rounded, Low-Cost Robo-Advisor
Many or all of the products featured on this page are from our sponsors who compensate us. This may influence which products we write about and where and how the product appears on a page. However, this does not influence our evaluations. Our opinions are our own. Here is a list of our partners and here is how we make money.
---
The information provided on this page is for educational purposes only. The Modest Wallet is a financial publisher that does not offer any personal financial advice or advocate the purchase or sale of any security or investment for any specific individual.
Wealthfront is one of the biggest robo-advisor players in the United States with over 31 billion USD in assets under management (AUM) and a platform that serves more than 400,000 customers.
Wealthfront has been rated as a top robo-advisor by many personal finance sites. This credibility boost has allowed it to significantly increase its client base and allowed it to emerge as a strong player in the investment management landscape.
Wealthfront's Self-Driving Money™ philosophy claims to offer a way to optimize the way people use and invest their money, offering a wide range of money management products, including cash accounts, investment accounts, and retirement accounts.
Bottom Line: Wealthfront is one of the biggest robo-advisor players in the United States with over 31 billion USD in assets under management (AUM). Wealthfront offers a wide range of products, including cash, investment, and retirement accounts.
| | |
| --- | --- |
| Account minimum | |
| Account fees | |
| Portfolio construction | |
| Accounts supported | |
| Customer support | |
| Features and tools | |
| Security | |
| Ease of use | |
| Educational resources | |
---
What is Wealthfront?
Founded in 2008, Wealthfront is a California-based investment management firm that provides robo-advisory services. These services (different from traditional in-person investment advice) work by using algorithms and artificial intelligence to determine the optimal portfolio allocation for each investor based on their financial goals.
In 2013, Wealthfront had only $97 million in assets under management, which means that in just 7 years, the firm has managed to attract more than $31 billion in capital from investors, which indicates that the industry of passive, long-term investing is evolving and growing at a fast pace.
Wealthfront's value proposition consists of facilitating the task of managing their clients' money by introducing a set of low-cost cash management and investment products that reduce the stress of overseeing the financial products they choose, while also optimizing their tax bill.
---
How Does Wealthfront Work?
Wealthfront products and services can be divided into four different segments: banking, investing, borrowing, and planning.
Wealthfront Products and Services
These services collectively form Wealthfront's comprehensive approach to personal finance, aiming to provide clients with the tools and guidance they need to achieve their financial objectives and build long-term wealth.
Banking
Wealthfront banking products include a cash account that offers an estimated 0.35% annual percentage yield (APY), which according to the firm is at least five times higher than the national average, as tracked by the Federal Deposit Insurance Corporation (FDIC).
This account demands a $1 minimum deposit in order to be opened, but it does not charge a monthly service fee. Additionally, other important fees like withdrawal and debit overdraft, excess activity, and stop payment fees are also waived. Moreover, ATM transactions are also free on more than 19,000 selected ATMs.
This account enjoys a $1M protection from the FDIC, and it is provided by Green Dot Bank (Wealthfront is not a bank itself).
Investing
Wealthfront's robo-advisory investment service works by following its PassivePlus® investment strategy, which focuses on low-risk and long-term passive investments that, according to the firm, can generate steady returns for investors over time.
Wealthfront also claims that replicating this strategy without their assistance would require around 900 trades per year, 150 hours of work, and nearly $6,000 in trading fees.
One of the most appealing elements of Wealthfront is its low-cost approach. They charge as little as 0.25% in annual advisory fees for the portfolios held with the firm, which they say is only a quarter of the industry average of 1%.
Additionally, the investor has to pay a fund fee that comes from the expense ratios of the financial instruments they use to build portfolios. This fee ranges from 0.06% to 0.13% of the balance of a portfolio.
At the time of writing, the minimum deposit required to open an investment account with Wealthfront is $500.
Wealthfront has also recently launched a new feature that allows investors to invest in individual stocks and ETFs (including fractional shares). More on that later.
Borrowing
Wealthfront allows its investors to tap a credit line backed by their investment account, as long as they have an account balance higher than $25,000.
This credit line charges an interest rate between 2.45% and 3.70%, depending on the size of the account, and the application process only takes a few seconds — it can be completed by using Wealthfront's mobile app.
The funds are commonly deposited within one business day, and clients can borrow up to 30% of their accounts while repaying the loan on their own schedules.
It is important to note, however, that any significant decline in the value of an investment portfolio held by the client could result in the liquidation of some of their holdings to maintain minimum cash equity as a protective measure for Wealthfront.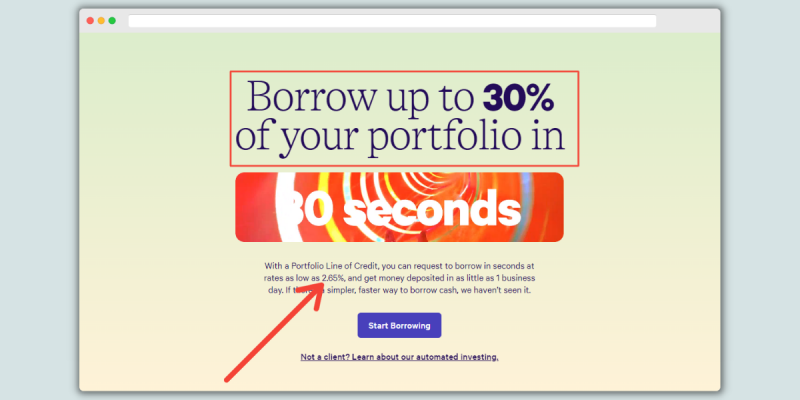 Planning
Planning products offered by Wealthfront aim to help clients achieve one of these four goals:
Buying a home
Retiring early
Taking a vacation
Saving for college
The firm's algorithms are designed to estimate the long-term impact that different financial decisions may have on clients' long-term goals. Different products overlap and are modified based on these moves.
For example, a client that decides to buy a home but has already set a retirement account with a certain goal will see their retirement goal's progress modified after adjusting for the impact of taking a mortgage, or after withdrawing a certain amount to cover the downpayment of the property.
The homeownership planner calculates the impact and feasibility of buying a home based on a set of criteria that estimates the impact of the mortgage on the client's budget and qualifies the purchase, depending on the result.
The early retirement planner estimates the amount that has to be put down and the size of the monthly contributions needed to achieve a certain goal, taking into account that the funds will be invested over time and that they will yield a certain return that will compound.
Finally, the vacation and college planning features allow the user to set certain goals, and based on the information provided, they also estimate the necessary monthly contribution to achieving them.
Account Minimum
To open an account with Wealthfront, a customer must deposit at least $500 to access the Automated Investing solution. Investments can be made in increments ranging from $30 to $120 for these types of accounts.
As for the minimum investment that can be made, investors can purchase fractional shares with this provider for as little as $1. The minimum transfer that they can make to the account is $100.
This minimum amount increases for those who want to enroll for some of Wealthfront's premium services and portfolios like the Risk Parity Fund and US Direct Indexing. To access those portfolios, the minimum deposit goes up to $100,000.
---
Account Types
For its cash and investment accounts, Wealthfront offers both individual and joint accounts for customers who are 18 years old or older, as long as they have a valid Social Security Number (SSN). Trust accounts are also available.
For retirement accounts, Wealthfront provides a Traditional IRA, Roth IRA, SEP IRA, and rolled-over 401(k)s.
Finally, a college savings account (called a 529 College Savings Plan Account) is also offered by Wealthfront.
---
Opening an Account
Opening an account with Wealthfront should take no longer than a few minutes — the entire process can be completed online.
The first step to open an account is to go to the website and click the "Get Started" button in the upper-right corner.
Then, the user will be directed to a page that explains the next steps the user will have to take to successfully open an account.
Next, the user will have to fill in some basic contact information, along with a questionnaire that will be used by the robo-advisor algorithms to determine the optimal portfolio allocation based on the client's financial goals and current financial situation.
The next step is to go through the investment plan outlined by the robo-advisor, which provides a detailed overview of what the firm will do with the money invested (such as which financial products will be bought and why along with the risks involved).
Finally, once the user agrees to the investment plan, the final step involves transferring the funds to the account. At the time of writing, Wealthfront supports bank transfers made via ACH.
The minimum deposit accepted at the time of writing is $100 for Wealthfront investment accounts, while for cash accounts, the minimum deposit is $1. These deposits are typically credited within one to three business days.
Additionally, 401(k) rollovers have to be done by following the instructions provided on the website.
---
Wealthfront Features
Wealthfront comes packed with great features, from tax loss harvesting to portfolio rebalancing, which we'll cover below.
| | |
| --- | --- |
| Minimum Investment | $500 |
| Fees | 0.25% Annual Fee |
| Inactivity Fee | $0 |
| Investment Types | ETFs and individual stocks |
| Account Types | Individual Taxable, Joint Taxable, Traditional IRA, Roth IRA, SEP IRA, 401(k) Rollover, Trust, and 529 |
| Platform | Mobile (iOS / Android) and Website |
| Assets Under Management | Over 31 billion USD |
| Advice | Automated |
| Promotion | Get $5,000 managed for free (*new accounts) |
| Socially Responsible Investing | |
| Fractional Shares | |
| Portfolio Rebalancing | |
| Tax-Loss Harvesting | |
| Support | Phone and Email |
Tax-Loss Harvesting
The PassivePlus® investment strategy followed by Wealthfront's algorithm is designed to liquidate financial instruments that have produced a negative result to claim the tax credit resulting from the capital loss (think tax-loss harvesting).
This tax credit can be used to offset the capital gains tax generated by the ETFs that have been liquidated, and the resulting tax credit can be reinvested to produce further returns by buying other ETFs.
By doing this, Wealthfront claims to increase the overall return of the portfolio by a range between 0.58% and 1.07% per year. The complexity of executing this strategy would be out of reach for inexperienced investors due to a variety of technical taxation and investment matters.
Stock Level Tax Loss Harvesting
The stock-level tax-loss harvesting program is another feature of the proprietary PassivePlus® investment strategy devised by Wealthfront to improve returns over time.
This strategy takes advantage of the multiple tax-loss harvesting opportunities presented by buying the individual stocks that comprise a broad-market index (such as the S&P 500) rather than buying an ETF (which is a basket of stocks that trades as a single instrument).
By using complex algorithms, the stock-level tax-loss harvesting program quickly takes advantage of the losses carried by certain individual stocks to offset the tax bill for the current year.
On the other hand, this feature is only available for taxable accounts with a balance between $100,000 and $500,000.
Risk Parity
Risk parity is a feature that follows an approach similar to Modern Portfolio Theory (MPT), which aims to generate the highest risk-adjusted return possible given a mix of different asset classes, such as bonds, stocks, commodities, and others.
However, risk parity aims to give the same risk-adjusted weight for each of the asset classes included in the portfolio. By doing so, studies show that the portfolio may be able to achieve higher returns compared to Modern Portfolio Theory (MPT).
However, using this feature (according to Wealthfront) makes it more difficult to properly allocate the tax credits received via the tax-loss harvesting feature, and it also limits the borrowing capacity of the account holder due to the increased volatility of the portfolio beyond what's acceptable for Wealthfront.
This Risk Parity Fund can represent a maximum of 20% of the balance of the client's portfolio.
Smart Beta
The Smart Beta feature offered by Wealthfront uses a set of five different indicators to estimate how funds can be more adequately allocated in the stocks that comprise the S&P 500.
Traditionally, this broad-market index determines the weight of each stock based on its market capitalization, which means that the bigger the enterprise, the larger the weight it will have on the index.
Research has shown that market capitalization is not the most efficient factor to determine the weight that each individual company should have on the index, and this is the main reason why users could benefit from using the Smart Beta feature.
Using Smart Beta does not generate an additional fee for users who opt-in, and it can be used along with the stock-level tax-loss harvesting add-on to reap some extra benefits from it. On the other hand, it is only available for clients that have a portfolio balance higher than $500,000.
Portfolio Mix
The portfolios designed by Wealthfront's robo-advisory solution are usually comprised of exchange-traded funds (ETFs) (with the exception of the Smart Beta portfolio). (ETFs are financial instruments that reflect the value of a basket of stocks, usually to mirror the returns of a certain benchmark index.)
Wealthfront regularly monitors the ETF market to identify the best products based on their expense ratios, portfolio turnover rate, and their capacity to mirror the results of the benchmark they track.
As of July 2023, the following are the ETFs used by Wealthfront to expose their clients' portfolios to different asset classes:
It is important to note that while most of the ETFs used by Wealthfront are managed by Vanguard, the company explicitly says it does not receive compensation for incorporating these ETFs into its portfolios.
Furthermore, while the above are the primary ETFs used by Wealthfront, they also have a list of secondary ETFs used for the tax-harvesting programs, as the tax legislation in the US does not allow claiming of tax credits if the same financial instrument is sold at a loss and then repurchased at short notice.
The percentage allocated on each of these ETFs varies depending on the results of the robo-advisory optimal portfolio composition based on the user's financial goals.
However, certain features like Smart Beta or the stock-level tax-loss harvesting do not use ETFs, as the funds are invested in individual stocks.
Portfolio Rebalancing
After a certain period, the fluctuation in the value of certain financial securities and the current percentage allocated to each asset class varies from the original percentage set by the robo-advisor.
As a result, Wealthfront periodically rebalances the portfolio of its clients to continue to allocate the percentage initially suggested by buying and selling the different assets within the portfolio.
By doing so, taxable securities will generate tax debits or credits depending on whether the investor had a capital gain or loss, and Wealthfront aims to minimize the impact of this by using its advanced tax-harvesting programs, which means that assets at a loss are likely to be the first ones sold as part of the rebalancing.
There is no pre-scheduled timeline for this rebalancing since Wealthfront follows an approach that monitors how much the percentages have drifted from their original target — and only once that gap has reached a certain level, they execute the rebalancing.
Since there's no way to tell when that will occur, there is no timeline as to when the rebalancing will take place.
Financial Planning
Wealthfront currently offers four different financial planning services, all of which can be used for free as part of its robo-advisory services, even though they will still be subject to the annual 0.25% advisory fee. These services are:
Early retirement planning: Clients can either open a retirement account with Wealthfront or they can roll over their 401(k)s. By using algorithms based on the retirement goals of the client, Wealthfront determines the amount that has to be set apart and the periodic contributions that must be added to the account to achieve these goals by investing the funds using a tailored portfolio allocation.
Vacation planning: This service is designed to help clients in planning for their ideal time off by stating how long they want to go away, whether they are planning to work while vacationing, and how their current living expenses will be affected during the time off.
College planning: Clients can use the college planning feature to start a fund for their kid's future college tuition. The app will outline the required contributions to achieve any amount that the client would like to achieve.
Homeownership planning: By integrating with third-party services, Wealthfront can analyze the exact property that the client intends to purchase, assessing various metrics including the price, the minimum down payment required, the amount of the mortgage payments, and other similar variables. As a result, the robo-advisor will qualify the purchase depending on its feasibility for the client and how ideal it is for his/her financial goals.
Cash Account
Wealthfront offers access to a high-yield savings account that, as of today, has an annual percentage yield (APY) of 4.55%. This is 11 times higher than the national average according to the company's estimates.
The account can be opened with as little as $1 and it is a great alternative to customers who want to take advantage of the latest increase in interest rates to generate some extra income with little risk.
The Wealthfront savings account is a no-fee product that also offers unlimited withdrawals and transfers and it is insured for up to $5 million by the Federal Deposit Insurance Corporation (FDIC) via the company's partner banks.
The product can easily be linked with electronic payment platforms like PayPal and Venmo and there is a direct deposit feature that lets customers access their payroll money up to 2 days before the funds arrive.
Some additional perks include the possibility of rapidly transferring cash from the investment account to the cash account to get the most out of those liquid reserves. In addition, the cost of wire transfers is roughly a third of what financial institutions typically charge.
The Wealthfront Cash Account is sponsored by the Green Dot Bank. This financial institution is also the issuer of the Visa debit card that account holders receive.
Portfolio Line of Credit
The Borrow feature is Wealthfront's flagship lending product. It uses the available balance of the customer's investment account as collateral and lets them borrow up to 30% of that amount for any purpose.
For now, the product is only available to customers who have a regular taxable Automated Investing account with a balance of at least $25,000.
The average annual percentage rate (APR) ranges from 7.4% to 8.65%. This is less than half of the typical APR of a credit card and that makes it an appealing choice to prospective borrowers who have assets with this provider.
The funds borrowed via the Portfolio Line of Credit do not generate a monthly installment. Instead, Wealthfront calculates and adds the customer's monthly interest payment based on the applicable interest rate at the time and the amount the person has borrowed from the account to its outstanding balance.
The customer can choose when to repay a portion of the principal that has been borrowed. This makes the line of credit a flexible and affordable alternative to borrow funds rapidly.
Since the assets held in the investment account are used as collateral, the requirements to apply for and receive a line of credit are next to none. No credit check is needed. The loan will be approved and funded in 1 to 3 business days. The minimum amount that can be borrowed is $250.
Stock Investing
Wealthfront introduced a new service called "Stock Investing" that lets customers buy fractional shares with zero commission and with as little as $1. With this service, investors can create portfolios without the assistance of the firm's robo-advisor and based on their preferences and views about the stock market.
To help investors diversify their self-directed stock portfolios, the Wealthfront team has created over 35 investment themes called "Collections". These are thoroughly researched groups of stocks that offer exposure to certain industries, geographies, trends, and types of assets.
By default, each stock within a collection has the same weight on the portfolio. However, investors can choose any companies within a single collection and add them to their portfolios without hassle. They can invest in that particular stock as much as they want.
The intuitive design of the Stock Investing solution allows investors to get recommendations on related collections based on their searches. For example, if they search Tesla they may also be shown results of Tesla-related collections like renewable energy companies, Tesla suppliers, and other similar suggestions.
Bond Portfolio
The Automated Bond Investing solution offered by Wealthfront allows customers to get a higher yield on their savings and investments from fixed-income instruments compared to what they may get from traditional products like savings accounts and certificates of deposit (CDs).
This solution relies on the same technology as the diversified portfolio builder but it focuses solely on bonds. This includes short-term treasuries, corporate bonds, long-term treasuries, and floating-rate bonds.
The portfolio's results are commonly marketed by using a blended 30-day SEC yield minus Wealthfront's advisory fees. At the time this is written, that yield is standing at 5.69%. For comparison, the average high-yield savings account is producing annual percentage yields (APYs) of 4.5%.
The blended 30-day SEC yield reflects the earnings received by the bond fund in the past 30 days based on the weight that each individual bond ETF held by the fund has on the overall portfolio minus the applicable management fee.
Wealthfront charges an annual 0.25% management fee for customers who enroll in this program. The portfolio is made up of several bond-focused ETFs. Its dividends are reinvested automatically and it is balanced periodically. In addition, Wealthfront executes tax-loss harvesting (TLH) strategies to increase the fund's return.
---
Wealthfront Portfolio Construction
Like other robo-advisors, Wealthfront relies on Modern Portfolio Theory (MPT) to design portfolios that maximize returns for a pre-established level of risk. The goal of its automated passive-investing service is to generate positive returns in the long term. Hence, Wealthfront should not be considered a stock trading service.
This company offers four different portfolios at the moment:
Classic: this is the flagship passively-managed investment solution offered by Wealthfront. It invests in thousands of securities including stocks and bonds from across the globe.
Socially responsible: this portfolio invests primarily in companies that have high ESG ratings and are conscious about their social footprint.
US Direct indexing: it requires a minimum $100,000 investment and it is designed to increase tax savings by focusing on a handful of individual stocks.
Smart Beta: a curated selection of individual stocks ranked by using six factors that Wealthfront considers relevant to identify the most promising individual companies in the marketplace.
Bond investing: a portfolio for fixed-income-seeking customers that invests only in bonds and other income-generating securities and aims to deliver higher proceeds than the average high-yield savings account.
Classic Portfolio
As of July 2023, the Classic portfolio invests 45% of its assets into US stocks via the Vanguard Total Stock Market ETF (VTI). Another 15% is invested in developed market stocks, 15% in emerging market stocks, 9% in dividend appreciation stocks, and 16% in tax-exempt bonds.
In total, the stock component of the Classic portfolio is approximately 84% for investors with a risk tolerance of 8 out of 10. For lower risk tolerances like 2 out of 10, the percentage allocated to stocks is lowered to 43% of the portfolio.
Since the Classic portfolio was introduced by Wealthfront, it has generated annualized returns of 7.3%. This means that $10,000 would have been turned into $20,852 if you invested in the fund in 2013 back when it was launched.
This performance assumes a risk tolerance of 9 out of 10 as per Wealthfront's estimates and that the assets were held in a regular taxable account.
Socially Responsible Portfolio
The Socially Responsible investing solution provided by Wealthfront aims to deliver similar results to the Classic portfolio but using exchange-traded funds (ETFs) that invest only in companies with a high ESG rating.
ESG stands for environmental, social, and governance. These are three aspects of a business that, if adequately catered, can make the organization a socially-conscious endeavor.
The Socially Responsible portfolio invests in the US, developed markets, and emerging market stocks along with US bonds. The ETFs picked by Wealthfront to build this portfolio reportedly have a correlation of over 99% with their counterparts that are used to build the Classic portfolio.
US Direct Indexing
Wealthfront offers two portfolio alternatives for wealthy customers called the US Direct Indexing and Smart Beta portfolios.
With US Direct Indexing, the portfolio is focused on generating tax savings by implementing a tax-loss harvesting strategy on the individual stock level. To achieve this, instead of investing in an ETF like the Vanguard US Total Stock Market (VTI), the robo-advisor purchases many of the hundreds of securities that make up the portfolio of that particular ETF.
Periodically, the system will analyze the portfolio and liquidate the positions that are losing money to harvest tax credits that can be used to offset the customer's taxable gains during that period. The customer's account balance must be at least $100,000 to enroll in this program.
Smart Beta Portfolios
The Smart Beta portfolio uses a sophisticated analysis of five factors — market capitalization, market beta, dividend yield, momentum, volatility, and profitability — to identify and invest in the most promising stocks in the market.
By combining the US Direct Indexing feature with the Smart Beta feature, Wealthfront claims that it can boost a portfolio's return for its customers. Only individuals with account balances higher than $500,000 can enroll in the Smart Beta feature.
Bond Portfolio
The bond portfolio invests solely in fixed-income instruments including US treasuries, corporate bonds, and municipal bonds, and aims to generate returns that exceed the average yield offered by a savings account.
Wealthfront uses several low-cost ETFs managed by Vanguard, Blackrock, VanEck, and State Street to create a highly-diversified portfolio made up of short, mid, and long-term bonds.
Depending on the customer's federal and state tax bracket, the portfolio varies its target allocation on short-term and floating-rate bonds.
For customers that qualify for the lowest tax brackets, the floating-rate bond allocation will be 30% while only 10% will be allocated on ultra-short-term treasury bonds. For those that are in the highest tax brackets, the allocation for ultra-short-term treasury bonds will be 30% while only 8% will go to floating-rate bonds.
The remaining target allocations will remain relatively unchanged for the two profiles as follows:
8 to 10% on high-yield corporate bonds.
20% on short-term high-yield corporate bonds.
30% on short-term treasury bonds.
---
Wealthfront Pricing & Fees
Wealthfront charges a flat 0.25% annual advisory fee on the account balance. This fee is calculated by multiplying the daily value of the account by 0.25%, divided by 1/365, which is the daily fee.
At the end of each month, the sum of the daily fees will result in the monthly advisory fee charged to the account.
Additionally, clients have to cover the expense ratio associated with the ETFs that comprise their portfolios.
Cash accounts offered by Wealthfront do not charge any fees except for debit card fees which include out-of-network ATM fees of $2.50 + an ATM owner fee, a bank teller fee of $2.50 + teller fee, a 2.75% international transaction fee, and up to $5.95 cash load fee at selected retailers.
Wealthfront does not charge a fee for depositing or withdrawing money from the account.
Applying for a Wealthfront Portfolio Line of Credit is free. The loan will generate a monthly interest charge that will be added to the investment account's outstanding balance. The applicable interest rate starts at 7.4% (as of this writing).
Wealthfront also offers a zero-commission stock investing service. No fees are charged for trading individual stocks or ETFs except for some minimal regulatory fees and the expense ratio charged by the ETFs that are added to the portfolio, not Wealthfront.
---
Wealthfront Customer Support
Wealthfront has made available a Help Center that has an ample library of answers to users' most frequently asked questions (FAQs). Several topics are covered including an introduction to the company's services and platform, the different products it offers (cash accounts, investment accounts, and portfolio line of credit), and tax and financial planning questions.
When it comes to contacting a company's customer support representative, there are no links or information that facilitate this interaction. The company's phone number is nowhere to be found on the website.
The 'Contact Us' section of the website takes the customer, in most cases, to a form that needs to be filled out and sent as a support ticket. For law enforcement matters, there is an e-mail and physical mail address to send customers' inquiries.
The absence of a phone number, live chat, e-mail, or other similar channels to reach out to a representative is disappointing and complicates the task of troubleshooting issues that may not be answered by any Help Center post.
---
Wealthfront User Experience
The Wealthfront platform can be accessed via a web browser or users can turn to the mobile application to make transactions, manage their accounts, make changes to the portfolio, and deposit or withdraw money on the go.
On the Apple App Store, users have rated the mobile app with 4.8 stars after more than 16,000 ratings. Meanwhile, on the Google Play Store, the app has been downloaded more than 100,000 and more than 5,000 users have rated it with 4.5 stars. The app can be downloaded for free from both marketplaces.
Even though Wealthfront is not an accredited business with the Better Business Bureau (BBB), the company does have a rating on the website of 2.6 out of 5 out of only 5 reviews from customers. A total of 12 complaints have been sent in the past 3 years but only 6 appear to have been closed.
The customers that have sent complaints through the BBB have mentioned that it has been hard to reach out to the company and that their emails have not been responded to in many of the cases. Thus far this year, the company has not answered any of the BBB complaints it has received.
On Trustpilot, they also have poor reviews with a 2.1 out of 5.0 rating.
---
Wealthfront Security
Wealthfront's investment accounts enjoy SIPC coverage as the company that offers them – Wealthfront Advisers LLC — is a registered financial advisor with the United States Securities and Exchange Commission (SEC) and a member of this institution.
The SIPC insurance policy covers up to $500,000 in both securities and cash held in a Wealthfront investment account including up to $250,000 in cash.
In addition, all of the banking products offered by Wealthfront are insured by the Federal Deposit Insurance Corporation (FDIC) of the United States. The insurance policy covers up to $250,000 per qualified customer account. Wealthfront claims that its accounts are insured for up to $5 million. They achieve this by spreading the money held within the customers' accounts between multiple financial institutions. Since the money is not held with a single bank, if one bank goes under, most of the money should be saved.
Adding up the FDIC insurance coverage of multiple accounts may not be an accurate representation of the extent to which customers are insured. However, Wealthfront's practice of spreading customers' deposits across multiple banks may ultimately achieve this.
Theoretically, if $5 million were held with Wealthfront and the entire sum is equally spread among 20 bank accounts offered by 20 different banks, the entire sum will be covered by an FDIC insurance policy if all 20 banks went out of business as long as no individual account has a balance exceeding $250,000.
---
Wealthfront Educational Resources
The educational resources made available by Wealthfront consist primarily of blog posts that discuss product news, platform updates, and topics including financial planning, investing, and saving.
In addition, the company has created three guides that cover the following subjects: Financial Health, Equity & IPOs, and Home Planning. Aside from that, the Help Center answers questions about how retirement accounts work and how investments and their proceeds are taxed.
Customers can rely on these resources to learn more about investing, how to use the platform's products and services to grow their wealth and plan for retirement, and the impact that some of their investments will have on their annual tax bill.
---
Wealthfront Pros Explained
Low management fees: Wealthfront charges a flat annual advisory fee for its automated investing services. This fee stands at 0.25% — only a quarter of what asset management firms typically charge for human advice.
Low minimum deposit: The minimum deposit required to open an account with this provider is low at $1 for bank accounts and $500 to access the automated investing solution.
High-yield cash account: The Cash Account pays an annual percentage yield (APY) that is 11 times higher than the national average as of the time of this review.
Invest in individual stocks: With the launch of the Stock Investing service, customers can now build portfolios without the assistance of the robo-advisor without paying any commissions.
Access to tax-loss harvesting: The tax-loss harvesting (TLH) feature can reportedly add an additional 1.8% gain to a portfolio's after-tax annual returns.
Access to advanced portfolios: Wealthfront offers advanced portfolios such as the US Direct Indexing and Smart Beta for wealthy customers.
Portfolio line of credit: The Portfolio Line of Credit is a great alternative to access relatively cheap short-financing by using the account´s investments as collateral.
Highly rated mobile app: The Wealthfront mobile app has outstanding user ratings on both the Apple App Store and Google Play Store.
Invest in bonds: Wealthfront's Bond Investing program is perfect for investors seeking to produce income to supplement their living expenses either because they have retired or have amassed significant wealth that they can use to this end.
---
Wealthfront Cons Explained
Limited customer support: Reaching out to a company representative does not seem to be easy. The company does not offer phone or live chat assistance for troubleshooting.
Not available outside the US: Wealthfront is not available to international customers.
Limited stock trading feature: This provider only supports trading of US-listed stocks and ETFs via its Stock Investing service. It does not provide access to derivatives or foreign stocks.
---
Wealthfront Alternatives
Wealthfront is a great robo-advisor for beginner investors. But it's not the only option available.
Wealthfront vs. Vanguard
Vanguard is a large asset management firm that offers an ample portfolio of products and services going from mutual funds and exchange-traded funds (ETFs) to retirement planning and estate planning solutions.
Vanguard offers access to a robo-advisor called the Vanguard Digital Advisor®. This product requires a minimum investment of $3,000 to open an account and charges a gross annual advisory fee of 0.20% for its all-index investment options and 0.25% for the active/index mix. The fee is waived for the first 90 days.
Same as Wealthfront, investors enjoy automated rebalancing, tax-loss harvesting (TLH) features, and ESG-focused investing. Vanguard's service is slightly cheaper than Wealthfront. Read our full Vanguard Digital Advisor review to learn more.
Wealthfront vs. Betterment
In broad terms, Betterment and Wealthfront offer very similar services. They charge the same 0.25% advisory fee, and they both manage more than $10 billion in assets for their clients.
However, Betterment offers access to Certified Financial Planners (CFPs) for clients who prefer a human touch. And they don't require a minimum deposit to open an investment account.
On the other hand, Wealthfront seems to have an edge on the financial planning side, as Betterment charges $200+ for its financial planning packages. They include a 30-minute consultation with a CFP, while Wealthfront uses automated features to help its clients based on their financial objectives.
Although their tax-loss harvesting features are fairly similar, Wealthfront's stock-level TLH should further boost the long-term returns of investors who participate in this program. This feature is not available with Betterment. Read our full Betterment review to learn more.
| | | | |
| --- | --- | --- | --- |
| | | | |
| Our Rating | | | |
| Minimum Investment | $500 | $0 | $3,000 |
| Fees | 0.25%/yr | Digital — 0.25%/yr and Premium — 0.40%/yr | 0.20% annual management fee |
| Promotion | Get $5,000 managed for free (*new accounts) | Up to 1 year free (*for qualified deposits) | None |
| Highlight | Automatic rebalancing included with basic plans | Easy to set up and human advisors available | Low management fees and low expense ratios on ETFs |
| Best For | Passive investors | Passive investors | Passive investors |
| | | | |
---
Who Is Wealthfront Best For?
Wealthfront is a low-cost, user-friendly, and well-designed robo-advisor backed by a highly-trained leadership team that includes Burton Malkiel, a financial expert with many years of experience in the field of investing, and the author of one of Wall Street's favorite books, A Random Walk Down Wall Street.
Investors who wish to turn on autopilot mode for their investments can benefit from the easygoing approach offered by Wealthfront when it comes to money management, and they can also enjoy the interesting features offered by the firm, including the Smart Beta and the Tax-Loss Harvesting features, both of which would be hard for a retail investor with little experience to implement.
The low advisory fees charged by the company may be the most enticing element of its value proposition, and its time-tested strategies should provide enough assurance to investors that their money is well-handled.
On the other hand, Wealthfront services are not suited for day traders or any other type of active traders because they don't give investors the possibility of building their own portfolios.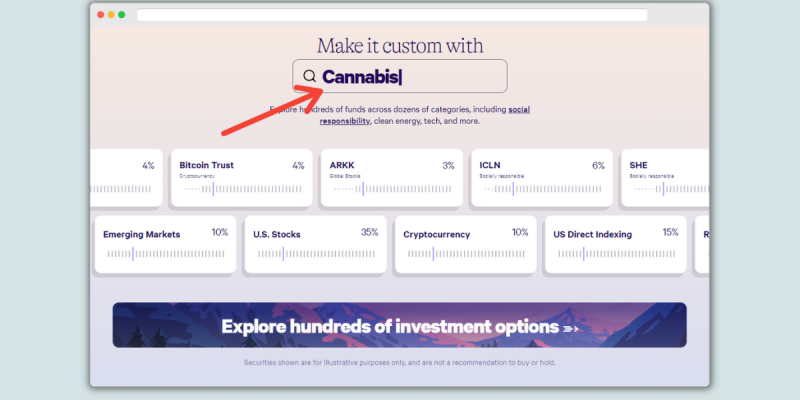 ---
Notable Wealthfront Updates and News
In the wake of the events that affected the Silicon Valley Bank and others, Wealthfront published a blog post informing about the measures they take to keep their customers' funds safe, referring to the money held in its Cash Accounts.
On March 1, 2023, Wealthfront launched a service called Stock Investing that lets customers buy individual stocks in the form of fractional shares for as little as $1.
On June 7, 2023, Wealthfront launched its Automated Bond Portfolio, a solution for investors who want to generate a steady stream of income by using their liquid reserves.
---
Wealthfront FAQ
Here are the most frequently asked questions from people about Wealthfront.
What Are the Costs to Invest with Wealthfront?
For investment accounts, there's a 0.25% advisory fee, charged monthly. Additionally, the client has to pay for any expense charged by the exchange-traded funds (ETF) that comprise the investment portfolio.
For cash accounts, there are no fees except for debit card fees.
The Portfolio Credit Line offered by Wealthfront charges an interest rate between 2.45% and 3.7% per year.
How Easy Is It to Make Withdrawals?
Withdrawals can be easily set up by using Wealthfront's user-friendly interface, and there's a minimum withdrawal limit of $250.
Any number of withdrawals can be made at any given point in time as long as the balance of the account remains higher than $500.
Funds withdrawn from Wealthfront typically show up 3 to 4 business days after the request is sent.
There is also a holding period of five days before any money that was recently deposited in the account can be withdrawn.
How Does Wealthfront Define "Long-Term Investing"?
Long-term investments assume a holding period longer than five years for each individual security contained within the portfolio.
What is the Minimum Investment with Wealthfront?
The minimum deposit required to open an investment account with Wealthfront is $500.
What Are My Options to Fund My Wealthfront Account?
Wealthfront accounts can be funded via ACH wire transfers.
How Are My Investments Protected with Wealthfront?
All investments made with Wealthfront enjoy a protection of up to $500,000 from the Securities Investor Protection Corporation (SIPC) of the United States. Of those, a maximum of $250,000 can be claimed in cash.
This protection is triggered if the broker-dealer firm is, at some point, unable to give their money back to clients, but it does not offset any losses experienced as a result of market downturns.
---
Final Thoughts
Wealthfront is a sophisticated, low-cost robo-advisor available for United States residents that has many interesting features for investors who want to transfer control of their assets to seasoned financial professionals while following a long-term passive investment strategy.
Their investment strategy and extra features are robust, and the background of Wealthfront's leadership teams makes this firm one of the most credible players in the global robo-advisory market.
Up Next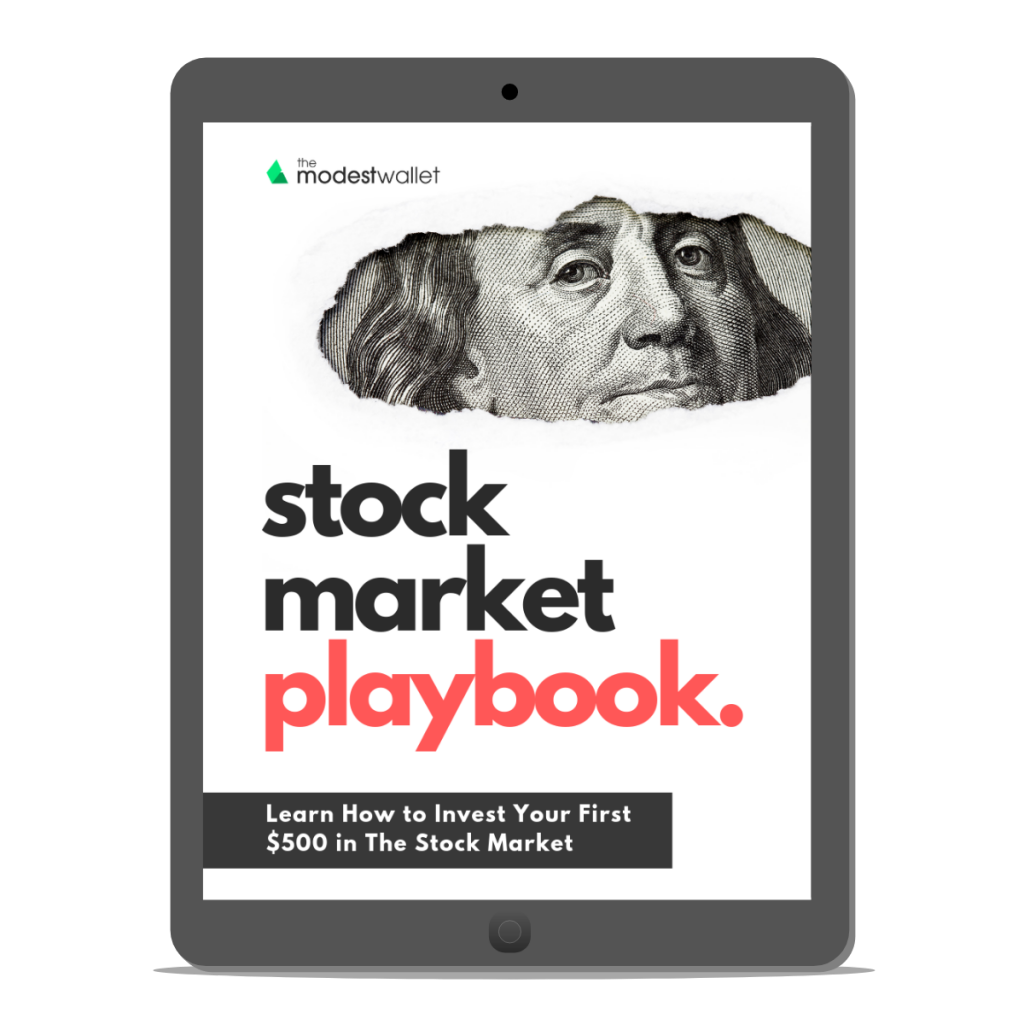 Get our free Stock Market Playbook to learn how to invest your first $500 in the stock market.
Plus our best money tips delivered straight to your inbox.

Alejandro is a financial writer with 7 years of experience in financial management and financial analysis. He writes technical content about economics, finance, investments, and real estate and has also assisted financial businesses in building their digital marketing strategy. His favorite topics are value investing and financial analysis.