Many or all of the products featured on this page are from our sponsors who compensate us. This may influence which products we write about and where and how the product appears on a page. However, this does not influence our evaluations. Our opinions are our own. Here is a list of our partners and here is how we make money.
The information provided on this page is for educational purposes only. The Modest Wallet is a financial publisher that does not offer any personal financial advice or advocate the purchase or sale of any security or investment for any specific individual.
The robo-advisor arena is on the rise as investors seem to have a lot of faith in automated investing services. Wealthsimple stands as the largest robo-advisor in Canada and one of the biggest in the US.
Wealthsimple with over $5 billion in assets under management (AUM) is based in Toronto, but they also have offices in two other locations (London and New York). It's backed by some well known and experienced financial advisors and has an impressive team.
Let's see how this robo-advisor stacks up in this Wealthsimple review.
on Wealthsimple's website
Quick Summary: Wealthsimple is an online investment service that uses technology to make investing simpler, smarter, and low-cost. Its mission is to help everyone achieve their financial goal by making investing simple, affordable, accessible, and personalized.
What is Wealthsimple?
Wealthsimple is a robo-advisor designed to provide long-term, world-class investment management. It has no account minimum limitations, making it a good choice for all kinds of investors.
It's known for developing diversified portfolios invested in a variety of low-cost index funds or exchange-traded funds (ETFs). This strategy allows investors to be fully diversified across different sectors and industries.
The company offers various services including automatic rebalancing, tax-loss harvesting, and dividend reinvesting. Moreover, you also get to speak to financial advisors whenever you like.
How Does Wealthsimple Work?
The company follows Harry Markowitz's Modern Portfolio Theory. Introduced in 1952, the theory highlights the importance of diversification. As we all know, it's not safe to put all your eggs in one basket. This is exactly what the theory tells us.
Wealthsimple appears to be following this theory with features like dividend reinvesting and automatic rebalancing.
You will have to go through a brief risk assessment questionnaire designed to help the company determine your risk profile. Based on the result and your financial goals, you will be given a detailed mix of the recommended portfolios.
However, it gives you the option to make changes to your portfolio as your financial goals or other such factors change. In fact, it even allows you to have different portfolios for different accounts.
You can speak to advisors about what changes to make to your portfolio based on your goals.
Note: It can take about 5 days for your account to be active.
Wealthsimple Features
Wealthsimple comes with great features out of the box as you would expect from a world-class robo advisor. Here are the best features Wealthsimple has to offer to investors.
| | |
| --- | --- |
| Minimum Investment | $0 |
| Fees | $0 to 100k — 0.50% Annual Fee (Basic) and $100k+ — 0.40% Annual Fee (Black) |
| Inactivity Fee | $0 |
| Investment Types | ETFs |
| Account Types | Joint, Taxable, Traditional IRA, Roth IRA, Rollover IRA, SEP IRA and Trusts |
| Platform | Mobile (iOS / Android) and Web-based |
| Assets Under Management | Over $5 billion |
| Advice | Human Assisted |
| Promotion | Get 10,000 managed for free |
| Socially Responsible Investing | |
| Fractional Shares | |
| Portfolio Rebalancing | |
| Tax-Loss Harvesting | |
| Support | Phone and Email |
Portfolio Review: This is a great feature for users with non-Wealthsimple financial accounts. You can benefit from the company's free portfolio review service to get your non-Wealthsimple accounts assessed.
Company experts will provide a report after studying a variety of factors including the cost of the account, portfolio allocation, and tax efficiency.
Smart Savings: This feature helps you earn money in the form of interest. You get to enjoy unlimited free transfers without having to worry about account size.
Halal Investing Portfolio: This feature is designed for Muslims who want to invest while following Islamic principles. It's a low-cost and simple system that promises to give good returns in the long-run.
Free Stock Trades: Currently only made available to Canadian users, this feature is available on the mobile app. It lets you trade ETFs and over 8,000 stocks on a number of US and Canadian exchanges. The best thing is that the feature is available for free.
Roundups: This is another feature that's also only currently available to Canadian users. This follows the same formula as other micro-investing apps like Sofi Invest and Acorns.
Basically, Wealthsimple allows you to use your spare change or roundups to invest it in your investment or savings account so you can continue to grow your money. This way, every single penny is working for you.
Interface: The platform is easy to use. It displays all your portfolios in a line graph. You can also see how your investments have performed over a period of time.
The app works quite like the web interface but we liked the latter more.
Customer Support: You can get in touch with the company over emails or phone calls. It takes about 24-48 hours to get a response (email).
On the other hand, phone service is quick but it's only available 5 days a week during office hours.
Wealthsimple's Four Portfolios
The company offers four separate portfolios. We'll discuss them all in detail below:
Basic Portfolio
As the name suggests, this portfolio is the simplest of all. You can start from $0 and go as high as $100,000. The company charges only 0.50% management fee.
The portfolio offers a range of services including:
Automatic deposits
Tax-loss harvesting
Rebalancing
Dividend reinvesting
Human financial advice
A personalized portfolio
You can set up a Basic Portfolio in the following ways:
Growth Portfolio: 20% bonds and 80% stocks
Balanced Portfolio: Divided equally between bonds and stocks.
Conservative Portfolio: 35% stocks and 65% bonds.
All these options have their own benefits. You can ask advisors for the right option according to your requirements if you plan on deciding and building your own portfolio.
There are 10 ETFs under this option. Here are the details:
| Asset Class | ETF | Symbol | Portfolios |
| --- | --- | --- | --- |
| US Mid-Cap Value | Vanguard Mid-Cap Value ETF | VOE | All |
| US Stocks | Vanguard Total US Market ETF | VTI | All |
| Foreign Stocks | Vanguard FTSE Europe ETF | VGK | All |
| Foreign Stocks (exporter & dividend tilt) | WisdomTree Japan Hedged Equity Fund | DXJ | All |
| US Small-Cap Value | Vanguard Small-Cap Value ETF | VBR | All |
| Municipal Bonds | iShares National Muni Bond ETF | MUB | All taxable accounts |
| USD Govt and Corporate IG Bonds (includes EM) | Vanguard Total Bond Market ETF | BND | All |
| Emerging Market Stocks | Vanguard FTSE Emerging Markets ETF | VWO | All |
| US Inflation Protected (TIPS) Bonds | iShares TIPS Bond | TIP | Conservative, Balanced |
| High Yield Bonds | VanEck Vectors Fallen Angel High Yield Bond ETF | ANGL | Conservative, Balanced |
The method to construct a portfolio is similar, whether taxable or retirement portfolio. However, there is a difference between the two – retirement accounts do not include municipal bonds as they are anyway tax-deferred.
Black Portfolio
This portfolio is designed for big investors. You can start for as low as $100,000 with no end limit.
It may be a good idea to try this portfolio as it brings down the management fee to 0.40%. This is a difference of 0.10% but it can be a lot when you have millions in an account.
This program offers all features that the Basic Portfolio does but you will also enjoy some additional features. These include:
A financial planning session with an experienced advisor to discuss your goals.
You enjoy more tax advantage under this platform thanks to the use of tax-efficient funds to build your portfolio.
VIP access to over 1,000 airport lounges. The service is available in more than 400 cities and enables you and one companion to enjoy a comfortable airport stay.
The Portfolio is constructed in the same manner as the Basic Portfolio. You can choose from Conservation, Balanced, and Growth portfolios.
Socially Responsible Investing Portfolio
This portfolio is designed for users who want to invest in companies that are known to be socially responsible. As a result, you will be investing in companies that have the following characteristics:
Gender diversity
Low carbon emissions
Support for affordable housing
The Portfolio is constructed in the same manner as the other two options. You can choose from Conservation, Balanced, and Growth portfolios.
You can invest in six different funds. These include:
PowerShares Cleantech Portfolio: This consists of cleantech innovators.
iShares MSCI ACWI Low Carbon Target: This consists of companies or stocks that are known to reduce carbon exposure.
iShares MSCI KLD 400 Social Index Fund: This consists of us companies that are known to be socially responsible.
PowerShares Build America Bond Portfolio: This consists of local Initiatives designed to support the community.
SPDR Gender Diversity: This consists of companies that encourage gender diversity
iShares GNMA BD ETF: This consists of companies, mainly public securities, that promote affordable housing.
You can start for as low as $0 and go as high as $100,000. The commission is only 0.50%. However, your first $5,000 will be managed for free.
Note: Accounts holding over $100,000 have to pay a lower fee (0.40%). It can be a good reason to invest more.
Halal Investing Portfolio
This portfolio is designed for the Muslim population. It follows Sharia law to make decisions. For example, Islamic principles of investing prohibit bonds, hence the portfolio consists of only stocks.
While it is a great feature as it allows the company to reach to a wider audience, it's not available for individual investors. It's a single portfolio that consists of companies that follow Islamic law.
The portfolio is constructed by the experts at MSCI due to the high nature of complexities involved. It consists of 50 companies including:
Johnson & Johnson, 3.87% allocation
Novartis AG-Sponsored ADR, 3.56% allocation
Exxon Mobil Corp, 3.38% allocation
SAP SE-Sponsored ADR, 3.26% allocation
Procter & Gamble, 3.11% allocation
Canon Inc-Sponsored ADR, 3.06% allocation
Total SA-Sponsored ADR, 2.94% allocation
Pfizer Inc., 2.76% allocation
Alibaba Group Holding-Sponsored ADR, 2.63% allocation
Unilever N V-NY Shares, 2.58% allocation
Since there are no bonds involved, this portfolio carries a higher risk than other options. The fee is 0.50%, which falls down to 0.40% when the balance goes above $100,000.
Generation — For Big Investors
This is mainly for big investors and requires a minimum balance of $500,000. The management fee is only 0.40% with some additional perks including:
Access to a team of advisors.
A personalized report of your account
In-depth financial planning
Tailor-made portfolios
Asset location
50% off a Medcan health plan
All Black Portfolio benefits

Pros of Wealthsimple
Access to Experts: This feature is great as it gives you peace of mind and allows you to get your questions answered.
No Minimum: This is the biggest benefit of the service. You can start with any balance.
Socially Responsible Portfolio: This gives WealthSimple an edge over competitors as very few robo advisors offer this option
Portfolio Review: Very few companies offer a complete and true review of outside portfolios like WealthSimple. It can help you determine where and how to use your money.
Additional Perks: Perks like lounge access and 50% off health plan can be beneficial, however it's only available if you invest a lot.
Stock Trading: Currently only available for Canadian users, this can be the difference maker as it allows Canadians to track stocks for free.
Muslim Population: The growing Muslim population in the US, Canada, and the UK can make use of the Halal Portfolio.
Cons of Wealthsimple:
No Goal Setting: Competitors like Betterment, Personal Capital, and WealthFront offer this feature. It helps users set up goals and plan accordingly.
Expensive: If you research the market, you will find that the 0.50% fee is higher than what other providers charge.
Who is Wealthsimple For
Wealthsimple is for all kinds of investors including aspirants and seasoned investors. The platform is very easy to use and the pricing structure is quite simple as well.
The no minimum account feature makes it very attractive as you do not have to worry about minimum balances. Similarly, more advanced accounts allow you to get in touch with experts over the phone and get free advice.
Plus, there are other perks and a variety of investment options to choose from.
Note: It can be very attractive for Canadians due to additional perks offered to Canadian users.
Who is Wealthsimple Not For
It may not be suitable for users who wish to reach a specific goal with their investment as the platform is quite expensive and doesn't offer goal planning.
It may also not be right for someone who does not wish to sign Investment Management Agreements and verify bank accounts as the company requires approval before you can begin. However, this is the case with almost all such platforms.
Moreover, an MPT-based portfolio does not give you exposure to a specific market sector, which can be a concern for some users since specific sectors may often outperform the broader market.
Wealthsimple Pricing Plan
The pricing plan is easy to understand:
| Balance | Fee |
| --- | --- |
| $0-$100,000 | 0.50% |
| More than $100,000 | 0.40% |
Are There Wealthsimple Alternatives?
There are some other options available such as Betterment, M1 Finance. They are known to be more affordable than WealthSimple but may not offer all the features that Wealthsimple does.
It's best to study the market and pick a company that suits you the best.
<$100k — 0.5%/yr and >$100k — 0.4%/yr


Digital — 0.25%/yr and Premium — 0.40%/yr
Is Wealthsimple Safe to Use?
The company is said to be fully secure as it uses 128 bit encryption. Plus, it's SIPC insured up to $500,000.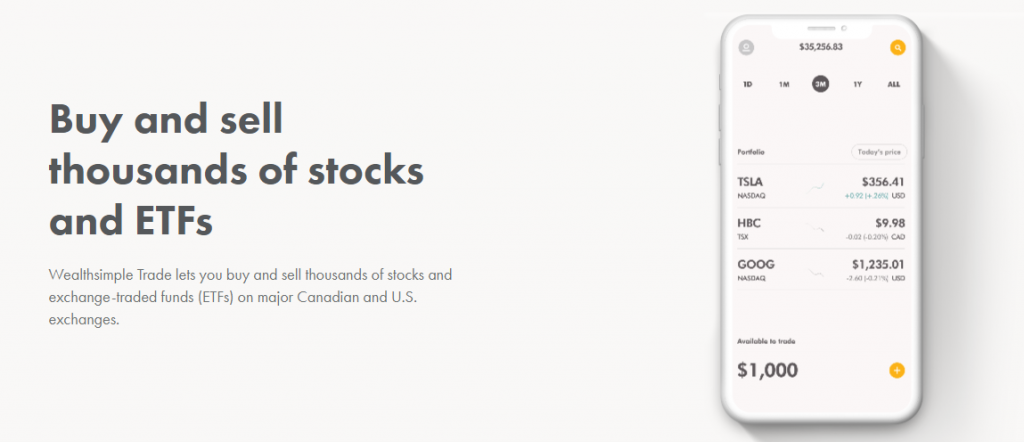 Summary
Robo investing platforms are quite similar in how they work. They use similar investment formats, hence it's hard to determine if one is better than the other. In most cases, it's the cost that ends up being the deciding factor.
Sadly, the cost isn't in favor of Wealthsimple as it's more expensive than other options as most robo advisor companies charge about 0.25% fee.
However, Wealthsimple is quite a popular and successful platform as it offers a nice mix of opportunities with access to live help. Plus, there are different account types.
The company will give suggestions based on your individual case, making it a good option to start if you're struggling to.
Final Thoughts
We think Wealthsimple is best suitable for big investors as investing at least $100,000 does not only bring down the fee to 0.04% but also offers other benefits. Small investors can consider options unless they need halal investment strategies or access to live support.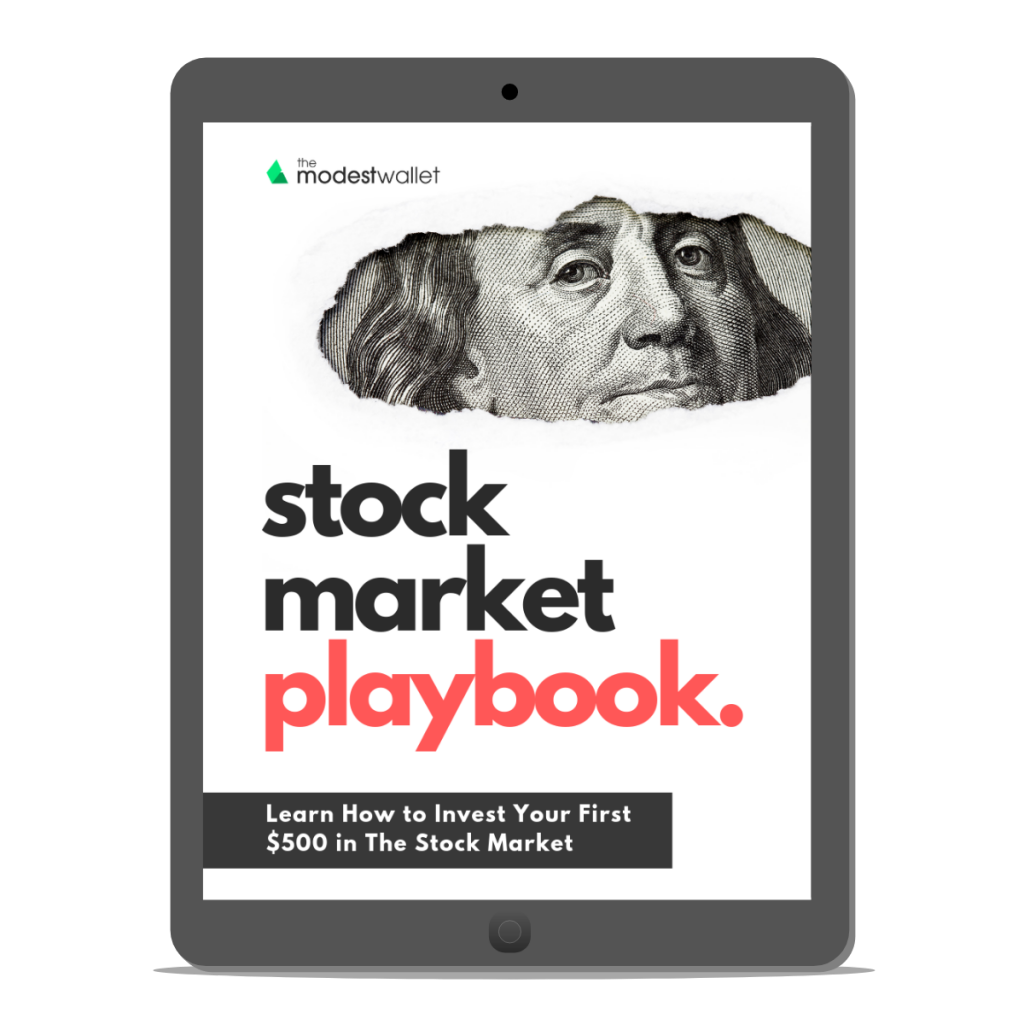 Get our free Stock Market Playbook to learn how to invest your first $500 in the stock market.
Plus our best money tips delivered straight to your inbox.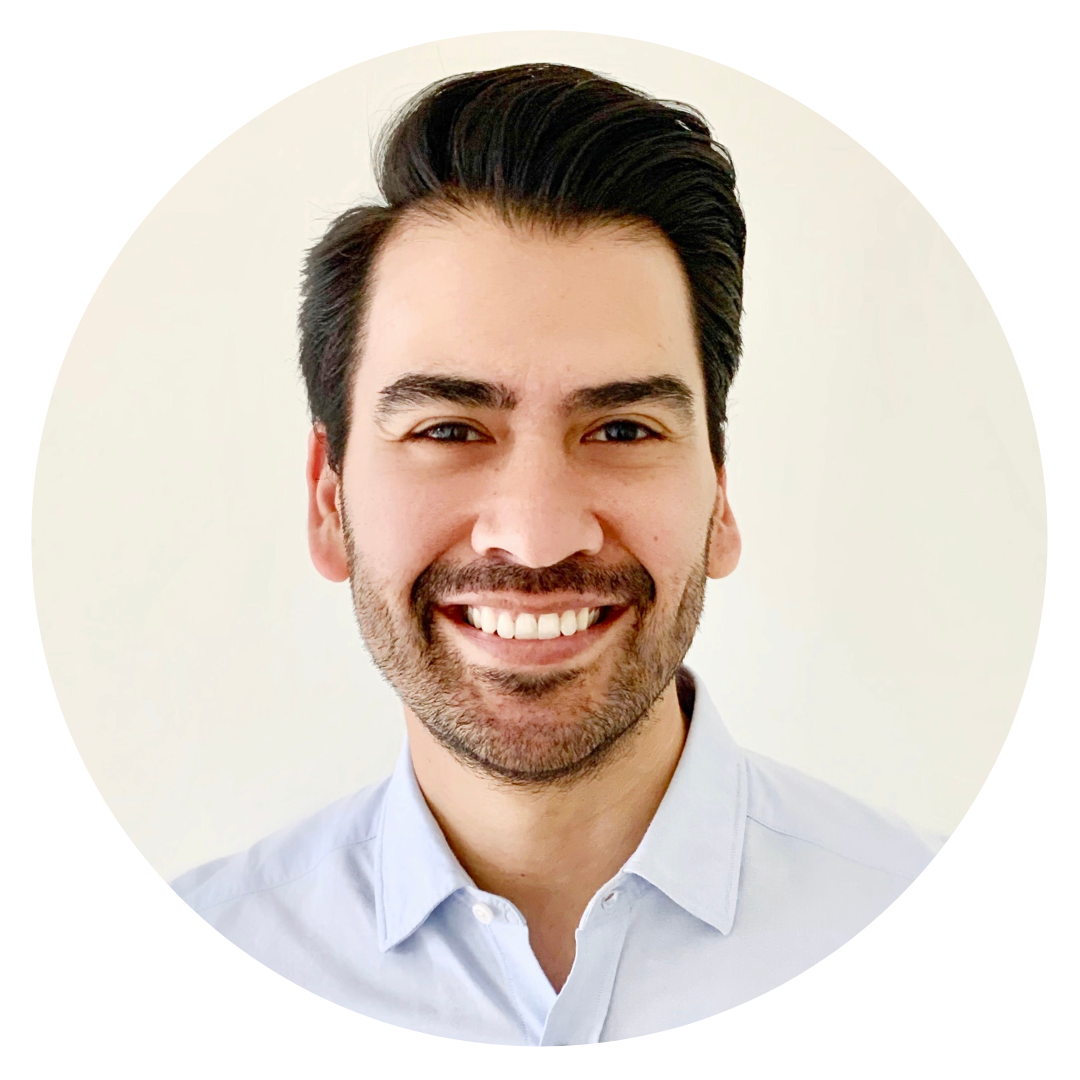 Ricardo is an entrepreneur, investor and personal finance nerd who enjoys spending time with his family and friends, travelling and helping others achieve their financial goals. Ricardo has been quoted as a personal finance expert in several online publications including Healthline, Bankrate, GOBankingRates, MSN Money, Yahoo Finance, U.S. News & World Report, Forbes and USA Today.