Why Am I Poor? Simple Hacks to Stop Being Broke
Many or all of the products featured on this page are from our sponsors who compensate us. This may influence which products we write about and where and how the product appears on a page. However, this does not influence our evaluations. Our opinions are our own. Here is a list of our partners and here is how we make money.
---
The information provided on this page is for educational purposes only. The Modest Wallet is a financial publisher that does not offer any personal financial advice or advocate the purchase or sale of any security or investment for any specific individual.
Have you ever found yourself lamenting your financial status? Asking yourself why it seems like no matter what you do, you can never get ahead? Asking, Why am I poor? If any of these questions are familiar, don't worry! In this post, we will walk you through 15 changes you can make to get your finances in order and stop being broke.
15 Things You Can Do To Stop Being Broke
So you're tired of living paycheck to paycheck and feeling your financial situation is not going anywhere. The first to fix your financial situation is recognizing you have an issue. Then, you need to take action and follow through. Here are some things you can do right now to stop being broke.
Start Budgeting
Creating a budget and getting a better view of your overall finances should be the first step you take in improving your financial health. It might seem intimidating initially, but it's easier than you think. Let us walk you through the basics:
Pick a Budgeting System
Selecting a budgeting system is a completely personal decision, so you'll want to focus on finding an option that's easy for you to use, come back to, and stay on track.
If you want to keep things really simple, you may choose to track your expenses in a spiral notebook or on a page you can keep posted where you will see it each day. If you prefer to manage your finances through a spreadsheet, there are great free options available online like Google Sheets and Microsoft Excel — both of which can be accessed from multiple devices, and will automatically handle the math for you.
If you prefer something a little more integrated, apps like Mint and You Need A Budget have been designed specifically with budgeting in mind. They can also help you manage your financial goals.
Figure Out Your Numbers
Getting to know your numbers is the first and most important step in the process of learning to budget.
Review your bank statements, bills, and pay stubs, for the past three to six months. Write down all of your incoming and outgoing numbers as you go. Categorize expenses as you record them. (It will make future tracking easier.) Then, conduct a review of what you've recorded. Ask yourself: "Was this expense a want or a necessity? Is it a one time charge or a recurring cost?"
Once you have all of your incoming and outgoing finances recorded and categorized, you'll have a better handle on your financial situation. Then, you're ready to start drafting your budget.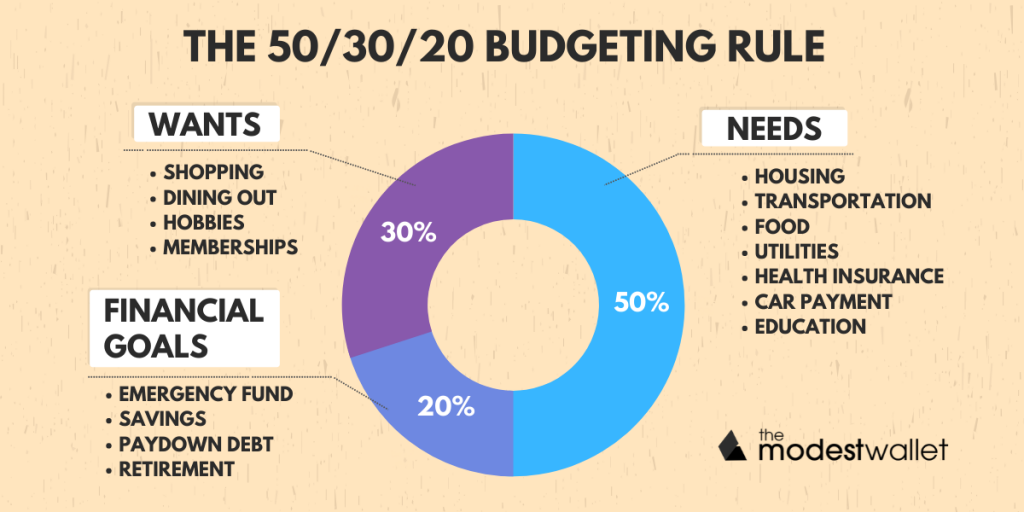 See Also: How to Easily Make a Budget You Can Actually Stick To
Write Up a Draft of Your Budget
To draft your budget, you will need to review your categorized lists and designate each of your essential expenses as static or variable. Expenses such as your mortgage, car payment, and health insurance are generally static amounts, while things like groceries, utilities, and gas are usually categorized as variable expenses. After you have categorized all of your essential expenses, create a separate category and go through the same process for your non-essential spending.
As a next step, consider percentages. Necessities should generally account for around 50% of your budget. (You may need to allocate a little more or less in this category, but 50% is a good target to aim for.)
After you've sorted out your monthly necessities, move your focus to your non-essential spending. Non-essential spending should generally account for between 20% to 30% of your income. Your remaining income should be written in for debt repayment if necessary, or can go straight into savings.
While these numbers are a good guideline, you need to set your budget in a way that suits your personal financial needs. If you have a lot of debt to pay off, you may consider spending less on leisure to pay debt down faster. If you are saving up to make a large purchase or a lifestyle change, you might put more of your income into savings to prepare.
Put Your Plan Into Action
Once you've finished your budget, it's time to start applying it. This will take a while to get used to, but small changes, mindfully made each day, will make a huge difference in your finances long term.
Make time to regularly review your expenses and keep yourself on track. Some people like to make this a part of their daily routine, while others prefer reviews once a week. Your review should be consistent — and done in a way that is right for you, it can even be something you look forward to.
Review and Adjust
As you transition to living on a budget, you are likely to find areas that could use some attention which can make it easier to stay within your budget or improve your financial situation. You should address these issues in semi-regular reviews of your budget and overall finances.
Revisit and adjust your budget anytime your basic numbers change(for example, if you get a raise and start bringing in more money, if you lower your monthly housing costs by getting a roommate, or if you take on a new regular expense like a car loan).
Pay Off Debt Fast
If you have outstanding debt, paying it off should be your top priority. The longer you carry debt, whether it's credit debt or student loans, the more you will pay in fees and taxes. And if you are not regularly making more than the minimum payment, you're not paying down your principal — which translates to paying more interest. Pay the most you can each month, and you can pay down your debt much faster.
If you can't pay your balance off immediately or cut it down quickly, you might be able to reduce your load by negotiating lower rates or combining your debts.
See Also: How to Get Out of Debt Fast: A Step by Step Guide
Start a Side Hustle
If you need to put some extra funds into your budget, it might be a good idea to pick up a part-time job or side hustle. Luckily, there are lots of options available for those looking to make some extra money.
Turn Your Time Online Into a Little Extra Money
There are lots of platforms that want to pay you for the things you are already doing online — including searching, shopping, watching videos, playing games, reading articles, and more. And most of these platforms are free to join and use!
If this sounds like a good fit for you, check out platforms like InboxDollars and Swagbucks.
Note that the payouts on sites like these vary. You may receive rewards in the form of gift cards, credits or tokens. Cash payments may also be low, so don't depend on sites like these as a source of income. If you have some extra time, though, it can't hurt to try them.
Get Paid For Taking Surveys
Websites like Survey Junkie will pay you for anonymously sharing your opinion with market researchers by filling out surveys.
Getting started is easy — Just create an account on the platform of your choice and create a profile. Most websites will require some basic information about your demographic to pair you with surveys, including age range, gender, family status, and income. The information will be kept private.
You may have to answer a few more questions to determine if you are part of the consumer base that is relevant to their product or market (such as if you have heard of a product, if you are in the market for the product, if you've ever used a similar product, etc.) After you've answered these introductory questions, you'll either be moved on to a survey, or they will notify you when one is available.
Make Money Driving Your Car
If you have a car and some free time, you can start making money by driving. Now more than ever, companies are looking for independently licensed and insured drivers to use their own vehicles to make deliveries or carry passengers to their destinations. If this sounds like something you might be interested in, look into signing up with Uber, Lyft, Amazon Flex, Skip The Dishes, and more.
Sell Your Old Stuff Online
If you have old unused consoles, phones, and other tech lying around, or a closet full of clothes you don't wear anymore, why not post your items online? Apps like Decluttr allow you to bring in some extra money while decluttering your home. Check out our full Decluttr review to learn more.
Become a Freelancer
A growing number of people make or supplement their living by taking on freelance jobs. Freelancing is a legitimate way to monetize skills you may have, and the internet allows you to make money anywhere you are in the world. If you have the right skill sets, experience and testimonials to prove your abilities, you can earn good money as a freelancer.
If you want to learn more, check out our comprehensive guide to making money on the side.
Once You've Paid Down Your Debt, Stop Using Credit Cards
Credit cards can be dangerous without financial literacy. If you're serious about your financial goals and making good decisions, then follow this one rule: don't use credit cards unless you know you can pay off the balance(s) in full every month.
See Also: 21 Fast, Proven and Effective Ways to Save Money
Stick to a Grocery List
A little bit of planning ahead can save you a lot at the grocery store. While it may be tempting to buy what looks good while you are wandering the aisles, sticking to your list has benefits.
Spend Less Time Shopping and Stop Going Over Budget
Making a list ahead of time and sticking to it will save you time at the store by keeping you focused, away from distractions. It's also a way to help you plan meals that include lower-cost, more nutritious ingredients.
Spend Less Time Cooking
Pre-planning your meals means you can choose simpler recipes and make-ahead recipes that can be frozen — saving you time, effort and money, as well as cutting down on food waste, which is better for the planet. Pre-planning can also help you avoid temptations like ordering in.
Stop Your Shopping Addiction
Do you tend to shop too much? Next time you are about to go through with a store or online purchase, stop and really think about what you are buying. Do you really need it? What will the item really cost you? How many hours will you have to work to recoup your spending? How will it affect your credit card balance? A good rule to follow for purchases that aren't absolute necessities is: Wait at least two days. You can easily wait a week or longer for most things if necessary. The need for what your thinking about buying may not be as clear after a few days have gone by.
Earn Cash Back on Your Purchases
While you want to avoid mindless spending, if you do have shopping you need to do online, you might as well be earning cash back on your purchases and getting access to exclusive deals and offers.
Platforms like Rakuten, Swagbucks, and BeFrugal all offer cash back to members who make purchases through with retailers (both in store and online) which have partnered with them. Cash back rates vary by retailer, and may increase or decrease throughout the year. If you're planning a major purchase, waiting until major holiday sale times can earn you bigger rebates.
Rakuten: Shoppers using Rakuten can earn as much as 40% cash back on the purchases they make with popular partnered retailers and service providers including Amazon, Macy's, Walmart, and Target, as well as web-hosting companies, online class sites, and many, many more.
BeFrugal: You can earn as much as 40% cash back on all the purchases you make through BeFrugal at any of their 5,000 plus partnered online retailers, including Amazon, Target, Walmart, H&M, and Sephora.
Swagbucks: Swagbucks' coupons and discounts can earn you as much as 20% back (or other rewards) on your purchases. Offers vary by retailer and promotion. (For example, If you want to shop on Amazon, they typically offer a 5% return, so you will earn five "Swagbucks" rewards on each dollar you spend through the platform.)
Cut Expensive Habits
If you look at your spending, you'll probably find more than a few things you can cut down on. The following are a few areas you can focus on.
Stop Buying Brand Names
In many cases, buying a brand name product doesn't necessarily mean a huge difference in quality. (Consider baby formula — the generic baby formula brands in the U.S. are all made by the same U.S. company, and each product has the same level of quality as brand-name formula!) So why pay more?
In some cases, buying generic brands can cost you more. Certain grocery store chains may only guarantee a certain sale price if you buy two or more of their store-brand item (forcing you to buy more than you need). An off-brand tech item may not have the same quality of materials, and therefore may not last as long, forcing you to replace it faster.
Whatever you're buying, do some research. Consider the importance of what you're buying and the value for the money to help you make better decisions when your budget allows.
Don't Pay For Coffee
Even if you are only spending $2 per coffee every shift, that quickly adds up to roughly $40 each month, or almost $500 each year. Making the switch to brewing your own coffee at home can make a huge difference to your bottom line.
See Also: Buying vs Leasing a Car: Which One is The Right One For You
Cut the Takeout
Whether you grab breakfast on the go, leave the office for lunch or order in after work, you are probably spending too much on takeout.
If you find yourself buying fast food to avoid cooking after a long day, or to save yourself the effort of packing a lunch, consider giving meal planning a try. Meal planning allows you to bulk buy your ingredients and cook all of your meals for the week, for two weeks, or a month at a time you set. Meal planning lets you enjoy hot home-cooked meals every night with less effort, and will save you significant money if you regularly eat out or find yourself overspending at the grocery store.
Buy in Bulk
You can get most grocery items at a discount when you buy in bulk. There are lots of retailers like Bulk Barn where you can stock up on all the essentials like flour, sugar, and spices, and other items like pasta, soup, and candy.
Bulk retailers like Costco, Superstore, and Sam's Club are the best places to get a deal on bulk cereal, dairy, produce, meats, toiletries and more. You may also be able to find great deals at your local farmers' market, butcher shop, or bakery.
If you are only shopping for one, you can still shop in bulk. Most meats will keep in the freezer for a few months, and most pantry items are non-perishable. If you are still worried about waste, plan a bulk shopping trip followed up by a meal-planning session so you can prepare and preserve your meals.
Plan Affordable Social Gatherings
An active social life does not have to come at a cost. You can easily enjoy time with your friends and family without breaking the bank.
If you want to keep things low-key, stay in for a nice meal or a low-cost night of favourite movies or games.
If you prefer to go out, keep an eye open for events with no entry fee. Keep activities ultra-low-cost with a packed lunch and a day outdoors. Most areas have plenty of walking paths, hiking trails, beaches, picnic areas, and national parks to enjoy.
Cut The Cord
If you haven't already made the move away from cable TV, now might be a good time to do so. Depending on the needs of your household, you may be able to save a significant amount each month by ending your cable contract in favour of a digital TV subscription or streaming service. There are plenty of providers that now offer streaming and access to live TV channels, and there are packages to suit every budget. Want to find out more? Check out our guide to making the switch from cable to digital alternatives.
Reduce Your Subscription Costs
If you are like most people, you are probably paying for at least a few subscription services, some of which you may not even remember signing up for.
According to the Wall Street Journal, the average American is paying $237 per month for subscription services alone. That means that most people can save a lot of extra money by reducing their roster of subscriptions.
Many paid services offer free versions of their services with ads, so you don't have to cut a service out completely to save. Other platforms, like Netflix, can be accessed by multiple users at a time, so you could split the cost of the subscription with friends, family, or roommates.
Need help finding and managing all of your subscriptions and recurring charges? Services like Rocket Money were designed to help. Rocket Money can help you negotiate discounted rates or unsubscribe from almost any service provider, and it is completely free to use. If you want to learn more, check out our full review of Rocket Money here.
See Also: Rocket Money Review: Manage Subscriptions and Lower Your Bills on Autopilot
Stop Pretending
Be honest with yourself — Can you afford the life you are living? For many of us, the answer is no. We have bigger houses, more cars, and designer clothes we can't afford in an attempt to lead the life we think we need. Cutting back on these extras or even cutting them out completely will put you in a much better financial situation. Living within your budget can also help you to better afford these luxuries in the future.
Learn to Say No
If you can't afford to eat out every time you're invited, make other plans instead of going over budget. If buying all the latest technology or more pairs of shoes is draining your bank account, you need to reassess what you are doing.
That's not to say you should never buy anything. There is no shame in treating yourself once in a while. But sticking to a budget means that you need to be responsible and realistic with your spending. Look at your situation from a positive angle and put your energy towards your goals rather than continuously straining toward an ideal that isn't possible right now.
Surround Yourself with People Living Within Their Means
It seems obvious, but if you spend most of your time with people who like to spend money (regardless if they have it or not), you are more likely to follow suit. If your friends like to go out drinking every weekend, eat out a lot, or do most of their living on credit cards between paychecks, you are going to have a harder time-saving money and avoiding unnecessary expenses and bad habits.
If, on the other hand, you spend most of your time around people with good financial habits who are always looking towards the future and weighing their financial planning and decisions, you'll have a much easier time improving your finances. People who need to save money (or simply enjoy saving money) will support your efforts — and may even be able to offer advice. A great place to start meeting and connecting with people that want to be better with their money is our "The Modest Wallet Private Facebook Group". Stop by and say hello.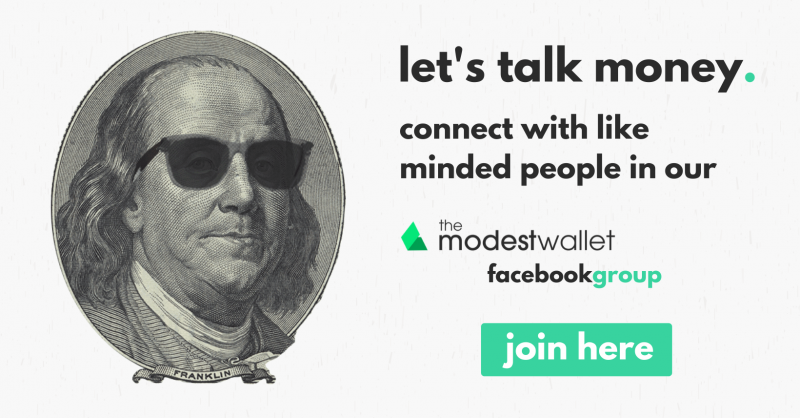 Final Thoughts
Getting your finances in order is an ongoing process, but no matter where you are in the journey, it's important to measure your progress without comparing yourself to others. If you are unhappy with your current position or just tired of being broke, there are lots of ways to take control of your finances, and the steps listed here offer a great start.

Ricardo is an entrepreneur, investor and personal finance nerd who enjoys spending time with his family and friends, travelling and helping others achieve their financial goals. Ricardo has been quoted as a personal finance expert in several online publications including Healthline, Bankrate, GOBankingRates, MSN Money, Yahoo Finance, U.S. News & World Report, Forbes and USA Today.