Many or all of the products featured on this page are from our sponsors who compensate us. This may influence which products we write about and where and how the product appears on a page. However, this does not influence our evaluations. Our opinions are our own. Here is a list of our partners and here is how we make money.
The information provided on this page is for educational purposes only. The Modest Wallet is a financial publisher that does not offer any personal financial advice or advocate the purchase or sale of any security or investment for any specific individual.
This is a post sponsored by Wix. All opinions are our own.
If you're looking for a way to make money online, look no further than the eCommerce retail industry. Digital storefronts have exploded in popularity and, driven by the increasing availability of mobile devices, are accessed by more and more customers every day.
Continue reading below to find our favorite way to get started in this unmistakably promising sector today.
Why eCommerce?
eCommerce provides some of the most significant and substantial opportunities to aspiring entrepreneurs available today. It has unlocked millions of ways to earn money online that are accessible to regular people all over the world.
As important as the size of today's eCommerce market is, the growth rates of digital business tell an even more compelling story. From approximately $274 billion in 2017, retail eCommerce sales in the United States alone are projected to increase to just a shade under $600 billion per year.
Some of the sub-sectors within the retail eCommerce sector are particularly lively. Consumers buying goods and services online using their mobile device has skyrocketed, and is projected to amount to over 53% of the eCommerce market in 2021. That's up from just 34.5% in 2017. Clearly, people are getting more and more comfortable buying things with their mobile devices.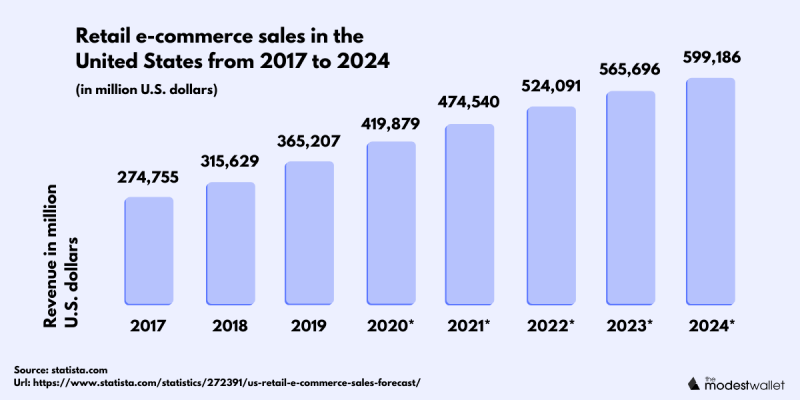 See Also: How to Make Money Building Websites: A Step by Step Guide
How to Make Money in eCommerce
In order to make money in eCommerce, you'll need to draw customers to your online store. That's where content marketing comes in. Content marketing is the practice of creating high-quality content that ranks high in organic search results to bring in customers who are interested in shopping around.
You may also wish to consider paid digital ads on Facebook and other social media. These are particularly powerful when employed in a retargeting strategy. These strategies involve targeting customers who have previously visited your site and showing them advertisements in an attempt to entice them back to your digital storefront.
Just as important as how you sell is what you sell. All the content marketing and dynamic retargeting in the world won't make a difference if you're selling an expensive product at less than cost. Especially at the beginning, you're best served by finding a relatively low-cost product in high demand. This will ensure steady cash flows, low overhead, and lucrative bottom lines.
What is Wix Stores?
Wix Stores is a highly customizable and comprehensive platform on which to create and grow your online store. You can choose from dozens of attractive templates to help design your store or, if you're the creative type, you can choose to start from scratch and make your own.
Wix Stores Features
Wix Stores contains all the features you could possibly need to create a compelling and exciting digital experience for your customers. From platform security to easy product import functions to mobile management options, Wix Stores has thought of everything.
Wix Stores features include:
Digital download sales
An unlimited number of digital or physical products
Paypal, credit card, and offline payment compatibility
Integrated email marketing
Secure SSL-certified checkout
Intuitive store manager that tracks your sales
Mobile App to manage your store on the go
Shipping and pickup selections
Coupon and sale creator
SEO-friendly design
100% commission-free
How to Get Started with Wix Stores
Getting started with Wix Stores is incredibly easy.
Choose a Template
After choosing one of the many stunning templates available to entrepreneurs like you, simply add the products you wish to sell along with their descriptions and prices.
Customize Your Storefront
Not only can you pick from among dozens of amazing templates, but you can also customize each one to your heart's content. Make your storefront uniquely your own with custom graphics, fonts, and layouts.
Set Your Payment, Shipping, and Tax Options
Use Wix's built-in features to select how your customers will pay (most people prefer to use credit and debit cards, Paypal, and Wix Payments) and how your orders will ship. Which options you choose will depend on where you and your customers are located.
You can also choose to have a Wix partner, Avalara, automate your tax rate selection based on the region of the world in which your customer is located. The rates will automatically update when legislation in that area of the world changes, leaving you free to focus on running your new online store.
Get to Selling!
Once your store is set up, all you have to do is start selling! Use the included Wix features to assign fulfillment and tracking numbers, print shipping labels, and track and manage your orders.
You'll also be able to set up multiple sales channels on platforms like Facebook and Instagram.
How to Maximize Your Earning Potential
There are countless ways to increase and maximize your earnings. Your imagination is the only limit.
Build a Beautiful Store
More than anything else, you'll want to create a memorable and stunning digital store. Wix is a great choice for this, as the included templates not only start out looking great, but they can be customized and further beautified.
Start a Blog to Drive Traffic
As we already discussed above, content marketing is a powerful tool to drive visitors to your site. Start a blog to increase traffic and draw shoppers into your store.
Promote on Social Media Channels
Do you have Instagram, Facebook, Twitter, and Pinterest accounts? Well, if not, now's the time to get some. Promoting your store on social media is a crucial way to increase interest in your store and bring even more people to your shop.
Invest in Paid Ads
While organic traffic is always best, paid ads can be a potent weapon in the fight to differentiate yourself from your competitors. Consider using the powerful segmenting tools available on Facebook and Google Ads to micro-target your customers. And don't forget about retargeting! Don't let those customers get away.
Invest in SEO
SEO, or search engine optimization, is an excellent way to bring in loads of interested people. With proper SEO strategies, you'll find that you rank much higher in Google for the crucial keywords that are being searched by potential customers.
Automate Your Process
Earning a profit in eCommerce is all about automation. The more you can automate your marketing, operations, fulfillment, and the other aspects of your business, the more money you'll make. Make use of widely available automation software and strategies. You'll be glad you did.
Final Thoughts
Participating in the eCommerce explosion is a must for aspiring entrepreneurs everywhere. Wix Stores offers the easiest and most robust way to throw your hat in the digital ring and start making serious money.

Ricardo is an entrepreneur, investor and personal finance nerd who enjoys spending time with his family and friends, travelling and helping others achieve their financial goals. Ricardo has been quoted as a personal finance expert in several online publications including Healthline, Bankrate, GOBankingRates, MSN Money, Yahoo Finance, U.S. News & World Report, Forbes and USA Today.