Blooom Review: Features, Pros, and Cons
Many or all of the products featured on this page are from our sponsors who compensate us. This may influence which products we write about and where and how the product appears on a page. However, this does not influence our evaluations. Our opinions are our own. Here is a list of our partners and here is how we make money.
---
The information provided on this page is for educational purposes only. The Modest Wallet is a financial publisher that does not offer any personal financial advice or advocate the purchase or sale of any security or investment for any specific individual.
Important Notice
Blooom has shut down its services as of November 2022. Existing customers can access their accounts by logging into their institution's site. If you have a question that you need answered, you can contact Blooom at [email protected]. Check out our list of the Best Robo Advisors if you're looking for an alternative.
Blooom is a retirement planning and investment management robo-advisor that offers services for building, monitoring, and rebalancing employer-sponsored retirement accounts like 401(k)s and IRAs. Their portfolios promise to deliver steady returns over the long term.
Blooom currently manages around $5 billion in assets for its clients, who, according to the company, have a median age of 39, even though Blooom also serves clients as young as 18 years old.
According to their research, around 45% of Americans have not saved anything for retirement, even though 75% of them claim to be worried about not having enough money once retired. Blooom's services aim to cater to this growing audience of people who are worried about how they will cover their living expenses once they retire.
By providing an investor-friendly approach to investment management at a low cost (relative to the industry average), Blooom is a robo-advisor worth checking out.
Quick Summary: Blooom is a retirement planning and investment management robo-advisor that offers services for building, monitoring, and rebalancing employer-sponsored retirement accounts like 401(k)s and IRAs.
Promotion: Free 401(k) or IRA analysis
---
What is Blooom?
Blooom relies on algorithms and the supervision of expert financial advisors to design or modify each of its clients' portfolios. These systems are designed to determine which would be the optimal portfolio allocation for each investor depending on their age, income, target retirement age, assets, and other similar variables they use to understand the person's financial situation.
Their investment philosophy relies on a long-term approach that takes advantage of today's low-cost and broadly-diversified financial products (i.e. exchange-traded funds — ETFs) to build portfolios that provide potentially predictable returns over time with little risk.
This approach is founded on sound financial research that shows that the volatility of market returns tends to go down during longer time horizons, while returns can be predicted to some extent based on historical data — even though the company (of course) cannot assure that these returns will remain the same in the future.
---
How Does Blooom Work?
All the accounts available with Blooom are retirement accounts, which Blooom specializes in. (They do not offer general-purpose investment accounts.)
Blooom Account Types
The accounts Blooom currently manages include:
IRA Accounts
Individual retirement accounts (IRAs) are set by self-employed individuals or by employed individuals who want to have another retirement account separate from their employer-sponsored account. Blooom can manage these accounts for its users. Also, make sure you read our articles on the best IRA accounts and best Roth IRA accounts to learn more.
Employer-sponsored Accounts
Users can link their 401(a), 401(k), 403(b), and 457 employer-sponsored accounts to Blooom, even though the extent to which they can modify and make investments with these accounts is limited to the funds and securities the employer has approved for them.
They offer to monitor these accounts while providing valuable insights into the portfolio's composition, risks, and potential changes that could be made to manage risks and improve returns over the long term.
Thrift Savings Plan (TSP)
These accounts were designed for federal employees to allow them to benefit from retirement accounts similar to the ones offered by the private sector. They can also be monitored and managed by Blooom.
Editor's Note
Blooom only offers its management services to individual accounts at the moment.
Opening an Account with Blooom
Opening an account with Blooom can be done online, and the process can be completed in a few minutes.
Users can start the process of opening an account with Blooom by visiting their website and clicking on the "Sign Up" button in the upper-right corner of the window.
After that, they will be prompted to a window where they can either sign up manually or they can use their Google account to expedite the process.
Once the sign-up process has been completed, the user will be required to answer a few questions, and the retirement account will also need to be linked to Blooom.
The robo-advisor will take over from there, providing insights and recommendations after analyzing the composition of the account and the user's information.
There's no minimum balance required to be eligible to open a Blooom account.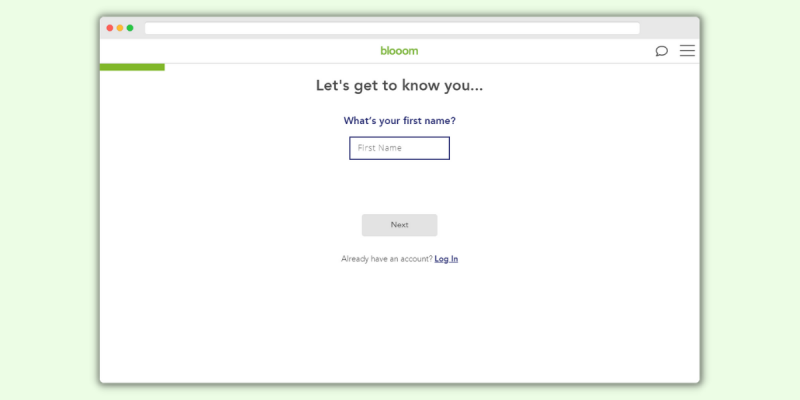 ---
Blooom Features
Besides selecting and managing employer sponsored retirement accounts, Blooom offers a variety of features to its customers.
| | |
| --- | --- |
| Minimum Investment | $0 |
| Fees | Personalized portfolio ($120 per year), Advisor access ($165 per year) and Financial consulting ($295 per year) |
| Inactivity Fee | $0 |
| Investment Types | ETFs |
| Account Types | Traditional IRA, Roth IRA, SEP IRA, nondeductible IRA, spousal IRA, simple IRA, 401(k), 401(a), 403(b), 457 and TSP |
| Platform | Website |
| Assets Under Management | Over $5 billion |
| Advice | Automated |
| Promotion | Free 401(k) or IRA analysis |
| Socially Responsible Investing | |
| Fractional Shares | |
| Portfolio Rebalancing | |
| Tax-Loss Harvesting | |
| Support | Live Chat |
Automated Investing
Blooom's service doesn't necessarily require that the user liquidates their current holdings. However, the robo-advisor will suggest the optimal portfolio allocation based on its algorithm, which takes into account the user's age, retirement age, and risk profile.
By signing up with Blooom, the user acknowledges that the robo-advisor will take over their account and will start making changes as soon as practical to rearrange the portfolio based on its optimal portfolio allocation.
This is part of the "discretionary management agreement" signed with the firm, which gives them the right to place trades and modify the user's portfolio as indicated. However, the user maintains full control of the portfolio at all times, and they can modify it as well, (even though this is not recommended).
Personalized Portfolio
All of the plans offered by Blooom provide a feature called "Personalized Portfolio" which means that each user will get recommendations and an optimal portfolio mix based on his/her own unique financial situation and retirement goals.
This feature aims to minimize the overall cost of the investments made by using Blooom's investment philosophy which relies on long-term investments in broadly diversified exchange-traded funds (ETFs) and other similar instruments.
Portfolio Rebalancing
As the market value of the different asset classes included in the portfolios varies, the original percentages set for each will deviate from the actual percentage held by the portfolio at some point.
As a result, a portfolio rebalancing will be required, and Blooom provides investors with the possibility of performing this task automatically as long as they sign up for the Standard or Unlimited package.
Blooom will perform this rebalancing every 95 days, as long as the account has shown a significant deviation from the target asset allocation. Otherwise, the robo-advisor will continue to monitor the account and make any adjustments necessary during the next 95-day period.
Withdrawal and Activity Alerts
Blooom allows investors to monitor and set alerts for any withdrawals made to the account or for any other type of activity that takes place after they have signed up for their service.
It is important to note that while Blooom notifies the account holder about each of the investments or trades made, they will not require their consent to move forward with the transactions, as they act under the stipulations of the "discretionary management agreement" the user signs when enrolling.
However, since Blooom is acting as a "fiduciary," they are required by law to only perform changes to the account that are in the user's best interest, preventing any conflict of interest arising from compensation received from promoting certain services or funds.
This feature is available only for Standard and Unlimited accounts.
Financial Advisors
Blooom's management services are performed by a robo-advisor (run by algorithms), but accounts are also individually monitored by qualified financial advisors who perform quality assurance to make sure the robo-advisor's portfolio allocation decisions are in line with the firm's investment philosophy.
Additionally, users who have signed up for the Standard and Unlimited accounts are also entitled to reach out to a financial advisor to ask any questions they may have about the service, their retirement account, or the transactions made.
For Standard users, questions can be sent via e-mail or by using the "Contact Us" feature within the platform. Responses are typically received within one to three business days.
For Unlimited users, there's a live chat feature through which they can connect with one of Blooom's qualified financial advisors to receive answers for any questions they may have.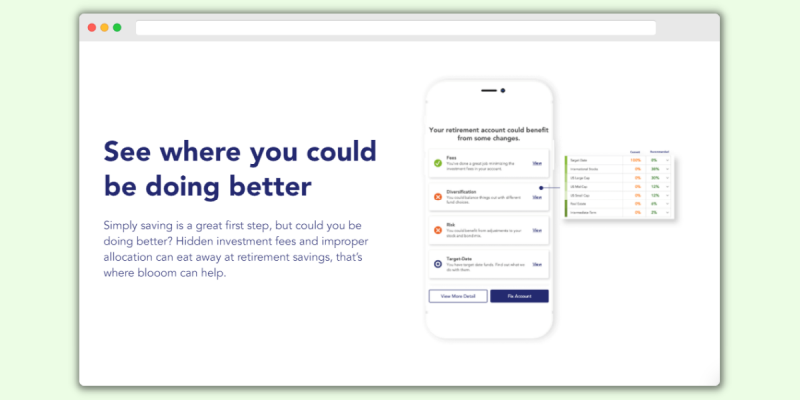 Refer a Friend Program
Blooom offers a $10 reward in the form of an Amazon gift card to users who refer other clients to the firm, as long as they go through the firm's portfolio analysis tool.
Those users also get a $10 reward after they have subscribed.
---
Blooom Pricing & Fees
Blooom charges users for researching, monitoring, and managing their retirement accounts via a flat annual fee.
The firm does not charge a percentage on the assets or the balance of the retirement accounts managed, which makes it one of the most affordable robo-advisory services available, especially if your account balance exceeds $100,000.
There are three packages offered by Blooom which entitle the user to a certain selection of the features they offer.
The following are the names and prices of each of these alternatives:
Personalized Portfolio ($120 per year) — The Personalized Portfolios package offered by the robo-advisor consists of researching and defining the account's portfolio mix, while making the required trades to arrange it following those recommendations. Only one retirement account can be registered with this package. It also includes investment monitoring.
Advisor Access ($160 per year) — The Advisor Access package includes the personalized portfolio feature along with automatic rebalancing, withdrawal alerts, and limited access to advisors via e-mail or chat. It is the recommended choice for people with a sizable balance, but with only one retirement account to manage.
Financial Consulting ($295 per year) —The Financial Consulting package is possibly the best choice for individuals with a high account balance and multiple retirement accounts to manage because it includes all the features offered by the Personalzied Portfolio package, along with priority access to a financial advisor for further assistance via live chat.
Account-holders are also required to cover the expenses charged by the ETFs or funds included in the account as part of the portfolio mix, even though Blooom aims to pick the funds that charge the lowest expense ratio possible, as long as the degree of diversification required is accomplished.
Blooom's fees are paid separately by using a credit card. This means that they are not directly debited from the balance of the account.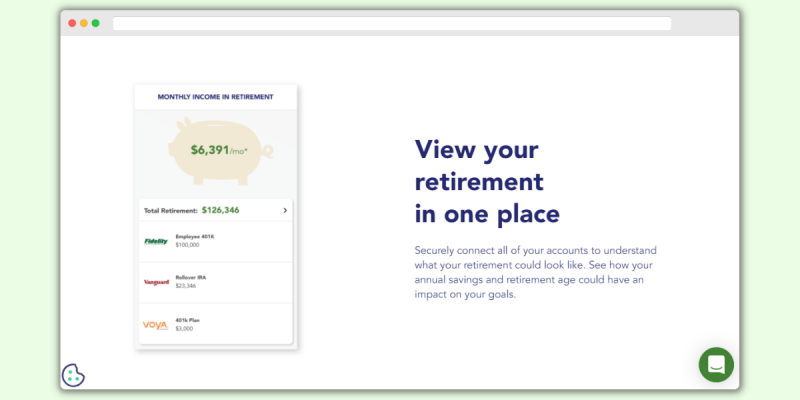 ---
Blooom Pros
Blooom is a well-established robo-advisor that currently manages more than $3B for its users.
Annual flat advisory fees that are not tied to the account's balance.
Customized portfolio allocation recommendations based on time-tested strategies.
Many different retirement accounts are supported, including traditional 401(k)s, 401(a)s, IRAs, and more specific accounts such as 457s.
Three different service packages to choose from.
Extra features (automatic rebalancing, withdrawal alerts, etc.) available for premium users.
Referral program with interesting reward.
Users are allowed to maintain individual stocks in their portfolio even though they may affect the long-term return of the portfolio.
Premium users can reach out to a human advisor to answer any questions they may have.
---
Blooom Cons
The service is limited to retirement accounts.
Their median service fee ($160 per year) requires a minimum balance of $48,000 to be considered low compared to the 0.25% fee charged by some of its robo-advisor competitors.
Blooom does not take into account the tax implications of its investment and portfolio decisions.
Blooom does not have a mobile app (as of this writing).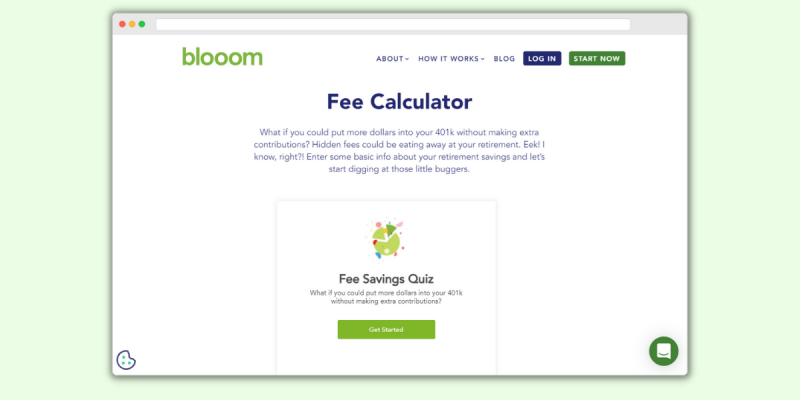 ---
Blooom Alternatives
Blooom caters to individuals looking for a robo-advisor to manage their retirement account (or accounts). However, there are other robo-advisors that do just that and more.
Betterment
Betterment is also a wealth and money management robo-advisory service, but it offers a broader scope of services. Blooom solely focuses on retirement planning and retirement account management, while Betterment offers plans and portfolios for many other financial goals.
Additionally, Betterment charges a percentage fee of 0.25% of the assets under management, which is different than the flat fee charged by Blooom for managing retirement accounts.
On the other hand, Betterment provides certain advanced features that could enhance the returns obtained on their portfolios over time, including tax-loss harvesting programs.
Like Bloom, Betterment does not require a minimum balance to open an account with them, but they do offer a premium advice service for accounts with a balance higher than $100,000.
Moreover, Blooom lacks a mobile app, while Betterment has a great app available for both iOS and Android devices, and Betterment also offers cash management products including savings and checking accounts, aside from their investment and retirement accounts.
All in all, Betterment seems to offer a wider range of possibilities for its clients. That said, it is possible to use Blooom for certain specialized retirement accounts that may not be currently supported by Betterment.
Read our full Betterment review to learn more.
M1 Finance
Essentially, the differences between Blooom and Betterment are negligible when compared with M1 Finance. They all offer similar services.
However, M1 Finance does have an edge on both in that they do not charge a fee for managing investment accounts, although the features they offer are limited. (For example, no tax-loss harvesting program is offered.)
Moreover, there is a minimum account balance of $100 required to open an account with M1 Finance. Read our full M1 Finance review to learn more.
| | | | |
| --- | --- | --- | --- |
| | | | |
| Our Rating | | | |
| Fees | Starting at $120 per year | $0 | Digital — 0.25%/yr and Premium — 0.40%/yr |
| Account Minimum | $0 | $0 | $0 |
| Promotion | Free 401(k) or IRA analysis | None | Get 1 year managed for free |
| Highlight | Robo advisory services for retirement accounts | Automated investing account at no cost | Robo advisory services for retirement accounts |
| Best For | Retirement accounts | Beginner investors | Hands-off investors |
| | | | |
---
Who is Blooom Best For?
Blooom is potentially one of the best choices for people with a sizable retirement portfolio who want to cut their advisory fees while enjoying a decent robo-advisory service.
Their algorithm is designed to allocate assets based on the person's retirement goals, similar to other robo-advisors. However, there's the downside that it does not offer tax-loss harvesting features, which could have an impact on the returns earned on the portfolio over time.
That said, if you have more than $100,000 in retirement funds, the money you will save by choosing Blooom as your robo-advisor may offset the losses resulting from not taking advantage of those tax-optimization features.
On the other hand, Blooom has the advantage in that it still lets the account holder control their account, which means you can also invest some of the money in securities you like, even though they do not recommend doing so, as that could diminish your returns over time.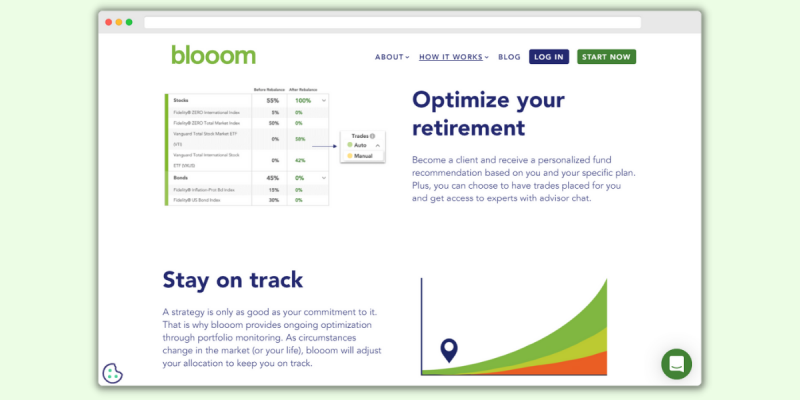 ---
Blooom Review FAQs
Here are some of the most frequently asked questions about Blooom's features and services.
Is there a minimum account balance with Blooom?
No. Blooom does not require a minimum account balance. In fact, the company claims that it currently manages 401(k) accounts with less than $500 in some cases, while the median balance of the accounts managed by Bloom is $68,813. (As of this writing,  the largest is $2,921,055.)
How often does Blooom adjust 401(k)s?
All the investments made by Blooom's robo-advisor are reviewed every95 days for clients who have signed up for the Standard or Unlimited package.
During that time, the percentage allocated to the portfolio's different asset classes may have drifted from the percentage originally recommended by the robo-advisor. Whenever that deviation reaches a certain threshold, the robo-advisor will rebalance the portfolio to maintain the original setup.
Does Blooom offer human advice?
Yes. Standard accounts have access to a qualified financial advisor via email or by using Blooom's internal support ticket system.  Users who have enrolled for the Unlimited package have the possibility to ask questions to advisors via live chat.
Does Blooom support family accounts?
No. At this point Blooom only manages accounts for individuals.
Are there any long-term contracts with Blooom?
No, Blooom charges for its services on an annual basis.  If the client decides to cancel the service after those 12-months have ended (or prior to that time) they will disengage from the account, and the robo-advisor will no longer oversee the portfolio.
Can Blooom manage IRAs or Roth IRAs?
Yes. Blooom is currently able to manage both IRAs and Roth IRAs for accounts held with Fidelity, Vanguard, and Charles Schwab.
Is Blooom Safe?
Yes. Blooom protects your information with 256-bit encryption and bank-level security.
Account Minimum: $0
Fees: $120 per year (Personalized portfolio), $165 per year (Advisor access), and $295 per year (Financial consulting)
Promotion: Free account analysis (*401k or IRA accounts)
---
Final Thoughts
Blooom is a decent robo-advisor for individuals with a sizable retirement portfolio, and those individuals can save money by paying the flat fee charged by Blooom instead of a percentage-based advisory fee.
However, Blooom's limited scope makes it less appealing than other providers like Betterment or Wealthfront, even though Blooom's degree of specialization is beneficial for clients who have a less common retirement account, such as a 457.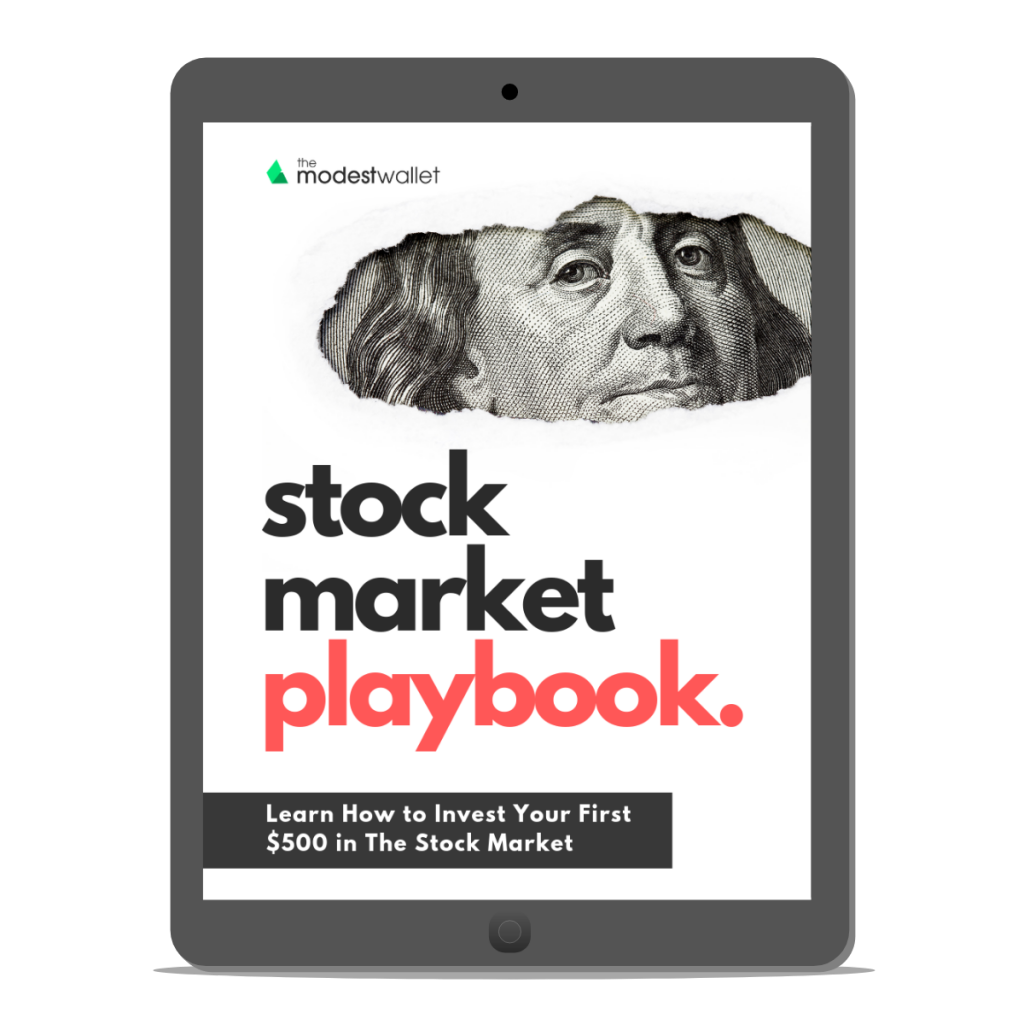 Get our free Stock Market Playbook to learn how to invest your first $500 in the stock market.
Plus our best money tips delivered straight to your inbox.

Alejandro is a financial writer with 7 years of experience in financial management and financial analysis. He writes technical content about economics, finance, investments, and real estate and has also assisted financial businesses in building their digital marketing strategy. His favorite topics are value investing and financial analysis.