DoorDash Driver Review 2023: Make Extra Money Delivering Food
Many or all of the products featured on this page are from our sponsors who compensate us. This may influence which products we write about and where and how the product appears on a page. However, this does not influence our evaluations. Our opinions are our own. Here is a list of our partners and here is how we make money.
---
The information provided on this page is for educational purposes only. The Modest Wallet is a financial publisher that does not offer any personal financial advice or advocate the purchase or sale of any security or investment for any specific individual.
There are a ton of apps and services that let you earn money while driving. DoorDash is one of the most popular food delivery services due to its broad coverage across the U.S. So, it's a great option for side hustlers looking to make extra money delivering food.
DoorDash dominates the online food delivery market in the United States, with a market share of 65% as of February 2023. Meanwhile, Uber Eats held the second-highest share with 23%. This makes it an appealing app to drive for.
In this DoorDash driver review, I will cover everything you need to know to earn money working for DoorDash.
Bottom Line: DoorDash is a food delivery service that connects restaurants with customers. The platform hires drivers, called Dashers, to deliver food. Delivering with DoorDash is a good way to earn money in your free time.
| | |
| --- | --- |
| Flexibility | |
| Company support | |
| Earnings potential | |
| Ease of use | |
| Perks | |
---
What is DoorDash?
DoorDash is a food delivery service and app that connects restaurants with customers. It is the most popular app of its kind in the U.S., with a presence in over 4,000 towns and cities.
The platform hires a team of drivers called Dashers to deliver food from restaurants to customers. These workers are classed as contractors, meaning they can accept jobs when and where they want on a per-task basis. This makes DoorDash a good way to earn money in your free time.
To get started working for DoorDash, all you need is a smartphone, a vehicle, and you need to pass the app's requirements.
>> Read Also: 12 Creative Ways to Help You Pay Rent This Month (All Legit!)
---
How Does DoorDash Work?
DoorDash works much like other food delivery services, like Uber Eats and Grubhub. Customers use the app to order food from their favorite restaurants. Drivers get notified about these orders and take the food from the business to the customer.
Dashers get paid for each job they complete. Each task has a guaranteed rate of pay, which drivers can see before accepting.
Payments are made via direct deposit every Sunday for the previous week, though you may not see your cash until Wednesday due to the time it takes for transfers to show up in your account.
---
What Do DoorDash Drivers (Dashers) Do?
DoorDash drivers pick up food from restaurants and deliver it to customers. An average shift goes like this:
Log into the app at a time that suits you, or schedule a shift in advance. While you can log in at any time, most work will be available during regular eating hours.
Once you're logged in, you'll get notifications about orders. Each notification includes a distance, time, and a guaranteed rate of pay. If you like the conditions, click the Accept button.
Once you agree to the job, you'll receive further instructions about pickup and delivery.
Head to the restaurant and follow the instructions to pick up the food.
Drive to the customer's address and hand over the delivery. You may have to accept cash from the customer as payment for the food.
Finally, mark the order as complete. You'll then become available for further tasks.
---
How to Become a DoorDash Driver
Becoming a DoorDash driver is pretty straightforward, and it's fully digital. The application process should not take you more than a couple of minutes.
Sign-up & Approval Process
Just head over to the sign-up page, complete your Dasher profile, and consent to a background check.
You can then schedule an orientation or apply for an activation kit that includes a hot bag, a Red Card (the company credit card drivers use to pay for orders), and a manual. Once the kit arrives, set up your Red Card and activate your direct deposit for payments.
If you haven't by this time, download the app. When your application is accepted, you'll see the option to begin taking orders.
DoorDash Driver Eligibility
Becoming a DoorDash driver is straightforward if you meet the requirements. The company is pretty open about who it accepts, and you don't even need any prior delivery experience.
Dashers must:
Be 18 or older.
Have access to a car, scooter, or bicycle.
Have a driver's license number.
Have a social security number.
Consent to a background check.
One benefit of DoorDash is that you can work for the company even if you don't own a car, as long as you are willing to deliver via bicycle. This seriously decreases a major barrier to entry.
Be aware that this option isn't available in all areas. It works best in busy cities where many customers and restaurants are concentrated in a small area.
---
DoorDash Pay
DoorDash driver pay is made up of three parts: base pay, promotions, and tips. Your base pay is fixed per order, while tips and promotions vary.
When you are notified of a job, you will see a guaranteed rate before you accept. This is the minimum amount you will earn. The total could be more if you receive a bigger-than-expected tip. You'll see the exact amount you earned once the delivery is complete.
Base pay: Base pay starts at $2 and considers the distance, duration, and desirability of the order. The more time and less desirable an order, the more you will receive.
Promotions: Promotions are bonuses based on certain factors that can increase your overall earnings. For example, you may earn more at peak times or when you complete a predefined number of orders in a certain time.
Tips: These are tips made by the person who orders your food through the app. Delivery drivers keep all tips.
Dasher can opt to be paid weekly or daily (for a small fee).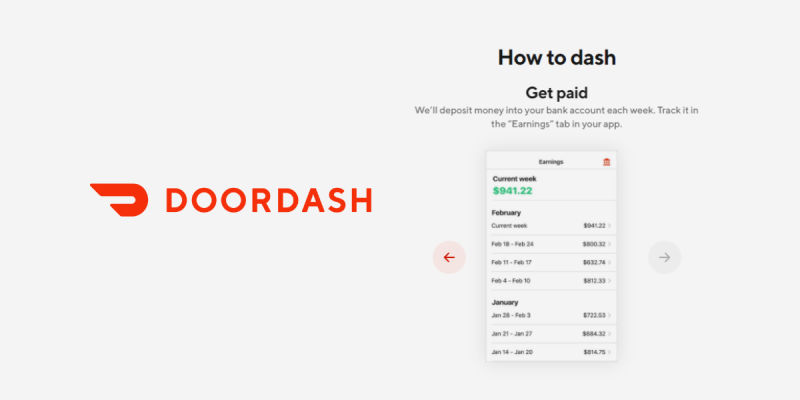 >> Read Also: 14 Ways to Get Paid to Test Products (from Home)
---
Things DoorDash Offers Its Drivers
As a contractor, you miss out on many of the benefits employers typically offer employees. However, there are some benefits. Drivers get:
A Hot Bag: Drivers receive a free hot bag they should use for deliveries.
Guaranteed Pay: Drivers see a minimum amount they will get paid before accepting a job.
Complete Flexibility: Drivers have complete flexibility in when and where they work.
---
Things DoorDash Drivers Have to Consider
There are plenty of things you should consider before working for DoorDash, especially if you haven't worked as a contractor before.
While many people enjoy the freedom of this type of work, there are downsides — notably, the tax implications and hidden costs.
Here are some things to think about before signing up for DoorDash.
Manage Income Taxes
DoorDash drivers are responsible for paying and filing their own taxes. The company does not withhold any money, which means you will have to pay all your taxes from your own pocket.
The exact amount you pay will depend on how much you earn and your expenses. Be sure to keep track of this information and put money aside that you can use to pay your taxes. The most important thing is to track your mileage, which you can do automatically using an app like Everlance.
Paying For Your Own Expenses
DoorDash will not give you any money to pay for expenses. The biggest cost for most Dashers will be the gas you use while making deliveries. Another potential big cost is wear and tear on your car. For example, if your tires wear down, you'll need to pay for new ones yourself.
Other expenses to consider include phone data costs from using the app, parking fees, health insurance, or paying for an accountant. The good news is that if you track these expenses, you can deduct them from your income, which can decrease your tax bill.
Pay For One-Off Expenses
While rare, one-off expenses can be huge with services like DoorDash. If your car breaks down, you may be left with a hefty bill, and you'll be unable to earn unless you fix it. This could significantly eat into your earnings. And of course, you won't earn if you don't work. Public holidays, sick days, and vacation days are all unpaid if you work with DoorDash.
---
How Much Can You Make as a DoorDash Driver?
The amount you make will depend on the number of jobs you take and the rate these jobs pay. Drivers on Glassdoor report average earnings of $21 per hour at the time of writing. Indeed puts the average hourly rate slightly higher at $15.04 per hour.
Ultimately, your pay will depend on how much work you can access and the speed at which you can complete jobs. Your rate will likely start low and increase as you grow more accustomed to the way the app works and you get to know the roads in your area.
---
How to Maximize Earnings As A DoorDash Driver
There are several things you can do to maximize your earnings with DoorDash. Here are some of the most effective.
Focus on Customer Service
A significant amount of a driver's pay comes from tips. This means the best way to increase your earnings is to focus on customer service. Customers can add tips both before and after the delivery, so there is a chance to earn more by making a good impression.
Deliver During Peak Hours
Peak hours often pay more because DoorDash offers bonuses to encourage drivers to work. Keep an eye on the other bonuses that DoorDash offers, and try to set your schedule around collecting that money.
Choose Your Routes Wisely
As you grow to know your area, you'll get a better idea of the fastest routes between different points. The quicker you can make your deliveries, the higher your per-hour rate will be. Be sure to consider where the best parking spots are for each restaurant. Avoid parking illegally — getting a ticket will take a chunk out of your earnings.
You Don't Need a Car
Cars are incredibly expensive to run. In addition to the initial cost, you need to pay for gas, insurance, parking, and general wear and tear. Consider alternative methods of delivering to save money. Cycling is likely to be the cheapest if the distances you have to travel make doing so worthwhile. A good intermediate option is to use a scooter.
>> Read Also: 20+ Ways to Get Paid to Drive (Make Up to $25/hr)
---
DoorDash Driver Pros Explained
Work flexibility: Choose when and where you want to work.
Low requirements: The low driver requirements mean it is a job open to many people.
You don't need a car: Not needing a car seriously reduces the barrier to entry and can cut costs.
Guaranteed rate of pay: Knowing the minimum amount you will earn before taking a job helps you make better decisions about whether to accept or reject the work.
Keep all tips: Being able to keep all tips increases your earning potential.
Quick payments: You get paid every week and can even apply for payments at other times if you quickly need to cover a cost.
---
DoorDash Driver Cons Explained
Lack of benefits: Being a contractor and not an employee means you'll lack benefits such as paid time off and healthcare.
Extra financial responsibility: You have to track income and expenses yourself so you can pay your taxes.
No expense budget: Paying for expenses on the job can quickly eat into your earnings.
Lack of consistency: While flexibility is a great benefit for some, other people may prefer more consistent work.
---
How The DoorDash Rating System Works
The two main ratings to be aware of as a DoorDash driver are your customer rating and your job completion rating. If either of these drops too low, you may be unable to continue working.
Customer Rating
Whenever you make a delivery, customers can rate the service you provide. The rating will consider factors like the time your delivery takes. It will not consider the quality of the food because you have no control over this.
Your rating is a score out of five calculated from your most recent 100 deliveries. This means you can remove poor ratings by replacing them with positive new ones.
Dashers should keep a rating of over 4.2 stars. They may be kicked off the platform if the score goes below this number.
Customers aren't required to leave a rating. If they leave a bad rating due to unavoidable circumstances such as restaurant delays or extreme weather, DoorDash will automatically remove the rating from your profile.
Completion Rate
Your completion rate is a score calculated out of 100 that considers the percentage of your most recent 100 deliveries that you complete.
You need to maintain a minimum of 80% to continue working, which means there is some scope for factors like emergencies or car breakdowns.
Don't worry about when a customer cancels an order. It won't count against your score.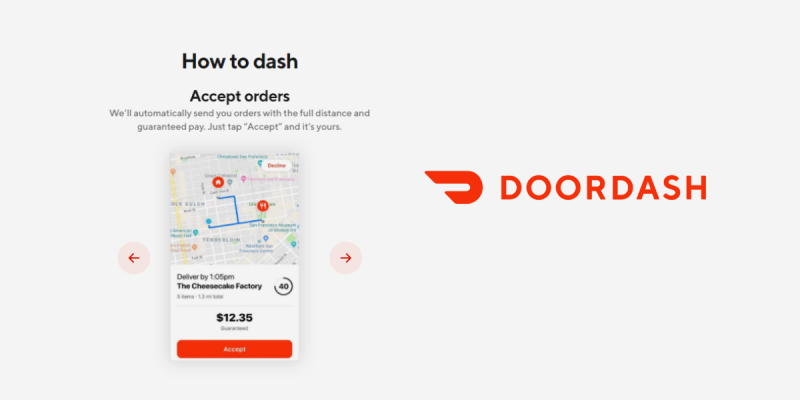 >> Read Also: 30 Easy Ways to Make $1,000 Fast (Legally)
---
DoorDash Alternatives for Drivers
There are many services like DoorDash. Here are two popular alternatives.
DoorDash vs. Uber Eats

Driving for DoorDash and Uber Eats in the United States has some notable differences. To start, DoorDash drivers can schedule their hours in advance, providing more stability in their work schedule. On the other hand, Uber Eats does not offer advanced scheduling, allowing for more flexibility in on-demand deliveries.
DoorDash drivers are paid per delivery, while Uber Eats drivers have a pay formula that includes a base fare and additional fees.
DoorDash holds a larger market share, increasing the likelihood of receiving orders throughout the day. DoorDash also offers additional services such as package pickup and partnerships with various stores, which diversifies the opportunities for drivers. Uber Eats focuses solely on restaurant delivery.
Ultimately, the choice between DoorDash and Uber Eats depends on individual preferences and priorities. DoorDash offers advanced scheduling and additional services, while Uber Eats provides flexibility and a larger international presence.
Read our full Uber Eats Driver review to learn more.
DoorDash vs. Instacart
Instacart is a grocery delivery service. Drivers can choose to either just deliver orders or they can both shop and deliver orders to customers.
As with DoorDash, you have the freedom to choose when and where you work. All you need to start is a vehicle and the app.
Instacart recommends that you be able to lift at least 50 lbs, which is due to the potential for heavy shopping orders.
The pay you receive depends on the order, although there is a minimum guarantee of $5 for delivery-only and $7 for full-service tasks.
Learn more about this side hustle in our Instacart Shopper review.
| | | | |
| --- | --- | --- | --- |
| | | | |
| Our Rating | | | |
| What You Will Deliver | Meals from local restaurants | Meals from local restaurants | Groceries |
| Age Requirements | 18+ years old | 18+ years old | 18+ years old |
| Vehicle Requirements | Have a car, scooter, or bicycle with relevant insurance | Have a car, scooter, or bicycle with relevant insurance | Have a vehicle with relevant insurance |
| Earnings Potential | Average pay is $15 to $25 per hour (includes base pay, promotions, and tips) | Average pay is $15 to $24 per hour (includes per pickup fee, trip supplement, promotions, and tips) | Average pay is $10 to $18 per hour (includes number of items, type of items, driving distance, effort involved in shopping/delivering, and tips) |
| Working Hours | 24/7 on-demand | 24/7 on-demand | Delivery windows depend on the stores you work with |
| Rating System | Driver rating (0 to 5 stars) | Driver rating (0 to 5 stars) | Instacart customers rate shoppers on a scale from 1 to 5 stars |
| What We Like | Ability to see minimum earnings for each job | Easy to sign up for if you are already an Uber driver | Option for in-store shopping if you don't have a vehicle |
| | | | |
Compare DoorDash
Find out how DoorDash stacks up against the competition.
---
DoorDash Driver FAQs
Here are the most frequently asked questions about working as a DoorDash driver to make extra money on the side.
Does DoorDash Offer Benefits to Its Drivers?
No, the company doesn't provide benefits because you're a contractor, not an employee.
Is Being a DoorDash Driver Worth it?
Driving for DoorDash is worth it if you want an easy way to earn money in your spare time.
Do DoorDash Drivers Make Good Money?
Driving for DoorDash won't make you rich, but you can easily earn over $10 an hour.
How Much Do DoorDash Drivers Typically Make?
The amount you earn will depend on your area and the demand for drivers. Earnings of between $12 and $18 per hour are typical. However, you can earn up to $25 per hour or more.
Does DoorDash Offer Support to Its Drivers?
DoorDash drivers get some insurance for on-the-job accidents. There is also an online helpdesk they can use to get more answers.
Do DoorDash Drivers Get Free Food?
There is no official program that gives drivers free food. Some drivers report that restaurant owners often provide them with food or discounts. This should not be counted as a perk, though, as there is no guarantee it will happen.
---
Final Thoughts
DoorDash has many of the same benefits and drawbacks as other driving apps.
The benefits are that you have freedom over when and where you work, and the company doesn't have high recruitment requirements. This makes it a flexible way to earn money. The downside is the lack of benefits and the irregular working hours.
If you think the pros outweigh the cons, then DoorDash is definitely worth a try!
---
*DoorDash earnings: "For Illustrative purposes only, actual earnings may differ and depend on expenses. Hourly pay is calculated using average Dasher payouts while on a delivery (from the time you accept an order until the time you drop it off) and includes compensation from peak pay, tips, and other incentives."
Up Next
Get our free Side Hustle Handbook with the best strategies to multiply your income sources today.
Plus our best money tips delivered straight to your inbox.

Ricardo is an entrepreneur, investor and personal finance nerd who enjoys spending time with his family and friends, travelling and helping others achieve their financial goals. Ricardo has been quoted as a personal finance expert in several online publications including Healthline, Bankrate, GOBankingRates, MSN Money, Yahoo Finance, U.S. News & World Report, Forbes and USA Today.