Moomoo Review 2023: Designed For High-Volume Trading
Moomoo is a commission free trading platform offering its users access to US, Hong Kong and Chinese markets.

Reviewed By

Vanja Petrovic

Many or all of the products featured on this page are from our sponsors who compensate us. This may influence which products we write about and where and how the product appears on a page. However, this does not influence our evaluations. Our opinions are our own. Here is a list of our partners and here is how we make money.
---
The information provided on this page is for educational purposes only. The Modest Wallet is a financial publisher that does not offer any personal financial advice or advocate the purchase or sale of any security or investment for any specific individual.
Moomoo is a subsidiary of Futu Holdings Limited, a Nasdaq-listed company backed by world-class investors such as Tencent, Sequoia Capital, and Matrix Partners. The available products and services are offered by the online broker Futu Inc., which focuses on providing a powerful trading tool and cutting-edge technology.
Using Moomoo, investors can trade securities from the U.S., Hong Kong stocks, and Chinese A-shares. Moomoo is especially interesting for investors who want to trade foreign markets.
This review will take a detailed look at Moomoo, how it works, and the available features. From there, we will examine the pricing, pros and cons, customer service, and who Moomoo is perfect for.

Quick Summary: Moomoo, a subsidiary of Futu Holding Ltd, is an online broker allowing its user to trade US, Hong Kong, and Chinese stocks. Moomoo offers zero-commission trading on US securities including stocks, ETFs, and options.
Promotion: Get 5 free stocks up to $3,500
Pros:
Commission free trades

Margin trading available

Paper trading

Robust market data & research tools

Instant deposits available
Cons:
No retirement accounts

Limited customer support

Limited track record in the US
What Is Moomoo?
Moomoo is a trading platform that allows investors to trade securities such as stocks, ETFs, and options commission-free. It was founded in Silicon Valley, California, in 2018, so it's a relatively new service offering.
The intuitive platform combines smart trading with low fees, offers free in-depth market data and an array of analytical as well as research tools. In addition, it provides a customizable trading experience based on state-of-the-art technology.
How Does Moomoo Work?
The platform wants to be your one-stop-shop for investment research and placing trades, and it offers many tools and features that help you do just that. Besides, the platform is updated and enhanced regularly to improve your trading experience.
Investing Account Types
As of right now, Moomoo offers only the possibility to open an Individual Margin Account. There are no IRA, joint, or custodian accounts available.
Opening an Account
To open an account, new users have two fully digital options. Users can either open an account in the Moomoo app or on the official Moomoo website. Both application processes are processed right away and take about one business day to complete. The process is identical on your phone and your computer.
For example, to open an account in the app, download and install the Moomoo app before getting started and signing up. Next, enter your email address, set a password, and you are good to go. After that, you need to enter your Social Security number, a valid proof of address, and your employment status if applicable. Click next and verify your phone number to receive a verification code. Once you have verified your phone number and email address, provide your personal and financial information before submitting your application.
Moomoo Features
Moomoo offers many exciting features, including different trading tools that help new and seasoned investors make profitable trades. However, some of those bells and whistles may be too much for beginner investors.
Nonetheless, Moomoo is a solid option for investors who are serious about trading as they can improve their skills and techniques using the available features.
| | |
| --- | --- |
| Minimum Investment | $0 |
| Stock & ETF Fees | $0 per trade |
| Options Fees | $0 + $0.65 / contract |
| Inactivity Fee | $0 |
| Withdrawal Fee | $0 |
| Investment Types | Stocks, ETFs and Options |
| Account Types | Individual Taxable |
| Platform | Mobile (iOS / Android), Windows and Mac |
| Account Funding | Bank Transfer |
| Paper Trading | |
| SIPC Protection | |
| Banking Services | |
| Support | Email |
Zero-Commission Trading
Like many other modern investment platforms, Moomoo offers commission-free trading. Investors can trade U.S. stocks, American Depositary Receipts (ADRs), and exchange-traded funds (ETFs) provided by Futu Inc. free of charge. On the platform, options also don't carry commission charges but have a fee of $1 per contract.
If you want to trade Hong Kong stocks and Chinese A-shares, you will have to pay fees as these securities are not available for free.
Free Level 2 Market Data
Level 2 market data allows you to better build and execute trading strategies as the quotes come directly from the NYSE Arcabook, NYSE Open Book, and Nasdaq Total View. These real-time quotes provide deeper market information, detect liquidity volumes, and display bid and ask prices for any stock the moment you want to execute your order.
Leveraging this tool, you can gain insight into market trends and analyze what stocks would be supported by professional players.
In contrast to other brokers, Moomoo doesn't charge you for this service and also runs promotions that include free NYSE Arcabook market data, which is usually charged for.
Advanced Charting
Investors need more than the basic day-to-day price movements to make informed decisions, and Moomoo's advanced charting shines in this department. With Moomoo, you get many standard charting options that include bars, candlesticks, lines, mountains, and many more.
This is helpful as investors can use the charting tool to their advantage. You also get multi-charting options with more than 50 technical indicators, which is above the usual average of available indicators.
Customized Analysis
Investors can customize the platform to their liking and adjust it towards the securities they are trading, including a focus on exchange-traded funds, stocks, international securities, and options. In addition, people can check out their financial reporting, capital flows, market factors, technical analysis as well as fundamental analysis of specific securities.
Custom Portfolios
Another excellent tool is the platform's custom portfolios feature. Here, investors can create portfolios and assign percentage weights to each stock to track performance. You can create up to 30 portfolios consisting of a maximum of 50 stocks per portfolio.
These custom portfolios can serve as watchlists. You can also share them with the Moomoo community by making the portfolio public. If you do, other investors on the platform can make comments and share their ideas and insights with you.
Extended Trading Hours
Moomoo's trading hours are beneficial for traders. Moomoo offers full extended-hours trading for free, which includes pre-market sessions from 4:00 a.m. to 9:30 a.m. EST and after-hours sessions from 4:00 p.m. to 8 p.m. EST.
This is especially exciting for casual investors who don't have the time to trade within regular trading hours or don't want to wait for the stock exchanges to open to place their trades. The window from 4:00 a.m. to 9:30 p.m. is one of the largest in the entire industry.
Paper Trading
Paper Trading is an excellent way to get to know the Moomoo platform and how everything works. This free feature (offered by only a few of Moomoo's online investing competitors) allows you to simulate actual trades without putting any of your real money at risk.
In using paper trading, you can practice trading and create a diversified portfolio of your favorite assets without losing money. You will quickly find out whether trading, as well as the Moomoo platform, is suitable for you.
Margin Trading
Borrowing money from your broker to make additional trades is called margin trading. Through margin trading, you increase your buying power without having to sell any securities beforehand. Moomoo enables its users to borrow money against the value of their accounts.
However, you have to pay interest on that borrowed money, which can increase your trading costs significantly. As of this writing, rates for long margin for U.S. stocks is 4.80% and for Hong Kong stocks is 6.80%, and for Chinese A-shares it is 8.80%. The short Margin depends on the chosen stocks. To find out the exact details, see the app and refer to the daily statement.
Watchlists
Using Moomoo's platform, you can create custom watchlists of your favorite securities. When creating these watchlists, you shortlist those you want to follow more closely. Such a list further helps to track and analyze price movements as well as opportunities for spot trading.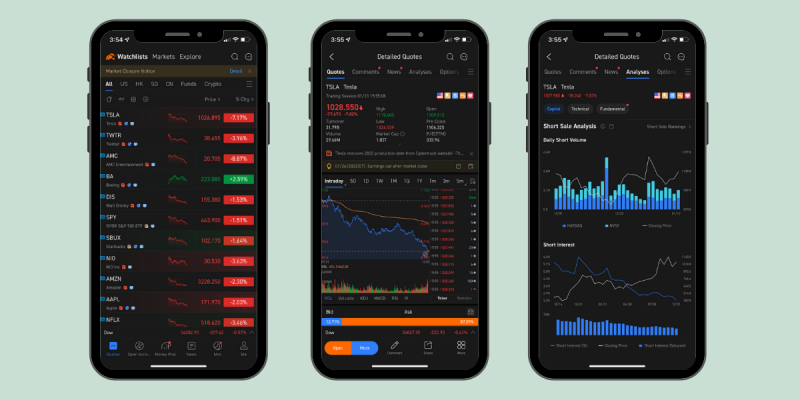 Multi-Market Quotes
If you are interested in trading securities overseas, multi-market quotes come in handy. Moomoo provides information from various markets, including the U.S., China, and Hong Kong, as well as forex quotes.
Alerts, Notifications, & Reminders
You can easily set up alerts, notifications, and reminders on the platform. That way, you will receive an automatic notification on price fluctuations or changes for the stocks you are interested in. Thanks to these alerts and notifications, you don't have to sit in front of your screen or app all day and won't miss an important opportunity that could impact your trades.
Third-Party Analyst Rating
Third-Party Ratings are helpful for investors because they get recommendations from professional third-party analysts on specific securities. This means that you can compare various securities with each other and determine whether the stock you want to acquire is underperforming or out-performing other stocks in the same niche and category.
Access to Moomoo Community
One relatively unique feature is the global investment community which lets you engage with fellow Moomoo investors of all levels. Talking to other people will broaden your trading horizon and help you gain different perspectives on investing. Following along in the online community will further help you understand which securities are trending and if they are worth the money.
You can write and comment on posts, share your ideas, discuss trading insights, follow other investors, and do anything else you would do in an online community.
News Feed & Updates
Moomoo offers its users a comprehensive 24/7 financial news section, including financial media from CNBC, so you can stay on top of what's going on in the investment world. The platform allows you to check the biggest headlines that drive the market, express stories that can trigger price fluctuations, watchlist-related news, and special reports.
Moomoo Pricing and Fees
While Moomoo allows investors to trade U.S. stocks, ADRs, and ETFs free of charge, there are fees you should be aware of.
For U.S. stocks, the SEC fee (sells only) is 0.0000051 times the transaction amount or a minimum of $0.01. The Trading Activity Fee is $0.000119 per share (min. $0.01, max. $5.95), and the ADR Custodian Fee ranges from $0.01 to $0.05 per share.
While options don't carry commission or platform fees, they have a contract fee of up to $1. Besides, regulatory fees include an SEC fee (0.0000051 times the transaction amount or a minimum of $0.01), a trading activity fee ($0.02/ contract or min. of $0.01/ order), an options regulatory fee ($0.0388/ contract), OCC fees ($0.045/ contract for 0 to 1222 contracts and $55.00/ trade for over 1222 contracts), and an exchange fee that varies by exchange.
Additionally, Moomoo charges service fees. While ACH transfers are free, ACH returned funding costs $9. Incoming domestic wires are $10, while outgoing domestic wires are $20. Incoming international wire are also $10, but outgoing international wires are $25. Outgoing stock transfers cost you $75, a mail paper statement is $3, and assisted phone trades are $10.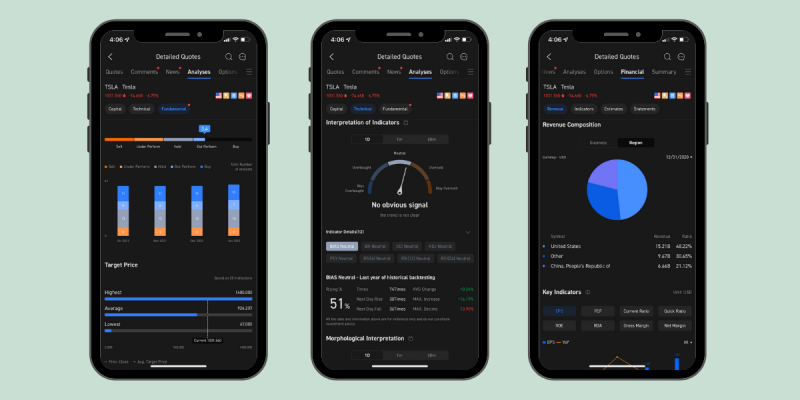 Moomoo Security
Futu Inc. is Moomoo's parent company and provides securities products and services on the platform. It is a broker-dealer registered and regulated by the Securities and Exchange Commission (SEC) and the Financial Industry Regulatory Authority (FINRA). Therefore, it must adhere to specific industry standards.
In addition, the entity is part of the Securities Investor Protection Corporation (SIPC), which means that the securities in your Moomoo account are protected by the SIPC for up to $500,000, including a cash limit of $250,000. What's not insured are investment losses that stem from market volatility.
Moomoo Customer Service
If you have a question, the easiest way to get in touch with customer service is via the app. By clicking on customer service, you enter a chat with FUTU US and can write a brief summary of the issue. You could also send an email to the support team to have your issue solved.
Besides, Moomoo offers a comprehensive help center that provides answers to accounts, funding & transfers, portfolio analysis, taxes, and product descriptions. Moreover, you can find information regarding market rules, paper trading, the stock academy, as well as technical and fundamental analysis.
Moomoo Pros
Commission-free trading of U.S. stocks, ADRs, and ETFs
Free Level 2 market data for investors with an account
Free extended hours trading sessions
Quick and easy account setup
Short selling and margin trading are supported
Investors can trade Hong Kong stocks and Chinese A-shares
No minimum deposit is required to open an account
No maintenance and inactivity fees
Paper trading to learn the ins and outs before investing real money
Moomoo Cons
The platform might be overwhelming for beginner investors
No retirement accounts are supported
Phone support is not available
Moomoo Alternatives
Moomoo is a smart trading platform that offers commission-free trading, low fees, and a variety of tools and features so you can make successful trades. However, the platform might overwhelm beginner traders. Therefore, we have listed two other alternatives for you below that could fit your trading style as well.
Public.com
Moomoo and Public have a similar offering in trading stocks and ETFs commission-free. However, Public limits itself to these two asset classes, whereas Moomoo also offers ADRs and foreign securities from Hong Kong and China.
In addition, both platforms provide investors with a global community where you can follow other investors, post your ideas, share insights, comment on portfolios, and learn from others. They also have a mobile app and a streamlined account opening process but no retirement accounts.
An area where Public can't keep up with Moomoo is the range of available features because its offering is rather limited. The reason is that Public focuses on beginner investors who solely want to start investing and using a dividend reinvestment plan to grow their positions. Read our full Public review to learn more.
Robinhood
Robinhood disrupted the industry with its commission-free trading offering of stocks, ETFs, and options, and many brokers have followed suit. Although Robinhood also allows trading cryptocurrencies for free, you can't trade ADRs, Hong Kong stocks, or Chinese A-shares like on Moomoo.
Both platforms don't charge account opening, maintenance, or inactivity fees. They have comprehensive mobile apps, although Moomoo has the more sophisticated one. Like Moomoo, Robinhood doesn't offer retirement plans and has limited customer support.
A significant difference is the number of features, including access to margin trading or Level 2 market data. While these two features are available for free with Moomoo, you have to pay a monthly fee of $5 to get access to them through Robinhood Gold.
Beginner investors might prefer the simplicity of Robinhood, whereas experienced traders will prefer the many tools Moomoo offers for free. Read our full Robinhood review to learn more.
| | | | |
| --- | --- | --- | --- |
| | | | |
| Our Rating | | | |
| Fees | $0 per trade | $0 per trade | $0 per trade |
| Account Minimum | $0 | $0 | $0 |
| Promotion | None | Get a free stock | Get a free stock |
| Highlight | Trade stocks in US, Hong Kong and Chinese markets | Simple user interface and fractional shares | Social interface and features |
| Best For | Intermediate traders | Beginner traders | Beginner traders |
| | | | |
Who is Moomoo Best For?
Moomoo is perfectly suited for different investor types, including beginners, cost-conscious users, and active and seasoned traders. The app and web interface are easy to use and very intuitive. With an array of available features, Moomoo makes it easier for every investor to make smart trading decisions.
Beginner investors can learn trading via the paper trading feature for free without shelling out cash upfront. They can increase their knowledge and skills step-by-step and lean on the swarm intelligence of the Moomoo community.
In contrast, advanced traders can use the free Level 2 market data to plan their trades, get free quotes, or use the advanced charting tools to their advantage.
Ultimately, those investors looking for a great deal will find a great partner in Moomoo as it offers commission-free trading on various securities and a low fee structure.
Moomoo FAQ
Considering the details we've covered, new users often have two questions about Moomoo. We would like to answer them below for you.
Is Moomoo Legit?
As Moomoo is a relatively new online platform, it is fair to wonder whether it is legit. The parent company Futu Holdings Limited is listed on the Nasdaq stock exchange and backed by venture capital from Tencent, Sequoia Capital, and Matrix Partners. Besides, Futu is a member of all major regulatory bodies, which are all excellent signs that Moomoo is legit.
Is Moomoo Safe?
Moomoo is owned by Futu Inc., a registered broker-dealer with the U.S. Securities and Exchange Commission (SEC). Additionally, Moomoo is part of the Financial Industry Regulatory Authority (FINRA) and Securities Investor Protection Corporation (SIPC). All these registrations ensure that your Moomoo account is safe.
Final Thoughts
The platform is a solid option if you want to start trading securities or already have a track record in doing so. The account opening process is fast and you can use Moomoo and its features without too much waiting time.
No matter your trading level, research tools and features such as zero-commission trading, free access to Level 2 market data, advanced charting options, and extended trading hours make it easier for you to find profitable investment opportunities. The available Moomoo community further allows you to exchange ideas, follow other investors, and benefit from the knowledge of the many.
Having said this, the platform might overwhelm novice investors. However, the paper trading feature allows new investors to learn the platform and its ins and outs risk-free. Besides, you can open an account for free and see whether Moomoo suits your trading style or not.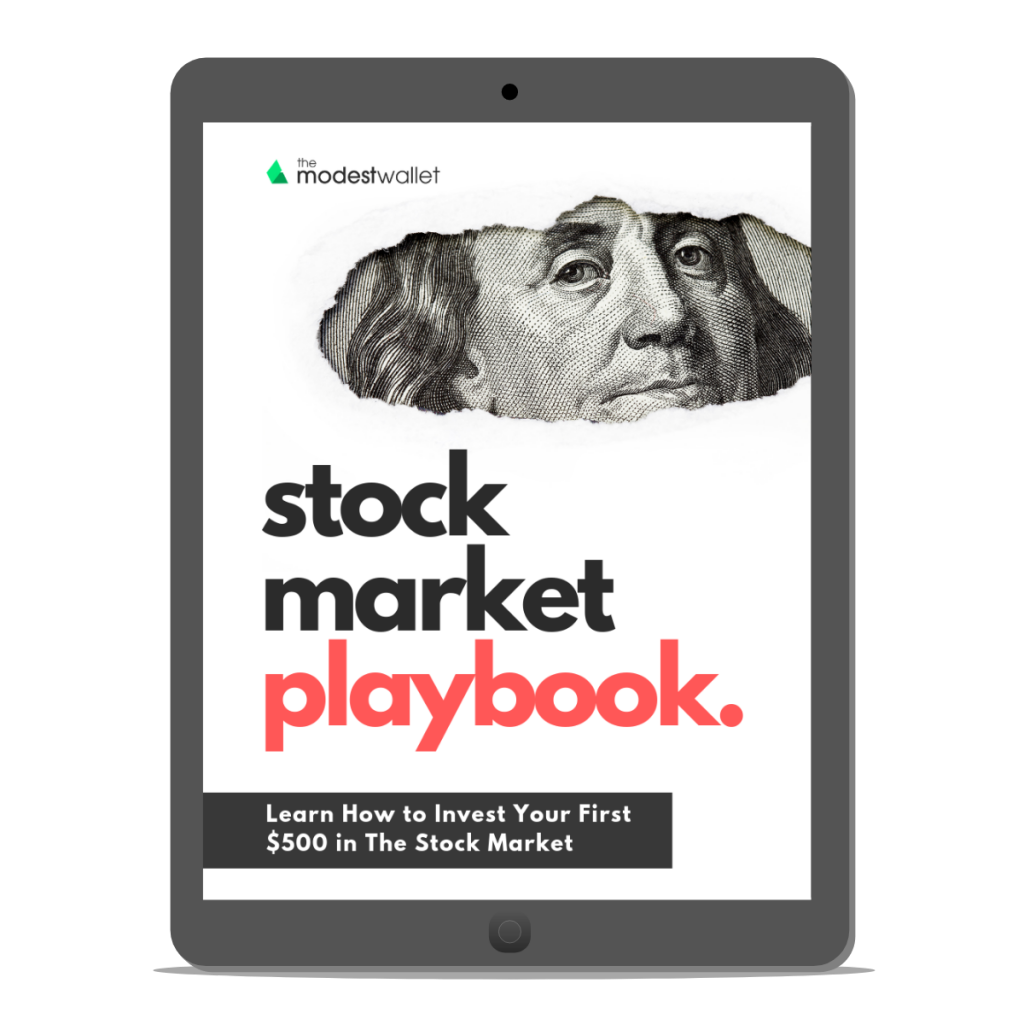 Get our free Stock Market Playbook to learn how to invest your first $500 in the stock market.
Plus our best money tips delivered straight to your inbox.

Carsten is a Freelance Copywriter with a personal interest in money management and investing. Besides taking care of his investments, he loves traveling, reading books, and working out (calisthenics & yoga).