Many or all of the products featured on this page are from our sponsors who compensate us. This may influence which products we write about and where and how the product appears on a page. However, this does not influence our evaluations. Our opinions are our own. Here is a list of our partners and here is how we make money.
The information provided on this page is for educational purposes only. The Modest Wallet is a financial publisher that does not offer any personal financial advice or advocate the purchase or sale of any security or investment for any specific individual.
With the stagnation of middle-class wages and the decline of the blue-collar economy, many have turned to what are called side jobs, side hustles, or gig economy jobs to take care of their income needs.
An entire economy has sprung up around these gigs, and the gig economy has its own lingo and culture. The best gig economy jobs encompass a variety of fields, industries, and skills. Continue reading below to find out about our favorite gigs, including how much you can earn and what you'll need to get started.
---
What is the Gig Economy?
The gig economy refers, in part, to the reality that many people are finding it more difficult to land full-time jobs, and they are turning to short-term, contract-based work to supplement or replace those jobs. Gig economy jobs (also known as freelance jobs) have both positive and negative characteristics, and their desirability depends heavily on the worker's circumstances.
Despite the criticisms leveled at gig economy work, many people have come to find that freelance and contract work provides valuable income and flexible hours.
✎ Editor's Note
A gig worker is typically defined as persons who are self-employed, independent contractors, sole proprietors, through a single person LLC, or non-permanent workers who are hired on a per-project basis.
---
Best Delivery Gig Economy Jobs
Many of the most popular gig economy jobs entail getting an item from point A to point B. In other words, you'll be a delivery driver (or cyclist, depending on how far you're going and where you're located).
As with many gig economy jobs, your income won't be consistent. You may make an amazing amount of money one week, but only work a handful of hours the next. It can depend on the area you work in, your luck on a particular day, and whether you travel on a bicycle or in a car.
1. DoorDash
If you'd like an arguably simpler delivery experience, you might want to consider DoorDash. DoorDash offers its clients restaurant deliveries (and only restaurant deliveries). You won't need to stop off at a grocery store or Staples if you're delivering for this app. You will, however, have to schedule your shifts on the app.
Earnings are similar to those working with Postmates or Instacart, and they usually range from about $10 to $15 per hour. However, some drivers report earnings of up to $25 per hour. Wages depend heavily on the area in which you're delivering.
Make sure you check out our DoorDash review to learn more.
Income Potential: According to Indeed, DoorDash drivers earn around $15.48 per hour (on average).
Requirements: 18 years or older, access to an insured vehicle (car, truck, van, motorcycle, or scooter) with the insurance policy in your own name, pass a background check and own an Android or Apple smartphone.
See Also: 14 Ways to Get Paid to Test Products (from Home)
2. Postmates
Postmates is a wide-ranging delivery app that offers its customers everything from groceries to alcohol to home and office supplies. You can make money using the Postmates app by acting as a delivery person (either on a bike or in a vehicle).
Reviewers report that you can earn between $8 and $15 per hour, depending on your area and productivity. Some users have reported earnings of up to $27 per hour. Note that this does not include the wear and tear on your mode of transportation, which can be a significant expense.
Make sure you check out our Postmates review to learn more.
Income Potential: Average Postmates hourly pay ranges from approximately $9.13 per hour for Drivers to $25.00 per hour for Truck Drivers. The average, according to Indeed, is around $14.56 per hour.
Requirements: 18 years or older, access to an insured vehicle (car, truck, van, motorcycle, or scooter) or bicycle, pass a background check, own a smartphone.
3. AmazonFlex
For drivers who own a van, a four-door sedan, or a pickup truck with a covered bed, AmazonFlex may be a better choice than any of the other delivery apps available. AmazonFlex pays between $18-$25 per hour, which is approximately double what the other delivery apps pay.
The increase in pay is likely due to the more stringent requirements and the greater effort to deliver larger packages to clients.
Income Potential: According to Indeed, Amazon Flex drivers earn around $16.96 per hour (on average).
Requirements: 21 years old or older, valid social security number, pass a background check, have access to a qualifying vehicle (4-door sedan, a pickup truck with a covered bed, or van), valid driver's license, proof of auto insurance and must own a qualifying smartphone (Android or Apple, relatively new).
4. Instacart
Instacart is a grocery delivery service that offers two different ways to make money. First, you can be a "full-service shopper." Instacart's full-service shoppers (who qualify as independent contractors) receive orders on their smartphones and complete grocery deliveries for grocery customers. This entails driving to the store, gathering and collecting the groceries, and delivering them to customers.
In-store shoppers, however, don't require a vehicle. They stay at the store and gather grocery orders for customers, and someone else delivers them. In-store shoppers are considered part-time employees (for tax purposes).
Reviewers report that they can earn several hundred dollars per week, depending on how much time they spend shopping or doing deliveries.
Make sure you check out our Instacart review to learn more.
Income Potential: According to Indeed, Instacart drivers can earn around $25,155 per year (on average), and Instacart shoppers around $28,072 per year (on average).
Requirements: 18 years or older, access to an insured vehicle (car, truck, van, motorcycle, or scooter) if you're going to be a full-service shopper, pass a background check, own a smartphone and be able to lift 30-40 lbs at a time (to carry groceries).
See Also: How to Start a Blog: A Step-by-Step Guide to a Profitable Blog
5. Shipt
Shipt is another grocery delivery app, but its fee structure is slightly different. Because it offers commission and tips, many reviewers report that it pays significantly more than Instacart or Postmates. The pay may be similar to AmazonFlex, but it lacks the latter's guaranteed income for approved shifts. Read our full Shipt Shopper review to learn more.
Income Potential: According to Indeed, Shipt shoppers earn around $20,366 per year (on average).
Requirements: 18 years or older, valid U.S. driver's license with one year of license experience, access to an insured vehicle made on or after 1997, possess an insulated cooler bag, be capable of lifting up to 40 lbs, have an Apple or Android smartphone and pass a background check.
6. Grubhub
Grubhub is another restaurant delivery service. It's very similar to DoorDash, insofar as you'll need to schedule yourself for shifts in your area. Like most delivery apps, you'll need to keep track of your own income because you'll qualify as an independent contractor. In the US, that means you'll receive a 1099 form, and you'll need to account for your own income taxes at the end of the year.
The earnings on Grubhub are very similar to earnings from DoorDash, and will likely be slightly lower than those with Shipt or Amazon Flex, but that can depend heavily on where you are located in the country. Read our full Grubhub Driver review to learn more.
Income Potential: Medium
Requirements: 19 years of age, car (or a bike in certain areas), driver's license and car insurance, and have an Apple or Android smartphone.
---
Best Gig Economy Driving Jobs
The popularity of ride-sharing boomed in the 2010s, and shows no sign of slowing in the 2020s. Two companies, Uber and Lyft, dominate the market in the United States. Continue reading below to learn what you need in order to drive for them, and how much money you can make. You can also check out our article on how to make money driving as there are tons of ways to make money with your vehicle.
Don't have a vehicle? Or your car doesn't meet Lyft or Uber's requirements? No problem. HyreCar offers short-term rentals for ridesharing drivers.
7. Uber
Uber is the most popular ride-sharing service, providing clients around the world with rides to their desired locations. Driving for Uber is a relatively straightforward process, although the list of requirements is (reasonably) lengthy.
You should pay particular attention to any additional regulatory requirements imposed by your city or municipality. For example, some cities require that drivers for Uber get their vehicles inspected within 30 days of their start date. Uber will typically alert you to these requirements, but be sure to check your local laws as well.
Rates for ride-sharing services like Uber are typically around $18-$25. As with all side jobs that involve your vehicle, it's important to account for vehicle depreciation and maintenance costs. Maintenance is typically your biggest expense, and not considering it in your profit and loss statement is a mistake that will lead you to overestimate your profit.
Income Potential: Medium-High
Requirements: 21 years old or older, possess a valid driver's license for at least one year (three years if you're under 23), access to a four-door vehicle that is less than 10 years old (some cities allow vehicles that are 15 years old or newer), car insurance in your own name, in-state driver's license, in-state license plates and a current registration, social security number, pass a driving background check and a general background check, and additional state/city regulatory requirements.
8. Lyft
Driving for Lyft is extremely similar to driving for Uber, so we won't spend too much time on the job description. There are, however, a couple of differences.
The vehicle requirements can vary slightly, with Lyft imposing more stringent vehicle quality requirements in some areas. Additionally, Lyft typically pays its drivers slightly more to work. Some surveys peg the difference at up to $2.00 per hour, depending on the area and vehicle.
Income Potential: Medium-High
Requirements: Driver's license, 21 years or older, in-state car insurance, registration, access to a vehicle, or ability to rent a vehicle through Lyft, social security number, pass a background check, pass a driver background check.
See Also: 30 Best Online Jobs That Are Legitimate and Actually Pay Well
---
Best Manual Labor Gig Economy Jobs
Newly available apps will let you apply your elbow grease to other people's odd jobs. Manual labor can be a nice change of pace from the more sedentary work required by most of the other services/apps on this list.
9. Hello Alfred
Hello Alfred is a home butlering service that offers its clients a way to help them complete and manage daily household chores and errands. The Hello Alfred website currently lists two types of jobs: Shopper and Home Manager. The requirements listed above are for the less accessible Home Manager positions.
Shoppers pick up items from stores (groceries, home supplies, etc.) while Home Managers assist clients around the house.
✎ Editor's Note
4/24/20: COVID-19 has shifted the company's focus to delivery services. Check their website for updates.)
Hello Alfred is famous for arranging its business in an employee-friendly way, classifying all of its people as W-2 employees, rather than 1099 contractors. This means you'll earn a regular hourly wage, rather than unreliable commissions or tips.
Income Potential: High
Requirements: A college degree, or two to three years of relevant work experience, a smartphone, ability to stand on your feet for extended periods of time, and maneuver in small spaces, bend, and grip with your hands, ability to lift up to 30 lbs, ability to work in homes with pets, including dogs and cats, 21 years old, valid driver's license, a vehicle, and auto insurance.
10. Bellhops
Bellhops is like the Uber of movers. If you're able to lift at least 100 pounds at a time, then this app that connects movers to people who need heavy boxes and furniture transported may be for you.
You can expect to earn about $15-$21 per hour, including tips on an average day. It's similar to what you would earn driving for Uber, but with fewer vehicle-related costs.
Income Potential: Medium
Requirements: 18 years old or older, ability to lift 100 pounds, a smartphone, transportation, complete Bellhops interview, pass a background check and have a checking account.
11. Dolly
Dolly is similar to Bellhops, with the added option of being a "Helper." Helpers are like "Assistants" with this service (who just carry stuff), but they also provide a vehicle (a covered truck or van) and drive. The requirements listed above are for Helpers. Assistants only need to be 18 years of age to work and aren't required to meet vehicle-related criteria.
You can make anywhere from $15 to $30 per hour. Your income potential depends on whether you have a truck or not.
Income Potential: Medium-High
Requirements: 21+ year old, pass a background check, ability to lift 75 pounds or more, auto insurance and a truck or van.
12. TaskRabbit
TaskRabbit connects people who need a wide variety of tasks completed with the people who have the skills to get them done. Ranging from skilled labor like electrical work and carpentry to tasks like running errands or cleaning, there's work on TaskRabbit for virtually anyone.
It's difficult to put a range on the income you can earn on this app, since skilled work can command a much higher price than more menial tasks. Suffice to say that people with specific skills in high-demand trades and stellar profiles can earn a significant amount of money.
Keep in mind that TaskRabbit does charge a one-time $25 registration fee, so be sure you're serious about getting work done through TaskRabbit before you complete your sign-up.
Income Potential: Medium-High
Requirements: 18 years or older, located in a city in which TaskRabbit operates, social security number, pass a background check, pass an ID check, a valid credit card, checking account with a US financial institution and a smartphone (Android or Apple).
See Also: 20 Best Places to Sell Used Furniture for Cash 'Online & Locally'
13. TaskEasy
TaskEasy applies the services-on-demand model to lawn care and snow removal. Like Bellhops, Hello Alfred, and TaskRabbit, TaskEasy connects qualified businesses with paying clients. The amount of money you'll make from TaskEasy depends heavily on the nature of your business. Fully equipped commercial landscapers will make more thanks to TaskEasy's tiered system of contractor management.
Income Potential: Medium-Very High
Requirements: Be at least 18+ years of age, pass a background check, pass the TaskEasy review process, have General Liability and Occupational Accidental Insurance policies (either through TaskEasy or independently).
14. Handy.com
Handy is very similar to TaskRabbit (described above). It's a little more focused than TaskRabbit, however, limiting its listed services to handymen and handywomen, cleaners, electricians, and plumbers.
Your pay will depend heavily on which field you're in, although even for highly skilled professionals like electricians, the pay won't usually go past $45 per hour. Some reviewers have complained about punitive job cancellation policies and customer rating systems.
Income Potential: Medium-High
Requirements: Paid experience as a cleaner or handyman, authorized to work in the US, excellent customer service skills, attend an online orientation and if working as a plumber or electrician, supply credentials authorizing you to work in those fields.
---
Best On-Demand Rental Gig Economy Jobs
If you'd rather make your money more passively, on-demand rental gigs allow you to put your personal and real estate property to work. The money you earn with the on-demand rental apps listed below will depend heavily on the nature and quality of the property you rent out on the app you choose. Those with brand-new cars, boats, and apartments in high-demand areas will earn much more than those with older property in less populated areas.
15. Turo
Turo allows you to rent out your personal vehicle. It's like the Airbnb of cars. Turo will set the price for you and give you 75% of what renters pay to use your car. The nicer your car, the more money you'll make through the app.
The major drawback to this, as with Uber and Lyft, is the wear and tear on your vehicle. This cost can add up to become a significant part of your income, which is why we've listed the income potential as "Medium."
Don't forget that you can enter your vehicle depreciation and upkeep costs as deductible expenses on your taxes to defray some of your costs.
Income Potential: Medium
Requirements: Maximum vehicle age of 12 years (with 130,000 or fewer miles on the odometer), clean title (no salvage, branded, or rebuilt titles), vehicle value of less than $150,000 and auto insurance.
16. Airbnb
Everyone knows about Airbnb. With this app, you can make a room, an apartment, or even a full house available for rent online. You'll need to make sure that you live in an area that allows short-term rentals, and/or that your lease agreement (if you're a renter) allows for the use of Airbnb.
The amount you'll earn will vary tremendously based on the location and nature of your rental. (A brownstone in New York City will command a much higher rate than a room in Austin, Texas, for example.)
Other Alternatives to AirBnB include VRBO, Couchsurfing and HomeExchange.
Income Potential: Medium-High
Requirements: Be responsive, accept reservation requests whenever you're available, avoid cancellations, maintain a high overall rating, provide toilet paper, hand and body soap, towels, linens, and pillows.
See Also: 40 Proven and Legitimate Ways to Make Money Fast
17. GetAround
GetAround, like Turo, allows you to rent out your personal vehicle to strangers through their app. The main difference between GetAround and Turo is that while Turo allows the option of installing a remote locking and unlocking device, GetAround requires the installation of such a device. This means you won't necessarily need to meet with the people renting your car when they pick it up or drop it off.
The income is similar to Turo, and the same caveat applies. Watch those vehicle maintenance costs and upkeep charges!
Income Potential: Medium
Requirements: A car model year of 2005 or later, fewer than 125,000 miles on the odometer, the vehicle is no larger than 8 passengers, and car-sharing is not prohibited by your lease agreement (if the vehicle is leased).
18. Boatsetter
Boatsetter allows you to rent out your captained or un-captained vessel to people on their app. You'll need to meet the above-noted criteria, although the age limit is reduced to 18 for captained vessels. Approval by Boatsetter is also required in order to offer your boat for rental.
As with all on-demand rental apps, the amount of money you can make is dependent on your offering.
Income Potential: Medium-High
Requirements: 25 years of age, possess a current valid driver's license for at least two years, no criminal convictions in the last 10 years, no driving violations in the last three years, no boat insurance claims in the last three years, have a smartphone.
19. RVShare
RVShare is an online, peer-to-peer RV rental and sharing service. Like Boatsetter or Turo, but for recreational vehicles, what sets RVShare apart from similar services are the extremely high prices that people are willing to pay for RV rentals. Due to the high price of RVs themselves, people part with substantial amounts of money to use RVs for a short period of time.
Reviewers report making tens of thousands of dollars in the span of a few months. These amounts could go a long way towards defraying the cost of the RV itself. Of course, the amounts earned will depend on the drivability and quality of your RV.
Income Potential: Medium-Very High
Requirements: Not listed online, but likely very similar to other on-demand rental services/apps.
20. Neighbor
Neighbor is an online platform that allows you to make money by renting your unused space to your neighbors. You can list anything from your garage to your basement. All listings are free and you can use the app or the website to create and publish your listings. Then, interested renters will start reaching out to you via the platform. Neighbor offers a $1M Host Guarantee to protect hosts from personal liability. The other cool thing is that Neighbor offers payment protection, so even if your renter stops paying you'll get paid. All payments are deposited automatically to your bank account at the end of the month.
Other good alternatives to Neighbor include Peerspace and StoreAtMyHouse.
Income Potential: Medium-High
Requirements: Unused space to store your neighbor's belonging.
---
Best Freelance Gig Economy Jobs
Freelance jobs are where we start to get serious about making money. Depending on how skilled you are in your particular field, you can sometimes make up to several hundred dollars an hour. These gig economy jobs are worth checking out.
21. Freelance Writer
Freelance writing, particularly freelance web content writing, has become a highly lucrative profession for many people who have skills with the written word. While it can be difficult to get started, freelance writers with talent and experience stand to earn over $100 per hour when they work for the right client.
In order to get themselves past the first few difficult months, many freelance writers have turned to Earn More Writing for help. This no-nonsense online course teaches freelance writers how to turn their hard work into a rewarding income. It's light on theory and focuses on concrete strategies and practical advice on how to get your freelance writing business up and running — fast.
Income Potential: Very High
Requirements: A desktop or laptop computer and an internet connection.
22. Facebook Ad Specialist
Similar to freelance writing, those with a talent for social media advertising tend to learn very quickly just how sought-after their skills really are. Businesses everywhere are desperate to learn how to use social media (especially Facebook) to lure highly targeted audiences to their products and services.
Rather than trying to learn the necessary skills from scratch, we strongly suggest you take a look at the FB Side Hustle Course taught by Laptop Empires. This course with dedicated subscribers will take you from A-Z in the sometimes confusing world of Facebook advertising. It won't waste your time with pointless fluff. It gets right to the point of how to net paying clients for local and web-based businesses.
Income Potential: Very High
Requirements: A desktop or laptop computer and an internet connection.
See Also: Free PayPal Money: 20 Legit Ways to Earn PayPal Cash Now
23. Proofreader
Just as millions of people around the world are looking for writers, almost as many are looking for people who can proofread that writing to ensure it's error-free. Proofreading is a difficult skill, and the current supply of experienced proofreaders is profoundly small. It requires a tremendous degree of concentration and an intimate knowledge of its unique notation (not to mention the rules of the English language).
Because there are so few experienced proofreaders out there, potential new entrants to this field can command a surprisingly high price. You can improve your odds of succeeding at this profession by enrolling in Proofread Anywhere, a course that teaches not only the basics of proofreading but also how to run your own proofreading business.
Income Potential: High
Requirements: A desktop or laptop computer and an internet connection.
24. Virtual Assistant
Virtual assistants are in high demand. Professionals everywhere are looking for people to help them make sense of their chaotic schedules, appointment books, and inboxes. As long as you have an organization-focused mentality and a computer with an internet connection, you can step in to fill that niche.
We don't recommend that you go it alone, though. There's an excellent course called 30 Days to Virtual Assistant Success that will provide you with the organizational, technical, and business skills you'll need to be successful in this booming field.
Income Potential: High
Requirements: A desktop or laptop computer and an internet connection.
25. Graphic Designer
We encourage people talented in graphic design to look into the 99Designs platform. This site connects graphic designers with clients seeking quality work by way of contests that allow clients to select their favorite designs.
Top-tier designers on 99Designs can make hundreds of dollars per hour.
Income Potential: Very High
Requirements: Desktop or laptop computer or tablet, an internet connection and graphic design chops.
26. English Tutor
Those with an interest in and talent for teaching children should look into a service called VIPKid. This website connects children in Asia who are trying to learn English with tutors in English-speaking countries like the US.
The pay can top $20 per hour for teachers who take on enough classes and don't cancel or reschedule any appointments. Another alternative for English tutors is EF Education First where teachers can earn up to $20 per hour to start. This rate is basically a combination of a base rate plus bonuses whenever a milestone is achieved.
Income Potential: Medium
Requirements: An internet connection, a computer with a webcam, teaching skills and pass an online test and interview.
27. Online Tutor
A lot of people need help with their education, they may require advice on a certain assignment or help solving a specific problem for a challenging report. Online tutoring is a great way for people with tutoring skills to make extra money by helping student for an agreed upon fee.
Due to advancements in technology, online tutoring is becoming more accessible than ever before. On average online tutors can earn anywhere from $11 to $20 per hour. Your earnings are directly proportionate to your education level, skills, knowledge, specialty, and experience teaching others. Outschool is a great platform to earn money on your own schedule by teaching online. The platform is an all-in-one solution for tutors. You can design and publish your own curriculum, integrate video chat and messaging to your classes and even receive payments. On average, Outschool tutors earn $50 per hour taught.
Other Outschool alternatives include Skooli, Tutors.com, and Chegg Tutors.
Income Potential: Medium
Requirements: An internet connection, a computer with a webcam, teaching skills and pass criminal background checks.
Best Skilled Worker Gig Economy Jobs
If you have skills in particular areas, certain websites will connect you with clients in need of your strengths. These sites solve particular problems for clients in a variety of fields.
28. Rover
Very similar to care.com but with a focus on pets, dog-walking, and pet-sitting, Rover connects pet owners with people who have the skills and inclination to take care of their pets.
Rates for part-time dog walkers and dog sitters typically range from a few hundred dollars per month to over $1,000 for the more active. Check out our Rover review to learn more.
Income Potential: Medium
Requirements: Be 18 years of age or older, have a working smartphone, create an approved profile, pass a background check.
See Also: 33 Best Money Making Apps: Cash at Your Fingertips
29. Care
After creating a profile on the Care.com website, those who meet the above criteria will be accepted to what they call their "Careforce." These folks can apply to jobs ranging from babysitting to senior care to tutoring and housekeeping. The jobs typically range in pay from $10 to $20 per hour, depending on your qualifications and experience.
Another great alternative to Care.com is Sittercity where you can all sorts of sitter services including babysitter, senior sitter, pet sitter, nannies, child care, and much more. On average babysitter on Sittercity earn $16.50 per hour and nannies earn on average $17.50 per hour.
Income Potential: Medium
Requirements: 18+ years of age, pass a background check, pass an identification check, create an acceptable profile and post a photograph of yourself.
30. HelloTech
HelloTech connects people struggling with technology to qualified tech-savvy personnel who can help them with their problems. HekkoTech advertises rates as high as $90 per hour, and those with the right skills will definitely want to check out this platform for their next side gig.
Income Potential: High
Requirements: 18+ years of age, pass a video interview, complete a skills assessment, have a sufficiently new smartphone, and pass a background check.
31. Soothe
For licensed massage therapists, membership with Soothe can be a lucrative side hustle. With reported rates of around $50 per hour, depending on the experience, area, and clientele, the RMTs on Soothe can make a decent amount of money-making massage house calls.
Income Potential: High
Requirements: Be a licensed massage therapist in your state and have a smartphone
32. Your Mechanic
If fixing cars is your thing, take a look at Your Mechanic. Matching people in need of simple auto repairs (no major transmission or engine overhauls here) with mechanics who pass their rigorous application process, Your Mechanic typically pays between $40 and $60 per hour to qualified gearheads.
Income Potential: High
Requirements: Have sufficient experience in auto mechanics in order to pass a rigorous online and phone interview and possess sufficient tools.
---
Where to Find Gig Economy Jobs
Gig economy jobs are found almost exclusively online. You'll immediately notice that their availability tends to cluster around major cities in the United States, particularly in and around California. For people in a rural area inside of the US, or for people located outside of the US, you may have to look a little harder for options.
Not all gig economy jobs are found online, however. Some positions available to freelancers can be found locally or through personal connections, although it can be more difficult to find these jobs at the start of your new career.
Here are a few ideas on where to find gig economy jobs (online and locally). All of these platforms and ideas come with their own challenges, pros and cons so make sure you do your research to find what best suits your needs.
FlexJobs: This is a great platform to find remote, hybrid and flexible gigs.
Upwork: Great platform for freelancers looking to up their game.
Fiverr: This is typically a great choice for beginners and the pay tends to be on the lower end.
Craigslist: This is a great choice for local gigs.
TaskRabbit: This is a fantastic choice for those who don't have a ton of experience.
Facebook Groups: This option is great for local and online side hustles.
Job Boards: This can help you find opportunities for local and online gigs.
Flyers: Promore yourself locally with flyers and distribute them in your neighbourhood.
Network: Ask family and friends, maybe they need someone to help them with something.
Website: Create your own website and advertise your services there.
---
Final Thoughts
Gig economy jobs aren't perfect. Some of them don't pay very well. You'll likely need to accept lower pay while you build up credibility. When considering projects, choose work that fits with your goals so that you don't get in the habit of accepting any job you're offered (which will limit your experience and keep you stuck at a low pay rate).
It's also important to note that your work schedule can change at a moment's notice, so make sure you can juggle projects with your other responsibilities.
Freelance work also typically relies pretty heavily on customer reviews, which can occasionally be unpredictable, so be prepared. But if you're a good communicator and you're good at what you do, you shouldn't have to worry about an occasional wild card.
If you're self-motivated and skilled in your line of work, gig economy jobs can be surprisingly lucrative and a real supplement to a regular 9-to-5 job. They can even be a good choice for full-time work if you can excel in a high-paying niche in the industry you have experience in — or if you can transition into a new area you'd like to start in. Good luck on your freelance journey!
Up Next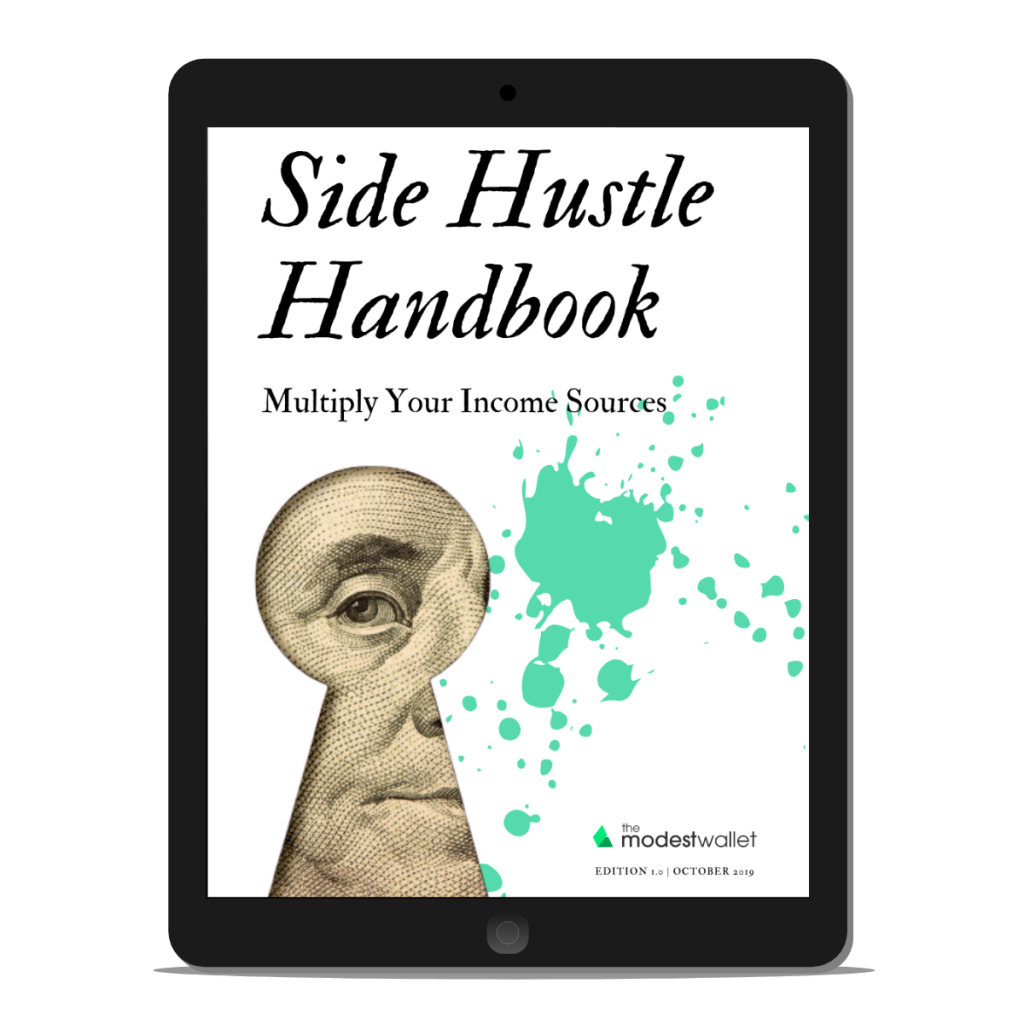 Get our free Side Hustle Handbook with the best strategies to multiply your income sources today.
Plus our best money tips delivered straight to your inbox.

Ricardo is an entrepreneur, investor and personal finance nerd who enjoys spending time with his family and friends, travelling and helping others achieve their financial goals. Ricardo has been quoted as a personal finance expert in several online publications including Healthline, Bankrate, GOBankingRates, MSN Money, Yahoo Finance, U.S. News & World Report, Forbes and USA Today.