40 Proven and Legitimate Ways to Make Money Fast (Make $100 or More)
Many or all of the products featured on this page are from our sponsors who compensate us. This may influence which products we write about and where and how the product appears on a page. However, this does not influence our evaluations. Our opinions are our own. Here is a list of our partners and here is how we make money.
---
The information provided on this page is for educational purposes only. The Modest Wallet is a financial publisher that does not offer any personal financial advice or advocate the purchase or sale of any security or investment for any specific individual.
There are tons of ways to make money fast on the internet. From online surveys to peer-to-peer lending, if you're hurting for cash, the internet can help you make a quick dollar, or even a steady second income. Continue reading below to learn some of the best ideas the Web has to offer when you need to make money fast.
Legitimate Ways to Make Money Fast
We've all been in need of a quick dollar, so we have compiled the ultimate list with a few ideas on how to make money fast. The majority of these ideas are online-based, however there a handful of offline ways to make money fast as well.
Paid Online Surveys
Paid online surveys are a simple and easy way to make some quick money in your downtime. They won't make you rich on their own, but they're a great way to monetize the time that you spend watching YouTube or Netflix.
Two services in particular catch our interest: Vindale Research and Survey Junkie.
Vindale Research
Vindale Research is a survey company that specializes (almost exclusively) in surveys. It turns out that many survey sites and services actually offer a lot more than surveys. A large number of online survey sites let you watch videos, conduct internet searches, receive emails, and more — for points — which can be redeemed for cash once you reach the respective site's threshold.
Some people may find the extra options on those sites distracting (especially after a long day at their day jobs).
Vindale, on the other hand, almost exclusively offers surveys in exchange for cash. And you read that right: cash. Not points. Not rewards. Cash — Straight to your PayPal account as your reward for completing surveys on Vindale's site. It's a great feature that we're absolutely in love with. To learn more go check out our Vindale Research review.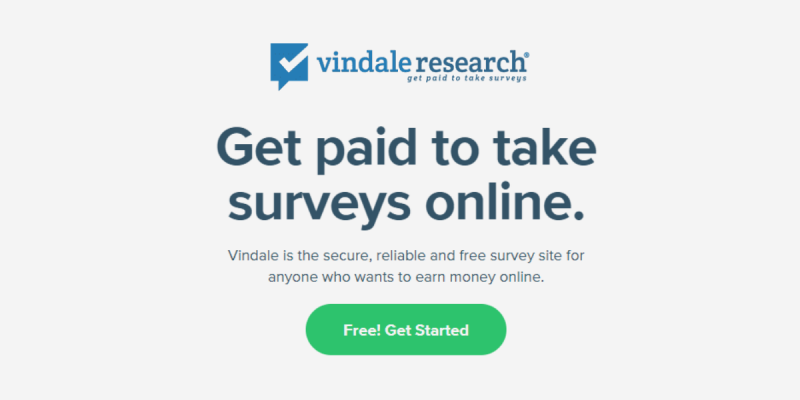 See Also: 23 Best Places and Apps to Sell Clothes Online or Locally
Survey Junkie
Survey Junkie is one of the oldest survey sites on the Web. Like Vindale Research, Survey Junkie almost exclusively offers rewards for completing surveys.
But Survey Junkie also offers a browser extension. This extension monitors your web activity in exchange for earning passive rewards. While privacy enthusiasts may not be too excited about this option, others won't have an issue with earning some rewards while they surf.
Like Vindale, Survey Junkie points can be redeemed and transferred directly to your PayPal account. No gift cards here! (Unless you want them — They do offer gift cards as an option.)
Summary
We also want to point out that both of these services offer substantial rewards for successfully referring other people to them. In fact, this can be the best way to make money on the sites if you have an audience (and you like to offer referral links).
On balance, survey sites aren't a get-rich-quick scheme. You'll make a few dollars here and there, but you won't earn a ton of money quickly. the best way to use these sites is when watching TV or enjoying some other form of downtime. To learn more, go to our Survey Junkie review.
Free Gift Cards
A variety of services offer ways to collect free gift cards in exchange for completing simple tasks. Swagbucks, LifePoints, and ShopKick are some of our favorites.
LifePoints
Lifepoints is an app that lets you earn points for completing short surveys and other small tasks. For example, you'll get points for turning on the geolocation feature on your phone and keeping it turned on. You'll get points for completing "Daily Challenges" that involve surveys. You can also earn "Boosters" that increase your earning potential over time.
You can trade the points you earn in the app for gift cards (or PayPal cash). Check out our LifePoints review to learn more.
Swagbucks
Swagbucks offers rewards points (unsurprisingly, called "Swagbucks" on the site) in exchange for activities that you complete on the site. The activities include:
Completing surveys
Watching videos
Playing games
Browsing special offers
Using the search bar
Buying gift cards through the Swagbucks portal (Yes, you can buy discounted gift cards and earn gift cards at the same time!)
Once you've earned enough Swagbucks, you can exchange them for gift cards (or PayPal cash). Check out our Swagbucks review to learn more.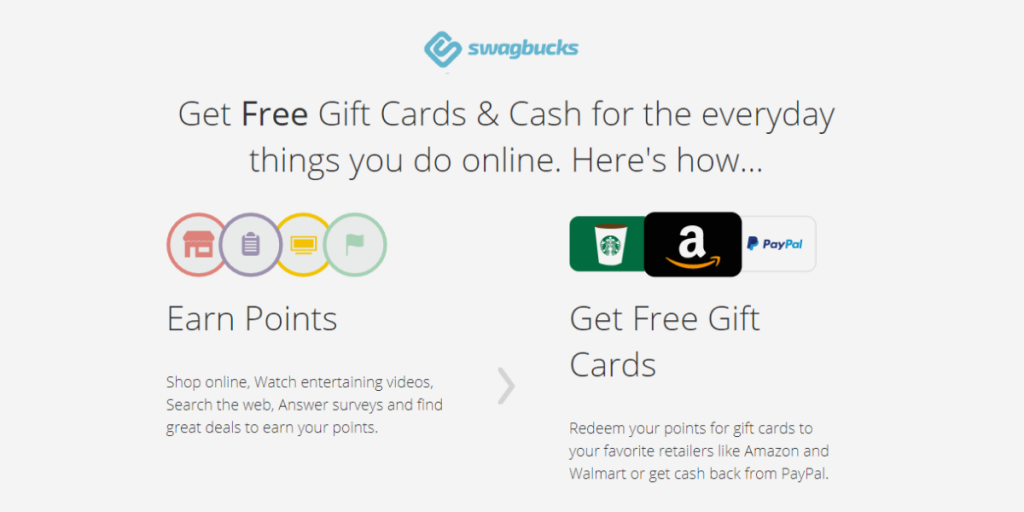 See Also: 25 Creative and Legit Ways to Make Money as a Teenager
ShopKick
ShopKick is an interesting program that lets you earn points by completing shopping-related tasks. Not all of these tasks require you to actually buy something, either. For example, just going into an eligible store will earn you points — as will scanning a participating barcode in a store, linking a loyalty card to the app, or visiting online shops.
If you'd like to earn a few rewards points that can be traded for gift cards (without having to buy something), ShopKick might be for you.
Summary
Like online surveys, gift card-earning programs won't make you rich. But they're a handy way to get rewarded for doing things you already do anyway, like walking into stores or watching videos online.
Pro Tip: Our favorite way to use free gift cards is for reducing bills during the holiday season. If you spend the year accumulating gift cards, you can hand them out as presents at Christmas and save yourself some gift money!
Cash Back Purchases
In our view, cash back programs are a necessary part of any plan to make money quickly. That's because they offer passive ways to reduce your expenses. And saving money is really the same thing as earning money. Rakuten, Ibotta, and Dosh top our lists of the best cash back programs available right now.
Dosh
Dosh lets you earn up to 10% cash back at participating retailers and restaurants. It's a pretty straightforward cash back app, with one beneficial exception. If you refer a business to join Dosh, you'll receive 20% of the Dosh fees they collect for the next two years. That can add up to serious money over the long haul. So if you have an audience or a knack for salesmanship, look into the referral options available on this service. Check out our Dosh review to learn more.
Rakuten
You've probably seen Rakuten commercials on television and the web. They offer varying amounts of cash back on purchases made through the app or with their browser extension installed. You'll get paid your cash back once per quarter at predefined times, by check or PayPal. (They also offer an e-gift card option — When you see an email from Rakuten telling you they're about to send you your Big Check, be sure to open it. You can opt for a near-instant e-gift card from a list of retailers.). Go to our Rakuten review to learn more about this app.
See Also: 33 Best Money Making Apps: Cash at Your Fingertips
Ibotta
Ibotta offers a number of different ways to earn cash back. You can submit receipts for qualifying offers you find on the app. You can link a loyalty card to the app and earn cash back passively. Or you can pay with the Ibotta app and a linked credit card. Check out our full Ibotta review to learn more.
Summary
Cash back apps are a necessary part of any money-saving and money-earning plan. You can cut your expenses by up to 10% just by making use of the cash back options with these services.
Pro Tip: We love doubling or tripling up on cash back. Just combine these apps with a rewards credit card and a loyalty card, and you'll be raking in double or triple the points with every purchase!
Cut Subscription Services
As we wrote above, saving money is part of earning money. And there's no better way to save money than by cutting out subscription services you don't need. Monthly expenses can really eat into your earning potential. The following bill negotiation services are the best ones we've found to help reduce or eliminate services you don't want or need.
Trim
Trim offers a bill negotiation service, a subscription cancellation service, and a service that automatically applies for credits on your utility accounts when service outages are detected. There is a fee for the bill negotiation service and the automated outage credit service, but you can cancel unwanted subscriptions and receive budgeting advice for free. Check out our Trim review to learn more.
Billshark
Billshark is like a more focused version of Trim and Truebill. As its name suggests, Billshark negotiates your bills on your behalf in order to reduce your monthly expenses on things like TV, internet, and phone. Go to our Billshark review to learn more.
Truebill
Truebill offers many of the same services as Trim. The idea is to reduce your monthly expenses by engaging their bill negotiation service, cancelling unnecessary subscriptions, and utilizing their budgeting advice and software. Check out our Truebill review to learn more about this service.
See Also: 15 Legit Ways to Get Paid to Walk, Fast and Easy
Summary
All of the aforementioned services will charge a percentage of the amount they save you on your monthly bills. That percentage can be quite substantial: anywhere from 25% to 40% of your annual savings.
Pro Tip: We love the idea behind these services, but we advocate in favor of a DIY approach. Give your utility and service companies a call and try to negotiate a lower rate (it's not as difficult as you might think). You'll be amazed at what you get just by asking!
Lose Weight and Get Paid
If you're a little on the heavy side, losing some weight can be the best life choice you've ever made. And what's one thing that can make the process better? Making money while you're at it! The following two apps are our favorite "get paid to be healthy" apps we've found so far.
Sweatcoin
Sweatcoin pays you money for every step you take outside. By turning on the geolocation service on your phone and providing the app access to your pedometer, you can turn every step into a fraction of a cent.
Sweatcoin is especially useful for running and walking enthusiasts and provides a great incentive to get outside and get moving.
HealthyWage
HealthyWage is an interesting concept. If you're already planning to lose weight, you can log on to HealthyWage and make a wager on your success. If you achieve your weight loss goal, you'll earn an amount of money based on what you wagered. If you don't achieve your goal, you'll lose what you wagered.
So if you're confident in your ability to lose weight, HealthyWage may be for you.
See Also: 23 Best Work from Home Jobs: Start a Career from Your Couch
Summary
We're in favor of any apps and services that incentivize healthy living — especially those that earn users a little money, too! Sweatcoin and HealthyWage are both great choices for turning your next weight loss or activity goal into a few dollars.
Pro Tip: Use HealthyWage and Sweatcoin together. Make a weight-loss wager on HealthyWage, and use Sweatcoin to motivate yourself to walk and reach your weight and fitness goals. It's a win-win-win!
Recycle Used Smartphones
Do you have a used smartphone, iPod, or iPad just sitting around collecting dust? Why not turn that heirloom into cash? Gazelle is a service that allows you to trade in your gently used electronics for cash.
It's fairly simple to use Gazelle. You just log onto their site, select the model of the device you wish to sell, answer a few easy questions about its condition, and you'll be provided with an offer. If you choose to accept the offer, Gazelle will send you a prepaid shipping label via email. They'll even send you a box. Just pack the item in the provided box (carefully), attach the label, and send it off to Gazelle's processing facility.
After they confirm that the condition of the item matches your description, they'll release the money to you via PayPal. If the item doesn't match the description you provided, you'll either get a reduced or increased offer (depending on the actual condition), and you can either choose to accept or reject the offer. If you reject it, they'll ship the item back to you.
Pro Tip: Make sure that you get the model name and number exactly right, and that you accurately represent the condition of your item. If you aren't honest, or accidentally pick the wrong specs, you'll get a lower offer when they receive the item.
Check out our full Gazelle review to learn more.
Become a Tutor
If you have a Bachelor's degree or better, tutoring Chinese children in English might be a great option for you. VIPKid offers a chance for people to put their teaching skills to work. After a short training period (where you'll familiarize yourself with the provided curricula and teaching instructions), you're set free to teach kids English.
You don't have to worry about creating your own lesson plans or schedules (all of that is provided for you). And you can work as much or as little as you like. (There are bonuses for completing additional classes over a certain number each month.) Each class lasts 25 minutes, followed by a short question-and-answer session, and you'll be paid a base rate of around $9.00 per class.
There are all kinds of bonuses available to people with teaching experience, people who teach a lot of classes each month, and people who take classes on short notice, so if this interests you, keep your eyes open for opportunities to earn more money!
Pro Tip: Because of the difference in US and Beijing time zones, you can expect a lot of evening and nighttime hours in this gig. So plan your daytime hours accordingly, and make sure you can still get plenty of sleep.
See Also: 42 Legitimate Ways to Make Money From Home in 2020
Become a Virtual Assistant
Working as a virtual assistant (or "VA") can be a pretty fantastic side gig, and it's exactly what it sounds like. You act as someone's assistant. but you perform the job and communicate through online channels, so your physical presence is not required. You'll answer phones, emails, and letters, schedule appointments, and basically do all the things a regular assistant does (aside from making coffee).
You'll make a lot more money at this side hustle if you actually know what you're doing. Competence and organization are huge "must-haves" for virtual assistant roles, and the ability to demonstrate the appropriate skills and experience can drastically increase your rate of pay and bonuses.
If you're interested in the work and you need to sharpen your skills, you could take a traditional administrative assistant training course, but they can be extremely expensive and often don't cover the intricacies of working online. We prefer the
30 Days or Less to Virtual Assistant Success course offered by the Horkey Handbook. The course skips all of the fluff and gives you what you need to start your own VA hustle in less than a month.
Pro Tip: Combine your work experience with this course and sub-specialize in being a VA for people in your industry. Your added knowledge and expertise will allow you to command a much higher rate!
Become a Facebook Ad Specialist
People are desperate to make use of social media to expand their businesses. But have you ever tried to navigate the Facebook Ads interface by yourself? It's a nightmare.
That's where you come in. With just a little bit of training, you can master Facebook Ads and pitch your social media marketing services to local businesses seeking to market on Facebook.
There are a lot of digital marketing classes to choose from — but many of them contain a lot of extraneous information and theory that isn't necessary to develop a practical skillset. Instead, we recommend The FB Side Hustle Course. It's all meat and no bones — Just pure, practical skills you can put to work immediately.
Pro Tip: After taking this course, target local, customer-facing businesses like restaurants, salons, and shops. They love to micro-target local audiences in a way that Facebook is perfect for.
See Also: 12 Online Data Entry Jobs: Get Paid to Work from Home
Become a Freelance Proofreader
Proofreading requires a surprising amount of specialized, technical knowledge in order to do it properly. Far from simply skimming through text to find obvious errors, proofreaders provide a focused and exacting process to eliminate even the most subtle errors from a written document.
The upside to proofreading's technical requirements is that proofreaders command a surprisingly high salary. It can become a highly lucrative freelance side hustle or even a full-time job.
You'll need training though, and that's where Caitlin at Proofread Anywhere comes in. You can sign up for her free workshop to master proofreading in as little as 30 days. The course is no fluff. Just actionable, practical guidance on how to go from 0-60 in less than a month.
Pro Tip: Combine your proofreading skills with editing and writing services to really see your income take off!
Become a Freelance Writer
Working as a freelance writer is self-explanatory. People need stuff written. You write it for them. They pay you money.
But beyond the basics, there are a lot of subtleties and nuances to being a freelance writer — especially if you want to be good at your craft. But there are other considerations, too. How to market yourself. How to find clients. How to write so that people actually want to read your work. And how to manage client relationships so you can turn a one-time client into a repeat customer.
The Earn More Writing School walks you through all of these things and more. Rather than take a digital marketing class, a client management class, and a bunch of other related courses, you can simply take Holly's course and put yourself on the fast-track to an extra income just from writing online!
Pro Tip: If you're a professional writer, make sure you read a lot. It'll help you keep your writing sharp!
Walk Dogs for Money
Rover connects pet owners with people who want to provide pet care services. The platform is perfect for dog and cat lovers who are looking to make a few extra dollars in their downtime.
The site functions much like any other client-service platform in that it relies heavily on caregiver and client reviews to inform users about the people who use the site. (In other words, if you're going to be taking care of people's pets, make sure you provide stellar customer service.) Your income will depend on the reviews you earn from clients.
There are two major categories of jobs that you'll find on the site: dog walking and pet sitting. Which you choose is up to you.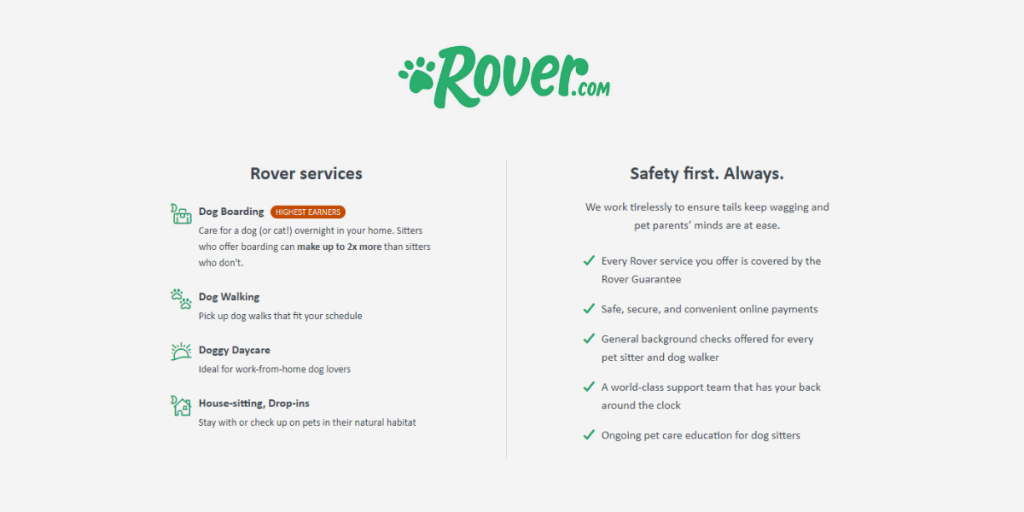 See Also: How to Make Money Flipping Cars: Can You Actually Make Money at It?
Groom Dogs for Money
A home pet grooming business is a perfect complement to Rover's platform. What dog owner could resist having their dog walked and groomed while they run an errand? (Of course, make sure your client knows that you're going to be grooming the dog before you do it!)
Pro Tip: Combine pet sitting gigs with freelancing to make two incomes at once!
Babysit Kids
Sittercity connects people with children and people who want to provide babysitting services. (Although they can also connect pet sitters with people in need of pet care, the focus is definitely on babysitting and nanny jobs on this site.)
As with Rover, you'll need to keep a close eye on your reviews, so make sure to provide sparkling client service at all times. Keep your profile up-to-date, post a professional-looking picture, and include as many reputable references as you can. Since you're taking care of people's children, they'll want to be assured that you're a dependable and reliable candidate.
House Sitting
House sitting dovetails naturally with babysitting. If you've babysat for someone in the past, make sure they know that you're available for house sitting as well. (You'll be the first person they call.) Care.com is a good platform to offer house sitting services.
Pro Tip: Run a background check and a criminal record check on yourself and post it to your Care.com profile. You'll save your clients the trouble of having to do it for you.
Automate Your Savings
Digit is an app that tracks your checking account activity. Using AI, the app withdraws money it determines you won't need, and places it in a Digit savings account. The savings account is called the "Rainy Day Fund."
The app is fantastic for people who find it difficult to set money aside for savings — especially if they have a tendency to spend money quickly. The app guarantees that it won't overdraw your checking account, and covers any overdraft fees (up to two times). It also provides a 1% savings bonus, giving you 1% of your Rainy Day Fund balance each year.
There is a $2.99 monthly fee; your 1% savings bonus might be wiped out by the monthly fee on balances less than $3,600.
Pro Tip: Combine this app with an app that "rounds up" your purchases and invests the balance (like Acorns — see below) and watch your savings really add up.
See Also: 48 Legitimate Ways to Get Free Money, Fast and Easy
Earn Rewards
If you're okay with earning free gift cards instead of cash or PayPal money, Drop might be the app for you. The process is simple. You sign up for the app, link a credit or debit card, pick your five favorite eligible brands, and go shopping!
You'll get "cash" back in the form of rewards that you can use for gift cards, including Amazon gift cards (which are basically as good as cash, since you can buy almost everything there).
Drop also has occasional special bonus offers, so keep an eye out for those. They can sometimes add up to 20,000 points (worth $20) at a time in your account.
Pro Tip: Use apps like these for buying things you would have bought anyway, but be careful. Don't increase your spending just to earn points. It's not worth it!
Negotiate/Lower your Debt
If you're like many other educated Americans, you're saddled with a student loan and a staggering interest rate. These loans can drain the lifeblood out of your finances and eliminate any realistic chance you have of getting out of debt more quickly.
If that's your situation, it might be time to give Credible a try. Credible is an online platform that lets you compare rates from different student loan refinancing banks, credit unions, and financial companies.
If you do owe large amounts of money, it's absolutely critical that you secure the lowest interest rate you can. It will shave years off your repayment schedule and thousands off your interest.
Pro Tip: Do some credit score cleanup before applying for refinancing. It'll make a big difference in your interest rate!
Invest in Dividend-Paying Stocks
For those who are unfamiliar with dividends, a dividend is a cash payment made to holders of a dividend-paying stock. So, for example, if you hold 10 shares of Company X, and each share pays a $0.50 dividend, you would earn $5.00 for each dividend payment period (usually once per financial quarter).
While small cash payments based on shareholdings might not seem like a way to get wealthy, dividend payments add up over time. The power of compound interest increases your gains. And if you reinvest your dividends through a "DRIP" (Dividend Reinvestment Plan), you'll see your money grow even faster.
You might be thinking that this sounds extremely complicated. You may not know where to begin. If that's the case, we recommend a simple digital investment platform like Webull.
Webull is a fully digital and user-friendly investment broker available to investors in the US, China, and India. It allows you to invest in stocks and exchange-traded funds (ETFs) without fees. It's a great option for investment newbies who want to see their money grow.
Pro Tip: Put your savings (not including your emergency fund) in investments. Over time, you'll save much more than you would with a savings account.
Invest Your Spare Change
An app called Acorns lets you save and invest tiny deposits — calculated by rounding up your purchases to the nearest dollar. So, for example, if your cup of coffee cost $2.37, Acorns will deposit $0.63 in a savings or investment account.
Like dividends, these small amounts might not sound like a lot. But, over time, tiny deposits can add up to major money, especially when they're combined with compound interest in an investment account.
Acorns charges a flat fee of $1, $2, or $3 per month, depending on what level of service you choose. But even at $3, for people who have difficulty finding money to save and invest, Acorns might very well be worth it.
Pro Tip: Consider investing in low-cost index funds to minimize management fees.
Online Real Estate Investing
Proper real estate investing used to be off-limits to everyone except wealthy, knowledgeable investors. The internet has put that limitation to bed. A service called Fundrise allows you to invest in fractional shares of commercial real estate ventures across the United States.
So, for example, if someone's putting up a 50-unit complex somewhere in Florida and you want a piece of it, you can use Fundrise to buy in.
We'll issue a caution, though — management fees can be high, and the site will not walk you through the fundamentals of real estate investing. It assumes you know how to assess the risks and benefits associated with each investment opportunity. If you're not well-versed in real estate finance, you might be better served with a low-cost, low-complexity index fund.
Pro Tip: You can use Fundrise to further diversify your holdings if you're already invested in equities!
Buy Rental Properties Online
Roofstock is a new website that lets you buy rental properties that already have tenants in them, providing you with stable, monthly income. While investing in rental properties is not risk-free, the purchase of a rental property is one way to access a second income stream that doesn't depend on an employer or client.
As with Fundrise, you'll want to be relatively familiar with the real estate market in the area where you want to buy a rental property. You'll also need to know what constitutes good property management if you're buying a property far from where you live.
Pro Tip: Don't get in over your head with property rentals. It's best to start with one, and then slowly work your way up. They can be more work than you'd think!
Start a Blog
A successful blog is an awesome way to secure a second stream of income. The trick to getting some traction is to find an underserved niche and regularly post content of interest to that niche.
But before you can do that, you'll need to find a hosting service that will let you host all the wonderful new content you're about to post. Hostgator is one of those services.
Hostgator has plans for newbies and pros alike, some great introductory rates, and an easy-to-use interface. (Be careful about the renewal rates, though — the introductory price disappears when it comes time to renew your service.)
Pro Tip: Your best bet is to lock in as long a period as possible under the introductory rate. That way the higher renewal rate won't hit as quickly.
Earn Money Driving People
Everyone knows about ride-sharing companies like Lyft and Uber. But not everyone knows that you can actually make a pretty decent wage driving for them.
This side hustle isn't for everyone, but for those in the right area with the right vehicle, driving for Lyft might be just the ticket to a steady stream of income. One of the great things about being a ride-share driver is that you can get started almost immediately. A quick background check, a car, and a smartphone are usually all you need.
Because Lyft is review-driven, however, make sure you provide top-notch customer service on every ride. You'll want to keep those five-star reviews coming in to ensure you keep getting clients.
Pro Tip: Don't forget about your vehicle maintenance costs when you drive for Lyft. Make sure you're factoring them into your profit-and-loss evaluations.
Rent Out Your Place
If you'd rather make money more passively, consider renting out a room (or your whole residence) on Airbnb. This is an especially great option for people that live in tourist-friendly locations.
Be cautious about renting to tenants with negative reviews. (You don't want to come back to your apartment/room/house only to find it trashed.) Thankfully, this problem is rare, and AirBnb's insurance will usually cover damage caused by tenants.
Similar to Lyft, Airbnb is almost entirely review-driven. So be friendly, be a great host, and make sure you're only advertising what you can actually offer.
Pro Tip: Make sure to keep an eye on your local regulations and bylaws when you're sharing on Airbnb. Some municipalities and cities limit or prohibit short-term rentals, and you can open yourself up to big fines by flouting the rules.
Deliver Groceries
Instacart lets you get paid to deliver people's groceries. The service is even open to people who don't have a car. Transportation-less users can act as on-demand shoppers for clients. They hang out at the grocery store, and when an order comes through the app, they shop and bag up the grocery items; then they're delivered by another Instacart contractor.
Postmates offers the same type of service, offering customers groceries, drinks, and retail items delivered right to their doors. Delivering for Postmates will net you 100% of the tips you earn. You can track how much you've earned with their free app, and you can get access to weekly earnings guarantees.
Pro Tip: If you're delivering items on your bicycle or in your car, make sure to keep an eye out for traffic and pedestrians. Your insurance might not cover you in the event of a collision if you haven't disclosed that you're a delivery person.
See Also: How to Make Money Flipping Furniture: A Home-Based Side Hustle
Make Money By Letting Nielsen learn About Your Internet Usage
The Nielsen Company is one of the leading global data analytics and consumer research organizations in existence today. The creators of the famous "Nielsen Box" that measures TV ratings also offers a product called the Nielsen Computer & Mobile Panel.
This piece of software tracks your mobile and internet usage and relays an anonymized version of that data back to Nielsen. In exchange, they pay you a small amount of money each year. It's nothing to write home about, but at least you're getting paid to surf.
Privacy advocates won't be thrilled about the idea, but if you're okay with having your online movements tracked for a while, you might want to consider this service.
Pro Tip: Combine online trackers with cash back apps like Ibotta to double up on your passive income.
Become a Product Tester
Have you ever wanted to get paid to try out new products? Well, Pinecone Research just might give you that chance. They'll send out unreleased products for you to test and then complete surveys about them. The pay isn't amazing (starting at $6.00), but it's something.
An issue with Pinecone Research is that you have to be invited, or find one of their elusive banner ads to join. Even if you're invited, you'll need to fill out an application — and then, only if you meet their demographic criteria (which changes often) will you be allowed in.
In addition to product testing, Pinecone Research offers surveys to all its members. Those surveys pay between $3.00 and $5.00 per completion. That rate is much higher than many open-to-all survey site competitors.
Pro Tip: Don't bother trying to get onto the Pinecone panel unless you live in one of the USA, Canada, UK, and Germany (the panel's eligible countries).
Get Paid to Watch Videos Online
It doesn't get much easier than getting paid to watch videos. A service called InboxDollars will actually give you money in exchange for watching ads in your downtime. It's not a fortune, but it's definitely more than you'll make watching Netflix.
InboxDollars also provides rewards for giving your permission to send sponsored emails to your email address (hence the name). It's similar in a lot of ways to Swagbucks.
After you sign up, just click on videos through the InboxDollars portal and watch the points rack up. Once you've accumulated enough points, you can redeem them for money delivered to your PayPal account. Easy peasy. Check out our InboxDollars review to learn more.
Pro Tip: While you're on the InboxDollars website, you may as well complete some of the surveys on the site and read some of the sponsored emails to earn points more quickly.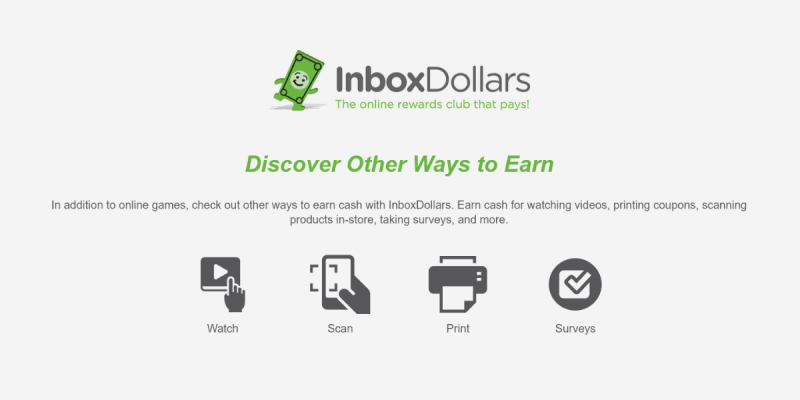 See Also: 8 Services That Help You Make Money Driving (Or Renting Out Your Car)
Rent Out Your Car
Getaround
Getaround is the Airbnb of cars and trucks. Instead of renting out a residence, you rent out your car. The process is simple, but effective. After you sign up with Getaround, you'll have to install a Getaround Connect device in your vehicle. This device offers remote shutoff security features, automatic door locks, and other features that will make it easier to turn your car into a profit center.
Once the Getaround Connect is installed, you just set your hourly rate and wait for people to rent your car. Getaround takes a cut, and in exchange, you get a bunch of services, including, most importantly, a large amount of insurance.
Turo
Turo is one of Getaround's competitors. The idea is very similar. You get paid to rent your car to other users through the app. Functionally, you'll have a very similar experience as a renter, whether you use the Getaround platform or the Turo platform.
Turo is available in more US cities than Getaround. It's also available in a handful of other countries, including Canada, the UK, and Germany. GetAround is limited to the US.
Summary
Peer-to-peer car rental is a reasonably new phenomenon. If you're willing to be on the cutting edge of car rental, you may want to give these services a shot.
Pro Tip: As with ride-share driving, keep an eye on your mileage and your car maintenance fees. You should be deducting them from your profits when you're doing a profit-and-loss calculation.
Sell Textbooks Online
If you're a former or current student, you've undoubtedly got loads of unused textbooks sitting around. And if you only used them for a few minutes, they're probably in good condition.
Bookscouter is an online platform that aggregates all of the different online book buyer sites' prices into a single page so that you can see who's offering the best price. You can also see user ratings for each service.
Just scan or type your book's ISBN into the site and Bookscouter will return a bunch of quotes in seconds.
Pro Tip: If you've got a new edition of a textbook, try to sell it as soon as your course is done. Current editions sell for much more than older ones. There are plenty of places to sell textbooks for extra money, but Bookscouter is one of the best.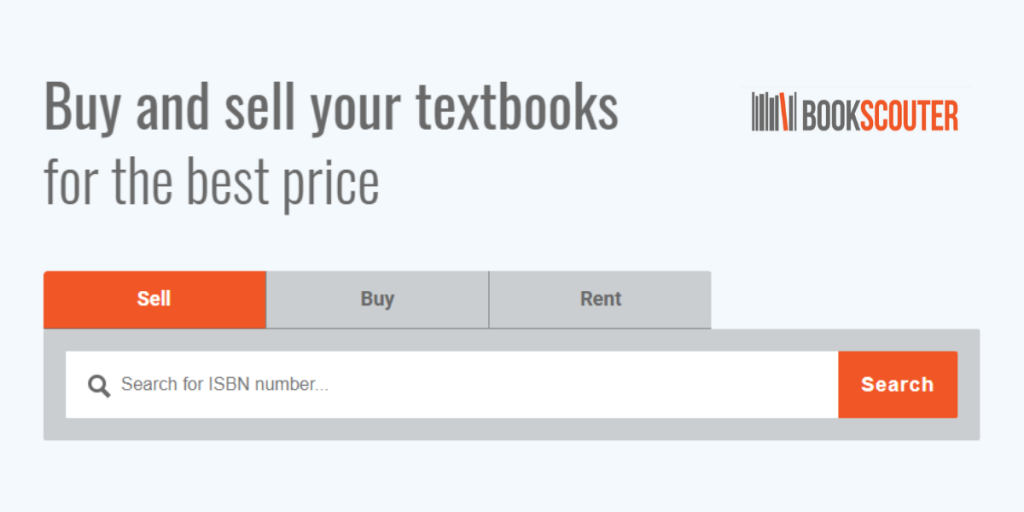 See Also: Instacart Shopper: Make Money Grocery Shopping for Others
Get Paid to Play Video Games Online
In a virtual dead heat with InboxDollars for "Easiest Thing in the World to Get Paid For" is MyPoints' rewards-based gaming. You literally play video games for money.
The money isn't great (it adds up to a few cents or dollars per hour). But if you compare it to playing games for free on your Xbox, a few dollars per hour starts to sound pretty good.
Pro Tip: As with InboxDollars, MyPoints offers other ways to earn rewards. Take advantage of them while you're on the site.
Deliver food
Very similar to Instacart and Postmates, Doordash is a restaurant-focused delivery service. It's an exceedingly simple concept. Clients order food from restaurants. You bring it to them. You get paid.
As with all review-based apps, you'll want to keep bringing in those five-star reviews. So be friendly, be prompt, and maintain a professional appearance and demeanor. Once you have a few great reviews, the app will alert you more and more for deliveries that are nearby.
You'll need two things to succeed in this game: an efficient car and a busy neighborhood. So for those living in rural areas without wheels, we suggest looking elsewhere for your second income.
Pro Tip: Always check the food order (if you can) when you pick it up at the restaurant. You don't want to get a bad review because the restaurant forgot something.
Make Money with Peer-to-Peer Lending
Do you have money you're not putting to use? Why not try lending it out at a reasonable interest rate? In exchange for taking a risk, you can earn a set amount of money each month in the form of interest.
Lending Club makes peer-to-peer lending available to the masses. While in the past you would need to know someone personally before you could lend them cash, Lending Club brings pre-vetted borrowers together with willing lenders.
The interest rate charged will be based on the risk posed by the borrower (the higher the risk, the higher the interest), and you can choose which borrowers to lend to.
Pro Tip: Don't be seduced by high-interest rates for extremely risky loans. There's a good chance you'll lose your principal, so be prepared for that possibility.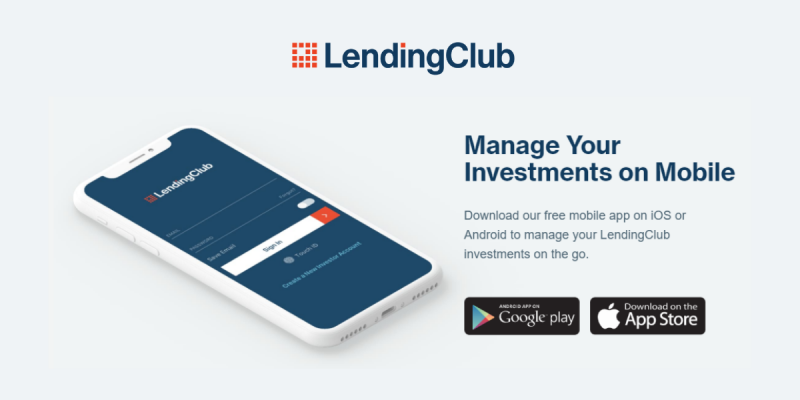 See Also: What Makes a Good Side Hustle: Five Golden Rules
Become a Personal Chef
The Uber of at-home dining, Hire a Chef allows you to work as a personal chef for people who want a culinary experience in the comfort of their own homes. The platform matches people with cooking skills and people who need their help.
Some clients with special dietary or nutritional needs use the service to make their lives a bit easier, while others use it to plan a fancy dinner party. The service you're called on to provide will depend entirely on which client hires you.
The same advice that applies to services like Sittercity and Rover applies here. Customer service is king — Do good work and get good reviews.
Pro Tip: Send a quick thank-you note to each person who hires you. You'll make it much more likely you'll receive a good review!
Design Logos
99Designs is a crowd-sourced design platform. Clients hire designers on the platform to get access to original designs by talented artists. If you choose to offer your work on the platform, your goal will be to provide original artwork to clients who request your skills.
Obviously, this service is only for those who possess significant graphic design talent. One of the great things about the crowdsourced nature of the website, however, is that experience is no barrier. If you have the skills, you can make a go of it on 99Designs. It's a great place to cut your graphic design teeth.
Pro Tip: Keep an eye out for the contests offered by the website. The rewards can be substantial.
Microtask Jobs
"Microtask" sites offer you money in exchange for completing mini-jobs. The tasks can range from entering a small amount of data into a spreadsheet to hanging a picture on the wall of someone's home.
TaskRabbit is one of these services. You sign up as a "Tasker" to complete the jobs posted by users of the site. Of course, the more specialized and niche your skillset is, the more money you'll generally make.
Reviewers indicate that those with small construction job experience do particularly well on this site. So if you're a handyman or handywoman, have at it.
Pro Tip: Don't underprice yourself on freelancing websites. Always charge on the high end of what you think you're worth when the marketplace allows.
Claim Cash
Paribus is an app offered by Capital One that tracks your online purchases at 30 participating online retailers (including Amazon), and requests refunds on your behalf when the price of a purchased item drops after you buy it.
It works in the background of your shopping and online activity. You connect it to your email account, and it will send communications automatically whenever it detects a relevant price drop.
The app is free to use — and since it's owned by Capital One, you can have a reasonable amount of faith that your data will be stored securely.
Pro Tip: Combine this app with shopping cash back apps to really cash in on available savings.
See Also: 15 Online Jobs to Bring an Extra $2,000 Every Month
Start Dropshipping
Dropshipping is the latest way to make a few dollars (sometimes much more than that) on the internet. Dropshippers source products from existing outlets and "sell" them online. They arrange for the product to be shipped directly to the customer, and pocket the difference between the money they were paid for the product and the money the original retailer or wholesaler demanded for the product. The dropshipper acts as a middleman or middlewoman for the product sold.
Dropshippers rely on the value-add of the product curation and selection they provide. Therefore, they need a lot of customer trust and authority to make this business model work. Trusted bloggers, vloggers, and influencers are excellent candidates for this business model.
Pro Tip: If you have a substantial online following, consider dropshipping as an alternative to affiliate marketing.
Become a Social Media Manager
Social media managers are in charge of a person or business's online persona. Combining elements of marketing, brand and reputation management, and lots of common sense, social media management is a perfect side hustle to operate from home.
If you have the writing chops, a good sense of humor, and are able to match your writing to the voice the client is trying to maintain, you might have a future in being a social media manager.
Final Thoughts
There are a million and a half ways to make money fast online. The only limit is really your imagination. As always, the more valuable the skills and resources you have to offer, the more luck you'll have in making a quick buck on the internet.
Up Next

Ricardo is an entrepreneur, investor and personal finance nerd who enjoys spending time with his family and friends, travelling and helping others achieve their financial goals. Ricardo has been quoted as a personal finance expert in several online publications including Healthline, Bankrate, GOBankingRates, MSN Money, Yahoo Finance, U.S. News & World Report, Forbes and USA Today.