Many or all of the products featured on this page are from our sponsors who compensate us. This may influence which products we write about and where and how the product appears on a page. However, this does not influence our evaluations. Our opinions are our own. Here is a list of our partners and here is how we make money.
The information provided on this page is for educational purposes only. The Modest Wallet is a financial publisher that does not offer any personal financial advice or advocate the purchase or sale of any security or investment for any specific individual.
Do you know how much money you spend on subscriptions every month? I bet you would struggle to put an exact number on it. I know I would.
Take a moment to think about it — there's video streaming, food, music, software, games, websites, internet, phone services, and more. While none of these subscriptions is particularly expensive, they add up.
Subscriptions are fine if you get value from the services you've signed up for. But if you have forgotten about one, or don't use a service as much as you used to, then you may benefit from canceling.
Do you wish there was an easy way to see all your subscriptions and automatically cancel the ones you don't use?
That is where Trim comes in. The service looks through your bank statement to identify subscriptions and cancel them for you. It also has several other money-saving features.
This Trim review contains everything you need to know about this service.
What is Trim?
Trim is a tool that helps you gain control of your finances. Trim's main feature cancels your subscriptions. You give the service access to your bank account, and it searches through your statements to identify recurring charges.
Trim then asks you if you want to cancel these services, and if you do, it takes care of the cancellation process for you. It is super easy to use and genuinely useful.
A unique thing about Trim is that it is a chatbot. This means you don't have to download an app to use it. Instead, it connects with you via text message or Facebook Messenger.
Beyond its account cancellation features, Trim can negotiate contracts on your behalf to help lower your monthly bills, help you pay off debt, and automate your savings — pretty much everything you need to control your finances.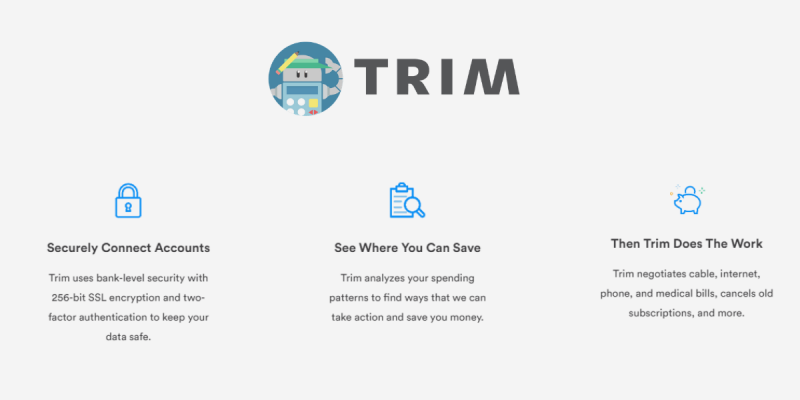 See Also: 25 Best Coupon Websites to Save Thousands
How Does Trim Work?
Getting started with Trim is super easy. Here is how it works:
1. Sign up to Trim using your bank account or email address.
2. Connect your bank account and credit card. (Trim works with over 15,000 U.S. financial institutions, so you should have no problem, no matter where you bank.)
3. Trim will analyze your statement to identify recurring payments.
4. When it finds a subscription, Trim messages you to ask if you want to cancel. You can either agree to cancel or decide to keep paying if it is something you value.
5. If you agree to let Trim cancel the subscription, it will automatically take care of the process.
6. Occasionally, Trim will not be able to cancel a contract. In this case, you'll have to end it manually. But Trim is still beneficial here because it highlights the unnecessary cost.
7. Explore some of the tool's other uses.
Trim Features
Trim has several features that help you save money. Some, such as subscription canceling, are completely free. Others, like bill negotiations, will charge you a commission on any money saved. There is also a service called Trim Premium, which costs $99 per year.
Bill Negotiation
Many people are unaware that many of their bills are negotiable. While you can't get a discount on Netflix, the cost of your cable, internet, phone, utilities, and medical bills is not necessarily set in stone. Trim can negotiate with these service providers to get you a better deal.
The savings can be significant. For example, Trim says it can help you reduce individual bills by up to 30%. You can get an estimate on how much the service may save you using its bill savings calculator. Over time, reducing the price of individual bills can result in hundreds of dollars' worth of savings.
The service is easy to use. Just provide Trim with the details of your contracts, and one of Trim's negotiators will call your provider to argue your case.
There is a downside to this feature. When Trim successfully negotiates a discount, it takes 33% of the annual amount saved — not only that, but it typically takes the money as a one-off payment upfront. This means you will have to pay before you reap the benefits.
Nothing is stopping you from calling up all these companies and negotiating your own deals. If you do this, you'll get the full savings, and you also won't have to pay the up-front fee.
The question is, are you willing to do this? Many of us lack the time or expertise to negotiate effectively. For people who are in this situation, or are especially uncomfortable dealing with salespeople trained to counter objections and keep their customers, then the 33% fee is more than worth it, because you'll still get a significant saving on your bill.
If you are unable to pay the up-front fee Trim charges for this service, its help desk does suggest that paying in installments could be an option in some cases. But to access this option, you'll need to email the company directly.
Cancel Unwanted Subscriptions
Cancelling unwanted subscriptions is Trim's main feature. Give the service access to your bank details, and it will search through your statements to find subscriptions and alert you to them via text or Facebook Messenger. If you want to cancel the subscription, simply reply to their message saying that you do. It really is that simple.
The benefit of this is to identify:
Subscriptions you have forgotten about that you are still paying for.
Subscriptions that have gone up in price since you first signed up. By alerting you to the price of the subscription, you can make a better decision about whether it is still worth paying for.
When a company has charged you after a trial ends. If you don't want to keep paying, cancel the subscription when Trim notifies you.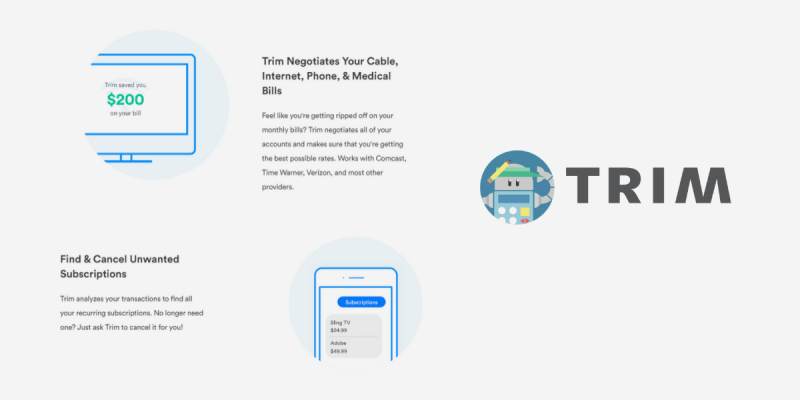 See Also: How to Make a Budget You Can Actually Stick To: A Step by Step Guide
Spending Analysis
Trim's spending analysis feature checks all your transactions and provides insight into how much you are spending at different outlets. It does not result directly in any savings, but it helps you gain more visibility into your spending habits.
Simple Savings
Simple savings is a savings account that lets you set up automated transfers from your checking account—making it easy to save the specified amount every week. The account has an extremely competitive 4% interest rate on the first $2,000 you save. It is only available to premium users.
Lower Bank Fees & APRs
Trim detects overdraft fees and alerts you when you are charged. It also helps you fight any fees to get your costs down.
Trim helps you negotiate your APR to bring down interest costs and help you materialize other savings.
Financial Coach
With their premium service, Trim gives you unlimited access to their financial planners via email for any question you may have.
TrimPay
Now you can automatically pay your credit card. TrimPay feature automates transfers toward your credit card to help pay down your balance faster.
Alerts & Notifications
Trim lets you set up a variety of alerts to help you control your finances. You can set up notifications that tell you:
When bills are coming in, so you are prepared for any charges.
When you are due to be paid so you know when money is coming in.
When your bank balance goes below a predefined amount.
When you spend over a predefined amount.
How Can You Save Money with Trim?
Trim's features help you reduce your outgoing payments and give you more visibility into your finances.
Reduce Expenditures
The major benefit of Trim is that it helps you cut your spending. By canceling unwanted and forgotten subscriptions, reducing the price of bills you are overpaying on, and avoiding overdraft charges for you, you can potentially save tens of dollars per month, and hundreds per year.
Budget Better
Trim also provides more visibility into your finances so you can budget more effectively. By showing you when your money is running low, when bills are due, or when you are about to be paid, there are no more financial surprises. Ultimately, it helps you take control of your money.
Build Wealth
Trim's savings account is an excellent way to build positive savings habits. By automating weekly savings, you can build wealth without thinking about it. It also reduces the temptation to spend the money before you save it. The 4% interest that Trim offers on your first $2,000 is a huge incentive.
Pros of Trim
It's free to use the basic features.
Bill negotiation costs money, but only if the company successfully gets you savings.
Easy-to-use chatbot-based service
Trim is a proven way to help you cut costs.
Cons of Trim
You have to give the service access to your bank account, which may be a problem for some.
You can do everything Trim does on your own if you are willing to put in the time.
Some of the features cost money.
See Also: How to Save Money: 91 Effective Ways to Save Money Fast
Who is Trim for?
Trim is for anyone who wants to gain control over their finances. If you are worried you are losing track of your subscription payments, and want an easy way to cancel them, then give Trim a try.
It is also a good option for people who are struggling with debt and want a personalized plan to help get their freedom back. People who want to negotiate the cost of their bills and don't mind paying someone else to do so will also benefit.
Who is Trim not for?
If you are already well-organized and on top of your finances, you may not get many benefits from Trim. While Trim is a secure, trusted service, if you would rather not give a third party access to your bank account, then you should look elsewhere.
Trim Pricing
Much of Trim is free to use, but there are some premium features. The cost of bill negotiation is commission-based, while the other features are part of Trim Premium, which costs $99 per year.
Trim features you can use for free include:
Personal finance dashboard
Personalized spending alerts and reminders
Detection of and overdraft fees, and fighting them where possible
Finding and canceling unwanted subscriptions.
Trim features you have to pay for include:
Bill negotiation (but you only pay if the company successfully negotiates a better deal).
Access to a financial coach.
TrimPay, the feature that automates credit card payments.
Trim Alternatives
As with many money-saving apps and platforms, you can find alternatives to Trim. Here is a look at two of the biggest.
Truebill
Truebill promises to help you cancel unwanted subscriptions and negotiate lower rates on your bills.
While you can sign up for the service for free to get insight into your financial situation, Truebill only cancels your subscriptions if you are a premium member. Truebill users can choose to pay between $3 and $12 per month for their premium service, which also offers features such as premium chat access and budgeting.
For the negotiation service, Truebill takes 40% compared to Trim's 33%. Like Trim, it only takes the money if it successfully negotiates a discount.
Check out our full Truebill review to learn more, or our full Trim vs. Truebill comparison to which service is best for you.
Billshark
Billshark is a service that focuses on negotiating your bills. To use Billshark, you just upload your contract information, and the Billshark's experts will contact the different companies to get your savings. It claims to have a 90% success rate, and the company's site says the service saved one customer an incredible $9,500.
Billshark has a savings estimator that shows you how much you can save before you use it. Billshark charges a one-time fee of 40% when it successfully negotiates a fee. You can also use Billshark to cancel subscriptions at the cost of $9 per cancellation.
Read our full Billshark review to learn more.
Trim FAQ
The following are some of the most frequently asked questions with regards to Trim, and our answers.
How Does Trim Make Money?
Trim makes money via its Trim Premium service that charges users a set annual fee. It also makes money from the bill negotiation feature (it takes a 33% cut of any money it saves).
Trim sometimes recommends financial products such as credit cards. If you sign up for one of these products using a Trim link, the company will receive a commission.
Is Trim Free?
The basic features of Trim are free. These features provide ample ways for you to save money by reducing the amount you spend on subscriptions and overdraft fees. However, other services cost money. Whether these are worth it or not will depend on how much money you think they will help you save.
Is Trim Safe?
Many people worry about Trim because it requires users to give the company access to their bank account. While this is a legitimate concern (you should always be careful who you give this data to) Trim takes several steps to keep you safe.
It uses bank-grade 256-bit encryption to protect your data. It also employs two-factor authentication on logins, which makes it far harder for hackers to gain access to your account, even if they discover your user name and password.
You should also be aware that Trim never gains access to your online banking details, and the account information doesn't even touch the company's servers. Instead, it uses a service called Plaid that connects directly to your bank account.
How Does Trim Use My Data?
Trim says it only uses the data you share with the company for your own services. It does not share your data with third parties. Again, it stores all data on servers with bank-level security.
Final Thoughts
Trim is an easy and effective way to save money. If you are worried about the number of subscription charges affecting your bank account every month, then it's worth giving Trim's subscription finder service a try.
The paid services are useful, but whether they are helpful enough to be worth the cost will depend on your situation. For example, the negotiation service is a risk-free way to save money. However, it is possible to negotiate your own deals with your service providers without paying a commission. It just depends on whether you are willing to put in the effort to negotiate rates, and if you are confident in your ability to negotiate successfully.
Trim Premium requires you to pay upfront. This may be worth it if you think the features can save you more than what you pay in their cut of the savings they provide you.
Up Next

Ricardo is an entrepreneur, investor and personal finance nerd who enjoys spending time with his family and friends, travelling and helping others achieve their financial goals. Ricardo has been quoted as a personal finance expert in several online publications including Healthline, Bankrate, GOBankingRates, MSN Money, Yahoo Finance, U.S. News & World Report, Forbes and USA Today.