InboxDollars Review 2023: Features, Pros, and Cons
Many or all of the products featured on this page are from our sponsors who compensate us. This may influence which products we write about and where and how the product appears on a page. However, this does not influence our evaluations. Our opinions are our own. Here is a list of our partners and here is how we make money.
---
The information provided on this page is for educational purposes only. The Modest Wallet is a financial publisher that does not offer any personal financial advice or advocate the purchase or sale of any security or investment for any specific individual.
With how many opportunities there are to make cash online these days, making a couple of extra bucks each week is much easier than it used to be. These days, one of the most common ways to pad your bank account is by using paid survey sites.
Online survey sites pay users for performing specific tasks, such as reading emails, watching advertisements, and filling out online surveys. These sites are great for earning extra cash whenever you have a few spare minutes.
InboxDollars is one of these sites. Through InboxDollars, individuals can earn extra income to supplement their regular jobs, pay a few bills, or just add to their savings account—all without leaving their couch.
In this thorough InboxDollars Review, you'll learn the ins and outs of what this site has to offer. This includes things like the pros and cons, requirements to sign up, the site's features, and more.

Bottom Line: InboxDollars is a site that lets you earn money by completing simple tasks online, which include taking surveys, playing games, or using coupons. Signing up is easy, and you can begin earning cash in minutes.
| | |
| --- | --- |
| Survey opportunities | |
| Survey quality | |
| Earnings potential | |
| Redemption options | |
| Redemption threshold | |
| Ease of use | |
| Security | |
---
What is InboxDollars?
InboxDollars is a paid survey site dedicated to providing cash rewards to its users in exchange for them performing dedicated tasks. The website was founded in 2000, and over the course of the last couple of decades has grown into one of the largest online survey sites on the web.
On the site, you can take surveys, print coupons, read promotional emails, watch ads, redeem cash-back offers, play games, and perform other microtasks to earn cash on the site. This is different from traditional paid survey sites where you earn points, which can then later be converted to a cash balance and deposited into your bank account.
InboxDollars can be used via laptop, PC, or as an app through your app store. This makes it an excellent way to earn money in moments when you don't have anything else to do. For example, you can complete tasks from your couch while waiting in line at the store or while on lunch at your day job. They also offer a $5 sign-on bonus for new members.
Currently, InboxDollars is owned by its parent company, Prodege LLC. Prodege acquired the site in 2019 and currently also several other similar sites, including Swagbucks, Tada, and MyPoints.
If you've ever used any of the numerous other sites owned by Prodege, you've likely noticed some overlap between their user interface. That said, InboxDollars still has an abundance of unique features you won't find on its sister sites. Some examples of these are the Scratch and Win cards and WinIt codes. We'll talk more about these later on.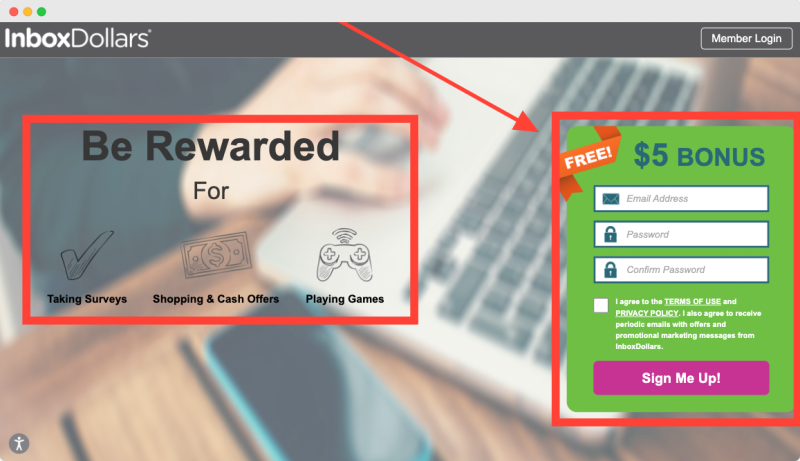 ---
How Does InboxDollars Work?
InboxDollars provides a wide variety of opportunities for its users to earn cash. Among the most popular methods are playing games, taking paid online surveys, earning cashback for shopping online, getting paid to read emails, and getting grocery cash rewards for scanning receipts.
As you complete tasks, your rewards will be credited to your account in your cash balance. Once you accumulate a minimum of $15 (first payout) and $10 (additional payout), you'll be able to cash out.
Before you take advantage of these opportunities, however, you have to understand how the platform works. And since InboxDollars is not a survey-only site, navigating it can take some getting used to.
Requirements to Open An InboxDollars Account
Like any other cash payout-type site, there are certain requirements an individual must meet to be eligible for an account.
Be 18 years or older: As you might expect, the biggest requirement is that you be 18 years of age or older. This will be the case for just about any cash pay site you find due to federal regulations within the United States.
Be a legal United States resident: Second, you'll need to be a legal resident of the United States with a valid ID. This is because you'll have to show proof of age and residency before you're allowed to sign up. US territories are not included in this, either. You'll need to be living within one of the 50 official states.
Be a living person: This sounds like a given, but this rule was established to prevent corporations or other legal entities that aren't living individuals from using the site. For example, LLCs, registered corporations, trusts, and nonprofits are not allowed to sign up under their business registration. The individuals within these businesses, however, are encouraged to create an account and try it out on their own.
Comply with local laws: Before signing up for InboxDollars, it is important to find out if using the site conflicts with any laws established by your city, county, or state government. If it does, you won't be allowed to proceed.
Not have "duplicate accounts": InboxDollars does not allow you to use more than one account and enforces this by requiring valid identification during the signup process. However, there are three other stipulations that flag an account as being a duplicate. These are: 1. Having more than one account per household, 2. Having more than one account per mailing address, and 3. Having more than one account on the same computer, device, or IP address.
As of right now, these are the only requirements for opening an InboxDollars account.
How to Sign Up to InboxDollars
Signing up for an InboxDollars account is a simple, user-intuitive process. From beginning to end, it shouldn't take more than 5 minutes.
Step 1: Go to InboxDollars
To get started setting up your account, you first need to go to InboxDollars.com. At the very top of the home page, you will see a green box that advertises a $5 bonus upon signing up. Fill out the information in this box, including your email address and password. You'll then be asked to confirm your password and check the box agreeing to both the terms of use and privacy policy. Then, click the sign-up button.
Step 2: Create an Account
Once you enter your information, you'll be asked to confirm your email to complete your account's creation. To do this, go to your email and click the link they've sent. After you've done that, your $5 sign-up bonus will be credited to your account.
Step 3: Complete Your Profile
Part of completing your profile is taking your first survey. Once you've confirmed your email, you'll be prompted to take a practice survey. This survey asks for basic information like your gender, age, household income, etc. It will also ask you for some more specific information, like where you've spent the majority of your grocery budget in the last 12 months and what languages you speak.
Once you complete the practice survey, you'll be awarded $0.50, and InboxDollars will use the information you provided to qualify you for future surveys.
Step 4: Start Participating and Collecting Cash
InboxDollars makes earning money super easy with the variety of opportunities they provide. You'll be allowed to take advantage of opportunities like playing games, shopping, and surveys to earn money.
When you first sign up, you'll see a list on the upper right-hand side of your screen. On it will be basic tasks like taking your profile survey and activating your account, which you've already done. However, there are also other items like adding a grocery deal to your list, playing games, etc. Completing all the items on this list within 5 days or less will reward you with a $0.50 credit (plus whatever you earn by performing those tasks).
You can use the grey navigation bar at the top of the website to explore the different ways InboxDollars lets you earn.
Step 5: Redeem Your Points
In order to redeem the money you've earned through your InboxDollars account, you must have accrued a minimum amount of $15 first. You may need more than this, as the amount will vary depending on how you want to redeem your cash.
InboxDollars provides multiple ways for you to redeem your cash: gift cards, prepaid Visa cards, and PayPal cash.
To redeem a gift card, click on the rewards button on the top right-hand side of your screen. This will take you to a page that lists the different gift cards you can redeem. The lowest dollar amount on any gift card will be $15, but some gift cards will require you to have $30, $40, $50, or more. An American Airlines gift card, for example, requires a minimum balance of $500. Your cash balance is exchanged for gift cards at a one-to-one ratio.
If you'd like to skip the gift cards and have your cash deposited straight to your bank account instead, that's fine too. The minimum balance for a bank transfer is $15.
To get to process started, click on your cash balance right next to the rewards button. This will take you to a page that lists the activities you've done. On the top of this page, you'll see a pink button that says "request cash." Click it to enter your banking information and start your transfer.
On the aforementioned page, you'll also be able to review your recent activities and request help for any that aren't showing up.
---
InboxDollars Features
InboxDollars supports several different opportunity types to help you earn cash in a way that's most comfortable for you. You can pick the ones you like the most or choose to do all of them if you've got the time.
Here are the different ways you can earn cash through InboxDollars.
| | |
| --- | --- |
| Ways To Earn Money | Paid surveys, paid emails, play games, coupons, cash back shopping, WinIt codes, refer friends, searching the web, special cash offers, contests, daily polls and more |
| Minimum Payout | $15 (first payout) and $10 (additional payouts) |
| Payment Options | Gift card, PayPal cash, prepaid Visa card |
| Payment Processing Time | 3 to 10 business days (*depends on payment option) |
| Avg. Payout Per Survey | $0.50 to $3.00 |
| Trustpilot | 4.2/5.0 (over 35,000 reviews) |
| Better Business Bureau | B Rating (*parent company, Prodege LLC) |
| Platforms | Web, Android and iOS |
| Promotion | $5 welcome bonus (*new accounts) |
| Minimum Age Requirement | 18+ |
| Availability | U.S., Canada (DailyRewards), U.K. (InboxPounds) |
| Support | Contact Form and help center |
Paid Surveys
As you may have guessed, the most common way to earn money through this site is by completing paid surveys. The topics of these surveys vary, from opinion forms to market research questionnaires, to anything in between.
Each survey will award you a different amount for completing it, and you'll know what that amount is before you ever even click into it. In order to take a survey, you must click a button that has the earnings amount on it. Use these buttons to help you choose the best surveys to take.
Surveys will pay anywhere from a few cents to $5 and can take anywhere from 1 minute to 45 minutes to complete. Usually, higher completion times will be associated with higher reward amounts, but not always.
You should also pay attention to the surveys you take. Some of them will have "test questions" to make sure you aren't just clicking around. If you answer these questions incorrectly or differently than you did in your initial profile questionnaire, InboxDollars could flag your account to stop receiving surveys.
Read Emails
InboxDollars has an email program called "PaidEmail" where you can earn points just for reading what they send to your inbox. You'll have to opt-in to this service before you start receiving the emails, but once you do, you'll be able to check your inbox and read the PaidEmails right from your dashboard.
Usually, opening and reading the emails earns you a small fee (between $0.01 and $0.50). However, some PaidEmails are advertisements that offer free or discounted goods and services for you to take advantage of as well. For example, you might be offered a free one-month trial to a popular streaming service. Take advantage of these offers at your discretion.
Earn Cash Back Shopping Online
Another popular feature InboxDollars offers is the ability to shop online in exchange for cashback. The site offers cashback deals at hundreds of establishments, including popular locations like Home Depot, Walmart, and Target. As with all other types of deals on InboxDollars, the amount of cashback you'll earn per deal varies. Some can be as low as 1%, while others may be 25% or higher.
They also make it easy to track your shopping and earn your cash by allowing you to shop directly through your InboxDollars account. You can do this by using the search bar near the top of the web page (above the navigation bar) or by clicking the 'Shop' tab on the navigation bar itself.
InboxDollars also offers a free browser extension you can use called the Billy Button. Whenever you're on a site shopping, the Billy Button will scan automatically to see if there are any InboxDollars coupons or cashback available. It can also send you notifications when you have new opportunities available on your account.
You can access the Billy Button by hovering over 'More' on the grey navigation tab and clicking 'Billy Button' from the drop-down menu. From there, you'll be able to click to download the extension and receive instructions on how to set it up.
Play Games
For those who love to play computer games, InboxDollars offers a variety of online games to help you earn more cashback. Depending on the game you play, you could win free gift cards or earn cash to go toward your cash balance.
To access the games page, simply click the 'Games' tab from the top navigation panel. You'll be taken to a page that lists the different games you can play, such as Mahjong, Solitaire, and Bubble Shooter.
Keep in mind, though, that you may have to install third-party apps to get some of these games to work. These can be potentially invasive, so do this at your own discretion.
Alternatively, if playing games to earn cash is really what you're interested in, you can go to your offers tab and find game offers that reward you with a specific amount of cashback for reaching certain in-game milestones. An example would be downloading a Bingo app and having to reach level 10 within 7 days. These types of offers are almost always available, so you won't find any shortage of them.
Print and Redeem Coupons
InboxDollars rewards you for printing and redeeming the coupons from their site. These coupons are powered by Coupons.com, and you can earn $0.01 for each coupon you print (up to 50 coupons per day) and up to $0.10 per coupon, you redeem (with no limit). Coupons can be redeemed in-store or online.
The major caveat to this, however, comes in the form of wait times. For most activities on the site, your cash points are rewarded within 7 to 32 days. Printing coupons is no different since you're interacting with the site directly. When you redeem the coupons, however, it can take up to 12 weeks to receive your points for it.
Luckily, they make redeeming coupons easy by giving you a variety to choose from. You'll find deals for things like groceries, hygiene items, household goods, cleaning items, dog food, etc.
Sign Up for Offers Via InboxDollars
We've talked a little about the different offers InboxDollars has, but now it's time to go into greater detail.
When you sign up for InboxDollars, you'll see a tab on the grey navigation bar along the top titled 'Offers.' You can either click on this tab or hover over the drop-down menu and choose something from there.
There are a variety of cash-generating opportunities you can source from this part of the site. As mentioned before, there are games you can download to your smartphone, and you'll be rewarded for reaching certain milestones. There are also offers for signing up for websites, applying for credit cards, and more.
There's also a content discovery option under this tab where you're able to earn a few cents for clicking on a link and visiting a web article. These articles range in topic, from college information to instructionals, to legal advice. Generally, you'll only earn $0.01 or $0.02 from clicking on each article, but some are worth a little more.
Scan Receipts and Earn Cash Back
If you do a lot of grocery shopping, you'll have an easy time benefiting from scanning your receipts into the site.
InboxDollars option for scanning receipts for cashback is called Magic Receipts. With Magic Receipts, you choose from a list of deals on the site that corresponds with what you bought at the store. For example, if you bought bread, you would look for deals that are specific to either bread in general or the brand of bread you bought. Once you find a deal you want, click "add to list."
After you've added as many deals as you want, you'll be instructed to take a picture of your receipt and upload it to your account. The appropriate amount of cashback will then be added to your account.
Alternatively, you can choose to upload a receipt without choosing any specific deals. These receipts must be less than 14 days old, and you'll earn $0.02 for each one you submit. Magic Receipts must be in-store receipts, but for general receipts without deals, you can submit the information from online orders too.
Reviewer's Tip
Deals added through the Magic Receipts feature are store specific. Make sure the deal's you are adding apply to the store you've shopped at. The easiest way to make sure of this is to filter the deal results by store.
Refer Friends and Earn
As with most cashback sites, InboxDollars lets you earn more money by referring friends to use their service. For each friend you invite, you'll get 30% of their lifetime earnings as long as they continue to use the site.
This means that even if your friend only signs up and gets the $5 welcome bonus, you're still making $1.50 per person that creates an account with your code. On top of that, you already earn a $1 cash bonus for each referral, so that's a total of $2.50 per person.
Search the Web
On the InboxDollars site, you'll find a search engine similar to Google that allows you to search the web. Using this search engine won't award you money or cashback like many of the other activities, but it will give you progress toward your Scratch to Win and Win Tickets (explained below).
The search engine definitely isn't as refined as Google, but it will fetch you some basic search results in exchange for some potentially great wins. You can also earn multiple credits per search toward these minigames by toggling between web, images, videos, and news.
To access the web search feature, simply go up to the search bar near the top of the screen and click on the button beside it that says 'Shop.' An option for 'Web' will pop up, and all you have to do is click it to enable the search mode.
The amount of points you can score is limited as well, depending on the day. Some days, you'll only be able to earn from up to 4 searches, while on others, you'll be able to do as many as 20.
Scratch to Win
We mentioned this in the previous section, but Scratch to Wins is a great way to earn cash back just for doing little tasks on the site. As you complete surveys, play games, search the web, and be active on the site, you'll earn progress on your Scratch to Win bar.
Scratch to Win is essentially a digital lottery scratcher. On your bar, you have 3 milestones you can reach: $10, $25, and $100. Each of these dollar amounts represents the maximum amount of money you can win on that card. Each time you scratch a card (no matter which one), your progress gets set back to the very beginning.
Keep in mind, though, that while you can win up to the above amounts, that doesn't necessarily mean you will. Most scratchers vary between a few cents and a quarter, so while the Scratch to Win feature is definitely fun, it usually won't earn you much.
WinIt Codes
WinIt is a unique feature InboxDollars uses to increase their following and engagement on social media. Once a day or every few days, they'll post "WinIt" codes on their social media. This could be their Instagram, Facebook, Twitter, or all three.
Each code results in a unique reward. This could be a sweepstakes entry, extra cash for your balance, or Scratch and Win progress. You have to redeem the code to figure out what the rewards are.
These codes expire at 11:59 pm CST on the day they're posted, so you aren't able to bulk redeem past WinIt codes upon signing up. It also ensures you have to check their social media often to catch the codes before they become invalid.
Earn More Points With Bonus Streaks
As you may have gathered by now, InboxDollars loves to reward those who actively use their site. Because of this, they've implemented a program where you can earn extra cash for meeting certain activity milestones. For example, you might get money for completing your daily to-do list or meeting your daily earnings goal.
Usually, the points you get from doing these things are minuscule—around $0.03 to $0.010 in bonus cash. However, meeting these goals for several days in a row triggers a Bonus Streak, and you'll earn more cash for every day the streak goes on.
Watch Videos (Updated)
In the past, users were able to earn extra cash by watching videos online. Anything from entertainment, financial content, news, sports content, and everything in between. However, as of June 1, 2022, InboxDollars does not offer videos as a way for people to earn money.
If you are still interested in making money watching videos or ads, you can check out platforms like iRazoo, InstaGC, and Swagbucks Video.
---
Understanding InboxDollars' Rewards System
Unlike other paid survey sites, the InboxDollars rewards system isn't based on points or credits. Rather, everything on the site is represented using a cash value that you later transfer out at a 1:1 ratio. Essentially, if your account shows that you have $15.00 to cash out, $15.00 is what will transfer into your PayPal account or prepaid Visa card.
These aren't the only methods to cash out your money, however. You can also redeem your cash for gift cards. Although, since the ratio for redemption is the same for cards as it is for PayPal cash, there aren't really any major benefits to opting for a gift card instead.
That said, there are a few small benefits to using gift cards. First, if you don't have a bank account, cashing out your points and having the gift card mailed to your email is a convenient way to avoid having to get one. Second, gift card cashouts are sent to your email instantly, whereas PayPal cash can take up to a week to process or even longer.
---
How Does InboxDollars Make Money?
It's natural to be wary of a site that claims to pay out real money, especially if you don't know where that money comes from. And while InboxDollars is definitely a legitimate site, it's still a great comfort to understand how the site that's paying you makes enough to fulfill its promises to you.
To explain, InboxDollars makes its money by taking payments from brands to sponsor their content on the site. This could be in the form of an app company paying to have their game put on the offers page, a market research firm paying to have people funneled to their survey, or a brand paying to have their deals applied to the Magic Receipts tab.
For many brands, though, they don't pay a flat rate to have their content added to the site. Instead, they pay on a per-person basis. For example, the app company might have to pay for every person that downloads their app. Or the market research firms might pay for every person that takes the survey. Since you're the person completing tasks and generating the payouts, each task you complete results in you receiving a certain amount of that profit.
This also explains why certain tasks are worth more than others, even though they may not necessarily take less time or be easier. The payout amount depends on what the sponsored brand is paying InboxDollars.
---
Is InboxDollars Legit?
In short, yes. InboxDollars is a legitimate site that regularly pays out cash to its users.
Many people are wary of paid survey sites, and rightfully so. There's no shortage of scammers out there looking to steal your time, money, or both. InboxDollars, however, is not one of these. As of the time of writing this article, InboxDollars has paid out over $80 million and counting to its members.
Additionally, InboxDollars is considered one of the most legitimate survey sites for earning real cash by its users. Trustpilot rates InboxDollars at 4.2 out of 5 stars across nearly 35,000 reviews. Prodege, its parent company, also holds a B+ rating from the Better Business Bureau (BBB).
For these reasons, it's safe to say InboxDollars is not a scam.
---
How Much Money Can You Make On InboxDollars
Your earnings can be cashed in for gift cards or actual cash as soon as you reach the $15 minimum. How quickly you get to that point and how much you are able to make in general depends on what activities you choose and how often you use the site.
For example, one of the top games to play on the site is called Mahjong Dimensions. When you play this game, you earn progress toward your Scratch and Win tickets (explained above).
After about half an hour of the game, you should have enough progress to scratch off the second tier of the ticket. However, more often than not, your reward for the ticket will be less than $0.05. This works out to $0.10 or less per hour, which isn't a lot.
On the other hand, most surveys are worth anywhere between $0.50 and $1.50 each for an average of 15 minutes. This means that by taking surveys, you can make between $2.00 and $6.00. This still isn't a rate that can replace your normal job, but it is quite a bit better than the former option.
Overall, the best-paying activities on the site are its surveys, coupons, receipt uploads, and offers. With the offers, you do have to sift through them to find the best ones, but that's no different than what you have to do with the other activities.
The bottom line is no cashback or survey site is meant to earn a full-time income. If it were, everyone would be doing it. However, if you want to earn a little side money, InboxDollars is a great way to earn up to an extra $50 per month.
---
InboxDollars Ease of Use
Overall, InboxDollars has some shortcomings, it is still easier to use than many of the paid survey sites out there.
To begin, while the site having many options for earning cashback is a good thing overall, organizing all of those items in a way that isn't confusing is a difficult task. Even with InboxDollars' convenient navigation tab along the top, there's still a lot to process for new users.
Additionally, it isn't readily obvious how you're supposed to withdraw your earnings or view your pending activities. Some of the navigation headers aren't self-explanatory, either. This makes you have to click around to really get a feel for things instead of it being readily apparent. The home page as well has different sections for the different ways you can make cash, but there are no descriptions, so you sometimes aren't sure what you're getting into.
That said, there are a lot of good things about the site layout. First, nearly all of the important things are designed in green. This makes it easy to spot the areas you need to go to. Additionally, the 'Offers' tab has a hover option that breaks your offers into easier-to-digest categories, so you don't have to do it manually.
Lastly, the pages themselves all seem to be designed with as little visual "noise" as possible. There aren't a lot of distractions visually once you start clicking through the different navigation tabs, so each page is easy to figure out.
Overall, while it may take some getting used to, the site itself is designed with its users in mind.
---
InboxDollars Security
Overall, InboxDollars does have decent privacy and security policies compared to other survey sites not owned by the same parent company.
First, their privacy policy page (located at the bottom of their website) is well-organized and makes it easy to find the information you're looking for using a linked table of contents. By clicking any of those links, you can easily navigate to the section you'd like to read. They also include links to their sister companies' privacy policies on the page as well.
In addition, they state clearly that selling your personal information is allowed under their terms of service. However, most survey sites have to do this as being paid to have you fill out surveys is considered as "selling personal information."
For certain state residents, however, there is a way to opt out of having your personal information sold. You can do this by clicking on the link at the bottom of the website titled "Your Privacy Choices." Once on the page, you can check the box at the top to opt-out. This option is available to anyone living in California, Colorado, Connecticut, Utah, and Virginia. Be aware, though, that doing this could impact your ability to complete surveys.
Additionally, the site continuously maintains a valid SSL certificate for its website (meaning any information you send to them through its site is secure).
Overall, InboxDollars' security and transparency policies are on par with what we expect from a legitimate company, and most information can be trusted with them. As always, though, use your own discretion when deciding whether to provide certain personal details to them.
---
InboxDollars Customer Support
The majority of survey sites you'll find have less than optimal customer service, and InboxDollars is no exception. While they may be better than some other cashback sites out there, there are still some areas where they fall short.
For example, there is no address or phone number listed on their contact page. Instead, you are prompted to fill out a contact form and wait for a reply regarding your issue. For general questions or issues accessing an account, a reply could take up to 30 days. For requests on specific activities, however, you'll receive a reply within 24 hours.
On the same page as the contact forms, however, they have a convenient spot where you can check your tickets for easy updates. You can also check your rewards from this spot for easy information you might need to fill out your ticket. They also have a convenient FAQ that will answer many of the questions you might have.
---
InboxDollars Pros Explained
After a thorough review of the site, the most noticeable pros of using InboxDollars are:
No third-party emails: Even though InboxDollars has a disclosure stating they sell your information (which is primarily used so you can participate in surveys), you won't receive third-party emails as a result of signing up with them. At most, you'll receive a few emails a day alerting you to new surveys you can participate in.
Sign-up is 100% free and comes with a bonus: Not only is signing up with InboxDollars free, but they actually pay you to sign up with them. As of right now, every person who signs up will receive a $5 welcome bonus. This offer does not currently have an expiration date, and InboxDollars has not announced any intention of rescinding it.
The parent company is well established: Although InboxDollars itself is not accredited through the Better Business Bureau, its parent company is. Currently, the parent company (Prodege LLC) is both accredited by the BBB and holds a B rating.
Attainable payout threshold: The payout threshold, while inconvenient, is more attainable than competitor survey sites. Currently, the minimum payout is $15, which only takes around a week to reach for the first time.
Multiple cashout options: Depending on your circumstances, there are plenty of payout options available to you. Gift cards, PayPal cash, and prepaid Visa card are all among the ways you can choose to receive your InboxDollars payout.
---
InboxDollars Cons Explained
The following are the biggest cons of using InboxDollars:
Funds take up to two weeks to transfer: If you're ever in a position where you need a quick cash payout, there isn't much you can do. Funds can take up to two weeks to transfer, depending on your bank, and this can't typically be accelerated. Basically, you just have to wait for the transaction to process and be patient in the meantime.
Reasonably low earnings: As is typical for survey sites, the earnings don't come close to amounting to a regular full-time job. The most you can expect to earn in a month's time is around $75 if you use the site with every free moment you have.
Minimum payout amount: While the minimum payout amount is conveniently attainable, it is still higher than what most people would like. It's understandable, as payouts are bound to incur transaction fees, but it's still definitely a con.
Not accredited by the BBB: While the parent company Prodege is accredited by the BBB and carries a B rating, InboxDollars itself is, regrettably not. Moreover, InboxDollars carries an F rating on the BBB site, as most people complain directly through the InboxDollars profile rather than through Prodege's profile. Because of this, the consumer ratings average 1.5 out of 5 stars. Most of the complaints seem to be regarding slow payout times and terms of service violations resulting in account termination.
You won't qualify for every survey: As with other survey sites, there's no guarantee you will qualify for a survey even if you spend time filling out the preliminary information. This means you could end up wasting time on a survey you won't qualify or get paid for.
---
InboxDollars Alternatives
If the information in this article has shied you away from using the site, you are having trouble qualifying for InboxDollars surveys, or you just want to explore other options before you take your final pick, don't worry. The following are some other survey sites you can use instead of this one.
InboxDollars vs. Branded Surveys
Where InboxDollars is built to provide plenty of ways to earn, Branded Surveys focuses specifically on paying you to take surveys. When you sign up for this site, you'll immediately receive 100 points (equal to about $1).
Notably, the payout for this site is lower than that of InboxDollars. At $10—instead of $15— it's a little easier to reach the payout goal. You also still have options for cashing out, including gift cards, bank transfers, and Paypal.
Additionally, unlike InboxDollars, you can use Branded Surveys from Canada or the UK in addition to the US. You'll also typically see higher-paying surveys since they're Branded's only offering, and payouts tend to be much faster. Read our full Branded Surveys review to learn more.
InboxDollars vs. Swagbucks
Swagbucks is another popular survey-for-cash platform that competes directly with InboxDollars (and Prodege LLC in general). Unlike Branded Surveys, though, Swagbucks is similar to InboxDollars in that it offers multiple ways to earn.
With this site, you can download apps, watch videos, shop online, and more to reach the minimum payout amount. Furthermore, the minimum payout for Swagbucks is only 500 points ($5) which is likely the lowest you'll see from any cash payout site.
For cashing out, you'll be able to request gift cards or Paypal transfers but not direct ACH bank transfers. Read our full Swagbucks review to learn more.
InboxDollars vs. Survey Junkie
Unlike the other options on this list, Survey Junkie, unfortunately, does not have any current sign-up bonus for you to take advantage of. They also only offer cashouts in the form of Paypal credit or e-gift cards. Transferring your money directly to your bank is not an option.
That said, one of the great things about Survey Junkie is their minimum cashout amount. Like Swagbucks, this site lets you cash out at only $5, which can be reasonably earned in less than a day.
In comparison to InboxDollars, Survey Junkie also has better privacy options and doesn't collect as much personal data. So, if you like the way InboxDollars sounds but were put off by the thought of them collecting and selling your personal information, Survey Junkie could be a great alternative for you. Read our full Survey Junkie review to learn more.
| | | | |
| --- | --- | --- | --- |
| | | | |
| Our Rating | | | |
| Avg. Payout Per Survey | $0.50 to $5.00 | $0.50 to $3.00 | $0.50 to $5.00 |
| Payment Method | PayPal cash, Prepaid Visa Card or Gift Card | Bank Transfer, PayPal or Gift Card | PayPal, Visa Prepaid Card, or Gift Card |
| Sign Up Bonus | $5.00 welcome bonus | None | $1.00 welcome bonus |
| Minimum To Cash Out | $15 (first payout) and $10 (additional payouts) | 500 points (500 points = $5) | 500 points (500 points = $5) |
| Highlight | Online surveys, playing games and more | Multiple survey opportunities | Online surveys |
| | | | |
---
Who is InboxDollars Best For?
InboxDollars is a great little side hustle for those who have limited options to earn a regular income or who want to earn a few extra dollars a month without committing to anything in advance.
For example, if you are a stay-at-home mom and your partner works to provide the primary source of household income, InboxDollars would be a great way to supplement that. You could find time while the kids are napping or while you're cooking to earn a few extra dollars that you wouldn't have otherwise had.
In short, if you've just lost your job and you're looking for a new source of stable income, InboxDollars should be marked off your list. On the other hand, if you find yourself with a lot of free time and want an easy way to make some extra spending money, you might consider giving it a try.
---
FAQ InboxDollars
Here are the answers to some of InboxDollars' most frequently asked questions:
What Are The Age Requirements To Sign Up For InboxDollars?
To use Inboxdollars, you must be at least 18 years old or the age of majority in your state/area of residence. If you don't know the age of majority in your state of residence, you can find out by performing a quick search on your state government's website.  
Does InboxDollars Pay Cash?
InboxDollars pays real cash to users who perform dedicated actions on the site. This cash can be paid out through any supported method the user chooses. Currently, payouts are available through gift cards, PayPal cash, and prepaid Visa cards.
Is InboxDollars Available Outside The U.S.?
No, InboxDollars is not available to people living outside the US. You must be a United States resident to sign up for the site, and you must also reside in the US for the entire duration that your account is active. If you move outside of the US, your account will be considered in breach of their ToS.
Does InboxDollars Pay Real Money?
InboxDollars does pay real money. As we mentioned above, you can request your cash payout in a variety of ways, including PayPal cash, gift card, or via prepaid Visa card.
What Is The Minimum Amount To Cash Out For InboxDollars?
Currently, the minimum amount to cash out through InboxDollars is $15. This was lowered from $30 last year, and it is subject to change in the future at their discretion.
---
Final Thoughts
Like many other survey sites on the market, InboxDollars is an excellent way to earn a little extra money in your spare time. Their user-intuitive platform is great for those new to paid survey/cashback sites and pays enough to satisfy those who already use them.
Of course, it's important to realize that you won't make enough from InboxDollars to replace a regular job, so managing your expectations is an essential part of the process.
All in all, if you don't mind putting in the time to earn up to $100 extra per month, InboxDollars is an excellent option for you.
Up Next
Get our free Side Hustle Handbook with the best strategies to multiply your income sources today.
Plus our best money tips delivered straight to your inbox.

Christa is a skilled researcher and serial entrepreneur. Her passion lies in providing people like you with ways to become financially independent without breaking the bank in the process. Currently, she's tested and perfected over 37 unique side hustles and brings that information to you through articles like these.