Many or all of the products featured on this page are from our sponsors who compensate us. This may influence which products we write about and where and how the product appears on a page. However, this does not influence our evaluations. Our opinions are our own. Here is a list of our partners and here is how we make money.
The information provided on this page is for educational purposes only. The Modest Wallet is a financial publisher that does not offer any personal financial advice or advocate the purchase or sale of any security or investment for any specific individual.
There are many ways to make money online. The easiest way may be by helping market research companies by taking surveys and watching videos. InboxDollars is one of the most popular sites for completing this type of task. Signing up is easy, and you can begin earning cash in minutes.
It seems like a good deal on the surface, but is there a catch?
In this InboxDollars review, we'll take an in-depth look at the website to discover if it is worth using, and who is most likely to benefit.

Quick Summary: InboxDollars is a site that lets you earn money by completing simple tasks online, which include taking surveys, watching videos, or using coupons. Signing up is easy, and you can begin earning cash in minutes.
What is InboxDollars?
InboxDollars is a site that lets you earn money by completing simple tasks online, which include taking paid online surveys, watching videos, or using coupons.
The great thing about InboxDollars is that you can complete these tasks anywhere, and at any time. All you have to do is log into the service on your computer or phone. Want to earn money while riding the bus? Then log into InboxDollars. Want to monetize your time spent watching Netflix? Then login to InboxDollars.
Of course, the site does have downsides, which we'll explore in detail later in this article. The key one to be aware of is that you won't earn a lot of money on the platform.
See Also: How to Start a Blog: A Step-by-Step Guide to a Profitable Blog in 2020
How Does InboxDollars Work?
InboxDollars is easy to use. Signing up doesn't take long, and you can earn your first few cents within minutes of starting. Just complete the following steps.
Create your account
First, head over to the InboxDollars site to sign up. Registering is a simple process that only requires your email address and a password. To sweeten the deal, the site gives everyone who creates an account a $5 welcome bonus.
Fill out your profile
Step two is to fill out your profile. There's a welcome survey you can take that pays out 50 cents. It tells InboxDollars a little about who you are so the company can match you with surveys that fit your demographic.
In total, there are 30 questions on the welcome questionnaire. Be warned, though — they can be quite personal. (Many of the questions let you choose "prefer not to answer," although selecting this option could limit your opportunities for taking surveys.)
Begin earning money
Now that you're all set up, you can begin to complete tasks to earn money. You'll see available jobs in the relevant section in the dashboard. Below, we'll go into further detail on each of the methods for making money.
Cash out your earnings
Once you make $30, you can cash out your earnings. InboxDollars pays you via PayPal, check, or gift voucher. Gift vouchers available include those for Amazon, Starbucks, and Target.
See Also: Dosh Review 2020: Cash Back Rewards at Your Fingertips
How Does InboxDollars Make Money?
InboxDollars is a company that helps brands with market research. It has a large audience, so organizations pay the platform for access to these people.
When InboxDollars users complete surveys, watch videos, or read emails, they provide brands with essential information the brands can use when bringing products to market. It's a valuable service for the brand, and it's a good way for both InboxDollars and its users to get paid.
The site makes money in other ways too. For example, in the shopping section, when you purchase through an InboxDollars link or offer, the company will receive a fee for passing you on to the retailer.
How Can You Make Money with InboxDollars?
One of InboxDollars' major plus points is the number of options you have for making money. Following are some of them.
Paid Surveys
You can make money by taking surveys. Before you start a task, InboxDollars will tell you how much the survey pays, and how long they think it will take you to complete the task. This way, you can decide if taking the survey is worth your time.
You can only take surveys you qualify for based on your profile, so the number of jobs you gain access to will depend on how in-demand your demographic is.
Games
Many people will be happy to know they can earn money by playing games online. However, the payment system isn't as simple as with surveys. Instead of receiving a set fee, you win digital scratch cards which reveal cash prizes. These cards typically pay just a few cents, although they can go up to $100. If you enjoy the games, this is an excellent way to earn some extra cash.
Paid Videos
InboxDollars lets you watch videos to earn money. These are typically promotions for movies, products, and services. As with games, you earn virtual scratch cards when you watch videos, so the amount you receive will depend on your prize. You can find videos under the relevant tab.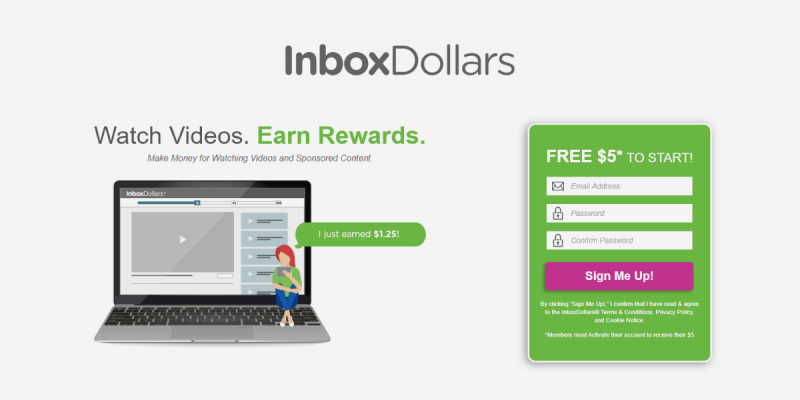 See Also: 30 Best Online Jobs That Are Legitimate and Actually Pay Well
Coupons
InboxDollars has a variety of coupons you can use for products. You earn money by simply printing them off — and you'll also receive $1 for every 10 coupons you use. The most significant benefit is that you get to take advantage of the offer being advertised, which can help you save money when shopping.
Of course, this is only the case if it is a product you were going to buy anyway. If not, you will end up spending more than you would have otherwise.
There are some excellent cash back offers, too. When I personally signed up, I was offered $50 to change my insurance provider. (It was tempting, although I would have to compare the plan to my existing one to see if it was worthwhile.)
Shopping
InboxDollars has a cash back shopping section. If you click through links on the InboxDollars platform, you will receive cash back when you make purchases at partner stores. This is a good way to earn money because you just have to buy products to get cash.
Emails
You can sign up to receive emails from InboxDollars. If you do this, they will send you emails every day. When you confirm that you have read the messages, you will receive a digital scratch card which lets you win cash.
Search Engines
InboxDollars has its own search engine. When you use it to search the Web, the company will give you a scratch card for every four web searches you perform. If you are happy to give up Google (or whatever search engine you currently use), this is an easy way to earn some extra cash.
Understanding InboxDollars' Rewards System
InboxDollars has two primary rewards systems. The first is used on surveys that pay you in points, which you can convert directly into cash, vouchers, or checks.
The other rewards system is virtual scratch cards. The exact amount you receive for each card will depend on the reward. It can be anything from a few cents to $100.
Once you have collected over $30 via either method, you can exchange your points for PayPal credit, a check, or gift vouchers.
See Also: 20 Best Places to Sell Used Furniture for Cash 'Online & Locally'
Pro Tips to Make the Most Money
There are a few steps you can take to maximize your InboxDollars earnings.
The first step is to complete your profile. By telling InboxDollars information about yourself, you get the best chance of matching with future surveys.
Take advantage of all the monetization methods. Don't just watch videos or take surveys — do both. By opening yourself up to all possible tasks you will have more chances to earn.
Use InboxDollars Search instead of Google. This is a good way to earn because it doesn't take any extra effort on your behalf.
An additional tip is to sign up to multiple survey sites. If you do this, you will receive access to a higher number of surveys, which can lead to more money. (We have listed some great alternatives at the bottom of this article.)
How Do You Get Paid?
You get paid via check, PayPal, or gift voucher. Gift vouchers are available for major retailers like Amazon, Starbucks, and Home Depot. The wide variety of payment options is one of the best things about InboxDollars.
Is InboxDollars Legit?
InboxDollars is a legitimate company. It claims to have paid out over $59 million in rewards, and it provides market research for some major brands, including Netflix and Target.
The site also has a four-star rating earned from over 8,000 reviews on TrustPilot. Additionally, the InboxDollars app has a rating of over four stars on both the App Store and Google Play. These reviews come from a combined total of over 200,000 ratings.
How Much Money Can I Make with InboxDollars?
The major downside to InboxDollars is that it's difficult to make much money.
On their home page, the site says members can earn up to a few hundred to a few thousand dollars a year. It's definitely not an income-replacement level of earnings. It's more like a way to earn some extra change that — if you are consistent over a long period of time — can eventually add up.
Things to Consider
Here are a few things to keep in mind before signing up.
Who is InboxDollars Best For?
InboxDollars is good for people who want to earn a small amount of money on top of their existing income, without putting in much effort. It allows you to monetize time you would otherwise use up when riding the bus or watching TV, for example.
It's also good for people who enjoy the tasks. If you like playing the online games that are available, or watching videos or filling in surveys, then it may be a good way to spend your time. As long as you go into it knowing you won't become rich, you won't be disappointed.
Who Should Avoid InboxDollars?
Avoid InboxDollars if you are looking for a way to make income-replacement money online. If you need money to cover a specific expense (like rent), then you'd be better off finding a job (even a low-paying one) than relying just on InboxDollars.
See Also: 20 Best Places to Sell Used Furniture for Cash 'Online & Locally'
InboxDollars Alternatives
If you like the idea of InboxDollars and making money online through surveys, you'll be pleased to know that there are plenty of alternatives to try.
Signing up to multiple sites is a great way to maximize your earning potential by increasing the number of tasks you can complete. Below, we've recommended some popular sites that provide a service similar to InboxDollars.
Swagbucks
Swagbucks has similar earning options to InboxDollars, including surveys, watching videos, shopping, playing games, and even a search engine. There is also a $5 signup bonus which is the same amount as InboxDollars.
Related Read: Swagbucks Review
Survey Junkie
Survey Junkie focuses on surveys rather than offering multiple ways to earn money. The main benefit of Survey Junkie over InboxDollars is that you can cash out once you have received $10, which is a much easier total to reach than $30.
Related Read: Survey Junkie Review
My Points
MyPoints is a cash back site that lets you collect cash back on your purchases. Every dollar you spend at a partner store gives you points which you can then cash out for a gift card or PayPal credit.
The site also offers users the option to complete surveys for money. One great thing about MyPoints is that it gives those who sign up to the site and make qualifying purchases a $10 gift card bonus.
Related Read: MyPoints Review
Vindale Research
Vindale Research is a long-established site that lets users take surveys on a variety of topics. You can also earn by watching videos, opening emails, and even sharing photos. The site typically has several surveys, which is useful if you have a lot of time on your hands to complete them.
Related Read: Vindale Research Review
InboxDollars Pros and Cons
Here is a summary of the pros and cons of InboxDollars.
Pros
There are a variety of ways to make money.
You can complete tasks wherever you have access to a laptop or the mobile app.
You get a free $5 bonus when signing up.
It is easy to earn with InboxDollars.
There are a variety of payment options.
Cons
You can only withdraw money when you reach $30.
The pay you receive for completing tasks is low.
Final Thoughts
For many people, the chance to earn some extra cash outside their regular paycheck without putting much effort in is tempting. This is exactly what InboxDollars offers, and if you are willing to put the time in consistently, you can end up with decent payouts.
Using InboxDollars alongside other survey sites will allow you to earn money during time that you would otherwise use sitting idle. However, you shouldn't think that you can rely on InboxDollars for regular income. If you want to make job-replacement money online, there are many more suitable options.
Up Next

Ricardo is an entrepreneur, investor and personal finance nerd who enjoys spending time with his family and friends, travelling and helping others achieve their financial goals. Ricardo has been quoted as a personal finance expert in several online publications including Healthline, Bankrate, GOBankingRates, MSN Money, Yahoo Finance, U.S. News & World Report, Forbes and USA Today.