TradeStation Review 2023: A Trader-Centric Broker
Many or all of the products featured on this page are from our sponsors who compensate us. This may influence which products we write about and where and how the product appears on a page. However, this does not influence our evaluations. Our opinions are our own. Here is a list of our partners and here is how we make money.
---
The information provided on this page is for educational purposes only. The Modest Wallet is a financial publisher that does not offer any personal financial advice or advocate the purchase or sale of any security or investment for any specific individual.
Active investors are a unique bunch. Keen to make the most of any potential opportunity, active investors are always on the lookout for the next big winner, whether that's through options, futures, crypto, or a time-tested ETF.
But, if you're looking to broaden your reach and grow your investments, you need a brokerage that values you, the trader, above all else. Enter: TradeStation.
Designed specifically to help eager traders access as many investment opportunities as possible, TradeStation is a solid choice for the tech-minded investor. Nevertheless, you might be wondering if the company is truly the right brokerage for you.
In this TradeStation Review, we'll introduce you to everything you need to know about the brokerage to help you determine if their platforms are best for your unique investment goals.
on TradeStation's website
Quick Summary: TradeStation is an online broker catered to advanced and active traders. TradeStation offers a large selection of account options for you to choose from. In an effort to compete, TradeStation has cut trading costs to $0 for stocks, ETFs, options, and futures.
Promotion: Get up to $5,000 (cash credit with a qualifying deposit)
What Is TradeStation?
TradeStation is a powerful trading platform for individual investors who want to take advantage of many different investment products. Originally founded in 1982 by William and Rafel Cruz as Omega Research, Inc, TradeStation is a trader-centric brokerage that prides itself on making professional-level tools available to the individual investor.
You're not going to find a TradeStation branch in your town as TradeStation is an online brokerage. However, the company has a state-of-the-art online platform that's full of educational tools to help you make the most of your trades.
What makes the company stand out from the crowd, however, is its impressive breadth of investment products and the many different trading platforms that they offer for their clients. As a result, TradeStation is a popular choice among active traders with at least a few years of experience under their belt.
See Also: 12 Best Online Brokers for Stock Trading
How Does TradeStation Work?
Like any other online brokerage, TradeStation lets you open an account that serves as your home base for buying and selling securities on US markets. Here's how you can use TradeStation as part of your investing strategy.
Investing Account Types
TradeStation offers a large selection of account options for you to choose from. While some of the specialized retirement accounts are only open to US residents, many of the non–tax-advantaged accounts are open to international investors.
Here are some of your account options:
Individual brokerage: A traditional investment account, individual brokerage accounts allow you to buy and sell securities without funding restrictions.
Joint brokerage: Similar to an individual account, but for two investors, joint brokerage accounts provide lots of trading freedom for couples and investing partners.
Custodial brokerage: Ideal for young investors, custodial brokerages allow a minor to open an account while a trusted guardian manages the paperwork.
Traditional IRA: Designed to be a tax-advantaged retirement account, Traditional IRAs offer tax breaks on your annual contributions while allowing you to invest in securities.
Roth IRA: A twist on the Traditional IRA, Roth IRAs provide no tax breaks now, but they allow you to take tax-free distributions when you retire.
Furthermore, while TradeStation does offer institutional investing services, we'll be focusing on their investment products and accounts in this review.
The offers many trust, corporate, general partnership, limited partnership, LLC, and sole proprietorship accounts for businesses that want to start investing. They also offer SEP and SIMPLE IRAs for small business owners and sole proprietors, which can be great retirement investing tools.
While these accounts have many of the same features as the individual and joint accounts listed above, they have more complex investing requirements. So, if you're interested in these accounts, we'd recommend contacting TradeStation directly.
Opening an Account
If you'd like to open an account with TradeStation, you'll be happy to know that the process is fairly straightforward.
US residents and citizens can apply for any individual or joint retirement or brokerage account using the company's online portal. You'll need your Social Security or tax ID number, as well as information on your annual income, net worth, and trading experience.
If you're an international investor, you'll need to complete a few extra steps to get started. In particular, international traders will need to show proof of a valid passport as well as a form of address identification, such as a utility bill or bank statement.
Once your account is approved through the online application portal, you'll need to fund your account. Most accounts (except TS GO, more on that in a bit) have a minimum $500 funding requirement. Meanwhile, margin accounts require at least an initial $2,000 contribution.
Thankfully, you can quickly fund your account through an electronic transfer, wire transfer, or check deposit. When your account is funded, you can start investing on one of the company's many trading platforms.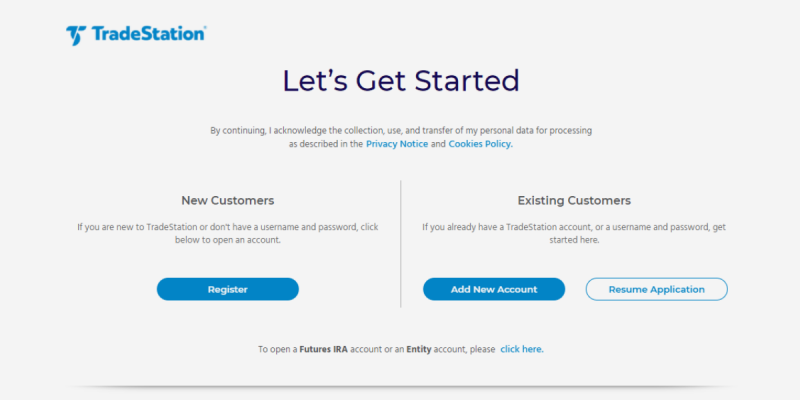 See Also: 12 Best Robo-Advisors: Automate Your Investments
TradeStation Features
TradeStation is one of the most feature-packed online brokerages on the market, especially when it comes to the sheer number of different investment options that you have to choose from.
| | |
| --- | --- |
| Minimum Investment | $0 for TS GO and $2,000 for TS Select |
| Stock & ETF Fees | TS GO and TS Select: $0 per trade (up to 10,000 shares) |
| Options Fees | TS GO: $0 per trade + ($0.50 per contract) and TS Select: $0 per trade + ($0.60 per contract) |
| Mutual Funds Fees | $14.95 per trade |
| Inactivity Fee | $50 per year |
| Withdrawal Fee | $0 with ACH transfers and wire transfers |
| Investment Types | Stocks, ETFs, Options, Mutual Funds, Futures, Cryptocurrencies, and Bonds |
| Account Types | Individual Taxable, Joint, Traditional IRA, Roth IRA, SEP IRA, SIMPLE IRA, Custodial and Trust |
| Platform | Desktop, Web-based and Mobile (iOS / Android) |
| Account Funding | Bank transfer |
| Promotion | Get up to $5,000 |
| Paper Trading | |
| SIPC Protection | |
| Banking Services | |
| Support | Phone and Email |
Commission-Free Trading (ETFs and Stocks)
Like the majority of brokerages, TradeStation now offers commission-free trading on stocks and ETFs on US markets up to the first 10,000 shares in an order. However, after these first 10,000 shares, investors are charged a fee of $0.005 per share.
So, if you were to buy 20,000 shares of a stock, you should expect to pay a commission of $50. Keep your orders to less than 10,000 shares each, and you can trade stocks and ETFs online without a commission using the company's mobile and web trading platforms.
Options Trading
With TradeStation, you get access to commission-free options trading, though you can expect to pay between $0.50 and $0.60 per contract, depending on your pricing plan (more on that in a bit). These fees are fairly reasonable for the industry, so they're a pretty good deal if you're looking to trade options.
However, one key benefit of options trading with TradeStation is that you get access to the company's OptionStation Pro platform. This platform provides cutting-edge tools to help you analyze potential investments as you create a strategy-based options chain.
Futures Investing
TradeStation provides a host of different futures investing options, including around-the-clock access to US and European exchanges. Furthermore, there are no pattern day trading rules with the company so you can trade multiple times per day without maintaining a certain account balance.
You can also trade futures options, which have extended trading hours. If you're trading futures, you can also use the brokerage's FuturesPlus platform to gain better insight into your potential investments.
Cryptocurrency Trading
One of the larger brokerages to allow for crypto trading, TradeStation is a nice choice for experienced cryptocurrency investors. The brokerage offers a competitive account balance–based pricing structure where fees vary from 0.50% to 0.125% on your orders based on your total assets.
Plus, TradeStation has their own powerful trading platform called TSCrypto that's dedicated to crypto trading, allowing you to assess your trades before you make a big investment. Oh, and you can even earn up to 5% in interest on your crypto assets with the brokerage for an added income boost.
IPO Investing
TradeStation is one of the few brokerages that allow individual investors with modest assets to easily access IPOs. You can access IPOs with your account through the ClickIPO app, which lets you purchase IPO stock commission-free so long as you have at least $500 in your account.
See Also: 12 Best Investment Apps: For Beginners & Pros
Mutual Funds Investing
Although most investors come to TradeStation infatuated with their futures, IPO, stock, and options offerings, it's worth noting that you can trade mutual funds with the brokerage, too.
However, the company allows access to just 2,000 funds, which is pretty low compared to some of their competitors. While you can buy and sell from many major fund families, they don't offer no-transaction-fee funds, so you can expect to pay $14.95 per trade.
Bonds Investing
A popular choice for adding lower-risk assets to your portfolio, TradeStation does allow investors to trade US Treasury, corporate, and municipal bonds. That being said, all bonds need to be placed with broker assistance, which can be a bit of a hassle.
Margin Trading
TradeStation allows most traders to buy and sell stocks and ETFs on a margin so long as they open a margin account with at least $2,000 in initial funding. Margin rates vary substantially based on your account balance, with rates from 3.5% to 9.5%.
With the company, you can also buy and sell futures and options on a margin. However, the pricing structure for doing so is quite complicated and depends greatly on what you're trying to buy and sell.
Simulated Trading (Paper Trading)
If you're interested in testing out your trading strategies without the risk of losing money, TradeStation's simulated trading platform is a great option. With this platform, which is free to account holders, you can access a massive historical market database and test your potential stock, futures, and options trades to see how they might perform based on historical data.
TradeStation Platform
Unlike some brokerages that have just one platform for trading, TradeStation offers investors a whole slew of different platforms to choose from based on your goals and investing experience.
One of their premier platforms is the TradeStation Desktop Platform, which is free to use for all TS SELECT account holders. The desktop platform has an optimized interface that provides access to cutting-edge market-scanning tools and customizable charting.
With the platform, you can access stocks, options, futures, and crypto assets, and place advanced order types. The Desktop Platform also allows you to take advantage of the company's many analysis tools, like RadarScreen, EasyLanguage, Matrix, and OptionStation Pro.
Research and Education Tools
In addition to the many analysis tools you get with TradeStation's online, mobile, and desktop platforms, the company also offers a selection of educational resources.
These resources, which can be found on the brokerage's website, on the TradeStation desktop platform, and on the TradingApp Store, can help you become a more educated and confident investor. Since some of the company's platforms can be a bit complex, they also offer a complete step by step guide to help you make the most of your account.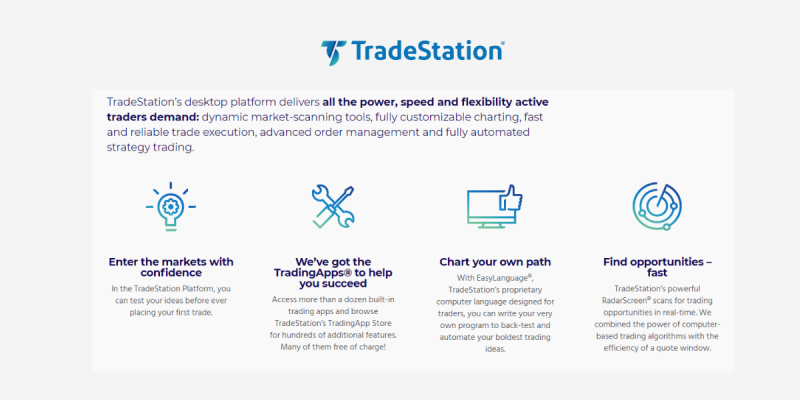 See Also: 7 Best Micro-Investing Apps
TradeStation Analytics (Subscription)
For investors without a TradeStation account, TradeStation Analytics is a way to get access to the company's extensive collection of research and analysis tools.
If you're an individual investor, the price to access these tools, which include the TradeStation platform, RadarScreen, OptionStation Pro, and EasyLanguage, is $99 per month. You can also add a subscription to Portfolio Maestro for an extra $59.95 per month.
Customer Service and Support
With TradeStation, you get access to phone and live chat-based customer support on weekdays from 8:00 a.m. to 5:00 p.m. ET. The company also has a 24/7 virtual assistant function that operates through an online chat portal to help you find answers to some of your after-hours questions.
Meanwhile, their trade desk is open during regular and extended trading hours in the US for stocks and options. If you're trading futures, you can call the trading desk 24 hours a day, every day, except Saturday. Finally, the crypto trade desk is open 24/7 with the exception of bank holidays.
TradeStation Pricing & Fees
One of the few things that tend to ruffle a few feathers about TradeStation is its complex pricing structure. In fact, TradeStation has two baseline pricing plan options for US traders as well as a separate pricing scheme for crypto investing and margins trading.
However, their fees for international traders are a bit complex and vary depending on the types of accounts you're eligible for based on your country of residency. When in doubt, it's best to contact TradeStation directly for more specific guidance for international pricing.
Here's what you need to know about pricing for US-based accounts:
TS GO
TS GO is TradeStation's standard pricing plan option. It's more or less the default option for investors as there is no minimum funding requirement to use this service, so it's a nice choice for intermediate investors.
With TS GO, you get access to the company's web and mobile trading platforms as well as their real-time market data free of charge. Plus, TS GO has lower contract fees for stock options and futures trades than TS SELECT.
However, you'll have to pay $10 per trade to use the TradeStation desktop platform. While you can certainly access the same investment products using the mobile and web platforms, this lack of access to the Desktop platform means you don't get to see most of the company's most advanced insights.
TS SELECT
TS SELECT is a premium option for active traders who want to get as much insight into their investments as possible. Unlike TS GO, TS SELECT has a $2,000 minimum funding requirement in order to qualify.
Furthermore, TS SELECT allows traders to access TradeStation Desktop without any extra surcharges. This means you also have access to subscriptions and services like Portfolio Maestro, RadarScreen, and OptionStation Pro.
That being said, TS SELECT charges slightly higher contract fees on stock options and futures than TS Go ($0.60 to $1.50 per contract vs. $0.50 to $0.85, respectively).
TradeStation Crypto
Regardless of whether you have TS SELECT or TS GO, if you want to trade crypto, you'll be subject to a different pricing structure on your crypto trades. However, this pricing plan is completely dependent on your account balance.
The only difference you'll see in pricing based on your account balance is a maker or a taker fee. The fees vary from 0.5% maker and taker fees for balances up to $100K, to free maker and 0.125% taker fees for balances over $1 million.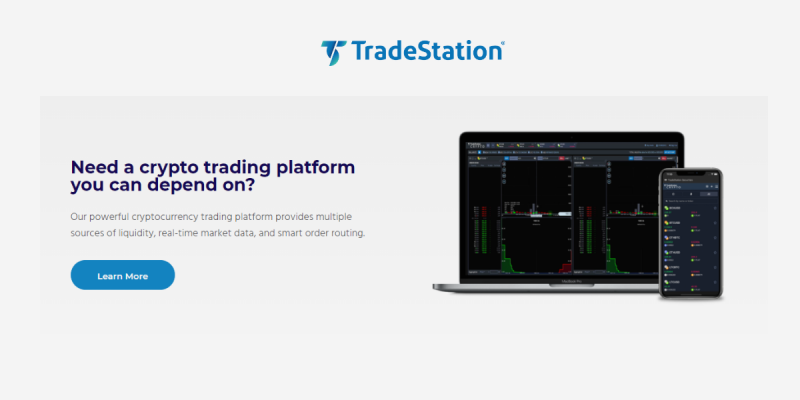 See Also: Public.com Review: Making The Stock Market Social
Margins Rates
Margins rates at TradeStation are fairly competitive overall, though what you pay will depend on your account balance.
For lower account balances of up to $50K, you could pay up to 9.5% margins rates, which is high for the industry. Higher account balances above $2 million, however, have access to very competitive rates of 3.5% as of 2021.
Other Account Fees
Like all brokerages, TradeStation does have other account fees. While most of their fees are more or less standard for the industry, one of the more notable fees includes a $50 per year inactivity fee.
The good news is that you can avoid paying a fee on your account so long as you either have a balance of at least $2,000 every month or so long as you make at least five trades per year.
TradeStation Security
TradeStation provides all of its investors with a multi-layer security system to protect your account from identity theft.
All accounts are protected under their account and trade monitoring system and have built-in customer alerts for suspicious activity. Furthermore, TradeStation has 256-bit data encryption on all accounts as well as advanced firewall technology.
Additionally, while it is possible to lose money while trading securities, your account at TradeStation is protected from broker failure by SIPC up to $500,000 per account, as is standard in the industry.
TradeStation Pros
Many account types are open to international investors
Exceptional array of different trading and research platforms
Research subscription options available for non–account holders
Nearly 24/7 access to crypto and futures markets
Commission-free trading on the majority of stocks and ETF trades
Multiple trading platforms available based on your investing goals
Many different account options to meet the needs of most investors
High-end security and fraud monitoring services
IPO access with relatively low asset requirements
TradeStation Cons
Limited access to mutual funds
Complex pricing tiers and structure
No access to international stocks and ETFs
TS GO and TS SELECT aren't open to international investors
Has an account inactivity fee of $50 per year (can be waived)
No fractional shares trading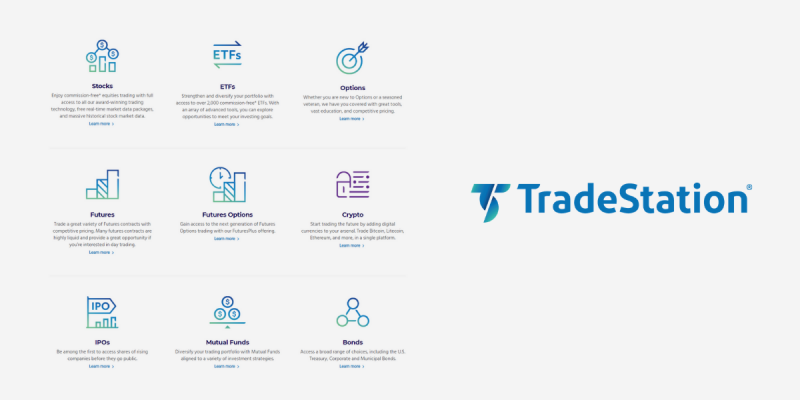 See Also: Acorns Review: Is This the Best Micro-Investing App?
TradeStation Alternatives
Not sure if TradeStation is right for you? Here are two other alternative brokerages that might be better for your investing goals:
Robinhood
A relative newcomer to the brokerage world, Robinhood is a good alternative for the new self-directed investor. The company led the charge toward commission-free investing, allowing anyone, regardless of their net worth, access to a whole slew of investment products.
Although Robinhood doesn't offer retirement funds, nor access to mutual funds and bonds, their low fees, fractional-shares trading, and intuitive platform is a solid choice for casual investors.
Read our full Robinhood review to learn more about it.
TD Ameritrade
One of the oldest and largest brokerages in the industry, TD Ameritrade (now part of Charles Schwab) is another great beginner-friendly trading platform.
Like Robinhood and TradeStation, TD Ameritrade did away with commission fees on stocks and ETFs. While TD Ameritrade doesn't offer crypto investing, they do have a fantastic array of bonds and mutual funds, as well as robo-advisory services.
What sets the company apart, though, is that they offer a great selection of educational materials and research tools. Their thinkorswim platform is also one of the most popular trading platforms in the US, so TD Ameritrade is a nice choice for new and experienced investors, alike.
Check our out full TD Ameritrade review to learn more.
| | | | |
| --- | --- | --- | --- |
| | | | |
| Our Rating | | | |
| Fees | $0 per trade | $0 per trade | $0 per trade |
| Account Minimum | $0 | $0 | $0 |
| Promotion | Get up to $5,000 | Get a free stock | None |
| Highlight | Powerful trading platform and crypto trading | Simple user interface and fractional shares | Free research & powerful trading platform |
| Best For | Intermediate traders | Beginner traders | Advanced traders |
| | | | |
Who TradeStation Best For?
Due to the sheer number of investment options and trading platforms available, TradeStation is an ideal choice for an active, relatively experienced investor that's interested in the US market.
Furthermore, since the brokerage's pricing structures are often based on account balances, and since they don't offer fractional shares trading, TradeStation is best for investors with a decent amount of capital.
That being said, TradeStation is less ideal for newer investors because their many pricing structures and platforms can be a bit confusing to navigate. Additionally, if you're looking to invest in international stocks, mostly in mutual funds, or with a pre-managed portfolio, you might be better off with a different brokerage.
TradeStation FAQ
We've gathered some of the most frequently asked questions with regards to TradeStation. Here are our answers.
Is TradeStation a Good Company to Invest With?
If you're looking to access a breadth of different investment products, like options, futures, and crypto, TradeStation is a solid choice. The company is known for its high-end trading platform and tools, so it's a popular option among very active traders.
Is TradeStation Legitimate?
TradeStation is a legitimate brokerage with a track record of prioritizing investor security. They have been in the business since the 1980s and they offer a high level of account protection for all their clients. Furthermore, the company is a member of the SIPC and the FINRA, which protects investors from loss if a brokerage were to fail.
Is TradeStation Safe?
TradeStation is a reliable and reputable online brokerage. The company uses top-of-the-line security systems, encryptions, and firewalls to maintain account integrity and protect it from bad actors. However, like any brokerage service, it is possible to lose money through your own investment choices and there is no guarantee of earnings while investing with TradeStation. 
Account Minimum: $0 TS Go and $2,000 TS Select
Fees: Zero-commission stock, ETF, and per-leg options trading (+$0.50 per contract)
Promotion: Get up to $5,000 (cash credit with a qualifying deposit)
Final Thoughts
Overall, TradeStation is a high-powered brokerage that puts the trader at the forefront of everything they do. If you're an active trader that's looking to dive into more advanced investments, like futures, options, and crypto, the company's many trading platforms provide the insight you need to make smart trades on a regular basis.
Up Next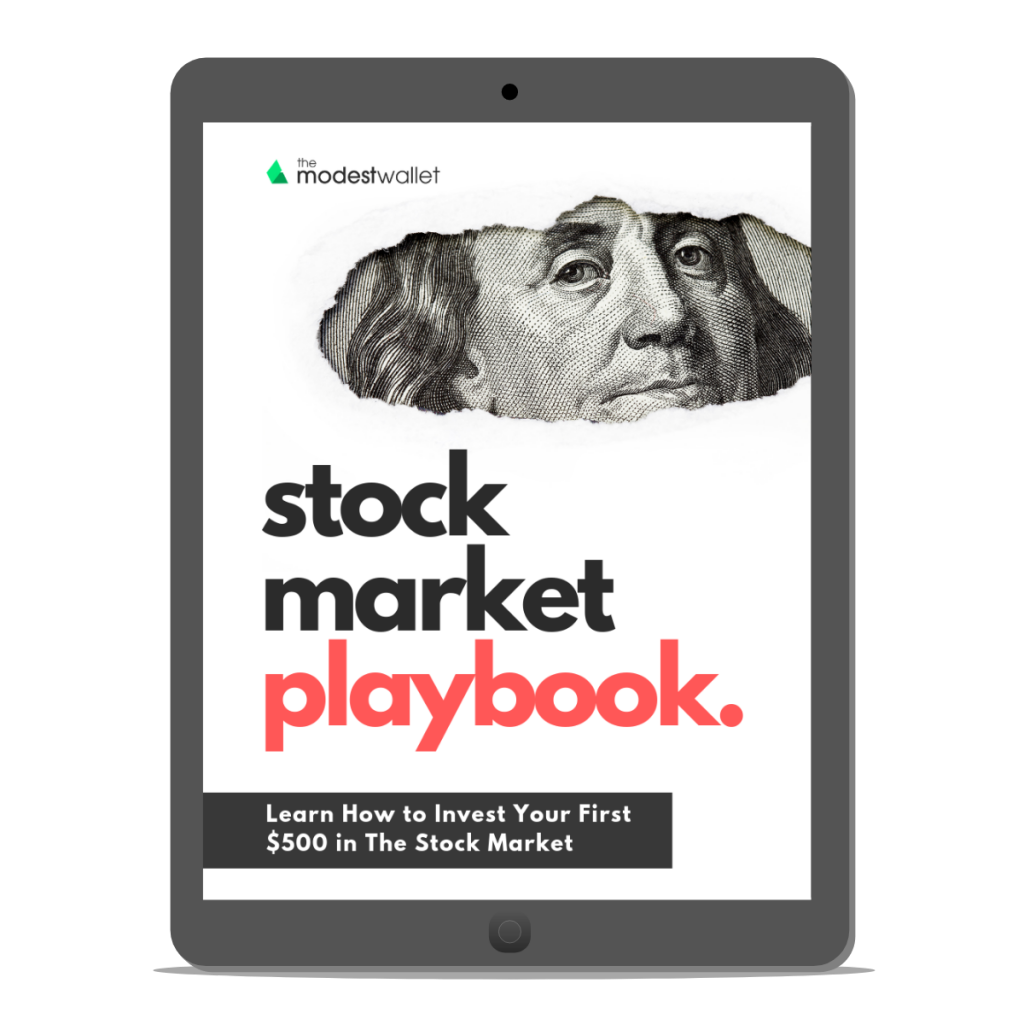 Get our free Stock Market Playbook to learn how to invest your first $500 in the stock market.
Plus our best money tips delivered straight to your inbox.

Gaby is a freelance writer and self-employed business owner with a personal interest in all things finance-related. She has a passion for educating others on how to make the most of their money and loves writing about everything from taxes to crypto.