CrowdStreet Review 2023: Features, Pros, and Cons
Many or all of the products featured on this page are from our sponsors who compensate us. This may influence which products we write about and where and how the product appears on a page. However, this does not influence our evaluations. Our opinions are our own. Here is a list of our partners and here is how we make money.
---
The information provided on this page is for educational purposes only. The Modest Wallet is a financial publisher that does not offer any personal financial advice or advocate the purchase or sale of any security or investment for any specific individual.
CrowdStreet provides a modern and transparent platform for investors who want to invest in real estate but don't have the hundreds of thousands of dollars necessary to invest in private offerings.
Thanks to new technologies and the internet, investors can now conveniently use crowdfunding platforms like CrowdStreet to access real estate deals nationwide. They can invest directly in commercial properties and compare offerings to find the deals that fit their investment criteria.
This review will dive into CrowdStreet, how it works, the account opening process, and the features it offers. Moreover, we will check its pricing, security, customer service, pros and cons, and who should invest in CrowdStreet.
Bottom Line: CrowdStreet is an online platform allowing accredited investors access to commercial real estate investment opportunities. Investors are able to diversify their portfolios across several projects and geographic markets.
| | |
| --- | --- |
| Account minimum | |
| Account fees | |
| Investment selection | |
| Liquidity | |
| Features and tools | |
| Ease of use | |
| Security | |
| Customer support | |
---
What Is CrowdStreet?
CrowdStreet is an online investing platform for real estate projects across the United States. The crowdfunding platform offers unparalleled access to institutional-quality commercial real estate deals and brings accredited individuals and project sponsors together.
On the user-friendly Marketplace, investors will find different investment opportunities to review, compare, and invest in. They can also invest in managed funds or use the firm's advisory service if they don't want to create a real estate portfolio independently.
CrowdStreet checks every sponsor and project application to determine whether a deal is suitable for its investor audience or not. A robust track record and a strong management team are two massive selling points for sponsors who want to raise equity on the platform.
---
How Does CrowdStreet Work?
CrowdStreet partners with firms in multiple markets across the USA to offer accredited investors access to institutional-grade properties.
Once you sign up for a CrowdStreet account, you can review the latest commercial real estate offerings on CrowdStreet's central hub (aka the Marketplace) and pursue deals that fit your interests and risk profile.
Investors also have the option to choose between directly investing with a real estate sponsor or taking advantage of a managed fund — either from a sponsor or through CrowdStreet — for extra fees.
CrowdStreet makes most of its money by charging sponsors fees to list on its Marketplace, but investors may have to pay additional fees depending on a sponsor's terms or if they opt for CrowdStreet's Advisors to actively manage their funds.
After you invest in real estate through CrowdStreet, you can monitor your investment's performance and speak with a CrowdStreet agent at any time if you have any questions. If there are any terms in your investment contract (e.g., you need to keep your funds in an investment for at least two years), you need to wait till these conditions are met before transferring your real estate assets back into cash.
Account Minimum
Every real estate sponsor on CrowdStreet has different minimum requirements, but the lowest investment on CrowdStreet is $25,000. Note: You need to put down $250,000 in CrowdStreet's Managed Funds.
Getting Started
CrowdStreet only works with American accredited investors. Therefore, you must prove your American citizenship and "accredited investor" status during the sign-up process.
CrowdStreet says it will ask for a government-issued photo ID (e.g., a driver's license or passport) or a valid green card if you're a legal US Resident Alien.
You'll also have to submit financial documents that show you're an accredited investor with either $200,000 pre-tax income over the past two years (or $300,000 for a spousal account) or $1 million in liquid net worth (excluding the value of your primary residence).
If you're opening an account as a business or LLC, you also need to share professional certifications and licenses with CrowdStreet's team.
Opening an Account
To open a CrowdStreet account, you first need to visit this platform's official website and click the "Join CrowdStreet" button.
From here, you'll need to create a password and enter basic info like your name, email address, and phone number. Alternatively, you could sign in with a Google account.
After accepting CrowdStreet's Terms & Services, click "Create an Account" and confirm your email. Although you'll have a CrowdStreet account after filling in these details, you must submit more financial info to prove your accredited investor status before using the site.
---
CrowdStreet Features
CrowdStreet offers different features for investing in commercial real estate deals, checking their past performance and deal review process, and deepening your financial knowledge on the topic of real estate investing.
| | |
| --- | --- |
| Minimum Investment | $25,000 |
| Account Fees | 0.50% to 2.5% (Funds); Project Fees Vary |
| Time Commitment | 2-10 years |
| Offering Types | Debt, Equity, and Preferred Equity |
| Property Types | Commercial Real Estate (CRE) |
| Advertised Returns | 11.8% to 20.2% (Average returns) |
| Distributions | Varies by Project |
| Regions Served | 50 states |
| Secondary Market | |
| Accreditation Required | |
| Self-Directed IRA | |
| 1031 Exchange | |
| Support | Phone, Email and Chat |
Individual Deals
Investors who prefer investing in direct real estate investment opportunities should choose one (or more) of the individual deals listed on CrowdStreet's Marketplace. There, you can pick the real estate deal that fits your investment strategy and invest directly into the project's equity. Your capital will go directly to the deal sponsor because CrowdStreet doesn't act as a middleman. This means you alone are in total control of your investment.
Investing in individual deals has many advantages. You gain access to one of the largest institutional-caliber real estate marketplaces online and can design your real estate portfolio to your liking. CrowdStreet, on the other hand, will support you with detailed and transparent deal documents and sponsor history.
The team at CrowdStreet conducts a thorough pre-screening process on every sponsor and property to offer only those individual real estate deals investors want to invest in.
Funds Investing
If investing your capital one-on-one with a deal sponsor is too risky for you, you should consider a commercial real estate fund. By making one single investment into a real estate fund, your capital will be diversified across multiple properties at once, resulting in less risk of losing everything. You also don't have to spend time and energy building a portfolio.
With CrowdStreet, you can invest in two professionally managed, institutional quality real estate funds: single-sponsor and CrowdStreet funds. The Single-Sponsor funds focus on the real estate specialty of one sponsor, which can include real estate in a particular region or specific asset classes. In contrast, CrowdStreet funds are managed by the platform's professionals. They diversify across various property types as well as deal sponsors.
Managed Portfolios
A third investment option at CrowdStreet is investing in a professionally managed real estate investment portfolio tailored to your financial situation. Therefore, the experienced CrowdStreet Advisory Service Team will get to know you and your goals, select the property deals that align perfectly with your strategy, and build a customized real estate portfolio for you.
After you have agreed to the proposed strategy, the platform's advisors will invest in property deals on the Marketplace on your behalf and manage your account. This service is available to investors who can afford a starting account balance of at least $250,000. The accompanying fees will depend on the size of the investment.
Deal Review Process
Once a sponsor makes it through the initial sponsor review, the CrowdStreet investment team will review every individual deal and check it against their standard deal term criteria. They want to know whether:
The project belongs to the sponsor's core competency, aligns with their background, and shows a positive track record for the specific property type;
The submitted documents display professionalism and meet industry standards;
Third-party and market data back up the assumptions of the deal; and
An investor audience and preferences like returns, location, asset class are met.
From there, CrowdStreet will review the deal's legal documents to ensure there are no issues or discrepancies between the documents or conversations between the sponsor and CrowdStreet.
Educational Resources
The platform also has an extensive investor resources section. There, investors can read articles about investing in commercial real estate, including specific corner topics. New investors can join orientation events or go through a quick start guide to understand the platform's Marketplace and make their first real estate investment.
Moreover, investors have access to StreetBeats, which are videos where investors, sponsors, and industry leaders talk about the real estate market. There are also webinars where sponsors present themselves and their property deals to inform others about investment opportunities.
---
CrowdStreet Performance
The platform regularly publishes its performance for its fully realized real estate deals. Since launching in 2014, CrowdStreet has closed 488 deals and realized 54 of them. The overall IRR amounts to 17.1%, the equity multiple was 1.39x, and the average hold period was 2.3 years.
Moreover, CrowdStreet publishes its returns for the four risk profiles tracked in commercial real estate: opportunistic, value-add, core-plus, and core.
Opportunistic Deals: These deals have the potential for the highest returns but also carry the highest amount of risk. These deals usually have little or no cash flow and complex business plans.

The website states that investors invested in 154 opportunistic deals and have fully realized ten. The lowest return was -66.2%, the highest return was 88.4%, and the average return was 11.8%.
Value-Add Deals: Value-add deals aim to drastically increase the property's cash flows and value over time by making significant improvements. Value-Add is also one of the most common risk profiles.

Until today, investors have invested in 247 deals. 35 have been fully realized with the lowest return being a complete loss, the highest was 42.8%, and the average was 20.2%.
Core-Plus Deals: Core-plus deals include high-quality occupied properties that provide monthly cash flows for maintenance and future upgrades, resulting in lower cash flows for investors.

According to CrowdStreet, investors invested in 84 core-plus deals and six have fully realized. The lowest return was 7.5%, the highest 19.7%, and the average 12.6%.
Core Deals: Core deals have a stable, predictable cash flow and are considered a safe bet. They usually run on full occupancy, don't need major upgrades, and are situated in top markets. Only 11 of all deals were Core Deals, and none has fully realized. Therefore, there is no performance data available so far.
---
CrowdStreet Pricing and Fees
CrowdStreet is unique compared to other crowdfunding platforms because investors don't pay any fees to join and access its real estate deals. Typically, the deal sponsors pay the fees, including a subscription fee for using CrowdStreet's software and a fee to raise capital. Still, sponsors may choose to charge investors management fees for their deals.
Additionally, CrowdStreet's two real estate funds and the managed portfolio option carry individual fees depending on the project (between 0.50% to 2.5% of invested capital annually). Moreover, CrowdStreet Advisors charge investors a fee if they require extra help from the team.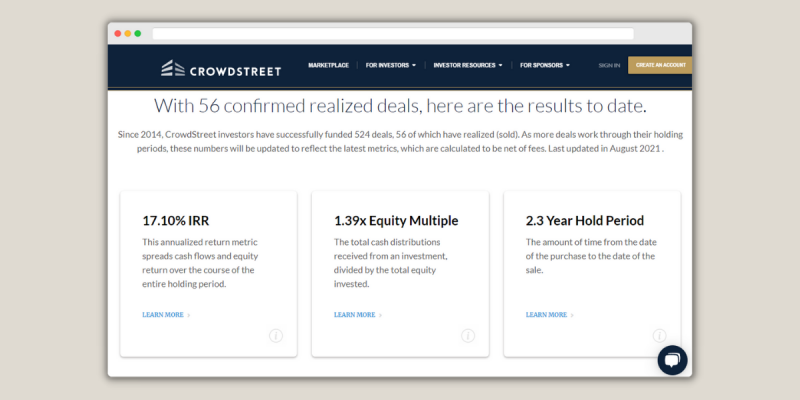 ---
CrowdStreet Security
The platform takes security very seriously. Therefore, all client information is encrypted to industry standards and only certain CrowdStreet employees have access to user data. In addition, all deal sponsors must undergo a background check.
CrowdStreet is not a registered broker-dealer or investment advisor. The deals on the Marketplace are speculative and involve substantial risk, meaning that you shouldn't invest unless you can sustain the risk of a total capital loss. Still, you invest with the deal sponsor and a CrowdStreet failure wouldn't directly impact your real estate investments.
---
CrowdStreet Customer Service
Investors can reach the CrowdStreet customer service team by phone, email, contact form, or chatbot. While sending a message and chatting with the CrowdStreet assistant are possible 24/7, reaching the support team is only possible during regular business hours, Monday to Friday.
However, the platform has an extensive help center that makes it easy to inform yourself about various issues you might come across.
---
CrowdStreet Ease of Use
CrowdStreet's Marketplace portal is well-organized with boxes containing pictures of different property opportunities and key facts like their location, minimum investment, and property type. You'll also see a short snippet on each real estate opportunity, target investment period, and CrowdStreet's "investment strategy" rating (i.e., whether it's opportunistic, value-add, core-plus, or core). There are also convenient filters so you can adjust the Marketplace findings to suit your preferred deal terms, sponsors, and eligibility. Just keep in mind CrowdStreet doesn't offer a mobile app, so you need to manage all of your investments on a desktop setting.
Although it's easy to navigate CrowdStreet's Marketplace, customer reviews for this service are mixed. Currently, CrowdStreet has an A+ rating on the Better Business Bureau (BBB), but it's not an official BBB-accredited business. Also, CrowdStreet has an average rating of 3 stars on Trustpilot, and many customers complain about the slow customer support and issues with sponsors. For a transparent view into what people think of CrowdStreet, here are a few sample Trustpilot reviews:
"I usually invest on RealtyMogul platform and whenever I needed them I could always reach my advisor. Then I thought I should research other platforms and came across Crowdstreet. Really liked their offerings committed on 2 properties. Did verify with them as accredited investor. BUT I COULD NOT TRANSFER FUNDS AS INDIVIDUAL INVESTOR. Tried reaching crowdstreet customer service by phone email chat . No one calls back even always leave a voice mail. Then we were very concerned and decided to back off. If they don't provide CS to a potential customer how can I expect them to take my call if my investment is in trouble?" venkat v (Trustpilot)
"Good site to find private equity deals. However, you need to do YOUR due diligence. CS is a marketplace for deals, and although they have their own process to filter out sponsors, they do not undertake the risk, you do. It's not like Costco where you can return a defective product to the store vs the manufacturer. Look around the site, review track records, and talk to the sponsors and make sure what they write in their offering documents is plausible." Ali (Trustpilot)
"4 areas for improvement 1. Enable holding funds in a pre-paid account so that deals can be funded quickly 2. DO NOT enable "INVEST NOW" until the presenters have presented their presentation. Q&A can be arranged anytime. 3. Enable completion of a lot of boiler-plate paperwork at the time of listing…and not have it slow-down the funding process. 4. DO NOT ASK for redundant docs, like company formation, which you already have on file." NBP (Trustpilot)
---
CrowdStreet Pros Explained
One of the largest online commercial real estate marketplaces: CrowdStreet has a diverse array of real estate properties to choose from, including multifamily homes, commercial properties, and apartment complexes. No matter what area of the real estate market you're most interested in, CrowdStreet probably has a property that fits your investing style.
Direct access to different types of real estate and sponsors: With a CrowdStreet account, you can work directly with a real estate sponsor, which helps reduce your fees. You also have the freedom to tailor your investment plan to suit your interests and investing goals.
Track record of over 750 deals funded and $4 billion invested: CrowdStreet has hundreds of real estate deals under its belt and billions of dollars under management. Investors concerned about this platform's professionalism only need to look at its resume to evaluate its historical performance.
No fees for investors: If investors work directly with a real estate sponsor, they won't pay CrowdStreet fees to manage their portfolio. However, that doesn't mean CrowdStreet is always "fee-free," as some sponsors may request fees, and managed funds often cost extra.
Thorough pre-screening process of sponsors: Only five out of every 100 real estate deals that apply for a CrowdStreet listing end up on the Marketplace. So, when you look through the real estate opportunities on CrowdStreet, you can rest assured they have gone through extensive background checks for quality and transparency.
Robust and easy-to-use dashboard: The Marketplace on CrowdStreet has an intuitive layout with quick facts and synopses of each available real estate deal. You can also easily filter through the properties on CrowdStreet's Marketplace on the top of the screen to tailor your real estate search.
Self-directed IRA investing is supported: People who'd prefer to use their retirement funds to invest in real estate can create a self-directed IRA through CrowdStreet's platform. Self-directed IRAs are eligible for all the tax benefits associated with Traditional and Roth IRA accounts.
Extensive quality educational resources and help center: CrowdStreet has a wealth of articles and videos in its "Resources" tab. Whether you have a question about CrowdStreet's services or real estate in general, you'll find plenty of info at your fingertips on this section of the website.
---
CrowdStreet Cons Explained
Real estate investments are very illiquid: Unlike stocks or ETFs, it's not as easy to convert real estate into cash in an instant. Real estate is known for being an illiquid asset, so you need to prepare to wait weeks or months to transfer your property investments into capital.
The invested capital is locked up for years: Similar to the last point, once you invest in real estate on CrowdStreet, you must lock your funds up for at least two years. Some real estate offers may have you lock up money for even longer, so be sure you're OK "freezing" this money for the sponsor's stated term.
Only accredited investors can invest: Retail investors interested in real estate can't take advantage of CrowdStreet's offerings. Currently, CrowdStreet only allows individuals or entities who meet the high "accredited investor" status to make deals with its sponsors.
High minimum investment of $25,000 per deal: Not only do people need accredited investors to use CrowdStreet, but they must also have at least $25,000 to invest in a real estate venture. People who aren't comfortable putting this sum into real estate aren't the best fit for CrowdStreet.
Complaints over customer service: One of the top complaints on sites like Trustpilot is CrowdStreet's slow customer support. Although CrowdStreet offers a few ways to contact its staff, many investors feel the company could be more responsive.
Doesn't offer a mobile app: While this isn't a "dealbreaker," it's always nice when companies offer an app. If you're a fan of checking your finances on your phone, CrowdStreet doesn't provide this option.
---
CrowdStreet Alternatives
If you aren't an accredited investor or don't have $25,000 to invest right away, have a look at the two alternatives below:
CrowdStreet vs. Fundrise
Fundrise is a similar online platform where investors can invest in commercial and residential real estate. However, they do it through investment portfolios, which can also be liquidated prematurely. In contrast to CrowdStreet, the offering is available to every investor, not just the accredited ones.
The platform's Starter portfolio only requires a minimum investment of $10, a fraction of CrowdStreet's $25,000. This is a huge benefit for low-net-worth investors who want to add another layer of diversification to their investment portfolio.
Investors can also upgrade their accounts to any of the available five account levels, providing access to different investment options. Only the premium level requires a higher minimum investment than CrowdStreet.
One advantage CrowdStreet has over Fundrise is pricing. While investors don't pay fees on CrowdStreet, Fundrise's investors face a 1% management fee. Read our full Fundrise review to learn more.
CrowdStreet vs. RealtyMogul
Another real estate crowdfunding platform where investors can deploy their capital is RealtyMogul. The platform is open to accredited and non-accredited investors. However, non-accredited investors can only invest in two privately traded REITs. Accredited investors also have access to individual deals and 1031 exchanges.
Besides, investing on RealtyMogul has many benefits. Their REITs require only $5,000 as a minimum investment which is a fifth of what CrowdStreet asks. Moreover, investors can sell their REIT shares back to the platform after holding them for 12 months, which gives them at least some flexibility in an otherwise illiquid market. The platform also has one of the best due diligence processes in the real estate space. Read our full RealtyMogul review to learn more.
| | | | |
| --- | --- | --- | --- |
| | | | |
| Our Rating | | | |
| Fees | 0.50% to 2.5% (Funds); Project fees vary | 1.0% per year | 1.00% to -1.25% per year asset management fee |
| Account Minimum | $25,000 | $10 | $5,000 |
| Promotion | None | Advisory fee waived (*12 months) | None |
| Highlight | Access to commercial real estate investment opportunities | Access to private real estate deals | Invest in real estate beyond publicly traded REITs |
| Best For | High net-worth individuals | Long term investors | Long term investors |
| | | | |
Compare CrowdStreet
Find out how CrowdSreet stacks up against the competition.
---
Who Is CrowdStreet Best For?
CrowdStreet is an excellent choice if you are an accredited investor and high-net-worth individual who wants to add commercial real estate to diversify your investment portfolio with more than $25,000 in capital. The platform offers a great deal flow and consistently provides you with new investment opportunities in different real estate asset classes.
Besides, the crowdfunding platform is useful for real estate investments if you are a risk-tolerant investor who can allow his or her money to sit for three or more years without having access to it.
---
Notable CrowdStreet Updates And News
Summaries for properties in Marketplace: To make it easier for investors to identify promising real estate opportunities, CrowdStreet added summaries to each of the properties on its Marketplace. When you scroll through the Marketplace, you can read snippets describing the key aspects of each available property before clicking on the card to learn more detailed info.
CrowdStreet Advisors partners with iCapital to offer CrowdStreet REIT I (C-REIT): In 2023, CrowdStreet announced it would offer a stake in its C-REIT to any clients with an account on one of iCapital's alternative investment platforms. So, even if investors don't have a CrowdStreet account, they may still be able to take advantage of its real estate ventures through iCapital.
CrowdStreet strengthens ties with Nuveen and TIAA: Also, in 2023, CrowdStreet announced it recently welcomed the CIO of the asset manager Nuveen Shawn Lese to its board of directors. This appointment follows recent funding rounds from Nuveen and its parent company TIAA into CrowdStreet's platform. The CrowdStreet team says the closer ties with Nuveen will lead to more offerings for its clients — including joint-venture investments and new products.
---
CrowdStreet Review FAQ
Below, you will find some frequently asked questions and our answers regarding CrowdStreet and its real estate platform offering.
Is CrowdStreet Legit?
The platform is legit and one of the most respected crowdfunding platforms in the real estate space. CrowdStreet has offered more than 520 investment opportunities, completed more than 50, and experienced only four losses. They have raised $2.1 billion in capital and distributed $240 million to their investors. CrowdStreet also provides all the necessary information to help you determine if an investment is right for you or not.
Do You Have to be Accredited to Invest with CrowdStreet?
Currently, all investors must be qualified as accredited investors. This means you must have had an annual income of $200,000 ($300,000 with a spouse) in the past two years or have a net worth of at least $1 million, excluding your primary residence's value. If you don't meet one of these two requirements, check out the alternatives mentioned in this CrowdStreet review.
Is CrowdStreet a Good Investment?
CrowdStreet is one of the largest commercial real estate crowdfunding platforms and can be a good investment. Thanks to their experience in real estate, they approve only the most suitable deals. The platform has an impressive track record, excellent deal flow and offers accredited investors the chance to invest in various real estate deals. These deals can generate high returns, have steady cash flows, and be vital to your investment portfolio.
How Much Does CrowdStreet Cost?
Opening an account and browsing the Marketplace listings doesn't cost investors anything. However, each investment may carry a fee depending on the sponsor.
How Does CrowdStreet Make Money?
The platform earns about 70% of its money from deal sponsors. CrowdStreet sells its software as a subscription to them and charges deal sponsors fees to raise money on the platform. CrowdStreet also generates revenue by charging investors who need additional help from the platform's advisory team a fee.
What Makes CrowdStreet Different Than the Competition?
There are three areas where CrowdStreet sees itself ahead of its competition: Deal flow, platform transparency, and diversification.
Investors have the chance to participate in a large amount of curated real estate deals and hand-pick those that fit their investment strategy. A higher deal flow is also great for diversification because investors aren't forced to put all their money into one property. Spreading your capital across asset classes, risk profiles, and locations can diminish the risk of losing everything. Ultimately, CrowdStreet is transparent about individual deal details, its performance metrics, and sponsors so that investors can make informed decisions.
What Is the Average Return on CrowdStreet?
The average return on CrowdStreet varies by the underlying risk profile. The riskiest profile (Opportunistic Deals) has an average return of 11.8%, while the safer Core-Plus Deal profile averages 12.6%. Value-Add Deals are located between the two in terms of risk and have an impressive average return of 20.2%. The safest, Core Deals, have no average return data yet. Ultimately, the overall IRR for all profiles is 17.1%.
---
Final Thoughts
Adding real estate to diversify your investment portfolio further is an intelligent move. While you can invest in publicly traded Real Estate Investment Trusts (REITs), they tend to move in lockstep with stock markets. Therefore, investing in real estate directly can be an alternative to avoid stock market fluctuations, although it can lock up your capital for years.
CrowdStreet created a modern and digitalized way for investors to identify real estate deals previously unavailable to them. Still, coming up with the steep minimum investment of $25,000 per project will cut out many investors.
However, investors that have this capital will benefit from the deal-vetting process and an investment team that has lost money on only four of the fully realized deals, resulting in an impressive track record and high returns. Moreover, you don't have to pay fees for their service.
Ultimately, CrowdStreet uses its extensive educational resources section to support investors with the onboarding process, educate them on various real estate topics, and help them become better real estate investors through multiple formats.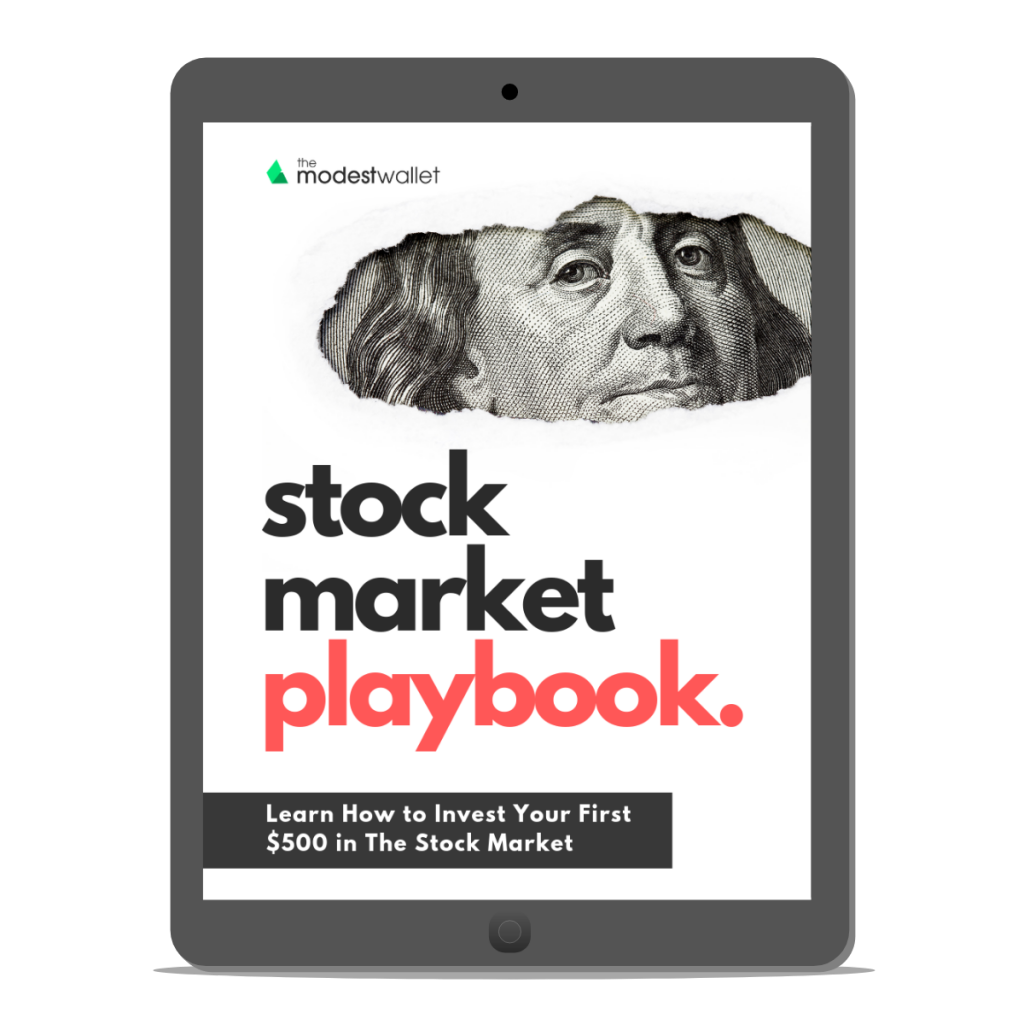 Get our free Stock Market Playbook to learn how to invest your first $500 in the stock market.
Plus our best money tips delivered straight to your inbox.

Carsten is a Freelance Copywriter with a personal interest in money management and investing. Besides taking care of his investments, he loves traveling, reading books, and working out (calisthenics & yoga).