Many or all of the products featured on this page are from our sponsors who compensate us. This may influence which products we write about and where and how the product appears on a page. However, this does not influence our evaluations. Our opinions are our own. Here is a list of our partners and here is how we make money.
---
The information provided on this page is for educational purposes only. The Modest Wallet is a financial publisher that does not offer any personal financial advice or advocate the purchase or sale of any security or investment for any specific individual.
Editor's Note
On July 5, 2022, Voyager started a voluntary restructuring process under Chapter 11 to create an efficient path to resume account access and return value to its customers. Read the Voyager announcement to learn more. As a result, we do not recommend Voyager to our readers as a reliable and secure cryptocurrency exchange.
Important Notice
On December 19, 2022, Binance.US announced that it would acquire Voyager's assets. The Binance.US bid aims to return crypto to customers in kind, in accordance with court-approved disbursements and platform capabilities. Until the acquisition is completed, Voyager is inaccessible to consumers. Read the Voyager announcement to learn more.
Although it's a relative newcomer to the crypto scene, Voyager is quickly taking the world of cryptocurrency by storm. The innovative broker offers a variety of fantastic features for new and experienced investors, thanks to its multitude of supported coins and interest-bearing crypto accounts.
But, is Voyager crypto all it's cracked up to be?
In this Voyager crypto review, we'll take a detailed look at all of the platform's features and weigh its pros and cons. That way you can make an informed decision as to whether it's the right crypto broker for your investing needs.
Bottom Line: Voyager is a cryptocurrency broker offering commission-free trading on more than 60 digital assets. The platform lets you earn interest for maintaining minimum balances on certain cryptocurrencies.
| | |
| --- | --- |
| Account and trading fees | |
| Offerings | |
| Features and tools | |
| Security | |
| Customer support | |
| Ease of use | |
---
What Is Voyager?
Voyager is a crypto broker that offers a sleek mobile-first trading platform. The firm was founded in 2017 and it's a publicly-traded company with headquarters in New York.
With Voyager, investors can buy and sell dozens of cryptocurrencies. They can also access a variety of features, like interest-bearing crypto savings accounts and unique crypto rewards programs, all without the high fees found at other firms.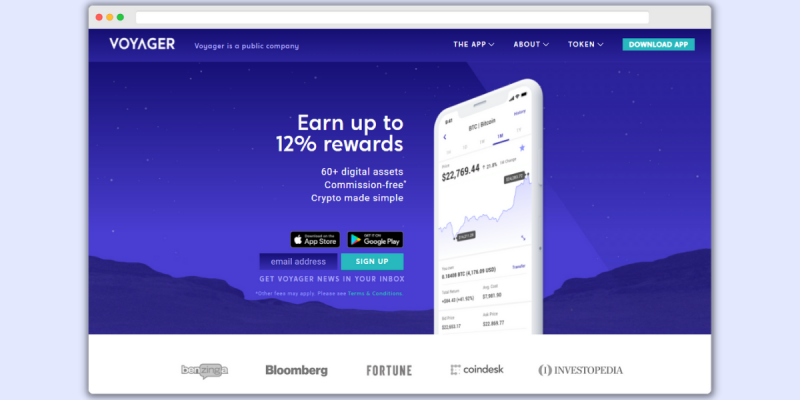 ---
How Does Voyager Work?
Before you start trading with Voyager, you should understand how the firm works and what you need to do to open an account. Here's what you need to know:
Getting Started
As of the time of writing, Voyager is available only to US residents over the age of 18, except those living in the state of New York. However, the firm is working on expanding operations to New York and other countries in the coming years.
If you're eligible to open an account, you'll need the following information to apply:
Full name
Email address
Physical address
Date of birth
Social security number
Additionally, investors are required to submit identification documents, like a driver's license or passport, and a selfie for verification purposes.
Opening an Account
Once you confirm your eligibility for an account and collect all the necessary documentation, your next step is to download the Voyager app on your mobile device.
From here, you can click the button to open an account, at which point, you'll be asked to enter your personal information and upload any required documents. Voyager will then verify your documents and your account will be eligible for trading. Note that this verification process can take a few days to complete.
Funding Options
Voyager lets account holders fund their account either through US dollar bank transfers or crypto transfers of a select number of coins.
All US dollar deposits are processed as ACH transfers using Plaid, a secure bank transfer system. Wire transfers are also supported, though there is a $50 fee for wires.
Account-holders can deposit crypto into their Voyager account. Note that not all coins on Voyager's trading platform are currently eligible for deposit, but BTC, ETH, and VGX are all supported.
---
Cryptocurrencies Available on Voyager
Voyager supports trades of more than 60 different cryptocurrencies—a large number for a US-based exchange. Some of the many coins on the platform include:
---
Voyager Features
Voyager is a feature-rich crypto broker. These are some of the top features you can look forward to if you open an account:
| | |
| --- | --- |
| Minimum Minimum | $10 |
| Trading Fees | $0 per trade |
| Number of Cryptocurrencies | 60+ |
| Supported Cryptocurrencies | AAVE, ADA, ALGO, ATOM, AVAX, BAND, BAT, BCH, BSV, BTC, BTT, CELO, , CHZ, CKB, COMP, CVC, DAI, DASH, DGB, DOGE, DOT, EGLD, ENJ, EOS, ETC, ETH, FIL, GLM, GRT, HBAR, ICX, IOT, KNC, LINK, LTC, LUNA, MANA, MATIC, MKR, NEO, OCEAN, OMG, QTUM, SHIB, SOL, SRM, STMX, SUSHI, TRX, TUSD, UMA, UNI, USDC, USDT, VET, VGX, XLM, XRP, XTZ, YFI, ZEC, ZRX |
| Supported Countries | U.S. resident (except New York state) |
| Daily Deposit Limit | $10,000 |
| Platform | Mobile (iOS / Android) |
| Promotion | None |
| Interest-Earning Currencies | 35 |
| Interest Rates | Up to 12% |
| FDIC Insurance | Only on U.S. dollars |
| Support | Email ([email protected]) |
Earn Interest on Crypto
One of Voyager's most popular features is its interest-bearing crypto accounts. All account holders can earn interest payments of up to 12% on 30+ coins just for keeping crypto in their Voyager wallet.
Interest is calculated daily and paid out in crypto on the fifth business day of each month. Additionally, everyone is automatically enrolled in the program, but you can opt-out whenever you'd like.
Note that monthly minimum balance requirements for this program vary based on the coin in question and interest rates can change at any time. Additionally, there are no withdrawal restrictions with the program, but it can take up to seven days to process your withdrawal.
Here are the best interest rates and the minimum balance required:
| Asset | Interest Rate | Min. Monthly Balance |
| --- | --- | --- |
| Polkadot | 12% | 20 DOT |
| USDC | 9% | 100 USDC |
| Voyager Token | 7% | 25 VGX |
| Bitcoin | 5.75% | 0.01 BTC |
| Polygon | 5.25% | 100 MATIC |
| Cardano | 5% | 100 ADA |
| Litecoin | 5% | 2 LTC |
| Ethereum | 4.6% | 0.5 ETH |
Recurring Buys
To help you put your investments on autopilot, Voyager lets you establish recurring buys for any supported coin on the platform.
This means that you can establish daily, weekly, monthly, or custom recurring purchases to automate your investing. Note that there is a $10 minimum order value for recurring buys, though this is the same as for any order placed on the platform, recurring or otherwise.
Mobile App for Trading
Voyager is a mobile-first crypto trading platform. In fact, the firm doesn't have a web or desktop-based trading terminal.
Since Voyager is a mobile-first platform, the company's app is—unsurprisingly—streamlined and easy to use. The app is available for iOS and Android and it is very highly rated. It also uses two-factor authentication for added security.
One of the main benefits of the Voyager app is that it comes with advanced charting tools. While most mobile apps are decidedly simple, Voyager makes it easy for more experienced traders to get customizable real-time market data, market news, and crypto research with the push of a button.
Smart Order Routing
Technically, Voyager is not a crypto exchange. Rather, it's a crypto broker that facilitates trades from investors like you on other exchanges.
To do so, Voyager uses its proprietary Smart Order Router technology. How it works is fairly straightforward. As soon as someone places a trade, the Smart Order Router immediately starts assessing the market price of that coin on dozens of exchanges. It then instantly connects with the exchange with the best market price and fills the order.
As a result, Voyager can get advantageous prices for coins traded on its platform. This helps to lower the cost to you in the long term.
Referral Program
You can earn free crypto just for inviting others to sign up for a Voyager account. You can earn $25 for each new person you refer to Voyager. They simply need to sign up and place a trade for at least $100. Then, you both get $25 in free crypto deposited into your account.
Voyager Token
The Voyager Token (VGX) is Voyager's native utility token. It helps reward account holder interaction with the Voyager platform and enhances the investing experience.
For investors and account holders, VGX offers a number of benefits, such as 7% staking rewards on all VGX in your account. You can also earn cashback rewards when you trade VGX and earn up to 1.5% more interest on assets in your account simply by owning more VGX.
Order Types
Many mobile-first crypto exchanges and brokers only allow investors to place market orders. This limited functionality is suitable for new investors who simply want a quick and easy way to purchase crypto.
However, more advanced traders may find that market orders aren't as versatile as they would like. Luckily, Voyager supports both market orders and limit orders on its trading terminal. While some exchanges, like Kraken, offer additional order types, market and limit orders are some of the most popular options available.
Institutional Investing
Although Voyager is mostly designed for the individual trader, the firm also provides institutional investing opportunities. For institutional investors, Voyager offers access to the company's Smart Order Router technology, a full-service trade desk, and custodial services.
Institutional investing agreements with Voyager are determined on a case-by-case basis. So, if your organization is interested in these services, contact the firm directly for more information.
---
Voyager Pricing & Fees
Voyager does not charge any commission fees for trades placed on the platform. Rather, the firm's Smart Order Router reduces cost inefficiencies in the system to save you money. So, instead of charging a commission, Voyager simply keeps the difference if its Smart Order Router finds a lower price than what you were quoted for your order.
That being said, we should note that there is a fee to withdraw crypto to an external wallet. This is a flat fee that's charged based on the coin in question.
Besides that, there are no fees to use Voyager. However, keep in mind that there is a $10 minimum balance requirement for all accounts.
---
Voyager Security & Insurance
Like most crypto brokers and exchanges, Voyager provides top-of-the-line security and an advanced fraud protection system. Additionally, Voyager is a publicly-traded company, so all of the company's financials are available to the public for anyone to scrutinize.
Furthermore, the company offers FDIC insurance on all US dollar funds. However, Voyager does not have any insurance coverage for crypto in your account.
---
Voyager Customer Support
If you ever need help with your account, it's important that you're able to quickly access customer support. With Voyager, all account holders have access to ticket-based support as well as a set of online help pages.
However, Voyager does not currently have any in-app chat support or a customer service phone number. It can also take a few days to receive a response on your support ticket.
---
Voyager Pros
No exchange fees or account maintenance fees
Smart Order Router technology lowers trading costs
Can earn free crypto through a referral program
VGX token offers rewards and enhanced interest rates
Supports more than 60 coins
Option to establish recurring buys
Allows market and limit orders
Mobile-first platform with advanced order types
Institutional investing available
---
Voyager Cons
Has a minimum order value
No coin to coin trades available
Doesn't have a web-based platform
Only available in the US
High fee for wire transfers
Charges withdrawal fees
No phone-based support
---
Voyager Alternatives
Not sure that Voyager is the right crypto broker for you? Here are two top alternatives to consider:
Voyager vs. Coinbase
Coinbase is one of the largest cryptocurrency exchanges in the US by trading volume and it's one of the most recognizable names in the digital asset industry. The firm was founded in 2012 and has since become a go-to destination for new and experienced investors, alike.
Although Coinbase has slightly fewer supported coins for US-based investors, it offers much more functionality for international traders. The firm also offers both a basic and an advanced trading terminal, as well as a free personal wallet, a crypto-backed debit card, limited staking, and a way to earn free crypto.
The downside is that Coinbase comes with some fairly hefty fees and its staking and interest-bearing account options are limited. But, if you're okay with paying more for additional features or for access outside the US, Coinbase is a solid choice. Check out our full Coinbase review to learn more.
Voyager vs. Gemini
Founded in 2014, Gemini is a leading crypto exchange for investors that value security and simplicity above all else. The company is a New York trust company, and it's one of the few exchanges that's available to investors in all 50 US states.
Like Coinbase, Gemini has both a basic and an advanced trading platform. With Gemini, you can also get a crypto-backed credit card, a crypto payment system, custodial services, and top-of-the-line security. The firm also offers interest payments on dozens of supported coins.
When compared to Voyager, Gemini's fees are a bit high. The firm also offers slightly lower interest rates and it doesn't support as many coins. However, when security and ease of use are key, Gemini is a sure bet. Check out our full Gemini review to learn more.
| | | | |
| --- | --- | --- | --- |
| | | | |
| Our Rating | | | |
| Supported Cryptocurrencies | 60+ | 56+ | 40+ |
| Interest | Up to 9.00% | Up to 1.25% | Up to 8.05% |
| Apps | Mobile (iOS and Android) | Mobile (iOS and Android) | Mobile (iOS and Android) |
| Promotions | None | $5 worth of free BTC | Get $10 worth of BTC (**After buying or selling $100) |
| FDIC Insured | * | * | * |
| Web Access | | | |
| | | | |
*USD only
---
Who Is Voyager For?
Voyager is an ideal crypto broker for new investors that want a simple-to-use platform that doesn't charge high fees. The firm's multitude of supported coins, VGX rewards program, and interest-bearing crypto savings accounts also make it popular among people who want to do more than just trade crypto.
At the same time, Voyager is a nice choice for people who prefer a mobile-first platform. Additionally, the firm's advanced charting features, multiple order types, and institutional investing make it worth considering for experienced investors that want a simplified, yet powerful trading process.
---
Voyager FAQ
Here are our answers to some of your most frequently asked questions about Voyager:
Is Voyager Crypto Safe?
Voyager is a solid, reputable crypto broker. The firm uses high-end security features to help prevent hacking attacks. It's also a publicly-traded company, so all of the firm's financial dealings are available to everyone to see for added reputability.
Is Voyager a Good Crypto Exchange?
Although Voyager is technically a crypto broker, not a crypto exchange, the firm does offer quality, low-cost trading. Overall, Voyager is a solid option for newer crypto investors who want a simple-to-use platform with dozens of supported coins and the opportunity to earn interest on their funds.
Is Voyager Better Than Coinbase?
Voyager and Coinbase are both popular crypto trading platforms, so it's hard to say that one is better than the other. For more experienced investors, Coinbase offers more functionality but at a higher cost. Alternatively, Voyager is best for newer traders that prefer a streamlined, low-cost, and mobile-first platform.
Can You Withdraw Crypto from Voyager?
You can withdraw crypto from Voyager. However, not all of the firm's supported coins are available for transfer to an external wallet. Always double-check that the coins you want to move from Voyager are available for transfer before you make a purchase on the platform.
Interest on Stablecoins: 9.00%
Interest on Bitcoin: 5.75%
Promotion: None
---
Final Thoughts
All things considered, Voyager is a solid crypto broker. The firm's lack of trading fees and its user-friendly interface make it a great option for newer and cost-conscious investors. Plus, Voyager boasts a large selection of supported coins, a quality mobile app, and the ability to earn interest.
Nevertheless, what's important is that you find the right crypto broker or exchange for your needs. Whether that's Voyager or another firm altogether, we hope this article helped you determine the best place to invest your money.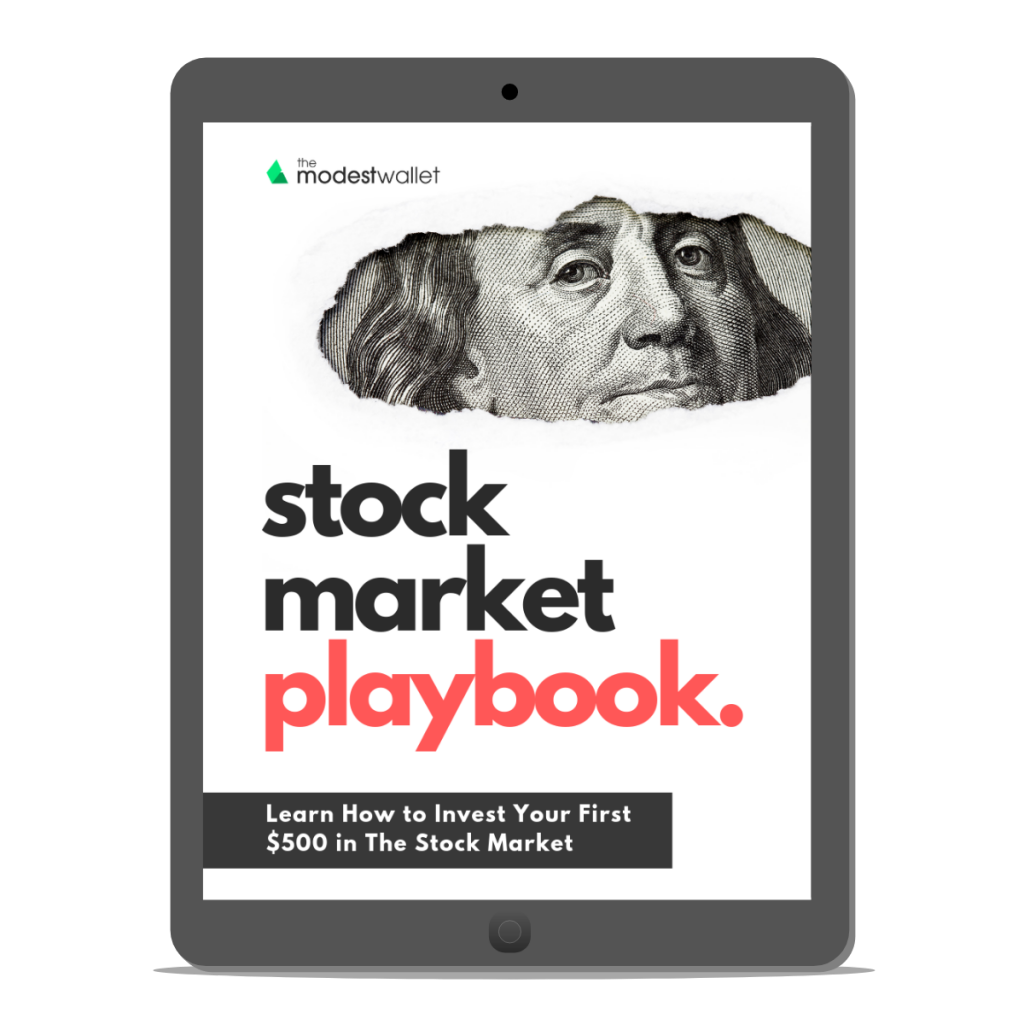 Get our free Stock Market Playbook to learn how to invest your first $500 in the stock market.
Plus our best money tips delivered straight to your inbox.

Gaby is a freelance writer and self-employed business owner with a personal interest in all things finance-related. She has a passion for educating others on how to make the most of their money and loves writing about everything from taxes to crypto.