Many or all of the products featured on this page are from our sponsors who compensate us. This may influence which products we write about and where and how the product appears on a page. However, this does not influence our evaluations. Our opinions are our own. Here is a list of our partners and here is how we make money.
The information provided on this page is for educational purposes only. The Modest Wallet is a financial publisher that does not offer any personal financial advice or advocate the purchase or sale of any security or investment for any specific individual.
Investing in real estate can be a valuable addition to your investment portfolio and an excellent alternative to investments in stocks and bonds. This asset class not only helps diversify your portfolio but can also reduce its overall volatility and boost returns.
However, in the past, access to real estate investments was traditionally reserved for the ultra-wealthy. The reason is that investors needed substantial financial resources to purchase properties or participate in these deals. This requirement made it impossible for everyday investors to snag a piece of the real estate pie. Luckily, platforms like DiversyFund want to democratize the industry with the help of real estate crowdfunding.
In this DiversyFund review, we will dive into how the platform works, where you can invest, and which fees you would need to pay. Moreover, we look at available features, pros and cons, who the platform is suitable for, and how you can get started.
Quick Summary: DiversyFund is a real estate investment platform where users (accredited and non-accredited investors) can get access to commercial real estate deals with as little as $500.
What Is DiversyFund?
DiversyFund is an online crowdfunding platform in the real estate space that wants to make the wealth-building tools of the rich available to everyone; in this case, private market real estate, but without the need to buy property. While the idea was born in 2014, the investment platform launched in April 2019.
The company's focus lies on offering a public non-traded real estate investment trust (REIT) that primarily invests in value-add multifamily real estate properties across the United States. All investors, not just accredited ones, are welcome to invest in the platform offering. Besides, participating only requires a low initial minimum investment, which is good for investors with limited capital.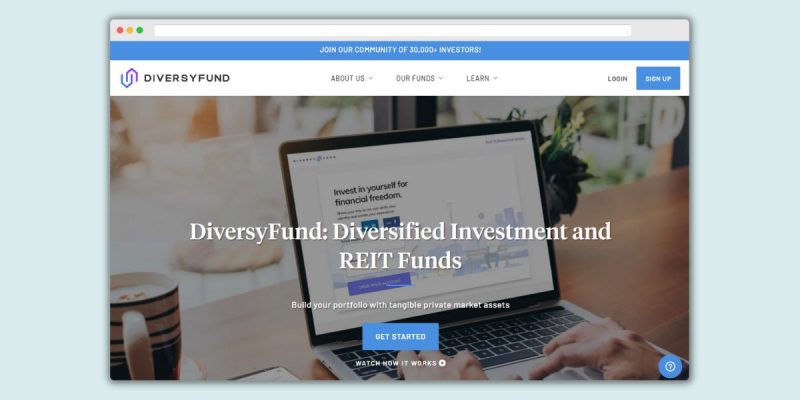 How Does DiversyFund Work?
First of all, DiversyFund acts as the sponsor, developer, and asset manager of the entire process. Therefore, the company sources suitable properties, develops them, and resells them years later. While this accumulation of tasks helps reduce costs for investors, DiversyFund can charge its REIT high fees for being a sponsor and developer.
When you invest in multifamily commercial properties through the Growth REIT on the platform, your money is pooled with other investors' money. DiversyFund then uses those funds to buy properties according to their investment criteria. While they claim to only invest in properties with 100+ units, the REIT also holds smaller properties.
The goal is to buy only properties that generate returns between 10% and 20% and can be sold at a profit after five years. After the sale, these property returns will be distributed to investors. To achieve appreciation in the first place, acquired properties will be renovated, which also helps to increase rent and cash flows.
How to Open a DiversyFund Account
You'll begin the account opening process by clicking on the "Sign Up" button on the website.
You will then be required to provide the following details:
Email address
Password
Full name
Zip code and
Phone number
Now, you are ready to invest and go through the platform's six-step process. First, you will provide additional personal details and your form of ownership. This can be individual, joint, entity, or trust.
From there, you will select your initial investment amount (at least $500 with the option of enabling recurring monthly investments), fund your investment, and sign the site's agreements. Ultimately, you will review and confirm the information provided and continue by clicking "Invest Now".
DiversyFund Features
As the platform's offering is relatively new, there aren't many features available just yet. Nonetheless, the company states that it aims to continually improve the platform and add more features. Read on to find out more about the currently available features.
| | |
| --- | --- |
| Minimum Investment | $500 |
| Account Fees | 6.00% to 8.00% of soft and hard costs (Developer fees) and 1.00% of sale price (Disposition of property) |
| Offering Types | Private Real Estate Investment Trusts (REITs) |
| Property Types | Commercial Real Estate (CRE) |
| Advertised Returns | 7% to 18% (Average returns) |
| Distributions | None (dividends automatically reinvested) |
| Investment Term | 5+ years |
| Secondary Market | |
| Accreditation Required | |
| Self-Directed IRA | |
| 1031 Exchange | |
| Support | Email (hello@diversyfund.com) |
Available to Non-Accredited Investors
Some crowdfunding platforms only allow accredited investors to invest in their real estate offerings. Those investors must have a net worth of more than $1 million or an annual income of at least $200,000 ($300,000 for a couple) for the last two years.
In contrast, DiversyFund is also open to non-accredited individual investors. They must be at least 18 years old, have a social security number as well as a U.S. residential address, and be a U.S. citizen or permanent resident.
Growth REIT
The DiversyFund Growth REIT is the only real estate product the company currently offers. It is a public non-traded real estate investment trust that follows a value-add investment strategy to significantly increase a property's value over time.
While the REIT started with a necessary minimum investment of $2,500 in April 2019, the SEC allowed them to drop the minimum to $500 in the same year. This was a significant step and will help attract more investors to the platform. By investing in this Growth REIT, you will buy shares of the entity that owns the properties.
The primary investment target details are as follows:
Investing in multifamily real estate apartment buildings
100+ units per complex
Investing across the United States
Internal Rate of Return (IRR) between 10% and 20% per property
Hold period of approximately five years
DiversyFund's REIT I is now closed for new investors. Still, their REIT II features the same business plan and return targets. However, the company also invests in properties they believe in having the potential to appreciate and generate solid returns and cash flows.
At the moment, the REIT consists of only three properties. Three properties in three markets are a start but certainly not enough for investors who want to invest in one diversified portfolio to cover their real estate investments.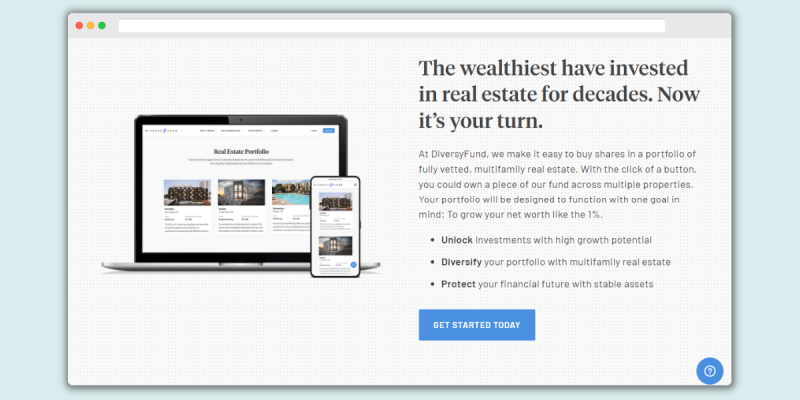 Performance
In 2017 and 2018, the years before the SEC qualified the company to be open to everyone, DiversyFund generated returns of 18% and 17.3%, respectively. Although these numbers sound terrific, this performance is based on products from the past.
For their current Growth REIT, DiversyFund states that, by the end of 2019, investors saw a 5% dividend yield. This yield reflects the cash flow from rents and shouldn't be confused with the investment's overall return. The company aims for a 7% preferred return for investors.
Automated Monthly Deposits
Every time you invest in the available REIT, you have the opportunity to enable recurring monthly deposits from the provided options. That way, you don't have to invest custom amounts every month (which you might forget). The investment minimum is always $500. You can also select the exact date when your monthly investments should occur.
Educational Resources
Under Learn on the website, investors have access to the company's educational center. This section provides investors with additional resources on various topics via blogs.
The available posts cover topics such as advanced investing, investing 101, personal finance, and real estate. You will also come across news and updates as well as a founder's forum.
DiversyFund Pricing and Fees
Investors had to pay no management or broker fees until recently because DiversyFund was the manager of all its projects. With its REIT II introduction, the company will remain the manager but introduce an annual asset management fee of 2%.
Moreover, the company charges its REIT various fees you should know about. There is a developer fee on the project level that can go from 2% to 8% for sourcing and developing properties. The acquisition fees will range between 1% and 4%, while financing fees will be 1% of any loan amount.
But we're not done yet. Once the real estate properties are sold, and investors get back their invested capital and a 7% preferred return, the company is entitled to a catchup return. After these returns are paid out, the remaining profits are shared (which isn't unusual). However, giving only 65% to investors and keeping 35% for the company is a rather unfavorable ratio for investors.
DiversyFund Security
Every time you log in or interact with DiversyFund, your data is protected with 256-bit encryption. This is a bank-level standard. They also state they are committed to keeping their customer's data secure and not making it accessible to anyone.
Moreover, the company uses the third-party service provider Plaid to link your bank account. By using Plaid, DiversyFund further protects your financial data.
DiversyFund Customer Service
To get in touch with customer support, you can reach out via email to contact the customer relations team. However, as DiversyFund can't accept large volumes of calls, it is best to schedule a call or reach out via social media. There is also a web chatbot available where you can leave a message and wait for the company to answer.
Unfortunately, we have also read some reviews stating that customers had issues reaching the support team and getting a response to inquiries sent through various channels.
DiversyFund Pros
Low investment minimum of just $500
Non-accredited investors can invest
Easy to use platform and investor dashboard
Access to commercial real estate
Educational resources for real estate investors
DiversyFund Cons
Highly illiquid investment with hold periods of at least five years
No secondary market and the repurchase of shares isn't guaranteed
DiversyFund automatically reinvests passive income instead of distributing it
High developer and sponsor fees on the REIT level impact investor returns
Short track record is difficult to measure
Little diversification with only three properties
Management team is involved in multiple lawsuits from a deal that has gone south
DiversyFund Alternatives
As DiversyFund currently only offers one REIT and provides very few features, investors might be interested to know which alternatives exist. Find our top two alternatives below.
Fundrise
Fundrise is a popular crowdfunding investment platform in the real estate industry that is also open to all investors. Using Fundrise, you also buy shares of portfolios that consist of residential and commercial real estate. In addition, Fundrise's portfolios are much more diversified and contain more properties than DiversyFund.
Another aspect that puts Fundrise ahead of DiversyFund is the fee structure. At Fundrise, investors must only pay two fees for a combined 1% compared to the 2% (plus fees on the REIT level) at DiversyFund. Plus, the Starter Level portfolio only requires $10 and offers the same features.
And once you outgrow the Starter Level, you can move to four other account levels (starting at $1,000). They unlock features such as IRA investing, a customized portfolio strategy, or access to private REITs. Read our Fundrise review to learn more.
EquityMultiple
Another real estate crowdfunding platform to consider is EquityMultiple. This company specializes in commercial real estate and offers three different investment strategies: Fund investing (similar to DivesyFund's REIT), direct investing in standalone deals, and short-term savings. However, you need to be an accredited investor to participate.
Comparing the fees of the two platforms, EquityMultiple is slighter cheaper with 0.5% to 1.5% (Common Equity) and 1% (Debt & Preferred Equity) in fees. Unfortunately, the minimum investment is higher than DiversyFund's $500. Still, the minimum of $5,000 is justified when looking at the historical rate of return of 16.8%. Nonetheless, investment time frames can even be 10 or more years. Read our full EquityMultiple review to learn more.
| | | | |
| --- | --- | --- | --- |
| Our Rating | | | |
| Fees | No management fees; other fees may apply (see above) | 0.5% to 1.5% per year (Common Equity), 1% (Debt and Preferred Equity), varies (Funds), and $30 to $70 per year (Admin Fee) | 1.0% per year |
| Account Minimum | $500 | $5,000 | $10 |
| Promotion | None | None | Advisory fee waived (*12 months) |
| Highlight | Access to commercial real estate deals and no management fees | Invest in institutional grade commercial real estate | Access to private real estate deals |
| Best For | Non accredited investors | Long term accredited investors | Long term investors |
| | | | |
Compare DiversyFund
Find out how DiversyFund stacks up against the competition.
Who Is DiversyFund Best For?
DiversyFund can be a great option for many real estate investors. The platform is open to non-accredited investors, which is perfect for everyday investors aiming to diversify their portfolios. Moreover, investors with small amounts of money looking for a low-cost entry will benefit from the low investment minimum of $500. Ultimately, investors who don't need their cash for years can also invest in the available REIT.
With that said, this platform is a no-go for investors looking to receive cash distributions as DiversyFund reinvests all dividends immediately.
DiversyFund Review FAQ
This review focuses on the most important aspects of the company. However, we have compiled frequently asked questions and our answers to provide more information beyond that.
Is DiversyFund Safe?
No investment is 100% safe. However, real estate is generally considered to be a safer investment. Nonetheless, we can't say much about how safe investments are because the track record is too short, and REIT I hasn't matured yet. Moreover, there is no liquidity, and dividends are automatically reinvested.
How Does DiversyFund Make Money?
The platform makes money by charging investors asset management fees and collecting high fees from the offered REIT as a developer. Moreover, the company earns money once assets are sold at a profit and the 7% preferred return rate threshold for investors has been crossed.
How Are Dividends Paid with DiversyFund?
Dividends are paid every month. Unfortunately, investors don't see any of these distributions as they are automatically reinvested to fund the renovation of properties. DiversyFund states that this is part of its growth strategy and beneficial for compounding interest.
How Are My Investments Taxed with DiversyFund?
Investments and dividends are taxed as ordinary income. You will receive a 1099-DIV that you will have to file for your taxes. When the company liquidates its REIT, you will get the same 1099-DIV, but it will be treated as capital gains this time.
When Can You Sell DiversyFund Investments?
Real estate investments are highly illiquid and it's usually nearly impossible to sell your shares before the deal matures. While some REITs offer share redemptions or buybacks, DiversyFund doesn't provide a secondary market. Once you have invested with the company, you can't withdraw anything before the deal is complete, which takes five years. You also won't get cash distributions as they're reinvested immediately. Your liquidity with DiversyFund is zero.
Final Thoughts
If you want to get your feet wet in real estate as an investor, platforms with low investment minimums are usually a great place to start. With DiversyFund, you need as little as $500, making real estate accessible to almost every investor, not just accredited ones. The educational resources might also help deepen your knowledge about the entire topic.
However, there are lots of things you might want to consider before investing. First, the fees are higher than on other (better) platforms. Second, DiversyFund doesn't pay out distributions and you can't withdraw reinvested capital for at least five years. Plus, with only three properties (two outside the set target details), the REIT isn't diversified. Ultimately, we don't know anything about a possible performance due to a limited track record.
All in all, we believe that there are currently better options to invest your money in real estate.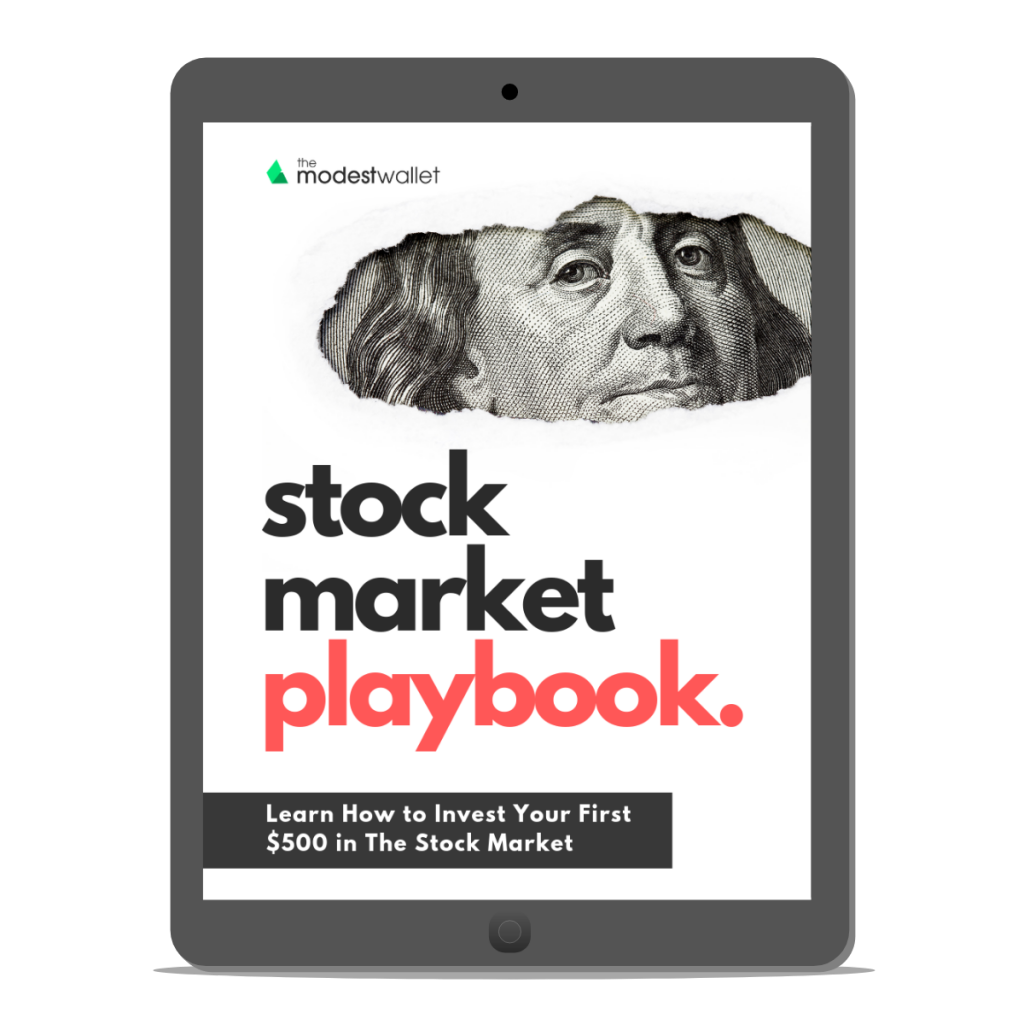 Get our free Stock Market Playbook to learn how to invest your first $500 in the stock market.
Plus our best money tips delivered straight to your inbox.

Carsten is a Freelance Copywriter with a personal interest in money management and investing. Besides taking care of his investments, he loves traveling, reading books, and working out (calisthenics & yoga).