Want to earn some extra cash completing paid online surveys from your couch? Awesome — you're in the right place! Taking paid online surveys is a great way to make money in your spare time, but many survey sites are sketchy. Some sites that promise to pay money are a scam. This is why it's important to be careful and only sign up for reputable sites.
On the other hand, there are surveys sites that can be more lucrative than others, and some offer sign-up bonuses and multiple ways to earn extra cash.
Luckily, we have done all the homework for you. We've compiled a list of the best sites that pay real money for completing surveys online, and each site's pros and cons so you can decide which one is best for you.
TL;DR
---
Best Paid Online Survey Sites
These survey sites allow you to monetize your spare time. You will typically get paid via PayPal cash, checks, prepaid Visa cards and gift cards. As long as you have an internet connection, you can make some extra cash.
1. Branded Survey: Best Overall
Branded Survey is an online survey site that offers you points in exchange for survey completion. Each point is worth one cent, and you'll be eligible to redeem your points when your balance reaches 500 points (or $5.00).
Branded Survey guarantees points for taking a survey. As with many other survey sites, you won't qualify for every survey you click on. There may be demographic requirements or profile criteria you don't meet. But unlike some other sites, Branded Survey will reward you with a few points even if you don't qualify for the survey. Learn more in our Branded Surveys review.
Payouts can take different forms, including PayPal, gift cards (including Amazon) and prepaid virtual credit cards.
Pros:
Guaranteed points
Low payout threshold
Cons:
Signup bonus is a little weak (just $1.00)
2. Survey Junkie: Best For Guaranteed Points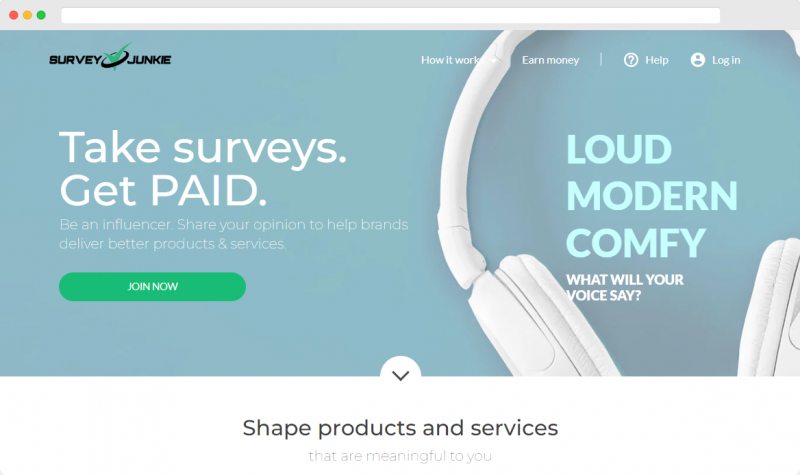 The proprietors of Survey Junkie are honest and transparent. They do not promise to make you rich. Instead, they promise to offer you a reliable way to earn extra cash.
The minimum payout is only $5, which is equal to 500 points. You can redeem points in the form of e-gift cards or cash through Dwolla or PayPal. Bank transfers are also available for US accounts.
However, remember to keep identifying information handy — the website requires that you verify your identity before redeeming points. (In fact, you may have to do so every time you opt for e-gift cards.). You can learn more about this survey site in our Survey Junkie review.
Pros:
New surveys are posted every day
Points are credited within 24 hours of completing a survey
Cons:
Limited number of surveys on mobile devices
3. Swagbucks: Best For Mobile Users
If you're looking for a survey site that offers a bit more than just traditional surveys, give Swagbucks a try. Since it offers several ways to earn money, you might end up spending a lot of time on the platform.
The whole program is based around a well-designed points system that rewards you based on your performance. You can convert these points, known as Swagbucks, into PayPal money or gift cards. There is also a $5 sign-up bonus for new users.
Swagbucks' popularity is mainly due to its versatility. It offers several ways to earn rewards, which include watching videos and playing games.
The average survey on the platform takes only about 10 minutes to complete. New polls and surveys are added everyday; however, you may not be eligible to take part in each and every poll or survey since the company assigns surveys and polls based on your profile. This can be a bit disappointing for some users.
Another benefit of using Swagbucks is its rewards program that pays you when you purchase through the site. You can earn up to 5% cash back on certain purchases.
Additionally, the site also allows you to monetize your internet searches. There is a catch here. You'd need to switch from the more traditional search engines like Google to a Swagbucks search engine. Their own search engine runs on Yahoo!, and Swagbucks will pay you for every search. However, the payouts may not be sizable.
The website also has its own streaming channel where you can watch advertising videos on selected topics including fitness, entertainment, etc. They do cap your earnings at 150 Swagbucks per view, which isn't much, but it's still worth a try. Some videos can be quite exciting. To learn more about the various ways you can make money with Swagbucks, check out our Swagbucks review.
Pros:
Several ways to earn money
You can save money by shopping through the platform
New surveys and polls are posted everyday
Cons:
Rewards process can be slow
4. InboxDollars: Best For Cash Payments
If you want to use a site that offers several options to make money with surveys, then InboxDollars is the one for you. It offers a wide range of surveys (both short and long). Additionally, you can make money conducting web searches if you use InboxDollars' search engine tool. Finally, you can earn cash back if you shop through the platform.
Unlike most other sites on the list, this one pays directly in cash. There is no need to keep tabs on your points and mentally convert them into cash. You will get paid directly in cash which you can deposit to your account.
You get paid $5 just for signing up. The interface is very easy to use. It's also accessible from outside the US, and is available to international users from most countries. You can learn more about the company in our InboxDollars review.
Pros:
You get paid in cash
Very easy to use
Several ways to earn money
Cons:
Long payment processing times
5. MyPoints: Best For Earning Daily Points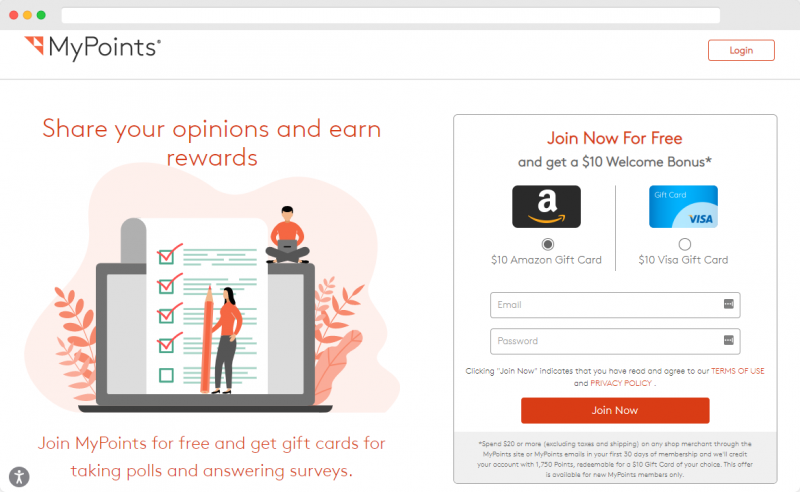 MyPoints is different. It is essentially a cash back site that offers up to 40% back with every purchase at more than 2,000 top stores, including Amazon, Home Depot, Best Buy, and Walmart.
In addition to completing surveys and shopping online, you can earn points by taking advantage of the special deals posted regularly. They offer great discounts and points for completing special tasks.
You can also earn points by playing games and watching videos on the Daily Scoop mobile app found on both iOS and Android. Moreover, MyPoints is one of the few survey sites with a lucrative affiliate program. You will get $2 for every successful sign-up through your link.
A sign-up is considered successful when the user earns 125 points by any means. The affiliate program has a lot of upside potential since MyPoints offers $10 to every new user. You will also get this bonus when you first sign up for a new account. Read our full MyPoints review to learn more.
Pros:
Several ways to earn money
PayPal transfers are completed in less than a week
Cons:
Limited customer support
Rewards are not instant
6. Kashkick: Best For PayPal Payments
Kashkick is an online platform that rewards users for completing certain tasks, from completing surveys and playing games to surfing the web and trying apps.
If users qualify to complete a certain survey, they have to complete it in its entirety to be able to earn rewards. Once a user reaches a minimum of $10 in their account, they can request a withdrawal via a verified US Paypal account. Users can expect to earn up to upwards of $2 per completed survey. Typically, payments are made within one to three (1-3) business days. However, some payments can take longer.
At this time, KashKick is only available to US residents and you need to be 18 years of age in order to open an account.
Like all the offers in this article, Kachkick won't make you rich, but it certainly can provide an easy way to make a few extra dollars in your spare time.
Pros:
Low minimum payout limit
Several ways to earn money
Payment via PayPal
Easy registration
Plenty of surveys available
Cons:
Only available in the U.S.
No sign-up bonus
Limited customer support
7. Toluna Influencers: Best For Unique Surveys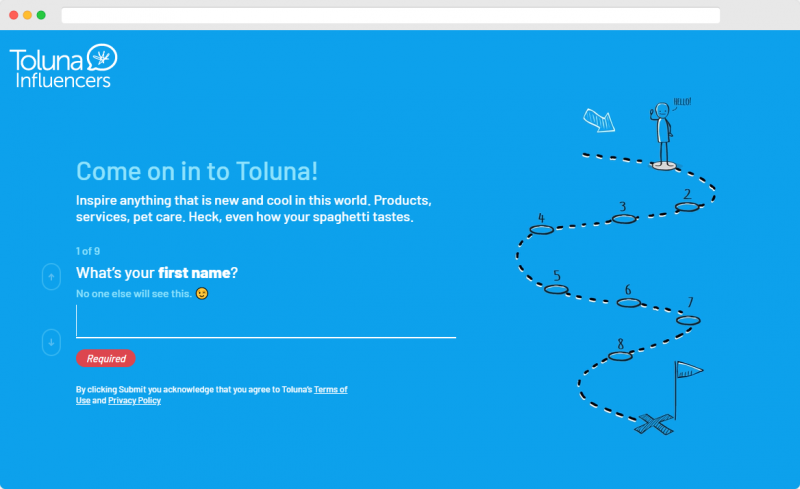 Toluna Influencers is a popular market research company providing real-time insights to firms around the world. Available in over 70 countries, it currently has over 26 million members making it one of the largest platforms offering paid online surveys.
In addition to typical surveys, members get to test products and even take part in webcam surveys. The average survey pays between 15,000 to 50,000 points, and the minimum payout is 30,000 points, which equals $10. Read our full Toluna Influencers review to learn more.
Pros:
Multiple ways to earn money including gift cards, sweepstakes, and cash
Quick processing time for gift cards and e-vouchers (about 1 week)
Cons:
Sweepstakes are only available in selected regions
8. Springboard America: Best For Taking Interesting Surveys
If you want to make a lot of money then look no further. Springboard America is among the highest-paying survey sites you'll find.
The average survey on the platform pays $30. However, you will find some surveys that pay up to $50 but may take about 90 minutes to complete. Most of these surveys are niche-oriented, and you will need to be very careful when selecting responses.
However, there are shorter surveys as well. They pay about $10 and will take only about 30 minutes to complete.
The platform follows a points system. You can redeem points once you hit the 5,000 mark, which equals $50. You will get rewards via email within 7 days of redeeming points. You can choose to opt for a gift card, donate the amount, or withdraw the cash to a virtual or physical Visa card.
Pros:
High-paying surveys
Excellent customer support
The interface is very easy to use
Cons:
Only a limited number of surveys are available
9. SurveySavvy: Best For Regular Income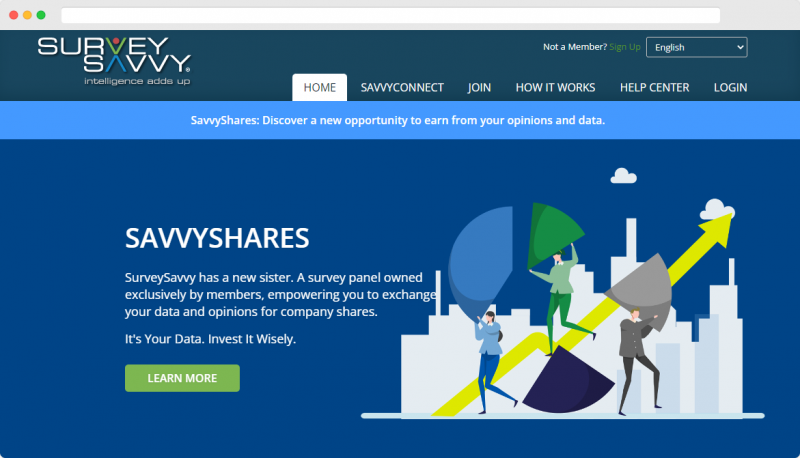 A great thing about SurveySavvy is that it allows you to choose from a variety of surveys. Most surveys are short and only take about 10 minutes to complete.
You can become a VIP member by installing the app on your device, which will pay you $5 per month for your use. It's available on desktop, and mobile devices.
Potential survey takers should be aware that some users have complained of less-than-stellar customer service. Your mileage may vary, but be prepared for the possibility of negative interactions if you need help from this company.
Pros:
Short surveys
There's a mobile app to make money through surveys
Cons:
10. OneOpinion: Best For Short Surveys
OneOpinion is one of the better-paying survey sites. Most surveys are small and will only take a maximum of 30 minutes to complete, paying up to $15. However, you will also come across some very short surveys that pay $1 and only take 5 minutes to complete.
You need a minimum of 25,000 points ($25) to redeem them. You can opt to get paid via PayPal or a Visa prepaid card.
Pros:
Excellent customer support
Most surveys are short
Cons:
There is only one way to earn money
11. Opinion Outpost: Best For 10-15 Minutes Surveys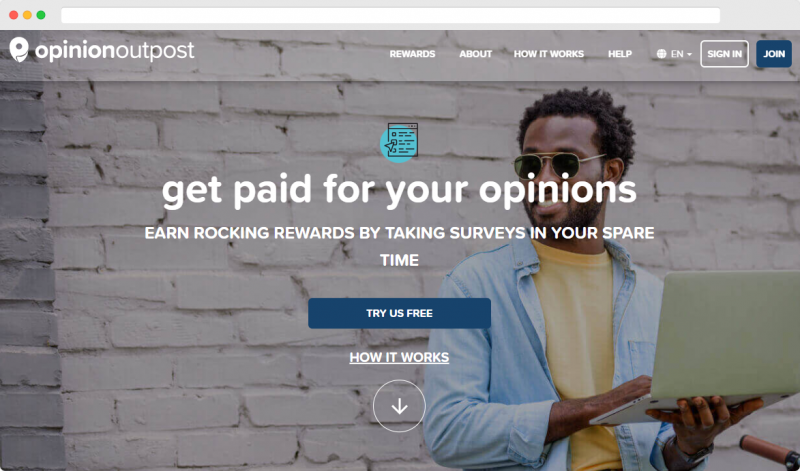 Owned by a company called Dynata, Opinion Outpost has been offering surveys to consumers in exchange for small payouts for over a decade.
In addition to all of the usual features offered by online survey sites, Opinion Outpost offers US users who complete a survey a free entry into a quarterly draw worth $10,000 to the winner. Canadian users have similar sweepstakes available to them as well, although these are only worth $1,250 per quarter.
Opinion Outpost also offers a small bonus for referring eligible friends to the service. Read our full Opinion Outpost review to learn more.
Pros:
Long and storied reputation of integrity
A very cool quarterly sweepstakes
Cons:
Low payout per hour
Limited surveys available
12. American Consumer Opinion: Best For Fast Cashouts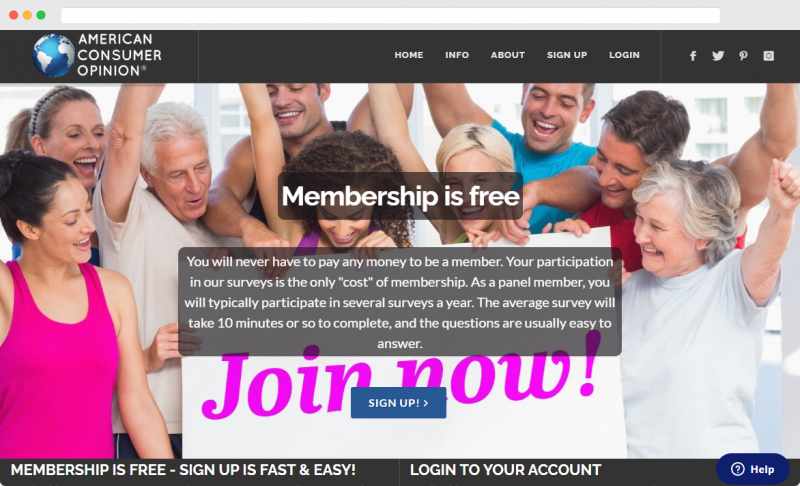 American Consumer Opinion (ACO) offers quick surveys for fast money. For cash payouts via PayPal, you'll need to accumulate just 1,000 points. At $0.01 per point, that translates to $10.
ACO periodically sends out household surveys, asking survey-takers to answer questions about their household income and buying habits. These are great ways to boost your point total, and we highly recommend taking them.
Finally, ACO offers a referral bonus for referring friends to the service. You should be aware, though, that the bonus is only an entry in a draw to win $5.00. Considering the value that companies like these get from referrals, the reward is a little disappointing.
Pros:
Household surveys are an excellent way to increase your point total
Low payment thresholds
Cons:
13. LifePoints: Best User-Friendly Survey Site
LifePoints is an online survey site offered by Lightspeed, a consumer research company that's been offering surveys since 1946. They have an outstanding and trustworthy brand.
LifePoints recently absorbed the users of MySurvey and GlobalTestMarket, which means the number of people using the service now totals over 5,000,000. The large user pool allows LifePoints to offer one of the most user-friendly survey sites on the market.
This survey service offers great prizes and rewards to those members who follow it on social media. They've given away game consoles, Apple Watches, and more to participating people. Check out our LifePoints review to learn more.
Pros:
Great rewards to people who follow the company on social media
Super easy interface
Cons:
It can be difficult to get a hold of customer service if you have an issue
14. Pinecone Research: Best For Short Questionnaires
Pinecone Research is an invite-only online survey site. The surveys on the site are worth a minimum of $3.00 to users who complete them. $3.00 also happens to be the minimum payout amount, so you'll only need to take a single survey before requesting a payment.
Payout options include the aforementioned PayPal, check, gift cards, and prepaid Visa cards.
Surveys on Pinecone Research typically take about 15 to 20 minutes to complete, and are usually fairly straightforward. Unlike some of the magnum opuses you're likely to encounter at other survey sites, Pinecone Research keeps things short. Read our full Pinecone Research review to learn more.
Pros:
Short, to-the-point surveys you can take in 15 minutes
Extremely low payout thresholds
Flexible payment forms
Cons:
The invite-only format may make it difficult for some to join this site
15. Survey Club: Best For Young, International Users
Survey Club offers online surveys in exchange for cash. What sets it apart from many other survey sites is its willingness to take on younger survey takers from outside the United States. Anyone over the age of 13 who lives in the US, UK, Canada, or Australia will qualify to take surveys on this site.
You should be aware, though, that with this increased flexibility comes a small reduction in what you might expect to earn per survey. Payouts can be on the low side, sometimes totaling just a few dollars per survey. However, this is a problem with many survey sites, so don't be too quick to fault Survey Club for this particular flaw. Read our full Survey Club review to learn more.
Pros:
Accessible to young, international users
High paying opportunities
Cons:
Low rewards per survey
High minimum payout
16. Ipsos iSay: Best For Loyal Users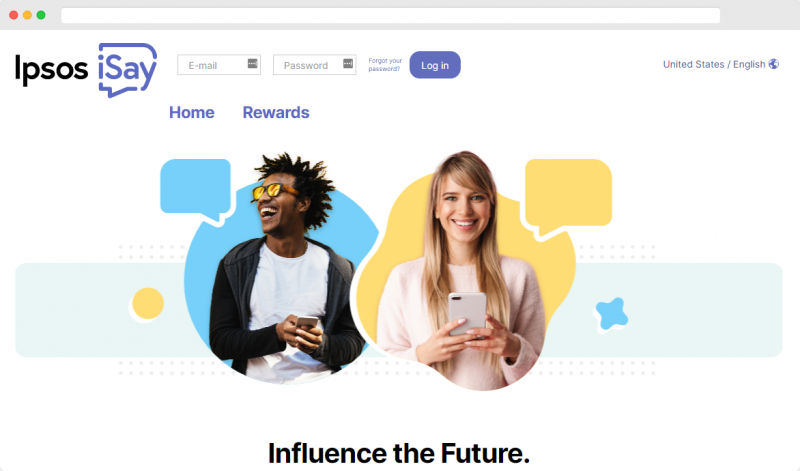 Ipsos iSay is the online survey arm of the famous Ipsos market research company. While it operates much like any other online survey site, what sets Ipsos iSay apart from its competitors is its opportunities for bonus points and additional prizes.
If you answer enough surveys, you'll be rewarded with bonus points that you can redeem for cash or gift cards. Plus, you'll get even more bonus points the longer you stay an active member. Read our full Ipsos iSay review to learn more.
Pros:
Bonus points are a great incentive to keep answering surveys
Find your perfect reward from a wide variety of options
Cons:
Referral bonuses for friends are a little low (just 100 points per successful referral)
17. PrizeRebel: Best For Killing Some Time
PrizeRebel isn't just an online survey site. It's much more than that. This site allows you to watch videos, play games, and accept offers in exchange for points that can be redeemed for cash or gift cards.
The site has a highly gamified interface that's fun to play with, and you may soon find that a few hours have passed since you last checked your watch.
Pros:
A great way to kill a spare few seconds and make a few bucks at the same time
Cons:
There's nothing particularly special about the surveys themselves
18. Tellwut: Best For Creating Your Own Surveys
Tellwut is an online survey site with an emphasis on social interactivity. You can create your own surveys and send them out to friends. You can also answer other users' surveys. However, you'll get the most points for answering approved external surveys.
All users should be aware that you cannot redeem your rewards points for cash on this website. You have to select a gift card from a participating retailer. But since those retailers include Amazon, it's almost as good as cash.
Pros:
The social aspects are a ton of fun
User-generated surveys are fun to answer, even if they don't reward you with a lot of points
Cons:
Refer-a-friend bonuses are pretty weak (just 25 points)
19. Valued Opinions: Best For Gift Card Rewards
Valued Opinions is a market research platform launched in 2004 with over 3 million members. They offer multiple ways for people to earn rewards including online surveys, diary studies, or even test products at home. The rewards can then be exchanged for gift cards from top brands such as Amazon.com, Macy's, Apple, Target, Nike, Home Depot, and many more when the threshold of $10 is reached.
After signing up, users receive invites via email to take online surveys, or the opportunities will simply appear on the member's dashboard. Users have to click on the "Start Survey" button on their dashboard to begin taking the survey. Valued Opinions usually pays between $ 1 to $5 per completed survey. The pay will depend on many factors so it is important that users keep their profiles up to date to receive relevant surveys.
Surveys will vary in length, but will typically take less than 15 or 20 minutes to complete. The good thing is that the survey invite will tell users how long it should take, and the survey deadline to respond.
At the moment Valued Opinions is only available to residents of the United States and the minimum age to sign up is 17.
Pros:
High average payout per survey
Different membership levels (active members get rewarded)
Fast turnaround time for receiving your reward
Low minimum cash out threshold
Cons:
Limited number of surveys each month
Limited cash-out options
Only available in the U.S.
---
Things to Consider While Taking Paid Online Surveys
There are a number of things you need to consider before signing up for any of these sites. You'll want to find sites that pay the most, and only sign up to reputable sites.
Tips to Maximize Earnings
Here are some tips to help you maximize your earnings when completing surveys online.
Join multiple platforms: Signing up to a few trusted platforms is a smart strategy so you never miss out on surveys that pay well. Also, make sure to turn on notifications to get regular updates on the latest surveys.
Be transparent with your profile: Avoid using fake information when signing up for a new account (some websites may require you to submit identity documents). Having a complete profile will allow the market research company to match you with relevant surveys. This, in turn, will open up more opportunities for you.
Have realistic expectations: Paid online surveys are a great way to earn some extra income, but they are not meant to replace a full-time job. Focus on completing high-paying surveys to make the most of your time.
Complete relevant surveys: Do not take on surveys you know nothing about. They will take you longer to complete. Focus on completing relevant surveys for you and always start with the highest-paying ones.
Be honest: Some companies may cancel surveys if you are not honest in your feedback. Therefore, be careful when recording your answers so that you always get paid for your time and hard work.
Beware of fees: Be sure you know and understand all the relevant fees and charges. And always use the most "profitable" method to withdraw money.
Don't leave your account dormant: Do not leave your money sitting in your account for too long — some websites are known to delete unused accounts.
Be quick: Completing surveys as fast as you will allow you to earn more money per hour. Gauge the amount of time you have at your disposal to determine what type of survey you can complete at any given time.
Tips to Avoid Survey Site Scams & Best Practices
A couple of quick tips will help you when trying to avoid scams in the world of online surveys.
Stick with reputable, established firms: Scam websites will often be fly-by-night enterprises, popping up one day only to shut down the next. If you only use sites that have been around for years, you'll minimize your risk.
Look out for the little things: Keep an eye out for small errors on the website that can indicate a less-than-professional operation. Spelling and grammar mistakes on the landing page, buggy web pages, and unprofessional or non-existent customer service can all be warning signs that indicate a scam.
Look for trust signals: Make sure you do your due diligence before signing up to a site you know nothing about. Go to the Better Business Bureau (BBB) and Trustpilot to check their ratings and read what users are saying about the company.
Don't share sensitive information: Keep an eye on sites that request your Social Security Number or other types of sensitive information.
Set up a new email account: If possible, it's recommended to use a new email address for survey sites separate from your personal email address.
Never pay to take surveys: Don't pay a survey site to complete surveys online or in person. A reputable site will never request users to pay to join.
Protect your computer: Make sure you install software on your device to protect it from viruses and malware before signing up to a survey site.
Tips to Identify a Legitimate Online Survey Site
Similar to spotting and avoiding scams, identifying legitimate online survey sites can be challenging. We have a few tips, however.
Focus on reputation: Stick to survey sites that have a good reputation among their users and the industry in general. You can find reviews from a lot of different online sources. You can also use articles like this one to make sure you stay on the beaten path of quality, established survey sites.
Focus on customer service: Legitimate survey sites will make an effort to take care of site users. by providing decent customer service to users. Make sure you keep in mind that these are digital products and that (as with many other purely digital services) customer service can sometimes be lacking. But relatively speaking, legitimate online survey sites will offer much better customer service than scam sites.
---
FAQs: Paid Online Surveys
We've compiled some of the most frequently asked questions on the internet about paid online surveys. Here are our answers:
Are Online Surveys a Legitimate Way to Make Money?
Yes, survey sites do pay real money, but they can never replace the income from a regular full-time job. Even if you join a site that pays well, you will only make about $300 per month.
While some sites offer very high rates — up to $1000 per survey — high-paying surveys are very rare and are only available for users with a specific profile (For instance, clinical trials).
However, make sure to opt for a website that is legitimate and safe, because there are a significant number of survey sites that do not pay. They are scams and will result in a waste of time.
Beyond this, some sites do not pay cash and only offer rewards in the form of gift cards and vouchers, so choose your platform carefully.
How Long Does It Take To Complete An Online Survey?
Online surveys come in different shapes and forms, but on average you can expect to complete surveys in 10 to 20 minutes. However, keep in mind that some surveys can take longer (even more than 1 hour) depending on the type of study or research the site is conducting. The good news is that before you begin, the research company will let you know approximately how long a survey will take to complete. That way you can either accept it or move on to the next.
How Much Money Can I Make Taking Online Surveys?
As mentioned earlier, there is no fixed salary when it comes to completing surveys. On average, survey sites pay between $0.50 to $5.00 per survey complete. However, some survey sites may pay a higher amount depending on the type of study or research they are conducting.
If you have a full-time job, then you will not be able to spend more time responding to surveys. However, if you're free, you may be able to put more time into the work. But keep in mind that it may (likely) never be enough to pay your bills.
Plus, the payment is also not guaranteed as your responses may get declined or you may get disqualified due to incomplete details or false information.
How Do I Get Paid for Taking Online Surveys?
You will get paid when you hit the minimum threshold, which can be as high as $100 in some cases. It is best to opt for a platform that has a small threshold so that you don't have to wait for months to reach it.
Different platforms offer different ways to get paid including:
Gift cards and vouchers (usually get approved within 5 days, and can be utilized at the specific online or physical stores)
Prepaid Visa cards
PayPal cash
Bank transfer (it can take 5 to 15 days to receive payment in your bank account)
Donations to charity
Check
Amazon gift cards
Bank transfers are the slowest and are only available in a limited number of countries.
What Kind of Questions Do Online Surveys Ask?
This changes from survey to survey. When you join a platform, you will have to complete a personal survey regarding your preferences and background. The platform will use your responses to prepare your profile which they will use to assign you surveys.
Once done, you will get to choose surveys in different niches, including products and services. There may also be surveys related to politics, entertainment, health, and religion.
Online survey topics can also change depending on which survey service you're using as well.
Do You Receive Payment Immediately After Completing a Survey?
All survey sites have a minimum payment threshold. You will not be able to cash out until you have reached the minimum payment threshold. Once you have completed enough surveys and accumulated the required amount of points, you will be able to exchange your points into your chosen payment method.
---
Final Thoughts
Online survey sites can be a valuable addition to any money-making strategy. However, you won't get rich and you'll need to keep an eye out for less reputable websites.
If you keep your expectations reasonable and stick with the more well-established survey sites, you should be in the clear. Happy survey answering!
Up Next