30 Ways to Make $500 Fast In 2023: Within a Week
Many or all of the products featured on this page are from our sponsors who compensate us. This may influence which products we write about and where and how the product appears on a page. However, this does not influence our evaluations. Our opinions are our own. Here is a list of our partners and here is how we make money.
---
The information provided on this page is for educational purposes only. The Modest Wallet is a financial publisher that does not offer any personal financial advice or advocate the purchase or sale of any security or investment for any specific individual.
Sometimes, a few hundred dollars can make all the difference — if you can access the money quickly, that is. At times like these, the ability to make $500 fast can be a godsend. But it can be hard to find solutions that pay hundreds of dollars AND get you your money quickly. Often, you're forced to wait for weeks before you can enjoy the financial fruits of your efforts.
Well, not anymore. There are places you can go to find jobs that pay you hundreds of dollars, and quickly. Continue reading below to find our best strategies to make $500 fast.
---
Best Ways to Make $500 Fast
Here are the best ways we've found to quickly make $500 online. Most of these strategies are available to almost anyone, so you'll definitely find an option that suits you on this list.
1. Take Paid Online Surveys
There are tons of websites online that promise to pay you cold, hard cash in exchange for filling out surveys. You'll want to be careful to separate the scams from the legitimate opportunities. We suggest that you stick to the survey companies that have been around for years, and that have a proven history of paying their survey takers and paying quickly. Those companies include:
Sign up and get a $1 welcome bonus
Earn cash or gift cards for completing online surveys
Redeeming is fast and simple
Surveys from major brands
>> Read Also: 18 Best Paid Online Surveys Sites
While you'll earn money easily on these sites, you'll have to use significant effort to take surveys quickly enough to make a few hundred dollars. That's because you won't make a lot of money on each individual survey (on average survey companies pay around $0.50 to $5 per survey completed). You'll need to speed through these as quickly as possible, while still answering each question thoughtfully and accurately.
To estimate the time it takes to make $500, let's assume you can earn an average of $2 per survey, and you dedicate several hours each day solely to completing surveys. This is just a hypothetical scenario, as actual earnings and availability may vary.
$500 / $2 = 250 surveys
If you can complete, let's say, 5 surveys per hour, it would take:
250 surveys / 5 surveys per hour = 50 hours
In this example, it would take approximately 50 hours to make $500 by completing online surveys. However, please note that this is a simplified calculation, and the actual time required may differ based on several factors (i.e. your location, type of surveys, etc).
2. Get Paid to Watch Videos
Even easier than taking surveys is watching videos. It's one of the simplest ways we know of to make money fast online. This strategy works because the videos are branded, and advertisers pay companies to distribute them to people who will trade their time and attention for small cash payouts.
Like filling out surveys, you won't make a killing doing this. In fact, the payments are quite small. In our view, this strategy is best combined with any of the others on this list to make $500 fast. Or you can use it as an adjunct to one of the other strategies. For example, if you choose to babysit for extra money, use the time after you've put the kids to bed to watch videos and do some online surveys. You'll make money in three ways.
Check out InboxDollars as this is one of the best services out there to make money watching almost anything.
Based on our research, you can reasonably expect to earn anywhere between $2 to $5 per hour watching videos online.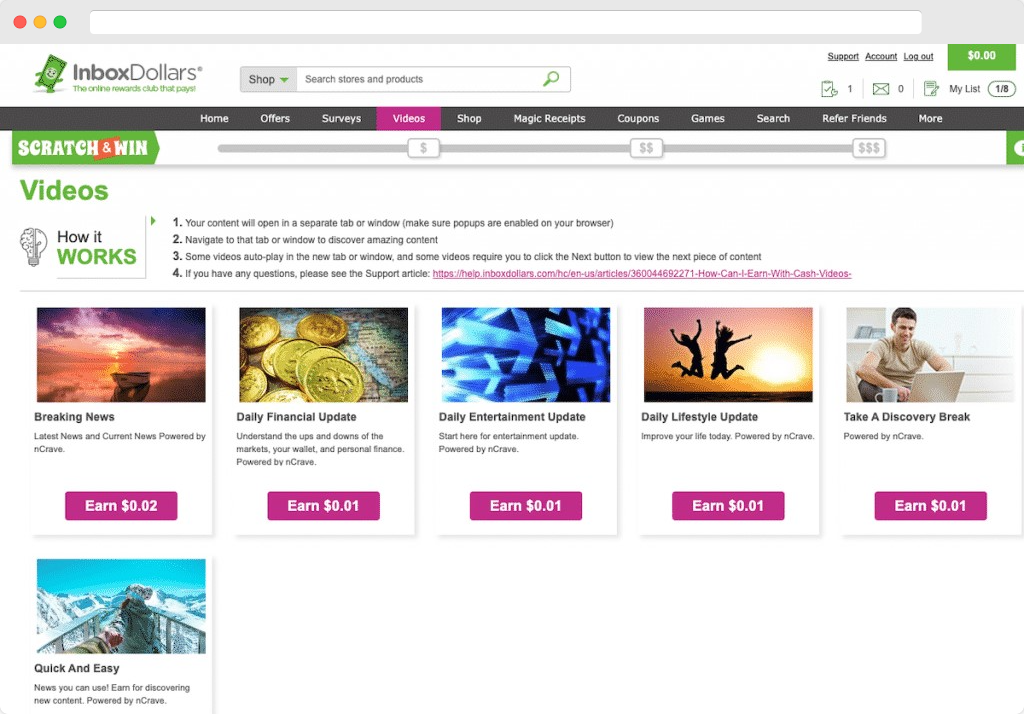 3. Babysit
Babysitting is a classic way to make extra money. The money can be good enough to justify doing the work full-time. How much you'll make depends on your experience, your qualifications, your clients, and the market you're in. For example, a highly qualified and experienced caregiver who works for wealthy people in Manhattan will command a higher fee than a teenager in rural Ohio who's just starting her first job.
That said, even less experienced folks can make money quickly babysitting. And the best part is that babysitters usually get paid immediately after the job is done.
One last thing — If you don't feel like doing the marketing and networking yourself, you may want to check out Sittercity. This online service connects qualified caregivers with parents in need of a babysitter. It can be a great shortcut to meeting amazing clients.
The time it takes to make $500 babysitting can vary depending on several factors, including your babysitting rates, the number of hours you work, and the availability of babysitting opportunities.
To estimate the time required, let's consider an average babysitting rate of $10 per hour.
$500 / $10 = 50 hours
In this example, if you charge $10 per hour, it would take approximately 50 hours of babysitting to earn $500. However, it's important to note that finding consistent babysitting opportunities for the desired number of hours can vary based on factors such as demand in your area, your availability, and the needs of families seeking babysitters.
4. Walk Dogs or Pet Sitting
People will pay big money to ensure their children are taken care of. They'll often pay well to guarantee that their animals are well cared for, too. If you're in an area where a lot of households have pets (and who isn't?) consider using your time to walk dogs or pet sit.
If you don't feel like doing the manual legwork and putting up flyers to find clients, check out an app called Rover. Rover will connect you with pet owners who need dog walkers and pet sitters. You can even choose to be paid in cash immediately after a job (if that's cool with your client). Depending on how many walks you do per day, you should be able to make $500 fast. Check out our Rover review to learn more.
If you charge an average rate of $15 per hour for walking a single dog, you would need to calculate the number of hours required to reach $500.
$500 / $15 = 33.33 hours
In this example, it would take approximately 33.33 hours of walking a single dog at a rate of $15 per hour to earn $500. However, please note that it might be challenging to find a single dog to walk for such a long duration without breaks or other engagements. So, it's more realistic to consider multiple dogs or shorter timeframes.
5. House Sit
Do you like the idea of taking care of something, but you'd prefer that thing wasn't a child or an animal? Why not check out Care.com? Along with the opportunities for senior caregivers, babysitters, and pet sitters, you'll find postings for housesitters. These gigs are perfect for people who want a side hustle that still gives them time and energy to pursue a second (or third) interest.
For example, you can take a house-sitting gig, and while you're watching the house, teach English online (see the VIPKid gig below), or pick up a freelance hustle on Upwork.
If you charge a daily rate of $50 for house sitting and secure a single assignment, you would need to calculate the number of days required to make $500.
$500 / $50 = 10 days
In this example, it would take approximately 10 days of house-sitting at a rate of $50 per day to earn $500. However, it's important to note that securing consecutive 10-day house-sitting assignments may not always be feasible. House-sitting opportunities can vary in duration, and it may take time to find and book longer assignments.
6. Search the Web
Some websites will allow you to monetize your internet searches. Swagbucks is just one of these websites. If you're confused about how this works, you're not alone. After all, how can you possibly make money just searching for something online?
Well, in their never-ending quest for personal data, some companies will pay for information about what you're searching for. To facilitate this, Swagbucks has created a Yahoo!-powered search bar that tracks what you're searching for and pays you a small amount of money for every search.
As with some of the other items on this list, you won't make a huge amount of money searching the Web by itself. But, if you combine it with a few of the other strategies on this list (online surveys, anyone?), you'll effortlessly top up your income. Again, if you combine strategies, you should be able to make $500 fast.
7. Deliver Food
Do you have reliable transportation? Do you have a smartphone? Can you pass a simple background check? Are you over 18? If you answered yes to all those questions, chances are good that you can be a delivery driver for DoorDash.
You'll need to meet a handful of requirements, and you'll need to live in an area where the service is available, but DoorDash delivery allows you to access reliable extra income and additional tips. DoorDash pays all of its drivers on a weekly basis by direct deposit, so you'll barely have to wait for your next paycheck.
You can reasonably assume to make $500 within a week, however it is dependent on a number of factors such as the number of orders you deliver per day, the tips you receive, and when you make deliveries.
>> Read Also: 20 Best Under The Table Jobs That Pay Cash
8. Deliver Groceries
If delivering takeout isn't quite your thing, but you're still in the market for some kind of delivery job, Instacart or Shipt might be your ticket to a quick payday. Instacart will have you deliver groceries to clients in your area, while Shipt offers clients everything from alcohol delivery to office supplies.
If you don't have a car, you can become an Instacart shopper. These folks stay in the store and collect the desired items off the shelf while someone else picks them up and delivers them to the client. You should be aware that these two jobs don't offer the same hourly wage. You can make $500 fast depending on the hours you put in.
Check out our best food delivery service to work for article to learn more about this gig.
9. Test Products
Before a software product (like a game, app, or web app) goes to market, it's often exhaustively user-tested. Companies perform user testing to work the bugs out of their software, make it easier to use, and improve various features.
But not every product has a large enough base of users for reliable testing. That's where platforms like UserTesting and uTest come in. The website will allow you to test software products for paying clients.
To do well on this site, keep in mind that you'll be rated by the person who paid for the testing — based on how valuable your feedback is. So keep your feedback professional, honest, and actionable.
Note that the frequency of available tests can vary on these platforms. UserTesting, for example, offers tests based on your profile and demographic information. It's difficult to determine the exact number of tests you will receive, as it depends on your eligibility and the demand for testers. Payout rates also differ, and they can range from $5 to $20 per test on UserTesting, for example.
The time required to complete a test, on the other hand, can vary from 10 to 30 minutes or longer, depending on the complexity of the task.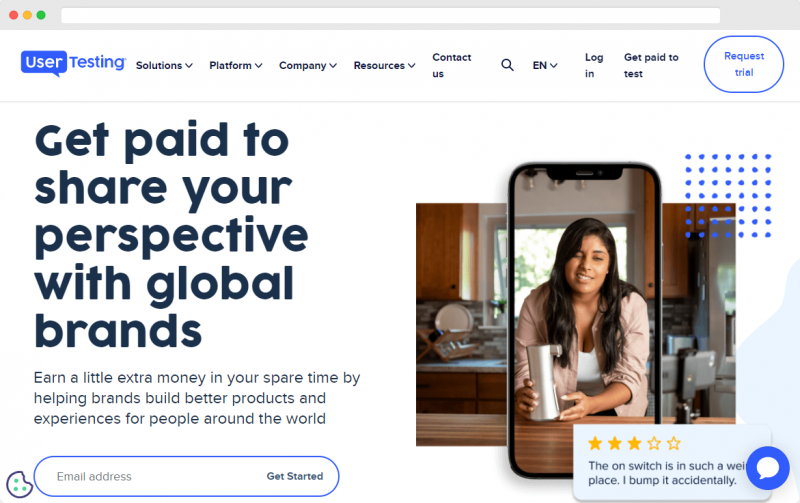 10. Make Money Driving
If you'd like to make your money behind the wheel of a car, but don't want to deliver groceries, booze, or office supplies, why not consider Uber or Lyft? Both companies will let you drive passengers safely from Point A to Point B while making a decent amount of money.
If you're going to be a driver for Uber or Lyft (or anyone else for that matter), always remember to keep an eye on your fuel, maintenance, and vehicle depreciation costs. They can eat into your profit margins if you're not careful.
Driving is probably one of the best ways to make $500 fast. Check our make money driving post to learn more about this gig.
11. Run Errands
If you're not up for complex tasks and just want to help out another person with something basic, consider giving TaskRabbit a try. TaskRabbit is an app that connects people who need errands done with people who are willing to do them for a fee. Housecleaning, shopping, landscaping, and small appliance repair are just a few of the duties you'll find advertised on this app.
If you're going to use TaskRabbit, keep a close eye on your user feedback. Your clients' experiences can make or break you on a site like this, and you'll want as many five-star reviews as possible to help you land that next gig. This is another good option if you want to make $500 fast.
12. Sell Your Jewelry
This one's pretty straightforward. If you have any valuable jewelry lying around and gathering dust, why not convert it to dollars and cents? Unless it has sentimental value, there's not much use in having jewelry sitting unused in a drawer.
But it can be difficult to sell jewelry effectively. Many reputable jewelry stores don't take secondhand items. Pawnshops can seem intent on ripping you off. You're better off giving Worthy a try. This site will take custody of your valuable jewelry, appraise it, verify its authenticity, and post it for auction. While they'll take a small cut of the proceeds, most of the money will wind up in your pocket.
Depending on how much your jewelry is worth, you should be able to make $500 fast if it's in high demand.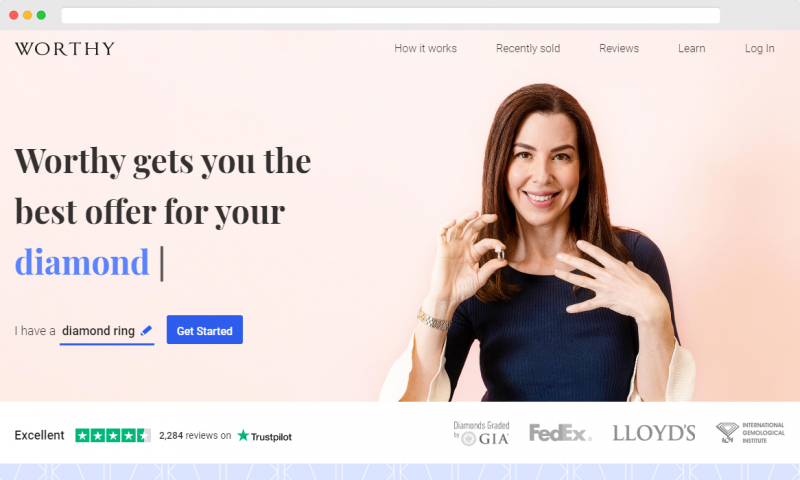 13. Sell Old Stuff
This advice can be harsh medicine for the pack rats among us. (You know who you are!) But if you've got a small fortune in old, random stuff just sitting around your place, why not try selling it to the highest bidder?
One of the best ways to do this is to organize an estate/yard/garage sale (your preferred terminology will depend on the region you're in). You can generate a ton of walk-through traffic and improve sales just by putting up a few signs and posting a couple of reminders in your local Facebook groups.
Check out a website called Decluttr where you can sell anything from DVDs to phones and computers. If your stuff is in good condition, you can make $500 fast.
Check out our full Decluttr review to learn more.
14. Cut Unwanted Subscriptions
Many people don't realize how much money they lose every month in unwanted, unneeded subscription fees. Unused cable channel packages, for example, can cost you upwards of $100 per month, while excessive cell phone packages can run up similar costs.
We've written it before, and we'll write it again: Saving money is making money. If you can save yourself $250 per month on unnecessary subscription costs, you've basically given yourself a significant raise.
Rocket Money and Billshark are just a couple of the services that will help you trim your expenses by analyzing your monthly bills and negotiating with the cable and utility companies.
>> Read Also: 30 Best Part-Time Jobs to Boost Your Income
15. Negotiate Bills
Sometimes, you don't want to give up a service entirely. You just want to pay less for what you're getting. That's where Trim comes in. Trim is a service that will negotiate with your cable, cell phone, and utility providers to attempt to secure promotional and discounted rates for the services you're already getting.
This is an amazing option for those who aren't great at (or just plain hate) negotiating. You should be aware that Trim takes a sizable cut of the money that it saves you. But since they only charge a fee if they save you money, you'll still have money in your pocket at the end of the day.
16. Rent Out Your Car
Let's face it. As much as you might love it (or hate it), your car is usually a massive liability. Fuel costs, depreciation, insurance, and repairs all add up to be a major drag on your finances. But what if you could turn that liability into an asset?
That's what Getaround promises to do. With this app, you allow people online to rent your car for a pre-set rate (that varies with the make, model, and year of your vehicle). So instead of sitting there and gathering dust while you're not using it, your car can generate passive income to help offset some of the expenses we mentioned above. What's not to love?
Depending on how often you rent your car out, or if it's in high demand, you can determine if you can make $500 fast.
17. Get Cash Back and Rebates
If you'd like to save significant amounts of money on everyday purchases, you might want to give Rakuten a shot. This cash back app offers savings on groceries, personal electronics, and lots of other items that many of us frequently buy.
Rakuten will send your accumulated cash back to you once per quarter. Given the significant savings that Rakuten can generate, each quarter will bring you a check in the hundreds, if not thousands of dollars (if you have a lot of expenses). If you combine cash back rebates with coupons and other strategies from this post, you should be able to make $500 fast.
Check out our best cash back apps and best coupon sites articles to learn more.
18. Save Money on Groceries
Similar to Rakuten, but more focused on grocery shopping, Ibotta gives you access to significant savings on your grocery purchases. Rather than paying out quarterly, you can choose when Ibotta will send you your accumulated cash back. So the payments can be pretty frequent, especially if you shop for a large family.
In case you're wondering, these programs work by collecting your consumer data. They either use the data to deliver ads or sell it to third parties. That makes some people uncomfortable, but for most of us, the substantial savings are well worth the privacy trade-off.
19. Sell Your Crafts
If you're particularly "crafty," you absolutely need to be on Etsy. This digital marketplace for all things vintage, cool, homemade, and quirky can open up untold opportunities and massive markets for your home-based business.
The trick to making a successful go of selling on Etsy is to "niche down" into an area that's underserved on the site. (For example, instead of just making jewelry for everyone, consider making a product that appeals specifically to young brides.)
Don't make the mistake that too many people make and underprice your product(s). If you design and create quality pieces, make sure that your prices reflect their value so you can make $500 fast.
20. Online English Teaching
If you love teaching, you won't find another service quite like VIPKid. VIPKid connects Asian students who hope to learn to read, write, speak, and understand English with the help of qualified language tutors.
Especially suited to teachers and other educational professionals who want a great side hustle, VIPKid offers plenty of opportunities to make significant amounts of money over a short period of time. They even offer bonuses to people who complete a certain amount of classes during a single month.
You'll want to be careful about canceling or rescheduling classes, however. Too many rescheduled classes or cancellations can reduce your rating on the website and decrease your payments.
21. Rent Out Unused Space
Like the Airbnb (see below) of the storage world, Neighbor connects people who have additional storage space with those who need space to store their possessions. The site caters to people who live near one another, which makes sense, given that you probably wouldn't want to ship a small storage locker's worth of goods across the country.
Neighbor is a great solution for those with extra space but who don't feel comfortable allowing another person to share their living space. And it's perfect for those in suburban areas who might be sitting on an extra-large garage or insulated shed that sits empty most of the time. You can make $500 fast by monetizing your unused space, how cool is that?
22. Sell Your Clothes
As we mentioned earlier, stuff lying around your house or apartment is just a waste of money. That's especially true of clothing, which can hold a substantial resale value that's lost if all it does is sit in the closet.
Consider giving Poshmark a chance if your closet is overflowing with quality clothes. Poshmark is a clothing reseller that sells secondhand clothes to discerning customers. It often pays people like you hundreds of dollars for their treasures.
Poshmark pays far more money for quality, new-ish, designer pieces that have been treated well than older, generic pieces that have seen better days. If you only have the latter, you may be better off giving this idea a pass, because you probably won't earn any money. But if you're the proud owner of several classy pieces of clothing, why not turn them into cash? You could make $500 fast!
>> Read Also: I Need Money Now: 35 Ways to Make Cash Right Now
23. Freelance
Of all the strategies on this list, this idea has the potential to make you the most money in the least amount of time. Thanks in large part to the Web, freelancing has become one of the greatest ways to make extra funds quickly.
Before the introduction of the internet, people were forced to make do with manually networking and marketing their services to close friends, family, and acquaintances — and relying on intuition when talking to strangers. These days, however, you can take advantage of sites like Fiverr and Upwork to advertise your services across the world.
You should be aware that your income will vary dramatically depending on the skills, business savvy, and client service you bring to your freelance work. Those who work in highly competitive industries with few credentials and who don't offer great service will not make very much. However, if you leverage your in-demand services in a niche area and offer your clients an exceptional experience, you'll soon be making more money than you know what to do with.
24. Have a Yard or Garage Sale
Holding a yard or a garage sale is a great way to realize two benefits at once. Yes, you'll make a bunch of money very quickly. But just as importantly, you'll free up a ton of space for you and your family. The latter can be almost as rewarding when you realize how much easier it is to live without being weighed down by heaps of less-than-useful stuff.
Positive results at a yard or garage sale are all about marketing and sales. Remember to post about your sale on local Facebook groups dedicated to buying and selling. And post clearly visible signs around the neighborhood and on busy throughways.
On the day(s) of the sale, arrange your items in eye-catching ways. Rather than pile them all on a table, consider highlighting your best pieces, and display them where they're most visible.
Finally, don't underprice. Garage sales are about bargains, but don't give away money by being unnecessarily generous. If your stuff is in high demand, you could make $500 fast.
25. Create a Course and Sell it
Creating and selling an online course may be one of the best ways to make money online since the advent of the Web. Online courses have become all the rage since sites like Coursera, Udemy, and Skillshare made them popular, but they can be difficult to design, create, and offer. That's where Podia comes in.
Podia will take the headaches out of crafting your own online course. They'll handle the difficult technical side of things, allowing you to focus on the content you're putting out.
The people who are most successful in this area tend to remember that selling an online course is all about authority and trust. If people believe that you're an established authority in an area, and trust you to deliver value on that subject, they'll buy your course.
26. Sign-Up Bonuses
Many online services will offer significant sign-up bonuses when you first become a member. Some of those sites and apps include:
In fact, with many of these services, the sign-up bonus alone makes the act of signing up worth it.
Other products are valuable for similar reasons. Credit cards, for example, offer great sign-up bonuses to new clients. (Be careful with these, though. Applying for and signing up for new credit can temporarily affect your credit score.) Some banks offer cash bonuses to those who open a new account.
27. Donate Plasma
Donating plasma can be a way to earn money, but it's important to understand the process and requirements involved. Here's an explanation of how you can make $500 by selling plasma.
Before you can donate plasma, you'll need to meet certain eligibility criteria. Plasma donation centers typically have age and health requirements, and they may also exclude individuals with certain medical conditions or recent travel history. Once you qualify, you'll undergo a screening process that includes medical history questionnaires and physical examinations to ensure your plasma is safe for donation.
Compensation for plasma donation varies depending on the donation center and location. Generally, you receive payment based on the volume of plasma donated. The more plasma you contribute, the higher the compensation. Payment rates typically range from $20 to $50 per donation, but this can vary. Some centers offer additional incentives or bonuses for regular donors.
Note that plasma donation centers often have restrictions on how frequently you can donate. It's important to follow these guidelines to ensure your health and well-being. Most centers allow donations every 2 to 4 weeks, with a maximum number of donations per year.
To make $500, you would need to calculate the number of donations required based on the compensation rate per donation. Let's assume you receive $30 per donation. In this case, you would need to donate approximately 17 times to reach the $500 mark ($500 / $30 = 16.67). However, it's important to note that payment rates can vary, and you should inquire at your specific donation center for accurate information.
28. Turn Your Car into a Billboard
Businesses are running out of places to advertise. It can sometimes seem like all the roadside billboards are filled up, the bus benches are all painted, and even the sidewalks have brands and logos plastered all over them.
A few companies have had the brilliant (or frightening, depending on who you ask) idea of paying drivers to put removable advertising decals on their vehicles for a fee. Similar to what you'd see on the side of a bus or taxi (in some cities), advertising car decals might detract from the aesthetics of your wheels, but they'll also add to your bottom line.
One of the great things about this strategy for a quick payday is that you can do it while you're earning money driving for a company like Uber, Lyft, or DoorDash. You'll get paid to drive around by two different companies at the same time!
Check out Carvertise, they can pay you for putting ads on your car. Depending on what you end up advertising, you could make $500 fast.
29. Refinance Loans
Saving money on interest payments on large loans can be one of the best ways to save/earn money. Refinancing a loan refers to the practice of taking out a new loan to pay off an existing one. The new loan is typically secured at more favorable terms than the first one, often due to an increase in the borrower's credit score or an improvement in their financial situation.
While a single percentage point or even a fraction of a percentage point shaved off a loan might not seem like a big deal, loan refinancing can save you tens of thousands of dollars over the life of a loan.
Be extremely careful when you're shopping for loan refinancing, however. Not only can the credit inquiries conducted by lenders impact your credit score, but you'll also need to read the terms and conditions of the proffered loans very carefully so you don't end up with an unfavorable deal. This strategy allows you to make $500 fast.
30. Rent Out a Room
For many of us, the real estate we own is the most valuable thing to our name. But a home's resale value isn't the only form of value locked up in a home. If you're not renting out additional space in your home or apartment, you're missing out on large amounts of money.
Airbnb is the perfect service for people who want to monetize the space they're living in. The interface is user-friendly. The customer service is excellent. Its reputation is spotless. And the insurance is comprehensive, so you don't need to worry too much about someone trashing your place.
Be sure to keep an eye out for the regulations and legislation that govern short-term rentals in your state and municipality. Some towns and cities don't allow Airbnb rentals, while others impose special rules that apply to Airbnb hosts.
---
FAQ How To Make $500 Fast
We've found some of the most frequently asked questions regarding how to make $500 fast; here are our answers.
Can I Make $500 In A Week?
Yes, it is possible to make $500 in a week through various methods. Some options include becoming a ridesharing driver, working as a personal grocery shopper, reselling unused electronics (i.e., phones, tablets, CDs, etc.), dog walking or pet sitting, freelancing (i.e., writing, virtual assistant, proofreading, editing, etc.), tutoring online or in-person, offering childcare services, and more.
It is important to note that making $500 in a week will require effort, skills, and work.
How Can I Make $500 Without a Job?
There are several ways to make $500 without a traditional job.
One option, for instance, is to offer pet care services such as pet sitting or dog walking. You can also consider ridesharing with platforms like Uber or Lyft or renting out your car through services like Getaround or Turo.
Another option is to become a delivery driver with platforms like Uber Eats, Grubhub, and DoorDash. Additionally, you can freelance as a writer or virtual assistant, tutor online or in-person, or provide editing services.
It's important to combine multiple income opportunities and promote your services through platforms like Fiverr, Upwork, or social media.
How Can I Make $500 A Day Working From Home?
To make $500 a day working from home, there are several options you can consider.
One approach is to leverage social media platforms like Pinterest, TikTok, Twitter, Instagram, and Facebook and promote products or services through affiliate marketing or sponsored posts. You will first have to create an audience, but it is doable.
Another option is to start an online business by creating a niche content site or YouTube channel. You can monetize your content through affiliate marketing, sponsorships, and advertising, or you can also sell your own digital products or services.
Keep in mind that making $500 a day may require a combination of strategies and consistent effort.
What Can I Sell To Make $500 Fast?
To earn $500 fast, you can sell various items that you no longer use or need. Some of the items you should consider include
● Unused items: Look for electronics, CDs, DVDs, or other tech items that you no longer use and sell them on platforms like Decluttr or Gazelle.
● Clothes and accessories: Sort through your wardrobe and sell clothes, shoes, and accessories that are in good condition on platforms like eBay or Poshmark.
● Furniture and household items: If you have any furniture, appliances, or other household items that you no longer need, consider selling them locally through platforms like Facebook Marketplace, Craigslist, or AptDeco.
● Books: If you have a collection of books that you no longer read, consider selling them on platforms like Amazon, BookFinder, and BookScouter.
● Crafts or handmade items: If you have a talent for crafting or making handmade items, you can sell them on platforms like Etsy or at local craft fairs.
---
Final Thoughts
We're sure that no one person could use all the previously mentioned strategies to make $500 fast before their next payday. But we'd be shocked if any one person couldn't find at least one suitable and effective tactic on this list to help them make a few hundred bucks in the next couple of weeks.
If you're interested in starting a side hustle, always remember to keep one eye on your bottom line and the other on the value of the service you're offering. While you need to make sure that you're earning enough to make your work worth it, your client needs to see real value in your services. When you're successful in both, you'll start to see consistent and better income.
Up Next
Get our free Side Hustle Handbook with the best strategies to multiply your income sources today.
Plus our best money tips delivered straight to your inbox.

Ricardo is an entrepreneur, investor and personal finance nerd who enjoys spending time with his family and friends, travelling and helping others achieve their financial goals. Ricardo has been quoted as a personal finance expert in several online publications including Healthline, Bankrate, GOBankingRates, MSN Money, Yahoo Finance, U.S. News & World Report, Forbes and USA Today.