Swagbucks Review 2023: How Much Can You Really Make?
Would you like to get paid for your time shopping, watching videos, surfing the web, and more? Learn more in this Swagbucks review.

Reviewed By

Ricardo Pina

Many or all of the products featured on this page are from our sponsors who compensate us. This may influence which products we write about and where and how the product appears on a page. However, this does not influence our evaluations. Our opinions are our own. Here is a list of our partners and here is how we make money.
---
The information provided on this page is for educational purposes only. The Modest Wallet is a financial publisher that does not offer any personal financial advice or advocate the purchase or sale of any security or investment for any specific individual.
Making extra money online is becoming more accessible and easier than ever. There are many ways for people to bring in a side income without the need for hard/soft skills, knowledge, or professional training of any kind.
Online rewards program platforms are one of the best ways to leverage your free time and make a few bucks. They offer online-based tasks and activities that users can complete in exchange for compensation.
In this article, I will put Swagbucks under the microscope to provide an in-depth review highlighting all of the platform's important aspects — from sign-up to cash out.
Bottom Line: Swagbucks is an online platform where users earn rewards for completing tasks such as shopping online, watching videos, taking surveys, and more. Users' points can be redeemed easily via gift cards or PayPal cash.
| | |
| --- | --- |
| Survey opportunities | |
| Survey quality | |
| Earnings potential | |
| Redemption options | |
| Redemption threshold | |
| Ease of use | |
| Security | |
Best for:
Side hustlers

Earn with online surveys

Earn with cash back
Pros:
It's completely free to join

$10 sign up bonus available

Many ways to earn points
Cons:
Low payouts

Rewards process can be slow
---
What is Swagbucks?
Swagbucks is an online rewards program that was launched back in 2008 and has since become one of the most popular of its kind. Swagbucks' partner company is Prodege, formally Prodege LLC, an American online marketing, consumer polling, and market research company based in El Segundo, California. Prodege also owns other consumer rewards programs, including MyPoints, Tada, InboxDollars, CouponCause, ySense, and Upromise.
Swagbucks rewards program members can partake in a variety of paid online tasks that can be completed at their own pace. Swagbucks has paid over $750 million in cash since its inception.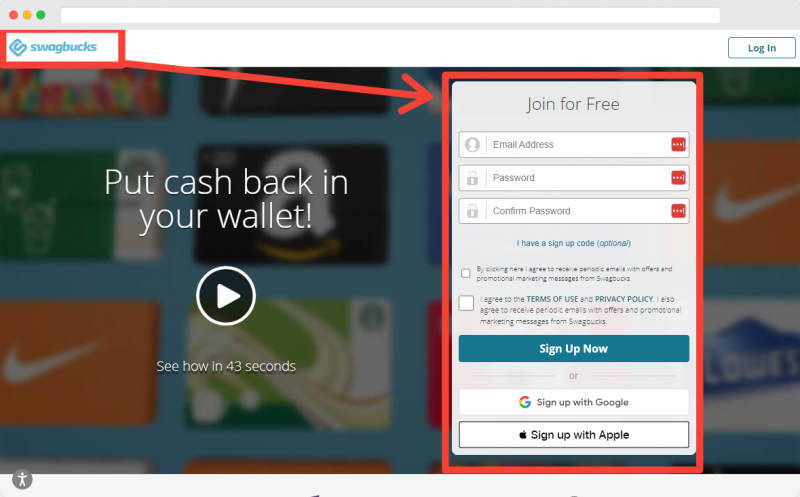 ---
How Does Swagbucks Work?
Swagbucks is super simple and easy to use. Once members have signed up, they can start completing tasks that are paid out in Swagbucks points (SB). 1 SB equals $0.01.
These points will accumulate in your account and can be redeemed for gift cards to various popular retailers or redeemed for cash via PayPal deposit.
Ways to Earn on Swagbucks
Earning Swagbucks can be accomplished in different ways, allowing users to pick and choose what tasks they want to complete.
From surveys and games to shopping and surfing the web, let's highlight how members can earn Swagbucks.
Surveys: Members can earn Swagbucks by completing online surveys that are targeted toward different products and services. Each survey will show the approximate duration and how many SBs are to be earned. Surveys will typically range from a few minutes to upwards of 30 minutes and will pay out according to their duration.
Shopping: Members can earn Swagbucks by shopping online at participating online retailers. With over 1500 options, including Amazon, Starbucks, Walmart, and Target, there are opportunities to earn everywhere. Earn Swagbucks for every dollar you spend while getting access to coupons and exclusive deals that will help you save.
Playing Games: Members can also choose to play select original free games and earn SBs that way or make in-game purchases through specific GSN (Game Show Network) Swagbucks partners and receive SB rewards.
Searching the Web: Swagbucks allows members to earn SBs by using the Swagbucks search engine instead of using other search engines like Google, Yahoo, or Bing. Surf the web using the Swagbucks browser and rack up SB points based on your activity.
Discovering Deals: Members can choose to earn SBs by interacting with different exclusively offered deals and offers from a variety of brands. Things like signing up for a service or promotional offer, checking out free product samples, and visiting online deals will earn you Swagbucks.
How to Sign Up to Swagbucks
Ready to get started with Swagbucks? Let's check out the sign-up process.
Step 1: Go to Swagbucks
Your first step is to visit the Swagbucks official website.
Step 2: Create an Account
Next, sign up to become a Swagbucks member by creating a free account. You must provide an email address and create a secure password.
Users may also choose to sign up using their Google, Facebook, or Apple accounts.
Step 3: Start Making Money
Once you have successfully made your account, you can take advantage of the variety of ways to start making money.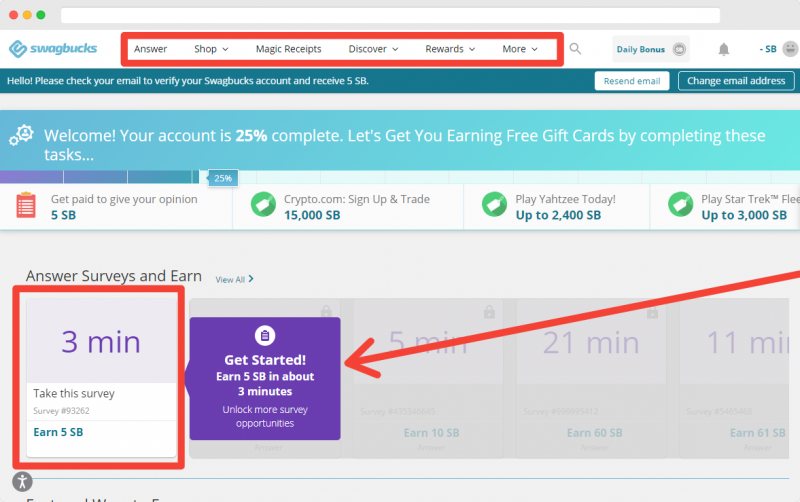 ---
Swagbucks Features
Swagbucks offers a number of awesome features that give members a chance to pick and choose what kind of tasks they want to dive into and start earning SBs.
Let's highlight each feature and provide important details and descriptions of what each one entails.
| | |
| --- | --- |
| Ways To Earn Money | Paid surveys, shopping, playing games, surfing the web, discovering deals and more |
| Minimum Payout | $1 for gift cards, $25 for PayPal cash |
| Payment Options | PayPal cash or gift cards |
| Payment Processing Time | 1 to 5 business days (*depends on payment option) |
| Avg. Payout Per Survey | $0.50 to $2.00 |
| Trustpilot | 4.3/5.0 (over 32,000 reviews) |
| Better Business Bureau | B Rating (*parent company, Prodege LLC) |
| Platforms | Web, Android and iOS |
| Promotion | $5 welcome bonus (*new accounts) |
| Minimum Age Requirement | 13+ |
| Availability | U.S., U.K., Canada, Germany, France, Spain, India, Australia, and Ireland |
| Support | Contact Form and help center |
Paid Surveys
Swagbucks is typically best known for being a survey-taking platform that rewards users for participating in various product, service, and general information surveys.
One of the best ways brands can carry out important market and demographic research is by conducting surveys and gathering information from real potential customers.
The only problem is that brands typically will not have access to a mass base of consumers who are ready and willing to participate in these surveys. That is where Swagbucks comes in.
Brands will pay Swagbucks to host their surveys and have Swagbucks members answer them. Swagbucks takes some of its earnings on those deals and passes them on to members who participate in surveys.
When you initially create your Swagbucks account, you will answer various questions regarding your age, location, income, and interests, which will help Swagbucks match you with surveys that fit your profile.
Surveys typically take anywhere from a few minutes to upwards of 20 – 30 minutes and will payout according to the allotted duration. For example, a 5-minute survey could pay something like 25 SBs, while a 20-minute survey could earn you upwards of 100 SBs.
There will be a list of active surveys available every day. Swagbucks offers three main survey options:
Gold Surveys
Gold surveys have their name because they are typically the highest-paying surveys available on the platform and offer bonus Swagbucks on top of the default amount. They can range in payouts from 20 to more than 500 Swagbucks upon completion.
Gold surveys are time-sensitive and will not stick around for long, so when you see one on your survey list, you should immediately jump on it.
Survey Profile
Your survey profile is what Swagbucks uses to ensure they deliver the most relevant platform opportunities to their members. Filling out your survey profile will help you access surveys that you are more likely to qualify for and earn.
Members can even earn SB by completing survey profile questions that will help personalize their account. For every 10 profile questions you complete, 2 SB are paid out — keep in mind these questions are super simple, so 10 go by quickly.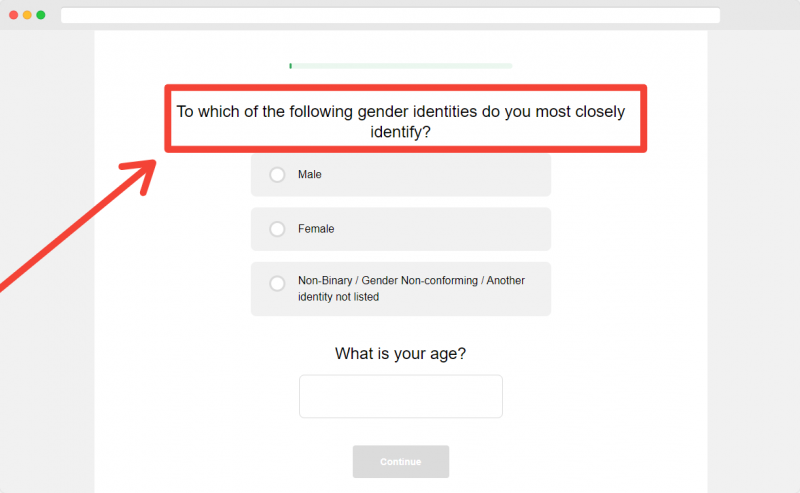 Daily Poll
The daily poll is one question that members can answer for 1 SB. It renews once daily, so make sure you do it whenever you log in. It may not be much, but it's an easy pickup at the click of a button.
Watch Videos
Another great way members can leverage their free time to earn extra cash is with "Swagbucks Watch." This feature is dedicated to delivering video content for members to watch and earn SBs while doing it.
One of the great things about Swagbucks Watch is that you can actually choose what kind of videos you would like to watch. There are more than 10 categories to choose from — from daily news and financial updates to entertainment, lifestyle, and sports content.
When you choose a category, you will be met with a playlist of videos, typically 2 or 3 videos. Each video has a timer (30 or 60 seconds) that runs at the top of your browser. You can proceed to the next video and earn credit when the timer has elapsed.
I noticed that since the videos open in their own separate browser tab, you can swap to another tab while the video is playing without pausing. This allowed me to do other things while earning SBs by watching videos.
Payouts for Swagbucks Watch usually top out at 1, or 2 SBs per playlist watched. It definitely isn't the fastest way to earn Swagbucks on the platform, but it does offer a semi-passive way to earn without needing to put in much work.
Shop Online and Get Cash Back
Swagbucks also offers a way for members to shop online and receive cash back from their purchases in the form of Swagbucks.
This strategy is used by a number of rebate-style platforms, like Rakuten (formerly called Ebates), for example. When customers make purchases through one of their provided links, they receive a commission, some of which is given back to the customer (cash back).
Let's say you find a 4% cash-back deal on Amazon. Using the Amazon link provided by Swagbucks, you spend $20. In return, you will receive 80 SB in return (4 SB for every $1 spent).
Swagbucks hosts a wide variety of options on its shopping platforms. Some of the more popular retailers include Walmart, Best Buy, Home Depot, eBay, Sam's Club, Gap, and more.
Members can sometimes find "multiplier deals" for choice locations. These increase the cashback percentage originally allocated for that store. For example, a 2% cashback deal that has a 5x multiplier attached will instead pay out 10% cash back. Keep an eye out for these!
From my experience, the best way to earn SB with Swagbucks Shop is to add the "SwagButton" extension to whichever browser you use to do your usual online shopping. This way, whenever Swagbucks has a cashback deal for a retailer you are visiting, you will receive a notification and can proceed to activate the deal and earn on your purchase.
Swagbucks also provides access to coupons for different deals through Groupon. Members can browse coupons, and when they find one they would like to use, they simply click the link and get redirected to the online store to complete their purchase.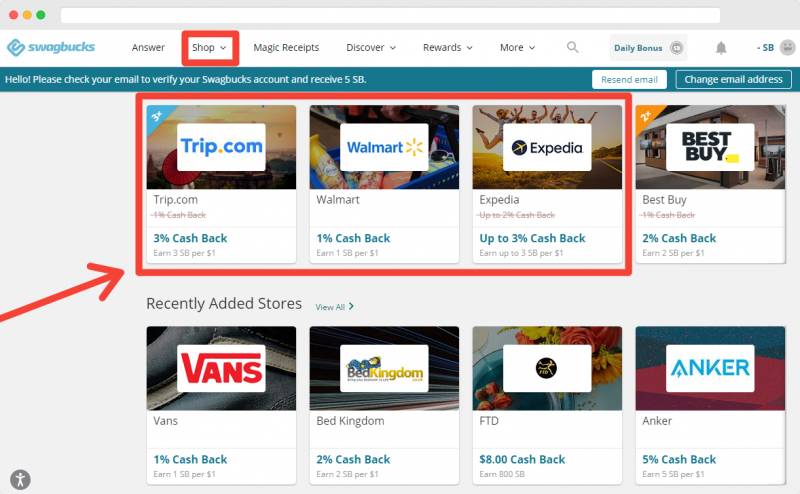 Scan Receipts
Swagbucks' "Magic Receipts" feature is another awesome way for members to earn SBs and cash back. Like other cash-back shopping platforms, Magic Receipts allows users to scan and upload receipts for items they have purchased in return for Swagbucks.
When you have found something you plan to purchase, you can add it to your shopping list on Swagbucks and buy it from a participating store (e.g., Walmart, Target, Kroger, etc.). Once you have completed all of your purchases, you can visit your Swagbucks shopping list to submit your receipt and receive cash back.
Different item receipts will pay out different amounts, while some cash-back opportunities are brand-specific or may require in-store shopping. Make sure you always read all of the offer details and any fine print, as there will often be purchasing requirements for each deal (i.e., quantity, location, etc.).
Earnings on these cash-back receipts can range anywhere from $0.10 or $0.20 (say for a bunch of bananas) to $1, $2, $5, and even upwards of $10 (say for a case of beer).
Discover Deals and Earn
Swagbucks Discover is yet another way Swagbucks allows its members to earn SBs on the platform. Companies who have partnered with Swagbucks provide exclusive offers that Swagbucks delivers to their members.
With Swagbucks Discover, you can earn SBs by discovering and interacting with different deals, apps, offers, and more. This can include signing up for a product trial, downloading and using a mobile app, testing out a service, or registering an account on a betting website.
Each offer will have a corresponding potential earned amount. Depending on the nature of the offer and the task at hand, earnings can range anywhere from $0.50 to over $100.
It is important to note that some of these offers will not require any payments or deposits, while others will call for some sort of financial investment. You can use filters to sort your offers, and the details for each are readily available, so make sure you read through them before diving in.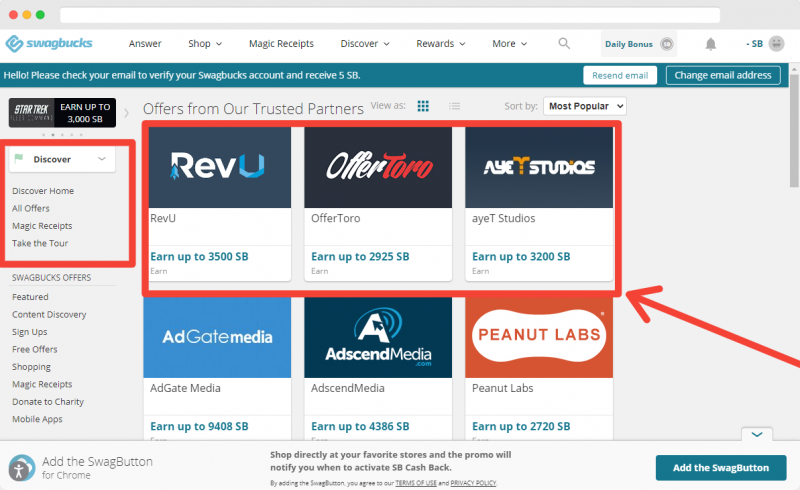 Play Games
This is one of my favorite ways to earn with Swagbucks. Mind you, I am quite an avid gamer, so it does make sense.
Swagbucks allows members to play games on mobile/tablet and laptop or desktop and earn SBa while doing it. They offer a variety of games, including titles like Angry Birds, Wheel of Fortune, Trivial Pursuit, different variations of Solitaire, and many more.
There are three main ways to earn Swagbucks by playing games:
Make In-Game Purchases
Some of the game & earn offers will require players to spend money within the app to earn SBs payouts. For example, you could earn 5 SBs for every $1 you spend on entry fees for cash games on Solitaire Rush.
Install Games & Play
Swagbucks will also offer SB incentives for players who install a certain game and play it. This is a great way to earn without spending money and have fun doing it.
One important thing to note is that there are almost ALWAYS requirements that must be met to receive the SB offered. Each offer will have details that outline these requirements, which are often time-sensitive.
For example, you may be required to install a game and then proceed to reach a certain level or hit a specific milestone within a given time period.
Payouts can range anywhere from a handful of SBs to 2000+ Swagbucks for the more extensive offers. Definitely a great way to rack up SBs while playing popular games.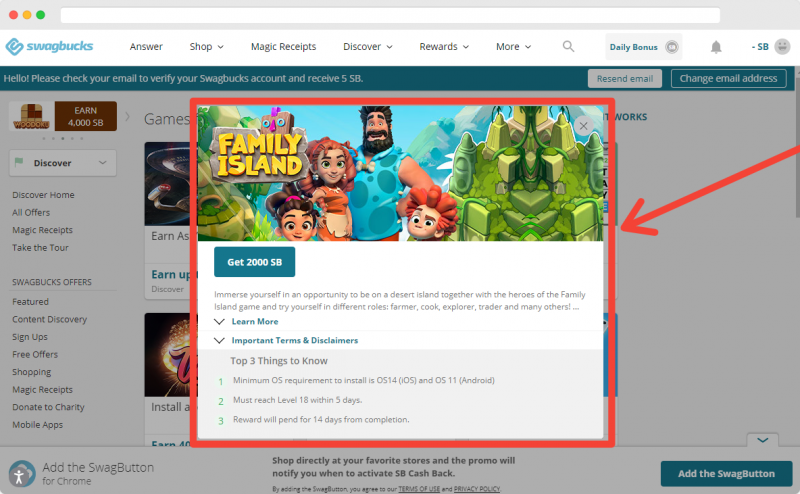 Play & Earn At Random
Swagbucks also allows members to simply play games at their own leisure, with no time restrictions or level requirements, and earn SBs that way. They offer a variety of games that you can play, including things like Mahjongg, Word Searches, and Solitaire.
I realized there is no real way to determine when or how these games pay out SBs to players. They do not provide directions or guidance, and it seems you earn your points largely at random while you play.
Payouts for these free games are inherently the smallest, usually topping out at a maximum of 10 SB earned per game.
Either way, this is a good way to earn by playing games without spending money or worrying about meeting game requirements.
Search the Web
Swagbucks also allows members to earn SBs by using the Swagbucks search engine to do their online surfing.
The Swagbucks Search feature seems to award members SB somewhat randomly. I did not receive any SB rewards for my searches. Mind you. I only did maybe 5 or 10 of them.
Other Swagbucks users who have successfully earned SB by using the Swagbucks search engine have reported a few important things:
Swagbucks sends out a notification to members using the search engine when they have achieved a "Search Win." This will indicate that you have successfully earned SB from searching and how many you have received.
You will be prompted to complete a Captcha (Completely Automated Public Turing test to tell Computers and Humans Apart). This proves you are not a robot and will allow you to claim your earned SB.
Winning searches will typically pay out anywhere from 5 to 20+ SBs depending on search volume and other applicable factors.
Buy Gift Cards
Another great way to earn with Swagbucks is by taking advantage of its "My Gift Cards" platform feature. It is dedicated to helping members save on gift card purchases and earn SBs at the same time.
Simply buy gift cards from offered retailers for things like groceries, gas, entertainment, and coffee. When you have purchased a gift card, it will either be delivered to your inbox (for electronic gift cards) or sent to you in the mail (for physical gift cards).
Every time you purchase a participating gift card, you will earn cashback value in Swagbucks. Redeem your earned SBs for free gift cards from your favorite retailers. Payouts range from 1% cash back to upwards of 10% cash back.
Refer Friends and Earn
If you enjoy the Swagbucks platform and would like to spread the word by recommending it to others in your network, why not get paid to do it?
Swagbucks offers a referral program that gives members the opportunity to earn Swagbucks simply by referring new users to the platform.
Start by sharing your referral link, which can be found by clicking the "refer & earn" button located at the top of the Swagbucks home page. Once they have signed up using your referral link, they are your personal referral permanently.
For every person you refer to Swagbucks, you will earn 10% of each referred user's SB earnings.
Let's say you refer a friend who earns 3000 SB in their first week — you would then earn 300 SB (10% of 3000) just for referring them to the platform. You will then continue to earn 10% of your Swagbucks earnings in perpetuity.
There are other sign-up incentives for you and your referrals as well. For example, when you refer a new member, they earn 300 SB within their first 30 days.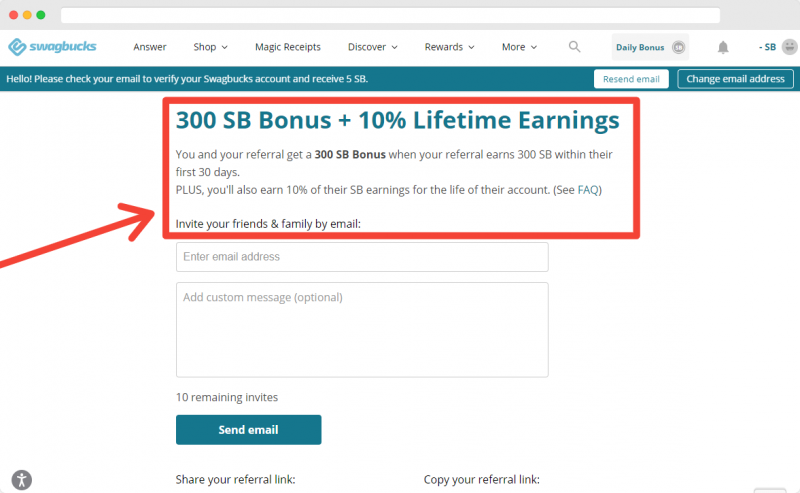 Earn with the SwagButton
The SwagButton is a cool feature that can be added to your browser to help maximize your SB earnings on all online shopping.
Members who have the SwagButton add-on equipped will receive alerts when they visit a website with cashback offers, coupons, or other active sales through Swagbucks. Adding this to your browser will ensure you earn SB and find the best deals while shopping online.
Swagbucks also offers a welcome bonus of $10 for new users who spend $25 at a Swagbucks Shop store within 30 days of registration.
Redeem Swag Codes
Redeeming Swag Codes is another super easy way for members to earn SBs with a few clicks. Swag Codes are limited-time promotional codes that can be redeemed for Swagbucks!
These Swag Codes are placed, or more like hidden, in different spots within the Swagbucks online network. They can appear on the mobile app, in the Swagbucks blog, on one of the Swagbucks social media pages, or in the Swagbucks live stream.
Swag Codes are often quite difficult to find, as they are typically placed within a post or block of text and will not be advertised with flashing lights and arrows. Codes will appear as a series of letters and/or numbers, often making up a phrase — something like "GetTh1sSwagBaby" or "FreeOffers."
When you find a Swag Code, go to the "My Account" section on the Swagbucks website and find the "Swag Code" box. Copy and paste your code exactly how it appears in the location you found it, and submit.
Earn Daily Bonus Points
There are a few other ways that Swagbucks members can earn daily bonus SB by completing tasks and hitting milestone achievements based on consistency.
Daily Goal
First, there is a daily goal meter that provides an SB earning target for that particular day. When you hit your daily goal (also referred to as the first goal), you will be rewarded with bonus SBs.
When you first start out, your daily goal will probably be somewhere around 40 SB. Once you have been earning on a regular basis, it will go up to the more standard 100 SB goal. Daily goal rewards are typically about 10% of the goal itself (goal of 100 SB = 10 SB reward).
Winning Streaks
In addition to being rewarded with bonus SBs for reaching your daily goal, this will also contribute to something called your "winning streak."
Winning streaks on Swagbucks are milestones that members can hit to earn them even more bonus SB. Winning streaks are obtained by completing your daily goal every day for a certain number of days in a calendar month.
The winning streak SB payout breakdown is as follows:
7-day winning streak – 25 SB bonus
14-day winning streak – 100 SB bonus
21-day winning streak – 200 SB Bonus
28-day winning streak – 300 SB Bonus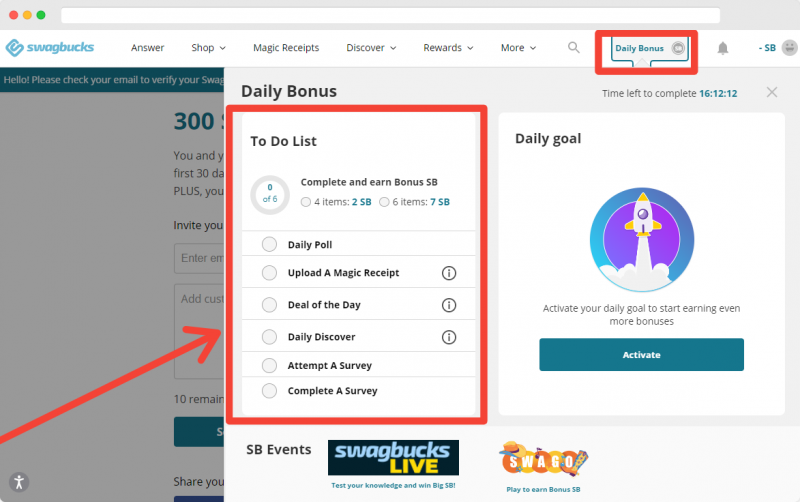 Swagbucks Mobile Apps
The Swagbucks mobile app makes it even easier for members to stay on top of their daily goals and earn SB whenever they shop or have some free time to take advantage of the other SB-earning features.
The app is free to download and allows users to take advantage of all of the paid surveys, online shopping, video watching, and exclusive deals/coupons, as well as play all of the exclusive mobile games.
If you are diving into Swagbucks, you should download the app to get full access to the platform and maximize your earning potential.
---
Understanding Swagbucks Rewards System
The Swagbucks rewards system is simple and easy to understand. Members earn SB by completing tasks and accumulating Swagbucks in their accounts.
Once you have accumulated enough SB (1 SB = $0.01), you can redeem them for a cash PayPal deposit or choose to grab yourself a gift card (online or physical) instead.
Redeeming your SB for a PayPal deposit will require your first and last name and email address, exactly how they appear on your PayPal account. You will also need to ensure that your PayPal account is verified and linked to an active bank account.
---
How Does Swagbucks Make Money
Swagbucks generates the majority of its income by way of affiliate commissions that are paid by brands and organizations that they choose to partner with. They pay referral fees to have their products advertised on the Swagbucks platform.
To break it down simply, whenever a consumer purchases a product from one of the brands that are promoted on the platform, Swagbucks will receive a small percentage of the generated revenue as a commission.
Swagbucks is partnered with hundreds, if not thousands, of brands, many of them internationally recognized. These partnerships have helped Swagbucks generate almost $8 million in revenue in 2021 alone.
---
Is Swagbucks Legit?
Swagbucks is 100% legitimate. They have built a solid reputation for being one of the most popular and trustworthy customer rewards programs. Swagbucks jas a Trustpilot rating of 4.3 out of 5.0 with over 31,000 reviews. Prodege, LLC, Swagbucks' parent company, has a Better Business Bureau (BBB) rating of 3.6 out of 5.0 with over 500 reviews.
Swagbucks has positive reviews in both the Apple App Store and the Google Play Store. Swagbucks has a rating of 4.4 out of 5.0 in the Apple Store, with over 79,000 reviews. On the other hand, it has a rating of 4.2 out of 5.0 in the Google Play Store, with over 109,000 reviews.
With over $700 million paid out to their members, you can be sure that you will receive the compensation that you have rightfully earned.
---
How Much Money Can You Make on Swagbucks?
How much money you make on Swagbucks will depend largely on how much free time you can invest in completing tasks. The average user typically makes between $2 and $5 a day, which translates to $20 — $50 a month in earnings.

There are opportunities to take advantage of higher payout offers that can earn you upwards of $50 per task, making it possible to earn more than $100 daily. It is important to remember that most of these tasks will either be more time-consuming, require some sort of financial investment, or a mixture of both.
---
Swagbucks Ease of Use
Swagbucks is incredibly easy to use, with expertly designed user interfaces that allow for straightforward, seamless navigation. Operate from the web platform on a desktop PC or laptop, or take Swagbucks on the go with their responsive mobile apps (iOS and Android).
From a functional standpoint, the Swagbucks platform is well-constructed and offers an excellent user experience. All the features are laid out clearly, making it easy for members to get the most out of their time.
Swagbucks provides high-quality survey opportunities with competitive earning potential compared to other similar platforms. They offer fast and secure redemption options that make redeeming your SB for cash a breeze.
---
Swagbucks Security
The Swagbucks privacy policy states that the platform has security measures in place to protect against the loss or misuse of PII (Personally Identifiable Information). However, they also state that given the nature of the internet and technology, information is not entirely secure, and therefore they cannot guarantee its safety.
The Privacy Policy also states that Swagbucks reserves the right to share or sell aggregate or individualized information about users. This can include PII, information regarding website usage, location and interest information, and other data. Check out the entire Swagbucks Privacy Policy for more details.
---
Swagbucks Customer Support
Swagbucks does not offer any live customer support or phone number that members can call to resolve an issue.
The best way to contact support about an issue with an activity or related payments the best thing to do is to navigate to the "Visited" section of your Activity Ledger. Here you can find the specific activity in question and proceed to submit a ticket to customer support.
Members can also choose to submit a general request to address other matters pertaining to their Swagbucks account and experience. Check out the Swagbucks Help Desk Page for more information.
---
Swagbucks Pros Explained
Multiple redemption options: Members are not restricted to one redemption option when they want to redeem their SB. Choose to get yourself a straight-up cash PayPal deposit for your Swagbucks, or redeem them for a gift card to your favorite retailer instead!
Ease of use: Both the Swagbucks website and the Swagbucks mobile app have been expertly designed to create a smooth and responsive experience for users. Navigate and earn easily, thanks to an awesome user interface and excellent user experience.
Multiple ways to earn: With more than 7 ways to earn SB points, members can choose how they want to spend their time on the platform and dictate what kind of tasks/activities they will be doing. Lots of options allow for more personalization!
---
Swagbucks Cons Explained
Time-consuming: One of the realities about earning with Swagbucks is that most of the higher-paying tasks that can provide decent earnings typically will take a substantial amount of time to complete. It may not be worth the time investment for some.
Wait periods for payment: When members have completed a paid task or activity that has earned them SB or cashback, there is often a long waiting period before the Swagbucks have been credited to your account.
Low pay per hour: When you run the numbers and figure out exactly how much members can earn per hour of work, the results are quite underwhelming. Swagbucks members make an average of around $2-$3 per hour (well below minimum wage).
---
Swagbucks Alternatives
Here are a few alternatives to check out if you are looking for another similar option to the Swagbucks platform or would like to participate in multiple customer rewards programs.
Swagbucks vs. Branded Surveys
Branded Surveys is an online platform that is dedicated to providing its members with paid surveys that they can take in return for points that can be redeemed for cash.
The get paid to share your opinion theme is very similar to the survey-taking process that Swagbucks offers. However, this is the ONLY way that members can earn. Swagbucks offers a variety of ways to earn other than survey taking, which gives members more flexibility.
Another thing to note is that Swagbucks offers a more consistent stream of discounts, deals, and offers than Branded Surveys and also has a loyalty program, whereas Branded Surveys does not.
If you are looking to stick to survey-taking to earn extra cash, Branded Surveys is definitely a good platform to check out. Read our full Branded Surveys review to learn more.
Swagbucks vs. Rakuten
Rakuten is a free app that gives users access to coupons and online shopping deals that earn them cash back on select purchases.
It is again quite similar to Swagbucks but is more geared towards shopping online to earn, although there are survey opportunities with "Rakuten Insight" as well.
In my opinion, one of the main things that set Swagbucks apart is the size of its partner network. Swagbucks is partnered with over 7,000 retailers, whereas Rakuten has closer to 2,500 partners. More partners mean more locations where members can earn cashback on their purchases.
Another aspect that gives Swagbucks a competitive edge is the value provided by its referral program. Members who refer users to the Swagbucks platform receive 10% of their referral point earnings for life. On the other hand, Rakuten simply offers a one-time cash reward when a referred user makes a qualifying purchase.
When it comes to customer support, Rakuten definitely takes the cake. Swagbucks customer support is limited to submitting an activity inquiry ticket or general request, which have response times that are reportedly quite long.
On the other hand, Rakuten offers more personalized customer service with a help portal and many support resources online. They also have a listed support number that members can call for live support. Read our full Rakuten review to learn more.
Swagbucks vs. Survey Junkie
Survey Junkie is an online survey platform that pays survey takers to share their opinions in exchange for points that can be redeemed for cash or gift cards. Like Branded Surveys, it is a rewards platform dedicated to online surveys.
Swagbucks offers more ways for members to earn, which provides more earning potential. Survey Junkie does not have video ad earning, play-to-earn games, or cash-back shopping.
Swagbucks members can cash out with as little as 300 SB (equivalent to $3), whereas Survey Junkie has a minimum payment threshold of $10. One thing to note, however, is that Survey Junkie offers prepaid Visa cards and Bank Transfer payout options. My advice, download both of these apps and earn more. Read our full Survey Junkie review to learn more.
Swagbucks vs. InboxDollars
InboxDollars is an online rewards club that pays members to take surveys, play games, and shop online.
From my experience, InboxDollars does not offer the same earning potential that Swagbucks does. Their surveys seem to pay out less per minute spent and do not have the larger payout surveys that can help boost earnings.

InboxDollars is also not as widely connected as Swagbucks in terms of partnerships and therefore does not offer as many opportunities for members to earn on different activities and tasks. If you are looking to maximize earnings, Swagbucks is the way to go.
Another thing that is important to note is that InboxDollars does not allow members to redeem their points for a payout until they have accumulated a $30 balance. In addition, the PayPal transfer cash redemptions are subject to all of the associated processing fees. Read our full InboxDollars review to learn more.
| | | | |
| --- | --- | --- | --- |
| | | | |
| Our Rating | | | |
| Avg. Payout Per Survey | $0.50 to $2.00 | $0.50 to $5.00 | $0.50 to $5.00 |
| Payment Method | PayPal or Gift Card | PayPal, Visa Prepaid Card, or Gift Card | Check, Visa Card or Gift Card |
| Sign Up Bonus | $5.00 welcome bonus | $1.00 welcome bonus | $5.00 welcome bonus |
| Minimum To Cash Out | $1 for gift cards, $25 for PayPal cash | 500 points (500 points = $5) | $30 |
| | | | |
---
Who is Swagbucks Best For?
Swagbucks is a great way for people to earn some extra cash by leveraging their free time to complete tasks and activities and shop online to earn cash back and get access to exclusive offers.
With this being said, earning potential is quite low — the average Swagbucks user makes somewhere around $2 a day. Although this can add up to upwards of $50 per month, it is quite insignificant relative to the amount of time investment required to achieve that.
Swagbucks is going to be best for people who want to make a little bit of extra spending money, not for people who want to build a substantial income. Swagbucks isn't going to replace your day job, but it can help put a dent in the grocery bill!
Swagbucks is great for people who have free time that they want to spend doing something somewhat productive but still want to be able to relax. Swagbucks has a variety of ways to earn, so users can choose whichever route best suits their preferences.
---
Swagbucks FAQ
Let's wrap it all up with answers to some of the frequently asked questions about the Swagbucks platform.
What is the Age Requirement to Sign Up For Swagbucks?
The minimum required age to sign up for Swagbucks is 13 years old. Swagbucks does encourage teens to seek permission from a guardian before registering as a member.
Does Swagbucks Pay Cash?
Yes, Swagbucks offers users a cash payout via PayPal transfer for redeeming their earned Swagbucks (SB). Users can also choose to redeem their SB for gift cards.
Is Swagbucks Available Outside the U.S.?
Yes, Swagbucks is available outside of the United States, however it is not available everywhere. Swagbucks is available to people in Canada, France, Germany, Spain, Portugal, India, and the United Kingdom.
Does Swagbucks Pay Real Money?
Yes, Swagbucks pays real money to its members who earn Swagbucks and redeem them for rewards. Members can receive cash PayPal transfers or choose to redeem their Swagbucks for gift cards that are worth real money.
What is the Minimum Amount to Cash Out For Swagbucks?
Members can cash out as little as 100 SB (equivalent to $1) if they redeem their points for one of the gift card options.
In order to redeem points for a PayPal cash transfer, members must have a minimum balance of 1000 SB, valued at $10.
Highlight: Multiple ways to earn extra cash
iOS Rating: 4.4/5 with over 74k reviews
Google Play Rating: 4.3/5 with over 100K reviews
Availability: Most countries in the Americas, Europe and Asia
---
Final Thoughts
Swagbucks is one of the longest-running and most popular online rewards programs in the world. With over $700 million paid out to members, it is clear that Swagbucks provides a great way for people to make some extra cash.
This in-depth review highlights the Swagbucks platform, from how to get started and how to earn, to how much you can earn and how to get your cash payouts.
I hope that I have been able to answer all of your questions and provided the insight that you need to get started.
Up Next
Get our free Side Hustle Handbook with the best strategies to multiply your income sources today.
Plus our best money tips delivered straight to your inbox.
Rhys is an online content writer & editor, student of decentralized finance and amateur botanist. He loves playing video games with his friends, learning new songs on the piano, and spending time in the sun with his dog Levi.