Many or all of the products featured on this page are from our sponsors who compensate us. This may influence which products we write about and where and how the product appears on a page. However, this does not influence our evaluations. Our opinions are our own. Here is a list of our partners and here is how we make money.
The information provided on this page is for educational purposes only. The Modest Wallet is a financial publisher that does not offer any personal financial advice or advocate the purchase or sale of any security or investment for any specific individual.
We get it, times are tough. Unemployment is high. Many people are struggling to make ends meet, and lots of them are looking to the internet to help supplement their income.
Branded Surveys is one option people are turning to in order to help add a few extra dollars to their monthly income. While this online survey site won't take the place of a regular job, it can be a surprisingly useful tool to bring in crucial extra dollars when money is tight.
Continue reading below to find out if Branded Surveys can help you!

on Branded Surveys' website
Quick Summary: Branded Surveys is an online survey site that rewards users with points for completing surveys online. Points can be exchanged for cash, gift cards, or pre-paid virtual credit cards. The minimum threshold for cashing out your points is 500 ($5).
---
What Is Branded Surveys?
Branded Surveys was founded in 2012. The company was originally known as Mintvine, but changed its name to Branded Surveys in 2017. Branded Surveys is a website that offers to pay people to complete consumer and opinion surveys that help companies and firms gauge public sentiment about specific issues, products, or industries.
Branded Surveys partners with Fortune 500 companies to do this market research so you can rest assured that your feedback will have an impact on the products and services we all use on a daily basis.
Branded Surveys is part of a constellation of services that offer a similar product. Sites like MyPoints, Swagbucks, and Survey Junkie all offer users the opportunity to take surveys in exchange for money. (We'll also talk about those services for you a bit later in the article.)
What sets Branded Surveys apart from other online survey sites is the company's sole focus on surveys — and its slightly higher payout ratios. To date, Branded Surveys has over 3,000,000 active users, a Trustpilot rating of 4.3/5, and they have paid out over $23,000,000 to its community since 2012.
See Also: 20+ Ways to Get Paid to Drive (Make Up to $25/hr)
---
How Does Branded Surveys Work?
Branded Surveys is an extremely simple service. After creating a user account with the website, you'll be sent surveys to complete in exchange for points. Those points can be redeemed for direct deposits into your PayPal account, or for gift cards. Each point is worth one cent, so 100 points equal $1.00.
To start, you need to create an account and a profile. When you get to their homepage, you have to click on the "Sign Up" button to get started. Then, you will be redirected to their registration page which will ask you to complete some basic profile information such as your gender and email address, as well as, your password. You are also allowed to use your Facebook profile to sign up which simplifies things.
Once you finish with your basic profile, you will be asked to complete a series of questions (demographic information). It's important to be transparent and honest with the information you provide so Branded Surveys can match you with surveys you qualify for. For instance, you answered that you're a 25-year-old male, Branded Surveys will not match you with surveys that require a 55-year-old female.
The more complete your profile is, the more opportunities you'll have to get matched with relevant surveys.
---
Branded Surveys Features
You can make money in several ways using the Branded Surveys service.
Paid Surveys
Of course, the most straightforward way to make a dollar on Branded Surveys is to complete surveys in exchange for cash. Users report that Branded Surveys offers some of the highest survey payouts in the industry. While you won't make a huge amount of money here (no matter how much time you spend on the website), you'll likely make more than you would at competing survey sites.
On average surveys take about 10 to 11 minutes to complete, but the real survey length will be listed as part of the survey invitation.
Daily Polls
Branded Surveys also sends out daily polls. These are effectively mini-surveys that just take a few seconds to complete and typically award 5 to 10 points each. You can typically complete one daily poll every 24 hours.
Partner Surveys
Partner Surveys are simple promotional campaigns for services and products that might interest you. These offers typically reward you with points or money. However, you should be aware that these are third-party offers, and Branded Surveys isn't responsible for your experience with these companies.
Branded Elite Program
Branded Elite refers to Branded Surveys' badge and loyalty program. The more surveys you complete, the more points you'll earn. You can rise through the ranks from Bronze to Silver to Gold. Each tier will increase the number of points you'll get from each activity.
Keep in mind that you will have to meet the minimum survey requirements each month to maintain your badge. As of this writing these are the minimum requirements:
Complete 2 surveys per calendar month for Bronze
Complete 10 surveys per calendar month for Silver
Complete 25 surveys per calendar month for Gold
Beyond this, as a Branded Elite badge member, you can also earn a weekly bonus when you complete 12, 20 or 30 surveys per week. The bonus is calculated based on the percentage of your total approved survey points for the week. Here is the bonus structure per each rank:
12 surveys per week (5% bonus as a Bronze member, 10% bonus as a Silver member and a 15% bonus as a Gold member)
20 surveys per week (12% bonus as a Silver member and a 17% bonus as a Gold member).
30 surveys per week (14% bonus as a Silver member and a 19% bonus as a Gold member).
See Also: 30 Easy Ways to Make $1,000 Fast (Legally)
Survey Streak
Gold and silver members can earn up to 300 additional points every week for completing a certain number of surveys.
Poll Streak
Taking 10 daily polls in a row will net you additional points in the form of a Poll Streak.
Referral Program
Successfully referring people to Branded Surveys will garner you more points. Elite Bronze, Elite Silver or Elite Gold badge holders can earn 50 points for referring friends who earn a Silver badge.
Local Deals
Local businesses often post special offers and deals on the Branded Surveys portal, and this section is where you'll see them.
Random Winner
Branded Elite members have also a chance to win more points by winning the Random Winner drawing. Every time you complete a new survey, you enter a daily, weekly and monthly drawing.
Daily: A Branded member is randomly selected & awarded 50 bonus points.
Weekly: A Branded member is randomly selected & awarded 500 bonus points.
It goes without saying that the more surveys you complete the more chances you have to earn more points via the Random Winner.
Branded Leaderboard
Branded Elite members can compete against other Branded Surveys members to rank on their Leaderboard. Landing in the top 50 or 20 point-earners in a day, week, or month can get you an additional few hundred points (up to 300 bonus points).
Daily Top 50 Leaders = 50 Points
Weekly Top 50 Leaders = 200 Points
Monthly Top 20 Leaders = 300 Points
Sign Up Bonus
When you sign up with Branded Surveys, you get a $1.00 (100 point) welcome bonus. You only need to create an account and complete your profile. Once you finish creating your profile, you will be rewarded with 100 points ($1.00) instantly. The cool thing is that the registration is fast and you can even use a social account to sign up.
Promo Codes
Promo codes are available within the Branded Survey platform. These promo codes can be obtained via special offers or other promotions. However, it's important to keep in mind that these promo codes are not available that often.
---
Understanding Branded Surveys' Rewards System
The Branded Surveys rewards system is based on tiers and badges. There are three tiers: bronze, silver, and gold. As you move up the tiers, you'll earn more points for each activity that you complete. Additionally, you'll be able to access more point-earning activities, like referral bonuses and survey streaks.
The Branded Surveys rewards system serves a couple of functions. First, it incentivizes you to continue using the service. It's much easier to keep coming back when you're motivated to upgrade to the next tier or badge.
Second, it rewards people who use the site regularly by offering them even more points for additional activities. For that reason, users will see their point totals rapidly increase as they move their way up the ladder towards the gold badge. In other words, it's a lot easier to earn lots of points as a gold member than as a bronze member.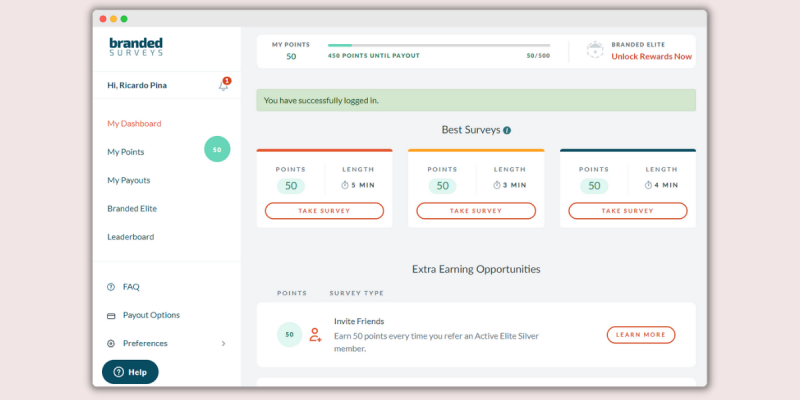 See Also: 50+ Ways to Make Money in College (All Legit)
---
Pro Tips to Make the Most Money with Branded Surveys
Branded Surveys rewards its users for staying active within their platform. So for every survey you complete, you will be eligible to enter into a daily, weekly and monthly random prize draw.
You can win up to 50 extra points in the daily draw, 500 extra points in the weekly draw, and 1000 extra points in the monthly draw. In essence, the more surveys you complete, the greater your chances are to win extra points from these draws.
---
Things to Consider About Branded Surveys
Sometimes it can seem like survey websites are a dime-a-dozen. So what should you consider when deciding whether to sign up for Branded Surveys?
Who is Branded Surveys Best For?
Branded Surveys is best for people who want to make a few extra dollars in their downtime. Instead of (or maybe in addition to) watching Netflix or playing video games, you can answer questions in exchange for quick cash.
It's ideal for anyone who has some extra time during the day and wants to monetize that time.
Branded Surveys is great for students who are looking for a little bit of extra cash and have the time to log in once or twice a day to check out the available surveys. It's also ideal for people who have run into some trouble making ends meet with their current job and want a little income boost to help make it to their next paycheck.
Who Should Avoid Branded Surveys?
Anyone hoping to get rich quick should avoid Branded Surveys. This website is best for people hoping to make a few extra dollars. Answering surveys won't let you quit your day job and do it full time.
Because the per-hour rewards of doing the surveys is on the low side, sites like Branded Surveys probably aren't ideal for people who can monetize other, more valuable services. For example, if you're able to do some freelance writing, graphic design, or other side hustle, you'll probably earn more money doing that than filling out surveys at Branded Surveys.
However, even those who can make more freelancing probably have a few extra minutes during the day to fill out a survey or two. If that's the case for you, it can't hurt to make a little bit of extra money if you have the opportunity.
---
Branded Surveys Alternatives
There are a bunch of survey site alternatives to Branded Surveys. Here are just a few.
Swagbucks
Swagbucks is an online survey site that pays you to watch videos, play games, and receive emails (in addition to the surveys). When compared to Branded Surveys it has a wider variety of money-making activities to choose from, whereas Branded Surveys focuses more heavily on actual survey-taking. Read our full Swagbucks review to learn more.
Survey Junkie
Survey Junkie is an online survey site that's been around for years. Like Branded Surveys, you get paid to fill out consumer and opinion surveys. This one is actually very similar to Branded Surveys, insofar as the focus is really on the surveys themselves, as opposed to additional ways to make money. Read our full Survey Junkie review to learn more.
InboxDollars
InboxDollars is similar to Swagbucks. It's an online survey site that has a lot of additional options to make money. You can watch videos, play games, and use their custom search bar, just to name a few options. While you can also take surveys in exchange for cash, there is definitely an emphasis here on alternative ways to earn cash. Read our full InboxDollars review to learn more.
| | Branded Surveys | Swagbucks | InboxDollars |
| --- | --- | --- | --- |
| Our Rating | | | |
| Avg. Payout Per Survey | $0.50 to $5.00 | $0.50 to $2.00 | $0.50 to $5.00 |
| Payment Method | PayPal, Visa Prepaid Card, or Gift Card | PayPal or Gift Card | Check, Visa Card or Gift Card |
| Sign Up Bonus | $1.00 welcome bonus | $5.00 welcome bonus | $5.00 welcome bonus |
| Minimum To Cash Out | 500 points (500 points = $5) | $1 for gift cards, $25 for PayPal cash | $30 |
| Highlight | Online surveys | Multiple ways to earn money | Online surveys, video surveys and more |
| | | | |
---
Branded Surveys Pros
There are several things we love about Branded Surveys. In no particular order, they are:
The poll and survey streaks. We love being rewarded for consistency, and the streak bonuses are a great way to do that.
PayPal payments are an option. Some survey sites only offer gift cards as a point redemption offer, but not Branded Surveys. They offer you cold, hard cash in the form of PayPal deposits.
The loyalty rewards. We love the tiered badge system that lets you move from bronze to silver to gold. It rewards loyal users while keeping you interested in the surveys.
Lots of gift cards. If you prefer to take your payment in the form of gift cards, you won't be disappointed with the selection available at Branded Surveys. You'll be able to choose from a wide variety of retailers and restaurants. Many of these retailers are accessible online or across the United States, so no matter where you live, you should be able to find a retailer you like.
---
Branded Surveys Cons
Inevitably, with the good comes the bad. There are also a few things we didn't like about Branded Surveys.
You'll get offers to take surveys you don't qualify for. This is a common problem for a lot of survey sites. They'll send out links to surveys you don't actually qualify for based on your demographic profile. (Very annoying.)
PayPal deposits can take a while. Users have reported waiting up to three weeks to receive their point redemptions in their PayPal accounts. While many may not mind waiting a little bit for cash, those who are hard-up for money and need it immediately might consider this a dealbreaker.
User-friendliness. Branded Surveys' website is extremely user-friendly. It's super easy-to-use and easy to learn and you won't have any trouble at all signing up or navigating the surveys and interface.
Avg. Payout Per survey: $0.50 to $5.00
Payment Method: PayPal, Visa Prepaid Card, or Gift Card
Sign Up Bonus: $1 welcome bonus
Min. Cash-Out Amount: 500 points (500 points = $5)
Min. Age Requirement: 16+ years
Availability: USA, Canada and UK
Trustpilot Rating: 4.3/5.0
---
Branded Surveys FAQ
We regularly get a ton of questions about Branded Surveys. Here are just a couple of the most common ones.
How Do You Get Paid with Branded Surveys?
Users of Branded Surveys choose how they get paid. While most will likely opt for the PayPal transfer, some users might prefer the gift cards offered by the company. Amazon is one of the options Branded Surveys offers, which is almost as good as cash.
You should know that if you choose to be paid via PayPal transfer, it could take as long as three weeks to receive your money. Gift cards tend to come much quicker, with users reporting that they typically arrive within about two days.
You also have the option to get paid via their Branded Pay which connects directly to your bank account. This payment method is fast and can take between 1 to 2 business days.
Is Branded Surveys Legit?
Absolutely. As we mentioned above, Branded Surveys has been in operation in one form or another since 2012. They're definitely a legit and safe company to work with. They're not a scam.
One of the things we always look for when determining whether or not a service is legitimate is how long they've been in business and what their reputation for payment is like. In the case of Branded Surveys, they've been in business for almost eight years, and they have a stellar reputation for always making the payments they've promised to make.
How Much Money Can I Make With Branded Surveys?
We mentioned earlier that you shouldn't expect to get rich quick with Branded Surveys and we stand by that. On balance, if you log in for an hour a day while you're watching Netflix you can expect to earn a few bucks a day. If you're a fast reader and respond to the surveys quickly, you could earn over $100 in a typical month.
How Does Branded Surveys Make Money?
Branded Surveys makes money by collecting a fee or commission from the companies trying to get data on their products, or on an issue. So, for example, if Company X wants to know what people think about its latest widget, they'll hire Branded Surveys to send out surveys to eligible users. Company X will pay Branded Surveys a fee for that service, and Branded Surveys will give you a small cut of their commission.
---
Final Thoughts
Branded Surveys is a solid addition to the growing collection of online survey companies that offer you cash in exchange for your opinions. On top of getting the opportunity to shape future products and services with your input, you'll be able to earn some extra money while you'd otherwise would just be vegging out on the couch or in bed.
Definitely don't quit your day job, though. While Branded Surveys is a great way to earn some quick cash, it won't be a sufficient primary source of income for anyone.
Up Next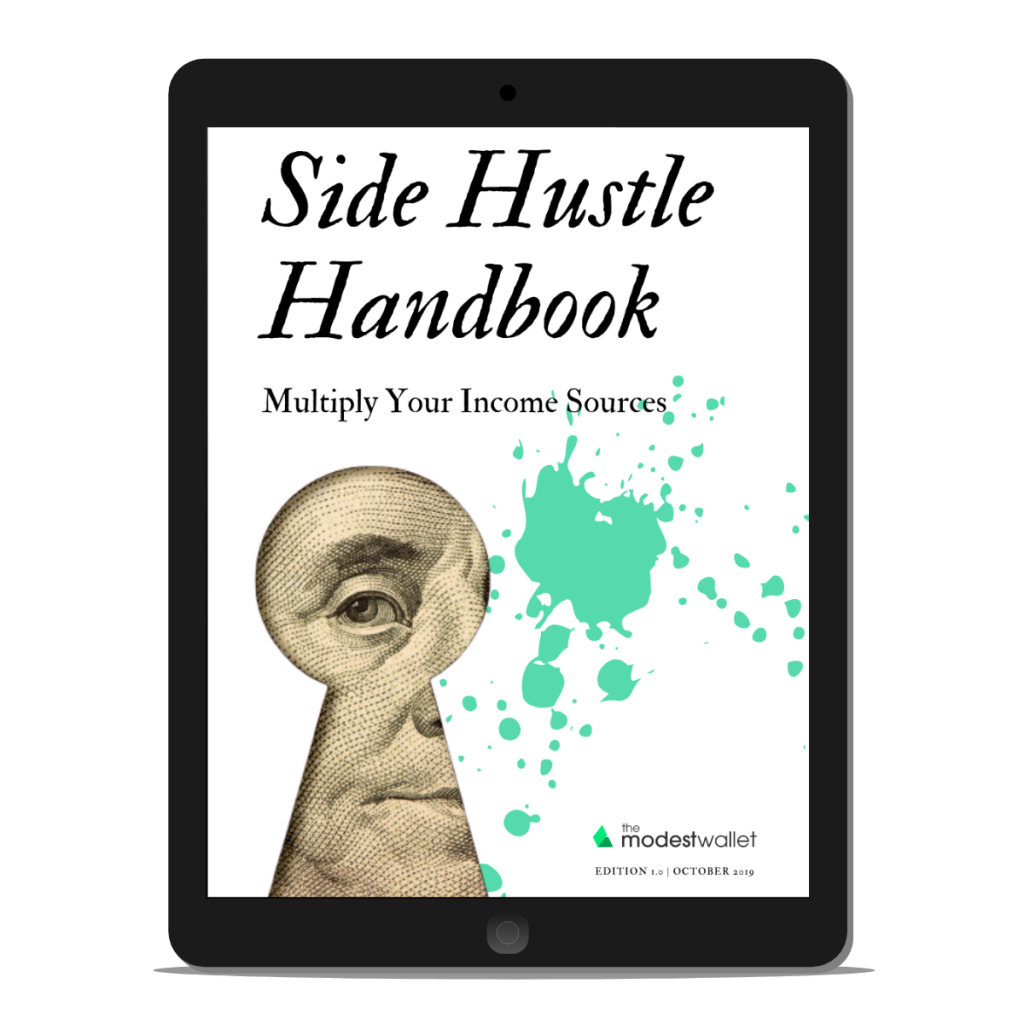 Get our free Side Hustle Handbook with the best strategies to multiply your income sources today.
Plus our best money tips delivered straight to your inbox.

Ricardo is an entrepreneur, investor and personal finance nerd who enjoys spending time with his family and friends, travelling and helping others achieve their financial goals. Ricardo has been quoted as a personal finance expert in several online publications including Healthline, Bankrate, GOBankingRates, MSN Money, Yahoo Finance, U.S. News & World Report, Forbes and USA Today.