Many or all of the products featured on this page are from our sponsors who compensate us. This may influence which products we write about and where and how the product appears on a page. However, this does not influence our evaluations. Our opinions are our own. Here is a list of our partners and here is how we make money.
The information provided on this page is for educational purposes only. The Modest Wallet is a financial publisher that does not offer any personal financial advice or advocate the purchase or sale of any security or investment for any specific individual.
The world of making money online often seems complicated. Flipping websites, social media marketing, or freelance writing are good options, but they involve multiple steps that mean you'll need to put in work (sometimes a lot of work) before the cash starts flowing in.
That's not the case with Survey Junkie. The website lets you earn money online by filling out surveys — There's nothing more to it. Anyone who is over 13 and a resident of one of the target countries can sign up to the site and begin making money right away.
Survey Junkie is a legit company. It's easy to use and lets you make money sitting on your sofa, while you commute, or while lying on your bed in your pajamas. (However, new users should be aware that filling out surveys won't make you rich.)
To find out more about the pros and cons of the site, keep reading our Survey Junkie review.
What is Survey Junkie?
Survey sites let you make money by filling out surveys. They are a popular way for people to make extra money online. They are generally open about who can apply, and the work is straightforward.
Survey Junkie is one of the most well-known survey sites. Like similar platforms, it lets users earn money online by filling out surveys. These surveys come from brands that are performing market research to help make their products better.
The site markets itself as a place where users can answer surveys to "make a difference as a consumer," and "change the products of tomorrow, today."
How Does Survey Junkie Work?
Getting started with Survey Junkie is easy. Just head over to their homepage, click on "Join Now," and then fill in the details to get started.
Once you're in, you'll have to confirm your email address. You can then begin to take surveys if there are any available or fill in the profile questionnaire so that Survey Junkie can match you with more relevant surveys.
You can find surveys daily within the Survey Junkie dashboard. The company will also email you when they see a survey that matches the information in your profile.
Be aware that being matched with a survey doesn't mean you will be able to take it. Each can only be taken a limited number of times. and they usually fill up quickly — often within a day or two.
To give yourself the best possible chance, you should take the survey as soon as you see the invitation email or the link in the dashboard.
When you select a survey, you will sometimes have to answer some qualifying questions. If you match the criteria, you can take the survey. If not, Survey Junkie will usually give you a few points just for answering the questions.
The surveys are easy to complete. You only need to provide honest answers to the questions. You should be aware that some of the surveys will open in a new browser tab on third-party websites. If this is the case on a survey you want to complete, you should fill it out on the third-party site and then click submit. This will take you back to Survey Junkie.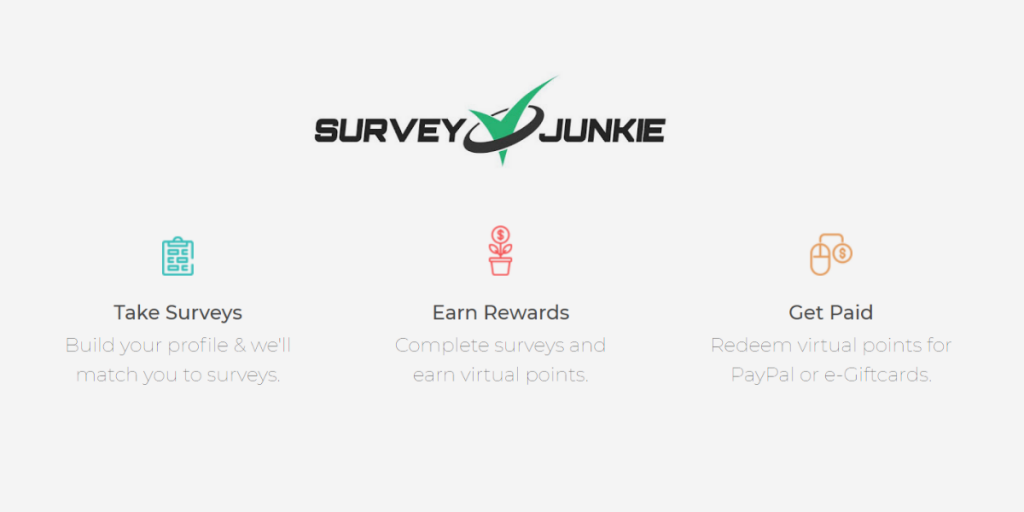 See Also: Swagbucks Review: Is This Rewards Site Worth Your Time?
How Does Survey Junkie Make Money?
You may wonder how Survey Junkie can pay you for something as simple as filling out surveys.
Well, the business model is like this — Survey Junkie is affiliated with DISQO, an audience insights platform. Businesses pay DISQO and Survey Junkie to provide them with insight into the types of things people like. This helps them with creating and marketing their products.
It seems like a pretty good business model. Crunchbase estimates that Survey Junkie brings in around $7.4 million in annual revenue.
How Can You Make Money with Survey Junkie?
The main way to make money on Survey Junkie is to take online surveys.
However, you can also earn cash through focus groups, product testing, and phone surveys. These tasks usually pay more than online surveys, but there are far fewer opportunities. Survey Junkie says they are generally available just once a month (or less).
You can let Service Junkie know you want to be matched with these other options in the "Activity Preferences" section.
Online Surveys
The online surveys are easy to complete. You can do so through any internet-connected device.
This means you can earn money while sitting on the sofa watching TV, riding on a bus, on a break at work, or basically anywhere else you have access to a smartphone or computer. (Some surveys do require you to specifically use a laptop or a smartphone or vice-versa.)
Phone Surveys
Sometimes you'll get invited to take a survey by phone. The surveys are easy to complete. A member of a brand's market research team will call you and ask some questions about their product — you just need to answer the questions honestly.
Test Products
Product tests involve using a product and then answering questions about it.
When an opportunity to test a product arises, you'll be invited to fill out an online survey. Then the company will ship the product to you so you can use it.
Once you have spent some time with the product, you will complete a second survey about your experiences. Product tests pay between $5 and $50. You also get to keep the product after the test.
Join Online Focus Groups
Online focus groups are online meetings where you will share your opinion about a product or service. When you get invited to join an online focus group, you first need to complete a quick survey. Then, you can choose a time to take part in the focus group.
You'll be discussing a product in real-time with a group of people, so you'll need a microphone, and in some cases, a webcam. Focus groups pay between $25 and $100 (quite a lot more than regular surveys).
See Also: Rakuten Review: Is This The Best Cash Back Service Out There?
Join In-Person Focus Groups
Survey Junkie can also match you with in-person focus groups. During these events, you'll go to a specific location at an agreed-upon time and then share your feelings about a product. These groups pay between $25 and $150.
Extras
You can also receive extra points by performing actions such as referring friends to the service, completing profile questionnaires, or installing the Survey Junkie Pulse extension on your browser (more on this below).
Understanding the Survey Junkie Rewards System
The Survey Junkie rewards system is easy to understand. Every survey you complete will give you points. Each point is worth $0.01. When you reach 1,000 points, you can apply to exchange these points for cash or a voucher.
Every task you potentially complete will tell you how many points you will receive for completing the work before you start. This allows you to decide whether each one is worth doing.
Pro Tips to Make the Most Money
LIke any other survey site, there are plenty of ways to make money and to maximize your earning potential.
Check Your Email at Regular Intervals
Survey Junkie sends you an email whenever it matches you with a survey. To have the best chance of filling out surveys, you should check your email frequently. However, you don't want to check your email all the time, or you'll end up spending more time checking your email than completing surveys.
A good system could be to check your phone at regular intervals (for example, every two hours). Alternatively, you could set up email notifications on your phone so you are alerted to relevant emails.
Look for the Highest Rewards
If you just want to fill out as many surveys as possible, then you don't need to be fussy about which ones you choose.
On the other hand, if you want to earn decent money for your time, it may be a better idea to only choose certain surveys. Look for surveys that have high rewards for the time you expect to put in.
Stay Consistent
Survey sites can be irregular. One day you won't be matched with any surveys, the next you'll be matched with multiple. Stay on top of your email alerts.
Keep Money in Your Account if You Don't Need It Right Away
Remember that you can only withdraw money when you reach the $10 limit. If you earn $15 in total but withdraw $10 when you hit the limit, you won't be able to take out the remaining $5 until you reach $10 again.
If you are worried about this, leave the money to accumulate in your account before you decide to withdraw it.
What is Survey Junkie Pulse?
Survey Junkie Pulse is a browser extension available to members. If you install it, the extension collects data about how you browse the web — for example, shopping activity, the websites you visit, and the ads you click on.
Survey Junkie says that installing Pulse will give you more opportunities to take surveys on the platform. This is presumably because it will have built up a better picture of your likes and dislikes due to the data it collects, which could make it easier to match you with surveys.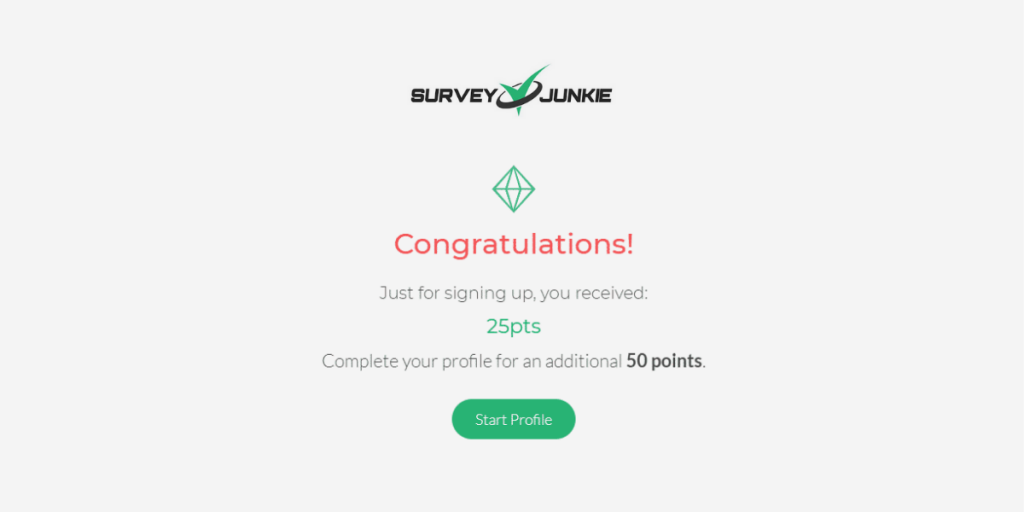 See Also: Instacart Shopper: Make Money Grocery Shopping for Others
How Do You Get Paid?
Survey Junkie pays its users via PayPal, direct bank transfer, or with gift cards from companies like Amazon.
Users in the U.S. who wish to be paid through PayPal must have a verified PayPal account. E-gift cards are only available to users in the U.S. (You must be able to provide Survey Junkie with U.S. bank details to receive a bank transfer.)
Is Survey Junkie Legit?
Survey Junkie is definitely legit. Many people trust the site. The Survey Junkie website says that its online community has over 10 million members.
The platform also has an "Excellent" rating on Trustpilot which comes from over 13,000 different reviews. The negative reviews on Trustpilot tend to focus on the number of surveys available to those users, or the pay not being high enough. While these are both legitimate criticisms about the platform, they don't take away from the site's credibility.
How Much Money Can I Make with Survey Junkie?
Those looking to get rich online, beware — you won't earn a lot with Survey Junkie.
Most of the surveys pay just a few dollars (or points that translate to dollars). The upside is that the tasks don't take long to complete. Survey Junkie claims they take around 15 minutes on average. The reward per survey is also around average for a survey site.
Perhaps the biggest problem is that there aren't an unlimited number of surveys that you can work your way through, which means you might not be able to work as much as you'd like.
Survey Junkie matches you with surveys depending on the information in your profile. The number of surveys you get access to depends on how in-demand your demographic is to the businesses that pay Survey Junkie to connect them with users. Factors include your gender, age, and interests.
Another thing to remember is that users must earn 1,000 points before they can get paid. Each point is worth $0.01, which means you'll make $10 at that point level. While this redemption limit isn't high, it does mean you will have to wait awhile after completing your first survey to get paid. It also means that if you never reach the limit, you'll lose your money.
The exact amount of time it takes you to reach 1,000 points will depend on how many surveys you qualify for and take, as well as how many points each survey is worth.
The good news is that once you apply for your reward, you should receive it instantly. The only time this may not be the case is if Survey Junkie requires you to verify your account (and they occasionally do when users request their initial payment). This shouldn't be much of an issue, however. Verification takes place during a phone call with one of the company's customer service representatives.
Ultimately, Survey Junkie won't make you rich. Survey Junkie even states this on its website. However, you can use it to make some extra money online.
Things to Consider
There are a few things to consider before signing up with Survey Junkie.
Where is Survey Junkie Available?
Survey Junkie is only available to residents of the United States, Canada, and Australia. Anyone who lives in one of these three countries and is aged 13 or above can sign up. If you live elsewhere and you want to make money taking surveys, you'll have to use another option.
Survey Junkie takes steps to ensure that its members are based where they say they are. It uses geolocation technology to check the browser's location, and users must be able to provide a valid zip or postal code during the registration process.
Who is Survey Junkie Best For?
Survey Junkie is best for people who want to earn some extra money at home. It is easy to complete the surveys, even after a long day at work. If you already have a job and need some extra pocket money, we think that Survey Junkie is a good option. Stay-at-home parents may benefit, as may students, or people who are retired.
We also think it could be a good option to gain some extra cash if you have a lot of spare time, with access to a computer or phone. Or if you have a long commute, filling out surveys could be a better way to spend your time than mindlessly browsing the internet.
Ultimately, people who genuinely like filling in surveys and potentially making a difference in the type of products that businesses bring to market will enjoy Survey Junkie.
See Also: How to Make Money Flipping Furniture: A Home-Based Side Hustle
Who Should Avoid Survey Junkie?
If you need a job that provides full-time income, Survey Junkie is not for you. Even if you receive and complete a higher-than-average number of surveys, you won't make enough money to live on.
Likewise, if you need extra money and have other ways to acquire it, Survey Junkie is unlikely to be your best bet. Taking on extra hours at your regular job, if possible, or searching for a new part-time job are likely to be far more lucrative.
Survey Junkie Alternatives
If you like the idea of Survey Junkie but want to check out your options before signing up, there are plenty of competing survey websites. Here are some of them:
One thing to consider is that you aren't limited to signing up to a single platform. If you want to maximize your rewards, sign up to all the sites you can. Doing so will increase your earning potential.
You can find out more about Survey Junkie alternatives in our best paid online survey sites article.
Survey Junkie Review Summary: Pros and Cons
Here are the good and bad things about Survey Junkie
Pros
Easy to sign up and get started.
Available to anyone in the United States, Canada and Australia who is at least 13 years old.
Consistent work if you fit target demographics for the surveys.
Variety of payment options.
You can take surveys anywhere you have an internet connection.
Fast payments once you reach the payment threshold.
Legitimate company.
Cons
Need to earn 1,000 points ($10) before you can get paid.
You won't get rich using Survey Junkie.
There are a limited number of surveys available.
Only available in three countries.
Final Thoughts
Survey Junkie is an excellent way to make a little extra money online if you live in one of the countries where it operates. It's easy to get started, and as long as you don't expect it to make you rich, you should be pretty happy with the service Survey Junkie provides. The platform has a decent number of surveys available, and each one pays a reasonable amount for a survey site.
Up Next

Ricardo is an entrepreneur, investor and personal finance nerd who enjoys spending time with his family and friends, travelling and helping others achieve their financial goals. Ricardo has been quoted as a personal finance expert in several online publications including Healthline, Bankrate, GOBankingRates, MSN Money, Yahoo Finance, U.S. News & World Report, Forbes and USA Today.