Survey Junkie Review 2023: How Much Can You Really Make? 
Many or all of the products featured on this page are from our sponsors who compensate us. This may influence which products we write about and where and how the product appears on a page. However, this does not influence our evaluations. Our opinions are our own. Here is a list of our partners and here is how we make money.
---
The information provided on this page is for educational purposes only. The Modest Wallet is a financial publisher that does not offer any personal financial advice or advocate the purchase or sale of any security or investment for any specific individual.
With the internet more expansive than ever, there are more ways to earn money online right now than ever before. One method that's consistently grown in popularity is completing surveys.
Completing surveys is an excellent way to earn an extra buck. And while it won't replace your day job anytime soon, it can go a long way towards helping out with bills or surprise expenses.
If you're looking for a reliable, legitimate way to do surveys online and get cash from it, Survey Junkie is one you've probably heard of before. But can you actually make money from it? And, if so, how much cash is on the table? Read on to learn more about Survey Junkie.
Bottom Line: Survey Junkie is a platform that rewards you with points for completing surveys online. Survey Junkie is a way for people to make extra money online in their free time. The minimum threshold for cashing out your points is 1,000 ($10).
| | |
| --- | --- |
| Survey opportunities | |
| Survey quality | |
| Earnings potential | |
| Redemption options | |
| Redemption threshold | |
| Ease of use | |
| Security | |
---
What is Survey Junkie?
Survey Junkie is an online market research site founded in 2011 by the consumer insights platform DISQO. By partnering with existing corporations, the site uses consumer surveys to provide paying companies with the data and analytics they need to make major marketing decisions.
Users like yourself can sign up to complete survey offers in exchange for points through the platform. Once you have enough, you can then exchange those points for cash or e-gift cards, depending on your preference.
It's a great site for those that tend not to be trustworthy of survey completion platforms, as Survey Junkie has over a decade-long history and has been accredited by the Better Business Bureau since 2017. It also boasts 4.29 out of 5 stars from nearly 2,000 customers through BBB's review feature.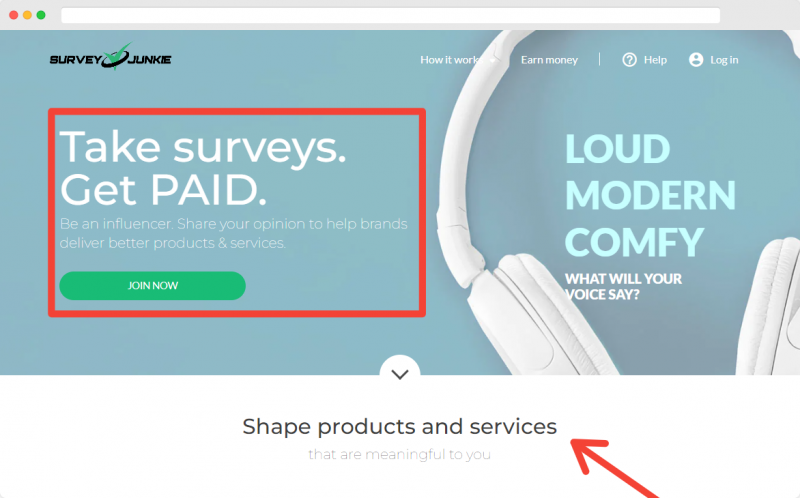 ---
How Does Survey Junkie Work?
Because DISQO specializes in gathering market research for the companies that hire it, Survey Junkie is able to provide you with paid surveys by sharing a portion of the profits they receive from their work. They do this by providing you with a prespecified number of points per survey completed, which you can then cash in for real money or gift cards to places like Amazon or Walmart.
Requirements to Open a Survey Junkie Account
If you're reading this and you're asking the question, "can anyone open a survey junkie account?" the answer is, unfortunately, no. Like most websites that distribute real-world earnings, age and location requirements can potentially disqualify you.
Currently, Survey Junkie lists on their website that you must be 16 years of age and live in either the United States, Canada, or Australia. Additionally, if you'd like to withdraw cash instead of gift cards, you must have a valid bank account or PayPal account for the deposit. Survey Junkie does not offer mail-out checks.
How to Sign Up to Survey Junkie
Signing up to take surveys on Survey Junkie is an easy process that generally takes less than five minutes and is comprised of the following steps:
Step 1: Go to Survey Junkie. Unlike some other sites, survey junkie doesn't make it difficult to find their sign-up button. Simply go to surveyjunkie.com, and at the top of the page, you'll see a giant green "join now" button. Click it.
Step 2: Create an Account. Once you click the button, you'll receive a pop-up that asks you to enter your email address, sign up with Google, or sign up with Facebook. Choose whichever is your preference, read and agree to their TOS and Privacy Policy, and hit sign up. Upon signing up, you'll be redirected to a page that will ask you questions about your lifestyle. These questions usually include things like your zip code, birth date, gender, first and last name, and password.
Step 3: Complete Your Profile. Once you finish the above, you'll receive 25 points just for signing up and completing your profile. This is equivalent to about 25 cents USD. To be awarded another 50 points, you'll need to complete your profile. To do this, click on the first survey on your screen, labeled "General Profile." You'll immediately see a pop-up asking questions about your demographics and background. You'll also be asked to verify your identity before attempting to redeem any points, so we recommend doing that now rather than later.
Step 4: Start Taking Surveys. You're now ready to start taking surveys. To begin, select any one of the surveys on your screen that interest you. Like your first survey, you'll be redirected to the survey web page, asked a series of questions, and awarded your points once you're finished. Luckily, you can streamline your experience with survey junkie according to how many points you want and how much time you have. You'll see a time estimate and point amount in each survey box. Select the ones that appeal to you most.
Step 5: Start Accumulating Points. You'll accumulate points naturally by completing surveys and doing tasks like completing your profile or adding the SJ desktop app. You can also use their other features to accumulate points, which we'll cover below.
Step 6: Redeem Your Points: The minimum point amount to redeem from Survey Junkie is 500, which equates to about 5 USD.
To redeem your points once you have enough, click your name in the top right corner and click the first option on the scroll-down, "My Points." If you have enough to redeem, you'll see a button that allows you to do so. As long as you've verified your identity already, all you'll need to do is choose whether you'd like cash or gift cards and follow the subsequent steps.
---
Survey Junkie Features
Aside from just the surveys you take using your home page, Survey Junkie has multiple ways to earn points toward cash and gift cards. We'll go over each one in detail below.
| | |
| --- | --- |
| Ways To Earn Money | Paid surveys, phone surveys, test products, in-person focus groups and more |
| Minimum Payout | 500 points (500 points = $5) |
| Payment Options | Bank transfer, PayPal cash or gift card |
| Payment Processing Time | 1 to 5 business days (*depends on payment option) |
| Avg. Payout Per Survey | $0.50 to $3.00 |
| Trustpilot | 4.3/5.0 (over 42,000 reviews) |
| Better Business Bureau | B Rating |
| Platforms | Web, Android and iOS |
| Promotion | None |
| Minimum Age Requirement | 16+ |
| Availability | U.S., Canada and Australia |
| Support | Contact form and help center |
Paid Surveys
Beginning with the biggest one, paid surveys are Survey Junkie's primary (and best-known) offering. Once you complete your account, the surveys are placed right in front of you, and you'll be able to start completing them immediately.
As you do your surveys, it's important to keep in mind that you won't qualify for every single one. Just because they're on your survey feed does not mean you qualify for them.
To see if you qualify, you'll have to click the "start survey" button and go through the preliminary questions for the survey. At the end of those questions, you'll be told if you don't qualify. If you do, you'll move into the remainder of the survey.
Additionally, it's important that you know what to expect from the surveys you'll be taking. These aren't usually straightforward questionnaires that have right and wrong answers. They also usually don't involve cut-and-dry questions like your height and weight (outside of the preliminary questions.)
Rather, most surveys involve opinionated questions, such as how you feel about a particular ad or offer. They often ask about social behaviors, like your favorite apps for different scenarios. Essentially, you are getting paid to look at advertisements and products and provide your opinion.
Most of the surveys you'll complete will earn you somewhere between 10 and 200 points and will range between 5 minutes to 30 minutes for completion time. There are some surveys that fall outside of this range, but those are more exceptions than rules.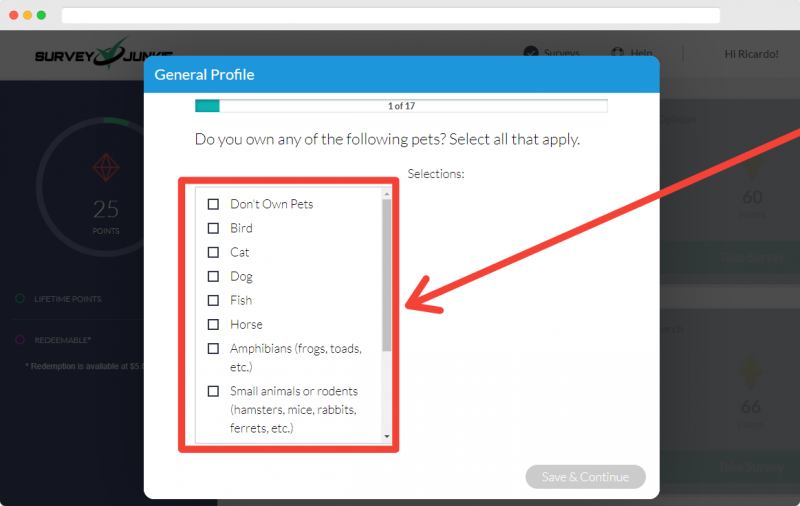 Phone Surveys
When you first sign up with Survey Junkie and complete the onboarding process, you should receive a pop-up that asks if you'd like to participate in phone surveys. You aren't required to, and it won't hurt your account standing if you don't. It's merely offered as a way to rack up additional points.
The frequency that you'll receive phone surveys is much less than that of an online survey, as they'll only contact you once a month or less for these. However, you stand to make more with payouts of $5 to $100 per phone survey (500 to 10,000 points).
If you choose to participate in these, you'll first be contacted to participate in an online survey to ensure you're the right fit. If you are, a researcher will call you to ask the necessary questions. Once they hang up, the points are credited to your account.
Test Products
Similar to phone surveys, you'll also be asked if you want to participate in occasional product testing. If you do, you can expect to be contacted around once a month (sometimes less) regarding an offer. On average, these surveys pay anywhere from 500 points to 5,000 points ($5 to $50).
Again, similar to phone surveys, you'll be asked to participate in an online survey to see if you fit the demographic they're researching. If you are, the researchers will ship you a free product in the mail to test in the privacy of your home. Usually, you'll be allowed to keep the product, but you will sometimes be asked to send it back (at no cost to you, of course). This is so the researchers can examine the wear and tear of the item.
Once you've completed the testing period and are ready to provide feedback, you'll be asked to complete another survey about your experience with it.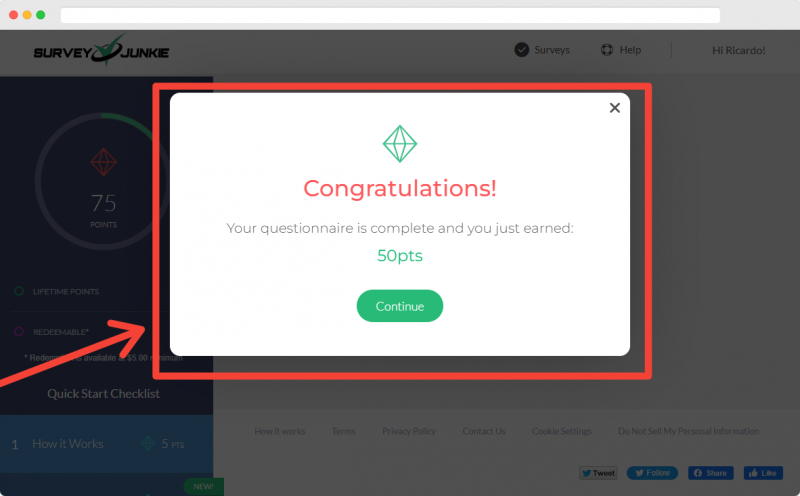 Online or In-Person Focus Groups
You'll be asked to participate in online and in-person focus groups when you sign up. A focus group's primary job is to bring together surveyees in a room or online call to provide feedback regarding a marketing campaign, product, concept, etc. A moderator is usually present to lead a 30-90 minute discussion and take notes of both the general consensus and individual opinions.
You may be asked to participate in these focus groups once a month or less and can expect to earn anywhere from 2,500 to 15,000 points ($25 to $150).
The process is much like a phone survey if you're invited to an online focus group. You'll complete a survey ahead of time and if selected, you'll be given a date and time to log on to an online meeting room. Please note that you will need access to a webcam in order to participate in online groups.
For in-person groups, the process is the same up until you finish your online survey. For these groups, you'll be given a designated time and location to meet other group members and complete the session.
Mobile Apps
Survey Junkie's mobile apps on Google Play and the Apple Store make it easy to take surveys and earn points on the go. This means that any time you find yourself with a spare moment (whether you're at home or not), you can hop on and start earning.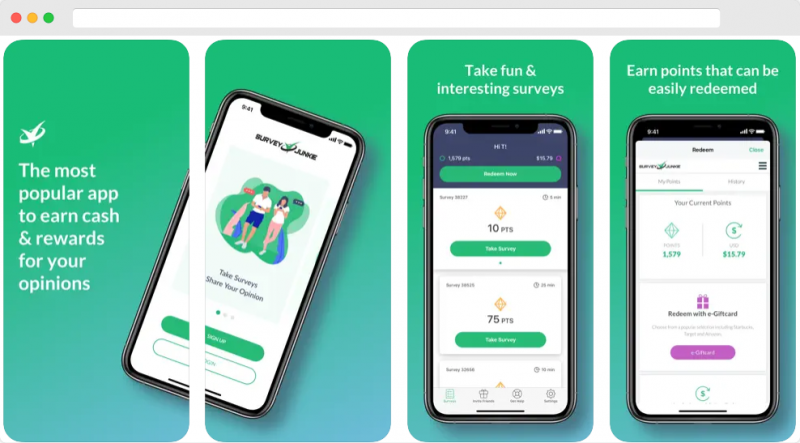 SJ Pulse
Survey Junkie's offerings are separated into two distinct platforms: the Survey Junkie site and SJ Pulse.
SJ Pulse is an app that lets you share your online activity passively in exchange for points. This can be done through the Survey Junkie browser extension for your computer or through the SJ mobile app. As they learn more about your browsing tendencies, you'll unlock new surveys that are more relevant, so you can worry less about whether you'll be approved.
Naturally, though, having something like this on your device can open up some security concerns. So, let's address them.
What Activity Does SJ Pulse Track?
SJ pulse tracks the type of activity you would expect from a market research platform. This includes activities like:
Your searches
Websites you visit
Ads you're shown
Products you search and look at
Content you react to
How often you're on a particular search engine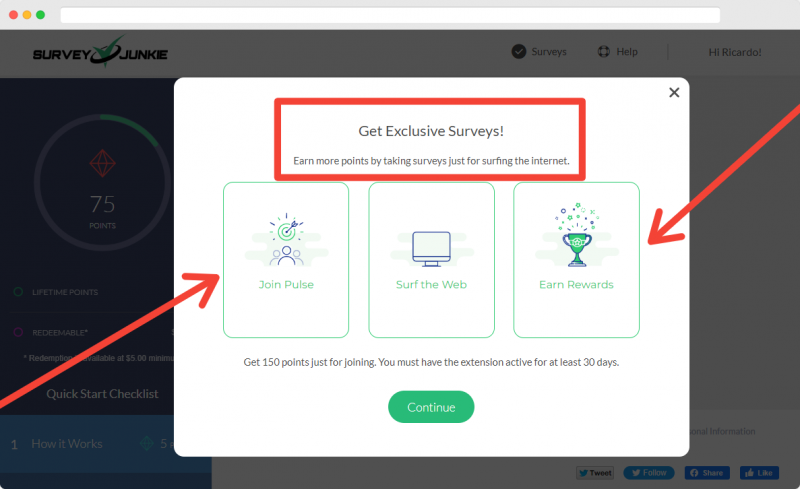 Luckily, Survey Junkie's Privacy Policy addresses this in the following ways:
First, they ensure your information is shared anonymously. This means companies will know that someone of your age/gender/etc. is searching X amount of times a day, they won't know information like your name, address, or phone number.
The extension is designed to ignore sensitive data and automatically expunge it, like email addresses, usernames, passwords, credit card information, etc.
If you want to browse privately with the extension still installed, you can open up your browser's incognito mode, which will temporarily disable the extension. Your points won't be penalized for this so long as you aren't doing it all the time.
Furthermore, it is important to note that the extension must be enabled on your device for 30 days or more. If you opt-in to the extension and decide you don't want it anymore after 29 days, you won't be compensated for the time you had it enabled.
---
Understanding Survey Junkie's Rewards System
You've gotten this far in the article because you're interested in putting extra cash in your pocket by taking surveys in your spare time. However, it doesn't do you much good if you don't understand how the rewards system works or how to cash out.
So, let's talk about it.
The first thing you should understand about Survey Junkie is that they don't have a set amount of dollars you can earn for any given action. Instead, they use points to represent the money you're earning. Each point is worth about 1 cent in US dollars, meaning 100 points is $1.00, 500 points is $5.00, and so on.
Additionally, you aren't able to cash out until you reach 500 points. As such, $5.00 USD is the minimum amount you can cash out at one time.
Regarding cash-out options, you have two choices: cash or gift cards.
For cash, once you've hit your 500-point goal, you can choose to transfer money either to your PayPal account or directly to your bank. Of course, the latter requires your bank info which some people don't like to give to online institutions. Do this at your discretion only when you're comfortable with it.
The other option is gift cards. With these, you can choose retailers and send their gift cards to your email address. Some of the retailers you can choose from are:
Amazon
iTunes
Sephora
Starbucks
Walmart
Target
Groupon
Furthermore, you should note that your Survey Junkie points can expire. If you stop using your account for 12 months or more, your points will disappear, and you'll have to reinstate your account before you can start taking surveys again.
---
How Does Survey Junkie Make Money?
At this point, your number one priority is probably making that cash for yourself, but knowing how much Survey Junkie likely pays out daily, it begs the question: exactly how do they make enough money to sustain their business?
It's important to understand that Survey Junkie's parent company, DISQO, is a market research firm. This means they are hired by companies around the globe to provide the type of market research being asked of them. They are paid to do this, and they share a portion of those profits with you.
For example:
Let's say that company XYZ wants to roll out a new ad campaign, and they want it reviewed by a small number of people first to get some general opinions. XYZ then contacts DISQO, asking them to gather the information they need. The two sign a contract saying DISQO will deliver 100 general opinions for $2 per opinion. So, $200 total will be paid to DISQO once they finish.
DISQO then creates a survey and puts it on its Survey Junkie website. They program it to roll out to a set number of people and set the point amount for, say, 30 points. So, of the $2 they are paid for each survey filled out, they pay 30 cents of it to you.
The remainder of the money they make then goes toward things like website upkeep, material costs, wages, etc., to keep their company running.
Now, this is a very small example, and most deals they sign are much, much larger, but it demonstrates the point well.
---
Is Survey Junkie Legit?
Survey Junkie is a legitimate, well-known site that pays out cash and gift cards for taking surveys. It is not a scam.
For those who are skeptical, Survey Junkie has a long history documented across the Trustpilot, Better Business Bureau, Google Play Store, and Apple App Store platforms.
On Trustpilot, Survey Junkie has a consistent 4.3 star out of 5.0 rating across over 40,000 reviews. On the Better Business Bureau website, it has the same rating of 4.3 stars out of 5.0 from around 1,800 customer reviews.
Survey Junkie has a rating of 4.4 out of 5.0 stars in the Google Play Store with over 68,000 reviews. They also have a 4.6 out of 5.0 rating in the Apple Store with over 65,000 reviews.
Of the five-star reviews it has received, people talk about the quick payout times, convenience, and user-intuitive web design.
Additionally, of the one-star reviews it has received, the comments are mostly regarding having to qualify for surveys before completing them and sending identity verification before receiving a payout.
---
How Much Money Can You Make On Survey Junkie?
When you sign up to start completing surveys, you'll notice that each survey has a set number of points you'll earn from qualifying and completing it. In general, these numbers will range from 10 to 200 points. The time estimate for these surveys also has a range usually between 3 minutes and 30 minutes. Naturally, though, some surveys do fall outside of this range.
That said, let's look at a real example to figure out the hourly rate you could be making.
If you choose to take a survey, that's, say, 40 points for 6 minutes (a common survey amount on Survey Junkie), that's 40 cents for 6 minutes of your time. Do the math, and that comes out to around $4.00 an hour.
Now, that's not an impressive amount. It's not even minimum wage in most US states. However, from the beginning of this article, you'll recall that Survey Junkie can't replace your day job. But it isn't meant to, either. And compared to other paid survey sites, it's actually very high.
Keep in mind, however, that not every survey you take will equate to $4 an hour. Some will be more, and some will be less. It just depends on what surveys you qualify for.
---
Survey Junkie Ease of Use
Out of 100, we'd rate Survey Junkie's ease of use at 93. There are multiple reasons for this.
First, signing up for Survey Junkie is incredibly easy for beginners. Their convenient platform walks you through every step in the sign-up and orientation process, and you aren't left wondering what to do next.
However, there are some shortcomings. First, it can be a little difficult to figure out where to withdraw your points from. It can also be difficult for newcomers to figure out how the SJ Pulse app works and to get the browser extension installed for those who choose to do so.
Other than that, Survey Junkie does an exceptional job with their tutorials, the platform has a clean design, and points from surveys are loaded into your account as soon as you're finished with them. Their app is available on both Google and Apple app stores, and their website is both mobile and tablet friendly.
Overall, it's much easier to use than most paying survey sites.
---
Survey Junkie Security
One of the biggest reasons consumers leave 1-star reviews for Survey Junkie is that they require identity verification before releasing your funds to you. This means doing things like sending them photos of your driver's license and entering your social security number. Naturally, this gives most people pause about using the platform.
Survey Junkie, however, is a secure platform with several years worth of legal policies in place to protect both your information and themselves from legal repercussions. After all, DISQO is recognized in Deloitte's Fast 500, a list of top-performing companies in the tech industry. They wouldn't have gotten there without taking consumer security seriously.
First and foremost, Survey Junkie makes no effort to hide its privacy policy or terms of use. You must agree to them when you sign up, indicating you have read them. The privacy policy itself is also straightforward and easy to understand.
In a nutshell, the policy states the following:
Survey Junkie uses the information you input for their own program and doesn't sell sensitive information to unrelated third parties
You are allowed to refuse to answer questions related to sensitive personal information (such as that pertaining to health or medical conditions) at any time with no penalty to your account.
You may discontinue participating at any time.
They do use cookies and log files to help better your website experience.
There are some reasons they will disclose your information to third parties, such as for legal reasons, the safety of their community, or in connection with a corporate change such as a merger.
Now, there are likely a few terms in the first point that stuck out. For example, what defines a third party as unrelated?
Because Survey Junkie is a market research company, they make their money by selling your information to the third parties that have contracted them. However, they wouldn't sell the information you input for a specific company to a completely unrelated company.
In other words, if you completed a survey for Google, they would sell that information to Google. They wouldn't sell it to someone else, like Amazon or Walmart.
They also make use of several security programs to help protect your account from data breaches. These are programs like data encryption, two-factor authentication, biometric login for their mobile app, and a trustworthy web and app service provider. Lastly, they are accredited by the Better Business Bureau, meaning they are a recognized and trustworthy business that operates in good faith.
---
Survey Junkie Customer Support
This is one of the areas where Survey Junkie seems to fall a bit short.
For starters, their customer support is somewhat limited in terms of contact methods. Rather than having a phone number or email to reach out to, you'll have to submit a contact form using their website. They don't have a live chat feature or any kind of phone support. This makes contacting them about issues a little dodgy.
Furthermore, consumers seem to be divided about whether customer service is quick to respond to queries or not. When they do respond, there's even more of a divide regarding whether their issue gets fixed or not.
---
Survey Junkie Pros Explained
Free to sign up: You don't have to pay or enter any credit card information to sign up. You just need some basic information like your gender, birth date, zip code, etc.
Bonus points for quick tasks: When you first sign up, you can make some quick cash by performing bonus tasks like downloading their desktop app and going through the tutorial.
Points can be redeemed for cash or gift cards: If you don't want to give out your bank account info to have cash deposited, you can always choose to have gift cards emailed to you with your funds.
Cash withdrawal options: Cash can be withdrawn to either your bank account or PayPal account.
Quick payouts: Customers praise Survey Junkie's quick payout times regarding cashing out.
Fair earning system: You earn the most points for completing surveys you qualify for, but you also earn small amounts of points even if you don't end up qualifying.
Long point expiration time: Compared to other survey sites, Survey Junkie has a long expiration period for points (12 months of inactivity).
Easy-to-use interface: The interface is set up to be simple to use and easy to figure out.
Accredited by the BBB: Survey Junkie is one of the only paid survey sites accredited by the Better Business Bureau.
Good payout transparency: There aren't any unexpected fees incurred for cashing out points. What you see is what you get.
Adaptive profiling: The more you fill out your profile and give Survey Junkie information about you, the more your surveys will be catered to you. This means you will start qualifying for more and more surveys on your page as time progresses.
Large community: With over 3 million users, there's plenty of material to read online if you have questions or issues and don't want to go through customer support. You can also connect with others to figure out the best practices for maximizing your points.
---
Survey Junkie Cons Explained
Difficulty qualifying for some surveys: Typically, you only qualify for about 1 out of every 5 surveys.
Limited availability: The site is only available for residents in the United States, Canada, and Australia.
Limited survey transparency: The survey pages don't list the subject of the survey. You have to find out by clicking on it and filling it out. This means you could start a survey without knowing that it regards medical information or other sensitive topics.
Surveys fill up quickly: Just because a survey is on your page doesn't mean it is available. For some of them, you might click in to see that they are filled up. This usually happens with surveys that have higher point values, so you have to be quick to get the good rewards.
One account per user: It is against the terms of use to have multiple accounts for yourself, even if you're using different emails for each account.
Identity verification for payouts: Many consumers that use Survey Junkie don't like having to verify their identity using their personal information. They feel it is risky, even though Survey Junkie is a secure platform.
---
Survey Junkie Alternatives
Survey Junkie won't be right for everyone. If you aren't in the right location for use or feel it isn't the right platform for you, no problem! Here are two other alternatives you can try:
Survey Junkie vs. Branded Surveys
One of Survey Junkie's primary competitors, Branded Surveys is a platform that has a little bit more flexibility for where you can reside to use their site. You are eligible for use here if you live in the US, Canada, or the UK.
Furthermore, you can earn up to 500 points per survey, and higher-point surveys are a little more common than with Survey Junkie. Points are the same value, 1 cent per point, and payouts are typically very quick.
A major downside of Branded Surveys in comparison to Survey Junkie is the minimum payout value. Instead of the 500 points that Survey Junkie advertises, Branded Surveys requires 1000 points for a $10 minimum payout. They also have fewer surveys to participate in.
Furthermore, Branded Surveys provides more opportunities to earn higher amounts of points. They have daily polls that will give you 5 bonus points for each vote, leaderboards that will give you up to 1,000 bonus points per month, and a referral program that pays out 50 points for each new user. Read our full Branded Surveys review to learn more.
Survey Junkie vs. Swagbucks
Swagbucks is probably just as popular as Survey Junkie, if not more. However, their platforms are slightly different.
Where Survey Junkie focuses almost primarily on market research and surveys, Swagbucks has a list of activities you can perform in exchange for points. These include downloading apps, watching videos, online shopping, and more.
Swagbucks offers both gift card and PayPal cash-out options, and their cash-out minimum is 500 points ($5), just like Survey Junkie. Read our full Swagbucks review to learn more.
Survey Junkie vs. InboxDollars
Similar to Swagbucks, InboxDollars also has a list of tasks you can perform to earn points, like watching ads and downloading apps. They also have a straightforward dashboard that's easy to get the hang of using. InboxDollars does put special emphasis on their surveys, though.
One of the best qualities InboxDollars has in regard to their surveys is their tailored experience. From the moment you open your account, you're asked questions about your lifestyle and shown the surveys you are most likely to qualify for.
Unfortunately, this is also one of the major downsides. Because the experience is so tailored, you'll be shown far fewer surveys than on Survey Junkie. They continually roll out new surveys, so you shouldn't be left without activities for very long. Read our full InboxDollars review to learn more.
| | | | |
| --- | --- | --- | --- |
| | | | |
| Our Rating | | | |
| Avg. Payout Per Survey | $0.50 to $3.00 | $0.50 to $5.00 | $0.50 to $5.00 |
| Payment Method | Bank Transfer, PayPal or Gift Card | PayPal, Visa Prepaid Card, or Gift Card | Check, Visa Card or Gift Card |
| Sign Up Bonus | None | $1.00 welcome bonus | $5.00 welcome bonus |
| Minimum To Cash Out | 500 points (500 points = $5) | 500 points (500 points = $5) | $30 |
| Highlight | Multiple survey opportunities | Online surveys | Online surveys, video surveys and more |
| | | | |
---
Who is Survey Junkie Best For?
Survey Junkie is a platform ideal for individuals who want a quick, easy way to earn extra money to supplement their normal income. Because of the firm's dedication to providing large numbers of survey opportunities, users can pick and choose how much they make in a given time period.
Additionally, Survey Junkie's other earning features give individuals the opportunity to make larger amounts of money at once, such as being paid up to $150 for an in-person control group session. Furthermore, Survey Junkie is available to consumers in all 50 US states, Canada, and Australia. If you don't live in one of these territories, you won't be able to sign up.
That being said, Survey Junkie doesn't have high payout amounts. If you're looking to replace your normal nine-to-five with a work-from-home job, Survey Junkie won't do that for you. But if you want to earn a little extra on the side and often find yourself with random pockets of spare time, it's definitely something to try so you can see if it's right for you.
---
FAQ Survey Junkie
Here are the answers to some of the most frequently asked questions about Survey Junkie:
What is the age requirement to sign up for Survey Junkie? 
Currently, you must be 16 years of age or older and have a valid ID to sign up for Survey Junkie. 
Does Survey Junkie pay cash? 
Survey Junkie has two payout options; you can take advantage of cash and gift cards. For cash, you can choose to have your money deposited directly to your bank account, or you can have it sent to a PayPal account. 
Is Survey Junkie available outside of the US?
Survey Junkie is available in two locations outside of the US: Canada and Australia. If you don't live in one of these three territories, you won't be able to sign up for their platform. 
Does Survey Junkie pay real money? 
Yes, Survey Junkie pays real money to users who earn points on their platform. You can have your money deposited to your PayPal account, bank account, or sent to your email as a gift card. 
What is the minimum amount to cash out for Survey Junkie? 
Currently, the minimum amount to cash out for Survey Junkie is 500 points, which equates to $5.00. However, they have changed this in the past (it used to be 1,000 points), and their terms of use states it is subject to change as they see fit. 
Highlight: Instant point redemption for completing online surveys
iOS Rating: 4.6/5 with over 58k reviews
Google Play Rating: 4.3/5 with over 56K reviews
Availability: United States, Canada and Australia

on Survey Junkie's website
---
Final Thoughts
If you're looking for an easy way to put extra money in your pocket, Survey Junkie is an excellent option. Their user-intuitive platform makes it easy to sign up and get started. Additionally, their security measures keep all your sensitive information safe so you can withdraw funds to your bank account or PayPal without worrying.
Of course, it can be discouraging not to qualify for several surveys in a row. Users will only qualify for about 1 survey out of every 5, so it can take time to get to a survey you qualify for. But if you don't mind putting in the time and don't expect it to replace your day job, Survey Junkie is an excellent option.
Up Next
Get our free Side Hustle Handbook with the best strategies to multiply your income sources today.
Plus our best money tips delivered straight to your inbox.

Christa is a skilled researcher and serial entrepreneur. Her passion lies in providing people like you with ways to become financially independent without breaking the bank in the process. Currently, she's tested and perfected over 37 unique side hustles and brings that information to you through articles like these.