9 Best Micro-Investing Apps of 2023
Many or all of the products featured on this page are from our sponsors who compensate us. This may influence which products we write about and where and how the product appears on a page. However, this does not influence our evaluations. Our opinions are our own. Here is a list of our partners and here is how we make money.
---
The information provided on this page is for educational purposes only. The Modest Wallet is a financial publisher that does not offer any personal financial advice or advocate the purchase or sale of any security or investment for any specific individual.
Micro-investing aims to educate and help investors with a small account balance to build wealth, prepare for retirement, and achieve other financial goals. This is achieved by allowing them to invest small amounts of capital in innovative instruments such as fractional shares and exchange-traded funds (ETFs).
The micro-investing boom and the subsequent launch of multiple micro-investing apps are driven by the low fees that these providers currently offer.
While Robinhood is one of the pioneers in offering low-cost brokerage services, others have come forward in recent years to offer other kinds of solutions like robo-advisors.
---
Best Micro-Investing Apps
This article outlines the best micro-investing apps currently available in the U.S., including how they work, how much they cost, and where they excel.
1. Acorns: Best Overall
Acorns specializes in providing automated passive-investing services to customers in the United States through a robo-advisor, which is a solution that uses algorithms to build portfolios based on different financial goals a particular client may have.
The firm was founded in 2012 and currently oversees more than $6.2B in assets for its clients. Investors can start investing through Acorns for as little as $5, and the firm works as a subscription-based service.
Why We Like It
Acorns offers five different investment portfolios for its clients depending on their risk profile and financial goals. These portfolios will be assembled automatically once a client makes a deposit and upon the completion of the sign-up process.
The fact that the firm allows investors to start building these portfolios with as little as $5 makes it an interesting choice for those who are just starting out in their investing journey, although the monthly fees paid for their services can be quite high in relative terms if the account balance is lower than $500.
Fees & Commissions
Acorns charges a monthly fee for all of its services. The firm currently offers the following three plans:
Acorns Personal ($3 per month): Entitles the user to enjoy the automated portfolio service, access to retirement accounts, and other basic banking and earning features.
Acorns Personal Plus ($5 per month): Users have access to more banking tools as well as more investing and savings features.
Acorns Premium ($9 per month): This plan allows users to access even more investing features, such as customizing their portfolio to add individual stocks, investment accounts for kids, and banking features geared for kids. This plan is best for families.
The exchange-traded funds (ETFs) used to build the portfolios also charge an annual fee on the balance invested. Go over to our full Acorns review to learn more.
2. Public: Best For Social Investors
Public is an investing platform launched in 2019 that allows users to invest in a wide range of assets, including stocks, Treasuries, ETFs, cryptocurrencies, royalties, fine art, collectibles, and more. Public enables the use "fractional shares" to facilitate the process of investing for individuals who don't have a lot of capital. Users can own a portion of virtually any company they like with as little as $5.
Public follows a social media-like approach to investing in which individuals within the platform can interact and follow each other while also engaging in group conversations in which they can share their thoughts and insights on finance-related topics.
Additionally, Public offers a premium membership with additional tools and insights geared toward investors who want to enhance their trading activities.
One thing that sets Public apart from its competition is that Public does not participate in payment for order flow (PFOF), ensuring transparency and seeking the best possible execution of trades for its users.
Why We Like It
Public is an accessible micro-investing platform through which users can buy and sell US-listed stocks and ETFs easily by using their mobile phones.
The platform does not charge any fees for making these trades, and it encourages long-term investments rather than short-term trades. Additionally, the social approach helps investors develop their knowledge in the investing field by sharing their experiences and insights with others who are following a similar path.
Lastly, Public helps investors find companies to invest in that are part of certain socio-economic trends to invest in through a feature known as "Investing Themes."
Fees & Commissions
Public does not charge any fees for placing trades on ETFs and stocks during regular market hours. They charge a $10 per month fee for their Premium subscription ($96 if you pay annually).
Other fees charged by this provider include a $25 fee for domestic outgoing wires. To learn more about Public, make sure you read our full Public review.
3. M1 Finance: Best For Automated Investing
M1 Finance is a hybrid brokerage founded in 2015 that offers automated portfolio management services for free.
The company allows investors to open an account with $100 for individual brokerage, joint brokerage, custodial, and crypto accounts or $500 for a retirement account (i.e., Traditional IRA, Roth IRA, and SEP IRA).
Users can either choose to build their portfolio by following the robo-advisor's recommendations or by incorporating any instruments (stocks or ETFs) that they like in a portfolio they build themselves.
Trades can be executed during one or two different trading windows during the day, depending on the plan, and investors can also borrow money from their accounts at a competitive interest rate.
M1 Finance currently serves over 500,000 clients and oversees more than $6B in assets.
Why We Like It
M1 Finance's best feature is that it is entirely free. This may not sound important if other providers charge small subscription fees or low percentage fees, but the money saved on fees, once reinvested, can be turned into a sizable amount.
Furthermore, the possibility to borrow money against the investment account's balance is not a feature that most providers have made available as of this writing, and it can be quite useful if the user needs cash urgently and doesn't want to liquidate their holdings or take money out of the portfolio.
Fees & Commissions
M1 Finance offers both free and premium services.
M1 Basic: This plan does not charge any fees, and trades are executed during a single trading window within the day. With this plan, users can borrow money from their account if they have a balance higher than $10,000 at an interest rate of 8.75% per year.
M1 Plus: The plan costs $95 per year (or $10 per month) and entitles investors to execute trades during two different time windows within the day. They can borrow money at an annual rate of 7.25% per year. As an added bonus, users can earn up to 10% cash back by using the Owner's Rewards Card.
Read our full M1 Finance review to learn more.
4. Stash: Best For Beginner Investors
Stash is an investment platform founded in 2015 that combines the features of a traditional brokerage account and a robo-advisor with an added feature in the form of an online bank account.
The platform allows investors to build customized portfolios through the use of fractional shares—and they can start by investing as little as $5 to get started.
Stash is best suited for individuals looking to invest for the long term rather than use it as a trading platform, which means that it is a good alternative for people who want to build wealth through disciplined investment.
Why We Like It
Stash's banking solution offers a debit card called the Stock-Back® Card, which offers rewards in the form of fractional shares that are immediately deposited in the user's investment account.
Additionally, Stash also offers retirement accounts, unlimited financial advice from professionals, and multiple educational and planning tools.
Fees & Commissions
Stash's services are fairly similar to those provided by Acorns, although its fees are a bit higher.
Stash Growth ($3 per month): This plan is geared toward beginners, and it offers access to a personal investing account, a retirement account, an automated investing account (Smart Portfolio), and the Stock-Back® Card.
Stash+ ($9 per month): This plan includes everything from the Growth plan plus investment accounts for children and an extra $10,000 of life insurance coverage.
Check out our Stash review to learn more.
5. Robinhood: Best For Active Investors
Robinhood was founded in 2013 by a couple of former high-frequency traders, and it is now considered by many as the go-to retail trading platform after it disrupted the way the brokerage industry traditionally functioned.
Robinhood was among the first ones to promote zero-commission trades in the United States, and since then, many others have followed this path.
The popularity that came along with this industry-disrupting practice gained Robinhood a stance among the younger generation, with the brokerage currently serving more than 15 million users — of which 80% are young folks.
Robinhood currently allows its users to trade US-listed stocks, ETFs, options, and American Depositary Receipts (ADRs), along with a selection of cryptocurrencies. They also offer retirement accounts.
Why We Like It
Robinhood's inexpensive trading service is no longer the most appealing aspect of its value proposition, as other brokerage firms have followed through with slashing their fees.
Robinhood excels at offering cheap leverage for micro-investors as the app does not charge any interest for the first $1,000 borrowed if the user signs up for a Robinhood Gold account.
This provider also offers a feature known as Instant Deposits, which allows the user to get deposits cleared instantly, while with other providers, investors typically have to wait one or two days before being able to use their funds.
Finally, the opportunity to trade cryptocurrencies and options for free is another thing that makes Robinhood an appealing alternative.
Fees & Commissions
Robinhood does not charge any fees for trading US-listed stocks, options, ETFs, cryptocurrencies, or ADRs.
Signing up for Robinhood's Gold package costs $5 per month and gives the user access to higher amounts of leverage and a higher threshold for the instant deposits feature.
The first $1,000 taken on margin is free of charge for Gold users as well, and the interest rate charged on any amount higher than that goes from 12% to a flat 8% rate.
To learn more about Robinhood, go over to our full Robinhood review.
6. SoFi Invest: Best For Millennial Investors
SoFi Invest is the investing service offered by Social Finance Inc., a US-based financial technology company founded in 2011 that currently serves more than 6 million customers.
SoFi lets investors allow a robo-advisor (SoFi Invest — Automated Investing) to build a portfolio for them, or they can do the work themselves through the service's self-directed trading platform (SoFi Invest — Active Investing).
Similar to other investing platforms, SoFi offers zero-commission trades for US-listed instruments, and they support many types of accounts, including individual, joint, and retirement accounts.
Why We Like It
SoFi's automated investing service is a good alternative for individuals who don't have the time or the expertise to handle their investments on their own, and the management fee charged by the company for using their robo-advisor is in line with what other providers currently charge.
SoFi's proprietary exchange-traded funds (ETFs) include the SoFi Select 500 (SFY), which is a fund that tracks the S&P 500 index. It charges no management fees for investors — at least for now.
Other than that, the self-directed trading service offers pretty much the same features as other providers, including fractional shares (called Stock Bits), a user-friendly platform, and zero-commission trades.
Fees & Commissions
SoFi does not charge any fees for trading US-listed stocks, ETFs, options, or fractional shares.
Users can open an account with $0, but they will need a $1 minimum investment to get started. A $5 minimum investment is required for fractional shares.
SoFi charges no advisory fee on their automated investing solution (robo advisor).
Check out our full SoFi Invest review to learn more.
7. Greenlight: Best For Teenagers
Greenlight is a money management platform created for parents to educate and empower their kids with the gift of financial literacy.
Founded in 2014 by Tim Sheehan and Johnson Cook, this micro-investing app gives children access to a debit card and uses various elements to reward and incentivize positive financial management practices like saving and investing.
The app's core offering is a bank account provided by the Community Federal Savings Bank (CFSB) — an FDIC-insured financial institution — that comes with a debit card that kids can use to make purchases with the money their parents give them.
Why We Like It
Helping kids learn about money management and finances at an early age is great, and Greenlight makes it easier for parents through its signature debit card and other programs.
The platform incentivizes positive behaviors by offering cashback rewards when the card is used wisely and lets parents make automated deposits tied to chores and savings goals that further motivate their kids to use their money rationally.
Depending on the subscription tier selected, the cashback rewards go up to 1%, while the money saved and held in the platform's accounts can earn up to 5% per year.
Fees & Commissions
Greenlight is a subscription-based micro-investing app. The basic subscription package — Greenlight Core — costs $4.99 per month (no investing feature), followed by the Greenlight Max and Greenlight Family packages, which cost $9.98 and $14.98 per month, respectively.
8. Qapital: Best For Setting Financial Goals
Qapital is a fintech company founded in 2014 to help families manage their money better without putting up much effort. Qapital prides itself on helping individuals and households achieve their financial goals seamlessly by making money move to the right places with the assistance of automated tools.
Qapital claims to have helped more than 2 million members save over $3 billion via its savings and investing products. The investment side of the app works as a robo-advisor that can be easily set up and fed with automated and recurring deposits.
Meanwhile, the savings product is an FDIC-insured bank account provided by Lincoln Savings Bank that is used to set money aside for the customer based on specific goals like taking a vacation or setting money aside for a down payment.
Why We Like It
Aside from the bread-and-butter features that robo-advisors and automated money management platforms typically have to offer, which are all covered by Qapital, this micro-investing app excels at offering added value via a budgeting tool and a planner to pay off student debt.
In addition, users can team up with a friend, spouse, or family member to pursue the same financial goal. This feature is called "Dream Team," and it can be used to save money together for something specific and motivate each other in the journey.
This is a fun and interesting aspect of the app. Both members of the Dream Team have to be registered users to participate, and they can chat through the app and share account data to the extent that they permit.
Fees & Commissions
Qapital is a subscription service that charges a monthly fee for users. The Basic tier starts at $3 per month and provides access to the savings and money management modules (no investing feature). Meanwhile, the Complete package costs $6 per month and gives users access to the robo-advisor (guided investing) and a VISA® debit card to use the funds held in their bank account to make purchases.
Finally, the Premier package provides access to all features and tools, including managing loans, setting up a payment plan for student loans, investing, and saving. The cost of this tier is $12 per month.
Read our full Qapital review to learn more.
9. Betterment: Best For Robo Advisor Features
With over $36 billion in assets under management, Betterment has become the go-to money management platform for millions of Americans who prefer to put their investments in auto-pilot mode and rely on an automated platform to do all the heavy lifting.
This platform offers an ample portfolio of investment products, including a robo-advisor, goal-based investment portfolios managed by top-notch financial institutions like Goldman Sachs, retirement planning assistance, and socially responsible investment portfolios.
Why We Like It
Betterment has expanded its suite of services beyond its initial guided-investing tool. Now, the platform offers access to a high-yield savings account that reportedly pays an interest that exceeds the national average by six times.
Moreover, customers are now allowed to create a separate account to use the robo-advisor to build a portfolio made up of cryptocurrencies that focus on growing corners of the market, like the metaverse and decentralized finance (DeFi).
The ease of use of its app, competitive management fees, and seamless onboarding and account management processes have made Betterment a top choice for customers for years now.
Fees & Commissions
Betterment charges a 0.25% flat annual fee to access its robo-advisor and a subscription fee of $4 per month to users with an account balance lower than $20,000.
Meanwhile, its crypto account charges a higher 1% annual management fee. Meanwhile, all banking products offered by this app can be accessed and used for free.
Read our full Betterment review to learn more.
---
Methodology
We created this list of the best micro-investing apps by carefully analyzing and performing independent reviews on dozens of platforms that provide similar services. We take into consideration various elements that we deem relevant to evaluate what these apps have to offer to make objective recommendations to our beloved readers.
Here are some of the metrics and features we looked at when compiling this list of best micro-investing apps:
Cost/Pricing: Micro investment apps may opt to charge a flat annual or monthly fee or a percentage-based fee to customers on the assets they hold in their accounts as compensation for providing their services. These fees can impact the overall return that customers obtain from their investments over time.
Minimum Deposit/Investment: The minimum deposit required by a micro-investing app is a crucial factor to evaluate, as the goal of customers is to build a portfolio with relatively small amounts progressively.
Account Types: Customers can invest for multiple reasons and pursue various goals, including funding a vacation trip, building a retirement fund, or accumulating wealth. When it comes to micro-investing, having various account types can be great, especially for retirement purposes, as customers can save money on taxes by using individual retirement accounts (IRAs).
Investment Options: Fractional shares and access to ETFs have made it easier for retail investors with relatively low available budgets at their disposal to build diversified investment portfolios. For this list, the micro-investing apps that offer access to these products will get a better rating.
Features & Tools: Additional tools that help customers save, spend, and invest their money more wisely are a plus for micro-investing apps from our perspective. This includes budgeting, retirement planning, goal-based portfolios, debt repayment planners, and other similar features that can help customers improve their financial situation dramatically.
Educational Resources: Financial literacy is a key goal for most investment platforms nowadays as customers grow more conscious about the importance of making wiser decisions with their income. The best micro-investing apps have rich Help Centers, blog sections, FAQs, videos, platform tutorials, and other similar resources that they make available to enrich their users' knowledge about their personal finances.
Keep in mind that the platforms that did not make it to our list are not necessarily bad. However, the ones we did list excelled at the elements cited above and are considered by The Modest Wallet as attractive candidates for providing micro-investing services.
Some of the platforms that we've reviewed this year that didn't make the cut include:
Webull
UNest
EarlyBird
MoneyLion
Stockpile
Fidelity
Plynk
---
Micro Investing Apps Pros
Low minimum deposits to start investing: Most apps allow investors to open accounts with just $1 or $5, which makes them accessible to virtually anyone.
Automated recurring investments: Micro investing apps help investors be disciplined with their portfolio contributions by enabling automated periodic deposits, even in small amounts.
Fractional share investing: Investors can purchase fractions of shares via micro-investing apps. This allows them to build highly diversified investment portfolios regardless of how small their account balance may be.
Low fees: Most of these apps offer commission-free trading and charge no account maintenance fee. Most of the ones listed in this article charge subscription fees rather than the hefty percentage-based fees that some asset managers charge.
Easy to use interface: Most micro-investing apps are designed to be simple and intuitive so beginners can easily place trades, manage their portfolio and account, make deposits, and navigate educational resources.
Educational resources: Since the majority of their customers are beginners, micro-investing apps tend to provide access to research materials, how-to guides, platform tutorials, and videos to help new investors learn more about investing and the financial markets.
Portfolio analysis tools: Apps tend to provide insights concerning asset allocation, past performance, unrealized gains, and other important portfolio metrics through dashboards and user-friendly reports to keep investors informed so they can make better decisions.
---
Micro Investing Apps Cons
Limited investment options: The selection of assets offered by micro-investing apps, which are typically limited to stocks and ETFs, may be too narrow for sophisticated investors.
Lack of personalized advice: Most apps either provide self-directed trading services or guided investing through robo-advisors without offering the possibility of receiving one-on-one guidance from a professional.
---
What to Look for in a Micro Investing App
When searching for a micro-investing app, there are several factors to consider. These factors will help you find an app that suits your needs and helps you achieve your financial goals.
Account Minimum
The barrier to start investing should be low. Look for apps that allow you to open an account with as little as possible. This makes investing accessible even for those who are just starting out.
However, some apps lure users in with claims of no minimum but then require $100 or more to make the first trade, so always read the fine print.
Pricing & Fees
Fees can eat away at returns quickly when investment amounts are small. Choose an app that charges zero commissions on stock, ETF, and options trades.
Also, avoid monthly account maintenance or subscription fees that represent a large percentage of your holdings. While some apps may charge for premium features, core functions should be free.
Investment Options
Offering only a handful of stocks and ETFs severely limits portfolio diversification. Users should prefer apps that allow them to invest in individual stocks, ETFs spanning various asset classes, fractional shares, and guided investing solutions.
Automated Investing Features
Hands-free investing through robo-advisors dramatically simplifies things for beginners. The best micro-investing apps offer access to fully automated portfolio builders that provide recommendations to investors based on their risk profiles and financial goals.
Regular rebalancing and tax-loss harvesting add major value over the long term.
Account Protection
Any app facilitating stock trades should be a member of SIPC, which protects customers against broker failure and theft. Otherwise, up to $500,000 per account is at risk if the company shuts down.
Bank accounts should also offer FDIC coverage. This protects investors' accounts for up to $250,000 in the event of bankruptcy.
Educational Resources
Investing guides, glossaries, how-to videos, expert market commentary, risk evaluation surveys, and more are among the materials that the best micro-investing apps make available for their users to learn more about the financial markets.
Pick an app that helps you grow your knowledge at every step rather than just providing trading capabilities.
User-Friendly Interface
An intuitive, easy-to-navigate interface minimizes the learning curve for beginners. Prioritize apps with responsive design, simple screening tools, customizable views, daily price movement notifications, and easy order entry.
Other Features
Some micro-investing apps provide additional banking and rewards features beyond just trading and investing capabilities. For instance, some offer high-yield savings and checking accounts to house your cash balances and daily spending needs in one place. Interest rates of over 2% on uninvested cash can help grow your savings faster.
Other apps offer debit/credit cards that provide cashback rewards on everyday purchases. When these rewards are automatically swept into your investment account and put to work, it supercharges returns over time through the power of compounding.
---
FAQ Best Micro-Investing Apps
We've found some of the most frequently asked questions with regard to the best micro-investing apps. Following are our answers.
What is Micro-Investing? 
Micro-investing is a way to define investing for individuals who have a small account balance. In the past, it was difficult for people to invest small amounts of capital as the cost per transaction ate up a big portion of their holdings.
 
Additionally, if a stock has a high price, individuals will usually discard it as a potential holding, as they will have to pour in a large chunk of their balance into one single stock, which goes against the principle of diversification.
Now, with the introduction of innovative solutions such as fractional shares, individuals can hold many different instruments, including stocks, ETFs, and ADRs, regardless of how much money they have available to invest.
Moreover, zero-commission brokers, such as the ones listed here, have also facilitated micro-investing, as users don't have to worry about the cost of buying and selling securities while they build their investment portfolios.
Who Should Use Micro-Investing Apps? 
Micro-investing apps are a perfect fit for individuals with a small account balance.
These apps will save you money while you build your investment portfolio, and their services are designed with a micro-investor in mind, which means that other resources that they push forward are likely to benefit users as well.
How Do I Choose The Best Micro-Investing App? 
Technology has allowed micro-investing apps to offer great services to the user at virtually no cost. That said, there are certain fees that could still eat up a sizable portion of your gains.
Before you sign up with a provider that charges a monthly subscription, be sure to calculate the impact of that monthly expenditure on your account. 
For example, if you pay $5 per month and you have $1,000 invested, that means you are paying 0.5% in fees per month – which adds up to 6% per year. 
That may not sound like a lot, but keep in mind that the historical return produced by broad-market indexes like the S&P 500 over a long period was close to 7%. That means you'll end up generating only 1% on your investments after you pay these fees (in this hypothetical case).
For that reason, providers who charge a percentage fee are commonly the best choice for micro investors.
Additionally, make sure your provider is adequately regulated and registered with financial agencies in the United States, including the Financial Industry Regulatory Authority (FINRA) and the Securities and Exchange Commission (SEC).
---
Final Thoughts
Micro-investing apps have disrupted the way the asset management industry traditionally worked by introducing low fees for portfolio management services and zero-commission trades for self-directed portfolios.
Given the large number of providers available right now, you can take your time picking the one that fits you best so that you can start your journey toward building wealth on the right foot.
Up Next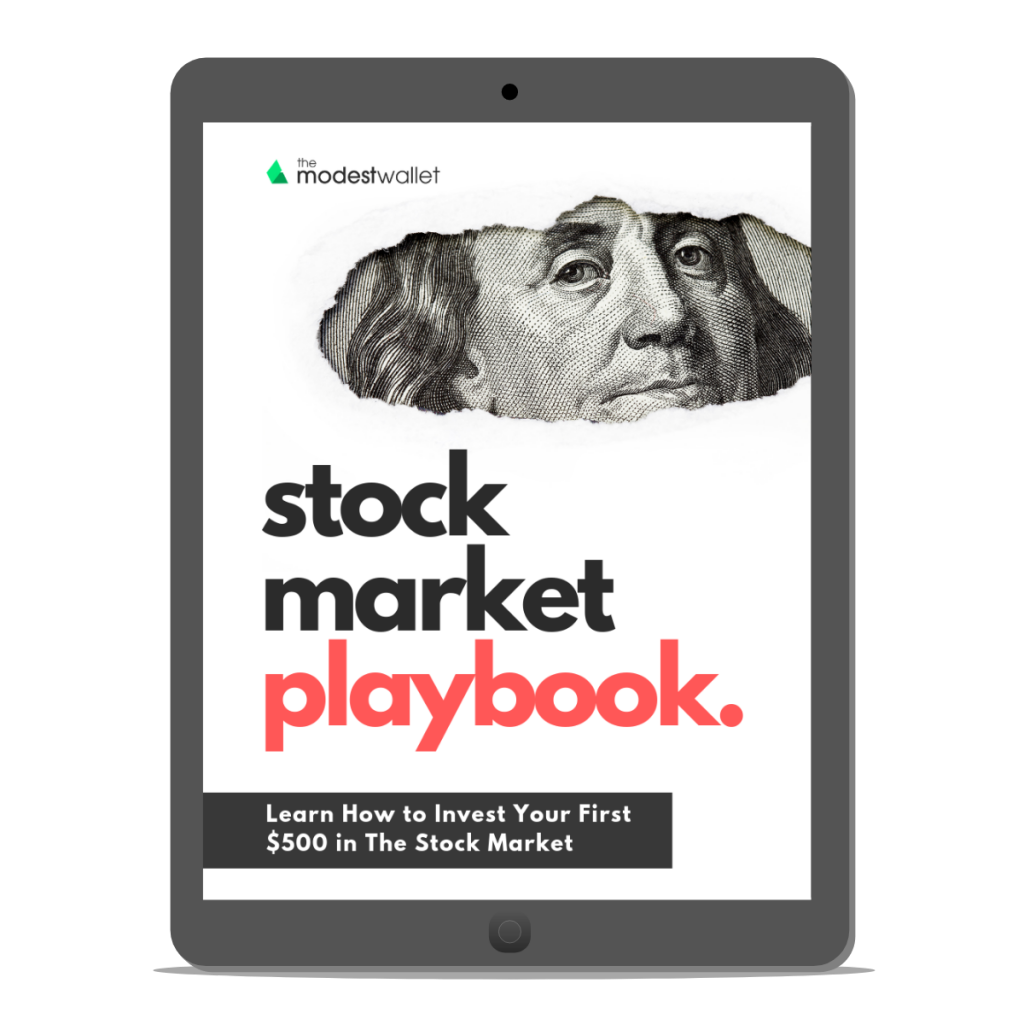 Get our free Stock Market Playbook to learn how to invest your first $500 in the stock market.
Plus our best money tips delivered straight to your inbox.

Alejandro is a financial writer with 7 years of experience in financial management and financial analysis. He writes technical content about economics, finance, investments, and real estate and has also assisted financial businesses in building their digital marketing strategy. His favorite topics are value investing and financial analysis.