Many or all of the products featured on this page are from our sponsors who compensate us. This may influence which products we write about and where and how the product appears on a page. However, this does not influence our evaluations. Our opinions are our own. Here is a list of our partners and here is how we make money.
The information provided on this page is for educational purposes only. The Modest Wallet is a financial publisher that does not offer any personal financial advice or advocate the purchase or sale of any security or investment for any specific individual.
Deciding on a broker to start investing can be an intimidating task as there are so many options, from robo-advisors to online brokers, brokerages come in many forms and shapes. M1 Finance promises to simplify the process of investing and financially empower you.
M1 Finance has quickly become a popular investing platform, as it allows investors to create fully diversified portfolios, trade fractional shares, and access an array of financial tools for free.
Does M1 Finance live up to the hype? Is it the best way to start investing? Continue reading our M1 Finance review to find out!

Quick Summary: M1 Finance is a hybrid robo-advisor and online brokerage that combines the features of more traditional robo-advisors (like portfolio profiles) with online brokerage options (like trading individual stocks).
Promotion: Get up to $500 (*when you sign up for M1 and make a deposit of $1,000 or more within 14 days).
---
What is M1 Finance?
M1 Finance is a hybrid robo-advisor and online brokerage launched in 2015 by Brian Barnes. M1 Finance offers investors a way to invest and manage their investment accounts at no cost. M1 Finance combines features of more traditional robo-advisors (like investment automation features and pre-made investment portfolio profiles) with online brokerage options (like the ability to trade individual stocks, ETFs, and even fractional shares).
M1 Finance allow users to build their own portfolios or choose from the 80+ pre-designed portfolios available through the platform.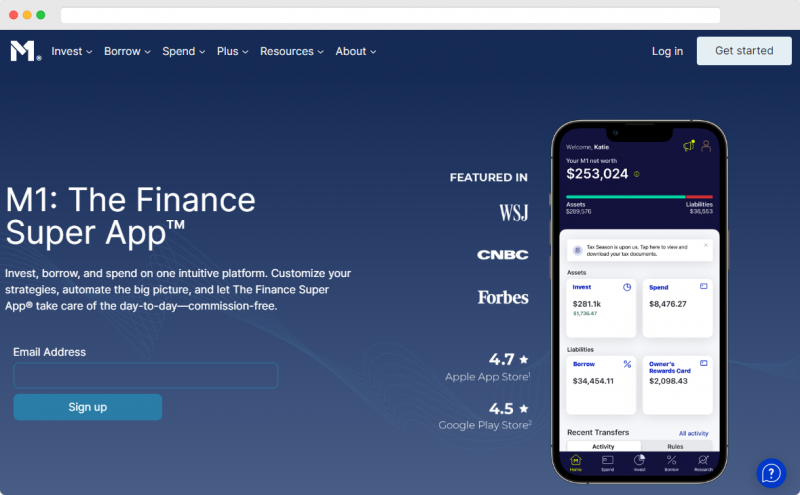 ---
How Does M1 Finance Work?
We've explained what M1 Finance is, but how does it work? Well, creating an account with M1 Finance is relatively similar to getting started with any other robo advisor or brokerage. The first step after setting up the account is to choose your portfolio preferences.
Memberships
There are two types of memberships: Basic and Plus. A Basic membership is free to open and use (although you'll be charged a fee if your account dips below $20 and you don't engage in any trading for 90 days) while the Plus membership costs $125 per year.
The Plus membership offers a couple of features and benefits (which we'll discuss below) but the two are largely similar in practice.
Opening an Account
To open an account with M1 Finance, you simply go to their website and create a web account with your email and password. Once you've created an account, you'll need to provide the information the Securities and Exchange Commission requires every brokerage to collect from their customers.
You'll then need to create an investing profile that includes your risk tolerance and investment goals. In order to make deposits and withdrawals, you'll also be required to link a bank account to the app.
While opening an account is free, you'll need to have a minimum of $100 to open a taxable investment account or $500 to open a tax-exempt retirement account. Those fees are a fraction of what many brokers will require. These are the types of account available at M1 Finance:
Individual Taxable
Joint Taxable
Retirement (Traditional IRA, Roth IRA, Rollover IRA and SEP IRA)
Trust
Custodial (UTMA/UGMA)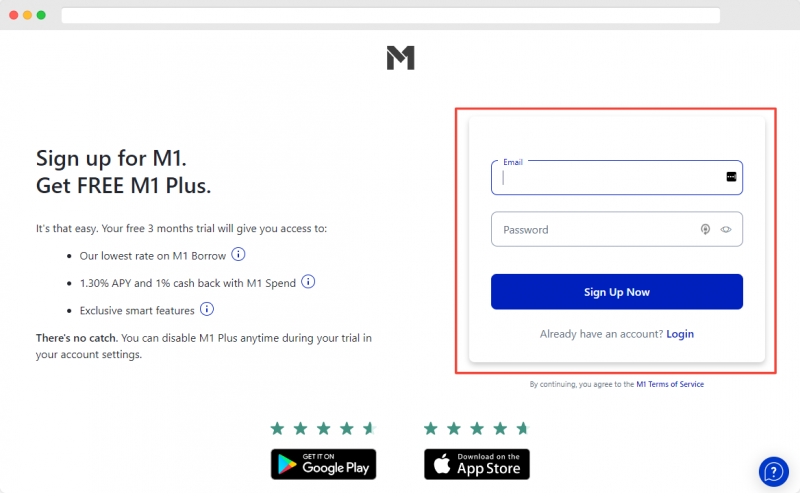 ---
M1 Finance Features
M1 has a ton of features. We'll quickly discuss some of our favorite ones below.
| | |
| --- | --- |
| Minimum Investment | $100 on taxable accounts and $500 on retirement accounts |
| Fees | $0 (M1 Basic) and $125/year (M1 Plus) |
| Checking APY | 0% (M1 Basic) and 1% (M1 Plus) |
| Debit Card Cashback | 0% (M1 Basic) and 1% (M1 Plus) |
| Margin Rates | 2.25% (M1 Basic) and 3.75% (M1 Plus) |
| Investment Types | Stocks and ETFs |
| Account Types | Individual Taxable, Joint Taxable, Traditional IRA, Roth IRA, Rollover IRA, SEP IRA, Trusts and Custodial (UTMA/UGMA) |
| Platform | Web Access and Mobile (iOS / Android) |
| Assets Under Management | Over $6 billion |
| Promotion | Get up to $500 (*when you sign up for M1 and make a deposit of $1,000 or more within 14 days) |
| Socially Responsible Investing | |
| Fractional Shares | |
| Portfolio Rebalancing | |
| Tax-Loss Harvesting | |
| Support | Live Chat, Support Tickets, Email (support@m1finance.com) and Telephone: (+1 312-600-2883) |
Pie Investing
Funds deposited in your M1 Finance account are allocated on the basis of "pies." Each user selects what proportion of their investments should go to a particular investment or investment class. Then, when money is deposited, the deposit is invested on that basis.
For example, say that you wish to hold stock in Company A and Company B on a 50/50 basis. You would set up your pies accordingly, and every time you deposited $100, $50 would go to Company A stock, and $50 would go to Company B stock.
You can select preset and recommended configurations of pies that are based on your preferences and personal characteristics. Select one created by an expert, or customize your own.
M1 Finance also allows you to choose from professionally designed Pies designed to meet particular goals, align with your risk tolerance, or allow you to invest in your favorite industries. Here are a few examples of the expert pies currently available through M1 Finance.
General Investing: You can easily create a diversified portfolio and set it to your own risk appetite.
Plan for Retirement: This portfolio allows you to invest for your target retirement date with a mix that adjusts to your goals as you age.
Responsible Investing: This is a portfolio design for the socially responsible investor.
Income Earning: You can choose a portfolio focused on dividends and income returns.
Hedge Fund Followers: You can mimic the investment strategies of proficient investors and reputable hedge funds.
Industries and Sectors: Invest in different sectors and industries like BioTech, AI, Robotics, Blockchain, and more.
M1 Spend
M1 Spend is a checking account built right into M1 Finance. You'll be provided with a plastic debit card, and it's entirely free to use. It integrates seamlessly with M1's investing options and it's definitely something to consider if you intend to use M1 frequently.
M1 Spend is fully insured by the Federal Deposit Insurance Corporation (FDIC).
M1 Borrow
M1 Borrow is a lending account that allows you to borrow up to 35% of your portfolio's value at a very low-interest rate. The rate is 3.75% if you have a basic account, or 2.25% if you have a Plus account (which is discussed below). If you wish, you're free to use the money to purchase additional investments.
However, people who do this should be aware of the additional risks associated with a practice called "margin investing." If you have an outstanding loan, and the value of your portfolio declines to the point that your outstanding debt represents more than 35% of your total portfolio, you may get a call from M1 to discuss selling off some of your investments to cover the loan.
Finally, you must have at least $10,000 invested in your portfolio in order to take advantage of this offer.
M1 Plus
M1 Plus is a paid version of the M1 Finance program. You're given access to additional features like:
Custodial accounts
An afternoon trading window
1% APY on your M1 checking account
1% cashback on M1 checking purchases
Weekly ATM fee refunds
A 2.25% interest rate on M1 Borrow loans.
M1 Plus costs $125 per year, although M1 Finance has previously run promotions to reduce the cost of a user's first year to only $25.
Portfolio Rebalancing
Virtually everything about M1 Finance can be automated. From portfolio balancing to automatic deposits, M1 lets you put your investing on autopilot.
Using the pies you've previously set up, M1 will automatically balance your portfolio as you deposit money. In other words, it will purchase the investments necessary to maintain your desired investment allocation as you go.
Portfolio rebalancing is necessary because your investments will grow and shrink at different rates. Over time, you'll move away from your preferred allocation because of the movement of the price of different investments. M1 ensures that, as you deposit money, the investments purchased bring your allocation in line with what you'd previously indicated.
The portfolio rebalancing features include a desired cash balance feature. M1 will automatically invest any amount of cash over and above what you've set as your maximum desired cash balance. You don't need to worry about missing out on investment gains because of an excess of cash.
Automatic Deposits
M1 allows you to set up automatic daily, weekly, monthly, or annual deposits into your investment account. You can also create a system whereby a portion of each deposit into your checking account will be set aside for your investments.
This ensures that people who are paid on both regular and irregular bases will be able to set up automatic investments.
You can use a regular checking account from a wide variety of financial institutions to make your deposits, or go with the M1 Spend checking account. The choice is yours.
Tax Efficiency Automation
How you buy and sell your investments is important from a tax-efficiency point of view. Generally speaking, you're better off selling investments in which you've lost money than those where you've earned a capital gain because you don't have to pay taxes on the former. In fact, you can use the loss to offset other gains.
M1 Finance will automatically engage in tax-efficient transactions. However, as we point out later in this article, M1 does not automatically carry out what's called "tax-loss harvesting."
Fractional Shares
M1 Finance allows you to purchase fractional shares in companies. A fractional share is exactly what it sounds like: a portion of a share that is less than 100%.
This feature can be valuable for those who seek to own shares in companies with large individual share prices. For example, say Company A sells for $650 per share and you only have $325 to invest. You could purchase a fraction of a Company A share using M1 Finance and get access to all of the benefits of share ownership (including dividends) at a rate proportional to your investment.
Mobile App
M1 Finance offers mobile apps for both Apple and Android devices. Both apps have plenty of positive reviews, and they offer a full suite of features that allow you to administer and organize your investment account on the go.
M1 Community Pies
M1 Community Pies are essentially sharable portfolios that allow you to invest with your values and financial goals in mind. For instance, you can direct your investments to focus on groups of publicly traded companies led by Black, female, or LGBTQ+ executives.
M1 Finances plans to keep on adding more community portfolios over time.
M1 Credit Card
M1 Finance has launched a rewards credit card "Owner's Rewards Card" for its M1 Plus members. The card integrates with your portfolio and comes with many features. Cardholders can shop with a number of brands they believe in and invest with M1 to earn cash back. You can get 10%, 5%, or 2.5% cash back on purchases with some of the most popular brands—and 1.5% standard cash back on every other purchase.
Some partner brands (see the full list here) include Amazon, Apple, Walmart, Target, Spotify, and Netflix. So, if these partners are part of your eligible investment portfolio then you can earn cash back. You can also reinvest your cash back using M1 automation.
M1 Crypto (New)
M1 Finance has recently launched a new feature that allows users to invest in cryptocurrency to add further diversification to their portfolios. The good news is that any M1 user with a funded Invest Account can open a Crypto Account for free, and also all crypto assets are traded commission-free.
Keep in mind that M1 Finance does not offer a dedicated crypto wallet. Instead, cryptocurrencies are held in the users' Apex Crypto Account(s). Another downside is that the crypto holding cannot be sent or received from outside wallets at this time.
Another thing to consider is that users are not able to add crypto slices to other stock or ETF Pies.
---
M1 Finance Pricing & Fees
M1 Basic is free to download and use. There are also no management, rebalancing, trading, or dividend reinvestment plan fees. While you'll pay money to transfer all of your funds out of your M1 account, regular deposits and withdrawals can be completed at no charge.
Keep in mind that all ETFs purchased through M1 Finance come with their respective expense ratio which is paid directly to the fund manager. Beyond that, here is the fee schedule:
| Service | Fee |
| --- | --- |
| Management Fee | $0 |
| IRA Termination Fee (Per Event) | $100 |
| Inactivity Fee | Accounts with up to $20 & no activity for 90+ days. |
| Expense Ratios (Funds) | 0.06% - 0.20% |
| M1 Spend | $0 |
| M1 Plus | $125 per year |
---
M1 Finance Security & Insurance
M1 Finance is a registered broker/dealer with FINRA (Financial Industry Regulatory Authority) and a member of SIPC (Securities Investor Protection Corporation). Beyond this, M1 Finance provides the following security and insurance coverage to its users:
Data and systems are protected with military-grade 4096-bit encryption.
Two-factor authentication (2FA).
SIPC protection is up to $500,000 which includes a $250,000 limit for cash.
M1 Spend and M1 Plus checking accounts may be FDIC insured for up to $250,000.
---
M1 Finance Pros
There's a lot to like and love about M1 Finance. Here are our favorite things about the product.
Balance
M1 seems to strike the perfect balance between functionality and simplicity. It's easy to both understand and access the features you need. While it's not as fully featured as some of its more complex cousins, what it loses in versatility, it makes up for in user-friendliness.
Interface
The user interfaces of the apps and website are top-notch.
Cost
The cost of M1 simply can't be beaten. The lack of management fees and trading commissions, along with the low cost of a Plus membership, are huge benefits in our book.
Low Minimums
The minimum account balances associated with M1 Finance accounts are extremely low. At just $100 for a taxable account and $500 for a tax-exempt or tax-deferred retirement account, virtually everyone will have enough money to start an M1 investing account.
Further, the $10,000 minimum to access the M1 Borrow service is more than reasonable.
See Also: What Are Alternative Investments: Do They Fit in Your Portfolio?
---
M1 Finance Cons
While M1 Finance offers strategies designed to help users minimize their tax liabilities, the platform does not offer a technique called "tax-loss harvesting." Tax-loss harvesting refers to a strategy in which investors sell an investment at a loss, buy a very similar investment, and use the initial tax loss to offset any gains in their portfolios.
M1 Finance doesn't recognize external investments when it balances your portfolio. In other words, while your M1 portfolio might be well-balanced thanks to the tools provided by M1, your overall portfolio might be out-of-whack because M1 doesn't take those outside investments into account when crafting your portfolio.
Finally, it should be noted that M1 Finance does not offer access to mutual funds.
---
M1 Finance Alternatives
These days, you've got a world of options when it comes to choosing an online brokerage or a robo-advisor. Following are just two of them.
Betterment
Betterment is a much larger brokerage when it comes to AUM (or Assets Under Management). It differs a little bit in terms of what it offers its users. Unlike M1 Finance, Betterment charges a small commission on trading and its Premium Plan (the equivalent of the Plus plan at M1) requires a $100,000 minimum investment.
Betterment also offers tax-loss harvesting, a significant advantage over M1.
Check out our full Betterment review to learn more.
Wealthsimple
Like M1, Wealthsimple offers commission-free stock trading. It does, however, charge a management fee of 0.5% (or 0.4% for Wealthsimple Black members). Its feature list is also slightly different from M1's. For example, Wealthsimple offers a free portfolio review that also encompasses your non-Wealthsimple accounts.
Read our full Wealthsimple review to learn more.
| | M1 Finance | Wealthsimple | Betterment |
| --- | --- | --- | --- |
| Our Rating | | | |
| Fees | $0 | $100k — 0.4%/yr | Digital — 0.25%/yr and Premium — 0.40%/yr |
| Minimum Investment | $100 ($500 for retirement accounts) | $0 | $0 |
| Promotion | Get up to $500 (*when you sign up for M1 and make a deposit of $1,000 or more within 14 days). | Get a $50 bonus (*when you open and fund your account with $500 or more). | Get 1 year managed for free |
| Highlight | Personalization and automation in one single platform | Access to human advisors | Multiple portfolio options and customization |
| Best For | DIY long term investors | Socially responsible investors | Hand-off investors |
| | | | |
---
Compare M1 Finance
Find out how M1 Finance stacks up against the competition.
Who Should Get M1 Finance?
M1 Finance is perfect for anyone who wants to simplify their investing experience. It's flexible enough to provide you with an array of investment alternatives while keeping its interface and options simple enough to be understood by the typical user.
The automation features are also tremendously useful to anyone who wants to incentivize their own investing behavior by putting deposits and investments on autopilot. Research has shown that we're more likely to engage in acts that are automated, simply because they're easier to maintain.
People who lack large trading balances should also look into M1 Finance. Its low minimum account balances and low barriers to entry for Plus members and M1 Borrow users are a boon to traders who lack large amounts of investable assets. Where some products require six-figure investment accounts to access their premium features (we're looking at you, Betterment), M1 Finance makes those features realistically available to almost everyone.
---
Who Should Avoid M1 Finance?
If you're engaged in complex and advanced trading techniques, M1 Finance is likely not for you. The platform simply isn't sophisticated enough to allow you to engage in ultra-complex derivative and equity strategies.
Also, if you're a very frequent trader, like a day trader or speculator, M1 Finance may not be suitable. The platform is a better fit for buy-and-hold investors who seek to make long-term investments.
See Also: What is a Mutual Fund: Does it Belong in Your Investment Portfolio?
---
M1 Finance FAQs
Here are a few of the most frequently asked questions we get about M1 Finance.
Is M1 Finance Legit?
Yes, M1 Finance is definitely legit. Whether it's the perfect fit for you depends on your unique circumstances, but M1 Finance is certainly a legitimate and trustworthy investing app.
How Does M1 Finance Make Money?
Online brokerages typically make their money in a variety of ways. Because M1 Finance doesn't charge commissions for trades, they make the bulk of their income from interest on cash and securities. In other words, they lend out the cash and securities you hold with M1 and make money on the transactions. (Note that this lending does not limit your access to either the cash or securities you hold with M1.)
Are There Any Minimum Balances Required?
The minimum balance to open a taxable account is $100. The minimum balance to open a retirement account is $500. Additionally, certain offers, like M1 Borrow loans, are only available to people with a larger amount of money invested in M1 accounts.
These minimum balances are much lower than those typically required by many of M1 Finance's competitors — some of whom require extremely large balances that are unrealistic for many less sophisticated or wealthy investors.
How Does M1 Finance Invest My Money?
M1's algorithm aims to keep your portfolio well-balanced (based on your asset allocation). The auto-invest feature is automatically turned on in all accounts to compare what your current holdings are versus your customized target percentage allocation.
Money is first divested from overweight securities and is first invested in underweight securities. That way, your securities grow closer to your ideal target percentage.
How Do Trade Windows Work in M1 Finance?
A trade window is the window of time each day when M1 Finance executes trades.
All M1 Finance users have access to the morning trade window which begins at 9:30 am ET and concludes when all orders have been completed. The afternoon trade window is exclusive to M1 Plus members and it begins at 3:00 pm ET.
Account Minimum: $100 taxable accounts ($500 retirement accounts)
Fees: Zero-commission stock and ETF trading
Promotion: Get up to $500 (*when you sign up for M1 and make a deposit of $1,000 or more within 14 days).
---
Final Thoughts
M1 Finance offers a fantastic balance of versatility, functionality, and simplicity. It's easy to sign up, set up, and use. It also gives you access to a full slate of features unmatched by many of its competitors. Its Plus plan offers even greater benefits at a reasonable price that's affordable to most people.
In summary, if you're looking for an easy-to-use, powerful, and accessible investment platform, give M1 Finance a try.
Up Next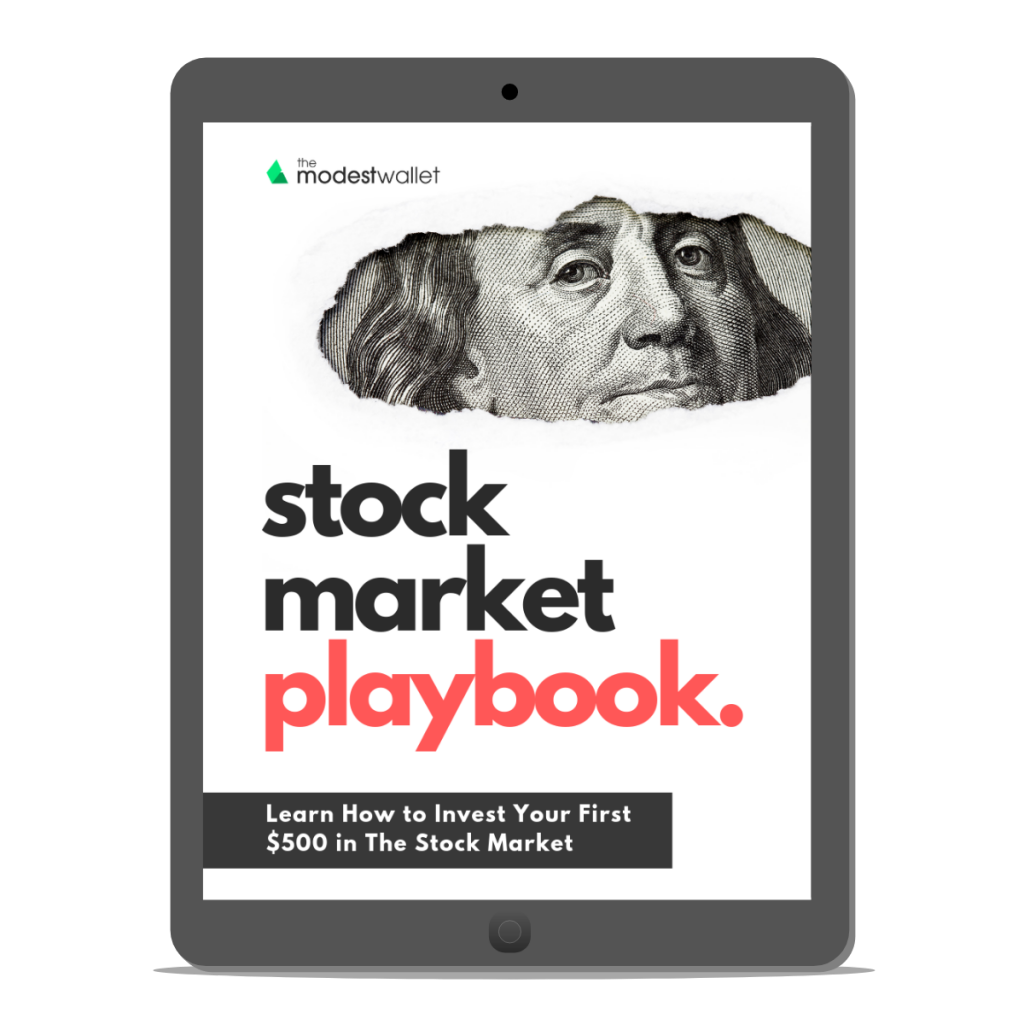 Get our free Stock Market Playbook to learn how to invest your first $500 in the stock market.
Plus our best money tips delivered straight to your inbox.

Ricardo is an entrepreneur, investor and personal finance nerd who enjoys spending time with his family and friends, travelling and helping others achieve their financial goals. Ricardo has been quoted as a personal finance expert in several online publications including Healthline, Bankrate, GOBankingRates, MSN Money, Yahoo Finance, U.S. News & World Report, Forbes and USA Today.