12 Best Investment Apps of 2023: For Beginners & Pros
Using investment apps can have many benefits like low fees, convenient trading, automated investing options, and access to a wide range of financial assets. However, you should also be aware of the potential downsides of choosing the wrong investment app like limited investment choices and lack of personalized advice.
Finding the best investment app to help you build wealth can be difficult since there are so many options on the market nowadays. How can you know which one is right for your needs? To help you in this endeavor, in this article, we share a list of the best investment apps right now to help you choose wisely.
Important Note: Before you start investing, you should really pay off your debt (at least your high-interest debt) and have a solid emergency fund to take care of unexpected costs without derailing your budget.
---
Best Investment Apps
At The Modest Wallet, we review and analyze investment apps using a rigorous methodology. We consider factors like fees, investment choices, account types, customer service, educational resources, and more. By using these criteria, we aim to determine which apps offer the best features for individual investors.
1. Fidelity: Best for Low Cost
Founded in 1946 by Edward C. Johnson, Fidelity is one of the largest financial institutions in the United States with assets under management exceeding $3.3 trillion. The company provides access to a wide range of financial products going from exchange-traded funds (ETFs) to stocks and bonds and has developed a mobile app that lets customers execute trades and manage their investment accounts on the go by using an Android, Apple, or Amazon device. Read our full Fidelity Investment review to learn more.
Main Features
Multiple account types are available to fulfill customers' needs: Fidelity offers an ample portfolio of investment accounts going from taxable to retirement, to trusts. Each of these types of accounts is created to help investors achieve their financial goals. Having this many choices is an advantage of using Fidelity's investment app.
No minimum investment required to open an account: With Fidelity, an account can be opened with $0 and this provider does not charge an inactivity fee. That said, for some programs such as Fidelity Wealth Services — the platform's advanced financial advisory program — a minimum deposit of $5,000 is required.
Access to plenty of financial assets: Customers can trade both US-listed stocks and exchange-traded funds (ETF) for free with this provider along with multiple other securities including bonds, mutual funds, cryptocurrencies, and options.
Build a portfolio with the help of a robo-advisor: Fidelity offers a passively managed automated investing service called Fidelity Go® that uses algorithms to easily and quickly build investment portfolios for customers. These portfolios can be managed by using the Fidelity Investments mobile app.
Powerful mobile app: Fidelity's mobile app is available for iOS, Android, and Amazon devices and it lets users create an account, deposit funds, and manage their investments. The app can be used to browse the provider's ample selection of financial assets, access research materials, and educational resources, execute trades, chat with a virtual assistant, and set price alerts and notifications for specific securities and account-related events.
Pros
Well-established financial services provider that is heavily regulated by top-notch institutions including the US Securities and Exchange Commission (SEC).
Ample portfolio of financial assets to choose from including US-listed stocks and ETFs, mutual funds, cryptocurrencies, and even derivatives.
Low-cost investment app that features zero-commission trading for eligible securities.
No minimum deposit is required to open an account.
A robo-advisor is available for investors who prefer to take a hands-off approach.
Well-designed and functional mobile app that is available and supported by the most popular mobile operating systems.
Cons
Trading international stocks can be costly with this provider.
Fidelity's mobile app has received some bad comments on the Google Play Store. Even though it has been downloaded by over 5 million people it has a 4.2 score on this mobile app marketplace.
Who Is Fidelity Best for?
Fidelity's investment app is a great choice for most investors regardless of how experienced they are in the financial markets or their financial goals. The many different types of accounts offered by this provider, low minimum deposit required, powerful and well-designed mobile app, and multiple financial assets available to be traded are just some of the positive factors that helped it make it to the top of our list.
2. Betterment: Best Robo Advisor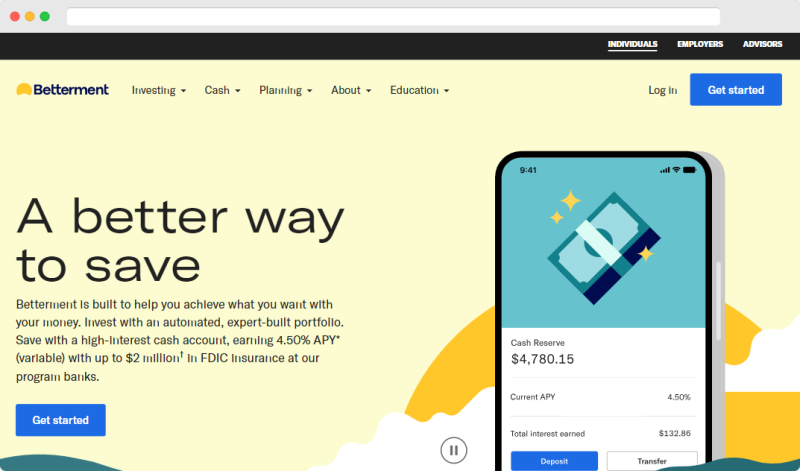 With over $30 billion in assets under management (AUM), Betterment has become the go-to robo-advisor for thousands of Americans who have opted to let algorithms and thoroughly-designed computer systems take over the heavy burden of building and managing an investment portfolio.
This company offers a passively-managed investment solution that automatically allocates the customer's capital into low-cost financial assets like ETFs, executes the required trades, and rebalances the portfolio from time to time to stick to the initial scheme. Read our full Betterment review to learn more.
Main Features
Both taxable and retirement accounts can be opened with this provider: Betterment offers access to taxable investment accounts and individual retirement accounts (IRAs) including Traditional, Roth, and SEP.
Straightforward service fees: With Betterment, investors have to pay annual management fees for letting the system build and oversee their portfolios. For customers with total assets under $100,000 the standard fee of 0.25% applies. Meanwhile, Premium customers pay a higher 0.40% fee but have access to several additional benefits.
Time-tested investment methodology: Betterment's robo-advisor and passive investing solution use modern portfolio theory (MPT) to determine the best portfolio allocation for each investor based on their financial goals and risk tolerance. According to the company's research, this methodology has a high probability of delivering positive results to investors over long periods.
Advanced features and access to sophisticated portfolio choices: apart from the portfolio allocation recommended by Betterment's robo-advisor, investors may also opt to create sophisticated portfolios such as the Goldman Sachs Smart Beta and the Blackrock Target Income, which have different goals and adopt distinct methodologies to achieve their objectives.
User-friendly mobile app: The Betterment mobile app is available for both iOS and Android devices. Users can rely on this solution to check their account balances, track the performance of their portfolios, create new portfolios, and make deposits. On the Apple App Store, the app has a 4.7 score from over 41,000 ratings while users have rated Betterment's investment app with 4.6 stars on the Google Play Store.
Pros
Passively-managed investment app for investors who prefer to take a hands-off approach when it comes to building and managing their investments.
Heavily regulated US-based entity whose assets under management are insured by SIPC for up to $500,000.
Straightforward pricing with multiple tiers depending on each investor's account balance.
Sophisticated account management features including tax-loss harvesting (TLH).
Low-cost cash management products are available including a checking account and a debit card with attractive cashback rewards.
A crypto-focused portfolio is available and can be built by the robo-advisor in exchange for a 1% annual management fee plus all applicable trading expenses.
Cons
With Betterment, it is not possible to execute individual trades or build a portfolio without the assistance of the robo-advisor.
Percentage fees are not necessarily the best option for long-term investors as they dramatically diminish a portfolio's return down the road if compounded.
Who Is Betterment Best for?
Betterment is one of the best alternatives in the market for customers who prefer to let professionals manage their investments. The firm's robo-advisor is built on time-tested and thoroughly conceived investment methodologies and the cost of using the solution is significantly lower compared to the average percentage fee charged by asset managers, which is 1%.
3. Acorns: Best for Beginners
Founded in 2019 by brothers Walter and Jeffrey Cruttenden, Acorns is an investment app that does the heavy lifting for customers when it comes to managing their investments by offering five different portfolio choices, multiple account types, and cash management solutions.
However, instead of charging a percentage fee, which is the standard practice in the asset management industry, they charge a subscription for using the company's robo-advisor and require a minimum deposit of $5 for opening an account. Read our full Acorns review to learn more.
Main Features
Passively-managed automated investing solution: Acorns' main offering is a robo-advisor, which is an algorithm that automatically recommends portfolio allocations to customers based on their financial goals and risk tolerances. Once the desired allocation is picked, the system executes the required trades and rebalances the portfolio over time to make sure the target allocation is maintained.
Low minimum deposit and fixed monthly fees: Customers can open an account with this provider with as little as $5. In addition, Acorn charges a flat monthly fee for accessing its services. These fees come from the subscription package the user chooses and they range from $3 for the Personal package to $5 per month for the Family package.
Five asset allocation choices to pick from: Acorns' robo-advisor offers a selection of five portfolio allocations. Any of these can be a good fit for customers depending on their financial goals and risk tolerance. The Conservative portfolio, the lowest risk option, allocates all of the assets into bonds. Meanwhile, the Aggressive portfolio, the riskier alternative, allocates all of the account's assets into stocks.
Advanced financial planning products: Aside from its flagship robo-advisor, Acorns also offers other financial planning products including Acorns Later, which is the platform's retirement planning solution that offers access to individual retirement accounts (IRAs). In addition, with Acorns Early, parents can set up an investment account for their children to invest in their future. These are also known as UTMA/UGMA accounts and they can be used to, among other things, pay for kids' college tuition and expenses.
Top-rated mobile app: More than 10 million users have downloaded the Acorns app on their mobile phones. On the Apple App Store, the app has received a score of 4.7 from over 850,000 ratings. Meanwhile, on the Google Play Store, the rating stands at 4.6 from over 250,000 users. Customers can use the app to manage their accounts, deposit money, create new portfolios, and change subscription packages.
Pros
Acorns is an automated passive investing service overseeing more than $15 billion in assets for customers.
The company is regulated by the US Securities and Exchange Commission (SEC) and its accounts are covered by SIPC for up to $500,000 in assets.
Acorns offers access to a low-cost robo-advisor that recommends the best portfolio allocation for users based on their financial goals and risk tolerance.
This provider offers access to advanced retirement planning products including retirement and child education funding solutions.
An account can be opened with just $5.
The Acorns mobile app is available for both iOS and Android devices and has been rated positively by users on both operating systems.
Cons
Acorns users cannot execute individual trades or build portfolios by themselves.
For accounts with a balance under $1,000, the flat subscription fee for the Personal program ($3) can be quite costly on a yearly basis compared to what other providers offer.
Who Is Acorns Best for?
Acorns is a nice alternative to the percentage-based robo-advisor services out there, especially for investors with an account balance exceeding $5,000 as its flat fee will represent a minor expense and will have a small impact on the portfolio's overall return over the years.
4. Interactive Brokers: Best for Advanced Investors
Interactive Brokers has been in the industry for 46 years. The company provides access to the financial markets to both beginner and seasoned investors in multiple corners of the world and was founded by Thomas Petterfy, a pioneer of the electronic trading trend.
Interactive reportedly assists traders to execute over 1.8 million transactions every day and it is regulated by top-tier financial agencies including the United States Securities and Exchange Commission (SEC) and the United Kingdom's Financial Conduct Authority (FCA). Read our full Interactive Brokers review to learn more.
Main Features
Ample selection of financial products: Interactive Brokers provides access to securities listed on over 150 markets worldwide including stocks, exchange-traded funds (ETFs), options, cryptocurrencies, and bonds. All of these products can be traded by using this provider's mobile app.
Advanced trading platform: Interactive is best known for its advanced trading systems, which include IBKR GlobalTrader, IBKR Mobile, and IMPACT. These are the firm's mobile solutions that can be used by both beginners and sophisticated market participants to operate in the financial markets either to build a portfolio of financial assets for the long term or engage in day or swing trading.
Affordable transaction commissions and fees: similar to most providers in the United States, under the IBKR Lite program, Interactive offers zero-commission stock and ETF trading for US-listed securities. Meanwhile, the cost of trading options, futures, forex pairs, bonds, and mutual funds is either in line with or below the industry's average.
Incredible trading and research tools and educational materials: Interactive provides access to a large number of trading and research tools such as screeners for multiple asset classes, advanced options trading systems, complex trade tickets, and risk assessment and management programs. In addition, its library of educational materials is quite extensive and includes videos, blog posts, podcasts, and commentary on multiple different topics that can help investors increase their knowledge about the financial markets.
Pros
Well-established financial services firm with over 40 years of experience in the industry and regulated in multiple top-tier jurisdictions.
Interactive Brokers offers access to securities from over 150 markets, 30 countries, and in more than 20 different currencies.
Trading costs with this provider are manageable and are considered affordable compared to the industry's average. Zero-commission trading for stocks and ETFs is available for US residents.
The firm's trading tools are among the most sophisticated and useful for seasoned investors who may want to engage in derivatives trading strategies.
Interactive's mobile apps have received positive ratings on both the Apple App Store and Google's Play Store.
This broker's services are available in multiple countries aside from the United States.
Cons
There's so much information to browse through on Interactive's website that navigating the site can be a bit complicated.
Some users have complained about difficulties to integrate third-party 2FA applications with the IBKR mobile app.
Who Is Interactive Brokers Best for?
Interactive Brokers' strengths are its ample portfolio of financial instruments and advanced trading systems. Seasoned investors will find in this provider the type of tools that they are looking for to engage in sophisticated strategies involving financial derivatives or other similar assets. In addition, under the IBKR Pro program, high-frequency traders will enjoy lower commissions for their higher volumes.
5. TD Ameritrade: Best Trading Platform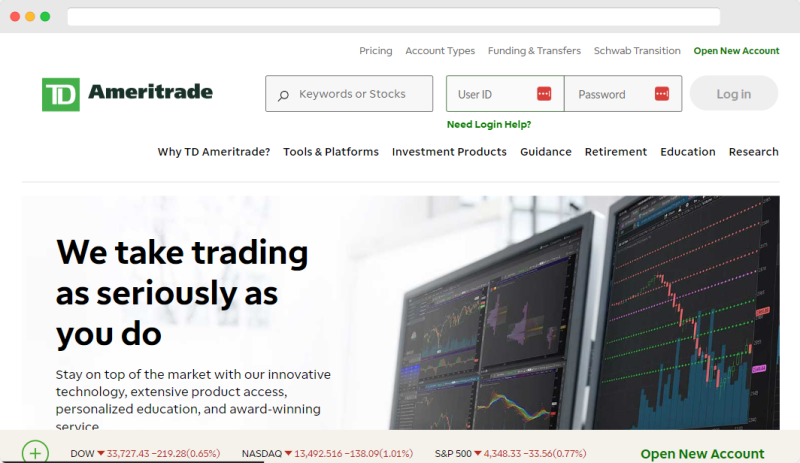 TD Ameritrade was founded in 1997 and the company quickly became a prominent player among the growing chorus of broker-dealers offering electronic trading services. TD has assets under management exceeding $1 trillion and executes over 500,000 transactions every day for its customers.
In 2020, a competitor of TD Ameritrade, Charles Schwab, acquired the company. However, the two platforms continue to operate as standalone businesses and may not be fully merged until the end of 2024. Read our full TD Ameritrade review to learn more.
Main Features
Extensive portfolio of traditional securities and cryptos: TD Ameritrade's portfolio of financial products includes thousands of US-listed securities such as stocks, bonds, and ETFs along with financial derivatives like options and futures. In addition, investors can use the platform and its partnerships with third-party providers to operate with forex, cryptocurrencies, and mutual funds.
Automated investing service: TD offers a program called Managed Accounts that uses algorithms to recommend the most suitable portfolio allocation to investors based on their financial goals and risk tolerance. This program is being powered by Charles Schwab's Intelligent Portfolios® solution at the moment until the merger between the two companies is completed.
Straightforward pricing: trading US-listed stocks and ETFs with TD Ameritrade is easy and commission-free. In addition, the fees charged by this provider for trading options, futures, cryptos, and forex are listed on its website and can be considered affordable compared to other providers. There are no hidden fees or commissions when trading with this broker.
Ample library of educational materials and research tools: TD Ameritrade has made available research tools for stock and ETF investing including advanced screeners, thorough reports on promising financial instruments, commentary on the overall state of the market via its Market Edge® program, advanced charting tools, and options trading tools. Moreover, the library of educational materials available to customers includes videos, blogs, news, and webinars discussing a wide range of topics.
Two powerful mobile apps for general needs and options trading: TD's trading systems include two mobile apps. The official one can be used to place trade orders and manage the customer's account. It also allows them to read market news and research materials and access and charting tools. The other app, called thinkorswim®, is designed specifically for option traders as it features tools that lets them analyze various strategies and their possible outcomes and execute multi-legged trade orders.
Pros
Well-established and regulated financial institution backed by an even larger entity — Charles Schwab — with years of experience in the industry.
Decent portfolio of financial products that can be traded via its mobile trading systems including traditional assets (stocks, bonds, and ETFs), derivatives, and cryptos.
Zero-commission trading for US-listed instruments and low trading fees for other non-traditional assets.
Advanced options trading tools via the thinkorswim® mobile platform for customers engaging in sophisticated market strategies.
Extensive library of educational materials for investors to get acquainted with the inner works and feats of the financial markets.
No minimum deposit is required to open an account with TD.
Cons
The Android version of the two mobile apps has scores lower than 4 stars on the Google Play Store. This suggests that the application may not run as smoothly as users expected on this operating system.
Who Is TD Ameritrade Best for?
TD Ameritrade is an excellent alternative for beginner investors who own an iOS device and are looking for a user-friendly mobile app through which they can trade stocks, bonds, ETFs, and mutual funds either for free or at a low cost. In addition, options traders may find the thinkorswim® platform highly useful to analyze and execute their trading strategies.
6. E*TRADE: Best for Customer Support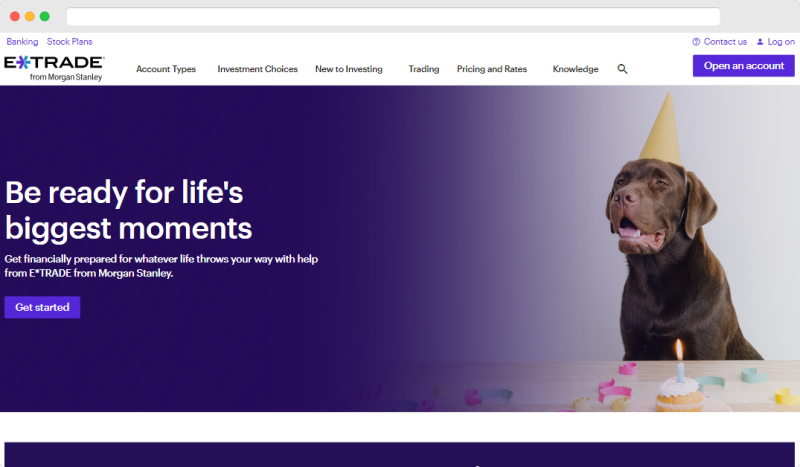 E*TRADE was one of the first companies to venture into the up-and-coming online brokerage industry back in 1982 when its two founders, William Porter, and Bernard Newcomb, worked together to launch the platform.
More than 40 years after, the company operates primarily in the digital realm despite having some physical branches spread across the United States to offer customers a better service. In 2020, this electronic trading platform was acquired by Morgan Stanley for $13 billion although it continues to operate as a standalone business until the merger is completed. Read our full E*TRADE review to learn more.
Main Features
Taxable and tax-advantaged investment account types: with E*TRADE, customers can open various types of accounts including individual or joint taxable ones and others that enjoy an advantageous tax treatment such as individual retirement accounts (IRAs) and custodial or Coverdell.
Affordable trading costs: Zero-commission trading for US-listed securities is available with this provider. In addition, the cost of transacting with options, futures, and bonds is disclosed publicly on the provider's website and is highly competitive compared to other brokers offering access to the same products.
Managed investing: E*TRADE offers a passively-managed automated investing service called Core Portfolios that takes care of the heavy burden of building an investment portfolio. This service uses algorithms to recommend the most suitable allocation for each investor in exchange for a 0.3% annual fee. A minimum deposit of $500 is required to sign up for the service.
Powerful mobile platforms for beginner and seasoned traders: E*TRADE has two mobile applications that run on both iOS and Android-powered devices. The E*TRADE Mobile App is the primary choice for beginner investors who are looking to execute trades, manage their accounts, have access to the firm's research tools and educational materials, and make deposits or withdrawals. Meanwhile, the Power E*TRADE App features advanced charting tools, options trading analysis software, and price alerts and notifications that are very useful to seasoned market participants.
Pros
Long-standing player in the electronic trading business that is now backed by one of the world's largest investment banks — Morgan Stanley.
Decent selection of financial products for trading including traditional options like stocks and bonds along with non-traditional choices such as initial public offerings (IPOs) and futures.
User-friendly mobile trading platform for both beginner and seasoned investors on iOS and Android.
Access to a managed investing solution called Core Portfolios that charges a percentage fee below the industry's average and requires a low minimum deposit.
Advanced trading tools are available for options traders via the E*TRADE Power Mobile app.
The iOS mobile app has received a 4.6 score on the Apple App Store from nearly 140,000 reviews.
Cons
This provider does not offer access to cryptocurrencies or forex.
Its library of educational materials is quite limited compared to other providers.
Who Is E*TRADE Best for?
E*TRADE is a good alternative for US residents who would like to build portfolios either by themselves or with the assistance of a robo-advisor or engage in sophisticated trading activities involving financial derivatives like options and futures. The mobile app supports both types of activities.
7. Wealthfront: Best for Goal Planning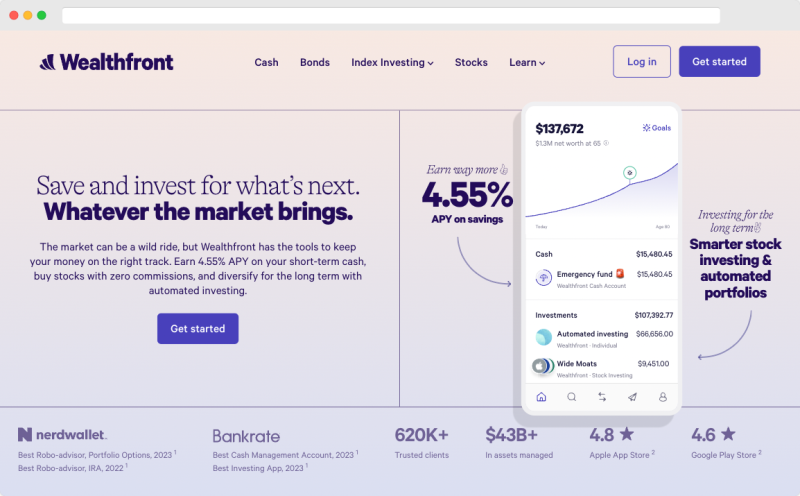 Wealthfront has grown from a small asset management firm overseeing less than $100 million roughly three years ago to a mammoth-sized player in the industry that is now in charge of administering over $20 billion in capital for its customers.
This outstanding growth has been achieved as a result of the firm's strong value proposition, which consists of letting customers rest on the shoulders of a powerful system that invests their money for them by engaging in time-tested strategies that aim to generate consistent results over long periods. Read our full Wealthfront review to learn more.
Main Features
All traditional account types supported: Wealthfront offers access to taxable and tax-advantaged accounts that can be set up and managed by its robo-advisor without hassle. This includes rolled-over 401(k)s, individual retirement accounts (traditional, Roth, and SEP), Coverdell, and 529 College Savings plans.
One-stop-shop money management service: aside from its passively-managed automated investing service, Wealthfront also offers access to banking products including a cash account that can be opened with just $1 and that charges no monthly service fee. This product is FDIC-insured. In addition, customers can borrow up to 30% of the balance of their investment portfolios by using the latter as collateral at affordable and competitive interest rates.
Low minimum deposit and competitive fees: Wealthfront charges a straightforward annual percentage fee of 0.25% on the assets held within its investment accounts. This fee is just a quarter of what asset managers typically charge for performing similar services.
Advanced investment strategies to improve results: aside from the standard recommendations made by the robo-advisor in regard to the customers' most suitable portfolio allocation, Wealthfront offers to implement some sophisticated strategies such as tax-loss harvesting (TLH), stock-level TLH, risk-parity, and smart beta to improve the portfolio's returns over time.
Automatic portfolio rebalancing: The robo-advisor created by Wealthfront is designed to maintain the portfolio's target allocation, which is the percentage assigned to each asset class, by performing a rebalancing automatically and periodically. The required trades to perform this task are executed flawlessly and the user will be notified when it happens.
Outstanding ratings on its mobile apps: Wealthfront developed apps for both iOS and Android-powered devices. These can be downloaded on their respective marketplaces and they have been positively rated by thousands of customers who have used the platform to create investment portfolios seamlessly.
Pros
Regulated provider of financial services with a positive track record of customer satisfaction and billions of dollars of assets under management.
Low minimum deposit required to open an investment account.
One-stop-shop for all things money management including banking, investment, and financial planning products.
Multiple types of accounts — both taxable and tax-advantaged — can be opened with this provider.
A mobile application is available to manage the user's account, deposit money, and make transactions on both iOS and Android-powered devices.
Advanced investment strategies can be implemented as per the customer's requests to further improve the portfolio's performance over time.
Cons
Customers cannot make individual trades or build an investment portfolio without the assistance of the robo-advisor.
Wealthfront requires a $500 minimum deposit while some providers only require $1 or $5 to open an account.
Who Is Wealthfront Best for?
Wealthfront is at the forefront of the financial technology industry by bringing forth a solution that can flawlessly build, manage, rebalance, and maintain an investment portfolio for investors at a fraction of the cost that asset managers typically charge. This makes it an outstanding alternative for both beginner and seasoned investors who would like to get exposure to the financial markets with the help of professionals.
8. M1 Finance: Best Portfolio Management
M1 Finance is a fintech company that is also working to revolutionize the asset management industry by making it easier for investors to build and manage their investment portfolios via user-friendly applications and with the help of algorithms.
The company deems its solution "The Finance Super App" as it offers not just investment accounts but also cash management and borrowing products that allow customers to rely on a single provider to handle their personal finances. Read our full M1 Finance review to learn more.
Main Features
Low minimum deposit and zero fees: M1 Finance offers both taxable and tax-advantaged accounts including Traditional, Roth, and SEP IRAs. For taxable ones, they require a minimum deposit of $100 while 401(k) rollovers and IRAs can be opened with just $500. This provider does not charge any annual management fees to its customers.
Pie investing: M1 Finance is not a robo-advisor per se. Instead, the platform offers customers the possibility of building their portfolios by relying on so-called "pies". This means that they can allocate a percentage of their account balance into several individual stocks, ETFs, or "Expert Pies" and the system will automatically rebalance the portfolio periodically to stick to the target allocation.
M1 Finance Plus: this premium subscription costs $10 per month or $95 per year and comes with extra benefits to customers including lower interest rates, access to two daily trading windows, higher cashback rewards, and the possibility of signing up for the firm's high-yield savings account.
Trading windows for self-directed portfolios: The M1 Finance platform can also be used to trade stocks and exchange-traded funds (ETFs) with zero fees. This can be done by placing a traditional trade ticket. However, the trades will be executed during one or two specific time frames within the day depending on whether the user has enrolled in the Plus program or not.
Crypto account: this provider offers access to the crypto market via its M1 Crypto account. The number of trades per month for Basic users is 10 while Plus users can trade as many times as they want. The transactions are performed by Apex Crypto and multiple Cryptocurrencies are currently supported including Bitcoin, Ethereum, Litecoin, and Solana. The cost of trading crypto is 1% of the trade ticket's value.
Positive reviews by customers on the mobile app: The M1 Finance mobile app is available for both iOS and Android phones. On the Google Play Store, the app has received a score of 4.5 stars and has been downloaded over 500,000 times. Meanwhile, on the Apple App Store, it has received a 4.7-star rating from more than 50,000 users.
Pros
With M1 Finance customers have more control over the assets they can incorporate into their portfolios.
This provider does not charge any fee for accessing its platform.
With Expert Pies, investors can choose if they would like to invest in a specific industry, asset class, or trend like artificial intelligence or big data.
The minimum deposit required to open an account is low.
This provider offers both taxable and tax-advantaged trading accounts.
The mobile app is available for both iOS and Android-powered devices.
Cons
M1 Finance does not offer any access to human financial advice.
Trades can only be executed within the one or two daily trading windows offered by this provider.
Who Is M1 Finance Best for?
M1 Finance offers the best of both worlds. On the hand, investors can choose which assets they would like to incorporate into their portfolio or what they would like to focus on. However, they can still rely on Expert Pies to easily create portfolios without having to pick among the thousands of individual stocks available. Overall, this platform may be a great choice for people who have a good idea of what kind of investments they would like to make as they would be able to build a portfolio with zero costs on a highly reliable and user-friendly app.
9. Fundrise: Best for Real Estate Investing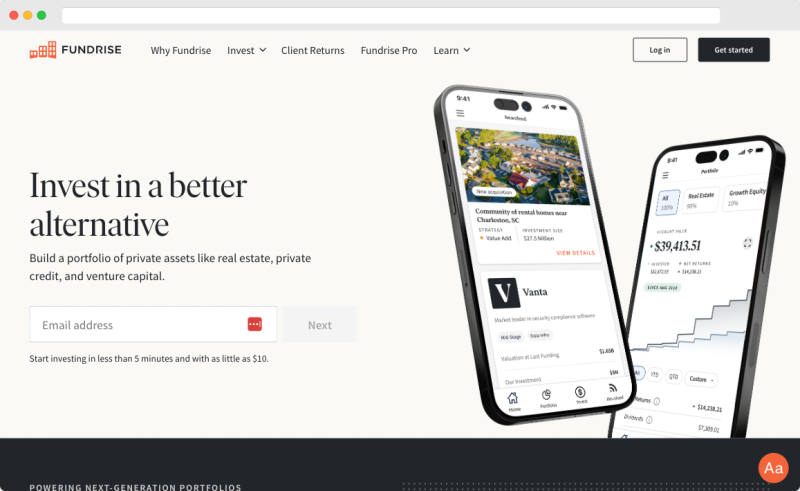 Fundrise makes it easier for investors to pour money into one of the most traditional asset classes — real estate — via a user-friendly platform that lets them choose among multiple projects that offer both the chance of generating capital gains and receiving steady and predictable dividend payments.
11 years after, Fundrise is already serving more than 380,000 investors and overseeing a portfolio of real estate securities and properties worth over $3 billion. On average, the platform's users reportedly generate average annual returns exceeding 10% on top of the dividends they receive from buying fractions of a certain property. Read our full Fundrise review to learn more.
Main Features
Investment accounts for all budgets: Fundrise has multiple account levels that entitle customers to access the different types of investment products the company offers. The Starter package requires a minimum investment of $10 and gives customers access to registered products while the Premium package, for account balances higher than $100K, gives investors the chance to pour money into non-registered products.
Affordable management fees: Fundrise charges a flat annual percentage fee of 0.15% for providing advice to customers. The firm offers to waive this fee for eligible customers. Meanwhile, its standard portfolios charge an additional 0.85% annual management fee. For alternative assets like real estate, these fees are well below the industry's average.
Opportunities to non-accredited investors: opportunities in the real estate market are typically reserved for accredited investors, which are high-net-worth individuals. However, Fundrise has made available different investment vehicles that can be accessed by any type of investor regardless of how much money they have at their disposal.
Cash distributions and capital gains: investors can earn money on Fundrise in two ways. They will receive periodical cash distributions coming out of the rent that the tenants of the properties they own pay to Fundrise. In addition, if the value of the property rises, so will their share in that particular asset.
User-friendly mobile app: the Fundrise mobile app is available on both the Google Play Store and Apple App Store. Customers can do all sorts of things on the app including adding money to the account, managing their portfolio, withdrawing their cash distributions, and browsing through the company's portfolio of available properties and investment vehicles.
Pros
Fundrise democratizes access to the real estate market by making it possible for investors to own a fraction of a property.
Customers no longer need to save hundreds of thousands to generate income from a real estate property.
There are investment opportunities available for all budgets.
Fundrise's management fees are quite affordable compared to other companies that provide access to similar investment vehicles.
Investors are entitled to receive periodical cash distributions and have the chance to increase their equity if the value of the properties they own increases over time.
High-rated mobile apps available for both Android and iOS-powered smartphones.
Cons
The company's private REITs can be quite illiquid as it could take time for Fundrise to locate a buyer for their shares in case they need to sell them.
The company can only be reached via e-mail.
Who Is Fundrise Best for?
Fundrise is a platform that democratizes access to the real estate market. This makes it a great choice for investors who would like to diversify their investment portfolios by incorporating this alternative asset class. In addition, the dividends paid by the properties managed by Fundrise are quite attractive to rent-seekers and people who need to supplement their regular income with proceeds from their investment portfolio.
10. Coinbase: Best for Crypto Investing
Coinbase is one of the world´s largest cryptocurrency exchanges. The company was founded in 2012 by Brian Armstrong and Fred Ehrsam. It is based in the United States and has a presence in over 100 countries. On a quarterly basis, over $145 billion worth of digital assets are transacted through its platform while the firm serves as custodian for more than $100 billion in assets for its customers.
This provider offers access to the cryptocurrency market via a user-friendly trading platform while customers can also enroll in staking programs, borrow money in crypto, and get a debit card to pay for their day-to-day expenses with digital assets. Read our full Coinbase review to learn more.
Main Features
Low minimum deposit required to open an account: to get started on Coinbase, customers just have to make a trade worth at least $2 involving any cryptocurrency supported by the platform. Keep in mind that the trading fee for all trades below $3 is $2.
Hundreds of crypto assets available to be traded: through Coinbase, customers can operate with more than 250 digital assets going from the most popular such as Bitcoin and Ethereum to more exotic choices like Shiba Inu, The Sandbox, and Tezos.
Advanced trading platform for seasoned investors: customers can rely on the Coinbase app to execute regular trades or they can turn to Coinbase Pro, a program created for sophisticated market participants who may want to engage in activities like algorithmic trading that demand a thorough analysis of charts, market data, and other similar metrics.
Powerful mobile app through which most features can be accessed: the Coinbase app is available on both the Google Play Store and Apple App Store and in both marketplaces the platform has been rated positively by millions of users. With the app, users can buy and sell crypto, stake their assets, make transfers, keep track of all new developments within the crypto space via a news feed, and manage their accounts.
Custodial wallet: Coinbase offers access to a crypto wallet called the Coinbase Wallet that let customers centralize their digital holdings into a single location. The wallet is available via a mobile app supported by iOS and Android-powered devices or it can also be installed as an extension to the Google Chrome browser. The wallet supports all ERC-20 tokens.
Pros
US-based cryptocurrency exchange that offers access to hundreds of cryptocurrencies and trading pairs via its mobile app.
Coinbase is a publicly-traded company, which makes it a more transparent provider than many others in the space.
The Coinbase app allows users to make trades, stake their crypto, manage their accounts, and make transfers.
Opening an account with Coinbase is easy and the minimum deposit required is very low.
Coinbase is available to US and international customers as well with a presence in more than 100 countries.
It is possible to access advanced trading systems via the Coinbase Pro program.
Cons
Coinbase's pricing structure can be a bit difficult to understand as it includes both a spread — a percentage of the market price for both buy and sell transactions — and a flat fee.
The fee for trading less than $10 — which is $2 at the moment — results in a 20% expense for small trades. This is not good news for investors with a low budget who may want to build a diversified portfolio of cryptos.
Who Is Coinbase Best for?
Coinbase is a US-based crypto exchange and a publicly-traded company. This gives the firm a level of credibility that many of its competitors in the crypto space just don't have. Even though its fees are a bit high, it is a great alternative to safely invest in cryptocurrencies if you have $500 or more. The app also offers customers access to other services including staking and borrowing.
11. Robinhood: Best for Active Trading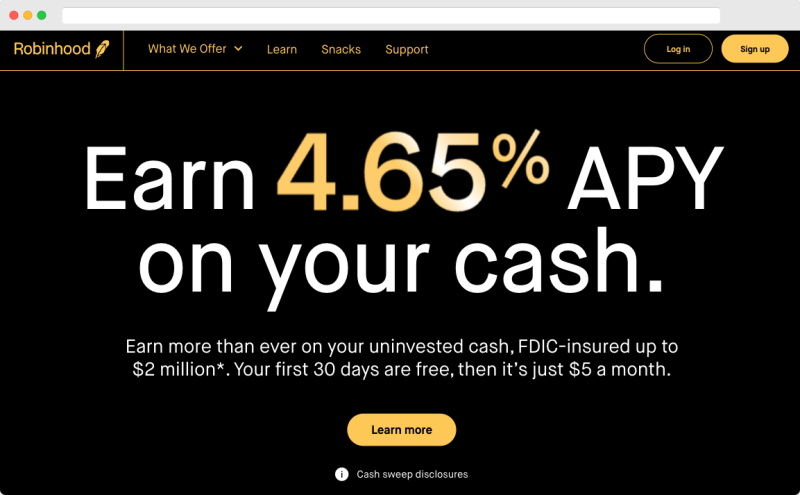 Robinhood disrupted the brokerage industry by introducing what is now a norm among all of its competitors — zero-commission trading on US-listed securities including options. Since then, the company has been attracting millions of customers to its platforms, primarily young folks, who enjoy trading and investing through its highly-intuitive and user-friendly app.
The company was founded in 2013 by Vladimir Tenev and Baiju Bhatt, two former high-frequency traders (HFTs). Its goal has always been to democratize access to the financial markets by offering a low-cost approach to investing. Robinhood is now a publicly traded entity. Read our full Robinhood review to learn more.
Main Features
Zero-commission trading on US-listed securities: Robinhood pioneered the movement of zero-commission trading for US-listed securities including stocks and exchange-traded funds (ETFs) worldwide but took things up a notch by offering the same scheme for options. This has made the platform very appealing to traders as they can buy and sell these derivatives at zero cost. The majority of Robinhood's competitors have not replicated this approach to this date.
Instant deposits: with most brokers, deposits are cleared and credited to the investor's account buying power only after a few days. With Robinhood, customers can have their deposits cleared instantly to rapidly take advantage of market opportunities at the moment they pop up.
No minimum deposit required to open an account: Robinhood does not require a minimum deposit to open an account. In fact, they offer – most of the time – free stocks for opening an account with them, which can be claimed after a deposit is made. This approach also differentiates the firm from its rivals, which require from $20 to $500 to open a taxable investment account.
Robinhood Gold: this is a premium subscription offered by Robinhood that gives customers access to Level II market data from the Nasdaq stock exchange, lower interest rates on their margin trades, and higher interest rates on their unused cash. Subscribing to Robinhood Gold costs $5 per month and the first month is free.
Access to the crypto market: Robinhood also supports zero-commission crypto trading on a handful of digital assets including Bitcoin, Ethereum, Bitcoin Cash, and Dogecoin.
Top-rated mobile app for iOS and Android devices: Robinhood is primarily an investment app, not a trading platform with an app. Its highly intuitive interface and stylish design have made it the go-to choice for millions of users. On the Apple App Store, the app has been reviewed by over 4 million people and received a 4.2 score while the number of downloads on the Google Play Store already exceeds 10 million.
Pros
Publicly-traded company backed by well-reputed financial institutions in the industry.
Zero-commission trading on stocks, ETFs, options, and crypto and competitive margin rates.
Robinhood offers access to virtually every stock and ETF listed in the US along with options and a handful of cryptos. It also offers a cash management product.
Deposits are cleared instantly and the amount eligible for this program can be expanded by subscribing to Robinhood Gold.
Customers can borrow money and earn interest on their unused cash with this provider.
The Robinhood mobile app is the primary ecosystem where things happen. The company has invested a good deal of resources to make the app as powerful, intuitive, and user-friendly as humanly possible.
Cons
Robinhood does not offer managed investment solutions or any other service that helps long-term investors set up a portfolio with the help of its systems.
The company has been the subject of controversy due to its decision to halt the trading of certain stocks during the events that took place in January 2021 involving GameStop (GME) and AMC Entertainment (AMC) shares among others.
Who Is Robinhood Best for?
Robinhood can be the best ally for beginner investors wishing to learn more about how trading works as the platform teaches them how to execute trades and other important aspects of this activity as they engage with the app. That said, it is a platform that motivates people to trade rather than invest for the long term as its business generates money for the trading volume they route to external providers. Hence, it is a better fit for active traders rather than passive investors.
12. Public: Best for Social Investors
Founded in 2017 and backed by well-known celebrities like Tiger Woods, Maria Sharapova, and Tony Hawk, Public is a zero-commission investment app that adds an interesting layer of social features to its investment platform to let users share their investment ideas, thoughts, and portfolios with their friends and the community.
Through the use of fractional shares, Public makes the journey of building a diversified investment portfolio an affordable endeavor for millions of Americans. Initially, the platform only supported trading for US-listed stocks and ETFs but it has expanded its portfolio of products to crypto and alternative assets including fine wine and collectibles. Read our full Public review to learn more.
Main Features
Zero-commission investing and fractional shares: Public lets customers build portfolios without hassle and at zero cost by allowing them to execute trades for free. In addition, investors with a relatively small account balance can still invest in dozens of stocks via fractional shares. These are portions of a single stock that can be bought with as little as $1.
Social trading features: the Public trading interface works similarly to a social media platform. When users invest in a stock, ETF, or crypto, they can opt to share that transaction with the rest of the community along with a thought on why they are adding or selling that asset. Others can comment and it is also possible to engage in conversations about general topics related to investing, the state of the economy, and specific companies.
Investment themes and crypto: investment themes are groups of stocks that share similar characteristics, whether that is because the companies that issue them are part of the same industry or developing similar products and technologies. In addition, the stock may also qualify as a candidate for certain investment strategies such as value, growth, or dividend. Some examples of investment themes include artificial intelligence, home buying, and the metaverse.
Automatic investments: Public's goal is to make investing a long-term endeavor. To this end, the company is now letting its customers set up an investment plan that will be automatically executed by pouring money into a group of up to 20 financial assets periodically. This is just a way of simplifying the implementation of the well-known methodology called dollar-cost averaging (DCA), which consists of spreading the execution of trades to multiple time frames to avoid making purchases at a point when the market may be overly depressed or dramatically overvalued.
Mobile app available for iOS and Android: Public is first and foremost an investment app, meaning that the web-based version of the platform is not the interface that the company would like users to rely on. The mobile app is designed with beginners in mind and trades can be executed easily and flawlessly. On the Google Play Store, it has been downloaded over 1 million times and it has received a 4.2 score from over 46,000 users. Meanwhile, on the Apple App Store, more than 60,000 users have rated Public's app with a score of 4.7 stars.
Pros
Low-cost investment app providing access to thousands of US-listed instruments including stocks, ETFs, and Treasury bonds.
Investors can add alternative assets to their portfolio via the Public platform including cryptos, fine wine, and fine art.
No minimum deposit is required to open an account with this provider.
With Public, investors can set automatic investments for a portfolio of up to 20 securities.
Investment themes make it easier for investors to pour money into promising market trends and industries like semiconductors, tech, financial technology, or the metaverse.
The company's mobile app has received great ratings on both the Apple App Store and Google Play Store.
Public's social features add fun to the investment journey and the platform's community can be a great place to find investment ideas and a second opinion about any given opportunity.
Cons
Public does not support tax-advantaged accounts like IRAs or Coverdell.
This provider does not offer any managed investing service — a.k.a. robo-advisor.
Who Is Public Best for?
Public can be ranked among the best investment apps for beginner investors as they can easily and cheaply build investment portfolios by using fractional shares and picking among the themes that this provider has made available. In addition, the app makes the task of executing trades and building a portfolio a hassle-free endeavor and the platform's social features make this activity enjoyable.
---
Methodology
At The Modest Wallet, we take the task of reviewing all of these providers and suggesting a list of the best very seriously. We follow a rigorous approach that involves analyzing several aspects of their services.
To build this list of best investment apps, we have considered the following criteria. We believe that the companies that made it to the list stand out among their peers in these particular characteristics.
Minimum deposit: This refers to the amount of money required to open an account with the app. A lower minimum deposit makes the app more accessible for beginner investors.
Trading costs: This includes fees, commissions, and other costs associated with trades made through the app. Lower trading costs mean that users keep more of their gains.
Supported account types: The app should support common account types like individual taxable, IRAs, 401ks, joint accounts, custodial accounts for minors, and more. The more account options, the more convenient the investment app would be for a larger number of people.
Mobile app design and availability: A well-designed mobile app that is available on both iOS and Android is important for convenience and accessibility. Mobile traders want an intuitive app experience and advanced features in some cases to analyze their investment opportunities.
Available products: The range of investments and financial products offered through the app, like stocks, ETFs, mutual funds, options, bonds, and cryptocurrencies, is a crucial aspect to consider when picking an investment app. More options provide more opportunities for building a diversified portfolio. The availability of fractional shares is also considered a plus.
Other products and services offered: Features like portfolio tools, financial planning, educational resources, fraud protection, and customer service can improve the overall value and experience of using an investment app.
This is not necessarily an exclusive or extensive list of the characteristics considered to evaluate all investment apps but these were the ones we mainly focused on to compile this list.
In our quest to be a transparent provider of financial content, we would like our readers to familiarize themselves with our approach and what guides our decision-making process when recommending these and other providers.
Some of the platforms that we've reviewed this year that didn't make the cut include:
Stash
Invstr
Wealthbase
Charles Schwab
Ellevest
Vanguard
Merril Edge Self-Directed
J.P. Morgan Self-Directed Investing
Ally Invest
Axos Managed Portfolios
Morgan Stanley Access Investing
Wells Fargo Intuitive Investor
Zacks Advantage
UBS Advice Advantage
FutureAdvisor
SigFig
Capital One Investing
Merrill Guided Investing
SoFi Invest
Moomoo
Webull
Please keep in mind that the investment apps that didn't make the list are not necessarily bad. Each platform comes with its advantages, disadvantages, and unique features.
---
Investment Apps Pros
They are typically backed by large corporations and well-established financial services companies.
The minimum deposit required to open an account with most of them is low.
Trading costs have been slashed by most investment apps lately, making the task of building a portfolio an inexpensive endeavor.
The number of financial products that are now available has increased exponentially.
Fractional shares have enabled low-budget investors to build highly-diversified investment portfolios.
All of the investment apps in this list have received positive reviews and ratings on both the iOS and Android mobile app marketplaces.
Most providers nowadays make available advanced research tools and useful educational materials for beginner investors to enrich their knowledge about the financial markets.
Some providers offer managed investing services that let customers easily build an investment portfolio with the help of an algorithm.
---
Investment Apps Cons
Mobile apps may lack some advanced features that seasoned investors find useful such as charting tools, screeners, and market data analyzers.
An investment app does not fully replace the valuable insights that a financial professional can provide to investors.
Not all investment apps support retirement accounts.
Most mobile apps in the United States offer access to traditional investment products. The majority does not support options, futures, or forex trading.
---
What to Look for in Investment Apps
Even though we have provided a list of the best investment apps that we consider the very best among all, you have to finally say on which provider you decide to work with. To help you in making this final decision, here's a summary of the elements you should pay attention to when choosing a provider.
Costs
Make sure you understand all the fees and commissions charged by the app. Look for apps with low or no trading commissions, no account minimum fees, and no inactivity fees. Avoid apps with high maintenance fees or fees as a percentage of assets. The lower the costs, the more of your gains you'll actually keep.
Account Minimums
Consider the apps that require the lowest minimum deposit. This makes investing more accessible for those just starting. Look for apps that allow accounts to be opened with as little as $1. The lower the better, as long as the platform still provides a good overall experience.
Account Types
Check that the app supports common account types like individual and joint taxable, IRAs, trust, custodial, and 401(k) rollovers. The more options, the more flexible the app will be for the different needs you may have as an investor down the road. Make sure the app supports the specific type of account you want to open.
Available Assets
Consider the full range of investment options offered. Look for apps that offer access to stocks, ETFs, mutual funds, bonds, options, and cryptocurrencies primarily. The possibility of investing in fractional shares is also desirable as these will let you build diversified investment portfolios regardless of your available budget. The more assets they make available, the more you can diversify your portfolio as your needs and strategy evolve over time.
User Experience
Focus on apps with intuitive, well-designed mobile apps, and websites. Check app store ratings and reviews. Consider ancillary features like virtual assistants, goal-setting tools, stock screeners, and performance tracking. The easier it is to use the app, the better the overall experience will be.
Customer Support
Check what customer service and support options the app provides. An app with 24/7 phone support, live chat, email, and self-service help options are the best ones. You want to be able to easily reach out to a customer representative in case you experience an issue with your account or the platform.
Additional Features
Consider any additional value-added features like financial planning tools, dividend reinvestment, auto-deposits, and paperless account options. Even basic features like instant cash transfers and automatic account monitoring can make managing your portfolio simpler and more convenient.
---
FAQ on The Best Investment Apps
We've found some of the most frequently asked question related to the best investment apps, here are our answers.
---
Final Thoughts
Investment apps offer a convenient and low-cost way for beginner investors to get started on the financial markets. However, with so many options available, it can be challenging to identify the best apps that meet your specific needs and priorities.
This article outlined six important criteria that we considered when compiling our list of the best investment apps currently available. These are; minimum deposit requirements, trading costs, supported account types, mobile experience, available investment products, and additional features offered.
The lower the costs, smaller minimums, more account types and investments available, and more robust the features and support offered are, the better experience the app should provide.