28 Best Work From Home Jobs in 2023
Many or all of the products featured on this page are from our sponsors who compensate us. This may influence which products we write about and where and how the product appears on a page. However, this does not influence our evaluations. Our opinions are our own. Here is a list of our partners and here is how we make money.
---
The information provided on this page is for educational purposes only. The Modest Wallet is a financial publisher that does not offer any personal financial advice or advocate the purchase or sale of any security or investment for any specific individual.
The way people want to work has evolved more rapidly in recent years than at any other point in history. With technology rapidly advancing and more companies than ever embracing those changes, the number of remote, work-from-home career opportunities has skyrocketed. A Gallup survey estimates 70+ million U.S. workers can do their job working remotely.
And who wouldn't want a career like that?
Working from home gives you unprecedented control over aspects of your life where you may have otherwise felt trapped. Things like your schedule, assignments, and days off are now free for you to choose from. You no longer have to feel guilty about taking sick days or stress yourself out trying to schedule doctor's appointments around your job.
Despite the number of work-from-home jobs today, however, not every job can be done remotely. Some careers will always be better suited for remote opportunities than others—which is why we've compiled this list.
In this article, you'll find the best work from home jobs right now, as well as explanations of what they are, how much they pay, and how you can get started without moving from your seat.
---
Best Work From Home Jobs
As we mentioned, not every job is suited for remote opportunities. Because of this, there may be a job you'd like to do remotely that isn't on this list. Just because it isn't here, though, doesn't mean you can't do it remotely. Rather, you may find it more difficult to source those types of opportunities than you would with the ones listed here.
Furthermore, it is important to keep in mind that some of these jobs are entry-level. You can get started with them today with no prior experience. Others may require more experience for you to start earning the pay you want.
1. Web Developer
A web developer (or web dev) builds and designs websites according to customer specifications. Some web developers work remotely as employees of large companies. Their managers send them assignments and client notes, and the developer is responsible for completing the assignment according to the specified timeline.
Other web developers are freelance. They source their own clients and determine their own prices and deadlines. And since website development is in high demand, there is no shortage of clients in the industry willing to pay premium prices for premium work.
Keep in mind, however, that website development can be difficult. It can take up to a year of training and learning various software before you're ready to officially take on client requests. However, it is one of the highest-paid remote opportunities. If you have the time and the patience to learn, you could earn more than nearly any other industry in this article.
Pay: Because website development can involve remote company work or freelance opportunities, the pay ranges greatly. Depending on who you work for (if anyone), Glassdoor estimates you can expect to make anywhere between $54,000 and $127,000 per year. However, the estimated total pay for a Web Developer is $82,439 per year in the United States area, with an average salary of $77,501 per year.
How to Get Started: It isn't difficult to get started with web development as much as it is time-consuming. You don't even have to have a degree.
To get started, we recommend exploring online courses to learn about various software languages like CSS, HTML, and Javascript. This web development course from Udemy is a great spot to begin.
2. Virtual Assistant
Virtual assistants are exactly what they sound like: assistants that work remotely. As a virtual assistant (or VA), you'll be expected to perform tasks like scheduling meetings, organizing contact lists, responding to emails, answering phone calls, and more. Virtual assistants work remotely using online scheduling tools and company software.
VAs are used by many companies across a wide range of industries. For example, businesses that don't have brick-and-mortar locations can use virtual assistants to aid their teams. Alternatively, an executive who has no need for a physical office for their assistant can use virtual assistants to get work done without furnishing space or equipment—making the position more budget-friendly.
Pay: Like web developers, virtual assistants can either freelance and choose their own pay or apply for specific jobs where the pay is predetermined. Because of this, the range varies anywhere from $12,500 to $78,500 a year, according to ZipRecruiter. This averages out to roughly $7 to $50 per hour.
How to Get Started: Because no degree or prior experience is required, getting started as a virtual assistant is relatively easy. You can jump right in and start applying to jobs right away, or you can take courses to help sharpen your skills before you get started.
If you choose to sharpen your skills using online learning platforms, we recommend checking out the Virtual Assistant Handbook by HorkeyHandbook.
3. Social Media Manager
Social media managers are often confused with VAs because of the type of work they perform. However, there are tasks VAs are responsible for that social media managers aren't, and vice versa.
There are lots of organizations that need people to manage their social media accounts, post for them, reply to comments, and some will even ask you to develop a posting strategy as well. Depending on your level of experience with social media, you can make a ton in this industry.
Pay: According to Payscale data, the average salary for social media managers is around $54,500 per year (about $25 an hour).
How to Get Started: Most social media managers operate freelance, though some do work for companies as hired employees. So, the best way to get started is to find jobs on freelance websites like Fiverr or Upwork, or search job boards like MarketingHire.
You can also pick just one social media site that you're best with to focus your efforts on. Sites like PinterestVA provide training for a specific social media platform (i.e., Pinterest) and also help freelancer land their first social media manager job.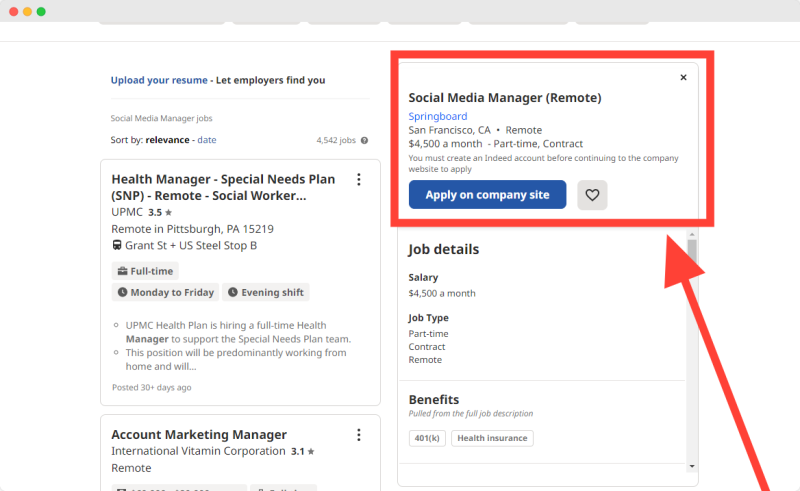 4. Freelance Writer
Freelance writing is a great way to take a hobby you enjoy and turn it into a remote career. With freelance writing, you can divide your skills up into tons of sub-categories like writing press releases, blog posts, product descriptions, and more.
Freelance writing is extremely flexible in that you're able to choose what content you create and what niches you create that content in. Your services can be as wide-ranged or narrow as you'd like.
Pay: According to ZipRecruiter, freelance content writers can make anywhere from $39,000 to $95,000 a year. Some fall outside of this range and make more or less, but most freelance writers fall into this scale.
How to Get Started: The easiest way to get started with freelance writing is to sign up on freelance sites like Fiverr or Upwork to source leads. Many sites also give you priority for completing skill assessments and scoring well on them, so courses like the one from Earn More Writing are extremely valuable.
5. Graphic Designer
Graphic designers create landing pages, product mockups, logos, and more for their clients. Much of the work you do as a graphic designer is heavily software-reliant, so being familiar with design software like Canva or Adobe Photoshop is a must.
Some clients or organizations will require you to have a degree before hiring you, so it's a less entry-friendly field than most. However, persistence is key, and you can always build a career in graphic design without any sort of certification.
Pay: Graphic designers make an average of $38,000 and up annually, according to Glassdoor.
How to Get Started: Most graphic designers pick up clients and leads from contract sites like Upwork, though some work through companies as hired employees for in-house projects. Because graphic design requires a certain amount of technical skill, though, it is recommended you take a course like the one Udemy offers as a first step.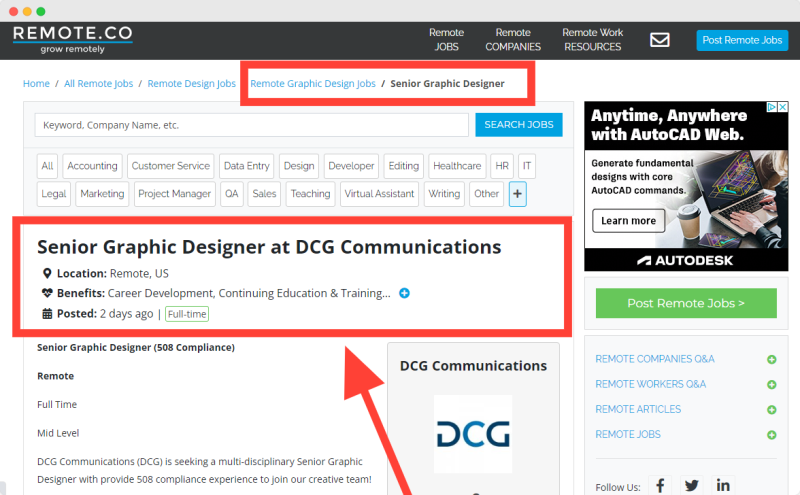 6. Blogging
Blogging is an inexpensive and easy hobby that can quickly turn into a career with the right steps. This can be as simple as writing about your opinions on food or music. Or, you can share your niche knowledge and special how-to's with the world.
Some bloggers start with their own websites right out of the gate. And while this is a great way to get a jump on your career, the money required to start your site can range anywhere from $100-$500, depending on your choices. For others, it's more realistic to start with a low-cost blog account on a site like Medium and work your way up with the money you make there.
Pay: Blogging is a profession where your success depends almost entirely on the work you put in. On the low side, bloggers can make around $31,000 a year. On the high side, they can make it into the high six-figure range, around $300,000. I know a few bloggers that actually make six figures a month.
How to Get Started: To get started with blogging, you'll want to learn about basics like search engine optimization (SEO) and how to effectively monetize a blog. This course from Larry Ludwig should help.
7. Online Tutoring
If you have special knowledge in certain areas, you can turn those book smarts into a new career. Online tutors are in high demand, especially for high school and college students.
As an online tutor, your job would consist of creating lesson plans and heading virtual lessons to help your clients understand the subject matter you're teaching them about. Some of the most common subjects are basic ones, such as science, mathematics, or history.
Pay: Most virtual tutors earn between $39,000 and $58,000 per year by offering services over video platforms like Skype or Google Meets, according to Glassdoor.
How to Get Started: Luckily, it's pretty easy to get started as a virtual tutor if you already have knowledge in that area of study. The best way to start your journey is to pick a topic and develop strategies for teaching those topics to others. Then, you can either create your own e-learning platform or apply for jobs you find online.
If you decide to freelance, you can also look at platforms like Tutor.com and Skooli which are two of the most popular platforms for online tutoring.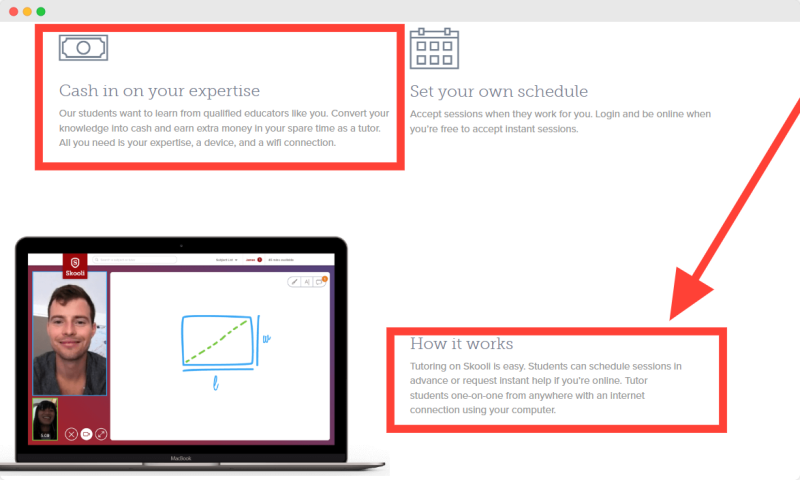 8. Proofreading
Proofreading is great for people who love grammar and reading but who may not exactly want to write as a career. Instead of being a full-blown writer, you look over others' work and correct it according to their specifications.
With proofreading, you can apply to organizations like publishing companies as an editor, or you can go freelance and source your own clients. The choice is yours.
Pay: Pay for proofreading ranges depending on whether you work for a company or freelance on your own. For company employees, you can expect to make between $37,000 and $56,500 a year, according to ZipRecruiter. Or, you can choose your own prices as a freelance and make as much or as little as you want!
How to Get Started: Companies like ProofreadingPal make it easy to get started proofreading as a beginner. You can apply on their website or find other clients from freelance job boards. If you want to become a proofreader but aren't sure what is expected of you, check out this free training program from Proofread Anywhere.
9. Bookkeeping
Bookkeeping is a profession that focuses on keeping track of business or individual income, expenses, and other financial needs so that records remain accurate for tax filing.
Like many of the careers in this article, bookkeepers can work as company employees, or they can run their own businesses.
Pay: Most bookkeepers make between $35,000 and $49,000 a year, according to ZipRecruiter.
How to Get Started: Believe it or not, you don't need a CPA certification to get started in bookkeeping. It is enough to sign up for a course at your local community college. Once you've completed it, you'll be able to apply for jobs or start your own bookkeeping business. Bookkeepers offers an excellent program to get started as a beginner bookkeeper.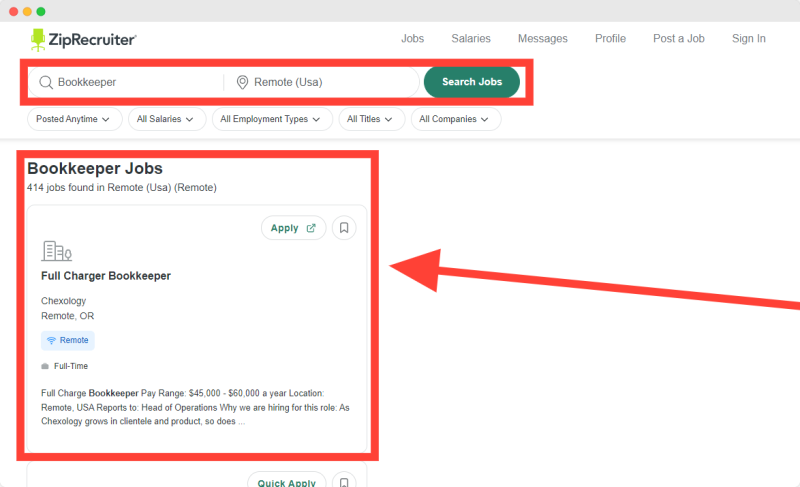 10. Transcriptionist
Transcriptionists are people who listen to audio files or watch videos and type out what they hear. These files can be anything from lectures or medical dictations to TV shows and movies that need subtitles. And because transcription is a pretty simple job that requires very few skills, it's beginner-friendly.
Pay: Most transcriptionists make between $28,000 and $38,000 a year, according to ZipRecruiter.
How to Get Started: To get started with transcription, you should first make sure your typing speed and accuracy are up to par. Most transcription jobs have a minimum requirement you must meet to get started. Websites like Transcribe Anywhere can help you brush up on those skills.
11. Translation Services
If you're bilingual, then you've got a career opportunity that no one else does: translation services.
Translators take audio or written text and convert it from one language to another. This is often used for converting books to new languages or generating subtitles for foreign films.
Though there are online tools like Google Translate that can do it for you, they often make mistakes—something you can prevent by doing it yourself!
Pay: As a translator, you can expect to make between $43,500 to $73,000 per year, according to Salary.com.
How to Get Started: To get started as a translator, simply look up remote jobs on sites like Indeed, or search job boards for clients. Or, if you don't know a second language, you can get started by using language learning programs to develop your new skill.
12. Online Data Entry
Data entry clerks take information from one source and input it into another. The best skills for this job are attention to detail and an aptitude for online systems and databases. Some data entry jobs can require prior experience, but most are entry-level.
As an online data entry clerk, you can work from home using your own computer and internet connection. This means you can complete work on the schedule you decide.
Pay: The average yearly salary for a data entry clerk is around $41,000, according to ZipRecruiter.
How to Get Started: To get started with data entry, you should make sure you have some familiarity with basic software like Google Sheets and Microsoft Excel. Other than that, you can find data entry jobs on lead-sourcing sites like Upwork and start generating clients as soon as today.
13. Customer Service Representative
Customer service representatives are individuals who answer phone calls and handle customer inquiries. These representatives are hired to take care of customers, performing tasks like processing returns and troubleshooting problems.
Customer service reps are also hired across all sorts of industries, from IT to retail. So, no matter where your interests are, you can find something that suits you.
Pay: Because customer service representative jobs are entry-level and usually don't require any particular skills, the pay isn't particularly high. You can usually expect to make around $43,000 a year, according to Glassdoor.
How to Get Started: All you need to get started being a customer service rep is a phone and your computer. If you've got those two things, you can start applying for jobs immediately.
14. Animator
Animators created animated clips for companies across a wide range of industries. You can see work like what you'd be expected to produce in web videos, commercials, educational clips, and video games.
Keep in mind, though, that this job is not usually beginner friendly. Animation requires years of practice and education to develop enough of an understanding of the production processes to be able to satisfy clients.
Most animators specialize in either 2D or 3D design, but some do both. Depending on what you're comfortable with, the pay for jobs can increase or decrease.
Pay: Because the pay for animation jobs depends on the professional's level of skill and the type of animation needed, the salary you can expect varies wildly. On the low end, you might only make about $35,000 a year. On the high end, however, you could see an income of $96,000 or more per year, according to Glassdoor.
How to Get Started: Getting started as an animator usually involves taking some sort of professional course, class, or college curriculum to introduce you to the animation process. From there, you'll need to work to develop your skills until you are confident in the work you produce.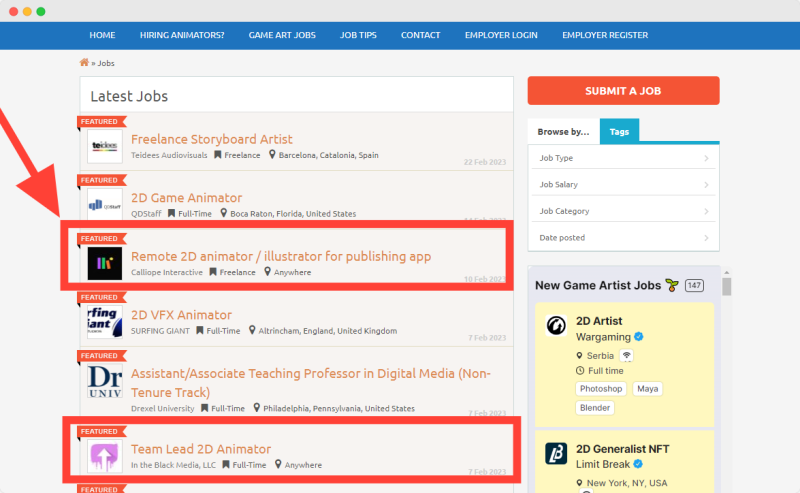 15. Life Coach
As a life coach, your job is to consult with others who are experiencing discontent with their lives and need a push in the right direction. Most life coaches will help their clients develop helpful mantras and processes to turn their life in the right direction. And because many people feel they can't do it without a coach, your services are invaluable.
However, being a life coach is not for everyone. It takes persistence and an eye for marketing to be able to get your business out there. And because a lot of people who need life coaches aren't even aware they exist, you'll have to put a lot of effort into exposure.
Pay: Life coaches usually set their own pay, so you can make as little or as much as you want. Some life coaches who focus on helping people recover from debt may not make as much as a life coach who focuses on wealth management. Overall, you could end up only making $19,000 a year, or you may make as much as $167,500 a year, according to ZipRecruiter.
How to Get Started: With life coaching, you should always begin by choosing a niche. Coaching is a vast field, so you want to focus on one area to be successful. Once you've done that, you should complete a training program, get some credentials, set up your business, and start sourcing clients.
16. Virtual Yoga Instructor
Since the pandemic began (and with it, regulations to keep people at home), people have had to adapt to spending less time outside. Because of this, virtual yoga has exploded in popularity.
With virtual yoga, you can offer at-home fitness classes through video platforms like Skype and Zoom. Some virtual yoga instructors even take it one step further and make house calls to help higher-paying clients one-on-one.
Pay: Virtual yoga instructors can make anywhere from $45,000 to $73,000 a year, according to ZipRecruiter. Most professionals in this field are freelance or solopreneurs as well, so you have a lot of control over your income.
How to Get Started: Getting started as a virtual yoga instructor mostly involves having some sort of background in or passion for fitness and the knowledge you need to pass on to your clients. Other than that, just make sure you legally establish your business and put effort into marketing it.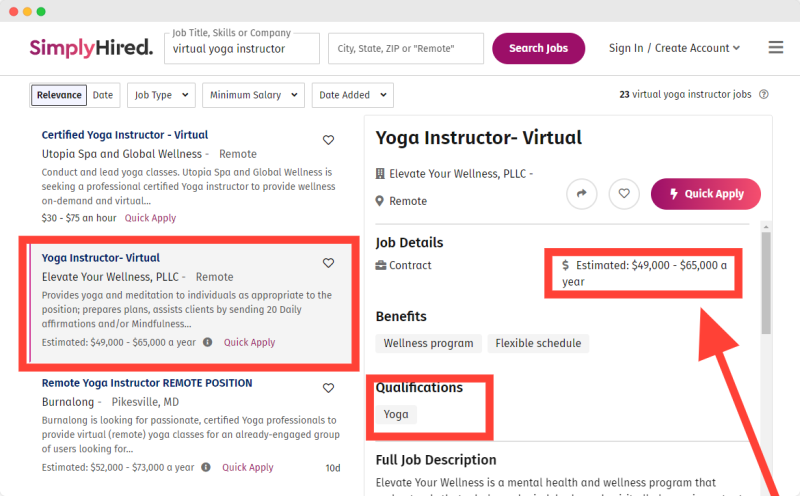 17. Dropshipping / eCommerce
Dropshipping is a term you may hear a lot these days. As a dropshipper/eCommerce professional, you set up and maintain a website with product listings. You can either use an eCommerce site provider like Shopify, or you can set up a self-hosted site through a provider like Bluehost.
Once you've done that, you just have to wait to get orders. As soon as you get them, you contact your product provider (Oberlo is a good example of this) and place an order through them. Said provider then sends the item directly to the customer without you ever having to touch the product.
Pay: A dropshipper's pay usually depends on how good they are at marketing. The better at marketing you are, the more you're bound to make. That said, most dropshippers make between $34,000 and $45,500 a year, according to Glassdoor.
How to Get Started: You can get started as a dropshipper by setting up your eCommerce website and choosing a dropshipping provider (such as Oberlo or Alibaba). From there, all you need to do is choose your products and follow the set-up steps.
18. Amazon FBA
Amazon FBA is a service Amazon provides that stands for "Fulfillment by Amazon." Using this platform, sellers can outsource order fulfillment to Amazon's warehouses. Essentially, your business can send its products to a warehouse, and any time you receive an order, Amazon will package it and send it out for you. This minimizes the time you have to spend on fulfillment.
Pay: Since FBA isn't actually a work from home job as much as it is a method for you to convert your business to a from-home establishment, there isn't really a guaranteed salary you can make. Your pay all depends on what kind of company you run and what your sales are. You could make as little as $10,000 a year or as much as $300,000 per year (or more).
How to Get Started: To get started with Amazon FBA, you have to start by establishing an Amazon seller account. Once you've done that, you'll need to list your products and fill out the information required by Amazon FBA.
If you're interested in using Amazon FBA for your businesses, The Selling Family offers a great course to learn the ropes.
19. Sell Printables
Selling printables can be a great, low-involvement way to make some extra cash (or establish a new career). This can be done on just about any eCommerce platform, including your own website. However, you may find some websites to be easier than others to sell on.
The most popular website to sell printables on is Etsy (mostly because Etsy attracts the exact demographic that likes to buy said printables).
The way it works is simple: you create the printable files using a visual creation software like Canva. Then, you download it as a PDF and list that file on Etsy for sale. Once someone purchases it, they can download the file and print it on their own as many times as they like.
Pay: The average pay for selling printables ranges depending on how many printables you have listed for sale. Naturally, the more you list, the more money you can make. That said, most sellers start by making $10 to $100 a week at the start. As your shop gains more popularity, this could go up to as much as $1,000 a week.
How to Get Started: To get started selling printables, you just need to sign up for an Etsy account and start creating the PDF files you're going to sell. It's helpful as well to take a course on marketing and SEO to help your listings gain traction. This Etsy printables course offered by Julie and Cody is a great place to begin.
20. Virtual Call Center Agent
Virtual call center agents are individuals who work from home answering calls and customer queries for the company that employs them. These agents may do anything from troubleshooting technical issues to processing account requests.
Depending on the call center job you apply for, you may be required to provide your own equipment, such as a hardwired phone line and computer setup. Other jobs will provide all of the necessary equipment for you, and you'll be required to return it when you resign.
Pay: Virtual call center agents typically make between $16 and $22 per hour ($36,000 to $53,000 per year), according to Glassdoor.
How to Get Started: Call centers are entry-friendly, meaning they rarely require experience or degrees unless they are for specialized companies. As such, the only thing you really need to get started is a phone and a reliable internet connection. As long as you have that, you can get started applying to positions as soon as today.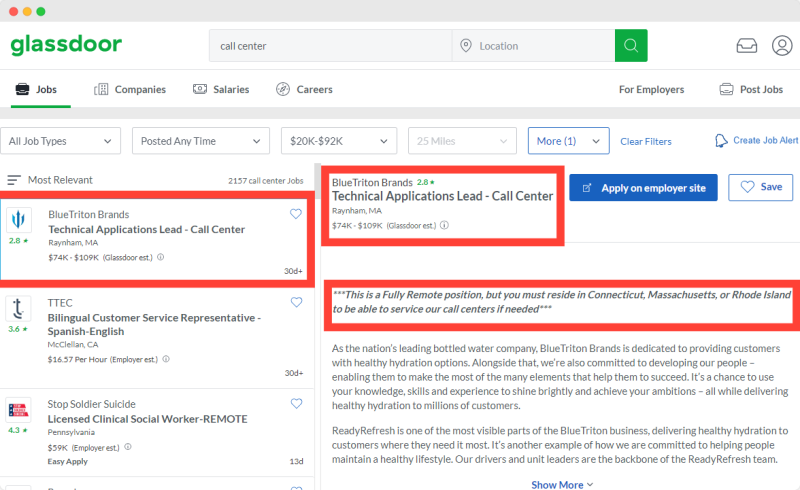 21. Search Engine Evaluator
This little-known career is great for those who find themselves adept at handling technology. Web search evaluators are paid to analyze the search results from specific engines. This helps the search engine deliver more accurate and applicable results.
What's more is that you don't have to have much experience to qualify for these jobs, either. Usually, you can apply and be hired with little to no experience at all.
Pay: Because search engine evaluation is considered a low-skill job, it doesn't pay as much as many of the other opportunities on this list. As a search engine evaluator, you can expect to make anywhere from $39,000 to $58,000 a year, according to Glassdoor's data.
How to Get Started: You don't need much to get started with this job other than a reliable internet connection. You can start applying for web search evaluator jobs on sites like Appen, Leapforce, or Google. Keep in mind, though, that these jobs are usually part-time. As such, you shouldn't approach this career expecting a full-time position right away.
22. Travel Agent
As a travel agent, you can either work for companies or directly for the individuals that hire you. Once you have a client, you're responsible for scouring the web for the best deals, itineraries, and travel opportunities.
Depending on how much your client is paying, you may be expected to plan every aspect of the trip. This includes booking the flight, and the hotel, planning an itinerary for each day of the vacation, scouting dining locations, and more. Or, you may only be expected to do something as simple as making sightseeing recommendations. It all depends on your client's expectations.
Pay: Because travel agents can work as employees or as freelancers, the pay ranges greatly. You could make as little as $20,500 a year or as much as $64,500 a year, according to ZipRecruiter.
How to Get Started: Getting started as a travel agent only requires as many steps as you want to put into it. Some travel agents get jobs in the field right after high school as freelancers. Others put in time in college to earn certificates or degrees to bolster their eligibility for higher-paying opportunities. Which path you choose is ultimately up to you.
23. YouTuber
Most of us are familiar with using YouTube as a career. Individuals like Pewdiepie, Markiplier, and Mr. Beast have made monumental careers out of publishing and monetizing videos. And while you may not become a millionaire from it, you can definitely turn it into a work-from-home career.
YouTube accounts that post instructional or informational videos are especially popular right now. As such, if you have a special interest that you have a wealth of knowledge on, you could be missing out on a new career or passive income stream.
Pay: It's difficult to nail down a specific pay scale for YouTube since the numbers vary so greatly. Plus, there are tons of ways to monetize a video beyond just YouTube's $1-$2 per 1,000 views.
You could also make money off of affiliate marketing, merchandise, or in-video advertisements. As such, you could earn as little as $1,000 a year or as much as $500,000 a year or more. It depends on the amount of effort you put in and how many monetization avenues you take advantage of.
How to Get Started: To get started as a YouTuber, all you really need is an account. Once you have that, you can start publishing videos in the niche you choose. As far as payment goes, you won't be eligible to monetize through YouTube until you have at least 1,000 subscribers and 4,000 watch hours. However, external revenue generation (like with merchandise or affiliate marketing) can be done at any time.
24. Video Editor
Video editors are responsible for taking raw footage and turning it into something amazing. This career is perfect for those who are passionate about the technical aspects of video products but who may not have the money, time, or ideas to create the videos themselves.
Video editors can work for companies or as freelancers. And since many video editing programs take a lot of time and effort to master, clients are usually willing to pay quite a bit to get help on their projects.
Pay: Depending on your skill level and whether you choose to be an employee or freelance, you can expect to make between $43,000 and $70,000 a year as a video editor, according to Glassdoor.
How to Get Started: A lot of company-employed video editors have degrees in the field to help them stand out among the competition. However, some companies rely more on assessments of your skill than how you look on paper.
For these companies (as well as freelance opportunities), you can get started by just taking a few informative courses on the subject.
Keep in mind that you'll want to choose a course that caters to your preferred editing program. For example, those who use Final Cut Pro could check out this Coursera course. Or, if you prefer Adobe Premier Pro, this course would suit you better.
25. Virtual Recruiter
As you may have guessed, virtual recruiters perform the same essential functions that on-site recruiters do. The only difference is that virtual recruiters work from home and must search the web for employees.
Additionally, you're also responsible for screening potential applicants for the company that hired you. You may also be required to participate in the interview and salary negotiation process.
Pay: Virtual recruiting pays decently well, with the average salary being about $71,000 on the low end and $109,000 a year on the high end, according to Glassdoor.
How to Get Started: You don't need much to get started as a virtual recruiter. Some people can get entry-level positions with little trouble. If you can't find those types of opportunities, though, you can pursue a certificate in business administration or build up some relative experience first.
26. Telehealth Nurse
Most registered nurses don't consider their careers to be eligible for work-from-home opportunities. However, with times changing, there's never been a better time for them to pursue a remote position.
Telehealth nurses often work for doctor's offices or health management companies to handle aspects of healthcare that can be taken care of over the phone. This includes case management, treatment authorization, patient education, and more.
Pay: According to Glassdoor, Telehealth registered nurses can make anywhere from $72,000 to $108,000 per year.
How to Get Started: To get started as a Telehealth nurse, you first have to have a nursing degree. To become an RN, you simply have to complete an accredited nursing education program and then pass the licensing exam. From there, you can begin applying for Telehealth positions.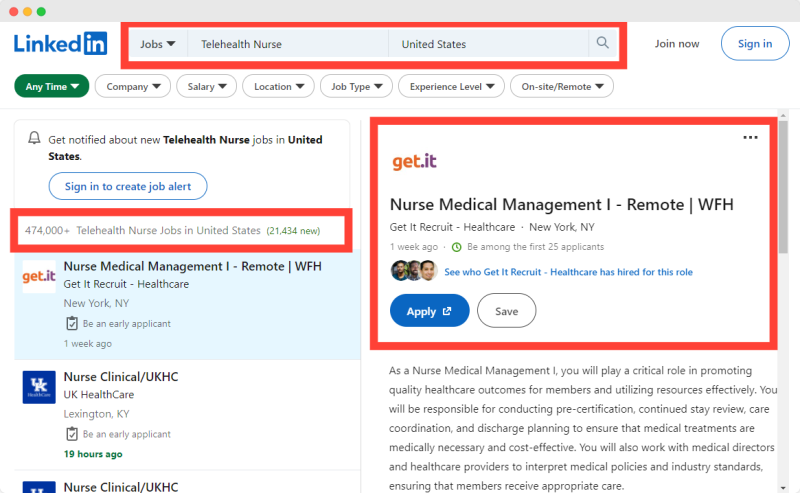 27. Medical Coder
Medical coders are individuals who take doctors' notes and translate them into medical codes. When a medical provider or doctor treats a patient, they have to send a bill to insurance to have that treatment covered. Normal language is too inexact for insurance companies to process requests properly, so they use medical codes instead.
As a medical coder, your job is to take the inexact, normal language and translate it into something insurance companies can efficiently process.
Pay: The average salary for a remote medical coder is $46,500 per year, according to Glassdoor. However, the pay can range from $37,000 to $59,000 per year, depending on your skill and experience.
How to Get Started: Medical coding is not a career one can start without training. To become a medical coder, you have to undergo specialized training and certification. However, it isn't a difficult certification to obtain. Through certain programs (like the Medical Billing and Coding Certificate program through Rasmussen University), you can get your certification in as little as nine months.
28. Insurance Claims Investigator
Most people dread having to make insurance claims. From the extensive questions to the circumstances that lead up to having to make a claim, it generally isn't a pleasant experience. However, you can make excellent money as an insurance claims investigator while also working to make the experience more pleasant for others.
As an insurance investigator, your main job is to investigate claims and make sure there's no evidence of fraud. Once you've done that, you'll be responsible for determining how much should be paid out for a claim.
Pay: In most areas of the United States, the average salary of an insurance claims investigator is around $57,500 per year, according to Glassdoor.
How to Get Started: Although no degree is necessary to be an insurance claims investigator, you can improve your odds of getting a job in the field by taking criminal justice or law courses. You can also bolster your resume by taking on other insurance-related jobs first.
---
Best Places to Find Work From Home Jobs
Work from home jobs can sometimes be difficult to find if you don't know where to look. Here are our best recommendations on where to find work from home jobs:
Job Boards
Job boards are some of the best places to find work from home jobs. Since remote careers are heavily internet reliant, you'll most often find remote opportunities on these types of sites.
Some of the best job boards to search for work from home jobs are:
Company Websites
An excellent and underutilized method of obtaining a remote job is to go directly to a company you want to work for and search their website for career opportunities.
With most companies, you'll find a tab near the very top or very bottom of the home page labeled "careers" or "job openings." Click this tab, and you'll be able to search the company's collection of opportunities. Then, just find a remote career and apply for it.
Oftentimes, you'll also find contact information on the site you can use to reach out to their recruiters. We highly recommend reaching out, as your application is much more likely to be chosen if you directly contact the recruiting team and introduce yourself.
Networking
Another great way to push your resume through and get hired for remote opportunities is to network yourself.
This strategy involves sending emails, calling, and using social media like LinkedIn to establish a reputation in the field you're looking to enter. In fact, LinkedIn is probably the most powerful networking tool available to you when it comes to your career (or potential career). In fact, about 87% of recruiters and hiring managers use LinkedIn to find candidates, according to Forbes.
If LinkedIn isn't your thing, though, don't worry. Referrals are just as effective as social media networking. Simply find someone who works in the company you're looking to land a job with, build a rapport with them, and ask for a referral to the hiring manager.
---
How to Avoid Data Entry Scams
Data entry is one of the most popular work from home opportunities for many reasons. First, it usually requires little to no prior skill or knowledge to get started, so anyone can do it. Then, of course, the work is easy and convenient to complete.
Unfortunately, the craze for data entry careers has opened up new opportunities for scammers to steal your money and personal information. Right now, there are more data entry scams out there than ever, so knowing how to stay safe is paramount to your success. Luckily, these types of scams are easy to avoid if you know what to watch out for.
Most of the time, you'll see the same general data entry scams when applying for remote jobs. You may even see those scams across industries outside of data entry as well, depending on how brazen the scammers are.
The biggest scam you'll find with data entry involves fake potential employers asking you for money to process your job application. This may come in the form of a request for an application fee, certification fee, or equipment fee. Keep in mind, however, that some jobs that require you to get certified (such as insurance sales) are legitimate, so these should be handled on a case-by-case basis.
Additionally, you should be wary of any jobs that advertise unrealistically high pay or unsolicited hiring offers. Ultimately, if it sounds too good to be true, it usually is.
Another common scam to watch out for is your "employer" sending you too much money. Often with fake data entry jobs, the hiring party will overpay you and have a process for you to complete to send the money back to them.
Most of the time, they do this by sending you a check. Once you've received it (or sometimes even before), the scammers will ask you to send back the overage to them. Once you do, the check will bounce, and you'll be out the entire amount.
It is also important to remember that scammers are creative. It is impossible to know all of the methods a scammer may use to farm your personal information or money. So, the most important thing is to rely on your gut. If something doesn't feel right, it is always better to pass up the job than to put yourself in a risky situation.
That said, there are some other tell-tale signs that indicate a scammer might be looking to take advantage of you. Look out for things like:
Job listings that don't advertise a company name or contact information
Job listings that have a company with zero employee or customer reviews
Job listings by companies with no BBB profile
Jobs that ask you to send your banking info over email
Jobs that ask you to pay an application fee or send copies of personal documents before employment has been confirmed
Unsolicited job offers
Unrealistically high pay
Being told you'll be paid by check
Being offered high pay for little to no work
Jobs that ask you to pay for training or certificates
That said, there are also some aspects of the remote application process that don't seem legitimate but actually are. As such, you shouldn't disqualify a job from your consideration just because these aspects are present. These are things like:
Being Asked to Pay For a Background Check
With many remote companies, it is normal to be asked to pay for your background check. This is because background checks cost the company money, so smaller companies seek to offset these costs by passing them on to you. This fee usually won't exceed $50, though.
Jobs That Require Your Social Security Number as Part of The Application
While giving out your social security number online seems like a risky thing to do, most applications require it in order to ensure you're a real person with eligibility to work in the country you're living in. Without it, the hiring party has no way of knowing who you are.
The best way to make sure you're giving out your social to a reputable company is to look at the website's URL where you're being asked to input your info. If it has a lock right before the URL, it's a safe bet. If it doesn't have a lock, it usually means that the site isn't secure, and you shouldn't provide sensitive information.
Being Asked to Pay For a Certification
This was on our red flags list as well, but there are some discerning factors to look out for in this situation to make sure you aren't disqualifying legitimate job opportunities.
For example, keep in mind the industry you're applying for. With data entry, it is very rare for certifications to be required for you to get a job. With something like medical coding, however, a certification will be required.
All in all, the biggest tell that it's a scam is who you're expected to pay the certification fee to. If the company is asking you to pay the fee directly to them, be wary. Usually, you'll pay the fee to the certifying entity.
---
FAQ Work From Home Jobs
We've scoured the web for the most frequently asked questions about work from home jobs, and here are our answers.
What Are The Highest Paying Work From Home Jobs?
The highest paying work from home jobs often involve having to earn a degree of some kind, however that is not always the case.
 
Out of the jobs listed in this article, the ones with the highest potential pay are YouTube video creation, video editors, freelance writers, and animators. Essentially, the more skilled it is, the more you stand to make. Additionally, keep in mind that freelancers routinely earn more than their company-employed counterparts. 
What Is The Best Work From Home Job?
There's no one answer for the best work from home job. This is because different people have different expectations for their ideal jobs.
To find the best job for you, you have to consider all aspects of the job you want to pursue. One of the best ways to do this is to get a sheet of paper and list the remote careers you're considering. Then, create a pros and cons list for each one.
As you jot down your thoughts on each career, keep in mind your earning potential, your personal interest in that particular job, and the skills you're required to have to excel. This will help you figure out what career is most ideal for you.
How Do I Work From Home For Amazon?
There are many ways to work from home for Amazon, depending on the level of time and monetary investment you're okay with. For example, you can work from home as an Amazon seller by using Amazon KDP (Kindle Direct Publishing) or by dropshipping products.
 
Furthermore, you can also work from home directly for Amazon using programs like Amazon MTurk. MTurk is an Amazon program where you can be hired to perform small tasks in exchange for small amounts of pay. Performing enough of these tasks can earn you a decent daily sum.
How Can I Find Work From Home Jobs?
The best way to find work from home jobs is to read this article and select a few options that appeal to you. Then, you can use job marketplaces like Indeed or Glassdoor to search for remote job opportunities in those fields. 
Alternatively, you can go to online job boards like Remotely or NoDesk that exclusively house remote opportunities and apply for whatever jobs catch your interest.
Are Work From Home Jobs Legitimate?
While work from home opportunities can be a major target for scams, most work from home jobs are completely legitimate. In fact, many represent excellent opportunities to find new career paths, take control of your own schedule, and spend more time with your family.
---
Final Thoughts
If you're ready to give working from home a try, there are tons of remote opportunities out there for you to try. And with the pandemic still influencing people to stay home, there are more remote opportunities out there than ever as businesses are forced to adapt to the changing times.
However, keep in mind that remote work does have pros and cons, and it isn't for everyone. Some people love the freedom and independence it brings them. It allows you to spend more time with your family without sacrificing your earning potential. For others, however, it makes them feel too isolated to enjoy.
Before you get started seeking out remote jobs, take into account your lifestyle and whether being a remote worker is right for you. And if you find that it is, this article should serve as an excellent starting point to help you find something that piques your interest.
Up Next
Get our free Side Hustle Handbook with the best strategies to multiply your income sources today.
Plus our best money tips delivered straight to your inbox.

Christa is a skilled researcher and serial entrepreneur. Her passion lies in providing people like you with ways to become financially independent without breaking the bank in the process. Currently, she's tested and perfected over 37 unique side hustles and brings that information to you through articles like these.