Many or all of the products featured on this page are from our sponsors who compensate us. This may influence which products we write about and where and how the product appears on a page. However, this does not influence our evaluations. Our opinions are our own. Here is a list of our partners and here is how we make money.
The information provided on this page is for educational purposes only. The Modest Wallet is a financial publisher that does not offer any personal financial advice or advocate the purchase or sale of any security or investment for any specific individual.
The eCommerce economy has been consistently growing by over 4% per year. This growth is forecasted to continue for at least the next few years. If you're an avid online shopper, this probably doesn't surprise you.
No matter what you're looking to buy, you can probably find it online. In fact, you can probably find many versions of the same product. But the same products can be listed with different names and different prices on different sites. So how can a budget-conscious shopper tackle locating what they want, and finding it at a competitive price?
You can always just shop around and compare prices on different sites. But it's not easy to ensure that you're getting the best deal you can find online.
In this Capital One Shopping review, we will go over one exciting solution that can help you find what you're looking for at the right price.
Disclosure — Capital One Shopping compensates us when you get the browser extension using the links provided.
What is Capital One Shopping?
Capital One Shopping, formerly Wikibuy, is a browser extension that helps you find better deals when shopping online. It does this by comparing thousands of online retailers and all the listings for specific products on them.
Many people just rely on Amazon for their online shopping needs. While Amazon offers a lot of conveniences, they don't always offer the best prices. Imagine you're shopping for a new guitar on Amazon and you find the one you like. How would you know whether Amazon has listed it with the best price you'll find for that exact guitar? Or on the whole web?
Capital One Shopping can help you find a better deal for that guitar by:
Comparing price differences between Amazon sellers
Comparing Amazon's cost with the costs of other online retailers selling that guitar
Setting price drop alerts
Finding incredible deals
A universal product search that checks through all online retailers
Finding coupon codes that could save you some more money
The thing is that you could, of course, do most of these things on your own. But that would take you all day. And you'd have to take those steps every time you want to make an online purchase. Even finding the best coupon codes can involve a serious search. Capital One Shopping helps you by doing all the homework for you in a short space of time.
Capital One Shopping isn't the only app and extension meant to help online shoppers financially, so this Capital One Shopping review will explain some of the interesting little details that set Capital One Shopping apart from its competition.
See Also: 13 Legit Ways to Get Free Cable TV (and Cheap Alternatives)
How Does Capital One Shopping Work?
Capital One Shopping is easy to use. It works simply and quickly. You just have to follow these steps:
Step One: Sign Up for Capital One Shopping
First, you just need to sign up for a Capital One Shopping account.
Capital One Shopping is free to sign up for, and its core services are free. The application process is very fast and simple.
There is one small drawback to Capital One Shopping's free service. Capital One Shopping works by tracking your online shopping and using that data to help other users. If this is something you are concern about, and think is a violation of your privacy, Capital One Shopping might not be a good fit for you.
Step Two: Enter Your Name and Shipping Info
Capital One Shopping effectively acts as an intermediary between you and the world of online retail, so you will have to give them your name and shipping information.
Step Three: Download the Browser Extension
To use Capital One Shopping's services while browsing online, you'll need to download their browser extension. This step is easy to complete, and you can download the extension from the Chrome Web Store.
Step Four: Search for Products
Once you have the Capital One Shopping browser extension set up, you can start browsing. Using Capital One Shopping's search function, you can shop for precise items and/or comparable items. You can adjust search settings to include:
Variables like color and size, etc.
Total price, including surcharges and taxes
Pricing history
Return policies
Delivery arrival estimates
Related products discoverable on Capital One Shopping
Review and rating restrictions
You can use these settings to control the scope of your search. You can simply try to find the cheapest online retailer for one product. Or, you can find the cheapest blue T-shirt being sold anywhere on the internet. It's up to you.
See Also: 15 Smart Financial Goals Everyone Should Have in 2020
Step Five: Make Your Purchases
After you've found the products you're looking for, you can start buying.
How Can You Save Money with Capital One Shopping?
So far, we've gone over the basics of what Capital One Shopping has to offer. Let's look at Capital One Shopping's specific tools that enable you to save money.
Universal Product Search
Capital One Shopping's Universal Product Search helps you find incredible deals at amazing prices for a number of products. The search crawls on the Web, while also using the input of other Capital One Shopping users. If one user finds a lower price on a product, the information can be automatically made available to all other users. This is how the Universal Product Search improves over time.
Amazon Comparison Tool
While you're shopping on Amazon, Capital One Shopping will instantly check hundreds of other sellers. It will check other sellers while also searching for all available coupons that could get you a better price.
This process continues in the background while you're reading about products you're interested in. When Capital One Shopping finds a better rate on a product you're looking at, you'll get a pop-up notification in the lower left-hand corner of your screen. The notification will include:
The final price
Shipping details
Tax breakdown
Delivery date
When you're ready to finalize your purchase, you can then checkout on Amazon through Capital One Shopping and get $15 off, even if there are complications with your order.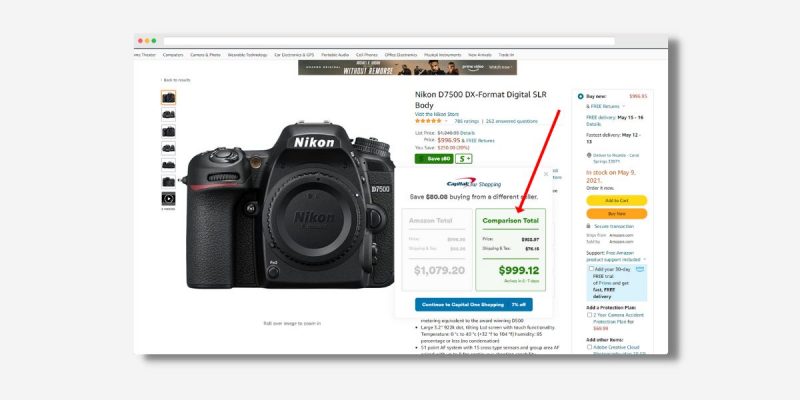 Featured Offers
Capital One Shopping has a featured offers section to highlight some great deals you can get from a number of brands and retailers.
Trending Deals
The Trending Deals section also highlights some big opportunities where you can save some money at top stores and retailers. These opportunities include coupons and other rewards that can help you save a few bucks here and there.
Watch List Price Drop Alert
Prices are always changing. If you don't like the current lowest prices available for any given product, you can just wait for prices to drop. You can make the wait easy by using Capital One Shopping's price drop alert feature.
After you set a price drop alert, you can forget about that product for a while. Capital One Shopping will notify you if the price drops.
See Also: What Are Dave Ramsey's Baby Steps, and Do They Work?
Automated Coupon Codes
Capital One Shopping is always searching for coupon codes you can use. If you're shopping at one of their participating retailers, Capital One Shopping will send you a pop-up notification when the app/browser extension detects a coupon field.
Capital One Shopping Credits
When you shop for products at Capital One Shopping-partnered stores, you gain Capital One Shopping credits. When you're shopping, you'll get a pop-up through your Capital One Shopping browser extension. When you click the "OK" button, your account will be credited. You can view your account balance and spend credits at any time.
Capital One Shopping credits can be used to purchase gift cards from Capital One Shopping.
Tips to Save the Most Money
Saving money with Capital One Shopping is easy, and the app and extension are free. For greater savings, take advantage of as many of their services as possible.
Using the Capital One Shopping browser extension is easy. Just make sure you always have it turned on. You can search for products directly through Capital One Shopping. That way, it can help you find amazing deals and save some money. Just make sure to use your Capital One Shopping credits strategically to maximize your savings.
Is Capital One Shopping Legit?
Yes, Capital One Shopping is a legitimate company. They are accredited by the Better Business Bureau and have no history of complaints on the BBB platform. And on Trustpilot, there is an extensive history of user reviews. The majority of those user reviews are positive, leading to an average score of 4.7 out of 5 as of this writing.
Capital One Shopping's services are free, so they don't have an incentive to defraud customers. However, they do have an incentive to engage in other activities that some users may find problematic.
While Capital One Shopping does save you money, some customers allege that the platform doesn't necessarily match people with the best prices. Instead, Capital One Shopping seems to favor certain retailers, like eBay. This means they might not always live up to their promise of finding you the lowest price.
Capital One Shopping Security And Trust
Capital One Shopping does monitor the products your view and purchase on e-commerce sites in order to notify you when potential savings are available for the products across various retailers. This also allows other users to get the latest prices available for products they have also viewed and purchased.
Capital One Shopping also monitors successful coupon codes found by Capital One Shoppers, which are then shared and contribute to finding savings for other shoppers.
What About Customer Service?
Capital One Shopping hosts a customer support platform. You can use their self-help portal to solve any minor issues you have while using their platform. If the self-help portal can't fix the issues you're having, you can submit a customer support request.
You can also request support directly with an email to help@capitaloneshopping.com.
See Also: How to Get Rich The Right Way: A Legitimate Strategy
How Much Money Can I Save with Capital One Shopping?
We can't tell you exactly how much you'll save by using Capital One Shopping. But as the platform continues to develop and becomes more comprehensive, it should be able to help you save more money on more products.
For now, the savings you can get with Capital One Shopping will depend on the items you're looking to buy. Capital One Shopping will be able to find you a cheaper deal in most cases. Regular use of Capital One Shopping for your shopping purposes will help you save more substantial amounts of money over time.
Who is Capital One Shopping Best For?
Capital One Shopping is great for anyone who shops online. Even if you seldom buy products online, you can benefit from the free and convenient services Capital One Shopping offers. There is no major downside. That doesn't mean that Capital One Shopping is always the best option for online shopping. But it does offer a straightforward and simple service that saves online shoppers money.
Capital One Shopping Alternatives
Capital One Shopping isn't the only service of its kind available online. Some customers have become upset at some of the downsides of Capital One Shopping, and we can recommend that you also consider some of their competitors before you decide which service to use.
Swagbucks
Swagbucks helps you save money when shopping online by:
Rewarding you with redeemable points when shopping online
Gift cards for the biggest platforms like Amazon and Walmart
Using Swagbucks is as simple as Capital One Shopping, and uses a similar search engine. But Swagbucks also offers other ways to get points, such as quick surveys. Swagbucks also has many other features like:
A trade-in program
Daily polls
Special offers which reward you with more points.
To learn more about their features, check out our Swagbucks review.
Rakuten
Rakuten is a platform that gives you bonuses for your normal shopping activities. The service helps their users find:
Cash back deals
Coupons
Promo codes
Rakuten works alongside 2,500 stores that are ready to offer shoppers savings every day. It's a simple service that serves as another alternative to Capital One Shopping.
To learn more about their features, check out our Rakuten review.
Honey
Honey is another extension very similar to Capital One Shopping. But unlike Capital One Shopping, their plugin is available on Chrome and the following browsers: 
Safari
Firefox
Opera
Microsoft Edge
Their "Gold Rewards Program" lets you save up points from using Honey while you shop. Those points can be redeemed for gift cards at many big retailers.
Check out our full Honey review to learn more.
Searches thousands of merchants and helps you find incredible deals
Earn credit for purchases on popular sites like Walmart and eBay
Setup price drop alerts for products you've viewed or purchased

Capital One Shopping codes are updated in real-time and applied automatically at checkout
Capital One Shopping Pros
Free to sign up for and use
Easy to use
Works in the background, allowing you to continue browsing as usual
Saves you time and money, at no cost, and with minimal effort
Capital One Shopping Cons
Seems to favor some platforms over others, despite longer shipping times for products
Mobile app needs some usability improvements
Takes longer to buy through Capital One Shopping than it does to purchase directly from the retailer
FAQ Capital One Shopping Review
We've found some of the most frequently asked questions with regards to the Capital One Shopping extension, here are our answers.
What are Shopping Credits in Capital One Shopping?
You can earn Shopping Credits when you shop in one of Capital One Shopping's partner stores (i.e. Walmart, eBay, and more) and you click on the "ok" button when prompted through the extension. Your Shopping Credits can be redeemed for gift cards and you can always see your balance in your profile.
What Countries Does Capital One Shopping Work In?
At the moment, Capital One Shopping only finds savings for United States addresses (zip codes), however there are plans to expand to other countries and regions.
Is Capital One Shopping Safe to Use?
Yes, Capital One Shopping is safe and secure. However, Capital One Shopping does monitor the products you view and purchase on eCommerce sites in order to notify you when savings and good deals are available for those products across various retailers. They also use this data to notify other users of the latest prices available for the products they have viewed and purchased.
How Can I Uninstall Capital One Shopping?
If you would still like to uninstall Capital One Shopping, follow these steps:
Google Chrome:
Right-click the Capital One Shopping button located at the top-right corner of your Chrome browser window.
Select "Manage Extensions".
Click "Remove extension" at the bottom of the screen to delete Capital One Shopping.
Mozilla Firefox:
Click the icon on the top-right of the browser.
Select "Add-ons" and click "Extensions" from the list on the left.
Click "Remove".
Safari:
Open Safari.
Click the "Safari" button on the taskbar at the top of your Mac's screen, then click Preferences from the Safari menu.
Once the Preferences menu is open, click the Extensions tab.
Click the Capital One Shopping extension from the list.
Click the Uninstall button.
Microsoft Edge:
Open Microsoft Edge.
Select More (…) to open the menu.
Select Extensions from the menu.
Right-click the extension you want to remove and select "Remove", or select the extension and click the "Remove" button.
Why Did Wikibuy Become Capital One Shopping?
Wikibuy was acquired by Capital One in 2018. The company decided to rebrand the extension to align more closely with its parent company. The features and functionality remain the same, they just basically changed the logo and colors.
Final Thoughts
Capital One Shopping is a simple and easy service to use when shopping online. It offers you limitless opportunities to save money online.
While Capital One Shopping's use is easy to understand, it's also easy to understand why some users are unhappy with their lack of transparency. Favoritism for certain stores isn't uncommon in apps like this. But it's never appreciated when a company promises "the best," then settles for less to please their partners instead of their users.
Despite Capital One Shopping's issues, the app and browser extension have a happy and loyal user base. That makes sense because Capital One Shopping is a free service that saves you a lot of money. For that fact alone, it's worth considering if you're concerned that you're spending too much on your online shopping.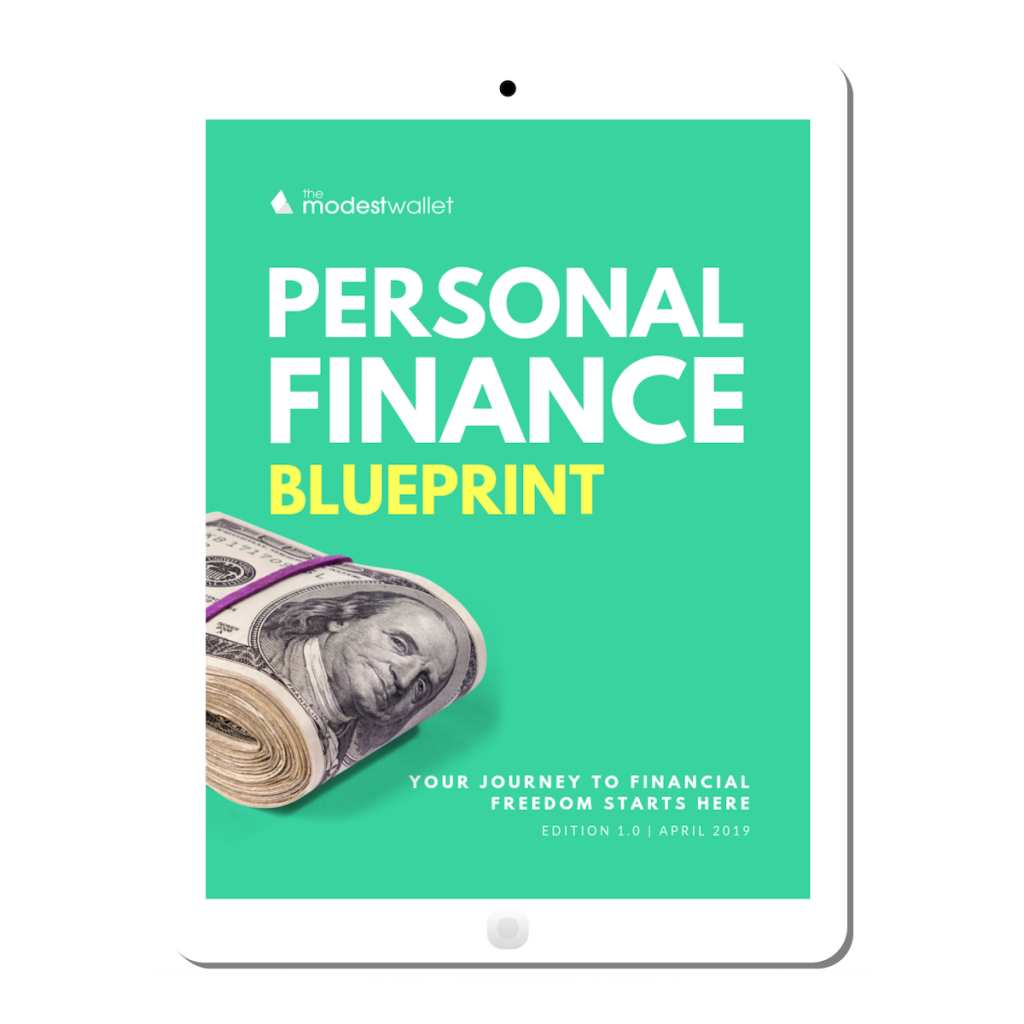 Get our free Personal Finance Blueprint to learn everything you need to know to build wealth.
Plus our best money tips delivered straight to your inbox.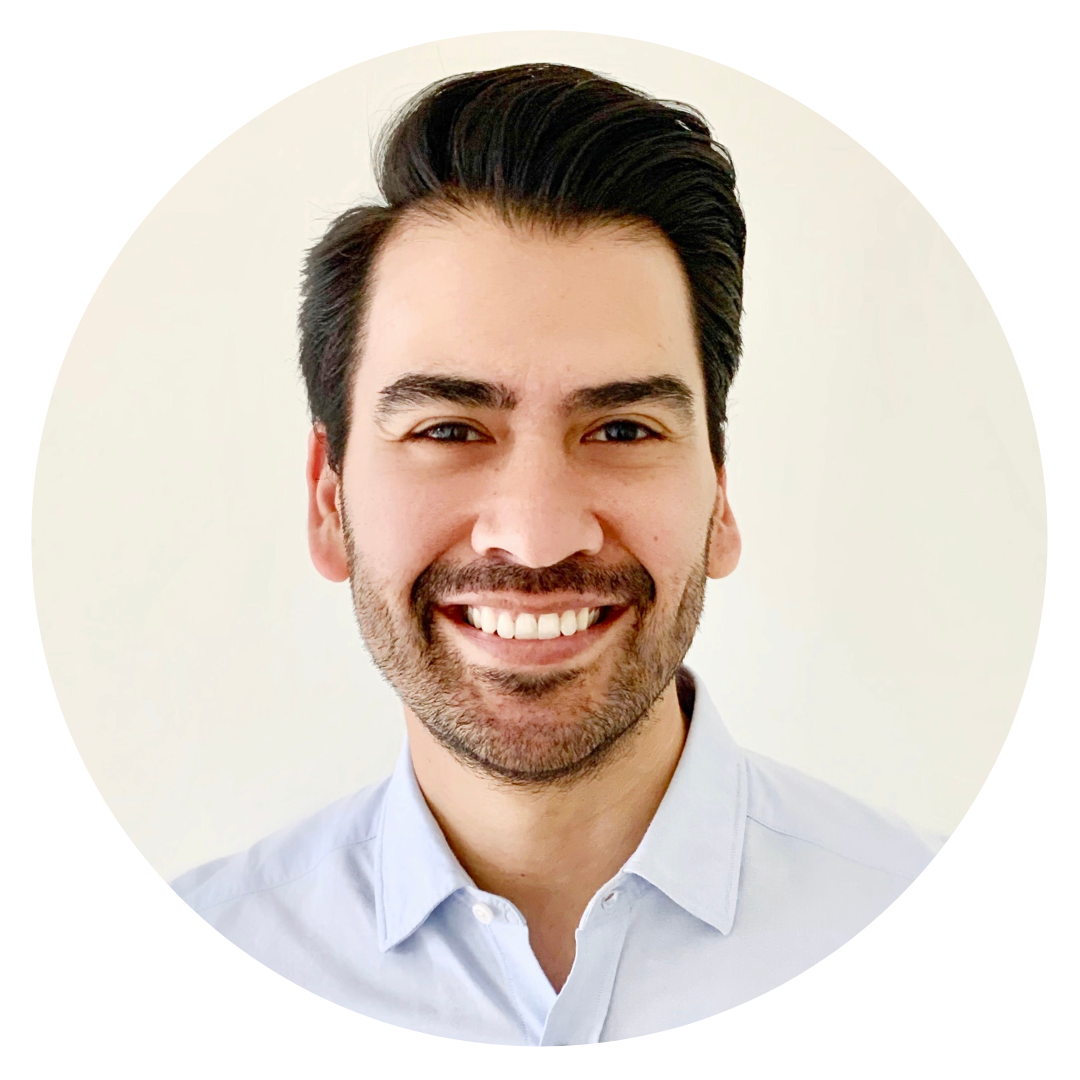 Ricardo is an entrepreneur, investor and personal finance nerd who enjoys spending time with his family and friends, travelling and helping others achieve their financial goals. Ricardo has been quoted as a personal finance expert in several online publications including Healthline, Bankrate, GOBankingRates, MSN Money, Yahoo Finance, U.S. News & World Report, Forbes and USA Today.