12 Best Stock Picking Services in 2023
Subscribing to a reliable stock picking service can be a great way to narrow down potential investment opportunities.

Reviewed By

Hannah Whatley

Let's face it: Picking stocks to add to your portfolio isn't easy.
Sifting your way through a mountain of technical data and financial information in order to choose assets to invest in is enough to make anyone's head spin. Thankfully, there's a solution to your market research woes: a stock picking service.
A quality stock picking service can simplify the research process by giving you direct recommendations of what to invest in or empowering you with the tools you need to select assets on your own.
But what service should you use for your stock picking needs, you might ask?
In this article, we're going to review the best stock picking services on the market today. We'll discuss what makes each platform unique and what features they provide so you can get the resources you need to streamline your investing strategy.
TL;DR
---
What Is a Stock Picking Service?
The term "stock picking service" generally refers to a subscription plan that offers investors recommendations and tools to help them decide what stocks to buy.
The idea behind these services is that they do the work for you when it comes to market research and technical analysis. This doesn't mean that you should always buy everything that a stock picking service recommends as you should always do a bit of research into your potential investments.
But using one of these services can save you a lot of time and hassle, whether you're a first-time investor that's looking for guidance or a seasoned pro that's simply short on time.
---
How Do Stock Picking Services Work?
Every stock picking service is different, though most require that you pay for either a recurring newsletter subscription or access to a research dashboard.
For example, with some of these services, you get monthly or bi-monthly newsletters that feature analyst-recommended stock picks. Other companies offer online dashboards where you can check out proprietary analysis metrics, top-rated stock picks, stock screeners, and even powerful charting tools that you can use to find your next investment.
---
Best Stock Picking Services
Finding the right stock picking service for your needs is no easy feat. Up next, we'll highlight the top stock-picking services available to help you find the one that's best for you.
1. Motley Fool Stock Advisor: Best for First-Time Investors
Stock Advisor is the flagship service from The Motley Fool, an investment advice company. It offers a simple, relatively affordable, and easy-to-use newsletter that delivers new stock picks right to your inbox, so it's a great option for first-time investors.
How Motley Fool Stock Advisor Works
Motley Fool Stock Advisor operates on a classic subscription-based model. Subscribers to Stock Advisor get access to the company's online dashboard as well as two new stock picks that are delivered via email two times each month.
Subscribers can also view the company's list of its 10 best stock buys now, its complete list of previous investment picks, and a list of starter stocks. Motley Fool even provides subscribers with an online investing community and access to educational resources. Read our full Motley Fool review to learn more.
Motley Fool Stock Advisor Pricing
A subscription to Stock Advisor costs $199 each year. These subscription fees are payable on an annual basis.
Who Is Stock Advisor Best For?
Stock Advisor is best for first-time investors who want simple and streamlined trading advice. We like Stock Advisor for new investors because the company provides clear information as to why they've chosen a specific stock. Stock Advisor also comes with great educational content, which is helpful if you're just getting started with your investing career.
2. Motley Fool Rule Breakers: Best for Growth-Oriented Traders
Rule Breakers is another great subscription-based stock picking service from The Motley Fool that operates in much the same way as Stock Advisor. However, it focuses specifically on stocks that have the highest potential for future growth.
How Motley Fool Rule Breakers Works
Motley Fool Rule Breakers operates on a subscription model that provides you with access to both an online dashboard and alerts for two new high-growth stock picks via email each month.
Additionally, Motley Fool provides new Rule Breakers subscribers with a list of its five best buys now, which are chosen from a list of 200 high-growth equities, as well as a list of starter stocks. Subscribers to Rule Breakers also get a plethora of educational resources and detailed information behind each stock pick.
Motley Fool Rule Breakers Pricing
Rule Breakers costs $299 per year. This subscription fee is payable once per year as there's currently no option for a monthly payment plan.
Who Is Rule Breakers Best For?
Rule Breakers is best for long-term investors who are okay with taking on a bit of extra risk in exchange for some potentially incredible growth. This makes it ideal for more experienced investors who already have a diversified portfolio but who are also looking to expand into more growth-oriented investments.
3. Motley Fool Everlasting Stocks: Best for Exclusive Stock Picks
Everlasting Stocks is an exclusive service from The Motley Fool that clues you in to the trading strategies of Tom Gardner, one of the company's founders. It offers two new stock picks every month as well as insight directly from Tom as to why he chose each of his investment recommendations.
How Motley Fool Everlasting Stocks Works
Everlasting Stocks operates primarily as a newsletter-based service. You'll get a monthly newsletter that includes detailed information about Tom's two hand-selected stock picks.
Everlasting Stocks subscribers can also see all of Tom's previous stock picks, regardless of when they sign up for the service. An Everlasting Stocks subscription also comes with exclusive educational resources.
Motley Fool Everlasting Stocks Pricing
Motley Fool's Everlasting Stocks costs $299 per year. As is the case with most of the company's subscriptions, this fee is payable on an annual basis as monthly plans aren't available.
Who Is Everlasting Stocks Best For?
Everlasting Stocks is unique for Motley Fool in that it's not designed with a specific type of investor in mind. Rather the appeal of the service is that it offers exclusive stock picks from Tom Gardner that you just can't get anywhere else. As a result, it's a nice choice for investors who already have a diversified portfolio but who want something that will give them an edge over the market.
4. Seeking Alpha: Best for Do-It-Yourself Market Research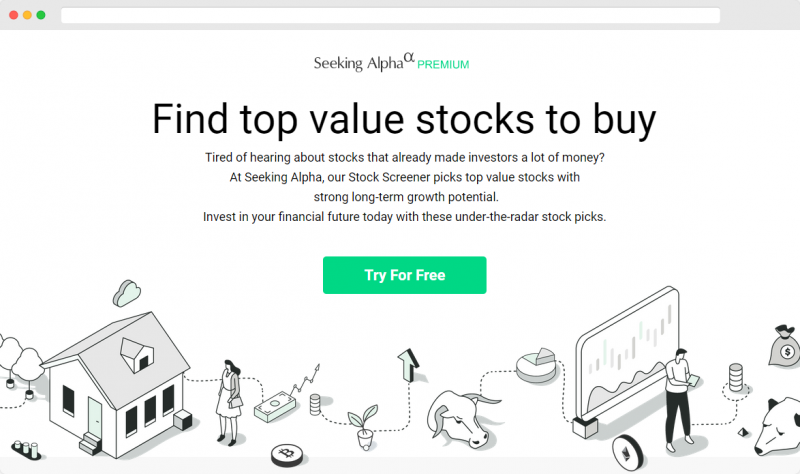 Seeking Alpha is an innovative stock screening platform that gives you the tools you need to do your own market research. The company doesn't tell you exactly what stocks to buy at any given time, but it offers many features, including proprietary stock ranking systems, to help you find the best investments for your needs.
How Seeking Alpha Works
Subscribers to Seeking Alpha get to use the company's investing research dashboard. This dashboard offers a variety of ways to find your next stock picks, including:
Articles from independent analysts
Top-rated stock lists
Stock screening and comparison tools
Proprietary stock ratings & grades
Stock financial information
Videos, newsletters, and podcasts
Seeking Alpha also includes a portfolio management tool so you can keep track of all your brokerage accounts. Read our full Seeking Alpha review to learn more.
Seeking Alpha Pricing
Seeking Alpha currently offers three pricing plans:
Basic: Free
Premium: $29.99/month (monthly payments) or $19.99/month (annual payments)
Pro: $299.99/month (monthly payments) or $199.99/month (annual payments)
If you're serious about getting stock-picking advice and access to Seeking Alpha's proprietary stock rankings, you'll need either a Premium or Pro plan. The main advantage of a Pro plan is that it comes with an exclusive investing ideas screener and bonus stock investing suggestions.
Who Is Seeking Alpha Best For?
Since Seeking Alpha offers market research and stock screening tools, rather than clear-cut stock picks, it's best for investors who enjoy picking their own stocks. The company's diversity of features and its exclusive stock rankings mean that it's a great one-stop-shop for investors who are okay with doing a bit of research.
5. Trade Ideas: Best for AI-Powered Technical Analysis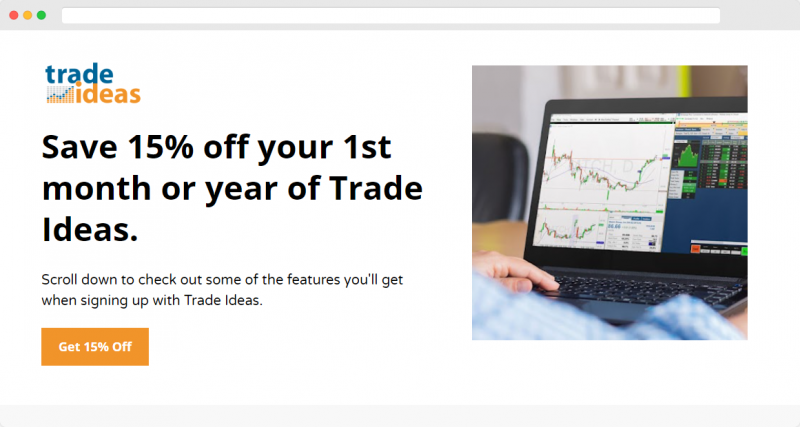 Trade Ideas is a technical analysis, stock screener, and charting platform that's designed specifically for advanced investors. It provides you with the tools you need to select your next trades while also giving you the power of artificial intelligence (AI) to help you make smarter investing decisions.
How Trade Ideas Works
Trade Ideas is similar to Seeking Alpha in that it doesn't give subscribers a list of stocks that you should add to your portfolio. Rather, it gives traders the tools they need to perform complex technical analysis.
With Trade Ideas, you get access to cutting-edge charting tools that include AI-powered entry and exit signals, as well as simulated trading, price alerts, stock screeners, and customizable watchlists. Trade Ideas' best feature is its AI-powered analysis assistant, Holly, who can help you harness the power of machine learning to improve your trading strategies. Read our full Trade Ideas review to learn more.
Trade Ideas Pricing
Investors with Trade Ideas can choose between two subscription plans:
Standard: $118/month (monthly payments) or $84/month (annual payments)
Premium: $228/month (monthly payments) or $167/month (annual payments)
The main difference between these plans is that Premium includes extra features, such as Holly's AI-powered analysis, backtesting, and suggested entry and exit signals.
Who Is Trade Ideas Best For?
Trade Ideas is best for experienced traders who want advanced AI-driven technical analysis tools. While you won't get any specific stock recommendations from Trade Ideas, you will get AI-powered trading advice as well as a powerful stock screener and charting platform. This makes Trade Ideas a solid option for the more technically-minded investors among us.
6. Mindful Trader: Best for Swing Traders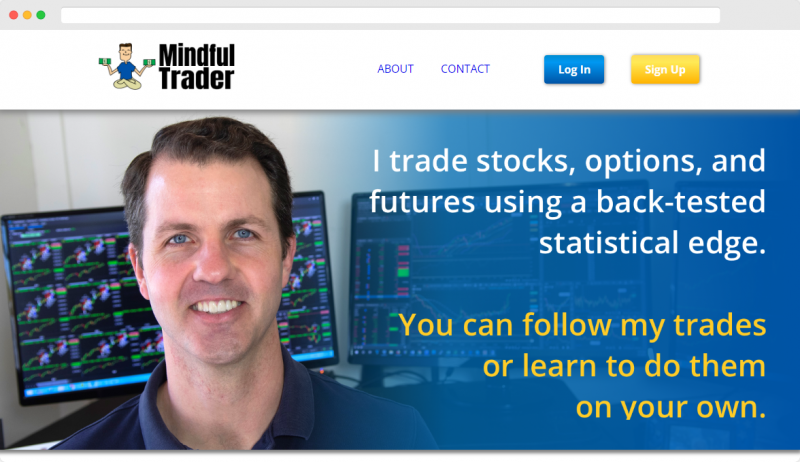 Mindful Trader is a stock picking service that was founded by Eric Ferguson, a swing trading enthusiast. With Mindful Trader, investors get access to alerts for easily replicable and pre-analyzed trades that they simply need to execute in their brokerage account.
How Mindful Trader Works
Like most stock picking services, Mindful Trader is subscription-based. Once you sign up for a Mindful Trader account, you'll start getting alerts for an average of six to eight trades per week that Eric recommends based on his statistical and technical analysis. Each alert provides very clear guidance on what stocks to buy and what your entry and exit positions should be.
In addition to these alerts, subscribers get access to other features, including detailed insight into Eric's trading strategies and the background behind each of his trading decisions.
Mindful Trader Pricing
A subscription to Mindful Trader costs $47 per month, payable on a monthly basis. You can also cancel your subscription to Mindful Trader at any time.
Who Is Mindful Trader Best For?
Mindful Trader is best for people who want to take advantage of the potential gains that come with swing trading but who don't have the time, interest, or expertise necessary to pick their own trades. Eric, the analyst behind Mindful Trading, provides clear-cut instructions on what trades to place, so it's a great option for investors who want straightforward trading guidance.
7. Zacks Investment Research: Best for Long-Term & Data-Driven Investors
Zacks Investment Research is the market analysis firm that operates alongside the Zacks Trade brokerage. With a Zacks Investment Research account, investors can use the company's industry-leading analyst reports, proprietary asset ranking systems, and stock screeners to find their next profitable trading opportunity.
How Zacks Investment Research Works
Access to Zacks Investment Research is by subscription only (note that you don't need a Zacks Trade brokerage account to sign up). Once you subscribe to the platform, you'll get log-in credentials for your personal dashboard where you can read financial news articles and analyst research reports.
On your Zacks dashboard, you can also use a slew of market research tools, such as a powerful stock screener and customizable charts. Zacks also provides all of its subscribers with access to its data-driven Zacks Rank lists, which give you information about high-potential stocks, mutual funds, and ETFs to help streamline your investing process.
Zacks Investment Research Pricing
As of the time of writing, Zacks offers the following membership plans:
Zacks Free: Free
Zacks Premium: $249 per year
Zacks Ultimate: $2,995 per year
Note that a Zacks Free account only gets you access to certain free articles, newsletters, and basic market research tools. For proprietary Zacks stock rankings, screeners, and research reports, you'll need at least a Premium account. Zacks Ultimate comes with additional features such as exclusive commentary on stocks from professional analysts.
Who Is Zacks Investment Research Best For?
Zacks Investment Research is best for long-term investors and anyone who likes to back up their trades with lots of market data. The company's proprietary stock lists and screeners are both powerful and easy to use, so they're great for new and experienced traders alike.
8. Pilot Trading: Best for Real-Time Market Updates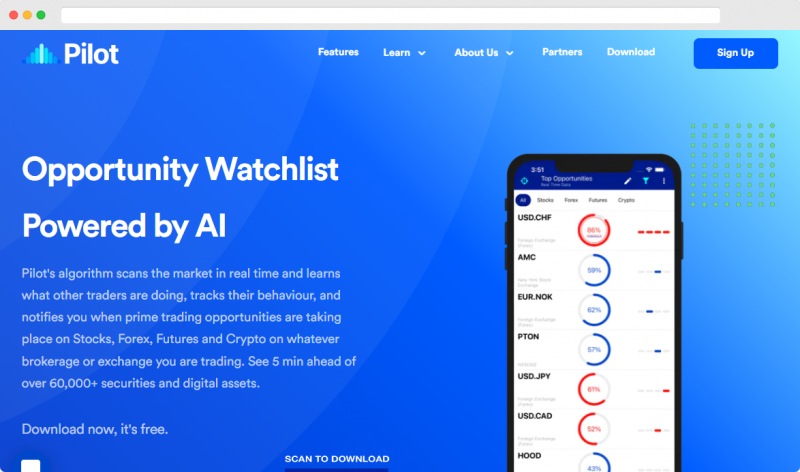 Pilot Trading is a mobile app that uses algorithms to suggest high-growth-potential stock, futures, forex, and crypto trades. The app serves as a blend between a traditional stock picker and a market research platform by offering customized trading guidance based on the stocks, crypto, and other assets in your pre-set watchlists.
How Pilot Trading Works
To use Pilot Trading, you first need to make an account and download the company's app. From there, you'll create watchlists for the stocks, forex, futures, and crypto of your choice. As soon as your watchlists are live, Pilot Trading's algorithms will constantly scan the markets and will provide you with real-time alerts whenever it suggests a trade.
Pilot Trading also offers a number of other features, including paper trading. Depending on your chosen subscription plan, you can also link your brokerage account to Pilot Trading so you can execute trades directly in the app.
Pilot Trading Pricing
Investors can choose between two different paid pricing plans for Pilot Trading:
Free: basic features
Pro: $19.99 per month
Pro+: $29.99
The main difference between Pro and Pro+ is that Pro+ offers support for in-app trading if you connect your brokerage account. Pilot Trading also offers a free plan, but this only provides paper trading and historical data simulation, not real-time market alerts.
Who Is Pilot Trading Best For?
Since Pilot Trading operates primarily by scanning your watchlists, it's best for traders who have a good idea of what they want to invest in but who need help perfecting their entry and exit strategies. The app's real-time alerts are excellent, too, so it's a nice option for people who don't have time to watch the markets all day long.
9. Investors Underground: Best for New Day Traders
A self-proclaimed community for day traders, Investors Underground is a service that specializes in helping new investors become confident at short-term trading. It offers a plethora of features, including dedicated chat rooms, curated stock watchlists, and real-time trade alerts to help you improve your investing strategies.
How Investors Underground Works
Once you sign up for an Investors Underground subscription, you can log in to the company's online dashboard and trading community. In your dashboard, you'll have access to Investors Underground's top stocks watchlists, which are posted each night and include detailed rationales, charts, and game plans for each suggested asset to help you plan your trades.
Subscribers to the platform also get to participate in the company's chat rooms. Additionally, Investors Underground offers a comprehensive video lesson library, monthly webinars, and exclusive educational courses to help you learn more about the art of market analysis.
Investors Underground Pricing
A subscription to Investors Underground costs $297 per month when you pay monthly. You can save on your subscription fees by paying quarterly ($697 per quarter) or annually ($1,897 per year).
Who Is Investors Underground Best For?
Investors Underground is designed specifically for day traders as it provides nightly watchlists for specific stocks that the company thinks will perform well the following day. The platform is also a great option for new day traders as it provides a truly impressive amount of educational content and support options to help you improve your investing strategies.
10. Tim Alerts: Best for Penny Stocks
Tim Alerts is the stock picking service created and managed by Timothy Sykes, an avid trader who specializes in penny stocks. The point of Tim Alerts is to teach investors how to make money off of low-cost securities through the use of perfectly timed trades.
How Tim Alerts Works
The stock picking service from Tim Alerts operates on a subscription-based model. Regardless of which subscription plan you sign up for, all investors get Tim's daily newsletters, which come with his selection of top penny stocks for the day. You can also opt into email and SMS alerts if you want real-time trade notifications, or you can join the Tims Alerts chat rooms.
Subscribers who sign up for the Tim Alerts Pennystocking Silver plan can also watch Tim's weekly penny stock trading video lessons. Pennystocking Silver subscribers also get to use Tim's video library, which features more than 7,000 educational investing videos.
Tim Alerts Pricing
Traders can choose between two subscription plans for Tim Alerts:
Tim's Alerts: $74.95/month (monthly payments) or $697/year (annual payments)
Pennystocking Silver: $149.95/month (monthly payments) or $1,297/year (annual payments)
Tim's Alerts is the company's basic subscription plan as it offers daily stock watchlists, trade alerts, and chat room access. If you also want to use the firm's video lesson library and watch Tim's weekly video lessons, you'll need a Pennystocking Silver subscription.
Who Is Tim Alerts Best For?
Tim's Alerts is pretty clear about who its services are for—aspiring penny stock traders. The platform offers detailed guidance on how to get started with penny stocks and it offers clear trading suggestions. This makes it a nice choice for traders who are just breaking into the world of penny stocks and who want some guidance to help them get started.
11. Morningstar: Best for Mutual Funds Investing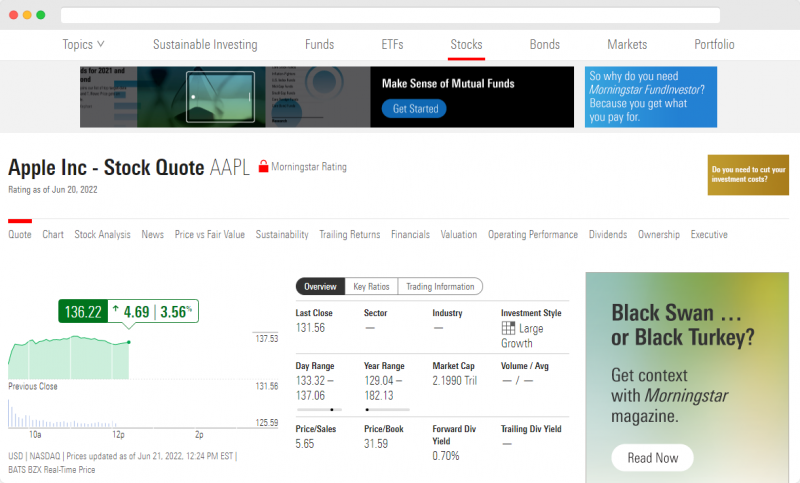 Morningstar is an industry-leading market research platform that offers a range of services, including a premium subscription package. With this subscription, you can access a suite of investing-related features, such as high-end stock screeners and analyst opinions on thousands of assets, including mutual funds, stocks, and ETFs.
How Morningstar Works
Morningstar Premium subscribers get to use the company's exclusive market research dashboard. From here, you can take advantage of a slew of features, including top investment pick lists, stock and mutual fund screeners, and fund comparison tools.
What really sets Morningstar apart is its selection of professional analysis resources. Morningstar gives subscribers insight into its proprietary ratings for individual funds and stocks, too, and it provides analyst reports to help you decide if a given mutual fund is right for your portfolio. Read our full Morningstar review to learn more.
Morningstar Pricing
A subscription to Morningstar Premium costs $249 per year if you pay annually or $34.95 per month if you pay monthly ($419 annually).
Who Is Morningstar Best For?
Morningstar's market research tools can benefit a wide range of investors, though it's particularly powerful for people interested in long-term mutual funds investing. The company is an industry leader in mutual funds analysis, and its proprietary analyst rating systems and reports are truly second to none.
12. Warrior Trading: Best for Day Trading Education & Mentorship
The brainchild of experienced investor Ross Cameron, Warrior Trading is a comprehensive platform for all things day trading. Warrior Trading focuses primarily on day trading education through its highly rated online courses and mentorship packages, and it also offers trading tools like a chat room and stock scanners.
How Warrior Trading Works
Warrior Trading offers a handful of free courses to traders, but most of its content and tools are available via subscription only. If you have a subscription, you can work your way through premium online trading courses at your own pace and use additional tools like powerful stock scanners, live chat rooms, and paper-trading simulators.
Additionally, Warrior Pro subscribers can take part in the company's live group mentorship sessions for more personalized trading education. While Warrior Trading doesn't necessarily provide you with specific trades to replicate, it gives you the tools you need to become a more knowledgeable and self-sufficient day trader.
Warrior Trading Pricing
Warrior Trading offers a handful of different products, but its most popular subscription plans include:
Warrior Starter: $997 (first month) and $197 per month thereafter
Warrior Pro: $5,997 per year or $4,297 for 90 days and $197 per month thereafter
As its name suggests, Warrior Starter is geared toward the new day trader. It comes with the complete Warrior Starter Course, plus chat room and partial stock scanner access. Many traders upgrade to Warrior Pro after completing the Starter Course as it includes full stock scanner and chat room access, plus mentorship sessions and the Warrior Pro Masterclass.
Who Is Warrior Trading Best For?
In the world of stock picking services, Warrior Trading is unique in that it focuses most of its services on education rather than specific stock recommendations. Although its subscriptions are fairly pricey, Warrior Trading's educational resources are some of the best out there, so it's worth considering for investors who are willing to spend more for quality trading guidance.
---
What To Look For In a Good Stock Picking Service
With so many great stock picking services to choose from, selecting just one for your investments can be a challenge. To help you out, here are some of the most important things to consider when subscribing to a stock picking service.
Proven Track Record
First things first, it's always worth checking out a stock picking service's track record of returns before signing up. The reason for this is simple: You're paying for investment advice, so it's imperative that your stock picking service makes good trading suggestions.
Of course, past success is no guarantee of future gains. But a stock picking service that has a solid track record of returns can give you the confidence you need to know that you're getting a good value for your money.
Pricing
Quality investment advice is great, but you don't want to spend all your gains on your stock picking subscription. So finding a high-value, low-cost service is vital in the long run.
The problem is that every service charges different fees, and each is designed with a specific kind of investor in mind.
Therefore, the important thing isn't that you find the cheapest service, but that you're getting a good value for your money. To do so, it can help to make a list of the features you want from your stock picking subscription.
If a company offers all the features you need at a reasonable price, it might be a good choice. Alternatively, if a service comes with a lot of tools that you don't think you'll ever use, it might be worth considering whether it's actually worth the cost.
Integrity
Paying for trading advice through a stock picking service requires a lot of trust on the part of the investor (that's you!) as you need to believe that the service will provide you with quality, data-driven investment recommendations.
While most popular stock picking services are very reputable, one way to feel more confident in your subscription choice is to assess the integrity of the platform through its recommendation transparency. In other words, you'll want to look for services that are very open about the research and data that they use to choose specific stocks.
As an informed investor, you need to know not just what stocks to buy but why a service thinks you should buy them. This sort of information can also help you develop your investing acumen so you can become more self-sufficient in the future.
Strategy
Another key thing to look for in a stock picking service is information about the company's recommendation strategies.
As we've mentioned, it's important to know why a service is recommending a specific stock. However, you also want to know what strategies a company uses to identify potential winners in the first place.
Some companies are super transparent about their decision-making process, while others don't tell you much about what goes on behind the scenes. While you don't necessarily expect a stock picker to reveal their trade secrets, they should tell you a little about their strategies so you can ensure that you're getting a solid value for the money.
Replicable Trades
A stock picking service is only worth paying for if it's going to suggest trades that you can actually replicate.
While most stock picking services tailor their recommendations to the non-accredited retail investor, not all do. Some make their suggestions based on institutional trading capabilities while others presume that you meet the legal requirements to be a day trader.
All this is to say that you should only sign up for a stock picking service if their trade recommendations are possible for you. If you can't trade penny stocks in your brokerage account or you don't have enough funds to be a day trader, then a subscription for these kinds of investors isn't going to be very helpful.
Educational Resources
Finally, you should always consider what educational resources your stock picking service provides.
Although you're probably subscribing to one of these services for trading recommendations, it's important that you build up your own investing skills through reputable educational resources. That's because, even if you never want to place trades without stock picking guidance, being a more knowledgeable investor can help you maximize your returns over the years.
---
FAQs: Best Stock Picking Services
Here are our answers to some of your most commonly asked questions about the best stock picking services.
Why Subscribe to a Stock Picking Service?
Subscribing to a stock picking service can make it easier for you to identify stocks that might be worth adding to your portfolio. These services do a lot of the hard work for you by giving you specific stock trading recommendations or by providing you with powerful research tools that you can use to perform your own market analysis.
Are Stock Picking Services Free?
Stock picking services usually aren't free. The companies behind these services need to be able to pay their market analysts, so they generally charge some sort of subscription fee. The good news is that there are dozens of great stock picking services out there, so there's something to suit every budget.
Are Stock Picking Services Safe?
Most top stock picking services are run by reputable companies with a track record of success. However, there is no such thing as a safe investment as all investment comes with a level of risk. Even if you only buy the stocks that are recommended to you by one of these services, there is always a chance that you will lose money while investing.
---
Final Thoughts
Stock picking services can be powerful tools for investors of all experience levels. While some services provide explicit recommendations as to what stocks you should buy and others serve more as market research platforms, there's something out there for every investor.
We hope this article helped you learn more about your stock picking service options so you can make the most of your money and get the trading advice that you need. Happy investing!