Groundfloor Review 2023: Features, Pros, and Cons
Many or all of the products featured on this page are from our sponsors who compensate us. This may influence which products we write about and where and how the product appears on a page. However, this does not influence our evaluations. Our opinions are our own. Here is a list of our partners and here is how we make money.
---
The information provided on this page is for educational purposes only. The Modest Wallet is a financial publisher that does not offer any personal financial advice or advocate the purchase or sale of any security or investment for any specific individual.
Real estate is one of the most popular asset classes for creating long-term wealth. It is also an excellent way to diversify your investment portfolio while getting similar returns as the stock market. Unfortunately, direct investments in real estate properties require significant amounts of money and lucrative deals are usually only accessible to the wealthy.
However, the rise of real estate investment trusts (REITs) and crowdfunding platforms have made it easier to invest in real estate passively. Nonetheless, many platforms and REITs require you to be an accredited investor or have high investment minimums. Groundfloor is about to change that as the company allows every investor to participate in real estate deals with as little as $10.
This review will dive deeper into Groundfloor, how the platform works, and its available features. We further look at the pricing structure, customer service, pros and cons, and who should invest in Groundfloor.
Quick Summary: Groundfloor is a real estate crowdfunding platform offering its users (i.e. accredited and non-accredited investors) the opportunity to participate directly in real estate investment loans on a fractional basis.
Promotion: None
---
What Is Groundfloor?
Groundfloor is a lending and investment crowdfunding platform that opens the doors to real estate for everyone and connects investors with professional real estate developers. The platform enables investors to participate directly in short-term, high-yield real estate investment loans on a fractional basis.
Investors can create personalized portfolios and make individual investments that align with their investment strategy and risk tolerance. The company believes that everyone should diversify their portfolio and benefit from mitigating risk and realizing higher returns in the long run.
---
How Does Groundfloor Work?
The overall process commences with the borrowers submitting a "hard money" loan application, which the proprietary Groundfloor algorithm will review, underwrite, and grade. From there, Groundfloor funds the approved loans upfront and transforms them into a limited resource obligation (LRO) security. After that, the loan is taken live, and investors can invest in these LROs. Once the borrower repays the loan, Groundfloor distributes the principal as a one-time lump sum plus interest to all investors who invested in this loan.
---
How to Open a Groundfloor Account
Setting up a Groundfloor account takes only a few minutes. Click on the sign-up button on the company's website and enter some personal information, an e-mail address, and a password. If you qualify as an accredited investor, you can let the platform know and receive additional benefits.
To qualify as an accredited investor, you must meet one of two criteria:
$200,000 in annual income per year for the last two years ($300,000 with a spouse)
$1 million in net worth excluding your primary residence
Next, you deposit the funds you would like to invest in real estate projects and transfer them from your linked bank account. The platform utilizes a trusted third-party processor for these transfers.
---
Groundfloor Features
Groundfloor doesn't have many bells and whistles as it focuses solely on its USP, bringing real estate developers and retail investors together. Read on to find out more about their features.
| | |
| --- | --- |
| Minimum Investment | $10 |
| Fees | No fees for investors |
| Investment Types | Debt |
| Investment Terms | 6-12 months |
| Distributions | Two options; 1. Deferred (principal and interest) until the end of the project term, or 2. monthly |
| Property Types | Residential single family homes, multi-family homes, townhomes and condominiums |
| Account Types | Taxable, Traditional IRA, Roth IRA, Rollover IRA, SEP IRA and Simple IRA |
| Availability | 50 states |
| Security | Encryption (AES-256), HTTPS and SSL/TLS security protocols |
| Promotion | None |
| Secondary Market | |
| 1031 Exchange | |
| Accreditation Required | |
| Pre-vetted & pre-funded | |
| Support | Contact Form, Phone (+1 404-850-9223) and Email ([email protected]) |
Groundfloor Loans
The platform assigns all approved loans one of seven grades, ranging from A to G, as well as a corresponding rate of return. Groundfloor's Grade A loans are the least risky investments with the lowest default and interest payment rate. On the other end, Grade G loans carry the most risk but also offer the highest expected return and interest rates. As of this writing, the minimum return rates per grade are:
Grade A: 5%
Grade B: 6%
Grade C: 8%
Grade D: 9%
Grade E: 12%
Grade F: 14%
Grade G: 15%
These are only the rate floors for every grade. For example, high-yield Grade G return rates can go up as high as 26%.
The platform uses different factors such as location, borrower commitment, or skin-in-the-game to grade a loan and assign a rate of return. Groundfloor also looks at the loan size, terms, borrower history, and other factors to finalize the grading.
Automatic Investing
Groundfloor also provides an automatic investing feature, allowing investors to allocate their money to different loans across loan grades. From there, the platform will take over and automatically invest your money according to your preferences. Only loans you are currently not invested in are eligible for allocations. You can also use the feature to reinvest interest payments you received from your loan investments.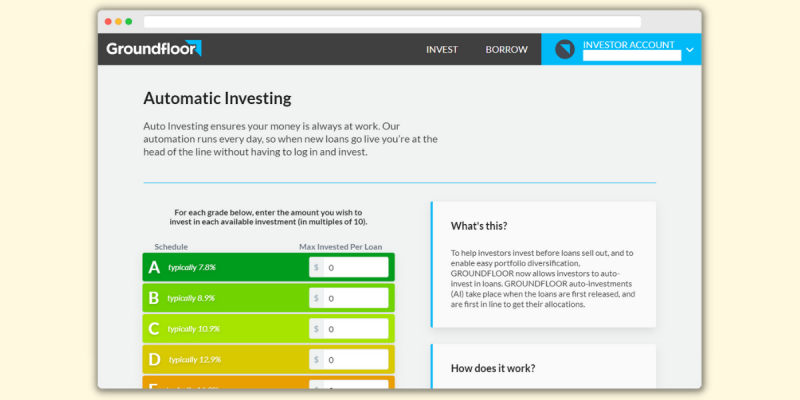 Availability
Groundfloor has been allowing investors in all 50 states to invest in short-term loans since 2018. However, Nebraska residents can't make investments due to state-specific legislation.
Moreover, investors can't diversify their real estate investments across all states because Groundfloor is only licensed to finance loans in the following 30 states: Alabama, Arizona, Colorado, Connecticut, D.C., Delaware, Florida, Georgia, Illinois, Indiana, Kansas, Massachusetts, Maryland, Michigan, Minnesota, Missouri, North Carolina, New Hampshire, New Jersey, Nevada, Ohio, Pennsylvania, Rhode Island, South Carolina, Tennessee, Texas, Utah, Virginia, Washington, and Wisconsin.
Investment Account Types
To deploy their money on the platform, investors can set up different self-directed IRA account types on Groundfloor. These retirement accounts include:
SEP IRAs
Simple IRAs
Rollover IRAs
Taxable
Referral Program
Groundfloor also offers a referral program. Every investor has a unique referral link they can send to friends and family. Once the referred person signs up on Groundfloor and transfers funds into their account, the recruiting person and the referred person get a $10 investment credit. You will find your unique link in your investor account when you click on "referral program" in the menu.
Groundfloor for Borrowers
In contrast to investors, borrowers from 30 states can have up to 4 loans on the platform simultaneously for renovation projects. Terms range from six to 36 months and loan amounts from $75,000 to $2,000,000. Once they finish their funded project, they either sell the property to pay back the loan or hold the property for rental purposes after refinancing it.
Borrowers are also the party who has to pay all the fees on the platform, investors don't have to pay any fees.
---
Groundfloor Pricing and Fees
Investors don't have to pay any fees to sign up to the platform, browse listings, and invest in their deals of choice. The reason is that borrowers pay between 2% and 4.5% of interest fees on the loan principal. They also pay $1,250 in closing costs and a $250 application fee. This means that returns will not be diminished by any fees.
Moreover, the minimum investment is just $10, one of the lowest minimums in the real estate crowdfunding space. As a result, investors can easily spread their risk over multiple deals without having to shell out thousands of dollars.
---
Groundfloor Security
All loans on the Groundfloor marketplace are qualified by the U.S. Securities and Exchange Commission (SEC). This provides a higher degree of protection and makes the investments subject to increased oversight. Besides, Groundfloor investments are secured collateral and investors are the first in line to be repaid if the property never sells.
Moreover, Groundfloor uses a secure encryption partner to transfer funds from investors' bank accounts to the platform. These funds are then held in your name and are FDIC-insured until invested.
The company uses industry-leading AES-256 encryption standards to secure your data, the same standard used by banks. Moreover, communication is encrypted and secured by HTTPS and SSL/TLS.
---
Groundfloor Customer Service
You can reach the Groundfloor customer service by phone between 9 am and 5 pm EST or via e-mail and the contact form. They have dedicated phone numbers and e-mail addresses for investor support, borrower services, and asset management. Although there are some negative reviews concerning the platform, the Groundfloor users are generally satisfied with it.
---
Groundfloor Pros
$10 minimum investment
Open to non-accredited investors
Zero fees for investors
High deal flow
Automatic investing is supported
Investors have full control over their investment choices
Deals are color-coded and graded according to their relative risk level
Allows IRA-investments
---
Groundfloor Cons
Loan defaults are part of the business model
No bankruptcy protection
Updates on loans only monthly
No diversification within real estate asset classes
---
Groundfloor Alternatives
While Groundfloor is open to everyone, you might not want to invest only in house flipping deals. Therefore, we have listed two other platforms below:
Fundrise
Another crowdfunding platform offering non-accredited investors the chance to participate in real estate is Fundrise. The entry-level Starter Portfolio also starts at just $10 and allows automatic investments. But that's where the commonalities end.
With Fundrise, investors invest in commercial and residential real estate investment portfolios instead of investing directly in private fix-and-flip deals with Groundfloor. Moreover, Fundrise charges investors an annual advisory fee of 0.15% as well as an annual asset management fee of up to 0.85%, making it 1% per year. In contrast, investors don't pay any fees on Groundfloor.
Fundrise offers five account levels that unlock different features such as IRA investing, a customized portfolio strategy, or access to private REITs. However, these account levels require a minimum investment of at least $1,000. Read our full Fundrise review to learn more.
Roofstock
Roofstock follows a different real estate investment approach. The platform allows all types of investors to directly invest in turnkey single-family rental homes using property management services that handle operations. Investors can also invest in custom portfolios that are similar to non-public REITs and give you more diversification than investing in a single home.
Investors can browse the listings on the marketplace and make offers based on preferences. When an offer is accepted, the platform charges a fee of 0.5% for the contract value or $500, whichever is higher. Once you own the property, you will earn rental income. You can also resell the property on the platform. Some properties are also eligible for 1031 exchanges. Read our full Roofstock review to learn more.
| | | | |
| --- | --- | --- | --- |
| | | | |
| Our Rating | | | |
| Fees | No fees for investors | 1.0% per year | 0.5% purchase price |
| Account Minimum | $10 | $10 | $0 |
| Promotion | None | Advisory fee waived (*12 months) | None |
| Highlight | Access to real estate investment loans on a fractional basis | Access to private real estate deals | Invest in real estate with a focus on single-family rental properties |
| Best For | Real estate lenders | Long term investors | Rental property investors |
| | | | |
Compare Groundfloor
Find out how Groundfloor stacks up against the competition.
---
Who Is Groundfloor Best For?
Groundfloor is suitable for all accredited and non-accredited investors who want to diversify their portfolio with real estate debt investments and can sustain the risks that come with real estate investing.
The platform is especially useful for non-accredited investors as they are usually excluded from other real estate crowdfunding platforms. Moreover, beginner investors who want to get their feet wet and retail investors with small portfolios benefit massively from the low $10 minimum investment.
Ultimately, investors who want to have full control over their real estate investments instead of investing their money with a fund manager (REITs) or in a pre-built portfolio will prefer Groundfloor over their competition.
---
Groundfloor Review FAQ
Below you will find frequently asked questions and our answers concerning the Groundfloor investment offering.
Is Groundfloor Legit?
Groundfloor was founded in 2013 and is a legit company. Their executive team is skilled in real estate, financial services, and technology and has more than 100 years of combined experience. The crowdfunding platform offers a high volume of new deals every month and is transparent about the fact that default loans happen (they are part of the business model to maximize returns). However, this also led to a few complaints and raised questions about the due diligence process of the platform.
Who Can Invest with Groundfloor?
Groundfloor is open to every investor who can spare $10 to invest on the platform, no matter if accredited or non-accredited. This setup was by design as the platform revolutionized real estate investing and made it possible for everyone to participate in real estate investment opportunities. However, accredited investors who meet the criteria can check a box when signing up to receive additional benefits.
What Is the Minimum Groundfloor Investment?
Investors can start investing on Groundfloor with as little as $10. This is one of the lowest investment minimums in the real estate crowdfunding space. The company believes that everyone should be able to use real estate to diversify an investment portfolio. Whereas investors have to shell out thousands of dollars on other platforms, they can use the same amount and distribute it over hundreds of different deals. 
What Are Typical Groundfloor Returns?
On its webpage, Groundfloor states that their actual average annualized returns to date are 10.5%. Their typical loans returned about 10% per year for six to 12-month terms. Keep in mind that the platform doesn't charge its investors any fees, which you would otherwise have to deduct from the stated returns.
Does Groundfloor Have a Mobile App?
Unfortunately, Groundfloor doesn't offer a mobile app. However, the website is optimized for mobile devices. Borrowers looking for funding as well as investors looking for investment opportunities will find the platform easy to use.
Is Groundfloor Considered a REIT?
No, Groundfloor is not a REIT. The reason is that investors don't have to cede control of their capital to a fund manager who invests for them and decides on the risk/reward ratio. Instead, investors have complete control over the deals they want to invest in, can browse the listings themselves, and deploy their money according to their strategy and risk tolerance. By investing in multiple deals, investors essentially become their own fund managers and create their own REITs.
---
Final Thoughts
Groundflloor is one of the few crowdfunding platforms that are open to non-accredited investors. In addition, they provide short-term deals that don't lock up your money for years and have investment minimums of just $10 per deal, which is perfect for diversification and lowering your risk.
Allowing everyone to invest directly in private real estate deals without having to bring thousands of dollars to the table is still relatively unique in the real estate crowdfunding space. If you aren't accredited and don't want to invest in REITs, it's worth checking out Groundfloor.
However, investors can only invest in house rehabbing projects but not commercial properties such as rented-out apartment blocks or office buildings. If you want to diversify your money across multiple commercial real estate assets or are an accredited investor with the ability to invest in bigger deals, make sure to also look into other real estate crowdfunding platforms.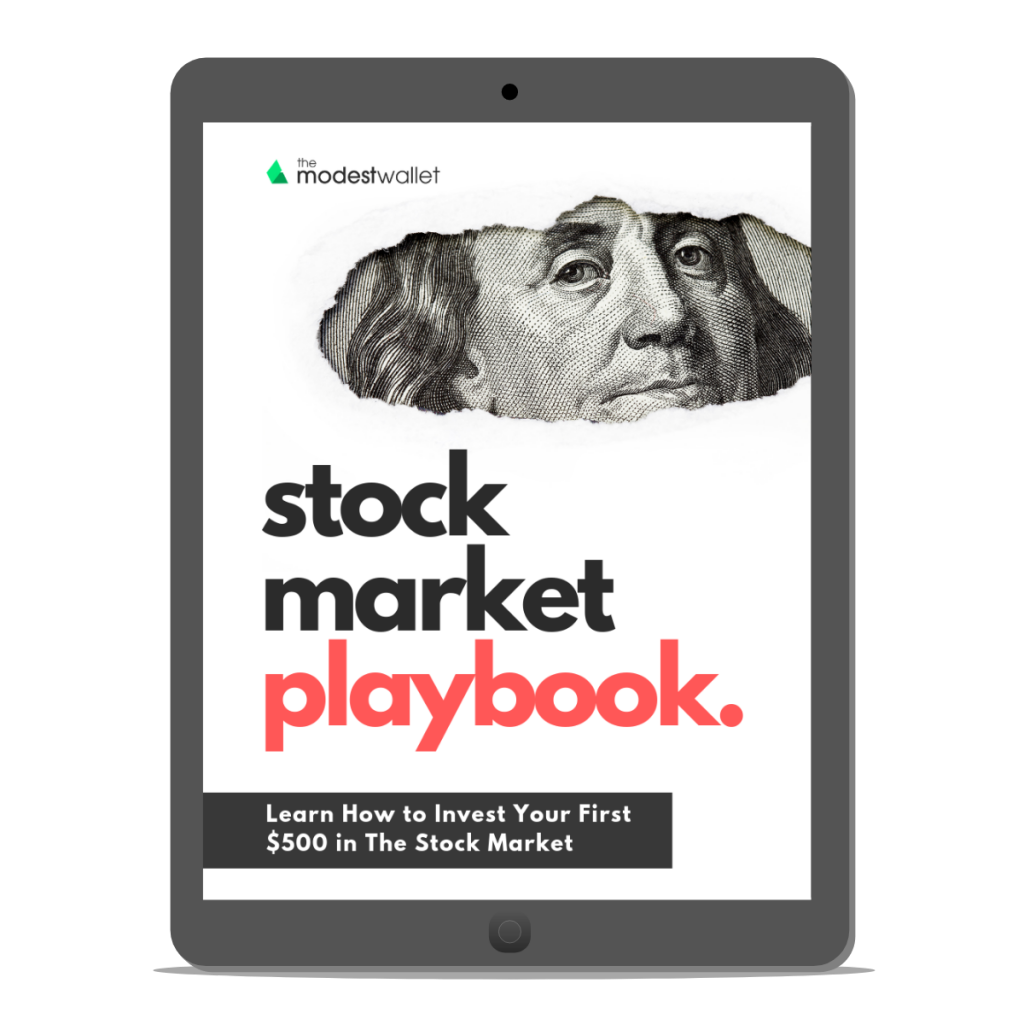 Get our free Stock Market Playbook to learn how to invest your first $500 in the stock market.
Plus our best money tips delivered straight to your inbox.

Carsten is a Freelance Copywriter with a personal interest in money management and investing. Besides taking care of his investments, he loves traveling, reading books, and working out (calisthenics & yoga).