Rocket Money Review 2023: Features, Pros, and Cons
Many or all of the products featured on this page are from our sponsors who compensate us. This may influence which products we write about and where and how the product appears on a page. However, this does not influence our evaluations. Our opinions are our own. Here is a list of our partners and here is how we make money.
---
The information provided on this page is for educational purposes only. The Modest Wallet is a financial publisher that does not offer any personal financial advice or advocate the purchase or sale of any security or investment for any specific individual.
One of the hardest parts of becoming an adult is the transition from paying nearly no bills to having more than you know how to handle. As time goes on, they accumulate until you're struggling to remember all the due dates and amounts. You may even find yourself missing a payment or two.
Luckily, the technological advancement of the 21st century has flooded into nearly every industry, and finance is certainly no exception. It's now easier than ever to automate your finances so you don't have to use up precious mental real estate on trivial tasks like saving money or paying bills.
Namely, new financial apps like Rocket Money pledge to alleviate this issue by managing your money for you. You can choose to automatically pay bills, take money out of your account for saving or investing, and receive helpful tips on how you can set yourself up for financial success.
But does it actually work the way it claims to?
After testing Rocket Money's offerings, we compiled a list of its pros, cons, features, and frequently asked questions. Here's our Rocket Money review of what it offers and how well it delivers on its promises.

Bottom Line: Rocket Money (formerly Truebill) is a personal finance service designed to provide people with a clear picture of their income and expenses. Rocket Money's flagship feature is the ability to track and cancel unwanted subscriptions.
| | |
| --- | --- |
| Pricing | |
| Features | |
| Customer service | |
| User experience | |
| Security | |
| Value for money | |
---
What is Rocket Money?
Originally founded in 2015 as Truebill, Rocket Money initially debuted as a financial oversight tool designed to empower others to take control of their finances. The app originally focused on subscription cancellation and bill management, but after being acquired by Rocket Companies in 2022 and rebranded to Rocket Money, it grew into one of the most popular budgeting apps available.
Rocket Money is available via a free plan with limited features or can also be purchased with a premium plan if you want to unlock everything the app has to offer. You'll want to choose the plan that best aligns with your personal financial goals.
Currently, the Rocket Money app can be downloaded from both the Apple App Store and Google Play and can also be accessed via their web app. Keep in mind, though, that its web app offerings are limited, and most of Rocket Money's core features can only be accessed via the smartphone app.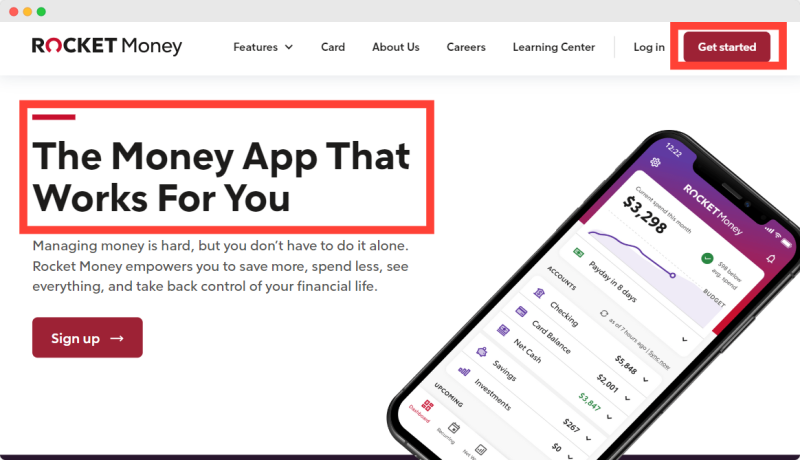 ---
How Does Rocket Money Work?
Rocket Money works by providing personalized insight into your personal financial situations while also providing tons of integrated features to help you manage your money. As such, it's touted as both a budgeting and a money management application.
The app delivers in this area by offering an "all-in-one" approach— it gives you multiple tools to help you save money using their platform.
The most popular tools Rocket Money offers are:
Expense Tracker
Bill Negotiation
Budgeting
Subscription Cancellation and Monitoring
To begin using the platform, all you need to do is connect your bank account to the app so it can help you monitor your income and spending habits, as well as track your regular subscriptions and bills. By using this method, you can avoid having to input information manually, which can be both time-consuming and inaccurate.
---
How to Sign Up to Rocket Money
Signing up for Rocket Money isn't complicated. You can use the steps below to set up your account and better explore the application's offerings.
Step 1: Download the Rocket Money App
As you may have expected, the first step to setting up a Rocket Money account is downloading the app. Once you do, you'll be prompted to either log in or sign-up. Simply select the sign-up option and move to the next step.
Step 2: Create a Rocket Money Account
Before we get too far into the process, it is important to note that you can choose to sign up either via the app or Rocket Money's website if you're on a desktop.
Regardless of which one you choose, the first part of the sign-up process involves providing your email address, first and last name, and password. You'll also be asked to review and accept Rocket Money's terms of service before your account is established in their system.
Step 3: Tell Rocket Money About Your Goals
Now that you have an established Rocket Money account, it's time to start customizing it. Immediately upon signing up, you'll be asked to choose your top goals. You are given the following options and can choose as many as is suitable for your goals:
Cancel Subscriptions
Lower My Bills
Track My Spending
Create a Budget
Track My Net Worth
Grow My Savings
Improve Credit Score
It's best to choose at least two or three options, so Rocket Money can provide you with effective services.
Step 4: Link Your Checking Account
Next, you'll need to link your checking account to help Rocket Money find your subscriptions and track your spending habits. During this step, you can also choose to link any credit cards you may have.
To get started, click the "add" button on the screen provided, and you'll be redirected to Rocket Money's bank-linking software.
Step 5: Connect Your Account with Plaid
Plaid is the software Rocket Money uses to connect directly to your bank account without a routing and account number. During the checking account connection phase, you'll be asked to select your bank and input the credentials (your username and password) you normally use to log in to your banking software. Many people are hesitant about this part of the process, but don't worry; Plaid is completely secure and won't put any of your information at risk.
You'll then wait as Plaid connects to your online banking platform and accesses your account information. If you have more than one checking account, you'll be asked to select which one you'd like to use. After a brief processing period, you'll finally be redirected back to Rocket Money's sign-up process.
Step 6: Select How Much You Want To Pay
Currently, Rocket money allows you to pay the monthly amount you think is most appropriate. The default amount options are $7, $8, and $9, but you can also click "choose custom amount" and type in whatever you like. Paying any amount will automatically grant you access to all of Rocket Money's premium features.
When choosing what you want to pay, however, there are a few things you should keep in mind. First, choosing any amount less than $4 per month will automatically set you to pay annually. You aren't able to change this.
Additionally, you may choose to pay nothing if you want to. Doing this with opt you out of Rocket Money Premium. If at any point you decide you want to try out their premium features, you can navigate to your app's sidebar and start a 7-day free trial. Or, you can choose a custom amount and start paying right away.
Step 7: Start Saving Money
Once the sign-up process is complete, you'll be redirected to your account dashboard. From here, you'll be able to view your monthly spending, total checking balances, upcoming bills, and more. You'll also be asked to complete your account setup by completing tasks from the provided list at the bottom of your dashboard.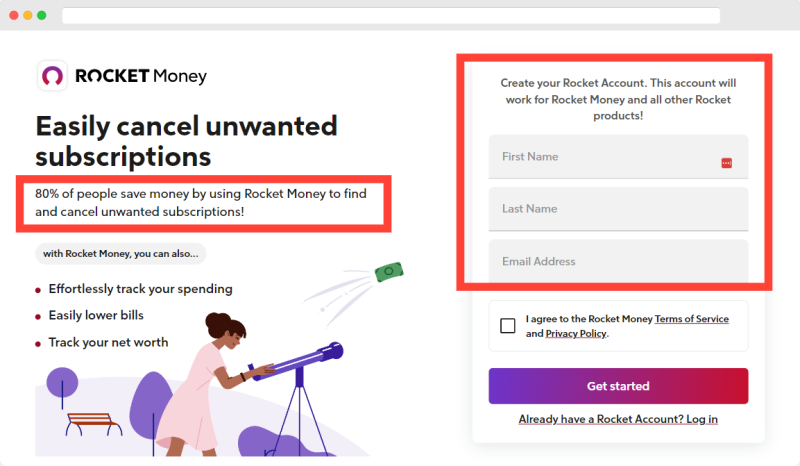 ---
Rocket Money Features
Rocket Money was designed to be an "all-in-one" personal finance app with options for everyone. As such, there are tons of features available for tracking subscriptions, reducing your spending, improving your credit score, and more. Depending on whether you choose a free or paid account, you may have limited access to certain features. That said, most of Rocket Money's primary features are available to all users regardless of paid status.
Pricing
Free and Premium (between $3 to $12 per month)
Features
Budgeting, Bill Tracking & Negotiation, Subscription Cancellation, Net Worth, and more
Supported Services
Cable, Internet, Phone, Subscriptions, and more
Trustpilot
4.7/5.0
Better Business Bureau
B Rating
Mobile Apps
iOS and Android
Promotion
None
Bill Negotiation
Net Worth Tracking
Free Plan Available
Support
Help center and email:

[email protected]
Manage Subscriptions
One of Rocket Money's key free features is the subscription monitoring service it provides. By connecting your bank account during sign-up, the app is able to identify your regular subscriptions and organize them in a list of recurring charges. It will then analyze the charge name and group like types together for easy access. For example, certain recurring charges may be labeled as utilities, others as subscriptions, and others still as irregular charges.
The great part about this is that, since all your subscriptions are organized and labeled, you know what you're spending and can cancel any you aren't using.
For premium members, you can also ask Rocket Money's team to cancel subscriptions for you. Currently, Rocket Money has canceled over one million subscriptions for paid members. Though, there's nothing stopping you from doing the cancellations yourself to save a little money.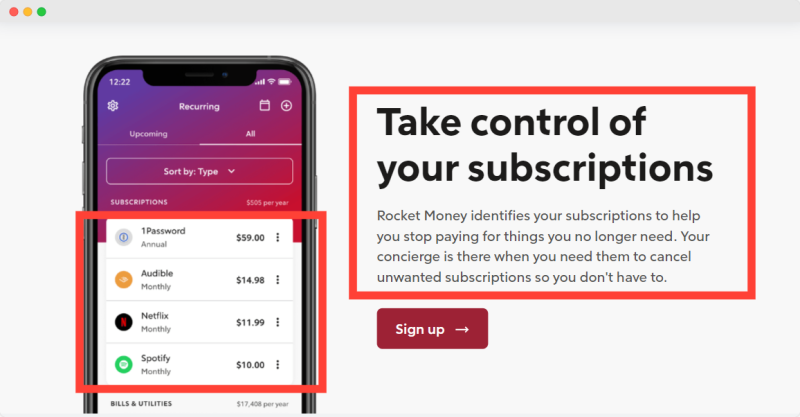 Smart Savings
Rocket Money's premium members can take advantage of the app's smart savings account. When you enable this feature, Rocket Money will automatically move small amounts of your money into a savings account using AI analytics. Over time, this will help you slowly work towards your savings goals in a manner similar to other micro-savings apps.
Any money stored in the Smart Savings account is insured by the Federal Deposit Insurance Corporation (FDIC)—the same company that insures American banks. This means that, in the unlikely event that a data breach results in money taken from your Rocket Money Smart Savings, you're guaranteed to get it all back.
Furthermore, the Smart Savings feature is a great way to build your savings overall without thinking about it or having an active hand in the process. This will help you keep your mind off that extra money that's being stored, so you're less likely to touch it in the long run.
That said, you do have full control over the savings process. You can edit, pause, withdraw, or close your account any time you choose. You won't be charged a savings account withdrawal fee (something most regular bank implement), either.
Spending Insights
By accessing your dashboard in the Rocket Money app, you can find a full breakdown of your current financial situation. For example, you'll be able to view charts on how much you've spent this month compared to the last one.
You'll also be given a breakdown of your top spending categories to help you determine where to adjust. Rocket Money will even provide you will personalized insights on how you change or tweak your spending to maximize saving efficiency and how to increase your savings in other ways.
Finally, Rocket Money will send push notifications to your cell regarding upcoming charges and if your balance drops past a certain threshold. In time, this can save you hundreds in overdraft fees and late charges.
Credit Score
Rocket Money provides you with unabridged access to your credit report and history and will alert you any time new changes are posted that could impact your score. The app will also provide personalized insights regarding the best changes you can make to help improve your overall score.
Over time, this will help you learn more about managing your credit score, understand how credit calculations work, and teach you how credit history can build or break your overall score.
Perhaps the most useful part of this feature, however, is the push notifications you receive anytime your score changes. Using Rocket Money, you'll be able to view your score for free anytime and be provided with real-time updates anytime something affects your credit score.
Bill Cancellation and Negotiation
Similar to the service they provide with subscription monitoring, Rocket Money will automatically scan your bills for opportunities to decrease them. Most commonly, you'll see this offered on a cell phone or cable bill since those companies are most often open to negotiation. Currently, Rocket Money has about an 85% success rate at getting bills lowered, so if you have any eligible bills, it's definitely worth a shot to try this feature out.
Bill negotiation is also technically a free feature since it doesn't cost any money unless the negotiation is successful. If it is, however, Rocket Money will take anywhere from 30% to 60% of your annual savings for an upfront fee.
For example, let's say you ask Rocket Money to lower your monthly Verizon bill. If your bill is $210 currently and Rocket Money gets it lowered to $190, that's $240 you'll be saving per year. And since Rocket Money charges a one-time, 30%-60% fee (between $72 and $144 for this savings amount), that's what you'd pay once negotiations are complete.
Additionally, if you look at your monthly expenses and decide some of them are no longer necessary, you can enlist Rocket Money's concierge team to cancel them for you instead of doing it yourself. This is a paid feature, though, so you won't have access to it if you aren't signed up for Rocket Money premium.
Bill Reminders
For those of you whose biggest financial issue is that you struggle to remember what bills need to be paid and when Rocket Money has a feature for that too.
During the analysis phase of your account setup, the app will sort through your checking account transactions over the last several months and compile a list of regular bills and subscriptions. As it does this, it keeps track of the dates those payments were made and compiles them under your "upcoming" tab so you can more easily keep track of them.
Budgeting
Budgeting is one of Rocket Money's most popular features because of the way it's set up. At the top of your dashboard, you'll always have a spending graph that tells you how much you've spent this month compared to last.
Directly under that chart is the second budgeting tool, your account summaries. This will tell you your checking accounts' total balances and what those balances add up to be. If you choose to add a credit card during sign-up, it will also show you that credit card's balance, as well as any savings or investment balances you have through the app.
Beneath that, you'll see a breakdown of your spending patterns so you can tell where you might be overspending. You may see that you're spending too much money eating out each month, or perhaps you are overspending on personal items like clothes and accessories. Regardless of where you're overspending, Rocket Money will help out by suggesting spending allowances for you to follow to curb those habits.
Net Worth
When you use Rocket Money as a premium member, you'll have access to a net worth tracking tool that breaks down your major assets and liabilities. You can choose to link major sources of debt like credit cards or loans directly to the app via your login credentials for the debt source. If you don't want to share that sensitive information quite yet, though, you can also add those assets and liabilities manually.
Mobile App
All of Rocket Money's features are conveniently available on their mobile app. This means you have convenient access to crucial financial tools like budgeting and spending analytics without having to log onto a desktop site.
Your personal experience on the app, however, will depend on whether you choose a free or paid plan.
---
Rocket Money Pricing
Unlike many other subscription-based apps, Rocket Money does not have multiple paid tiers for you to choose from. Rather, you'll be given the choice to pay whatever you think is fair (between $3 to $12 per month) when you sign up. Choosing any amount will automatically give you access to the premium version of the app, while paying nothing will prevent you from accessing those premium features.
If you choose to pay nothing and use the free features, here's what you'll have to work with:
An overview of your finances and spending calendars/analytics based on your previous account transactions
Monthly budgets you can create using certain categories (such as groceries or utilities)
24/7 access to customer support via email or in-app chat
Free credit score monitoring and push notifications whenever something affects your credit
Access to bill negotiation (pay nothing if negotiations fail or pay between 30% to 60% of one year's savings as a negotiation fee if they are successful)
As a premium user, you'll have access to all of the above features, plus these extras:
Create unlimited budgets with the ability to create custom categories
Concierge team will automatically analyze your subscriptions and bills to help you cancel those you don't use and get refunds on late fees and overdrafts
Priority customer support
Smart Savings Account access
Instant account balance syncing each time you log into the app. (With the free plan, your accounts will sync a few times a day.)
Net worth tracking
Full credit report, including personalized insights and debt tracking
Bill negotiation for a smaller fee
It is important to note that while you can choose to pay as little as $3 a month for the premium plan, anything lower than $5 per month will be automatically charged as a single annual amount rather than monthly. This cannot be changed.
---
Rocket Money Ease of Use
In terms of user experience, Rocket Money's app is about as easy to use as it gets. Every feature they have is neatly labeled and easy to find, and the simple setup makes navigation effortless. Furthermore, Rocket Money has a "set-up" list you can follow that will slowly introduce you to their features and walk you through using them.
That said, it's difficult to compare Rocket Money to other savings/budgeting apps because there aren't many others that come close to its sheer number of features. Taking into account how many things they offer, the in-app navigation setup, and the set-up tutorials, Rocket Money has definitely earned a 5 out of 5 in terms of easy useability.
Rocket Money has a 3.4/5.0 rating with over 100 reviews at the Better Business Bureau, and a 4.7/5.0 rating with over 3000 reviews at Trustpilot. The apps also have positive reviews for iOS and Android users, with 4.4/5.0 ratings and over 80,000 combined reviews.
---
Rocket Money Security
When you take into account how much of your personal information Rocket Money needs access to in order to provide you with maximum value, the thought of signing up can be unnerving. But are data breaches and hackers something you actually have to worry about?
After reading through the site's terms of use, security and privacy policy, and their data protection methods, we're confident that Rocket Money has spared no expense in protecting your personal information.
The first line of defense your data has against potential breaches is the app's (and website's) 256-bit encryption protocol. This is the same level of security bank use on their own sites and is widely considered the gold standard for protecting financial information.
In the event a breach does happen, and your data is part of that incident, it's important to understand that Rocket Money's access to your personal financial accounts is read-only. If a hacker were to gain access to the information stored on their servers, that person could see how much money they have and where it is, but they wouldn't be able to withdraw or steal it.
---
Rocket Money Customer Support
If there's anywhere Rocket Money can tend to fall short, it's in their customer service. Because most service channels give priority to paid members, it can be a chore to connect with someone regarding your free account—especially during the day's busiest hours.
If you are a premium member, however, you'll receive priority in both email and chat channels, and you'll be able to receive instant support during Rocket Money's business hours.
---
Rocket Money Pros Explained
After thoroughly reviewing Rocket Money and what it has to offer, here are the most notable pros the app provides:
Easily view your recurring charges: Thanks to the app's account-sync feature, you can easily see all your recurring charges compiled in one place. This makes it easy to find hidden subscriptions that are sucking your extra money away and figure out which bills are taking the majority of your income.
Ready-available overview of your finances: When you connect all of your bank accounts, credit cards, and investment accounts during set-up, Rocket Money compiles information from those accounts and uses it to provide you with a cut-and-dry financial overview.
Bill negotiation helps you save: If you've got bills that are too high, but you're not sure how to lower them yourself, you can enlist Rocket Money's concierge team to help you out. They'll negotiate for lower bills on your behalf and charge only a one-time fee to do so.
The free plan option means no commitment until you're ready: If you want to test the app out but aren't ready to commit to another monthly subscription, you can choose to take advantage of Rocket Money's free plan. You'll miss out on certain features, but you'll be able to foster an understanding of how the app works before you commit your hard-earned dollars.
Uses bank-level encryption to keep your information safe: Rocket Money protects any data you give them by storing it on secure servers using 256-bit encryption. In essence, you'll be getting the same level of protection a bank would provide.
---
Rocket Money Cons Explained
No website out there is perfect. Here's the list of Rocket Money's cons to take into consideration before you sign up:
The free plan has limited features: While it's convenient to have a free option, it does come at a cost. Rocket Money's free plan is extremely limited in features compared to the premium version.
Limited customer support availability: If you aren't a paid member with priority customer service, it can sometimes be difficult to reach a customer service agent.
Bill negotiation comes at a steep cost: Even though having someone to negotiate your bills for you sounds like a dream, Rocket Money certainly charges for it. If your negotiations are successful, you can expect to pay a one-time fee equal to 30% to 60% of your total savings for that year.
---
Rocket Money Alternatives
If anything in this article has made you second guess whether or not you want to sign up with Rocket Money, know there are alternatives out there you can explore. Trim and BillShark are the two closest apps to offering what Rocket Money does, so don't be afraid to check them out before you make your final decision.
Rocket Money Vs. Trim
Trim is perhaps Rocket Money's biggest competitor, and for a good reason. It offers many of the same things Rocket Money does, such as free budgeting tools, savings accounts, and subscription monitoring. Truth be told, there aren't many differences that set the two apart.
The one huge difference you should be aware of, though, is their bill negotiation pricing.
Where Rocket Money charges between 30% and 60% of your annual savings, Trim only charges 15%. That's quite a significant difference.
Look at it like this: if you took that same bill example from earlier, where Rocket Money lowered your Verizon bill by $20 a month and charged you between $74 and $144, Trim would only charge you $36 for the same service. Trim also offers to negotiate your credit card APRs, which is a huge savings opportunity Rocket Money doesn't provide.
Keep in mind, though, that Trim does have greater limits than Rocket Money in that it doesn't work with nearly as many services. More obscure internet companies, for example, may work with Rocket Money to renegotiate bills but not Trim. Read our full Trim review to learn more.
Rocket Money Vs. Billshark
Billshark is an alternative to Rocket Money that offers fewer services and primarily focuses on bill renegotiation and cancellation. Where Trim beats Rocket Money's price by a significant margin, however, Billshark charges a flat 40% of your annual savings for their bill negotiation services. In certain scenarios, this can save you money when Rocket Money charges closer to that 60% number, but Billshark's offer is so close to theirs that it usually doesn't matter which service you use.
That said, they also have a slightly higher success rate than Rocket Money when it comes to bill negotiation (90% compared to 85%), so you may find more success with them depending on what bills you're looking to have lowered.
Billshark is also a great alternative for those who aren't comfortable sharing their personal login information. Rocket Money works best when you allow them direct access to your account, but Billshark only requests that you upload the necessary information to receive services. Read our full Billshark review to learn more.
| | | | |
| --- | --- | --- | --- |
| | | | |
| Our Rating | | | |
| Pricing | Free and Premium (between $3 to $12 per month) | Free and Premium ($99 per year | 40% savings (bill negotiation) and $9 (per cancelled subscription) |
| Trustpilot Rating | 4.7/5.0 | 4.2/5.0 | 1.8/5.0 |
| BBB Rating | B | A- | A |
| Mobile Apps | iOS and Android | None | iOS and Android |
| Promotion | None | None | None |
| Verdict | Best for overall financial monitoring | Best for bill negotiation | Best for bill cancellation |
| | | | |
---
Who is Rocket Money Best For?
Rocket Money is best for individuals who suspect they might be misusing their disposable income. You'll favor Rocket Money if you want to reduce that overall spending, get assistance with negotiating and canceling bills, and monitor your financial habits.
You may not get an adequate amount of use from Rocket Money if you prefer a more hands-on approach to your finances or are extremely against giving out personal information such as account login credentials.
---
FAQ Rocket Money
We've found some of the most frequently asked questions about Rocket Money, here are our answers.
Is Rocket Money Legit? 
Yes, Rocket Money is a legitimate, all-in-one savings app that helps you save money by providing you with access to key financial management features. The company is accredited by the Better Business Bureau, uses bank-level 256-bit encryption, and is FDIC-insured. 
How Much Can I Save With Rocket Money? 
There's really no limit to how much you can save with Rocket Money. Depending on how much you tend to spend versus how much you can cut back on, what subscription/bills you have, and whether you utilize the Smart Savings Account, you could end up saving hundreds of dollars per month. 
Is Rocket Money Free? 
Rocket Money has a free and paid plan for you to choose from. With the free plan, you have access to all of the app's basic features, including spending analytics, budgeting tools, subscription monitoring, and more.
With the paid plan, you can choose any amount between $3 and $12 per month to pay, and you'll instantly be given access to all of the site's free features, plus the premium ones. Among the premium features you'll have access to are 24/7 credit reporting, premium chat support, cancellation concierge, the Smart Savings account, real-time sync, and more. 
Does Rocket Money Offer a Free Trial? 
Yes, Rocket Money offers a free, 7-day trial of their premium features for those who'd like to try them before they join the premium version. Sign up for this trial during your account set-up, or access the offer anytime by clicking the settings cog in the upper left-hand corner of your app and selecting "Go Premium." Once you've done that, click "Choose Your Own Price" at the bottom of the new screen provided, and you'll see the option to start your free trial. 
What Services Does Rocket Money Work With?
As of today, Rocket Money can currently negotiate with hundreds of companies to help you save money on your monthly bill or cancel your subscriptions. These are the primary services Rocket Money currently works with: 
● ADT Security
● Atlantic Broadband
● AT&T
● Boingo Wireless
● Boost Mobile
● Brinks Home Security
● CenturyLink
● Charter Spectrum
● Comcast (Xfinity)
● Cox Communications
● Cricket Wireless
● DIRECTV
● Dish Network
● Extra Space Storage
● Frontier
● Frontpoint Security
● Google Fiber
● Grande Communications
● HughesNet
● Mediacom
● OnStar
● Optimum Cable Vision
● Protect America
● Public Storage
● RCN
● SiriusXM
● Sparklight
● Sprint Wireless
● Suddenlink
● Terminix
● Time Warner Cable
● T-Mobile
● Verizon Wireless
● Vivint
● Wall Street Journal
● Wave
● Windstream
● Xfinity Mobile
● Verizon Residential/FIOS
How Can I Save Money With Rocket Money? 
Rocket Money helps save you money in multiple ways. First, it can monitor your subscriptions and help you cancel the ones you no longer need. You can also use the app to request refunds on late fees and overdraft charges from your bank.
 
For premium users, you also have access to a Smart Savings Account, which withdraws small amounts from your bank account and deposits it in an FDIC-insured account. This process is similar to other micro-savings apps like Acorns, Digit, or Qapital. 
How Does Rocket Money Make Money? 
The majority of money that Rocket Money makes comes from premium users who pay a monthly fee and from successful bill negotiation services where they charge a percentage of your annual savings. 
Is Rocket Money Safe? 
Yes, Rocket Money is safe to use. The app stores any data you provide behind bank-level 256-bit encryption. All Rocket Money servers are also hosted using Amazon Web Services, which is also used by NASA and the U.S. Department of Defense.
Additionally, when you first connect your checking account during the sign-up process, you'll notice Rocket Money uses a service called Plaid to access the required information. Plaid is a secure platform that partners with many banks around the globe to securely transmit sensitive information. Similarly to Rocket Money, it also employs advanced encryption protocols and security measures to protect your data end-to-end. 
What Is Rocket Money Premium? 
Rocket Money Premium is Rocket Money's paid subscription service that gives paying account holders access to select features that free account holders can't use. You can get Rocket Money Premium by choosing to pay anywhere between $3 and $12 per month at your discretion. 
Is Rocket Money The Same As Truebill? 
Yes. Rocket Money is the same as Truebill, except it is now known under a different name. Rocket Money was formally known as Truebill before it was bought from the original owners by Rocket Companies in December 2021. In August 2022, Rocket Companies rebranded the original app and changed the name to Rocket Money.
 
Overall, Rocket Money's features are all the same as Truebill's, but anyone who had a Truebill account before the transition was prompted to convert their account to a Rocket one.
Is Rocket Money FDIC-Insured? 
Yes, Rocket Money is FDIC-insured through NBKC and bank partners of Synapse for up to $250,000 per owner per savings account. 
---
Final Thoughts
With more companies than ever asking for subscription fees instead of one-time payments (not to mention the ones offering free trials just to trick you into paying for a few months), apps like Rocket Money are quickly becoming indispensable.
Rocket Money, in particular, offers unique insights, spending analytics, and subscription monitoring/cancellation services that help keep you on your toes in regard to unnecessary purchases.
That said, there's no cut-and-dry answer to whether Rocket Money's premium plan is worth the cost. Even with the ability to choose your own price (between $3 and $12, that is), apps like Trim offer bill cancellation and other services for free. However, most apps that offer the same services as Rocket Money for a lower cost have a far more limited scope in terms of what they can help you with.
If you're considering using Rocket Money to help you get a grip on your financial standing and aren't sure whether the paid plan is right for you, the free trial may be exactly what you need. In fact, it may be worth using the free version for a week or two before trying out your free trial so you can get a clear contrast of what you're missing out on.
Regardless of who you are, though, Rocket Money's all-in-one approach to finance management could be exactly what you need to start saving hundreds of dollars per year.
Up Next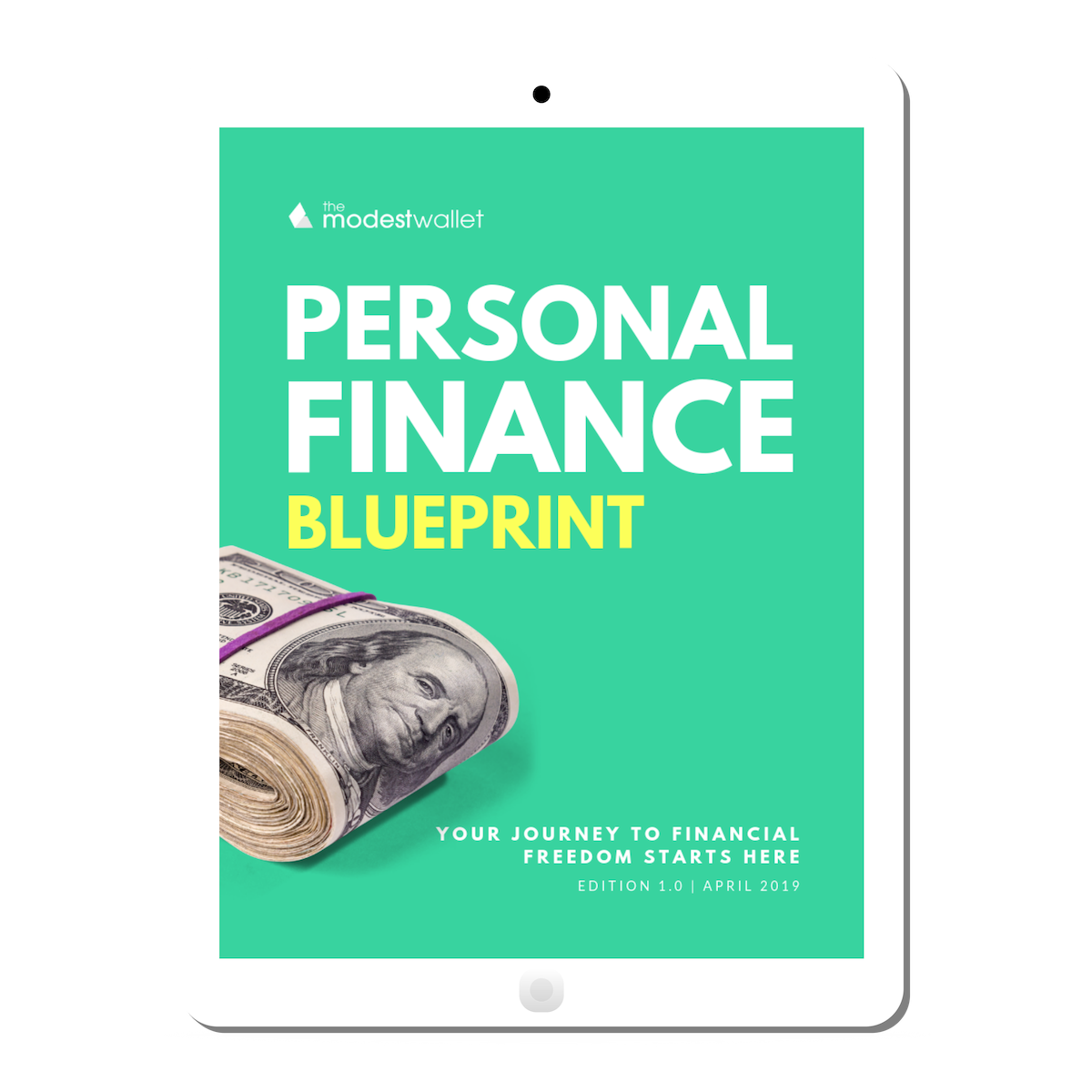 Get our free Personal Finance Blueprint to learn everything you need to know to build wealth.
Plus our best money tips delivered straight to your inbox.

Christa is a skilled researcher and serial entrepreneur. Her passion lies in providing people like you with ways to become financially independent without breaking the bank in the process. Currently, she's tested and perfected over 37 unique side hustles and brings that information to you through articles like these.