LifePoints Review 2023: Get Rewarded for Your Opinion
Many or all of the products featured on this page are from our sponsors who compensate us. This may influence which products we write about and where and how the product appears on a page. However, this does not influence our evaluations. Our opinions are our own. Here is a list of our partners and here is how we make money.
---
The information provided on this page is for educational purposes only. The Modest Wallet is a financial publisher that does not offer any personal financial advice or advocate the purchase or sale of any security or investment for any specific individual.
Making money online doesn't have to be complicated. While you're certainly free to take up a side hustle, why not find a quick and easy way to make a few extra dollars in your downtime?
Online surveys are a great way to make money in your spare time. The best thing is that you can do them from your couch while watching Netflix. Signing up is a cinch, and there are plenty of platforms to choose from.
Today, we are looking into LifePoints, an online survey company that promises to pay you cold, hard cash in exchange for your answers to their questions. Sounds simple, right? But are they legit? Do they follow through on their promises? And is the platform as easy to use as they say it is?
Read on to find out.

Bottom Line: LifePoints is an online survey site where you can earn points for answering questions largely related to your consumer habits. The minimum cash-out threshold to redeem your points is $5. Lifepoints offers 10 points when you sign up.
| | |
| --- | --- |
| Survey opportunities | |
| Survey quality | |
| Earnings potential | |
| Redemption options | |
| Redemption threshold | |
| Ease of use | |
| Security | |
---
What Is LifePoints?
LifePoints is an online survey company originally founded in 1946 as National Family Opinion. Today, it is owned and operated by Lightspeed Research Limited, a Kantar Group company.
LifePoints is similar to other online survey sites, such as Survey Junkie or Branded Surveys. You earn points by participating in surveys, mini-polls, product testing, and behavior tracking largely related to your consumer habits. For example, you may be asked about your travel habits, the sorts of products you buy, and which services you've signed up for.
There are other ways to make money on LifePoints, which can help break up the monotony of doing one survey after another. However, we have to say that the surveys offered on LifePoints can be reasonably interesting and fun to do, even if you're doing a bunch in a row.
>> Read Also: 18 Best Paid Online Surveys Sites: Make an Extra $300 Per Month
---
How Does LifePoints Work?
To get started with LifePoints, individuals must be at least 14 years of age, and they have to first create an account by providing basic information, such as their name and email address. Completing the registration process typically takes just a few minutes.
After completing the registration, users are asked to complete their user profile. This includes providing additional details involving demographic information. A complete profile helps LifePoints match users with surveys and activities that are relevant to their interests and behavior.
Based on the information you provide during sign-up and in your profile questionnaire, you'll be matched with surveys you qualify for. Users receive survey invitations via email, and these invitations are based on their profile information and the needs of market research companies looking for participants.
Through these surveys, you can accumulate points and later redeem those points for gift cards from popular retailers like Amazon and Target, as well as for PayPal cash deposits.
Members can redeem their points for gift cards once they have accumulated 550 LPs, which is equivalent to $5.
Requirements to Open a LifePoints Account
Opening a LifePoints account is a straightforward process with minimal requirements to get started. Here are the requirements for opening a LifePoints account:
Age: You must be at least 14 years old to create a LifePoints account.
Valid Email Address: You need a valid email address to register for a LifePoints account. This email address is used for communication with LifePoints, including receiving survey invitations and account-related information.
Residential Location: LifePoints is available in over 45 countries, including the United States, Canada, New Zealand, and Australia. You must be a resident of a supported geographical location.
Personal Information: You'll be asked to provide some basic personal information during the registration process, including your name, gender, and date of birth. You are also asked to verify your identity using information where you reside. This information goes on to help LifePoints match you with relevant surveys. If you can't or don't want to provide this information, you won't be able to take LifePoints' surveys.
Agreement to Terms: You must agree to LifePoints' terms of service and privacy policy during registration.
Consent to Receive Emails: By signing up, you must agree to receive survey invitations and other communication from LifePoints via email. Make sure to use an email address you check regularly, as you will later be required to verify this email.
How to Sign Up To LifePoints
Creating a LifePoints account is a quick and user-friendly process that can be completed in under 5 minutes. Here is the process from start to finish.
Step 1: Go to LifePoints
To begin the sign-up process, you'll need to navigate to the LifePoints website. On the home page, you'll see two "Join Now" buttons you can use to begin registration. The first one is on the upper right side of the web page, and the other is just below the page header and text on the left side.
If you're on a phone or tablet, you can download the mobile app available for iOS and Android devices.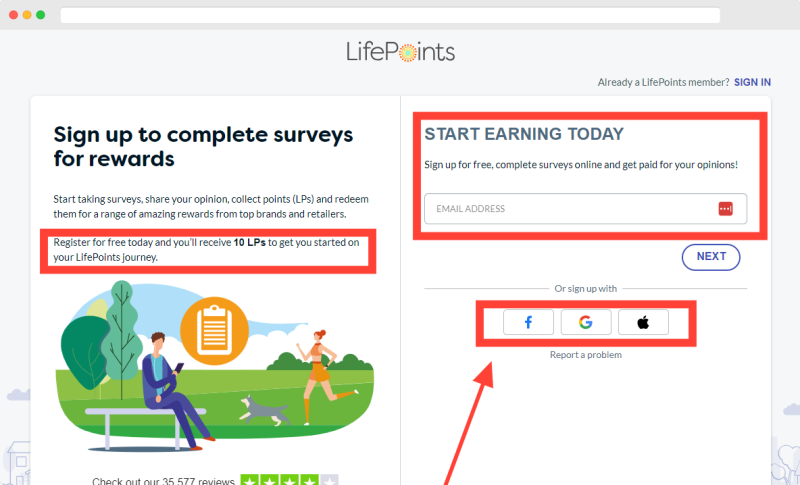 Step 2: Create An Account
Once you click the "Join Now" button, you'll be taken to a new registration page that asks for your email address. You can type it in or choose to sign up via social accounts like Facebook, Google, or Apple ID.
Whichever option you choose, hitting the submit button will redirect you to a page titled "Create Your Account." On this page, you'll be asked to provide basic information, like your first and last name and date of birth. If you choose to type your email instead of using a social login, it will also ask you to confirm your email address.
Immediately after creating your account, you'll be directed to a page where you'll need to accept the terms and conditions.
The final step to creating your account involves verifying your email. Once you do this, you'll receive a free bonus of 10 LPs.
Step 3: Complete Your Profile
After entering your basic information, you will be prompted to complete your user profile. This may include details such as your age, gender, location, and other demographic information.
Some of this information is optional to enter, but be aware that providing accurate information can help you receive survey invitations that match your profile. The more accurate you are and the more information you provide, the more surveys you'll receive.

After entering your demographic information, you'll also be required to verify your identity. To do this, you may be asked about your current county of residence, the last five digits of your license, locations near your current address, etc.
Step 4: Start Participating And Collecting Points
Once your account is set up and verified, you can earn rewards by participating in surveys and other market research activities. Monitor your email for survey invitations, and log in to your LifePoints account to see available opportunities.
If you're unsure of how to use LifePoints to earn rewards, a tour of the site is available upon account creation. This tour covers how to use the dashboard, how to find your LifePoints balance, how to find surveys, and information on when you'll receive your first survey.
However, if you're confident with your knowledge of the platform or don't mind figuring it out on your own, you can opt to exit the tour and get started immediately.
Step 5: Redeem Your Points.
To redeem your points, look for a section or tab on the website or app that says "Rewards." This section is where you can access your available reward options. On this page, you'll be able to see your current LP balance with a button below that says "Redeem." If you have enough points, you'll be able to click this. If not, the button will be greyed out.
After clicking on the button, you should see a list of available rewards. These include gift cards, PayPal cash, or other options. Select the reward you'd like to redeem. After choosing a reward, you'll have the option to select the amount or denomination you want. The number of points required for each reward option is also specified.

Next, Confirm your selection and follow any additional instructions that may be presented. This might include confirming your email address or other account details. Then, click the "Redeem" or "Submit" button to complete the redemption process. Your points will be deducted from your account, and you'll receive further instructions on how to claim your reward.
Depending on the reward you selected, you will receive an email with instructions on how to claim your reward. For example, if you choose a gift card, you will receive the code or instructions via email. If you select PayPal cash, it will be transferred to your PayPal account within a few days.
---
LifePoints Features
There's more than one way to make money with LifePoints. In addition to taking surveys, you can also test products and answer quick polls.
| | |
| --- | --- |
| Ways To Earn Money | Paid surveys, product testing, daily surveys, quick polls, and more |
| Minimum Payout | $5 (550 LPs) |
| Payment Options | Gift cards and PayPal cash |
| Payment Processing Time | 5 to 10 business days (*depends on payment option) |
| Avg. Payout Per Survey | $0.50 to $3.00 |
| Trustpilot | 4.0/5.0 (over 35,000 reviews) |
| Better Business Bureau | B+ Rating (*parent company, Lightspeed LLC) |
| Platforms | Web, Android, and iOS |
| Promotion | 10 points (*new accounts) |
| Minimum Age Requirement | 14+ |
| Availability | Over 45 countries, including the U.S., Canada, Australia and New Zealand |
| Support | Help center and contact form |
Paid Surveys
Most LifePoints surveys take between 10 and 15 minutes to complete.
How much you make with each survey can vary significantly depending on factors like how urgently the client who's requested the survey needs the answers and the length and scope of the survey. Typically, though, you can expect to earn anywhere from $0.50 to $3.00 per survey.
You'll even earn points for surveys you don't fully complete, although you'll earn much more if you actually finish the entire survey.
All of this translates to a few dollars an hour. Nothing to quit your day job over but definitely more than you'll make watching TV!
An annoying thing about paid surveys is survey disqualification. You can get disqualified from taking a survey as you're busy doing it because they are simply looking for a different demographic. When this happens, there's not much you can do about it except to find another survey you qualify for.
>> Read Also: Vindale Research Review: Make Money with Online Surveys
Product Testing
LifePoints also offers product testing. Basically, you can get paid to try out a physical product before it's sold in stores at home and report your experience with it. Product testing pays a bit more than online surveys, which makes sense, given that it's a more in-depth and detailed process for the tester.
Diary Surveys
Diary surveys take place over a longer period and require you to keep track of your experiences using a product or service. So, for example, you may be asked to sign up for a trial version of a piece of software or to use a website over the course of a couple of hours or days. You would then log your experiences with that product and send a diary of your experiences to LifePoints when you're finished.
Like product testing, diary surveys typically pay more than your average online survey because of how much more in-depth and time-consuming they are.
Quick Polls
Quick polls are exactly what they sound like; you'll receive invitations for one-question surveys. These quick polls are usually pretty easy to do and relatively short. They're even kind of fun and a nice break. They will ask you, for example, about your favorite food or drink.
They pay much less (i.e., typically one point) than the average paid survey because they take a bit less effort.
---
Understanding LifePoints' Rewards System
LifePoints' reward system is extremely straightforward. You'll earn points as you complete surveys and other rewarded tasks, and you can redeem them for PayPal cash, gift cards, or donations to charity.
The payment method you choose will depend on your needs and circumstances. PayPal is obviously the most flexible, but it will take 1,100 points to earn $10. Gift cards reward slightly more, but obviously, they're not as useful as cash (unless you know for sure that you're going to be using them). Finally, donating to charity–in this case, Unicef–is always a great option as well.
You'll need to have a minimum of 550 points on your account in order to withdraw a reward, so be sure to spend at least a couple of hours on the site to ensure that you hit that payout threshold before you stop using the service.
---
How Does LifePoints Make Money?
LifePoints makes money by acting as an intermediary between brands and consumers. Here's how the process works.
Many businesses and brands want to collect consumer opinions, feedback, and data about their products, services, and marketing campaigns. They require insights to make informed business decisions and improvements to their offerings. LifePoints partners with these companies to offer them access to its user base.
LifePoints then invites its registered users to participate in surveys, product testing, and other market research activities conducted by these companies. LifePoints users provide valuable feedback and data through these activities. In return for participating in these surveys and providing their opinions and data, LifePoints compensates its users with rewards, including gift cards, PayPal cash, or other incentives.
The data collected from these activities is compiled, analyzed, and reported back to the companies. The information helps businesses and brands make informed decisions, improve their products or services, and refine their marketing strategies.
LifePoints earns money from brands and companies for providing access to its user base and collecting valuable consumer data. A portion of this revenue is used to compensate its users for their participation, and the rest is retained as profit.
---
Is LifePoints Legit?
LifePoints is a legitimate and reputable online survey platform. It is operated by Lightspeed Research Limited (a Kantar Group company), a well-established company with a history of conducting market research and providing user survey opportunities worldwide.
Users of both of their apps have good things to say about LifePoints, and they generally have good reviews. On one hand, LifePoints' iOS app has a rating of 4.5 out of 5.0 with over 1,900 reviews. The Android app, on the other hand, has a rating of 4.3 out of 5.0 with over 83,000 reviews.
LifePoints has a verified account with Trustpilot, with a rating of 4.0 out of 5.0 and over 35,000 reviews.
On the negative side, LifePoints is not an accredited business by the Better Business Bureau (BBB), and it has had poor reviews and complaints on the BBB over the last few years.
Overall, LifePoints is a reputable platform for individuals interested in sharing their opinions and earning rewards for participating in market research activities. However, as with any online platform, it's important to exercise caution, protect your personal information, and set realistic expectations regarding potential earnings.
---
How Much Money Can You Make On LifePoints
The amount of money you can make on LifePoints or any other online survey platform varies widely and depends on several factors. Earnings from online surveys are generally not a substitute for a full-time income, but they can provide extra cash or gift cards.
Here are some factors that influence how much money you can make on LifePoints:
Number of Surveys Available: The number of surveys you receive depends on your demographic profile and the needs of market research companies. Some users receive more survey invitations than others.
Survey Length and Complexity: Longer and more complex surveys offer higher rewards. Shorter surveys may provide fewer points.
Frequency of Survey Opportunities: Some users may receive survey invitations more frequently, while others may have fewer opportunities.
Survey Completion: Your ability to complete surveys accurately and provide valuable feedback can affect your eligibility for future surveys. Incomplete or inconsistent responses may result in disqualifications. You may also be deemed ineligible for a survey after you complete the screening, in which case you will not receive rewards for what you've completed.
Reward Value: The value of each survey can vary. Some surveys may offer higher point rewards than others.
Location: Availability and compensation for surveys may vary by region. Users in certain countries may have access to more surveys and higher payouts.
It's important to set realistic expectations. While it is possible to accumulate points and redeem them for rewards, online surveys are typically best viewed as a way to earn extra spending money rather than a primary source of income.
If you're consistent and diligent in participating in surveys and other activities, you can realistically expect to earn anywhere between $200 and $350 per month using LifePoints.
---
LifePoints Ease of Use
LifePoints is generally considered to be user-friendly and easy to use. The platform is designed with simplicity in mind, making it accessible to a wide range of users, including those who may not be very tech-savvy.
LifePoints features a straightforward and intuitive website and mobile app interface. It's easy to navigate, and key features are displayed prominently.
In addition to a simple and intuitive sign-up process, the platform effortlessly guides you through setting up your profile and getting your first survey. LifePoints also sends email invitations when you qualify for surveys, making it convenient for users to access available opportunities.
Furthermore, LifePoints offers mobile apps for iOS and Android devices, allowing users to participate in surveys and manage their accounts on the go. The app is well-designed and user-friendly.
However, no website comes without its issues. For LifePoints, this is their customer support. Some users report that customer service agents are not particularly helpful. Though, it is important to keep in mind that everyone's experience is different, and your experience with them might be different.
Additionally, LifePoints users have reported other drawbacks, including survey availability, survey qualification, too-frequent email notifications, and technical issues.
---
LifePoints Security
LifePoints, like other reputable online survey and market research platforms, take measures to ensure the security and privacy of user information.
While no online platform can guarantee absolute security, LifePoints employs several security practices to protect user data and maintain the trust of its members. Some of the security measures and practices used by LifePoints include:
Secure Data Encryption: LifePoints uses encryption protocols to protect the transmission of sensitive data, such as login information and personal details. This helps safeguard your data while in transit between your device and the LifePoints server.
User Authentication: LifePoints requires users to create accounts with unique usernames and passwords to access their accounts. This adds a layer of security by ensuring that only authorized individuals can access their accounts.
Data Security: User data is stored securely on the platform's servers. This includes account details, survey responses, and reward balances.
Email Verification: LifePoints uses email verification to confirm the authenticity of a user's email address during registration. This helps prevent the creation of fraudulent accounts.
Regular Updates and Maintenance: LifePoints conducts regular security updates and maintenance to protect against vulnerabilities and threats.
While LifePoints implements these security measures, it's essential for users to do their part in ensuring their own security. This includes using strong, unique passwords, being cautious about sharing personal information, and following good online security practices.
---
LifePoints Customer Support
LifePoints provides customer support to assist users with their questions, concerns, and issues related to the platform. At the time of this review, there are only two methods for contacting customer support.
Users can use LifePoints' Help Center to try to solve their issues without having to contact them. This is great if you prefer to solve issues on your own or think you won't need technical intervention to fix your issue.
The help center contains answers to common questions, information about the platform, and instructions on various topics. Users can often find solutions to their issues or concerns by consulting this resource.
If you can't find what you're looking for in the help center, the other option is to contact LifePoints' support via the contact form on their website.
Be sure to include all relevant information about your query so you can get a response as quickly as possible. Once you send it, LifePoints' customer support team will review your email or form submission and respond to your inquiry. Response times can vary, but typically within a day or two.
---
LifePoints Pros Explained
LifePoints, like other online survey and market research platforms, has its share of advantages that make it appealing to users looking to earn rewards for sharing their opinions. Here are some of the pros of using LifePoints:
Survey Opportunities: LifePoints provides users with regular opportunities to participate in surveys. This can be a convenient way to earn rewards by providing feedback on various topics.
User-Friendly Interface: LifePoints offers a user-friendly website and mobile app interface, making it easy to navigate and find available surveys.
Profile Matching: The platform uses user profiles to match members with surveys that align with their demographics and interests. This can result in more relevant survey invitations.
Diverse Rewards: LifePoints offers a variety of reward options, including gift cards for popular retailers, PayPal cash, and more. Users can choose rewards that suit their preferences.
Mobile App: LifePoints provides a mobile app for iOS and Android devices, allowing users to participate in surveys on the go.
Email Notifications: Users receive email notifications when they have survey invitations, making it easy to stay informed about available opportunities.
---
LifePoints Cons Explained
While LifePoints has many advantages as a way to make money completing surveys online, it also has its share of drawbacks that users should consider. Here are some of the cons or disadvantages associated with LifePoints:
Survey Disqualifications: Users may frequently experience disqualifications from surveys, which can be frustrating. Some surveys have specific criteria that users must meet, and disqualifications can occur after answering a few initial questions.
Survey Availability: The number of available surveys can vary, and not all users receive survey invitations regularly. This means that users may not always have opportunities to earn rewards.
Low Earning Potential: While you can accumulate points over time, the earnings from individual surveys are often modest. It may take some time to accumulate enough points to redeem for meaningful rewards.
Point Expiration: LifePoints has a point expiration policy, where earned points expire if not redeemed within a certain time frame.
Minimum Payout Threshold: LifePoints has a minimum point threshold of 550 LP that users must reach before redeeming their points for rewards.
Customer Support: While LifePoints offers customer support, some users have reported less favorable experiences with their support team.
---
Pro Tips to Make the Most Money with LifePoints
There are a few things you should keep in mind to get as much as possible out of LifePoints.
First, you should check LifePoints quite often to see if there are any available surveys. They fill up quickly, so you'll need to react fast if you don't want to miss out.
Second, you should keep an eye out for LifePoints Boosters. For example, you can receive a 20% bonus when you keep your geo-location setting on your phone activated in the app. You'll also be paid to update your profile periodically.
Third, because you don't get paid a huge amount of money for completing surveys, it's best to use the service only when you wouldn't otherwise be doing anything else for cash. In other words, use it while you're watching TV or something like that. This isn't the kind of service you'd want to take time off from your full-time job to do.
Finally, you'll want to answer screening questions as quickly as possible. If you're going to get disqualified for a survey, it's better to know immediately before you spend too much time on it.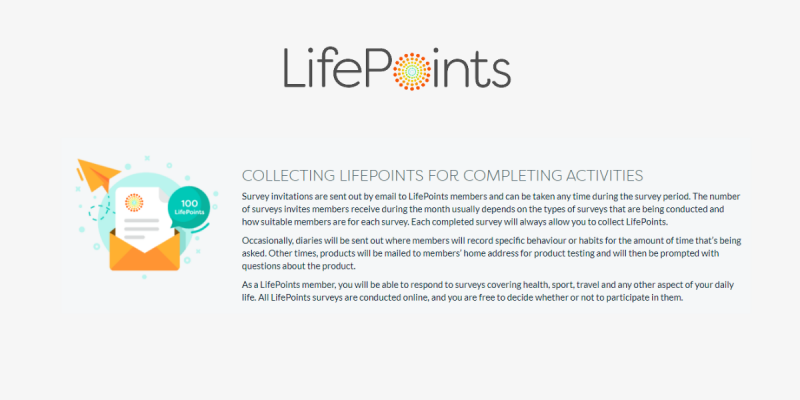 >> Read Also: 17 Paid Research Studies You Can Join Today To Make Extra Cash
---
LifePoints Alternatives
There are several alternatives to LifePoints if you're looking for online surveys to make money by sharing your opinion. Here are some popular alternatives to consider:
LifePoints vs. Branded Surveys
Branded Surveys is an online survey company that works much like LifePoints. You'll take surveys in exchange for points you trade in for PayPal cash or gift cards. Income potential on Branded Surveys is roughly equivalent to what you'll experience on LifePoints, so choosing between the two generally depends on user experience.
Branded Surveys differentiates itself from its competition, including LifePoints, in one unique way. Branded Surveys has a competitive element they introduce through their Leaderboard feature. This leaderboard creates a sense of competition among members and motivates users to take more surveys.
Read our full Branded Surveys review to learn more.
LifePoints vs. Survey Junkie
Like Branded Surveys, Survey Junkie is an online survey company that pays you to answer questions about your consumer habits and preferences. You earn points on the site that you exchange for PayPal cash or gift cards.
Survey Junkie focuses on paid surveys as its primary earning method, but it also offers product testing opportunities and occasionally pays for online focus groups.
Survey Junkie also has a low minimum payout threshold ($5), just like LifePoints, which means users can quickly access their earnings once they've earned enough points.
Check out our full Survey Junkie review to learn more.
LifePoints vs. Swagbucks
Swagbucks is an online platform offering a wide range of ways to monetize your free time, from doing surveys and playing games to cashback offers and more. Additionally, Swagbucks has a referral program that allows users to earn points by referring friends and family to the platform.
Overall, LifePoints is more specialized in surveys and market research, whereas Swagbucks offers a broader range of earning opportunities, making it appealing to users looking for diverse ways to earn rewards.
The choice between LifePoints and Swagbucks will depend on your preferences and how you like to earn rewards. If you prefer a more survey-focused experience, LifePoints may be a good choice. If you're looking for a platform with a variety of ways to earn rewards, including surveys, Swagbucks may be more suitable.
Read our full Swagbucks review to learn more.
| | | | |
| --- | --- | --- | --- |
| | | | |
| Our Rating | | | |
| Avg. Payout Per Survey | $0.50 to $3.00 | $0.50 to $3.00 | $0.50 to $5.00 |
| Payment Method | PayPal cash and Gift Card | Bank Transfer, PayPal or Gift Card | PayPal, Visa Prepaid Card, or Gift Card |
| Sign Up Bonus | 10 points | None | $1.00 welcome bonus |
| Minimum To Cash Out | $5 (550 LPs) | 500 points (500 points = $5) | 500 points (500 points = $5) |
| Highlight | Online surveys | Multiple survey opportunities | Online surveys |
| | | | |
---
Who Is LifePoints Best For?
LifePoints is best for people who want to supplement their primary source of income with a few extra dollars they make in their downtime. It might be especially well-suited to people who have stressful jobs and want something easy and simple to do for extra cash in their off time.
LifePoints is not a substitute for a full-time job. There simply isn't enough money to be made on the platform. So, if you're looking for a job to pay for the costs of everyday living, taking LifePoints surveys will not suffice.
LifePoints doesn't brand itself as a stand-alone alternative to a full-time job. They acknowledge that you'll likely be answering surveys as a side hustle.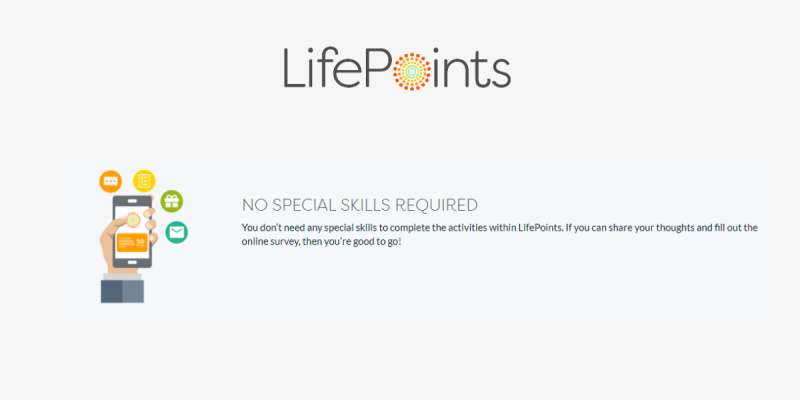 >> Read Also: 25 Best Side Hustle Apps to Make Extra Cash
---
FAQ About LifePoints
We found some of the most frequently asked questions about LifePoints; here are our answers.
How Do You Get Paid with LifePoints?
You get paid with LifePoints by requesting a payout once you've accumulated 550 points on the service. When you've done that, you can request a PayPal deposit or a gift card of your choosing.
550 points are roughly equivalent to $5, so the payout threshold is quite low. On some other survey sites, you'll need to earn over $20 or $50 before you're eligible for a payout.
Is LifePoints Legit?
We can confidently say that LifePoints is 100% legitimate. Owned by Kantar Group and operated by Lightspeed Research Limited, LifePoints is a reputable market research company that has been in business for many years.
How Much Money Can I Make with LifePoints?
You can't make a huge amount of money on LifePoints. As with other survey sites, your income potential will generally be limited to no more than $5 per hour.
Generally speaking, you can earn anywhere between $200 to $350 per month if you are consistent in using the platforms.
How Does LifePoints Make Money?
LifePoints makes money by charging clients for consumer research. Basically, companies come to them for insights into consumer behavior and opinions.
LifePoints (or, more accurately, the owner of LifePoints — Kantar Group) charges them a fee and then uses a portion of that fee to pay survey takers in order to encourage them to answer questions.
---
Final Thoughts
While LifePoints is not a life-changing financial experience, it's a solid way to make a few extra bucks an hour when you'd otherwise be watching TV or hanging out on the couch. The surveys can be interesting and fun to take, and the site offers a few other options besides run-of-the-mill surveys to occupy your time.
You'll enjoy the super user-friendly interface and user experience, as well as the prompt payouts and low payout thresholds. Even though it's annoying to get disqualified from the occasional survey, that's par for the course on these survey sites and apps.
All things considered, we'd suggest giving LifePoints a try if you're interested in grabbing a few extra dollars to help pay the rent or bills.
Up Next
Get our free Side Hustle Handbook with the best strategies to multiply your income sources today.
Plus our best money tips delivered straight to your inbox.

Ricardo is an entrepreneur, investor and personal finance nerd who enjoys spending time with his family and friends, travelling and helping others achieve their financial goals. Ricardo has been quoted as a personal finance expert in several online publications including Healthline, Bankrate, GOBankingRates, MSN Money, Yahoo Finance, U.S. News & World Report, Forbes and USA Today.