LifePoints Review 2023: Get Rewarded for Your Opinion
LifePoints can be a great way for people to make some extra cash fast via surveys and other online activities.

Reviewed By

Vanja Petrovic

Many or all of the products featured on this page are from our sponsors who compensate us. This may influence which products we write about and where and how the product appears on a page. However, this does not influence our evaluations. Our opinions are our own. Here is a list of our partners and here is how we make money.
---
The information provided on this page is for educational purposes only. The Modest Wallet is a financial publisher that does not offer any personal financial advice or advocate the purchase or sale of any security or investment for any specific individual.
Making money online doesn't have to be complicated. While you're certainly free to take up a side hustle, why not find a quick and easy way to make a few extra dollars in your downtime?
Online surveys are a great way to make money. The best thing is that you can do them from your couch while watching Netflix. Signing up is a cinch and there are plenty of services to choose from.
Today, we are looking into LifePoints, an online survey company that promises to pay you cold, hard cash in exchange for your answers to their questions. Sounds simple, right? But are they legit? Do they follow through on their promises? And is the platform as easy to use as they say it is?
Read on to find out.

Quick Summary: LifePoints is an online survey site where you can earn points for answering questions largely related to your consumer habits. The minimum cash out threshold to redeem your points is $5. Lifepoints offers 10 points when you sign up.
Pros:
Free to join

Get a 10 point welcome bonus

Lots of survey options

Multiple ways to cash out

Redeem with only 550 points
Cons:
Points expire

Limited customer support

Platform with tech issues
What Is LifePoints?
LifePoints is similar to other online survey sites, like Survey Junkie or MyPoints. You earn points for answering questions largely related to your consumer habits. For example, you may be asked about your travel habits, the sorts of products you buy, and which services you've signed up for.
There are other ways to make money on LifePoints, which can help break up the monotony of doing one survey after another. Although, we have to say that the surveys offered on LifePoints can be reasonably interesting and fun to do, even if you're doing a bunch in a row.
See Also: 18 Best Paid Online Surveys Sites: Make an Extra $300 Per Month
How Does LifePoints Work?
Signing up for LifePoints is extremely simple and it is completely free. You must be at least 16 years of age or older and the service is only available in select countries, including the United States.
Once you've signed up and entered some basic demographic information, you're ready to start taking surveys!
One of the great things about LifePoints is that they have both Android and Apple apps, in addition to their web service. So if you prefer taking surveys on your phone, you're in luck.
How Can You Make Money with LifePoints?
There's more than one way to make money with LifePoints. In addition to taking surveys, you can also test products and answer questions by video.
Paid Surveys
Most LifePoints surveys take between ten and fifteen minutes to complete.
How much you make with each survey can vary significantly depending on factors like how urgently the corporate client who's requested the survey needs the answers. Typically, though, you can expect to earn anywhere from $0.50 to a few dollars per survey.
You'll even earn points for surveys you don't fully complete, although you'll earn much more if you actually finish the entire thing.
All of this translates to a few dollars an hour. Nothing to quit your day job over but definitely more than you'll make watching TV!
An annoying thing about paid surveys is survey disqualification. You can get disqualified from taking a survey as you're busy doing it because they are simply looking for a different demographic. When this happens, there's not much you can do about it except to find another survey that you do qualify for.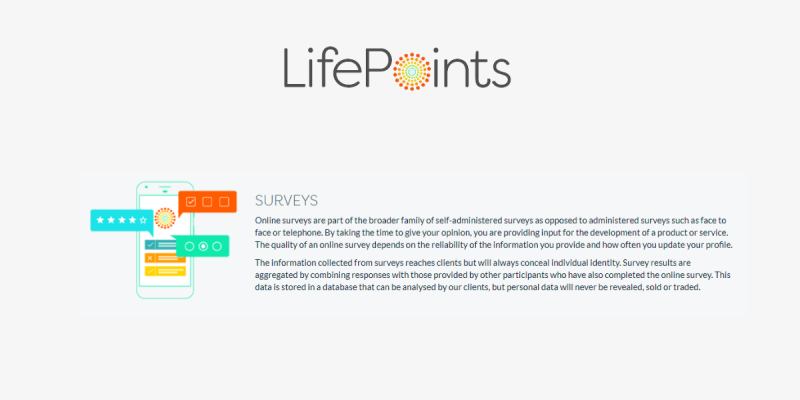 See Also: Vindale Research Review: Make Money with Online Surveys
Product Testing
LifePoints also offers product testing. Basically, you can get paid to try out a physical product before it's sold in stores at home and report your experience with it. Product testing pays a bit more than online surveys, which makes sense given that it's a more in-depth and detailed process for the tester.
Diary Surveys
Diary surveys take place over a longer period and require you to keep written track of your experiences using a product or service. So, for example, you may be asked to sign up for a trial version of a piece of software or to use a website over the course of a couple of hours or days. You would then log your experiences with that product and send a diary of your experiences to LifePoints when you're finished.
Like product testing, diary surveys typically pay more than your average online survey because of how much more in-depth and time-consuming they are.
Quick Polls
Quick polls are exactly what they sound like; you'll receive invitations for one-question surveys. These quick polls are usually pretty easy to do and relatively short. They're even kind of fun and a nice break. They will sk you for example about your favorite food or drink.
They pay much less (i.e. typically one point) than the average paid survey because they take a bit less effort.
Understanding LifePoints' Rewards System
LifePoints' reward system is extremely straightforward. You'll earn points as you complete surveys and other rewarded tasks and you can redeem them for PayPal deposits, gift cards, or donations to charity.
The payment method you choose will depend on your needs and circumstances. PayPal is obviously the most flexible, but it will take between 1,000 and 1,200 points to earn 10 dollars. Gift cards reward slightly more, but obviously, they're not as useful as cash (unless you know for sure that you're going to be using them). Finally, donating to charity–in this case, Unicef–is always a great option as well.
You'll need to have a minimum of 550 points on your account in order to withdraw a reward, so be sure to spend at least a couple of hours on the site to ensure that you hit that payout threshold before you stop using the service.
Pro Tips to Make the Most Money with LifePoints
There are a few things you should keep in mind to get as much as possible out of LifePoints.
First, you should check LifePoints quite often to see if there are any available surveys. They fill up quickly so you'll need to react fast if you don't want to miss out.
Second, you should keep an eye out for LifePoints Boosters. For example, you can receive a 20% bonus when you keep your geo-location setting on your phone activated in the app. You'll also be paid to periodically update your profile.
Third, because you don't get paid a huge amount of money for completing surveys, it's best to use the service only when you wouldn't otherwise be doing anything else for cash. In other words, use it while you're watching TV or something like that. This isn't the kind of service you'd want to take time off from your full-time job to do.
Finally, you'll want to answer screening questions as quickly as possible. If you're going to get disqualified for a survey, it's better to know immediately before you spend too much time on it.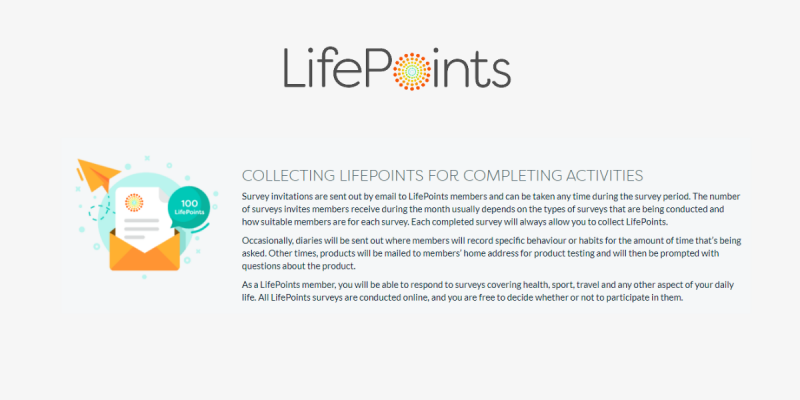 See Also: 17 Paid Research Studies You Can Join Today To Make Extra Cash
Things to Consider
Keep the following things top of mind when you're using the LifePoints service.
Who Is LifePoints Best For?
LifePoints is best for people who want to supplement their primary source of income with a few extra dollars they make in their downtime. It might be especially well-suited to people who have stressful jobs and want something easy and simple to do for cash in their off time.
Who Should Avoid LifePoints?
LifePoints is not a substitute for a full-time job. There simply isn't enough money to be made on the platform. So, if you're looking for a job to pay for the costs of everyday living, taking LifePoints surveys will not suffice.
LifePoints doesn't brand itself as a stand-alone alternative to a full-time job. They acknowledge that you'll likely be answering surveys as an adjunct to another source of income during the time you'd otherwise be idle and there's nothing wrong with that.
LifePoints Alternatives
There are tons of alternatives to LifePoints. Here are just a few.
Branded Surveys
Branded Surveys is an online survey company that works much like LifePoints. You'll take surveys in exchange for points that you then trade in for PayPal deposits or gift cards. Income potential on Branded Surveys is roughly equivalent to what you'll experience on LifePoints, so choosing between the two generally comes down to a preference for one or the other's user interface and user experience.
Read our full Branded Surveys review to learn more.
Survey Junkie
Like Branded Surveys, Survey Junkie is an online survey company that pays you to answer questions about your consumer habits and preferences. You earn points on the site that you then exchange for Paypal deposits or gift cards. You'll probably make only a few dollars an hour doing surveys on Survey Junkie (unless you get really lucky).
Check out our full Survey Junkie review to learn more.
My Points
MyPoints is an online survey service with a few extra bells and whistles. On this site, in addition to taking surveys, you'll be able to watch paid videos and use paid search bars to supplement your survey income. As with LifePoints, Branded Surveys, and Survey Junkie, however, the income potential is relatively limited and you'll want to limit your use of this site to time when you'd otherwise be earning nothing. In other words, don't miss out on another income opportunity in favor of My Points.
Read our full MyPoints review to learn more.
LifePoints Pros and Cons
As with any online service, LifePoints comes with its pros and cons. Here are the most prominent ones we found while we were using the site.
Pros
Really simple and easy-to-use user interface and user experience
Great for making a few extra dollars during the time we'd otherwise just be watching TV on the couch
Many of the surveys were actually interesting and fun to do
Options to earn money besides just doing run-of-the-mill surveys
Cons
The income potential on this site is limited. At most, you'll make a few dollars per hour so you won't be able to do this full-time.
As with many survey sites, you'll get disqualified from your fair share of surveys after having spent time answering screening questions. That's frustrating.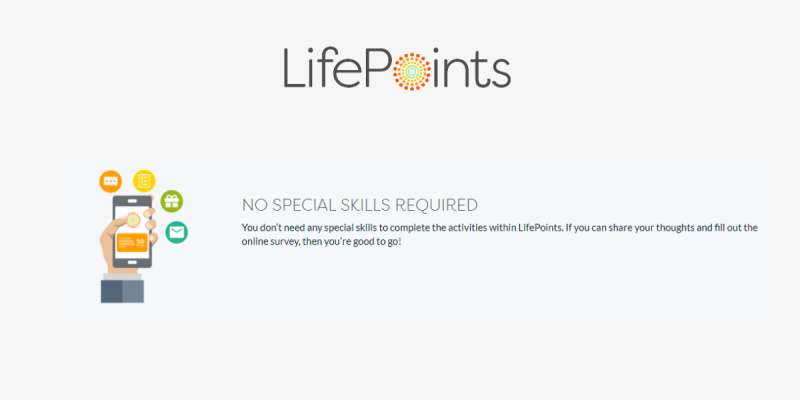 See Also: 25 Best Side Hustle Apps to Make Extra Cash
FAQ LifePoints
We noticed that our inboxes tended to fill up with the same questions over and over again when people were asking about LifePoints. So we figured we'd add an FAQ section to this article in case the rest of you were wondering the same things we'd been repeatedly asked about.
How Do You Get Paid with LifePoints?
You get paid with LifePoints by requesting a payout once you've accumulated 550 points on the service. When you've done that, you can request a Paypal deposit, a gift card of your choosing, or a donation to charity on your behalf.
550 points are roughly equivalent to five dollars, so the payout threshold is quite low. On some other survey sites, you'll need to earn upwards of twenty or fifty dollars before you're eligible for a payout.
Is LifePoints Legit?
We can confidently say that LifePoints is 100% legitimate. Owned by Kantar (formerly known as Lightspeed Research), LifePoints is an amalgam of several other well-established research panels. It's a reputable company that pays what it promises to pay–on time and in the right amounts.
While there are user reviews online that suggest there's something shady about LifePoints, many of them are unreliable.
If you follow the rules, complete the surveys honestly, and enter your info correctly, LifePoints will pay you what it promises to.
How Much Money Can I Make with LifePoints?
You can't make a huge amount of money on LifePoints. As with other survey sites, your income potential will generally be limited to no more than five dollars per hour. It's for that reason that we say you should limit your use of this site to those times when you're not making money otherwise.
How Does LifePoints Make Money?
LifePoints makes money by charging clients for consumer research. Basically, companies come to them for insights into consumer behavior and opinions. LifePoints (or, more accurately, the owner of LifePoints – Kantar) charges them a fee and then uses a portion of that fee to pay survey takers in order to encourage them to answer questions.
Sign up and get a 10 point welcome bonus
Earn cash for completing online surveys
Redeeming is fast and simple
Complete surveys in 20 min or less
Final Thoughts
While LifePoints is not a life-changing financial experience, it's a solid way to make a few extra bucks an hour when you'd otherwise be watching TV or hanging out on the couch. The surveys can be interesting and fun to take and the site offers a few other options besides run-of-the-mill surveys to occupy your time.
You'll enjoy the super user-friendly interface and user experience, as well as the prompt payouts and low payout thresholds. Even though it's annoying to get disqualified from the occasional survey, that's par for the course on these survey sites and apps.
All things considered, we'd suggest giving LifePoints a try if you're interested in grabbing a few extra dollars to help pay the rent or bills.
Up Next
Get our free Side Hustle Handbook with the best strategies to multiply your income sources today.
Plus our best money tips delivered straight to your inbox.

Ricardo is an entrepreneur, investor and personal finance nerd who enjoys spending time with his family and friends, travelling and helping others achieve their financial goals. Ricardo has been quoted as a personal finance expert in several online publications including Healthline, Bankrate, GOBankingRates, MSN Money, Yahoo Finance, U.S. News & World Report, Forbes and USA Today.