30 Easy Ways to Make $1,000 Fast in 2023 [Legally]
Many or all of the products featured on this page are from our sponsors who compensate us. This may influence which products we write about and where and how the product appears on a page. However, this does not influence our evaluations. Our opinions are our own. Here is a list of our partners and here is how we make money.
---
The information provided on this page is for educational purposes only. The Modest Wallet is a financial publisher that does not offer any personal financial advice or advocate the purchase or sale of any security or investment for any specific individual.
A recent survey conducted by GOBankingRates found that 32.9% of Americans have no more than $100 in their savings account. So, it's not surprising people are looking for ways to make more money.
Making money outside of your regular work and school commitments can be tough. But the internet and the rise of the gig economy mean that there are plenty of ways you can make $1,000 fast as long as you are willing to commit some of your spare time to earning it.
All the options on this list will let you make $1,000 — or will at least help you towards that goal. Most of them are flexible, allowing you to work when and where you want. Some even let you earn entirely passively.
We're confident there will be an earning method in this article that suits you. Be sure to take a look through the entire list and see which of the options best matches your skills, circumstances, and personality.
---
Best Ways to Make $1,000 Fast
If you are looking to make money fast, the best way is to combine or stack different ideas to maximize your earnings. For instance, you can become a freelance writer and complete online surveys in your spare time.
1. Freelance Writing
Freelance writers often earn thousands of dollars per month full-time. It really is possible to make $1,000 fast by working part-time around your regular job. You don't need specific qualifications to become a freelance writer, and there are plenty of opportunities to write from home.
The biggest challenge is usually getting your first client. You will need to prove you can write. Starting a blog or creating some writing samples will show your skills to potential employers.
Taking a course can equip you with the knowledge you need to land your first job. Through the Earn More Writing course, freelance writer Holly Johnson details the strategies she used to build a thriving writing business. (She earns $200,000 a year.) If you don't want to pay for the course, try the free workshop, which provides tips about how to get your first job.
>> Read Also: 18 Best Paid Online Surveys Sites: Make an Extra $300 Per Month
2. Social Media Manager
Nowadays, pretty much all businesses have at least one social media account. Freelance social media managers run profiles for companies that lack the time or expertise to manage them themselves.
Social media management can be a profitable full-time or part-time job if you can show you have the skill required to run these accounts.
While you don't need any particular qualifications — although skills in marketing or communications can help — you will need expertise in building a following on one or more social networks, as well as writing, graphic design, video editing, and PPC ad skills.
Proving you have this experience is easy, just go out and build a successful social media account. You can then use it to show potential employees that you have what it takes.
If you want some help learning the required skills, then consider the Social Media Management Bootcamp course. It teaches everything from using the platforms to creating content and then setting up your freelance business.
3. Become a Proofreader
Proofreaders check other people's writing for grammatical mistakes, typos, and other issues that were missed in previous editorial passes. If you have an eye for detail and excellent spelling and grammar, becoming a professional proofreader could be a good way to make $1,000 fast.
As with other freelance jobs on this list, you don't need any particular qualifications, but you do need to show you have proofreading skills. Offering your services to local businesses or charities is an excellent way to start.
You can find work on freelance websites like Fiverr, or look for work on job boards like ZipRecruiter. If you want more information on starting a profitable proofreading business, then sign up for this free workshop run by Caitlin Pyle, a professional proofreader.
4. Make Money as a Virtual Assistant
Virtual assistants help businesses, entrepreneurs, and freelancers with a variety of administrative tasks.
The exact work you do in this role will depend on the needs of your employer, but it could include managing emails, running social media accounts, customer service, project management, and data entry, and you do the work remotely.
To become a virtual assistant, you can sign up with an agency or find work by setting up profiles on online freelance marketplaces.
The most profitable way to work as a virtual assistant is to approach it like a business. That's what Gina Horkey teaches in her course, 30 Days or Less to Virtual Assistant Success.
Becoming a virtual assistant can be a great way to make $1,000 fast as this skill is in high demand right now.
5. Become a Transcriptionist
Transcriptionists listen to audio recordings and type what is being said. While it sounds simple, it can be challenging to keep up with technical conversations or multiple speakers.
To be a transcriptionist, you need good spelling and grammar, an eye for detail, and the ability to sit down, concentrate intensely, and work for hours at a time.
The major benefit of the job is the freedom to work wherever and whenever you want. The only restriction is client deadlines. There are no required qualifications to start working as a transcriptionist, but if you want to learn more, Transcribe Anywhere is a course that teaches all you need to know about the work.
6. Deliver Food
Over the last few years, apps have made it incredibly easy for restaurants to offer food delivery. While most of the ordering process is automated, the services still need people to take food orders from restaurants to customers.
There are many platforms online you could sign up to, and it's typically quick to do so and get approved. You usually do not need any particular experience or qualifications — just a smartphone and a way to get around. This makes delivering food an accessible way to make $1,000 fast.
One of the most flexible food delivery services is DoorDash. Once your application is approved, you can start work immediately, and you always have the freedom to choose when and where you work.
>> Read Also: 50+ Ways to Make Money in College (All Legit)
7. Deliver Groceries
Similar to food delivery is grocery delivery. In this job, you will use a service like Instacart or Shipt to be connected with people who need their groceries — or other items — delivered. You then collect the items from the pickup location before giving them to the buyer.
These services give you the freedom to work when you want, so they're an excellent way to make $1,000 fast around your existing schedule. It's easy to sign up for these services, and you just need a car and a phone.
8. Sell Old Stuff
Selling your stuff is perhaps the quickest way to make money (although, of course, your earnings are limited by the value of the items you own).
There are many ways to sell your products, such as garage sales, Facebook Marketplace, and Craigslist.
One of the quickest ways to sell electronics, DVDs, books, and even LEGO is Decluttr. Just head to the website, get an instant valuation on your item, send it to the company, and it will deposit the cash in your account the day after the product arrives at their offices.
Check out our full Decluttr review to learn more.
9. Get Cash Back & Discounts
Even if you are saving, you still have to spend some money, so why not earn at the same time?
Services like Rakuten and Ibotta let you earn cash back and rebates whenever you make qualifying purchases.
The amount you earn will depend on the amount you spend and the cash back percentage. Rakuten, for example, offers up to 40% cash back at some retailers (though the average amount is much lower).
The points add up, and over time, you can get back a lot of money. Additionally, these sites often have discounts and offers you can take advantage of, which helps you save more.
10. Participate in Market Research
An easy way to earn extra money is to perform market research on sites like Survey Junkie, Branded Surveys, and Swagbucks.
Each survey you complete typically pays up to a few dollars, and you can take multiple surveys each day, especially if you sign up for all the platforms.
The good thing about taking surveys to get paid is that you can do them wherever and whenever you want (for example, while watching TV in the evening or on your commute).
You'll struggle to make $1,000 fast just from these sites, but they can help push you toward your goal.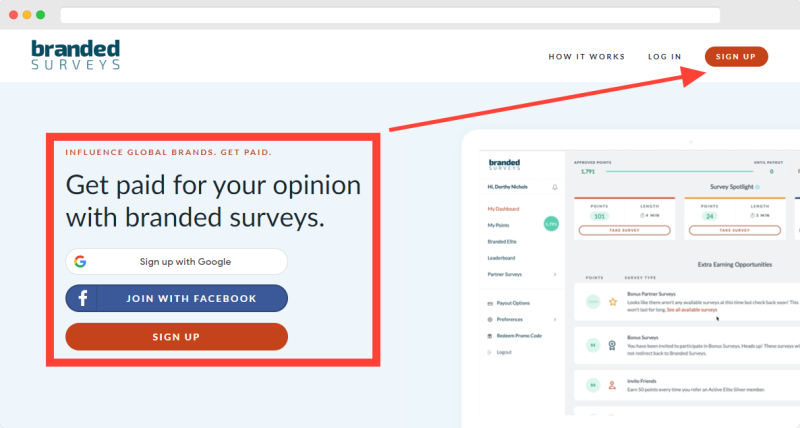 11. Watch Videos for Money
InboxDollars is a site with multiple ways to earn money — one of which is watching videos. Each time you watch a video on the service, you receive a scratch card, which rewards you from a few cents up to $100.
Again, you probably won't make $1,000 fast this way, but when combined with some of the other methods on the list, it can help you reach your target faster.
>> Read Also: Ways To Make Money Watching Videos Online
12. Babysit Kids
Babysitting is a common way to earn some extra money. It can be a great side hustle because you don't need any qualifications, and you can often do it in the evenings and weekends when kids are home from school, and parents need to go out.
You can find babysitting jobs through your own connections, or a site like SitterCity. This platform matches you with people that need help in your local area. Just create a profile, set a price and your availability, and then use your profile to connect with families.13.
13. Walk Dogs
If you're typically physically active, many of the jobs on this list will probably seem dull.
Dog walking is a good alternative that lets you get some fresh air while earning. It also has many of the benefits of a good side hustle — such as earnings and schedule flexibility.
Platforms like Rover make finding dogs to walk easy. You can begin earning as soon as the company accepts your profile, and you have the option to set your hourly rate as well as your schedule.
Beyond walking dogs, you can offer a variety of pet-sitting services on Rover. The platform estimates that top earners receive around $1,000 a month. Check out our Rover review to learn more.
>> Read Also: 13 Easy Ways to Get Paid for Searching the Web (Real Money)
14. Run Errands for People
Some people are great at DIY and doing tasks around the house. But not everyone is good at this type of job. If you are in the first category, you can earn money by helping people in the second.
TaskRabbit makes it especially easy to find work. Just sign up to the platform and let it know what type of work you are great at. It will match you with people that need this work in your local area.
As with most of the side-hustle-type jobs on this list, you can work when you want and as much as you want. You can even choose your own prices for each type of work. You can make $1,000 fast, it'll all depend on the task you end up doing.
15. Rent Out Your Car
How many hours a day do you use your car? If the answer is not many, then why not earn some extra cash by renting it out?
Getaround is a car-sharing app that makes this easy to do. Just list your car on the platform, and people who use the app can borrow it when you aren't using it.
The service provides a device that allows customers to unlock their cars without needing their keys. This means you do not have to do anything to get paid, other than own a car and list it.
Getaround provides insurance, 24/7 customer support, and estimates that the average car owner earns thousands of dollars per year on the platform.
16. Create a Course and Sell It
Do you have in-depth knowledge of a particular topic and access to an audience that would like to learn that topic? Then creating an online course can be a good way to earn money.
Podia makes this easy to do by providing everything you need to host a course and market it to potential customers. All you need to do is create the material.
Creating a course takes more work upfront than other options on this list, which means it might take a while to make $1,000 fast — unless you have an existing audience to sell to. The major benefit is that if you create a course people love, you can end up with a highly profitable source of passive income.
17. Online English Teacher
If you have a degree and some experience with kids, you can easily make $1,000 fast by teaching English online with VIPKid.
This service connects native English speakers with kids who are learning the language in China. Teachers can set their own schedules and conduct as many or as few lessons as they want. This makes it a great way to earn extra cash around your main job. There are plenty of classes available, so you could also potentially teach English as your main source of income.
Each class is 25 minutes long and you can earn $7 to $9 per class, putting the hourly rate at a minimum of $14. Various incentives can help teachers earn $15 to $22 per hour.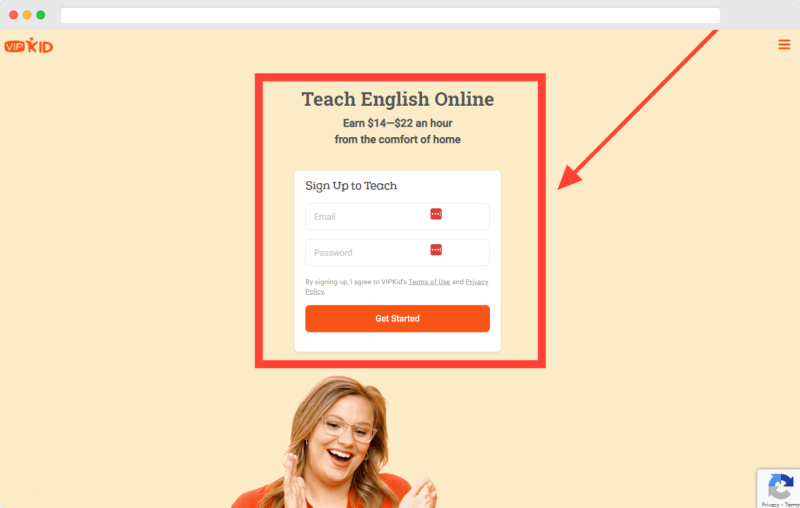 18. Cut Unwanted Subscriptions
Instead of earning $1,000, it can sometimes be better to stop the money from leaving your account in the first place.
Trim is a service that analyzes your spending and suggests places you can save money. One of the most helpful features is one that identifies recurring payments — things such as Netflix or Spotify — and alerts you to them, letting you make an informed decision about whether you want to cancel or not.
It also has features to help you save money, reduce general spending, and pay off your debts. These are all features that can help you reach your $1,000 target faster.
19. Negotiate Bills
Rocket Money and Billshark are services that help you reduce the amount you spend on your bills each month by negotiating your contracts for you.
Using these services can be an extremely effective way to save money. Billshark estimates it can help most people save 25% on their total expenditure, and it saved one customer $9,500.
The downside is that while the services are free to use, they both take 40% of the total money they save. Whether this is worth it for you depends on if you have the ability, confidence, and time to negotiate your own bills. If you don't, it's a great way to save money.
>> Read Also: 30 Best Part-Time Jobs to Boost Your Income
20. Flip Furniture
Above, we spoke about selling items you don't need and how it's an excellent way to earn money —but that you are limited by the value of the things you own. A way around this limitation is flipping — buying stuff in excellent condition and selling it for a higher price.
Furniture is a good product to flip due to the high value of each item meaning you can earn a lot per sale, and the fact that people often sell furniture for less than its actual value due to how difficult it is to move.
Flipping can be done either on the side to earn extra cash, or as your main source of income once you become proficient. Those at the top of their game make thousands of dollars each month. To learn more about flipping, check out this course from Flea Market Flipper. Rob and Melissa were able to take their flipping side hustle from $42,000 part-time to $133,000 full-time.
>> Read Also: How To Flip Furniture As A Side Hustle
21. Make Money Driving
Ride-hailing companies like Uber and Lyft enable anyone to work as a driver around their own schedule. As long as you have access to a car — either your own or one rented from the platforms' partners — you can apply to become a driver.
If accepted, you can work as much or as little as you'd like. You just have to accept or reject rides when you get a notification on the app. This makes it a great way to earn extra cash around your main source of income.
22. Sell Your Jewelry
Jewelry is often the most expensive thing people own, and selling jewelry can be a good way to make $1,000 fast.
Worthy is a website that makes valuing and selling your jewelry easy. Just use the form on the site to describe your item and send it to the company using a prepaid shipping label.
Once it arrives, the website's experts value the item and later put it up for auction. You can set your own reserve price, which means it won't sell for an amount lower than you are comfortable with. Following the auction, the funds are quickly sent to your bank account.
23. Sell Your Crafts
A fun way to make $1,000 fast if you are good at crafting is to start an Etsy shop and sell your homemade products.
Opening a shop on Etsy is free and easy, which makes it super simple to get started. There are small listing, transaction, and payment fees — they are $0.20, 5%, and 3% plus $0.25, respectively — which you'll have to consider when setting prices.
Etsy will do some marketing for you, which can help you get your first sales. But you can reach $1,000 faster if you have your own audience you can promote your products. Head over to Etsy to learn more about starting a shop.
24. Rent Out Unused Space
If you want to earn money from a spare room in your home, but you don't want to rent it out to another person, then offering it up as storage space can be a good way to get paid.
Neighbor matches people with extra space with people who have items they need to put in storage. Typically, people offer up basements, garages, or driveways, and the amount you can list your room for will depend on where you live.
The website has a tool that lets you see how much your space is worth before you sign up. One major benefit is that Neighbor provides its own insurance. Overall, it's a great way to earn extra money passively.
25. Sell Your Clothes
Many of us have clothes we no longer wear stuffed in the back of our closets. Selling these items can free up space while pushing you toward your $1,000 target. Poshmark is one of the easiest ways to sell your clothes, although sites like Facebook Marketplace, eBay, and Craigslist can also help.
To get started with Poshmark, just download the app, sign up, and then list your products by taking pictures of them with your phone. Your clothes will then show up when people search the site.
One of the best things about the service is that once you make a sale, the company provides you with a prepaid, addressed envelope to simplify shipping. Listing is free, but there is a $2.95 fee for items that sell for under $15 and a 20% fee for items above this price.
>> Read Also: I Need Money Now: 35 Ways to Make Cash Right Now
26. Have a Yard or Garage Sale
A yard sale is an easy and quick way to earn cash. You could make $1,000 fast with this method if you own many valuable products.
If you live in a busy area, you may be able to set up in the morning and sell to people walking by. Or, you can drum up interest in advance by putting up posters, advertising on Craigslist, or posting in relevant Facebook Groups.
27. Turn Your Car into a Billboard
Carvertise is a service that matches drivers with advertisers who want to reach consumers by advertising on cars.
This lets you earn money by doing nothing other than letting the company put a branded decal on your vehicle and drive as you usually would. It's common to earn around $100 a month for advertisements, which means you can make $1,000 over a year.
There are a few conditions you need to meet to qualify. The first is that you drive at least 30 miles a day. The campaigns you have access to will also depend on where you drive, so if those miles are accumulated in a busy city, you're more likely to receive opportunities.
Additionally, your car must be a 2008 model or newer, you need a clean driving record, and you must have a factory-finish paint job. If you fit these conditions and you'd like to earn some extra cash, apply here.
28. Rent Out a Room
Airbnb is one of the original sharing economy platforms, and it's a great way to earn some extra cash by renting out either your spare room or your entire house or apartment.
The amount you can earn will depend on demand in your area, as well as the size and exact location of your place. If your home is in demand, you can easily make $1,000 extra within a few months or less.
Listing your room is easy — just head over to the site, click "Add Listing," and then fill out details about your room. To make your listing appealing, add some high-quality photos. Consider getting a pro to take some pictures (or at least learn a little about smartphone photography).
The final step is to choose your room's availability. Airbnb has a smart pricing tool that automatically updates prices according to demand in your area. You also need to set a base price that Airbnb will use as a guide for pricing, and a minimum and maximum price. Be aware that setting prices too high can reduce the likeliness of people staying.
29. Deliver Packages
Amazon Flex is a service that lets you earn money by delivering packages for Amazon. Like other delivery platforms on this list, you'll use your own vehicle and an app when working. The service has some great benefits, such as giving you complete control over when you work. You just need to log into the app and reserve blocks of time when you are available.
This makes it a great way to work around existing commitments, such as school, family, or other jobs. The downside is that your pay will vary depending on how fast you can make deliveries, as well as the area you live in. According to the Amazon Flex website, most drivers earn between $18 and $25 an hour. At this rate, you could easily make $1,000 fast by working a few shifts over a month.
The service is available in over 50 U.S. cities. However, you can only sign up when the company is actively recruiting in your area. Check out the latest availabilities here. If you can't see where you live at the link, you can still create a profile in the app to be notified when a spot is available.
30. Work as a Handyman
Handy is a service that matches workers skilled in-home tasks (such as DIY, cleaning, and lawn care) with people who need someone to do these jobs. Once signed up, workers can choose their own schedules.
There are some requirements you must meet if you want to work on Handy. You need to have paid experience in your area of expertise, as well as good customer service skills and the ability to work legally in the country you are applying in.
The amount you earn will depend on the work you do. Cleaners make up to $22 an hour, handymen up to $45 an hour, and lawn care professionals earn up to $62 an hour. The platform says that top professionals make more than $1,000 a week.
---
FAQ on How To Make $1,000 Fast
We've found some of the most frequently asked questions about how to make $1,000 fast, here are our answers.
How Can I Make $1,000 in One Day?
Making $1,000 in one day is a challenging task, but not impossible. Keep in mind that achieving such a goal in a short period typically requires considerable effort, skills, and a bit of luck.
Some of the best ways to make $1,000 in a single day include:
● Freelancing or Gig Work: If you have marketable skills like writing, graphic design, programming, or video editing, you could offer your services on freelancing platforms like Upwork or Fiverr. Landing a high-paying project that can be completed in one day could help you earn $1,000 or more.
● Sell Valuable Items: If you have valuable possessions, such as electronics, collectibles, or jewelry, you could try selling them through online marketplaces like eBay or Craigslist.
● Day Trading or Options Trading: Engaging in day trading or options trading in the stock market carries significant risks but might present an opportunity to make substantial gains in a short time (if you know what you're doing). However, it can also lead to significant losses.
● Event or Performance Gigs: If you have a specific skill or talent like singing, dancing, or performing magic tricks, you might be able to earn $1,000 or more by doing gigs at local events, weddings, or parties.
● Temporary Labor or Odd Jobs: You could try finding temporary labor jobs, such as moving furniture, yard work, or other odd jobs in your local area. Depending on the task(s) you may be able to make $1,000 in one day.
● High-End Reselling: If you have knowledge of valuable collectibles or high-end items, you could attempt to buy and resell them at a profit, in other words flipping them.
It's essential to be cautious of any opportunities that seem too good to be true or involve substantial upfront costs. Avoid engaging in illegal, deceiving, or unethical activities to make money quickly, as these can have severe consequences.
How Can I Make $1,000 Quickly Without a Job?
Making $1,000 quickly without a job can be achieved, but the strategies and options you may have at your disposal will be based on your current resources, skills, assets, and limitations.
Some of the options can include offering freelancing or gig services on platforms like Fiverr and Upwork, renting out your assets to people that need them on platforms like Airbnb, Neighbor, and Turo, selling high-ticket items or jewelry on platforms like eBay, Craigslist, or Worthy, joining the gig economy to perform tasks like delivering food, driving people or walking dogs.
How Can I Make $1,000 This Week?
To make $1,000 this week, there are several options you can consider. First, make a list of your belongings and identify any unused items that you can sell. List them on online platforms such as eBay, Facebook Marketplace, OfferUp, or Craigslist, and provide detailed and enticing descriptions to attract buyers.
You can also explore freelance work opportunities. Assess your skills and expertise to determine if you can offer services in fields like writing, graphic design, programming, virtual assistance, or others. Create profiles on platforms like Upwork, Fiverr, or Freelancer, and start bidding on relevant projects or creating service offerings to attract clients.
Another option is to provide services locally. Consider offering pet care, lawn care, house cleaning, tutoring, or other services. Advertise your services through community bulletin boards, social media groups, or word-of-mouth referrals.
While pursuing these strategies, it's important to be proactive and dedicated in order to maximize your earnings.
It is important to be realistic about your goal of making $1,000 within a week. Your results may vary depending on factors such as demand, competition, and availability of gigs.
---
Final Thoughts
Now that you know some of the options available, you only need to do a bit of research. This will give you a better idea about which ideas can best help you make $1,000 fast.
Where possible, combine options. For example, working as a delivery driver, using your car as a billboard, and selling possessions you no longer use will help you reach your target faster than doing any of the options on your own.
And be sure to take time to consider what happens when you reach your target. If one of the jobs turns out to be a good way to earn consistent extra income, then it might be a good idea to keep at it — After all, while having $1,000 is nice, having $2,000 is even better.
Up Next
Get our free Side Hustle Handbook with the best strategies to multiply your income sources today.
Plus our best money tips delivered straight to your inbox.

Ricardo is an entrepreneur, investor and personal finance nerd who enjoys spending time with his family and friends, travelling and helping others achieve their financial goals. Ricardo has been quoted as a personal finance expert in several online publications including Healthline, Bankrate, GOBankingRates, MSN Money, Yahoo Finance, U.S. News & World Report, Forbes and USA Today.