Many or all of the products featured on this page are from our sponsors who compensate us. This may influence which products we write about and where and how the product appears on a page. However, this does not influence our evaluations. Our opinions are our own. Here is a list of our partners and here is how we make money.
The information provided on this page is for educational purposes only. The Modest Wallet is a financial publisher that does not offer any personal financial advice or advocate the purchase or sale of any security or investment for any specific individual.
When signing up for a service like cable or internet, most people try to get the best rates available. Most would never choose a plan that was more expensive than necessary.
However, as time goes by, prices change. The initial offer may come to an end, raising the cost of monthly payments, or the service provider may introduce new, better deals.
The good news is that most of the time, you aren't stuck at the rate you initially chose. You typically have the option to get on the phone and negotiate a cheaper contract.
But many people don't do this. It could be because they lack the time to research the best deals and get on the phone to talk to a rep. Or it could be because they don't have the skills or confidence to negotiate with sales staff.
Billshark is one of several services that promises to help by negotiating bill reductions on your behalf. The service doesn't cost anything upfront, but they take a cut of the savings. In this Billshark review, we will tell you everything you need to know about the platform.
What is Billshark?
Billshark negotiates and cancels bills on your behalf. It can help you get savings on your monthly payments for internet, phone, TV, and other services, and can help you end contracts for a vast array of popular services.
When combined, multiple better deals can save you significant money. The company claims it has saved millions of dollars for its customers since its launch (including $9,500 for a single user, which is prominently displayed on the Billshark website).
Billshark has a strong reputation. It is backed by celebrity investor Mark Cuban, and has been featured in renowned publications like The Wall Street Journal. It has also been featured on NBC and CBS News.
See Also: 25 Best Coupon Websites to Save Thousands
How Does Billshark Work?
The main selling point of Billshark is how easy it is to use. Just sign up, select which services you want to negotiate, send in your bills and some extra information, and then pay your fees once the company successfully negotiates a deal.
Here is an overview of each step.
Create an Account
To create an account with Billshark, just head over to the signup page and add your email address, phone number, and the required personal information. (You can also use your Google account.) They offer a free savings calculator as part of the signup process. (Be aware that there is no guarantee Billshark will actually reach the target they show you.)
Select a Service
Once you're signed in, you need to choose which negotiation services you'll use. Options include wireless, internet, pay TV, and satellite radio. If you want to cancel multiple bills, you can go through the process as many times as needed. Remember that the more contracts you let Billshark negotiate, the higher your savings ceiling.
Upload Your Bills
You'll then upload photos or digital copies of your bills, so your Billshark representative has all the information they need to negotiate a reduction. The company has an Android and iPhone app you can use to send in the bill, or you can do so via the website.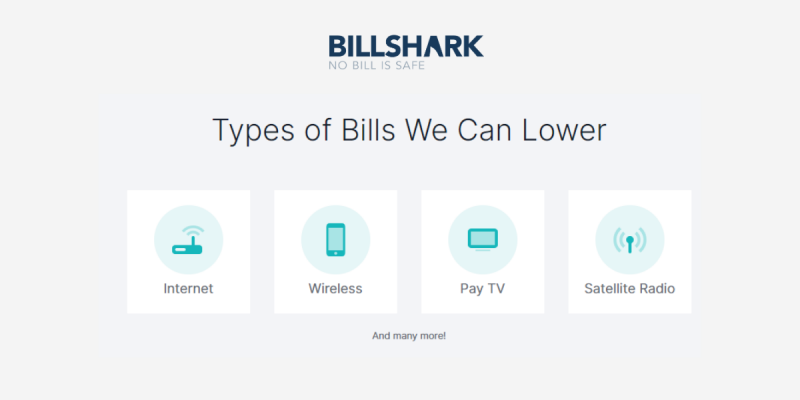 See Also: How to Make a Budget You Can Actually Stick To: A Step by Step Guide
Additional Information
You may need to add information about the services you use, such as PINs or passcodes. This can be a source of anxiety, but the Billshark reps need this information to do their jobs.
Before confirming, be sure to mention any special requirements you have. For example, you should state if you don't want Billshark to extend the length of your contract, even if it means receiving a larger reduction.
Start Saving
Someone from Billshark will contact you within a few days of the call to explain how the negotiation went. The rep will break down the savings so you know exactly what has changed, what your new rate is, and when the savings will kick in.
Assuming Billshark managed to get you savings, the company will send you an invoice which you will have to pay on the due date. Or you can arrange to split the payment over six months for a fee.
Billshark Features
While negotiation is Billshark's primary feature, the service can help you with plenty of other financial matters. Here is a look at some of them.
Bill Negotiation
Bill negotiation is Billshark's headline feature. Just upload information about bills you want to reduce, and one of Billshark's experts will negotiate a discount for you. If Billshark is successful, it charges 40% of the amount you save. If not, it costs you nothing. It is an easy and risk-free way to reduce the amount you spend on bills.
Subscription Cancellation
Billshark will cancel a subscription for you for a flat fee of $9. The company says it can cancel around 100 different subscriptions.
Insurance Rate Check
Billshark's insurance rate checker lets you compare your current insurance bill with the amount you would spend if you switched providers. Billshark won't actually help you switch providers, but the knowledge of cheaper options allows you to take action.
Service Outages
If your cable or phone service experiences an outage, you can typically claim credit for the period you didn't have service. Billshark will contact these providers and help you gain money you are owed.
Lower Business Bills
Billshark offers a dedicated service for business owners that can help owners save on their company bills. This includes regular costs like phone and internet, as well as those from SaaS and other business service providers.
Rewards Program
Billshark rewards is a program that gives new customers coupons they can use to save on day-to-day expenses. There are four coupons to choose from, including:
A dining reward that offers $25 in savings at select restaurants
A travel reward that provides $50 in savings at hotels and resorts
A shopping reward that gives $100 of savings at various popular brands
A groceries reward that lets you clip $50 worth of grocery coupons.
See Also: How to Save Money: 91 Effective Ways to Save Money Fast
Refer a Friend
Billshark gives you a $10 Amazon Gift Card every time someone signs up to the service using your referral link. The new customer also receives a $10 discount on their invoice.
How Can You Save Money with Billshark?
The main way Billshark helps you save money is by negotiating reductions on your bills. Billshark says it gets an average savings of 25%, which can be substantial. Beyond this, if you have several subscriptions that you don't use, asking Billshark to cancel these contracts can cut your costs.
Pros of Billshark
It is easy to use. Just register, upload your bills, and the company's reps take care of the rest.
You only have to pay if the company gets you savings. It's a win-win situation.
Using the service can save you a lot of time that would otherwise be spent on the phone negotiating bills.
You gain access to a team of bill negotiation experts.
Cons of Billshark
The 40% Billshark takes directly eats into your savings, and can add up to a large amount of money.
You have to pay the fee, either upfront or over six months. This means it may take some time before you start seeing the benefits of your savings.
You must accept any savings or contract changes that Billshark negotiates, even if the savings aren't as large as you hoped. Be sure to mention any requirements you have before asking for a negotiation.
Who is Billshark For?
Billshark is a good fit for anyone who wants to cut their monthly bills but they lack the time, skills, or confidence to do the negotiating themselves. Billshark estimates it saves customers around 25%. If you spend a lot on bills every month this could be a significant amount.
The only caveat is that because you must pay for the savings upfront or over six months, you need cash available to make these initial payments.
Billshark is also a good option if you want to cancel some of your subscriptions, but you don't want to go through the process of doing it yourself.
Who is Billshark Not For?
To get maximum savings, you may be better off negotiating your own bills, so you don't have to pay Billshark's commission fee. But if you lack the expertise or knowledge of the provider's current deals and services, you may not be able to get as good a deal as Billshark.
If you want someone to negotiate your utility bills or insurance bills, then Billshark is also not for you (because it currently doesn't offer this service).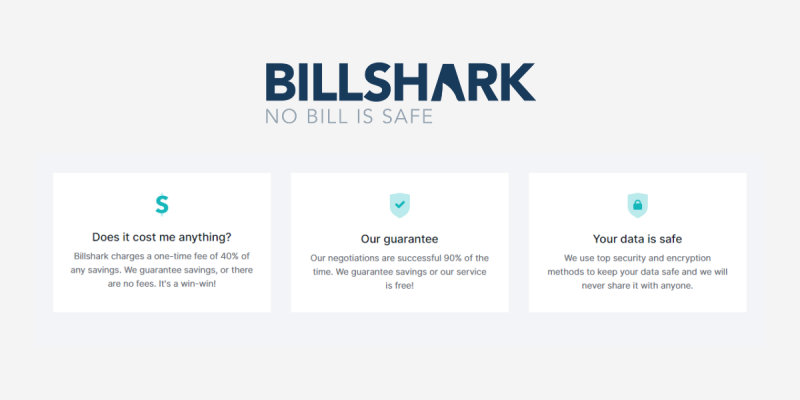 See Also: 15 Best Cash Back Apps Worth Your Time
Billshark Pricing
Billshark charges a 40% commission on all savings it negotiates for clients. The subscription cancellation service costs $9 per canceled subscription.
Billshark Alternatives
Billshark is by no means the only bill negotiation service. The two services below have slightly different features, which could make them a better fit. Be sure to read up on all your options before committing.
Truebill
Truebill helps you cancel your subscriptions and negotiate savings on your bills. You connect Truebill to your bank account, and it tracks your transactions before creating a list of all your recurring payments. You can then either cancel these yourself or have Truebill do it for you. The app shows you when payments are due, which lets you prepare, and also tracks your spending every month. Truebill's negotiation service takes a 40% commission.
Trim
Trim is similar to Billshark, with the major benefit of charging a slightly lower commission of just 33%. It also has a tool that automatically searches for recurring payments and subscriptions in chosen bank accounts, and asks if you want to cancel the payments — helping you stay on top of your subscriptions and ensuring you only pay for ones you need. Trim also has extra features such as spending analysis and a savings account. Some of the additional features are only available for premium users.
Billshark FAQ
We have found some of the most frequently asked questions with regards to Billshark. Here are our answers:
How Does Billshark Make Money?
Billshark makes money by taking a 40% commission on the amount it saves its customers. It also charges $9 upfront to cancel subscriptions.
What is Billshark's Success Rate?
Billshark says its bill negotiation feature has a 90% success rate. This suggests you have a good chance of getting savings.
Is Billshark Free?
Billshark's negotiation feature has no up-front cost. However, the company charges 40% of the savings they earn for you. This is based on the total amount you save over the length of the contract, with a two-year limit.
For example, if Billshark's negotiators save you $10 per month on a 24-month phone contract, you have to pay $96. (This is because 40% of $10 is $4, multiplied by 24 months, equals $96.) While this sounds like a lot, during the two years you will spend $240 less on your phone bill, resulting in a total savings of $144.
Once Billshark negotiates your savings, it will invoice you after around three days. If you'd rather spread the payment out, you can set up a six-month plan, although this costs $9.
Billshark's subscription cancellation service has a one-off fee of $9 per canceled subscription.
The insurance comparison service is free to use.
See Also: 25 Frugal Living Tips That Will Save You Thousands
Is Billshark Safe?
Billshark should be as safe as any other major site. It encrypts your data with 256-bit encryption, which is the same level used by banks. It also uses a payment processing service with the highest level of PCI certification available when taking your payments. The company says it doesn't store any credit card data.
How Does Billshark Use My Data?
Billshark says it doesn't share information with anyone without your permission. Some staff members need to see your data to negotiate on your behalf, but the company says employees have "very limited" access to data, and that it uses "extensive security measures" when hiring. Billshark says it never shares your data with third parties.
How Much Money Can I Save?
The amount you can save varies, and will depend on the number of bills you have and the amount on each bill. On its website, Billshark claims it can save you 25% per month.
The more you currently spend, the more scope there is for Billshark to find savings. Billshark also has a calculator you can use to get an estimate of the amount you could save.
Another factor that will affect how much you save is whether you are willing to enter into a longer contract or change your plan. Sometimes Billshark will negotiate a cheaper monthly rate, but you'll be tied into a longer contract. You can let the company know whether this is an option you are happy with before they negotiate a bill.
Final Thoughts
Billshark is an easy way to save money on your bills without having to go through the effort of renegotiating them yourself. While the 40% commission may seem like a lot, the fact that you are only charged if the company is successful means it is a win-win situation.
If you have the motivation and ability to negotiate bills yourself, then go ahead and do it. If you'd rather someone else do the work on your behalf, then Billshark and services like it are definitely worth looking into.
Up Next

Ricardo is an entrepreneur, investor and personal finance nerd who enjoys spending time with his family and friends, travelling and helping others achieve their financial goals. Ricardo has been quoted as a personal finance expert in several online publications including Healthline, Bankrate, GOBankingRates, MSN Money, Yahoo Finance, U.S. News & World Report, Forbes and USA Today.