Billshark Review 2023: Features, Pros, and Cons
Many or all of the products featured on this page are from our sponsors who compensate us. This may influence which products we write about and where and how the product appears on a page. However, this does not influence our evaluations. Our opinions are our own. Here is a list of our partners and here is how we make money.
---
The information provided on this page is for educational purposes only. The Modest Wallet is a financial publisher that does not offer any personal financial advice or advocate the purchase or sale of any security or investment for any specific individual.
With the steep competition between businesses in today's economy, it's easy to spend hours searching for the best rates for all our favorite subscription services. And after all that effort, it would seem like a waste of time to choose a plan that costs more but provides all the same features as a cheaper one.
Unfortunately, with companies continuously rolling out exclusive offers and new pricing programs, most consumers pay more than they need to on most of their bills and subscriptions. And while you can call those services yourself to try and negotiate better deals, it seems like a daunting, time-consuming task to do it all yourself.
To combat this issue, platforms like Billshark have emerged as tools to help ensure you're only paying what you need.
Billshark is a service dedicated to reducing your bills, canceling your subscriptions, and lowering your overall monthly expenses. And with a website that touts a 90% success and an "only pay if you save" policy, savings-savvy consumers like yourself are wondering if it's worth looking into.
This article reviews all the Billshark basics, including their pricing, features, sign-up process, FAQ, and more, to provide you with a well-rounded understanding of how you can benefit from this service (as well as the prices you'll pay for doing so).
Keep reading to find out everything you need to know about the Billshark platform.

Bottom Line: Billshark is a bill negotiation and bill cancellation service that offers to lower your monthly expenses related to unwanted subscriptions and services. The service was founded in 2015 and is backed by Mark Cuban.
| | |
| --- | --- |
| Pricing | |
| Features | |
| Customer service | |
| User experience | |
| Security | |
| Value for money | |
---
What is Billshark?
Billshark is a bill negotiation platform that was founded in 2015 by Steve Mckean as a tool for both individuals and businesses. Since then, the company has been featured in The Washington Post, the Wallstreet Journal, and CBS News. It also boasts an A rating on the Better Business Bureau (BBB) website and is backed by "Shark Tank" entrepreneur Mark Cuban.
Billshark's platform is designed to help people lower their monthly bills by negotiating lower rates and canceling unwanted subscriptions. They can help you save on most major monthly payments, including those for phone, internet, TV, home security, and more.
Moreover, Billshark boasts a 90% success rate and prominently advertises that if they can't save you money, you won't pay a dime for their services. To date, they claim they've saved millions of dollars for their customers, including over $9,500 for a single person.
Currently, Billshark can be used via either their website or their app, the latter of which is available on both the Apple App Store and the Google Play Store.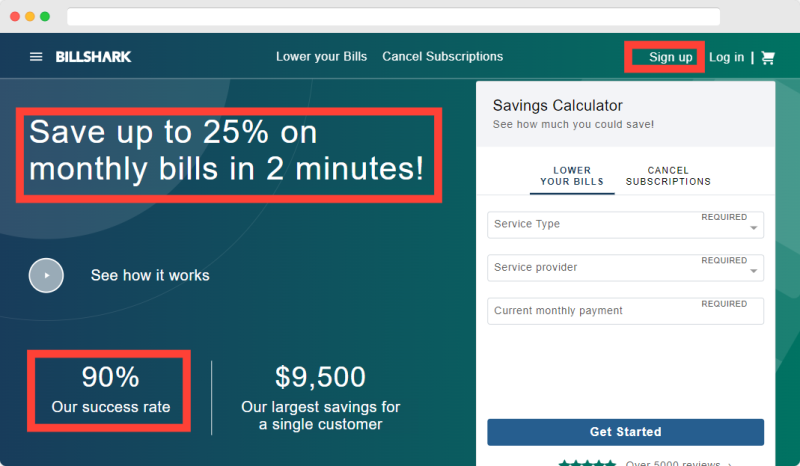 ---
How Does Billshark Work?
Compared to many other bill negotiation services, Billshark is one of the simplest to use. You start by either visiting their website or downloading the app, signing up for an account, and choosing what service you'd like to take advantage of. You can choose between bill price negotiation or subscription cancellation.
Once you've chosen your service, you'll be asked to provide any information you have on the bill or subscription, and Billshark will call on your behalf to perform the necessary task. If you choose bill negotiation, you'll be given a savings estimate beforehand so you know what to expect for the fee if they're successful. Keep in mind this feature is an estimate, and the actual savings amount will vary.
---
How to Sign Up to Billshark
Billshark's sign-up process is easy and only takes a few minutes. Follow the steps below to get your account set up so you can start exploring Billshark's services:
Step 1: Go to Billshark's Website
To get started with creating your Billshark account, you'll first need to visit their website at Billshark.com. Once you're there, you can begin the signup process by either clicking the "Sign Up" button in the upper right-hand corner or by clicking the three bars in the upper left-hand corner. Doing the latter will open a side menu that also has a "Sign Up" button.
Step 2: Create a Billshark Account
Once you've located and clicked the sign-up button, you'll be directed to a screen that will ask for your personal information. You'll be required to provide your first and last name, mobile phone number, email address, and password on this screen.
Alternatively, if you don't want to go through the trouble filling out the provided form, you can choose either "Continue with Apple" or "Continue with Google." Choosing either of these will prompt you to enter your respective login information, and everything will be automatically imported for you.
If you choose to use the latter method to sign up, you should keep in mind that you'll be required to log in using your Google account in the future. You won't have an established password through the site, so you'll have to repeat the Google or Apple sign-in process any time you want to log back in.
Step 3: Select a Service
Once you've completed that, your next screen will ask you to add a bill to finish creating your account. This can be any bill you have on hand. Start the process by clicking the "Get started" button. This will trigger a pop-up where you can choose which service you're interested in; you can select either "Lower Your Bills" or "Cancel Subscriptions."
Step 4: Upload A Bill
To start uploading your bill, you need to provide Billshark with some preliminary information. Namely, the service type, service provider, and the current monthly payment amount.
For the service type, you can choose from any of the following: home security, wireless, internet, Pay TV, landline phone, satellite radio, or other. Which service provider you can select with depend on which service type you choose.
It's important to note you must add a bill/purchase a service to finish creating your account. If you don't complete the process, you won't be able to log in later using your credentials or access your Billshark dashboard.
Step 5: See How Much Billshark Can Save You
Once you click "submit," the pop-up will disappear, and you'll see your bill selection on the new screen. Along with it, Billshark will provide an estimate of how much money they think they can save you over 24 months.
If you wish to continue with the service after seeing their estimate, you'll be required to either upload a PDF or image of your bill or allow them to get your bill by letting them access the account you have with your service provider via their website.
Alternatively, if you don't like the number they provide, you can click the "X" on the upper right-hand corner of the box. This will take the bill off, and you'll be able to add another one. You can keep doing this at no charge until you find an estimate you're happy with.
Step 6: Verify Your Payment Method
Before Billshark starts negotiating for you, they require you to verify your payment method. This ensures that, if the negotiation is successful, they can charge your bank account for the specified fee.
Currently, the only payment methods Billshark accepts are debit and credit cards. You are not able to pay with third-party payment sites like Paypal or Stripe.
Once you've typed in your card information, you can read over the short disclaimer provided, which states the following:
"Billshark will not sell my data to any third party. I agree to the Privacy Policy & TOS. With this order, Billshark will verify my payment method by placing a $1.00 temporary authorization hold on my payment card. This hold should be released by the bank within 3-7 business days."
If you read and agree to all that, you can click "Save Now" to proceed to the next step.
Step 7: Finalize Your Order
On the final screen of the process, you'll see a review of all the information you've provided. Take a moment to read over it to ensure accuracy. If everything is correct, you may click the button at the bottom of your screen to finalize and place the order. Doing this will also create your account.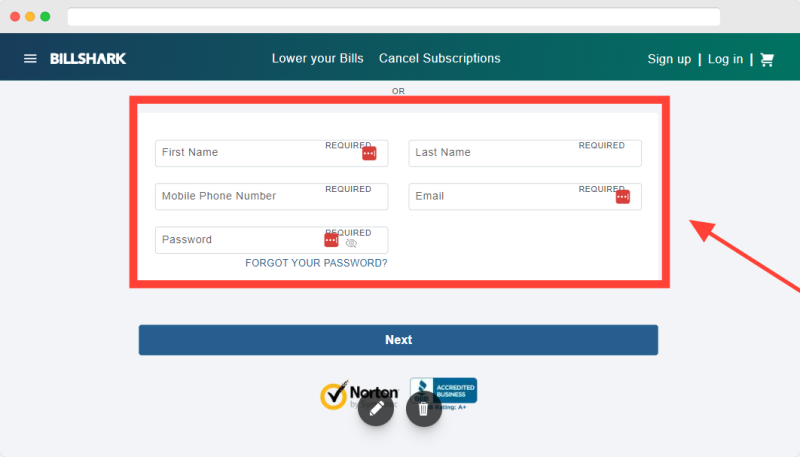 ---
Billshark Features
Billshark is designed to be a bill negotiation and subscription cancellation platform, but they also offer other services to help you save money. Find a list of these features below:
| | |
| --- | --- |
| Pricing | Bill negotiation; 40% of savings (one-time fee) and Subscription cancellation; $9 per canceled subscription |
| Features | Bill Negotiation, Subscription Cancellation, Rewards Program, Service Outage and more |
| Supported Services | Internet, phone, tv, mobile, home security, and more |
| Trustpilot | 1.8/5.0 |
| Better Business Bureau | A Rating |
| Mobile Apps | iOS and Android |
| Promotion | None |
| Bill Negotiation | |
| Net Worth Tracking | |
| Free Plan Available | |
| Support | Help center, phone: 800-957-1710 and email: [email protected] |
Bill Negotiation
Bill negotiation is what Billshark is known for and for good reason. With a 90% success rate in lowering customers' monthly bills and millions of dollars in collective savings, it's saved a lot of people significant amounts of cash.
To take advantage of this offering, all you have to do is upload information about the bill you want reduced, and a member of Billshark's team will go to work on your behalf. If they're successful, you'll be charged 40% of up to two years' worth of savings. If they aren't able to secure any kind of decrease to your bill, you won't pay a cent.
It should be noted that Billshark will only work with certain services. If your service provider isn't on the list when you go in to add your bill for negotiation, there's only about a 50/50 chance Billshark will be able to work with it. For example, cell phone bills outside of Verizon, AT&T, and Sprint will usually be turned down. On the other hand, though, nearly all cable and TV bills are eligible regardless of whether those companies are listed or not.
Subscription Cancellation
If you have a subscription you know longer want but don't have the time, energy, or know-how to cancel it yourself, you can enlist Billshark's help to cancel it for you. The fees for this service are cheap, as you're only ever charged a flat fee of $9 per cancellation. The company also claims it can cancel any of around 100 different subscriptions, so you'll need to check beforehand to see if your service provider is eligible.
Insurance Rate Check
One of Billshark's biggest drawbacks is that it doesn't offer to negotiate home or auto insurance bills for you. To compensate for this shortcoming, though, the website has begun offering an Insurance Rate Check tool that helps you compare rates from tons of different providers.
This tool is offered through Answer Financial's free Rate Tracker program and can be accessed via your Billshark account. However, it's worth bearing in mind that you can only create a Billshark account by purchasing one of the services they provide during the account setup process. As such, you aren't able to access this tool unless you've hired Billshark in the past.
A great (and cheap) way to skirt this requirement is to hire them to cancel a subscription you no longer want since the fee for that service is only $9.
Service Outages
Anyone who has paid for cable knows how frustrating it is to be without a service you're paying for. Luckily, Billshark specializes in bill credit negotiations and can help you acquire credits for any service outages you experience. This service works with both phone and cable service providers and can be used any time you experience an outage.
To access this feature, visit Billshark's Service Outage page. Any service they can help you get outage credits for is listed on this page and will have an "Outage?" option listed underneath it. As of the time of writing, this includes the following providers:
ADT
AT&T
Bright House Networks
CenturyLink
Charter
Comcast
Cox
DirecTV
Dish
Frontier Communications
MediaCom
Optimum
RCN
Sprint
SuddenLink
Time Warner Cable
T-Mobile
Verizon
Vivint
Windstream
WOW! Cable
Xfinity
Select your carrier and follow the on-screen instructions. Once you provide the necessary information, Billshark will immediately contact the service provider on your behalf and help ensure you don't pay for service downtime.
Lower Business Bills
In addition to specializing in lowering residential bills, Billshark is also able to help business owners save money on business expenses. Similar to how they lower non-business expenses, Billshark will take your information, reach out to the service provider on your business's behalf, and attempt to lower your costs.
Billshark is able to help decrease your business expenses in a few different ways. They can help lower your recurring bills, such as those for telecommunications or waste management. They can also increase reimbursements you get from wireless and internet costs, and lower your employee's bills, as well.
The business billing categories they're most often successful with are:
Document services
Mobility
SaaS (Software as a Service) Subscriptions like payroll or tax software
Telecommunications
Waste Management
Rewards Program
In addition to all the normal features, Billshark also offers a rewards program for new customers. Once you send in that first bill for them to negotiate, you'll receive a code in your email that you can use to gain access to your choice of four different coupons. You're only allowed to choose one, though, so make sure to choose wisely.
The four choices you can exchange your code for are:
A $25 Dining Reward
A $50 Travel Reward
A $50 Grocery Coupon
A $100 Shopping and Dining Reward
What's even better about this program is that you get to keep the code regardless of whether Billshark is able to successfully negotiate your bill. Essentially, you could get a huge bonus reward and pay absolutely nothing for it.
Moreover, Billshark has recently started the 'One Bill, One Child' program, which pledged to help middle school students. With this program, every bill you submit to the site will pay for one hour of instruction in personal finance classes. Using this program, Billshark has set a goal to educate one million children by 2025.
Refer a Friend Program
Whenever you sign up to Billshark initially, you'll be assigned a referral code you can use for the Refer a Friend program. Using this program, you'll receive a $10 Amazon gift card anytime someone signs up for the service using your link. The person who signs up will also receive a $10 discount on their first invoice.
Mobile App
To help you make the most of their services, Billshark provides a reliable mobile app that can be downloaded from either the Google Play Store or Apple App Store. Using this app, you can access your personal account, submit bills for negotiation, pay for services, compare insurance quotes, and more.
---
Billshark Pricing
Billshark has a two-tiered pricing program: one tier applies to their bill negotiation service, and the other applies to subscription cancellation.
For bill negotiations, you only pay if Billshark is able to negotiate savings for you successfully. If they do, you'll pay 40% of up to two years of savings. However, if they do negotiate any kind of savings for you, you can't decline those savings once you've placed the order. In short, once negotiations have taken place with your service provider, there's no way to avoid that fee.
Keep in mind, though, that Billshark may not be able to negotiate a permanent decrease for you. Instead, they may only be able to lower your bill by a certain amount for a set number of months. In other words, instead of getting a $20 bill decrease permanently, you may instead get $20 off for 12 months. In this case, you'll only pay for those 12 months of savings rather than the full two years.
To calculate how much you'll be paying as a fee for bill negotiation services, all you need to do is take the monthly difference in your bill, multiply it by the number of months it will be effective for, then multiply it by 40% (you can do this by multiplying by 0.04).
For example, if Billshark is able to lower your cable bill from $115 to $100 for 12 months, you'd take the difference ($15) and multiply it by 12 months to get $180. Then, you'd multiply that by 0.4 to get your 40% fee. After all that, the one-time fee you'd pay Billshark would come out to about $72.
Subscription pricing, on the other hand, is much simpler. You'll be charged a $9 flat rate for each subscription cancellation. For this price, Billshark will cancel your subscription for you and also try to get you any credits or refunds you might be owed.
---
Billshark Ease of Use
Ultimately, the sign-up process for Billshark can seem like a waste of time if you just want to check out what the site offers without making a purchase. Since prior to signing up, there's nothing that tells you that you must purchase their services to establish an account, you can end up wasting your time.
Additionally, they don't make it easy to delete your account once you no longer want their services either. In order to have your account disabled and erased, you're forced to contact Billshark customer support and have them do it for you. There's no easy button or do-it-yourself solution.
That said, both their dashboard and app are relatively straightforward to use. Everything is well organized, and it's not hard to find what you're looking for. If you plan on purchasing their services and keeping your account open for the foreseeable future, it's likely you won't have any issues at all out of Billshark's user interface.
Reviews of Billshark from previous customers and existing customers are mixed. Billshark has an A accreditation under the Better Business Bureau (BBB), but it has a 1.0/5.0 rating with over 30 reviews. On Trustpilot, they have a rating of 1.8/5.0 with over 60 reviews.
On the other side of the spectrum, they have a 3.9/5.0 rating with over 200 reviews on the Google Play store and a rating of 4.4/5.0 with over 70 reviews on the Apple App Store.
---
Billshark Security
Although Billshark may have some shortcomings in regard to its pricing and ease of use, you won't have to worry about whether your information is secure. Billshark utilizes 256-bit encryption technology to keep your data safe from hackers. This is the same type of encryption used by nearly all banks in America and is considered the golden standard in the finance industry.
Furthermore, Billshark does not attempt to hide or bury its policies regarding your data. In order to place your first order, you're required to read a short disclaimer that adamantly states they do not, under any circumstances, share or sell your data to third parties.
---
Billshark Customer Support
According to reviews, Billshark's customer support tends to respond quickly to inquiries and is usually able to settle issues or disputes quickly. On Billshark's website, they promise a 24-hour response time, which can be a double-edged sword. On the one hand, this guarantee is great if you've got a day to wait. If you're impatient or the issue is time-sensitive, however, this can cause some issues.
Luckily, Billshark's actual response time to emails is only a few hours, so you can usually count on a support representative to get back to you within the time frame. Additionally, if the issue is time sensitive, you can always reach out using their customer service phone line.
Billshark's customer support can be reached using either their email ([email protected]) or via phone at 800-957-1710.
---
Billshark Pros Explained
As a bill negotiation and subscription cancellation service, there are a lot of great aspects to using Billshark's services.
Reduces your recurring bills: Using the bill negotiation feature on their website, you can lower your monthly expenses by having Billshark renegotiate terms on your behalf. This means you don't have to spend hours calling your service provider yourself or settle for a monthly bill that's higher than it has to be.
Cancels unwanted subscriptions: For only a small flat fee of $9, you can enlist Billshark's help in canceling unwanted subscriptions. According to their website, they work with hundreds of subscription providers to help ensure they can get the job done.
They boast a 90% success rate: Higher than most other bill negotiation sites, Billshark claims they can successfully negotiate a lower monthly rate on your bills at least 90% of the time. This means you'll be able to save money with approximately 9 out of every 10 bills you submit to their team.
The referral program helps you save extra: For new customers that sign up, you can earn an extra $25 to $100 toward dining, travel, or shopping, depending on what you choose. This code is emailed to you when you submit your first bill to the Billshark team, and you get to keep the reward even if they can't successfully negotiate your bill.
Pay nothing unless you save: The best thing about Billshark's cost is that you don't pay a dime unless they can negotiate a better rate for you. In other words, if you don't get any savings, you don't pay a dime. Furthermore, you'll never end up paying more than you save since Billshark's fee is a percentage of those savings.
---
Billshark Cons Explained
Nobody's perfect, not even Billshark. Here are the top cons you'll need to consider before you decide if their services are for you:
High fees for bill negotiation: At 40% of two years' worth of savings, Billshark isn't something we would call "cheap." While you can justify the cost by considering you're only being charged a percentage of the money you're already saving, you still have to pay the fee upfront. This means you're paying out of pocket before you ever actually see any money. Additionally, this up-front fee can actually hurt you in some situations. For example, if you were to have Billshark negotiate a bill decrease at $20 per month for 12 months, you'd have to pay the $96 out of pocket. But if you canceled your service with that provider within a month or two due to unforeseen circumstances, you'd have paid for nothing.
Technically speaking, sign-up isn't free: Because you have to purchase their services in order to establish an account, it would be inaccurate to claim that sign-up is free. While you aren't charged an account activation fee or pay for any sort of membership, you do still have to spend money to take advantage of any Billshark features beyond bill negotiation and subscription cancellation.
Billshark will only negotiate certain services: Unfortunately, Billshark has what is essentially a black list of services they won't negotiate. Among the services they won't help with are auto insurance, home insurance, and any cell plans outside of Verizon, AT&T, Sprint, and T-Mobile.
Payment is required in full upon completion: Most of the time, you'll have to pay the full fee as soon as your bill negotiation is finished. This can be expensive if Billshark has negotiated a large price difference in your bill. Luckily, you are also able to choose a payment plan to spread that fee out over 6 months if you can't pay it all upfront. That said, Billshark makes it clear they prefer you don't use this option.
Sensitive information is required to negotiate bills on your behalf: Although Billshark advertises that pin codes and passwords are "preferred but not required to negotiate your bill," there are still certain bills they will require that information for. Because of this, if you're protective over your personal information, Billshark can seem like an unnecessary risk.
---
Billshark Alternatives
Although Billshark has some great qualities, it's always recommended to weigh your options before making a financial commitment. Billshark's two biggest competitors are Rocket Money and Trim, both of which are explored below:
Billshark vs. Rocket Money
Where Billshark primarily focuses on bill negotiation and subscription cancellation, Rocket Money is advertised as an all-in-one finance app. In addition to performing the same services as Billshark, it also offers budgeting help, expense tracking, credit score monitoring, and more.
Rocket Money's fees are structured a little differently, as well. For bill negotiation, the fee can be anywhere between 30% and 60% of one year's worth of savings. That's significantly lower than the 40% for two years that Billshark charges.
Additionally, many of their services are only offered to premium members—that is, those who pay a monthly subscription fee. This seems inconvenient, but considering you can choose how much you pay for the monthly subscription (so long as it's between $3 and $12), you definitely have your money's worth.
All in all, the biggest drawback to using Rocket Money over Billshark is that you need to give them more of your sensitive information for bill negotiation services. Where Billshark will usually only ask you to upload a PDF of your bill, Rocket Money works best when you provide your login credentials for your service provider's website. This can be a major concern for some people. Read our full Rocket Money review to learn more.
Billshark vs. Trim
Trim is a great option for those looking to save some money while they save money. As another all-in-one finance app, it offers many of the same services Rocket Money does at a much lower price point than either of its competitors.
Most notably, where Billshark charges a two-year, 40% fee based on your savings for bill negotiation, Trim's fee is only 15%. That's a Huge difference.
Let's look at an example of how much money this can save you:
Say you have a monthly bill through AT&T that costs $190 per month. If you were to commission Billshark to negotiate that bill and they were able to secure a decrease of $20 (making the new bill $170) for 12 months, you'd pay a one-time fee of $96 for those services. Subtract that from your total savings, and you're now only saving a total of $144 instead of the $240 you would have saved if there were no fees.
Now, let's look at the same example from Trim's point of view. With Trim, you're charged a 15% fee on any savings they secure for you. So at a savings of $20 a month across 12 months, you're only paying $36.
That said, Trim's lower fees don't come without cost. This platform is much more limited in what companies they can (or are willing to) negotiate with to net you those savings. This means there may be bills Billshark can negotiate for you that Trim can't. Read our full Trim review to learn more.
| | | | |
| --- | --- | --- | --- |
| | | | |
| Our Rating | | | |
| Pricing | 40% savings (bill negotiation) and $9 (per canceled subscription) | Free and Premium ($99 per year | Free and Premium (between $3 to $12 per month) |
| Trustpilot Rating | 1.8/5.0 | 4.2/5.0 | 4.7/5.0 |
| BBB Rating | A | A- | B |
| Mobile Apps | iOS and Android | None | iOS and Android |
| Promotion | None | None | None |
| Verdict | Best for bill cancellation | Best for bill negotiation | Best for overall financial monitoring |
| | | | |
---
Who is Billshark Best For?
This service is best for those who don't have the time, energy, or know-how to negotiate their own bill savings or subscription cancellations. It's designed to help people lower their monthly expenses, so if this is something that appeals to you, Billshark will likely be a useful service to add to your roster.
However, bill negotiation services can sometimes have high fees if Billshark is able to negotiate high savings, so you'll need to make sure you have a certain amount of money upfront.
Additionally, 40% of two years' worth of savings can be higher for some people. With this amount, you often end up paying 10 times the amount of monthly savings toward your one-time fee before you actually see the savings. Because of this, if you're in a financial pinch, Billshark might not be the service for you.
Furthermore, if you're security conscious or prefer to negotiate service fees yourself, it's probably best you avoid Billshark altogether.
---
FAQ about Billshark
We've found some of the most frequently asked questions regarding Billshark; here are our answers.
Is Billshark legit? 
In short, yes. Billshark is a legitimate business that was founded in 2016 and has saved customers over $10 million collectively. Billshark is also a Better Business Bureau accredited business and currently has an A rating, meaning few complaints have been made against it, and those that have been lodged are resolved in a timely manner. 
How much can I save with Billshark?
How much you're able to save with Billshark ultimately depends on how often you use their service and what service providers you have contracts with. Certain services are more lenient in bill negotiations than others, and Billshark can only negotiate for you if you agree to pay the fee when they are successful.
That said, most people are able to save hundreds to thousands of dollars a year just by using the bill negotiation features 1-3 times.
How much does Billshark cost? 
Billshark's cost ultimately depends on what service you're looking to book. As previously mentioned, bill negotiations and subscription cancellations have separate price points.
For bill negotiation, there's a one-time fee of 40% of any savings you receive. If Billshark isn't able to lower your bill, then you won't pay anything for the service. Billshark also caps that 40% fee at 2 years worth of estimated savings, so you won't be paying an arm and a leg.
 For example, suppose you have a Verizon phone bill that Billshark lowers from $210 to $190 permanently. In that case, you can calculate your fee by taking the monthly difference and multiplying it by 24 months, then multiplying it again by 0.4. This comes out to about $192. Or, if Billshark has only lowered a bill for a set number of months, use that number instead of 24.
In terms of subscription cancellation, the fee is much simpler. Cancellations are billed at a flat rate of $9 per cancellation. 
Does Billshark offer a free trial? 
Unfortunately, Billshark does not offer a free trial at this time. However, they do offer a no-risk savings estimate for you to look at before you decide to use their bill negotiation services. This will help you estimate your fee ahead of time and help you decide if you want to proceed with the service.
What services does Billshark work with? 
Billshark works with tons of services and subscription providers to help get you lower rates. Some of these companies include:
● AAA
● ADT
● Amazon Prime
● AT&T
● Audible
● BJ's Wholesale Club
● Blue Apron
● Chewy
● Comcast
● Cox
● DirecTV
● Dish
● Doordash Dashpass
● ESPN
● HBO Mac
● Instacart
● NPC/Peacock
● Netflix
● SiriusXM
● Sling TV
● Time Warner Cable
If you don't see the service or subscription you have listed here, don't fret. Billshark has an "other" option you can select, and they'll attempt to work with whatever company you note down. If they can't cancel your subscription/lower your bill, you won't have to pay the 40% fee. Billshark does not negotiate home or auto insurance rates. 
Is Billshark safe? 
Yes, Billshark is a safe financial platform designed to negotiate bills and cancel subscriptions for you. Billshark uses bank-level, 256-bit security encryption to protect any sensitive information you provide. This is the same type of security used by American banks. Billshark also states in its terms of use and privacy policy that it never sells any customer data to third parties.
How does Billshark make money? 
Billshark makes money through the fees they charge their customers. This includes the one-time 40% savings fee for bill negotiation and the $9 flat rate fee for subscription cancellation.
How does Billshark use my data? 
Billshark uses the data you provide them with to verify your identity with your service provider or to contact you if they require any additional information. They secure your information using bank-level security and don't ever sell that data to third parties for any reason.
Pricing: Bill negotiation; 40% of savings (one-time fee) and Subscription cancellation; $9 per canceled subscription
Features: Bill Negotiation, Subscription Cancellation, Rewards Program, Service Outage, and more
Supported Services: Internet, phone, tv, mobile, home security, and more
---
Final Thoughts
As a cost-saving platform, Billshark is very effective. However, it's more of a long-game money saver than a short-term one.
Before signing up for Billshark, the most important thing is to weigh the pros, cons, and costs of the program. For some people, bill negotiation can seem overwhelming, and waiting on hold for hours at a time is less than ideal. For these types of people, Billshark is an important resource for their everyday lives.
For others, however, the thought of someone else possessing important financial information and login credentials is nauseating, and they'd much prefer to do the proverbial heavy lifting themselves. For these people, Billshark will likely seem like nothing more than an unnecessary expense.
The bottom line is this: before you sign up, be sure to weigh Billshark against other options. If the 40%, two-year fee seems too steep, it could be pertinent to look at cheaper services like Trim or Rocket Money. Or, you could avoid paying fees at all by negotiating yourself!
Overall, Billshark is a reputable company dedicated to lowering your monthly bills. There's no risk in downloading their app or visiting their website to see what they can negotiate for you, so it may be worth signing up just to see how much money you can save.
Up Next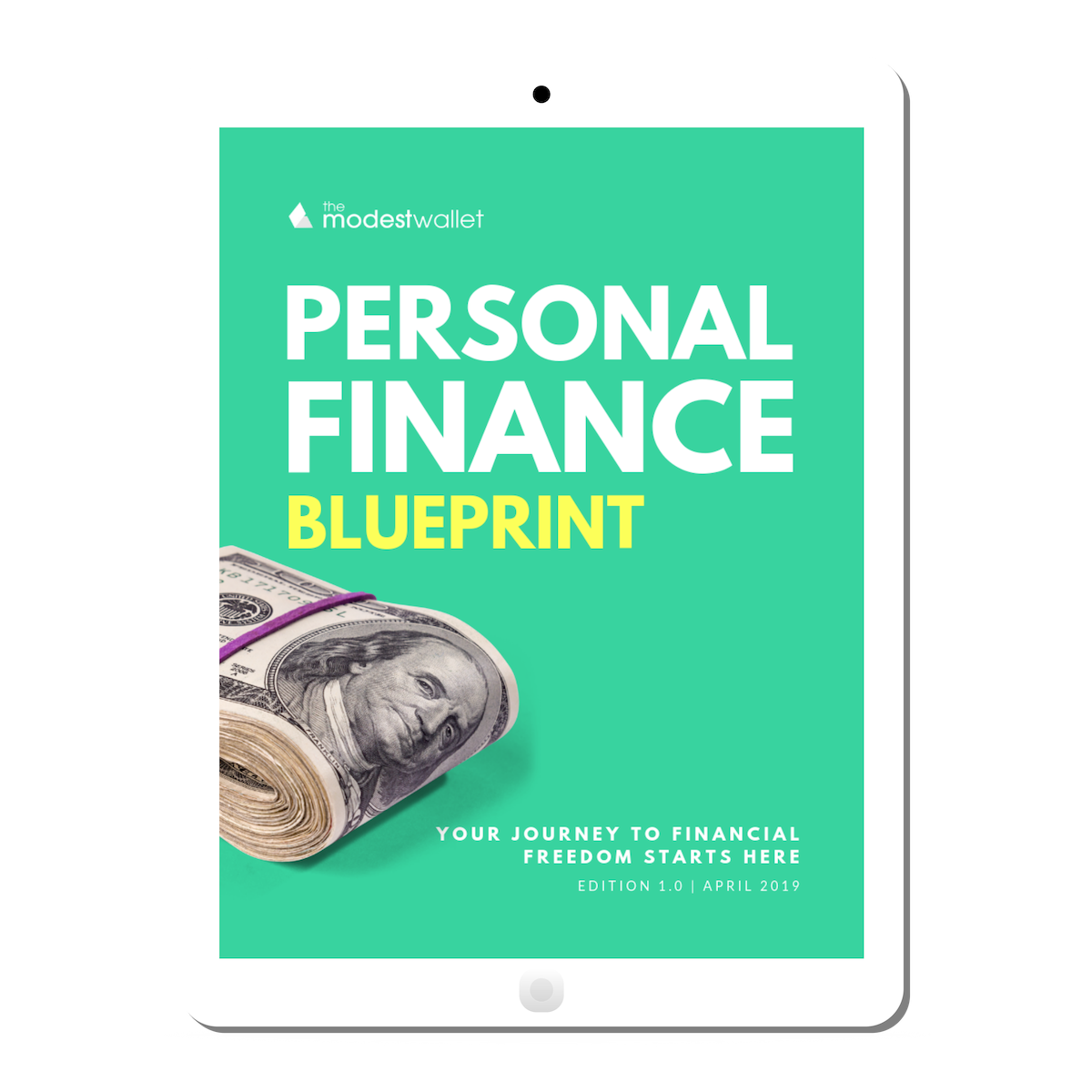 Get our free Personal Finance Blueprint to learn everything you need to know to build wealth.
Plus our best money tips delivered straight to your inbox.

Christa is a skilled researcher and serial entrepreneur. Her passion lies in providing people like you with ways to become financially independent without breaking the bank in the process. Currently, she's tested and perfected over 37 unique side hustles and brings that information to you through articles like these.