Streitwise Review 2023: Invest In Commercial Real Estate
Many or all of the products featured on this page are from our sponsors who compensate us. This may influence which products we write about and where and how the product appears on a page. However, this does not influence our evaluations. Our opinions are our own. Here is a list of our partners and here is how we make money.
---
The information provided on this page is for educational purposes only. The Modest Wallet is a financial publisher that does not offer any personal financial advice or advocate the purchase or sale of any security or investment for any specific individual.
Real estate has historically been one of the best-performing asset classes. And the ultra-wealthy use it to grow their wealth over time. However, since the relaxed rules of the Jobs Act of 2012, many platforms have emerged to reduce entry barriers and make real estate investing available to individual investors.
One of the best options for retail investors who want to start their real estate journey is to invest in diversified funds and real estate investment trusts (REITs). Both types of investments allow investors to diversify their money over various real estate properties, which reduces the risk of losing all their capital. This is where investors can turn to Streitwise.
In this Streitwise review, we'll take a deeper look at the company's bells and whistles. We check out aspects such as features, strategy, pricing, and how to make money on the platform.

Bottom Line: Streitwise is a real estate platform allowing investors access to commercial real estate investment opportunities through an equity REIT. Investors are able to diversify their portfolios across several projects and regions.
| | |
| --- | --- |
| Account minimum | |
| Account fees | |
| Investment selection | |
| Liquidity | |
| Features and tools | |
| Ease of use | |
| Security | |
| Customer support | |
---
What Is Streitwise?
Streitwise is a real estate investing platform founded in 2017 that allows accredited and non-accredited, as well as local and international investors, to invest in commercial properties. However, Streitwise isn't an online crowdfunding platform and doesn't have an online marketplace. Instead, investors invest in the company's private real estate investment trust (REIT), a professionally managed portfolio of real estate assets.
---
How Does Streitwise Work?
Streitwise's REIT offering is sponsored and managed by Tryperion Partners, an established real estate company that focuses on acquiring real estate properties and adding them to the investable REIT.
Their REIT is a long-term investment in value-oriented properties with creditworthy tenants in non-gateway markets. Once you invest with Streitwise, you can make money either by receiving dividends or through capital appreciation.
Account Minimum
To invest in Streitwise's platform, you have to commit to buying 500 REIT shares. Although the price per share constantly fluctuates, this 500-share investment costs approximately $3,500 at the time of writing.
Requirements To Open an Account
To sign up for Streitwise, you'll need to submit standard know-your-customer (KYC) information such as your name, address, and email.
While you could submit tax forms to prove your accredited investor status, Streitwise is open to non-accredited investors. Also, even though Streitwise is an American company, they are open to working with non-US investors from select jurisdictions.
How to Open a Streitwise Account
To open an account, click on the website's 'Start Investing' button. Then, enter your full name, e-mail address, your way of investing, the investment or share amount, and your funding preference.
Next, you need to enter your investor details and fill out a questionnaire to determine if you are an accredited investor (i.e., you need to prove that you have $200,000 income per year, a net worth of $1 million, or be an institutional investor) or not.
Then you sign the subscription agreement and an ACH authorization form and ultimately receive instructions for your fund transfers.
---
Streitwise Features
From low investment minimums to various investor groups and supported account types to dividend reinvestments and share redemptions, Streitwise offers very interesting features.
| | |
| --- | --- |
| Minimum Investment | 500 shares (about $3,500) |
| Account Fees | 2% annual management fee |
| Time Commitment | 12 months+ |
| Offering Types | Equity and Direct Ownership |
| Property Types | Commercial Real Estate (CRE) |
| Advertised Returns | Between 8% to 9% (Average returns) |
| Lock-Up Period | 1 year |
| Mobile App | iOS |
| Secondary Market | |
| Accreditation Required | |
| Self-Directed IRA | |
| 1031 Exchange | |
| Support | Phone (310-907-5527) and Email ([email protected]) |
Available to Accredited and Non-Accredited Investors
The offerings on the platform are open to accredited and non-accredited investors alike. However, non-accredited investors can't invest more than 10% of their net worth (excluding their residence) or their yearly income for the last two years, as well as this year's expected income.
Available to Local (US) and Foreign Investors
The company allows foreign and non-US residents as well as non-US citizens to invest on their platform. While these investors are subject to certain limitations and clearances, Streitwise accepts international investors.
Multiple Account Types
Streitwise also provides multiple options for how to invest with the platform. Currently, the company supports investment from:
Individual
Entity
Company (LLCs / Corporations)
Retirement accounts (Self-directed IRA and 401(k))
Invest with IRAs and 401(k) Accounts
The platform provides an easy way to invest with your self-directed retirement account. They are compatible with various IRA providers, and try to get approved on your custodian's platform if you want to invest with a 401(k).
Pay Via Cryptocurrency
You can also fund your investments with Bitcoin or Ethereum using your digital wallet. Once you submit your form, Streitwise will provide the transfer details for either cryptocurrency.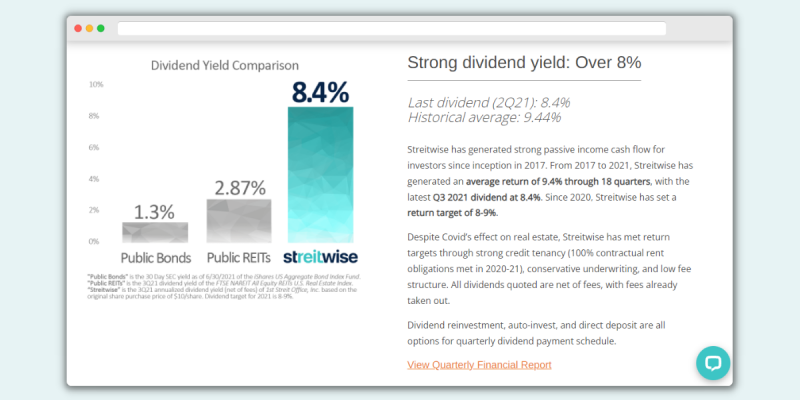 Dividend Reinvestment Plan (DRIP)
After becoming a Streitwise investor, you can enroll in the company's dividend reinvestment program (DRIP). This strategy allows you to reinvest your dividends automatically so that your investment's value increases faster.
Share Redemption Program
Although investments in real estate are considered long-term, Streitwise allows its investors to redeem their shares after one year. However, redemptions are subject to significant penalties, ranging from 10% if you redeem your shares between years one and two to 0% if you redeem them after five years.
| Holding Period From Date of Purchase | Redemption Price |
| --- | --- |
| Less than 1 year | No redemption allowed |
| 1 year until 2 years | 90.0% of NAV |
| 2 years until 3 years | 92.5% of NAV |
| 3 years until 4 years | 95.0% of NAV% |
| 4 years until 5 years | 97.5% |
| 5 years or more | 100% |
Mobile App
Streitwise recently introduced a mobile app. However, the app is for iOS users only and is still in the beta testing phase. Investors using the app can view their holdings, add more funds, access quarterly and tax returns, enroll in the DRIP, and more.
Self Directed IRAs (SDIRAs)
Investors interested in linking their retirement account with Streitwise's REIT offering can purchase shares through a self-directed IRA custodian.
Streitwise works with dozens of highly-respected custodians in the self-directed IRA industry, including AltoIRA, Equity Trust Company, and STRATA Trust Company, and it's easy to convert multiple retirement account types (e.g., Traditional, Roth, or 401(k)) into a Streitwise self-directed IRA.
Once you've filled out all the paperwork and the funds rollover into your Streitwise account, you enjoy the same tax benefits from your IRA when investing in REIT shares. For investors who want to add real estate exposure to their long-term retirement portfolio, the Streitwise IRA is the most tax-efficient option.
---
Streitwise Performance
According to Streitwise's historical data, it has maintained consistent dividend payouts throughout 26 quarters and strives to maintain an average rate of 5 – 6%.
In 2022, Streitwise claims it exceeded this range with dividend yields of 7.2%. Streitwise also mentions its partner Tryperion Holdings achieved annual gross returns of over 25% on its property investments.
Please remember this performance data is based on historical records and doesn't guarantee Streitwise will always offer these returns.
---
How Investors Make Money With Streitwise
If you invest with Streitwise, you can make money in two ways: dividends or capital appreciation.
Dividends (Income)
Dividend payments are a great way to generate regular passive income from investments and create consistent cash flow. Typically, Streitwise will declare and pay dividends quarterly. They can send you a physical check or transfer your dividends directly into your bank account. Still, you can also reinvest them via the company's dividend reinvestment program.
Capital Appreciation
You can also earn money through capital appreciation. The profits come from the increase in the value of the real estate property you are invested in. In contrast to dividends, these profits are realized once the holding is sold while you are an active investor. However, you could also make money if you redeem your shares at a better price than the one you started with.
---
Streitwise Investment Strategy
The Streitwise investment strategy aims to create a diversified portfolio to generate steady and growing dividends. The company focuses on fairly priced real estate at higher capitalization rates while minimizing the risk of losing principal.
Value-Oriented Investments
This value-oriented investment strategy focuses on properties that combine multiple characteristics at once. Streitwise looks for real estate in strategic locations that are nearby to transportation, amenities, and established employment. Moreover, high construction quality and sustained occupancy that outperform the broader market are additional factors.
Secondary Non-Gateway Markets
Streitwise targets secondary, non-gateway real estate markets that are reasonably priced to generate higher dividends for their investors. While they already have existing markets, they are always on the lookout for potential ones.
Creditworthy Tenants
The company prefers real estate properties that are occupied by creditworthy tenants. The reason is that reliable tenants typically have long-term leases and contracts that provide a steady cash flow.
Modest Leverage
To protect its investment from principal loss and maximize flexibility, Streitwise finances its acquisitions with modest leverage. Their current offering in St. Louis and Indianapolis has a 51% loan-to-cost ratio, for example.
---
Streitwise Pricing and Fees
Streitwise has a straightforward and transparent fee structure. The company used to charge a one-time, upfront fee of 3% that goes to Streitwise's sponsor, however, that fee has been canceled. Investors will have to pay a recurring annualized asset management fee of 2%. That's the only fee investors have to pay.
---
Streitwise Security
Streitwise offers REITs regulated by the Securities and Exchange Commission, which means they have strict reporting requirements. The company also uses technology and stock transfer agent services from established platforms like FundAmerica and Computershare to process all documents electronically on their website. That way, Streitwise ensures the authenticity and security of your information.
---
Streitwise Customer Service
You can reach general inquiries and investor relations via e-mail and phone during regular business hours. You can also use the contact form and the chat on the website. Their support is in English, but they try to work with translation services for support in other languages.
---
Streitwise Ease of Use
Streitwise has an easy-to-navigate user interface on its primary website with plenty of transparent information on its FAQ page.
Although Streitwise doesn't offer an Android app, it recently unveiled a mobile offering on iOS with an average 4-star rating. However, it's worth mentioning there are only about 20 reviews on the App Store, and it's hard to find more unbiased reviews of this company online.
Streitwise doesn't have a Trustpilot page or Better Business Bureau (BBB) accreditation. However, Streitwise's BBB page shows an A+ rating and zero customer complaints.
---
Streitwise Pros Explained
Institutional-quality real estate: Streitwise and Tryperion Holdings have high standards for the creditworthiness of their tenants and their property investments. While these demanding criteria limit Streitwise's portfolio diversification, it also means investors have access to top-tier properties with high chances for consistent cash flows.
Open to non-accredited and international investors: Accredited investors have fewer restrictions on their contributions, but non-accredited investors can also put their money to work in this platform's REIT. Plus Streitwise welcomes many non-US investors onto its platform, so be sure to check this site's international list if you're living outside the USA.
Self-directed IRA accounts are supported: Streitwise works with many self-directed IRA custodians to make it easy for investors to rollover retirement funds for investing. Whether you have a Traditional, Roth, or SEP IRA, you get the same tax benefits of these accounts while buying Streitwise REIT shares.
Funding via cryptocurrency is possible: Any crypto fans will be happy to know Streitwise is Web3-friendly. Specify you'd prefer to fund your account with currencies like Bitcoin, and you'll find more details on how to send virtual coins to Streitwise's wallet.
Dividends can be reinvested: Streitwise makes it easy to compound your earnings and augment potential price appreciation by reinvesting dividends. Plus, Streitwise takes its platform fees out of your dividends, so you don't need to worry about paying fees from another account.
Streitwise founders have experience and significant skin in the game: Streitwise's co-founder and CEO Jeffery Karsh gained direct experience in the real estate market with his time at Canyon Partners, and other executives worked for major firms like CIM Group and GE Capital Real Estate. On Streitwise's FAQ portal, the three co-founders admit to holding 500,000 Streitwise REIT shares.
Low leverage on investments: Streitwise uses some leverage to fund its operations, but it tries to stay within the conservative to moderate range to avoid potential issues. Throughout its history, Streitwise's average loan-to-value ratio has been between 50% – 55%, and it's always transparent about its financing with regular online reports.
Investors can redeem shares prematurely: While Streitwise recommends holding on to REIT shares for at least five years, investors aren't "locked in" to these accounts if they need to pull out capital sooner. You will pay the penalty for early withdrawal, but it's possible to get your money out of Streitwise after just one year.
Strong performance since its inception: According to Streitwise's 2022 data, the average dividend payouts hover around 7.2%, and it strives to keep these rates within 5% – 6%. While there are no guarantees Streitwise will keep up this pace, it has a solid track record of growth for its clients.
Transparent fee structure: Streitwise doesn't hide its 2% annual fee or its charges for early withdrawals. Also, the company takes this fee out of your dividends to make it easier for clients.
---
Streitwise Cons Explained
No individual deals are available: If you're going to invest with Streitwise, then you have to stick with their managed REIT shares. There are no individual deals or crowdfunding opportunities outside of Streitwise's chosen niche.
Minimal asset and location diversification: Although Streitwise is expanding its offerings, it has a heavy concentration in the St. Louis and Indianapolis metro areas. Also, Streitwise prefers investing in commercial real estate with high-quality tenants. While these features have provided Streitwise with predictability over the years, they're not ideal if you're looking for portfolio diversification.
Few online reviews: Although Streitwise has been around since 2017, it has comparatively few online ratings versus many competitors. With only about 20 reviews for its iOS app and no scores on TrustPilot or the BBB, it's more difficult to find unbiased info on this REIT company.
High share redemption penalties and a one-year lock-up period: Although investors can redeem their shares after one year, this comes with a steep 10% penalty. These potential fees reduce with each succeeding year, but you have to wait five years before you can take out your funds with zero penalty.
---
Streitwise Alternatives
Streitwise is open to investors from all over the world. Still, there are other interesting alternatives, such as Fundrise and CrowdStreet.
Streitwise vs. Fundrise
Fundrise is an online platform where accredited and non-accredited investors can invest in commercial and residential real estate through investment portfolios, which can also be liquidated prematurely.
There are five account levels you can invest with, and they all provide access to different investments. Moreover, the platform requires a minimum investment of only $10, which is a fraction of Streitwise's $3,500. This is great for low-net-worth investors who want to add real estate to their investment portfolio.
Another advantage Fundrise has over Streitwise is its pricing. Compared to the 2% in management fees per year, Fundrise investors only have to pay 1% in fees overall. Check out our full Fundrise review to learn more.
Streitwise vs. CrowdStreet
The second alternative for getting access to commercial real estate investment opportunities is the online crowdfunding platform CrowdStreet. In contrast to Streitwise, investment opportunities are only available for accredited investors. However, you can invest in greatly diversified funds, individual deals, or a professionally managed investment portfolio if you meet the criteria.
Still, the minimum investment is a steep $25,000 and five times more than what Streitise asks for. You could use the remaining $20,000 to diversify your portfolio further.
A huge benefit when investing on CrowdStreet is that you don't need to pay any account or asset management fees like on other platforms. Read our full CrowdStreet review to learn more.
| | | | |
| --- | --- | --- | --- |
| | | | |
| Our Rating | | | |
| Fees | 2% annual management fee | 0.50% to 2.5% (Funds); Project fees vary | 1.0% per year |
| Account Minimum | 500 shares (about $3,500) | $25,000 | $10 |
| Promotion | None | None | Advisory fee waived (*12 months) |
| Highlight | Invest in commercial real estate via an equity REIT | Access to commercial real estate investment opportunities | Access to private real estate deals |
| Best For | Long term investors | High net-worth individuals | Long term investors |
| | | | |
---
Who Is Streitwise Best For?
Anyone can invest in Streitwise, whether they are a high-net-worth accredited individual, local investor, or unaccredited international. The platform is an excellent choice for investors who prefer to invest in a private REIT instead of picking individual deals. Keep in mind, though, that there isn't as much diversification as on other platforms.
Streitwise is also an exciting platform to invest with if you are an IRA holder, a trust, a company, or a joint tenant.
Moreover, if you have $3,500 to spare, can lock up your money for at least one to five years, and want peace of mind that you could redeem your shares early, Streitwise can be a viable option for you.
---
Streitwise Review FAQs
We covered Streitwise's offering in detail. Below, we listed the most frequently asked questions and our corresponding answers.
Is Streitwise Safe?
Every investment is risky. However, the offered REIT is a separate legal entity meaning that neither Streitwise nor their sponsor has any legal rights to your investment in case they struggle or go bankrupt.
Still, as diversification is low, losing a major tenant could put your investment at risk.
Is Streitwise a Crowdfunding Site?
Streitwise is not an online crowdfunding platform. Instead, the company is essentially a REIT that invests in commercial offline real estate properties.
How Are Streitwise's Investments Sourced?
The company's sponsor, Tryperion Partners, applies particular investment strategies to source properties. They then circle in on the commercial real estate they want to invest in and create a business plan to maximize returns. Moreover, as they attract more investors to the platform, they can purchase more real estate.
What Are the Typical Returns Offered by Streitwise?
Since its start in 2017, the platform has targeted average returns between 5% and 6%. In 2022 Streitwise achieved a 7.2% return.
When and How Can I Sell My Streitwise Investment?
You can sell your shares after one year by submitting a redemption request through the Streitwise website. Keep in mind that you will lose up to 10% of your investment if you redeem your shares prematurely. After five years, there is no penalty anymore.
Is Streitwise Available to Non-Accredited Investors?
Yes, Streitwise is available to non-accredited investors. However, non-accredited investors can't invest more than 10% of their net worth (excluding their residence) or their yearly income for the last two years, as well as this year's expected income. Other platforms open to these investors have far lower minimum investments.
---
Final Thoughts
A small portion of your portfolio should be reserved for real estate investments because this practice reduces risk. They are also an excellent asset class to enjoy remarkable returns. Streitwise is no different and has brought in nice returns since its inception. The investment company aims to acquire properties according to its strategy and hold them over time to generate rental income for its investors.
Moreover, the platform has some excellent features, such as investing as a trust or company as well as funding your account with cryptocurrencies. You don't see these options very often on other online platforms. A dividend reinvestment plan, mobile app, and share redemption program round out the offering.
While Streitwise offers only one REIT at the moment, if you have $3,500 to invest, the platform can be worth a try, especially if you are not accredited.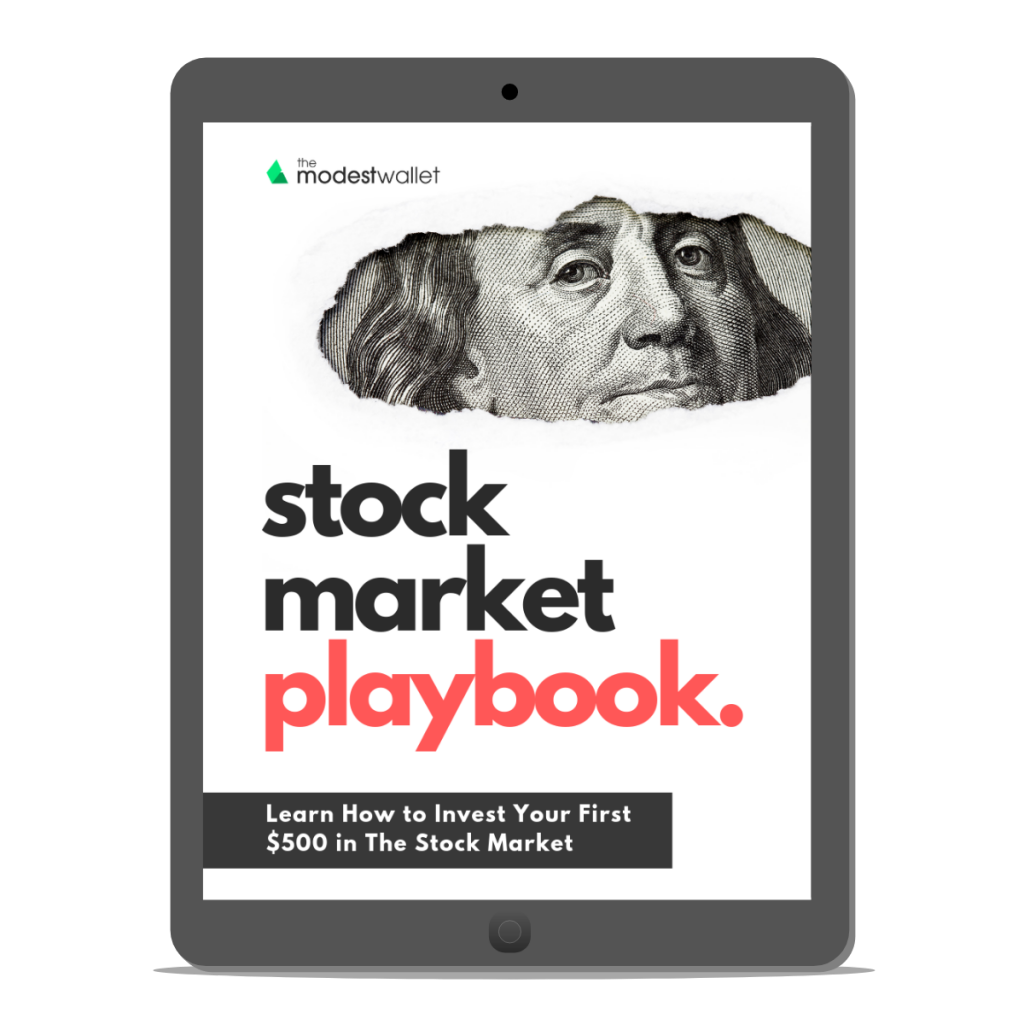 Get our free Stock Market Playbook to learn how to invest your first $500 in the stock market.
Plus our best money tips delivered straight to your inbox.

Carsten is a Freelance Copywriter with a personal interest in money management and investing. Besides taking care of his investments, he loves traveling, reading books, and working out (calisthenics & yoga).