Many or all of the products featured on this page are from our sponsors who compensate us. This may influence which products we write about and where and how the product appears on a page. However, this does not influence our evaluations. Our opinions are our own. Here is a list of our partners and here is how we make money.
---
The information provided on this page is for educational purposes only. The Modest Wallet is a financial publisher that does not offer any personal financial advice or advocate the purchase or sale of any security or investment for any specific individual.
Editor's Note
Uber Technologies acquired Postmates in November 2020, and the Postmates Fleet App for delivery drivers was permanently shut down in August 2021. Read the Uber Technologies announcement to learn more. Please refer to our list of best food delivery services for alternatives.
If you're considering becoming a delivery driver to make some extra cash on the side, Postmates is sure to be on your radar.
Like most delivery platforms, the app has an easy-to-navigate application process and gives drivers flexibility in when and where they work.
There are some key differences in the way Postmates works compared to its competitors, however. In this article, we'll go through everything you need to know before you apply.

Quick Summary: Postmates is a delivery platform that connects buyers with a variety of merchants like local stores, restaurants, and supermarkets. Postmates is a popular side hustle for people looking to make extra cash in their spare time.
Promotion: None
---
What is Postmates?
Postmates is a delivery platform that connects buyers with a variety of merchants like local stores, restaurants, and supermarkets. The variety of products customers can have delivered sets it apart from competitors that just focus on food or groceries.
The company hires delivery specialists, called Postmates, who take food from businesses to customers. You can become a Postmate if you meet the requirements and have a car, motorbike, scooter, or even a bicycle.
The platform operates in all major markets in the U.S., meaning there is a good chance the company services your area.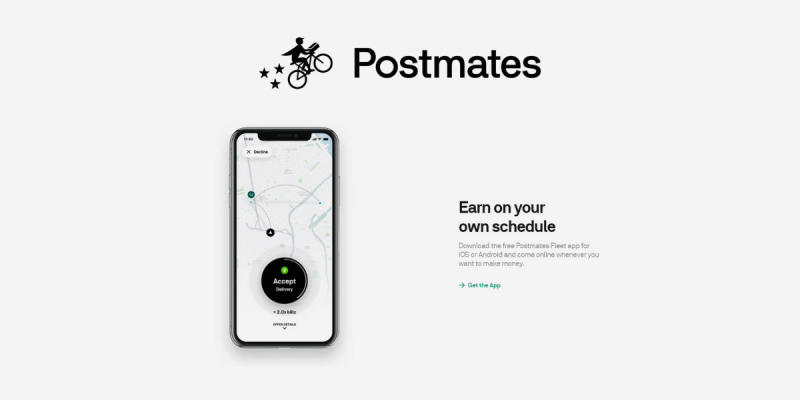 >> Read Also: 11 Ways to Get Paid to Watch Ads (In Your Spare Time)
---
How Does Postmates Work?
Customers use the Postmates app to buy from partner merchants. Once they put in an order, the shop prepares it, and the app notifies nearby drivers about the job.
The driver then heads to the business, picks up the order, and takes it to the customer. Like other popular delivery services, drivers get paid for every task they complete. They also have freedom over when they work, how long they work, and which jobs they accept.
---
What Do Postmates Drivers Do?
Postmates drivers pick up orders from businesses and then take them to customers. Here is a look at what happens in more detail:
First, you log on to the Postmates app to tell the company that you're ready to receive jobs.
You'll get a notification on your phone when a new delivery becomes available. Hit the Accept button to take the job. If you don't accept before the timer hits zero, the job will be offered to another Postmate.
You can choose the auto-accept button to accept the next task automatically. (Only do this if you are happy to do any job.)
Once you have accepted a job, you need to travel to the pickup location. The app will show what it thinks is the quickest route, or you can select your own.
When you arrive, pick up the order, or place it yourself where applicable. Some orders are prepaid, while you'll need to pay for others using the Postmates card.
You should then check that all order items are accounted for. If everything looks good, swipe to tell the app you've completed pick-up.
Next, take the order to the customer. Again, the app will show you what it thinks is the best route.
When you arrive, follow all dropoff instructions and mark the delivery as complete within the app.
The app will then show you how much you earned and make you available for further tasks.
---
How to Become a Postmates Driver
The first stage of the Postmates Driver application process is easy. Just head over to the fleet page on the website and create an account.
Sign-up & Approval Process
To sign up, you'll need to upload a selfie and proof of your identity, then fill out some simple biographical information, including the city you plan to work in. You'll also need to consent to a background check and set up your direct debit.
If you pass this initial stage, the company will send you a delivery bag and a prepaid card that you can use to pay for orders.
Once it arrives, you can log into the app and activate the card. The company will then complete your background check and, if all is good, you can log in and begin accepting orders.
Postmates Driver Eligibility
The requirements to work for Postmates are that you must:
Be 18 years old or older.
Live in an area where the company operates.
Have a social security number.
Have an address.
Pass a background check.
Have a registered vehicle with relevant insurance (although some markets allow bike or on-foot delivery).
Have a phone that can run the Postmates app.
Have a valid checking account to receive payments.
---
Postmates Payment
As per most gig economy driving platforms, Postmates pays per job you complete.
The total amount consists of:
A fee for each pickup and delivery.
A per-minute rate for time spent waiting at the pickup location.
A per-mile rate for the distance you travel between pickup and dropoff.
All tips you earn.
Bonuses when applicable.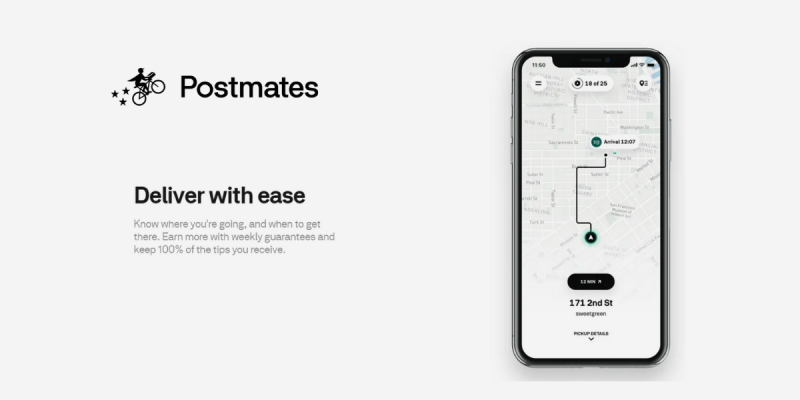 >> Read Also: 12 Creative Ways to Help You Pay Rent This Month (All Legit!)
The amount you earn will also depend on the area you work in.
For example, in San Francisco, you earn $1.90 per pickup, $0.50 per dropoff, $0.07 per minute on the job, and $1.29 per mile you travel.
However, in Medera, CA, you earn $1.20 per pickup, $1.00 per dropoff, $0.07 per minute, and $0.61 per mile. Check out the table below to see examples of current rates depending on the market.
Drivers get paid weekly via direct deposit direct to their bank account. It may take a couple of days for the funds to show up, but Postmates says you'll typically see the previous week's earnings in your account by Wednesday or Thursday.
It's also possible to withdraw your earnings at a time that suits you using the site's instant deposit feature. You can see how much you have earned during a week in the app's dashboard section.
| City | Rate per pickup | Rate per drop-off | Rate per minute | Rate per mile |
| --- | --- | --- | --- | --- |
| New York City | $1.80 | $0.70 | $0.07 | $1.05 |
| Los Angeles | $1.40 | $0.70 | $0.07 | $0.69 |
| Seattle | $1.85 | $0.50 | $0.07 | $0.93 |
| Chicago | $1.45 | $0.70 | $0.07 | $1.01 |
| Phoenix | $1.80 | $0.70 | $0.07 | $0.42 |
| San Antonio | $1.70 | $0.75 | $0.07 | $0.61 |
| Houston | $1.50 | $0.95 | $0.07 | $0.50 |
---
Things Postmates Offers Its Drivers
Postmates hires drivers as contractors, not as employees. This means you'll miss out on many of the regular perks companies give their workers.
However, Postmates does provide some support to its workers. Here are some of the benefits on offer:
Occupational Accident Insurance
Postmates provides insurance for injuries directly caused by working for the company. You are covered from the moment you click to accept a job until the customer receives their order. Find out more here.
Third-Party Insurance
Postmates provides excess third-party coverage if your existing insurance policy is inadequate. This can cover property or medical expenses. Like the occupational insurance above, it only kicks in once you accept an order, and it stops when Postmates logs the order as complete. Find out more here.
Chat Support
Postmates supports its drivers on the job through the FAQ and chat support section on its website and app. This helps you find answers if you're unsure about something while working. Getting a solution quickly is important because delays will affect your hourly rate.
Delivery Bag and Prepaid Card
Drivers receive a bag they can use to make deliveries, as well as a prepaid card they should use to pay for deliveries when appropriate. (Be sure to never use your own money to pay for an order.)
>> Read Also: 14 Ways to Get Paid to Test Products (from Home)
---
Things Postmates Drivers Have to Consider
Postmates is an attractive employer due to the freedom and flexibility given to drivers. However, there are downsides to working as a contractor for the company. Here are some of them:
Managing Income Taxes
You are entirely responsible for filing and paying your own taxes. Postmates does not withhold any money for taxes from a driver's pay. This means you'll have to set aside money yourself.
The amount you pay depends on how much you earn and your expenses. While you can keep track of this manually, there are apps that can help. For example, Stride automatically tracks mileage and provides helpful information about filing taxes.
Paying For Own Expenses
As a driver, you pay for expenses out of your own pocket. These costs can seriously add up. The most significant expense is typically gas and vehicle maintenance. You'll also have to consider the cost of mobile data, parking, food and drink, and insurance.
Paying For One-Off Expenses
One-off expenses can significantly eat into your earnings. Imagine your car breaks down while driving — not only will you have to pay for repairs yourself, but you won't be able to work again until you fix them.
Other one-off fees such as parking or speeding tickets can be expensive. And you won't receive paid sick or holiday leave, which means any time off will reduce the amount you earn.
---
How Much Can You Make as a Postmates Driver?
The total amount you make depends on the number of deliveries you complete and the specifics of each one.
Your hourly rate will depend on how quickly you complete the jobs and how soon after finishing one you'll receive the next.
Indeed suggests that the average Postmates driver earns around $15.67. Meanwhile, Salary.com puts the median at $16, with 10% of drivers making more than $21 per hour and 10% earning under $13.
Postmates offers guaranteed earnings in some situations. For example, in San Francisco, you will earn at least $700 if you complete 100 deliveries in 14 days. Meanwhile, in Madera, CA, you are guaranteed $175 if you complete 25 deliveries in 14 days.
Some people have reported earnings of up to $27 per hour.
---
How to Maximize Earnings
There are several things you can do to maximize your earnings with Postmates. Here are six of them:
Focus on Customer Service
Postmates drivers keep 100% of their tips, so maximizing them is a good way to increase the amount you get from a job. Providing good customer service is usually the best way to increase your tips.
Rates For Longer Trips Are Higher
Postmates considers the distance you travel when calculating earnings. Thus, you can earn more money by taking jobs that involve more travel — especially if you can cover the distance quickly.
Choose Your Routes Wisely (Faster Wins)
The faster you can complete tasks, the more you'll earn per hour. As you work and get to know your area, you'll automatically get a sense of the best routes. Be sure to also consider parking. Spending time finding a spot will increase time spent on a task, reducing your hourly rate.
Deliver During Peak Hours
Working during peak hours can maximize your hourly earnings in two ways:
The increased demand means you're more likely to have constant work during the hours you log. Some you don't get paid between tasks, your hourly rate goes up with your idle time.
Postmates sometimes offers bonuses that kick in during peak times. This increases the amount you earn per job.
You Don't Need a Car
Switching from a car to a more cost-effective mode of transport like a bicycle or a scooter can significantly reduce your expenses, which will increase your wage.
Take Advantage of Postmates Blitz
Blitz pricing is when Postmates increases the amount drivers can earn to encourage more people onto the roads. If you can spot patterns for when Blitz pricing occurs, you can organize your work schedule around these times.
>> Read Also: 20+ Ways to Get Paid to Drive (Make Up to $25/hr)
---
Postmates for Drivers Pros
Work Flexibility: Drivers can work whenever and wherever they want.
(Almost) Anyone Can Do It: Postmates has low requirements about who can work for the company. You don't even need a car!
Keep Your Tips: Drivers keep all their tips.
Payment Guarantees: Postmates' payment guarantees remove some uncertainty over earnings as long as you hit the targets.
Weekly payments: Postmates pays drivers every week, and you can even request quick payments outside the schedule.
---
Postmates for Drivers Cons
No Benefits: As a contractor, you miss out on benefits like sick pay and insurance.
No Tax Help: You also have to take care of your taxes. This isn't hard, but it requires planning ahead.
Pay Own Expenses: All drivers have to pay for on the job expenses like gas or car maintenance.
Lack of Structure: If you like more structure in your work, then you may be more suited to a traditional job.
---
How the Postmates Rating System Works
After a delivery, customers rate the experience as either thumbs up (good) or thumbs down (bad).
This rating considers the entire experience, not just the driver. Postmates says the customer rating never affects a driver's ability to continue working for the platform.
Instead, drivers should adhere to the Postmates fleet agreement.
---
Postmates Alternatives for Drivers
The delivery app market is hugely competitive, and Postmates has plenty of competitors. This is great news for drivers. Following are two major alternatives.
Postmates vs. DoorDash
DoorDash is a popular driving app with coverage throughout the U.S. The major difference between Doordash and Postmates is that the former works exclusively with restaurants and takeaways (or takeout).
A major benefit is that DoorDash shows drivers the minimum amount they will earn for a job before they take it, helping them make informed decisions on what tasks to accept.
Learn more about DoorDash in our DoorDash driver review.
Postmates vs. Instacart
Instacart is a grocery delivery service. Drivers can choose to either only make deliveries or become full-service shoppers that collect orders and deliver them.
One thing to point out is that grocery orders can be heavy, which means Instacart recommends drivers should be able to lift at least 50lbs before working at the company. A nice feature is the minimum payment guarantee of $5 for delivery tasks and $7 for full-service tasks.
Learn more about Instacart in our Instacart shopper review.
| | | | |
| --- | --- | --- | --- |
| | | | |
| Our Rating | | | |
| What You Will Deliver | Just about anything. Whether it's food, new headphones, or a new shirt. | Meals from local restaurants. | Groceries. |
| Age Requirements | 18+ years old | 18+ years old | 18+ years old |
| Vehicle Requirements | Have a car, scooter, or bicycle with relevant insurance. | Have a car, scooter, or bicycle with relevant insurance. | Have a vehicle with relevant insurance. |
| Earning Potential | $13 – $18 / hr (Average) | $15 – $25 / hr (Average) | $10 – $18 / hr (Average) |
| Working Hours | 24/7 on-demand. | 24/7 on-demand. | Delivery windows depend on the stores you work with. |
| Rating System | Customers rate delivery as a whole (thumbs up or down). | Driver rating (0 to 5 stars). | Instacart customers rate shoppers on a scale from 1 to 5 stars |
| What We Like | Payment guarantees when you complete a certain number of jobs. | Easy to sign up for if you are already an Uber driver. | Option for in-store shopping if you don't have a vehicle. |
| | | | |
Compare Postmates
Find out how DoorDash stacks up against the competition.
---
Postmates Driver FAQ
Here are some of the most frequently asked questions people have about driving for Postmates in their spare time.
Does Postmates Offer Benefits to Its Drivers?
Postmates doesn't offer much in the way of benefits. The biggest perks are the third-party damage insurance and occupational accident insurance offered that cover drivers while they work for the company.
Is Being a Postmates Driver Worth it?
If you're happy with the hourly rate and enjoy flexible work, then being a Postmates driver is undoubtedly worth considering.
Do Postmates Drivers Make Good Money?
Driving for Postmates won't make you rich, but many reports suggest you can earn an hourly wage of between $12 and $18 an hour. However, some people have reported earnings of up to $27 per hour. As long as your expenses aren't too high, this is decent money.
How Much Do Postmates Drivers Typically Make?
According to Indeed at the time of writing, the average Postmates driver earns $15.67 per hour. The exact rate you earn depends on where you work and how quickly you can complete the tasks.
Does Postmates Offer Support to Its Drivers?
Postmates offers some support in the form of an FAQ section on its website and in-app chat support.
---
Final Thoughts
Working for Postmates is a good idea if you want a quick way to earn money and you enjoy the freedom to work when and where you want. The pay is competitive for the industry, and the payment guarantees add some stability to the work.
As with all gig economy driving services and apps, there are downsides — namely that contractors don't receive traditional employment benefits, and the working hours can be irregular. But if neither of these specifics are an issue, then Postmates should be on your list.
Up Next
Get our free Side Hustle Handbook with the best strategies to multiply your income sources today.
Plus our best money tips delivered straight to your inbox.

Ricardo is an entrepreneur, investor and personal finance nerd who enjoys spending time with his family and friends, travelling and helping others achieve their financial goals. Ricardo has been quoted as a personal finance expert in several online publications including Healthline, Bankrate, GOBankingRates, MSN Money, Yahoo Finance, U.S. News & World Report, Forbes and USA Today.