15 Ways to Invest $1,000 in 2023
Many or all of the products featured on this page are from our sponsors who compensate us. This may influence which products we write about and where and how the product appears on a page. However, this does not influence our evaluations. Our opinions are our own. Here is a list of our partners and here is how we make money.
---
The information provided on this page is for educational purposes only. The Modest Wallet is a financial publisher that does not offer any personal financial advice or advocate the purchase or sale of any security or investment for any specific individual.
There are hundreds of ways you can use an extra $1,000 nowadays, including purchasing a high-end phone, a few pairs of brand-new Yeezy shoes, or the latest video gaming console out there.
However, there are also many alternatives to put that kind of money to work by investing it in any of the 15 options we will be sharing in the following article so you can earn instead of spending.
So, if you are wondering where you can profitably park your $1,000, keep reading this article to find out.
15 Ways to Invest $1,000
You may be thinking that $1,000 is not a lot of money to start investing, but it's a decent amount. The reality is that some of the wealthiest individuals in the world started somewhere, even if that meant starting with a small amount.
1. Pay Down Your Debt
Paying down your debt could sound like the most boring idea ever compared to the next few items we will be describing. However, it could be one of the most profitable decisions you can make while possibly being the easiest in terms of the amount of due diligence required to hit the ground running.
Think about this in terms of the performance that other investment alternatives can deliver. For example, if you are thinking about stocks as a plausible choice, think twice. Historically, the S&P 500 index has produced a 10% to 11% return for investors, including dividends.
Now, if you compare this with the average interest rate paid by Americans for their credit card debt, approximately 20% according to the most recent data, you can make twice as much as you would in stocks by just clearing your credit card balance.
Sounds like a great deal, doesn't it?
2. Start an Emergency Fund
An emergency fund is a last-resort stash that personal finance professionals almost obsessively focus on when orienting their clients in the field of money management, as this fund can be a life-saving tool when your employment situation suffers or when unexpected situations, such as an illness, occur.
In most cases, building a fund consisting of at least three months' worth of your current salary is recommended, although the actual size might vary depending on factors like how many kids you have and how big your "essentials-only" budget is. Putting $1,000 in your emergency fund is a great start.
One way to build an emergency fund is to set automatic contributions on your bank account that will be made to a separate savings account that offers a decent annual percentage rate (APR).
Some financial institutions, like Axos Bank, Discover Bank, and Synchrony Financial, currently offer savings products that can help in this particular endeavor.
Meanwhile, make sure you don't invest your emergency funds in volatile or illiquid instruments.
The reason for this is that you don't know exactly when you'll need the funds, which makes it inconvenient to either have to give up a percentage of the fund due to a temporary downturn in the valuation of the instrument or because you can't access the money due to liquidity constraints.
See Also: 14 Ways to Invest $100
3. Invest Your Spare Change
Financial technology companies have introduced the concept of micro-investing as a way to encourage individuals to make contributions to investment accounts without even noticing.
One way they achieve this is by transferring the spare change left after making a purchase to an investment account.
The user won't miss these few cents here and there but, as time passes and compound interest works its magic, this spare change can be turned into a nice amount that you can use to either pay down your debt, build an emergency fund, or even fund a vacation.
You can invest $1,000 in opening an account with a company such as Acorns and then sign up for their round-ups feature. By doing so, you'll start benefiting from transferring your spare change to a portfolio composed of a diversified basket of securities that will produce money for you over time.
$1,000 may have been too small of an amount to start investing with in the past but a handful of companies have introduced a range of innovative products to assist investors with a small budget in building diversified portfolios. One of these financial products is known as fractional shares.
A fractional share is essentially a portion of a stock, which means that the owner is entitled to receive a fraction of the price appreciation and dividends earned by the entire stock.
The purpose of this instrument is to allow individuals with a small account balance to get exposure to high-priced securities such as Amazon's stock — currently priced at $3,060 — by allowing them to buy just a tiny bit of it.
Two companies that offer this product successfully are Social Finance Inc. — also known as SoFi Invest – and Public.com.
Both of these platforms allow you to build a portfolio composed of fractional shares with zero commission.
You can invest $1,000 into a robust portfolio composed of multiple stocks and exchange-traded funds (ETF) by buying a portion of any instrument you like.
5. Invest in Index Funds Through ETFs
One of America's most beloved investors, Warren Buffett, has constantly advocated for the use of index funds as a powerful passive investing tool for beginner investors or for people who just don't have the time — or the willingness — to put much effort into researching and picking stocks to build a portfolio.
Meanwhile, statistics show that it is incredibly hard to "beat the market" through stock-picking, which means that you might be better off investing in a basket of securities through an exchange-traded fund (ETF) rather than taking your chances at something you are probably deemed to fail at.
M1 Finance is a hybrid robo-advisor and online broker that allows you to easily build a portfolio for free by providing you with a user-friendly platform and one daily execution window for your trades.
This online broker does not charge any kind of commissions unless you sign up for their M1 Plus program, and you can even pick among a selection of 80 different pre-designed portfolios in case you want to let the system do the work for you. This is a great option to invest $1,000 today.
See Also: How to Invest in ETFs: A Step-by-Step Guide
6. Invest with a Robo-Advisor
Robo-advisors are quickly becoming a multi-billion industry with dozens of options available to hands-off investors. With these providers, investors can build their portfolios in a matter of minutes.
These companies use algorithms that follow time-tested investment methodologies to build diversified portfolios composed of multiple asset classes. Robo-advisors are like an investment auto-pilot button.
Companies like Betterment are among the top providers in this sphere, currently overseeing more than $16 billion in assets for investors while also being properly regulated by US agencies, including the Financial Industry Regulatory Authority (FINRA) and the Securities and Exchange Commission (SEC).
If you don't consider yourself too money-management savvy, your $1,000 will probably do better in the hands of a robo-advisor. In exchange, you'll compensate them with an annual 0.25% fee.
7. Invest in a 401(k)
A 401(k) is an employer-sponsored retirement account that allows you to save and advantageously invest money as you won't have to pay any taxes on your gains until you retire or withdraw money before then.
The specific benefits of a 401(k) vary from one employer to the other but, typically, your employer will offer a matching benefit, which means that they will deposit either the entire amount or a portion of the contributions you make to the account.
As of 2021, the maximum amount that you can contribute to a 401(k) account per year is $19,500.
Companies like Blooom offer a service through which they will analyze the composition of your 401(k)'s portfolio to recommend potential changes you can make to the account to boost its returns over time.
Blooom charges a subscription fee going from $95 to $250 per year depending on the features you wish to have access to. They can help you invest $1,000 efficiently in your future by progressively building a robust retirement fund.
8. Invest in an IRA
An individual retirement account (IRA) can be used as a complement to an employee-sponsored retirement account such as a 401(k), allowing you to defer the taxes you pay on your capital gains until you retire.
Most brokerage firms nowadays offer you the chance of opening an IRA and the number of instruments you can invest in is typically higher than those available for 401(k)s.
With the maximum annual contribution currently standing at $6,000 in 2021, there are no obstacles that prevent you from using these $1,000 to open an IRA account.
Meanwhile, you can either use the services of a robo-advisor or pick stocks and ETFs individually through a self-directed trading platform to build a portfolio for your account.
One provider that can help you in opening and managing an IRA is Ally Invest. This company is backed by a long-standing US financial institution, Ally Financial. You can either let the firm's automated passive investing solution — known as Ally Managed Portfolio — build a portfolio for you or you can build one by yourself through zero-commission trades.
See Also: How to Invest in Mutual Funds: A Step-by-Step Guide
9. Invest in Real Estate (REITs)
Now, how can you pick the best REITs when there are so many of them out there nowadays?
Fundrise is a particularly interesting alternative as its platform allows investors to build a diversified portfolio of high-quality real estate investment trusts without having to commit a large sum of money.
At the moment, the firm offers three different packages depending on the amount of capital. The minimum investment required for the Basic package is $1,000.
Meanwhile, advisory fees start at 0.15% per year and there is also a 0.85% annual management fee, which means that you'll pay around $10 every year for every $1,000 you invest with this provider.
Doesn't sound like much when compared to other available options on the market.
10. Peer-to-Peer Lending
Peer-to-peer lending is one of the most innovative solutions that financial technology firms have brought to lay investors lately, allowing individuals to lend money to each other through a credibility-based system.
As with any other investment alternative, lending money to people through peer-to-peer platforms involves certain risks. However, proper diversification can help you in keeping your losses in check while also producing above-average returns.
Companies like Prosper and Lending Club are among the most popular in this particular sphere of the financial industry, with statistics pointing to potential returns in the 10% to 12% per year area.
One particular benefit of these platforms is that they allow you to provide only a portion of the total amount required by any given borrower instead of having to commit your entire balance to a single loan.
Therefore, an adequately diversified portfolio of loans should both mitigate the losses resulting from potential defaults and deliver enough gains to produce a handsome return on your $1,000 without much effort.
11. Invest in Art
The recent popularity of non-fungible tokens (NFT) as a way to trade electronic art has resulted in higher levels of interest toward this sophisticated corner of the market in which you usually have to either be an expert or hire one to make sure you are buying something truly valuable.
You are probably thinking at this point, is it possible to invest $1,000 in art? What can I buy with that kind of money?
One potential way to invest a small amount in art is through using a platform such as Masterworks, which allows investors to buy a portion of a certain masterpiece. This is an innovative way to invest in art.
This is achieved through the securitization of art. In simple words, this means that a piece of art is converted into an investment vehicle of which you can own a portion.
The platform holds the masterpiece for a period of three to 10 years and then liquidates it — hopefully at a profit — and the investor gets the proceeds from the transaction minus Masterworks' commission.
Meanwhile, you can also sell the shares you hold in any specific masterpiece in a secondary market arranged by the company.
Masterworks requires a minimum investment of $1,000 and charges a 1.5% annual management fee that is deducted from your equity balance — no out-of-pocket expense involved — along with a 20% chunk of any future profits made once the masterpiece is sold.
If you are looking for an alternative asset class, Masterworks is probably one of the most transparent and innovative providers out there.
See Also: 12 Best Roth IRA Accounts
12. Invest in Wine
Speaking about alternative asset classes, have you ever thought about investing $1,000 in fine wine?
It turns out that there is a huge market for collectible wines and certain companies within the fintech space have decided to democratize access to these investment opportunities by offering an investment vehicle similar to the one described in the previous section where we talked about Masterworks.
One of these companies is Vinovest, a firm that offers access to investment-grade wine (imagine that!) picked by experts and stored adequately.
The company's AI-driven technology, combined with the expertise of top-notch sommeliers, will provide recommendations for investors in regards to the best wines available for investment. You can build a diversified portfolio of wine by using the company's proprietary online platform.
How can you get started with Vinovest? Well, there is a minimum $1,000 investment required to open an account, and the firm charges a 2.85% annual fee on the balance of your account.
Although the fee sounds a bit high, keep in mind that it includes insurance, handling, storage, selling, authentication, and other related expenses involved in investing in wine.
13. Open a Certificate of Deposit (CD)
A certificate of deposit is one of the most traditional instruments through which you can invest $1,000. The benefits of these instruments are many, although there are a couple of downsides you should also consider.
The pros of a CD are that you are almost guaranteed to receive the annual interest paid by the certificate while these instruments are covered by the Federal Deposit Insurance Corporation (FDIC) for an amount of up to $250,000.
Meanwhile, the cons include very low-interest rates — primarily due to the current low-rate environment in which we are in — while your money will usually stay locked into the certificate until the instrument reaches its maturity date.
Your local bank, along with many online financial services companies, can probably offer a wide range of CDs with different interest rates and terms.
14. Invest in U.S. Treasury Securities
The latest post-pandemic uptick in US Treasury yields has possibly increased the appeal of these instruments for investors, with 30-year Treasury notes currently offering a 2.4% annual yield.
Sure, you are probably thinking, why you would give up almost 7.6% in potential returns compared to investing in stocks?
Keep in mind that the risks associated with investing in equities are not even close to the low risk of buying a bond issued and backed by the full faith and credit of the US government.
US Treasury bonds are considered as the benchmark risk-free instrument when determining the expected rate of return applicable to riskier assets, which means that you can safely put your money in there and forget about it while it keeps producing income for you.
Meanwhile, other alternatives include Treasury Inflation-Protected Securities, also known as TIPS, which are instruments that protect you from the impact of higher inflation rates.
This is achieved by adjusting the amount of principal you will be paid once the bond matures based on the percentage increase seen by the US consumer price index during that period. Read our how to invest in bonds guide to learn more.
See Also: How to Buy Bitcoin: A Step-by-Step Guide
15. Start a Small Business
Of all the options outlined previously, this is perhaps the one that will require the most 'bootstrapping' on your behalf but it can also be one that could turn your $1,000 into a small fortune if you play your cards right.
Although building a new business from scratch might sound like a time-consuming activity, the internet has leveled the playing for people who have some extra cash to spare to start an online business.
The benefit of building an online business like a blog, a dropshipping business, or an Etsy store is that you can do it from your home and you can also rely on the help of freelancers you might hire through platforms like Upwork or Fiverr to do the heavy lifting for you.
Sure, $1,000 might not cut it if you want to go big. However, if you are looking to start a blog as a small gig that returns you a few hundred bucks every year, you can hire content writers, developers, and web designers to do the most difficult part of the job.
Meanwhile, you can also learn through YouTube tutorials and cheap online courses to learn the basics of WordPress and other web-design platforms that should facilitate the process of building your site from scratch.
As for the revenue side of the business, you can earn money through affiliate commissions, advertising income from Google AdSense, and the sale of guest posts once your site has enough domain authority.
Final Thoughts
Now that we have outlined 15 different ways through which you can invest $1,000, are you still thinking about buying the next PlayStation, or are you ready to earn some more money by either paying off your debt, becoming an investor, or building a business?
Whatever you do, we wish you the best! See you soon.
Up Next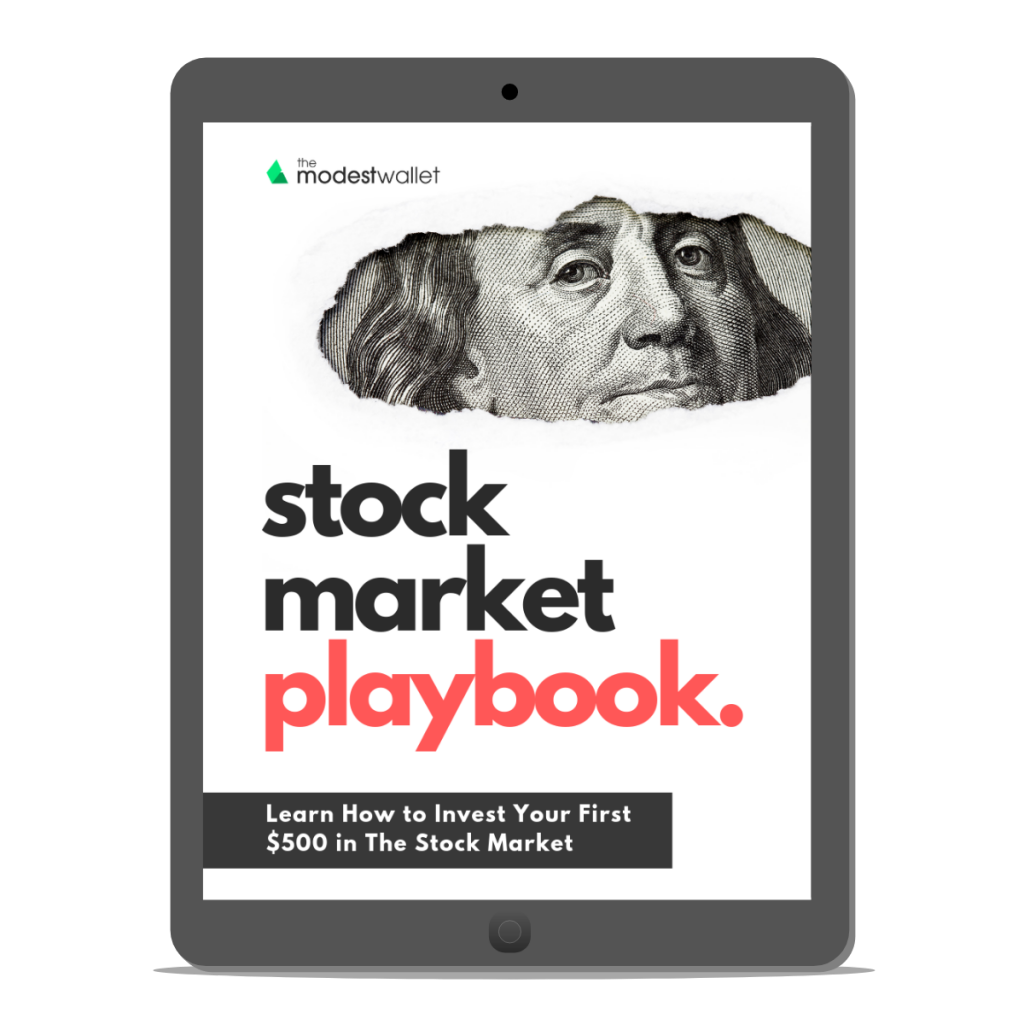 Get our free Stock Market Playbook to learn how to invest your first $500 in the stock market.
Plus our best money tips delivered straight to your inbox.

Alejandro is a financial writer with 7 years of experience in financial management and financial analysis. He writes technical content about economics, finance, investments, and real estate and has also assisted financial businesses in building their digital marketing strategy. His favorite topics are value investing and financial analysis.