Arrived Homes Review 2023: Invest in Rental Homes
Many or all of the products featured on this page are from our sponsors who compensate us. This may influence which products we write about and where and how the product appears on a page. However, this does not influence our evaluations. Our opinions are our own. Here is a list of our partners and here is how we make money.
---
The information provided on this page is for educational purposes only. The Modest Wallet is a financial publisher that does not offer any personal financial advice or advocate the purchase or sale of any security or investment for any specific individual.
Real estate has always been a great asset class and should be part of every investor's portfolio. You can earn rental income and benefit from property appreciation. However, entering the real estate market is associated with many roadblocks. Access has been difficult for retail investors in the past.
Crowdfunding platforms are effectively changing the way people invest in real estate. And this is where Arrived Homes comes into play. Their entire platform and process are simplified to make real estate investing accessible to everyone at low costs.
In this Arrived Homes review, we'll take a deeper look into how you can invest in rental homes on the platform, the available features, and what fees you can expect. In addition, we show you the pros and cons and who the platform is best suited for.
on Arrived Homes' website
Quick Summary: Arrived Homes is a real estate platform where users can invest in fractional shares of quality rental homes. Arrived Homes manages the properties on behalf of its customers.
Promotion: None
What Is Arrived Homes?
Arrived Homes is an online crowdfunding real estate platform. Their goal is to make it easier for everyday investors to invest in single-family homes and collect dividend payments from rental properties. The company also takes care of everything else, like finding tenants or handling maintenance needs.
Arrived Homes is backed by world-class investors such as Jeff Bezos (Amazon), Marc Benioff (Salesforce), and Dara Khosrowshahi (Uber), among others. With just $100, you can embark on your real estate investment journey on the platform.
How Does Arrived Homes Work?
If you want to buy shares of rental homes on Arrived Homes, you can do so by going through a simple four-step process on the platform. That way, you can buy shares immediately and earn income right away.
Browse properties: You start by browsing available rental homes that have already been pre-vetted by Arrived Homes and are open for new investors.
Select a property: Once you have found a property you want to invest in, you determine how much money you want to spend to buy shares.
Invest in a property: Next, you check the terms, sign the contract, and fund the investment by linking your bank account.
Earn income & appreciation: Now, you can earn rental income and participate in the property's value appreciation.
How to Open an Arrived Homes Account
To open an account with Arrived Homes, click on the Sign Up button on the website's top right corner. The process takes barely two minutes and only requires you to create an account with your email address and a password. You then provide your name and agree to the company's terms of service. That's it!
Now you can explore the listings on the website. If there are no homes available for investment, you can reserve shares and be notified. Besides, linking your bank account is only necessary if you invest in a rental home.
Arrived Homes Features
Arrived Homes offers many features that are interesting for beginner and experienced real estate investors alike. Find out more below:
| | |
| --- | --- |
| Minimum Investment | $100 |
| Fees | Source fee: varies by property, property management fee: 8.00% and annual asset management fee: 1.00% |
| Advertised Returns | Between 5.95% and 7.54% (Q3 2021) from dividend distributions |
| Time Commitment | 5 to 7 years |
| Property Types | Single-family rental properties |
| Account Types | Taxable and Self-directed IRA |
| Mobile Apps | None |
| Promotions | None |
| Secondary Market | |
| Accreditation Required | |
| Self-Directed IRA | |
| 1031 Exchange | |
| Support | Phone (+1 814 277 4883) and Email ([email protected]) |
Arrived Homes Marketplace
On the Arrived Homes marketplace, you will find available and funded rental homes as well as additional information about them. This includes general data on the house, its purchase price, and monthly rent.
Moreover, you will find an independent valuation report for the property, a market overview, financing data, and real estate price trends for the area. Offer details and a financial breakdown of the property complete the section.
Low Minimum Investment
All you need to invest on the platform is $100. Compared to the typically high investment minimums of $25,000 and more, this is a game-changer for retail investors and allows them to add real estate to their portfolios.
Earn Rental Income
By investing with Arrived Homes, you essentially buy shares of single-family rental properties. Once your share ownership is complete, you will earn your share of passive income in the form of quarterly dividends from the tenants' rent payments.
Property Appreciation
As you are a co-owner of the property, you are entitled to any property appreciation that occurs over time. Once the company sells the property (or you sell your shares), you get your returns according to the amount invested. However, appreciation can't be guaranteed.
No Personal Liability
With Arrived Homes, you also don't have to worry about personal liability. To fractionalize homes into shares and offer them to investors, the company has to create an LLC structure for every property. This structure protects investors from personal liability, such as lawsuits or accidents that occur on the property.
Arrived Homes Investment Returns
As mentioned before, the company pays out quarterly returns to its investors. While returns can vary, we know you want to learn more about the returns you can expect.
In Q2 of 2021, Arrived Homes paid dividends between $1,324 and $1,743 per property. These numbers translate to annualized cash returns of 5.21% to 6.42%. In Q3 of 2021, the paid-out dividends correspond to an annualized cash return of 5.95% and 7.54%.
Investment Period
Investing in real estate means that you typically invest for the long run and only use the money you don't need in the foreseeable future. While each property has a particular hold period, most investment timelines are up to 10 years. In the case of Arrived Homes, the estimated hold period sits somewhere between 5 to 7 years.
Cash Flow Distributions
Within this period, the company distributes its Free Cash Flow as dividend payments. Free Cash Flow is considered the net income generated by a rental property plus changes in working capital, depreciation, and amortization minus the expenditures for the property. Arrived Homes distributes this Free Cash Flow every quarter if the distribution amount is at least $5 per investor.
Vetting Process
Before being listed on the platform's marketplace, all properties must undergo a thorough and rigorous vetting process conducted by the acquisitions team.
They start by identifying the most lucrative markets and circling in on the best neighborhoods. Then, the team develops the ideal purchasing criteria, sources deals to find gems, and makes the right offer.
After that, Arrived Homes focuses on managing the rental properties efficiently for its investors.
Educational Resources
In its Learn section, Arrived Homes has a real estate investing guide and a blog that keeps users up to speed with the industry and Arrived Homes. The available articles can be a good starting point for beginner investors to learn more about the topic in general.
Arrived Homes Pricing and Fees
Arrived Homes has two fees investors should be aware of. The first fee is an annual asset-under-management fee, which is 1%. The fee is paid out of the income distributions from each property.
In addition, the platform charges a one-time sourcing fee which they call "proceeds to Arrived" on the offering page. This fee varies by property and they charge it for sourcing the property and preparing it for investment. It is already included in the raised amount and share price.
Moreover, Arrived Homes keeps about 8% of the rental payments for property management.
Arrived Homes Security
Arrived Homes only collects the data investors provide them with when creating an account, contacting the company, or using their services. Their data won't be sold or shared with anyone unless it's necessary to provide a service or complete a transaction.
An example would be the payment provider Plaid. Arrived Homes uses Plaid to gather your data from financial institutions and ensure secure transactions to fund your investments.
Arrived Homes Customer Service
If you want to contact Arrived Homes, you have various options to do so. You can get in touch either by calling them via phone or emailing the customer support team. Moreover, you can use the chat function to send a message or schedule a call with their team.
Besides, you can connect with Arrived Homes on many social media outlets like Facebook, Twitter, Instagram, and LinkedIn.
Arrived Homes Pros
Low minimum investment of just $100
Diversification can be achieved easily
The platform is open to all investors
Rental income can be earned through quarterly dividends
Easy to use platform
Professional property management
Protection from personal liability
Thorough vetting process
Good educational resources for real estate investors
Arrived Homes Cons
Limited liquidity with hold periods between five and seven years
Share redemption isn't guaranteed
No available investments at the time of review
Fees reduce your income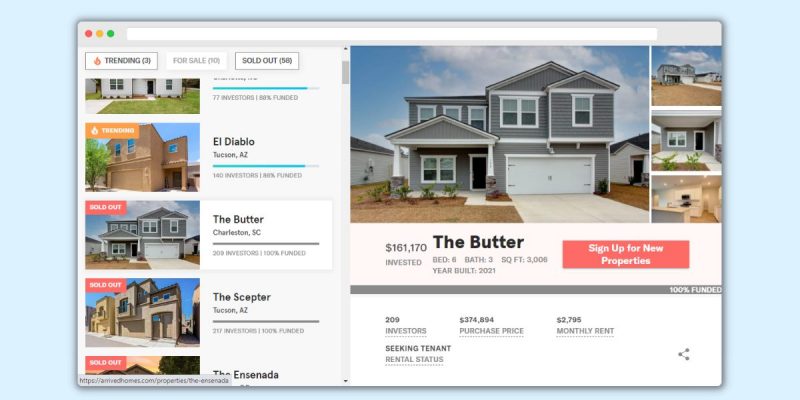 Arrived Homes Alternatives
While Arrived Homes makes it simple and easy to invest in single-family rental homes, other options also have low minimums and exciting features. Therefore, we added two alternatives to consider:
Arrived Homes vs. Fundrise
A very popular real estate crowdfunding investment platform is Fundrise. Like Arrived Homes, Fundrise is also open to retail investors. However, you will not buy shares of a single rental property but in diversified portfolios that consist of residential and commercial real estate.
Looking at the fees, you will see that both companies have similar asset-under-management fees of 1%. Still, there are no other fees such as a sourcing fee or a property management fee with Fundrise. Moreover, the investment minimum is a measly $10, which is even less than the $100 you need for Arrived Homes.
Another structural difference is that Fundrise offers various account levels (although with higher minimums) that unlock features such as IRA investing, a customized portfolio strategy, or access to private REITs. Read our full Fundrise review to learn more.
Arrived Homes vs. Roofstock
The second alternative for retail investors looking to invest in single-family properties is Roofstock. However, the platform doesn't have an exact investment minimum as investors will buy the entire home instead of shares of the property. Besides, investors can invest in custom portfolios similar to private REITs you might know from other platforms.
While the basic idea of browsing the available listings, deciding on a property, and earning rental income is the same, the approach is entirely different. This is also evident in the fee structure. After your offer has been accepted, Roofstock charges a fee of 0.5% of the purchase price or $500, whichever is higher. Additional benefits are reselling the property on the platform and putting your money in a 1031 exchange. Read our full Roofstock review to learn more.
| | | | |
| --- | --- | --- | --- |
| | | | |
| Our Rating | | | |
| Fees | Source fee: varies by property, annual management fee: 1% and property management fee: 8% | 0.50% of purchase price or $500 (buyers) and 3.00% of the sale price or $2,500 (sellers) | 1.0% per year |
| Account Minimum | $100 | $0 | $10 |
| Promotion | None | None | Advisory fee waived (*12 months) |
| Highlight | Invest in fractional shares of quality rental homes | Invest in real estate with single-family rentals | Access to private real estate deals |
| Best For | Long term investors | Long term investors | Long term investors |
| | | | |
Who Is Arrived Homes Best For?
Arrived Homes is perfect for non-accredited investors as they usually are excluded from many other real estate crowdfunding platforms. Moreover, the low investment minimum of just $100 will be incredibly helpful for beginner investors and investors with small account balances.
Arrived Homes is also suitable for people who want to invest in single-family rental properties but don't want to buy the entire home or deal with the operational headaches that come with homeownership. Residential properties are especially great for investors looking for passive income streams from rental payments and appreciation.
Arrived Homes Review FAQ
Although this review has covered the most essential aspects of Arrived Homes, we understand that you might have additional questions regarding the company's offering. That's why we collected frequently asked questions and provided answers to them.
Is Arrived Homes Safe?
Investing in real estate is never 100% safe because you always have to face the risk of losing money on an investment. However, all investment offerings on the platform are SEC-approved and can therefore be considered safe.
In addition, the platform conducts a thorough and rigorous vetting process. They also have cash reserves for every property. Thanks to the LLC structure of each property, investors are also protected against personal liability, such as ugly and expensive lawsuits. 
Who Can Invest with Arrived Homes?
At the moment, all U.S. residents who are 18 years old and older can participate on the platform. In addition, they don't have to be accredited investors to invest with Arrived Homes and may even use certain entities or self-direct IRA and retirement accounts.
Is Arrived Homes a REIT?
Real estate investment trusts (REITs) own real estate assets. Available shares can be purchased and sold publicly on stock exchanges. Therefore, Arrived Homes itself isn't a REIT, but each property on the platform is. Thus, although the shares are not publicly traded, they qualify to be taxed as REITs and offer the same tax benefits as publicly-traded REITs. 
Who Has Legal Ownership of a House with Arrived Homes?
As soon as you invest in shares of an Arrived Homes property, you buy direct ownership in the LLC that owns the asset. For example, buying 5% of the shares would entitle you to 5% of the interest, including rental income and property appreciation.
How Does Arrived Homes Make Money?
Arrived Homes has multiple income streams. The first is agent rebates, which the company collects from the property's original seller when buying the house. The second stream is the sourcing fee charged for the "work involved with sourcing the property and preparing it for investment." Ultimately, there is an annual asset management fee of 1% and a property management fee of around 8%.
Can I Sell My Investment Before My Holding Period Ends with Arrived Homes?
The property offerings are designed for investors who want to invest for at least five to seven years. Still, plans can change in an instant, and investors might need to liquidate earlier than expected. In that case, you must ask Arrived Homes for an early redemption, which could result in penalties. Plus, redemptions can't be guaranteed, and a secondary market has not yet been established.
Is it Possible to Do a 1031 Exchange with Arrived Homes?
1031 exchanges exist for those investors who want to defer all their capital gains taxes by reinvesting the proceeds from the sale in new properties. These new properties must have the same or a higher value than the sold one. Unfortunately, 1031 exchanges into or out of the platform's offerings are not possible. 
Minimum Investment: $100
Fees: Annual management fee: 1%, property management fee: 8%, and sourcing fee: varies by property
Promotion: None
on Arrived Homes' website
Final Thoughts
With as little as $100, you can invest with Arrived Homes and diversify your portfolio. Whether you are a complete beginner or a seasoned pro, you will benefit from the advantages real estate has to offer. Plus, you don't have to think about the hassle of renting the place out or taking care of maintenance needs. Instead, you sit back and let the dividends flow in.
The vetting process is rigorous, the investment returns are solid, and the pricing structure is transparent. However, it is worth mentioning that the flow of properties to invest in is relatively limited. Still, Arrived Homes can be a great starting point for investors who want to get into real estate and can't — or simply don't want to — spend $25,000+ on a single investment.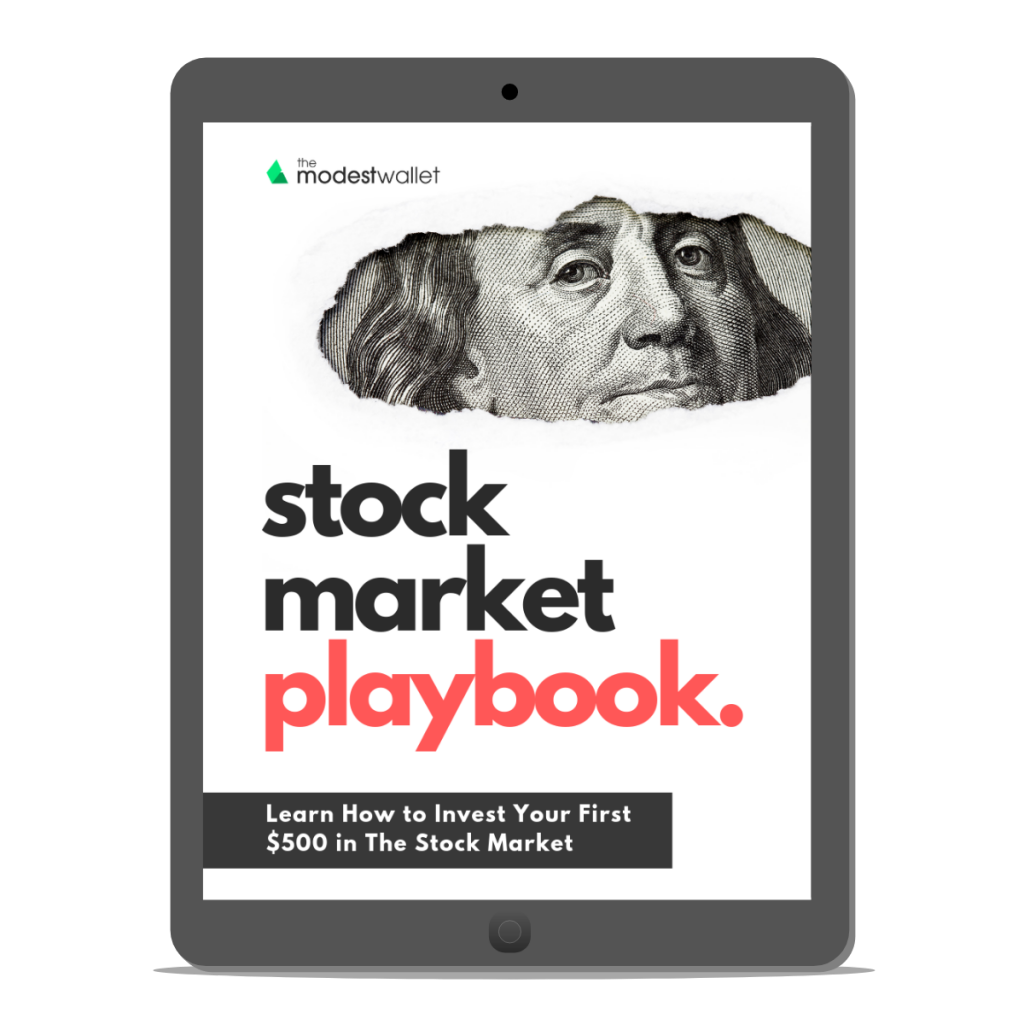 Get our free Stock Market Playbook to learn how to invest your first $500 in the stock market.
Plus our best money tips delivered straight to your inbox.

Carsten is a Freelance Copywriter with a personal interest in money management and investing. Besides taking care of his investments, he loves traveling, reading books, and working out (calisthenics & yoga).