RealtyMogul Review 2023: Crowdfunded Real Estate Investing
Many or all of the products featured on this page are from our sponsors who compensate us. This may influence which products we write about and where and how the product appears on a page. However, this does not influence our evaluations. Our opinions are our own. Here is a list of our partners and here is how we make money.
---
The information provided on this page is for educational purposes only. The Modest Wallet is a financial publisher that does not offer any personal financial advice or advocate the purchase or sale of any security or investment for any specific individual.
Real estate has historically been one of the most popular ways to invest money, generate wealth, and produce consistent cash flow. The reason is that investors have various options to get started in real estate investing. For example, they can invest in rental properties or investment trusts and funds, flip houses, or join real estate crowdfunding platforms like RealtyMogul.
The online platform was launched in Los Angeles in 2012 and aims to simplify real estate investing for everybody through modern technology. While crowdfunding is not a new concept, it has now found its way into real estate. According to the RealtyMogul website, they have already claimed more than $800 million in investments from 220,000+ registered platform members and financed more than 330 properties valued at more than $4.1 Billion.
This review will look into RealtyMogul's features and how it works. From there, we will look at pricing and fees, pros and cons, and who the RealtyMogul real estate investment platform is best for.
Quick Summary: RealtyMogul offers an online marketplace for accredited and non-accredited investors to invest in commercial real estate deals. The platform offers a buyback program to enhance investment liquidity.
Promotion: None
What Is RealtyMogul?
RealtyMogul is an online real estate crowdfunding platform that connects investors with the opportunity to invest in institutional-quality real estate projects. The popular investment platform allows accredited as well as non-accredited investors to grow and diversify their portfolios by investing in commercial real estate deals and privately traded Real Estate Investment Trusts (REITs).
In setting up a real estate crowdfunding platform, RealtyMogul wants to change how investors can invest in real estate. Furthermore, the platform has one of the best due diligence processes in the industry to filter suitable real estate properties for their investors.
How Does RealtyMogul Work?
With RealtyMogul, investors have the opportunity to invest in real estate projects such as office, multifamily, and retail buildings online. They can browse the eligible real estate listings and look at the available due diligence material. After deciding on a project, investors can put their money in a real estate project or one of two non-traded REIT products (i.e. Income REIT and Apartment Growth REIT) and track its performance on the RealtyMogul dashboard.
Something to keep in mind is that these REITs are not registered with the SEC, but RealtyMogul Advisor (the subsidiary that manages them) is
The REITs themselves are not registered with the SEC, but RM Advisor (the subsidiary that manages them) is, and we do file all public info on the REITs with the SEC
RealtyMogul Members can invest in the REITs using a Self-Directed Individual Retirement Account (SD-IRA) either by rolling over funds from an existing IRA or opening a new IRA, directly on the RealtyMogul Platform
Many of the properties in the REITs were also offered as individual deals on the Platform
Both REITs offer the option to automatically reinvest your distribution to take advantage of the power of compound interest (we call this feature "DRIP")
Both REITs offer the option to set up automatic recurring investments from your bank account (we call this feature "AutoINVEST")
How to Open a RealtyMogul Account
To open an account with RealtyMogul, click on the 'Join' button in the top right corner of the website. The account opening process is quick and very straightforward. There are four steps to complete.
Step 1: Create Your Account
You are required to enter your first and last name, email address, phone number, and password to set up an investment account. Users can invest in the REITs using a Self-Directed Individual Retirement Account (SDIRA) either by rolling over funds from an existing IRA or opening a new IRA at RealtyMogul.
Step 2: Select Your Investment
After joining the platform, you have access to open investment opportunities and can track past deal performances. In addition, you can sign legal documents and link a bank account for funding.
Step 3: Start Investing
Once you have found a suitable investment opportunity, enter the amount you want to invest and complete your transaction online.
Step 4: Track Your Investments
After completing your investment, you can track its performance in your account dashboard, where you will also receive investment reports and tax documents.
Keep in mind that users have to meet specific requirements if they want to invest with RealtyMogul.
Unaccredited investors need to invest at least $5,000 and their investments may be limited based on annual income or net worth. They can also only invest in the two MogulREIT products.
To become an accredited investor and have access to any RealtyMogul real estate offering, you must meet one of the following criteria:
$200,000 in annual income per year for the last two years ($300,000 with a spouse)
$1 million in net worth excluding the primary residence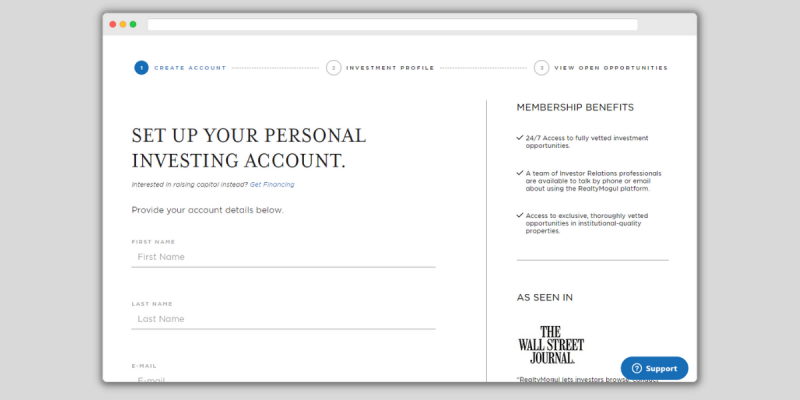 RealtyMogul Features
The real estate crowdfunding platform makes it possible for investors to invest in two REITs, private placements, and 1031 exchanges. REIT investors also have the opportunity to use RealtyMogul's REIT Buyback Program. Read on to find out more about these features.
| | |
| --- | --- |
| Minimum Investment | $5,000 |
| Fees | 1.00% to 1.25% per year asset management fee |
| Investment Types | Equity |
| Property Types | Commercial |
| Account Types | Taxable and Self-Directed IRA (through a custodian) |
| Availability | 50 states |
| Promotion | None |
| Secondary Market | |
| 1031 Exchange | |
| Accreditation Required | |
| Pre-vetted & pre-funded | |
| Support | Phone and Email |
Income REIT
The Income REIT is a limited liability company (LLC) formed to invest in and manage a diverse portfolio of commercial real estate investments. This REIT is a non-traded REIT registered with the Securities and Exchange Commission but not traded on a stock exchange, like publicly-traded REITs. Keep in mind that public non-traded REITs are considered illiquid investments.
The Income REIT owns various commercial real estate properties such as multifamily, office, industrial, self-storage, and retail opportunities that pay cash distributions. In addition, the REIT can also invest in real estate-related equity and debt assets across the mentioned property types. Its goal is to provide investors with monthly income.
Accredited and non-accredited investors can invest in Income REIT and will receive monthly distributions. You can also choose to participate in a distribution reinvestment plan.
Apartment Growth REIT
Like the Income REIT, the Apartment Growth REIT is a public non-traded REIT. The Apartment Growth REIT can invest in preferred and common equity of multifamily apartment buildings nationwide. These buildings must offer consistently high occupancy and income levels across market cycles or the opportunity of significant value appreciation.
What differentiates this REIT from the Income REIT is the investment objective. While the Income REIT aims to pay attractive monthly cash distributions, the Apartment Growth REIT tries to realize capital and value appreciation. Therefore, investors have to decide whether they prefer a growth or an income strategy and invest accordingly.
This REIT is also available to both accredited and non-accredited investors. However, the Apartment Growth REIT will pay distributions only every quarter. Again, you may elect to participate in their distribution reinvestment plan.
Private Placements
Private placements are single investments into a specific property or a small group of properties. They are also known as unregistered offerings and are usually exempt from registration with the SEC. The investment option on the RealtyMogul platform includes equity investments in office, multifamily, retail, and industrial real estate across the United States.
In contrast to Income REIT and Apartment Growth REIT, private placements are only available to accredited investors. Minimum investments usually range between $25,000 and $50,000, with an investment horizon between 3 and 10 years. Distributions are typically done on a quarterly basis. Some of the deals that have been available through the platform include:
Apartment buildings
Office
Retail
Industrial
Ground-up development
Self-storage
Cold storage
Mobile home parks
Student housing
1031 Exchanges
Another option for accredited investors is to invest in 1031 exchanges on the platform. The strategy of a 1031 exchange is to defer the capital gains tax from the sale of a property and immediately reinvest the proceeds before they become taxable. Benefits are certainty of closing and avoiding property management headaches.
Usually, these investments can become relatively complicated and you must fulfill specific eligibility criteria to invest in 1031 exchanges. RealtyMogul simplifies the process for you and reduces the stress of finding eligible investments. However, it always makes sense to consult a certified accountant and talk about such investments.
REIT Buyback Program
Typically, public non-traded REITs are relatively illiquid and lock up your money long-term. This means you can't withdraw your money for the given investment period or, worse, a few years. To differentiate themselves from other crowdfunding platforms, RealtyMogul set up a REIT Share Repurchase Program where investors can sell their Income REIT and II shares back to the platform exclusively every quarter.
The Share Repurchase Program creates at least some sort of liquidity and flexibility for both Income REIT and Apartment Growth REIT shareholders. Still, buybacks are subject to capital availability. Under this program, RealtyMogul may repurchase your shares for a reduced price after investors had 12 months of ownership. The buyback percentages and holding periods are as follows:
0% for less than a year (this means lock-up)
98% for holding REITs between one and two years
99% for holding REITs between two and three years
100% for holding REITs for more than three years
RealtyMogul Pricing and Fees
Joining RealtyMogul and browsing through the marketplace listings is generally free of charge. But once you invest, there are fees associated with every actual investment.
Each investment has a fee schedule, and your fees will be calculated depending on the type of investment it is, as well as other characteristics. The specific fee structure for every investment will be displayed when browsing the listings because RealtyMogul believes in transparency for its investors.
Some of the fees are as follows:
Private Placements: 1% asset management fee
Income REIT: 1% asset management fee based on the total equity value
Apartment Growth REIT: 1.25% asset management fee based on the total equity value
Disposition fee of up to 2% of the contract sales price for MogulREITs I and II
Debt, fixed income, and preferred equity assets (Income REIT) also carry fees. RealtyMogul charges a servicing fee for its performing loans of 0.5% based on the principal balance and accrued interest and a special servicing fee for non-performing loans of 1% of the original deal value.
RealtyMogul Security
Like with other financial service providers, you have to share personal information to the extent necessary for RealtyMogul to provide its service. When you open an account on the platform, your personal data may be shared with parties involved in the investment process. Your data will also be run through the know-your-customer (KYC) database.
However, RealtyMogul explains that they rely on industry standards and practices when protecting your information. This includes maintaining appropriate safeguards and controls as well as multi-layered, secure infrastructure and industry-standard encryption technologies.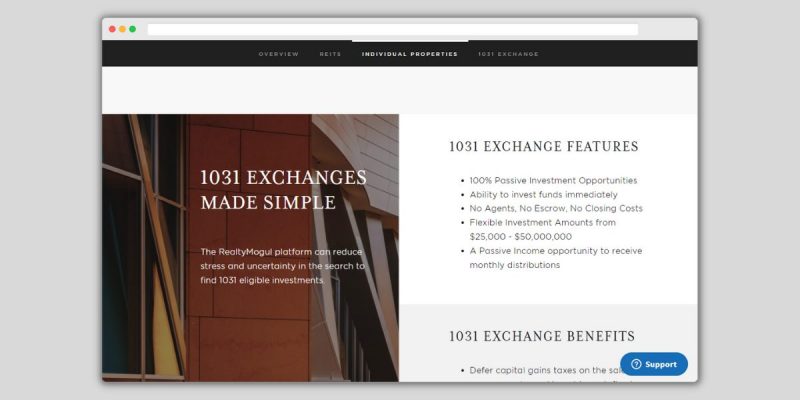 RealtyMogul Customer Service
You can reach RealtyMogul either by phone or email during regular business hours. The platform has made a team of investor relations professionals available to help its members with whatever questions they may have about the platform and the service offering.
Moreover, RealtyMogul offers a comprehensive FAQ section and an in-depth education center. You can find many articles in the RealtyMogul knowledge center and learn more about 1031 exchanges, REITs, building wealth, commercial real estate, investing, and passive income.
RealtyMogul Pros
Pre-vetted investments and rigorous due diligence process
MogulREITs are open to non-accredited investors
The REIT Buyback Program can add some liquidity and flexibility
Different real estate investment options, including standalone real estate deals
Monthly or quarterly distributions
Distributions can be reinvested
Monthly auto-investing from $250 per month
RealtyMogul Cons
High minimum investment of $5,000 for REIT products
Private placement deals are only available to accredited investors
Complex fee structure which varies by investment
Fewer real estate deals available compared to other platforms
Investments are illiquid and locked up at least for one year
RealtyMogul Alternatives
However, RealtyMogul is not the only crowdfunding real estate platform on the web. While the platform consistently ranks well compared to others, newer competitors may also have an offering that fits what you are looking for. Have a look at our two alternatives below:
Fundrise
Fundrise is an online platform where investors can pool their money to purchase real estate. The offering is available to all investors and you don't need to be accredited.
Moreover, its Starter portfolio only requires a minimum investment of $10 compared to $5,000 at RealtyMogul. This is a huge advantage for investors with lower incomes and smaller account balances who want to diversify their portfolios beyond stocks and bonds.
On Fundrise, investors can upgrade their account to any of the available five account levels, which provide access to different investment options but also face minimum investments up to $10,000 and even $100,000 for the premium level plan.
In terms of pricing and fees, the platforms are very similar as Fundrise has a 1% management fee as well. Besides, Fundrise pays its dividends quarterly, which is the same as Apartment Growth REIT. Read our full Fundrise review to learn more.
CrowdStreet
CrowdStreet is another real estate investing platform that gives investors direct access to commercial real estate investment opportunities online. However, investment opportunities on the platform are only accessible for accredited investors. You can invest in diversified funds, individual deals, or have a professionally managed real estate investment portfolio.
To get started on the platform, you must shell out $25,000 as a minimum investment in contrast to RealtyMogul's $5,000. Still, Private Placements on RealtyMogul require similar minimum investments, so that's not much of a disadvantage.
A benefit when investing with CrowdStreet is that you are not paying any account fees like on other platforms. Still, other fees for funds range from 0.5% to 2.5%, depending on the project. Read our full CrowdStreet review to learn more.
| | | | |
| --- | --- | --- | --- |
| | | | |
| Our Rating | | | |
| Fees | 1.00% to -1.25% per year asset management fee | 1.0% per year | 0.50% to 2.5% (Funds); Project fees vary |
| Account Minimum | $5,000 | $10 | $25,000 |
| Promotion | None | Advisory fee waived (*12 months) | None |
| Highlight | Invest in real estate beyond publicly traded REITs | Access to private real estate deals | Access to commercial real estate investment opportunities |
| Best For | Long term investors | Long term investors | High net-worth individuals |
| | | | |
Compare RealtyMogul
Find out how RealtyMogul stacks up against the competition.
Who Is RealtyMogul Best For?
The platform is best for accredited and non-accredited investors who want to diversify their investment portfolio by adding real estate to the mix. Non-accredited investors will particularly benefit from the RealtyMogul offering as they are allowed to invest in REITs.
Investors who prefer investing in pre-vetted real estate deals – instead of being involved in the property research and buying process themselves – will find solid opportunities to on RealtyMogul. In addition, accredited investors can choose from multiple investment options that go beyond publicly traded Real Estate Investment Trusts.
In contrast, small-balance investors who want to invest in real estate will face a high minimum investment of $5,000 for both MogulREITs. Therefore, they should invest in publicly-traded REITs instead.
RealtyMogul Review FAQ
While we have covered what RealtyMogul is, how the platform works, and the available features, you still might have some additional questions. We have listed the most frequently asked questions and our answers below.
Is RealtyMogul a Good Investment?
RealtyMogul offers different investment options to diversify your portfolio through real estate deals. The thorough due diligence process separates the wheat from the chaff, with only 1.1% of deals being accepted. The two REITs are solid investments, and the private placement deals already start at $25,000, which isn't much considering you are investing in multi-million-dollar projects. Still, you must determine yourself if real estate deals are suitable investments in your current situation.
How Much Can You Make from RealtyMogul?
Investing in real estate is a risky adventure because the offered investment opportunities on RealtyMogul are relatively illiquid and can't be easily sold like other asset classes. Therefore, it's even more important to make significant returns from them.
Since the inception of the Income REIT in 2016, investors have received an annualized distribution net of fees of 6%. With the Apartment Growth REIT, investors had lower annualized distributions net of fees with only 4.5% since its inception in 2017.
What Is the Typical Time Horizon for a RealtyMogul Investment?
Usually, real estate investments have a much longer investment horizon than stocks or bonds, for example. Therefore, you should be ready to have your money tied up in real estate projects for multiple years.
Although the time commitment for equity and preferred equity is only six months, the typical time horizon for real estate investments on the RealtyMogul platform is three to five years.
Can Distributions Be Reinvested?
Yes, MogulREITs I and II both offer a distributions reinvestment plan, also called DRIP. You may elect to participate in such a reinvestment plan, where RealtyMogul automatically reinvests all potentially paid distribution in shares of its common stock. This reinvestment strategy allows you to realize compounded returns.
When and How Can You Sell RealtyMogul Investments?
This depends on whether you invest in MogulREITs or private placements. If you invest in standalone real estate deals, you can't sell until the property is sold and the deal is complete. If you invest in RealtyMogul's REITs, however, you can sell your shares back to the platform at a reduced price after holding them for at least one year. 
How Does RealtyMogul Make Money?
RealtyMogul makes money from the fees they charge you when you make an investment on the platform. These fees vary and depend on the investment you choose. While the Income REIT charges a 1% asset management fee based on total equity value, the Apartment Growth REIT charges 1.25%. They also charge a disposition fee of up to 2% of the contract sales price on every sold property within the REIT.
Minimum Investment: $5,000
Fees:1.00% to 1.25% per year asset management fee
Promotion: None
Final Thoughts
RealtyMogul uses modern technology to give investors access to commercial real estate deals they usually wouldn't be able to invest in. The platform executes a thorough due diligence process and transparently displays the information for every investment. The same goes for the fees that are associated with the investments.
What makes the platform great for everyday investors is that it allows them to gain exposure to another asset class next to stocks and bonds. It's a great place to start as you don't have to be an accredited investor to hold REIT shares on RealtyMogul. Still, the minimum investment is relatively high. It will cut out most investors as real estate should not be over-allocated in your portfolio. But once invested, the platform provides more liquidity potential than comparable platforms due to their Share Repurchase Program.
The platform also offers a knowledge center that helps educate and empower investors to make informed decisions. However, their private investments are riskier than publicly traded securities. Therefore, you should do your homework on real estate investing or consult with a certified financial account first before investing your money.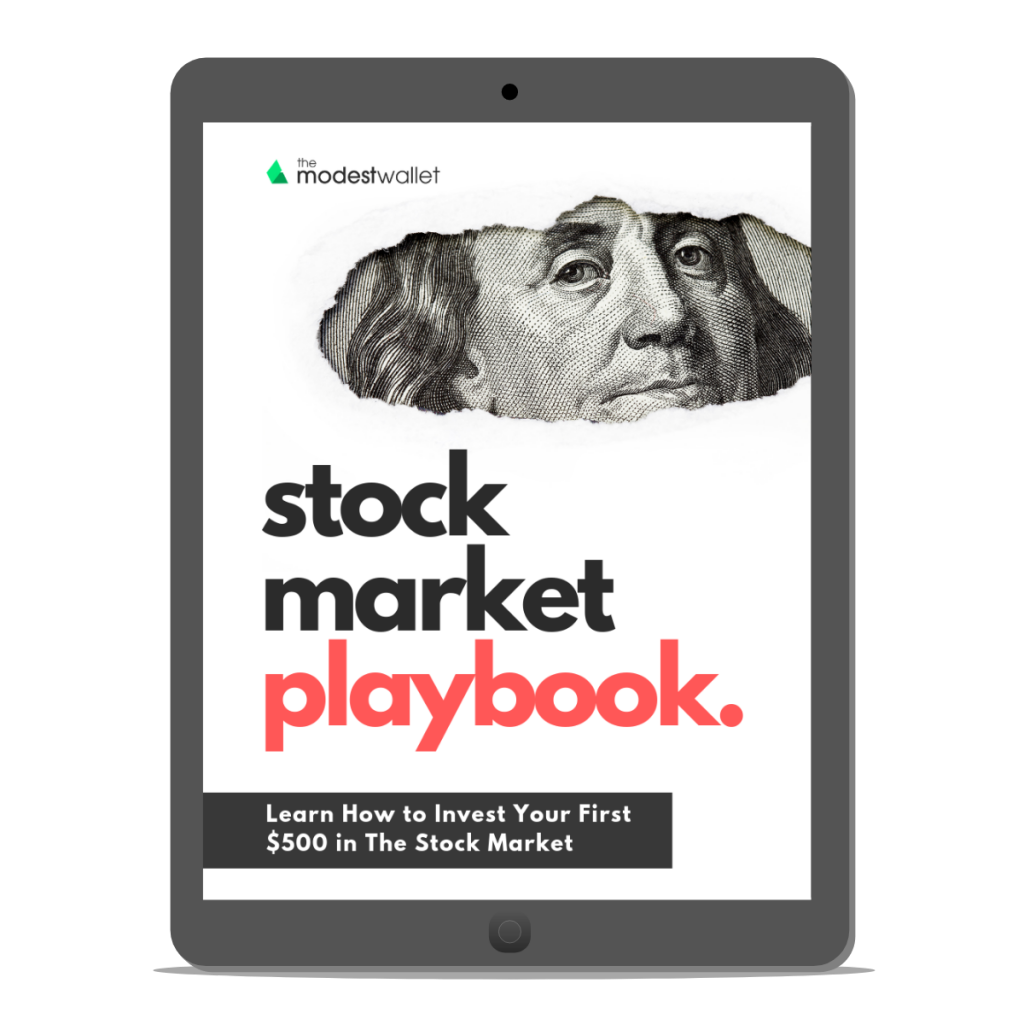 Get our free Stock Market Playbook to learn how to invest your first $500 in the stock market.
Plus our best money tips delivered straight to your inbox.

Carsten is a Freelance Copywriter with a personal interest in money management and investing. Besides taking care of his investments, he loves traveling, reading books, and working out (calisthenics & yoga).