Goldco Review 2023: Features, Pros, and Cons
Many or all of the products featured on this page are from our sponsors who compensate us. This may influence which products we write about and where and how the product appears on a page. However, this does not influence our evaluations. Our opinions are our own. Here is a list of our partners and here is how we make money.
---
The information provided on this page is for educational purposes only. The Modest Wallet is a financial publisher that does not offer any personal financial advice or advocate the purchase or sale of any security or investment for any specific individual.
Precious metals aren't "standard" IRA investments, but that doesn't mean people can't add these assets to their retirement accounts. Today, dozens of American companies offer self-directed gold and silver IRAs. With these savings plans, people can rollover pre-existing retirement funds (e.g., a 401(k) or a Roth IRA) and invest in physical coins, bars, and bullion. Investors who open a precious metals IRA enjoy the same tax benefits as their standard IRA but can take out physical gold and silver once they reach retirement.
Goldco is one of the many businesses offering self-directed precious metals IRAs to American investors. Thanks to Goldco's long history in the industry and multiple celebrity endorsements, it has gained a reputation as one of the top Precious Metals IRA providers. So, is Goldco's sterling reputation real, and should you trust this company with your retirement savings?

Bottom Line: Goldco is a precious metals IRA provider based in Calabasas, CA with over 15 years of experience. Beyond gold IRAs, Goldco also offers silver platinum, and palladium IRAs.
| | |
| --- | --- |
| Minimum deposit | |
| Fees | |
| Offerings | |
| Customer service | |
| User experience | |
| Security | |
---
What is Goldco?
Goldco is a California-based company that sells precious metals and offers self-directed Gold and Silver IRAs. Customers who set up a Goldco account can purchase gold, silver, platinum, or palladium products and have them shipped directly to their homes. Alternatively, Goldco helps customers rollover a pre-existing IRA to invest in IRS-approved precious metals. Goldco partners with depositories and custodians such as Equity Trust and Delaware Depository to secure each IRA holder's precious metals until they reach retirement age.
The California real estate investor Trevor Gerszt created Goldco in 2006, and he still serves as the company's CEO. Goldco gained multiple accolades and accreditations throughout its decade-plus history, including a spot on the Inc. 5000 list and an A+ rating with the Better Business Bureau. A few well-known celebrities that endorse Goldco's products and services include Chuck Norris, Ben Stein, and Sean Hannity.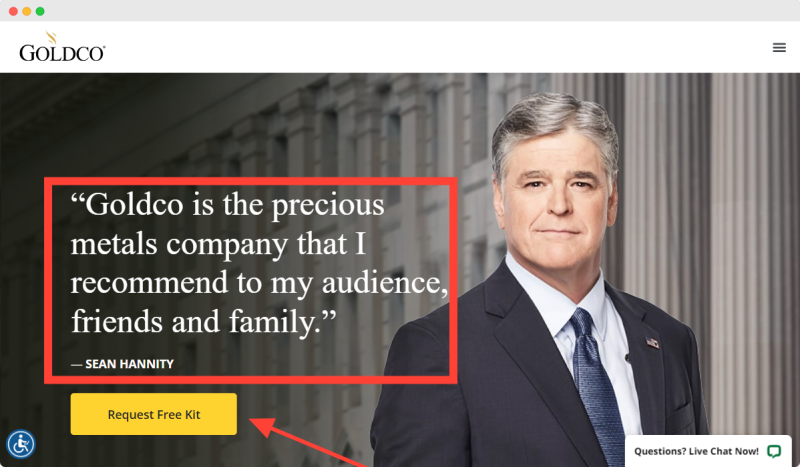 ---
How Goldco Works?
Like competing precious metals providers, Goldco helps investors purchase physical gold and silver products. While customers can buy precious metals directly through Goldco's portal and have them shipped to their property, this company also offers self-directed IRA accounts.
After speaking with a Goldco agent, investors can rollover a pre-existing retirement account into Goldco's Precious Metals IRA. Once the funds appear in Goldco's IRA, investors can spend their money on any of the IRS-approved gold, silver, platinum, or palladium in Goldco's catalog. Goldco will then ship all of these metals to a partner custodian's vault for safekeeping.
Once IRA holders reach retirement age, they can claim their physical precious metals or sell them back to Goldco for a cash payment. Goldco's Precious Metals IRAs have the same tax advantages and stipulations associated with the IRA people rollover (e.g., traditional or Roth IRAs).
Account Minimum
You must make an initial deposit of at least $25,000 to open a Goldco Precious Metals IRA.
Account Types
Goldco accepts most retirement savings accounts, including all of the following:
Traditional IRAs
Roth IRAs
401(k)s
403 (b)s
457s
Pensions
Thrift Savings Plans (TSPs)
If you have a retirement account not listed above, you may still be able to open a Precious Metals IRA. Goldco recommends calling one of their agents at (855) 450-1394 for personalized guidance.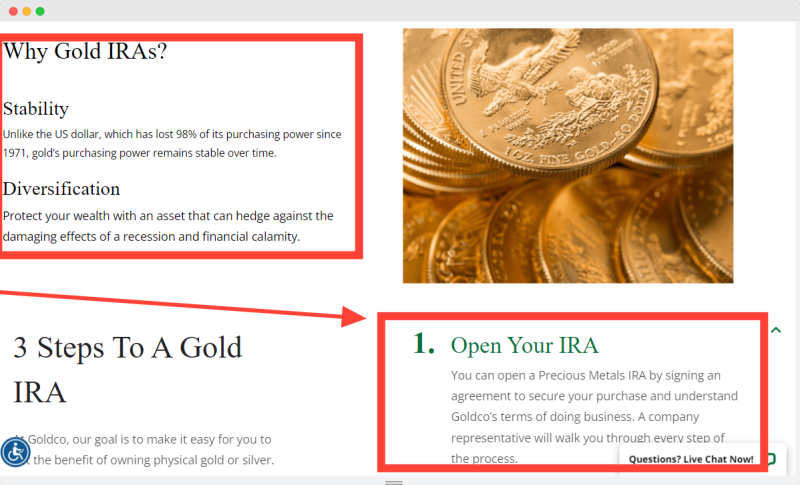 Getting Started
Goldco places a high emphasis on offering high-quality & personalized customer service. In fact, customers need to reach out to a member of Goldco's team to open an account. So, to get started with a Goldco account, it's best to call the company at (855) 450-1394 on a weekday between 7 AM – 4 PM PST to ask questions about the setup process. During your consultation, you can learn whether you qualify for a gold or silver IRA and whether it fits your investment goals.
Opening an Account
Opening a Precious Metals IRA may not be as straightforward as setting up a traditional IRA, but Goldco makes the process as simple as possible. If you go through each of the following steps, you should have no issues obtaining a Precious Metals IRA.
Request A Free Goldco IRA Kit: The best way to get a "gut feeling" about whether Goldco is right for you is to order a free educational kit. On Goldco's official website, you can send your name, email, and home address to get a free copy of the company's "Protecting Wealth" guide. In addition to print materials, this kit includes a CD and DVD to help explain all of Goldco's services. After reviewing this educational material, you should know whether you'd like to move forward with Goldco.
Call Goldco's Toll-Free Number: The next best step is to contact a Goldco agent at (855) 450-1394. Feel free to ask questions about Goldco's services and whether you meet the company's eligibility requirements. Just remember that Goldco's customer care line is only open on weekdays between 7 AM – 4 PM PST.
Open Your Precious Metals IRA Account: If you want to add a Goldco Precious Metals IRA to your retirement savings, you must call Goldco again to initiate the process. Your Goldco customer agent should give you all the details and paperwork you need to successfully rollover your pre-existing IRA.
Fund Your Precious Metals IRA Account: After you've completed all of the required IRS paperwork, you should notice your funds transfer from your current IRA into Goldco's Precious Metals IRA. Goldco says it usually takes two weeks for your money to successfully enter your Goldco account.
Purchase Your Precious Metals: Once the funds from your previous IRA appear in your Precious Metals IRA account, you can use this money to purchase IRS-approved gold, silver, platinum, or palladium in Goldco's catalog. Call Goldco's customer care line whenever you want to make a purchase or monitor your portfolio. Remember that you can only make as many contributions as your IRA account allows (e.g., $6,500 per year for traditional and Roth IRAs).
---
Goldco Features
Goldco has dozens of features that help people get involved in silver and gold investing. Even if you don't open a Precious Metals IRA, there are many resources on Goldco that can help you learn why and how to add gold to your portfolio.
| | | |
| --- | --- | --- |
| Minimum Deposit | $50 (setup fee), $80 to $100/year (custodian fee), $100 to $150/year (storage fee) *other fees may apply | $0 |
| Fees | $50 (setup fee), $80 to $100/year (custodian fee), $100 to $150/year (storage fee) *other fees may apply | $0 |
| Account Types | Traditional IRA, Roth IRA, 401(k), 403 (b), 457, Pension and Thrift Savings Plans (TSPs) | $0 |
| Offerings | Gold, Silver, Platinum and Palladium | $0 |
| Trustpilot | 4.8/5.0 | |
| Better Business Bureau | A+ Rating | |
| SIPC Protection | AAA Rating | |
| Promotion | Get up to $10,000 in free silver (*on Qualifying Purchases) | |
| Buyback Program | | |
| Physical Precious Metals Ownership | | |
| Free Info Kit | | |
| Support | Contact Form, Email: [email protected], and Telephone: (855) 450-1394 | |
| Sample | | |
| Sample | | |
Precious Metals IRAs
Goldco's signature feature is its Precious Metals IRAs. With one of Goldco's self-directed IRAs, investors can purchase IRS-approved physical gold and silver for retirement. Although Goldco doesn't list platinum or palladium in its precious metals catalog, it also offers these items to people who sign up for a Precious Metals IRA.
Gold IRA
As the name suggests, Goldco's Gold IRA focuses on gold products. After rolling over $25,000 from a pre-existing IRA, you can purchase physical gold on Goldco's website. To meet the IRS's standards for physical gold, Goldco promises to only offer gold coins and bullion that meet a fineness percentage of 99.5%. You can see a complete list of IRS-approved gold products available through the Gold IRA program on Goldco's website.
Silver IRA
Goldco's Silver IRA works the same as its Gold IRA, except it focuses on silver, platinum, and palladium. According to Goldco, silver coins need a fineness ranking of 99.9% to qualify for an IRS-approved retirement account. Therefore, all the silver coins and bullion you see on Goldco's IRA portal meet this minimum threshold. Like the Gold IRA, you can rollover a pre-existing IRA account with at least $25,000 into Goldco to fund your Silver IRA. Call a Goldco agent over the phone to make a purchase and store your precious metals in a secure vault.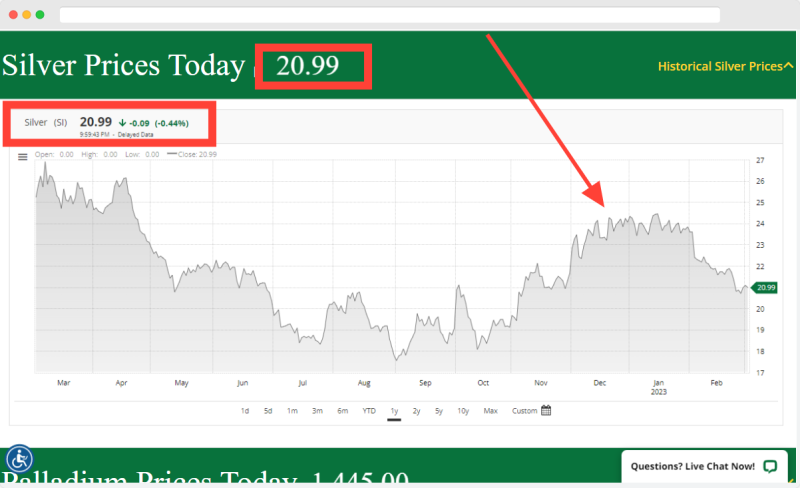 IRA-Approved Gold And Silver Coins
As mentioned above, IRA-approved gold and silver coins must meet fineness requirements of 99.5% and 99.9%, respectively. Not every coin meets these high standards, but you can find a convenient list of IRA-worthy gold and silver products on Goldco's website. These gold and silver coins come from various mints and collections, and the types of engravings Goldco offers are constantly changing. However, here are a few examples of coins eligible for the Precious Metals IRA plan:
Gold American Eagle
Gold Australian Sea Turtle
Gold Maple Leaf
Gold American Buffalo
Silver American Eagle
Silver Australian Spotted Eagle Ray
Silver Washington Monument
Silver Lincoln Memorial
Direct Purchase of Gold and Silver
You don't need to open a Precious Metals IRA account to order gold or silver through Goldco. If you'd like to buy any of the coins or bullion on this website, you can call a toll-free agent to make a direct purchase. An interesting feature of working with Goldco is that it sometimes offers rare coins. For instance, since Chuck Norris is a Goldco supporter, there are unique Chuck Norris coins for sale!
Goldco will ship all your gold or silver to your home address for free and provide shipping information. Just remember that Goldco has a minimum purchase amount of $25,000. For more details on buying gold or silver from Goldco, contact a customer care agent via phone or email.
Gold Storage on IRA-Approved Depository
According to Goldco's FAQ portal, this company works with "all major self-directed IRA custodians" in the USA. Although Goldco doesn't mention any companies by name, Delaware Depository is one of Goldco's preferred partners. When setting up your Gold or Silver IRA, you can choose the location and partner custodian you feel most comfortable with. Clients can also ask Goldco for permission to visit their vault to check on their gold and silver products at any time. Investors enjoy all the insurance protections associated with their depository.
Goldco also gives clients the option to choose between segregated and non-segregated storage options. In a segregated account, the specific gold or silver products you purchase will stay in a separate vault. By contrast, with a non-segregated account, you could receive a different coin or bullion than the one you initially purchased. While the dollar amount of the precious metals in your non-segregated vault will be the same as if you had the ones you originally got, there's no guarantee you'll get the particular mint you bought.
Gold Buyback Program
Goldco promises to buyback any precious metals you order through its site. If you want to liquidate your gold or silver holdings, you can call a Goldco agent to receive a check in the mail. Remember that you will have to pay penalties for any gold or silver you sell before you reach the legal retirement age of 59½.
Professional Assistance on IRA and 401(k) Rollovers
Goldco will guide you through every stage of the IRA rollover process. Plus, if you want to convert a retirement account such as a 401(k) into a Roth Precious Metals IRA, you can ask a Goldco agent for assistance. Unlike traditional IRAs, contributions in Roth IRAs aren't tax-deductible, but there's no extra charge when retirees start redeeming funds from their Roth account. However you choose to fund your self-directed Precious Metals IRA, Goldco will help you complete all the necessary paperwork.
Educational Resources
Goldco frequently publishes blog articles and social media posts about current economic trends, investing, and precious metals. Customers can also learn a great deal about Goldco's services by requesting a free print & DVD information packet. If you still have questions about buying precious metals or using Goldco's services, you can contact the company via email, live chat, or telephone.
---
Goldco Fees
Goldco doesn't publish its fee schedule online, but recent reports suggest it charges a few one-time and annual fees to maintain your Gold or Silver IRA. Please call Goldco directly to determine the latest fee details for its IRA account. Also, remember that Goldco sometimes offers special deals (e.g., fee discounts) throughout the year. Always check Goldco's official website and social media pages to stay up-to-date on promotions.
Setup Fees
New clients should expect to pay a one-time setup fee of $50 when opening their Goldco account.
Annual IRA Fees
Currently, Goldco's annual maintenance fees hover around $80 – $100, but be sure to check the specifics on how much different custodians and depositories charge.
Storage Fees
The annual storage fees you pay to your IRA largely depend on whether you choose segregated or non-segregated storage. Since segregated accounts keep your gold or silver in a private vault, they always cost slightly more. Currently, Goldco charges $100 per year for segregated and $150 for non-segregated accounts.
Other Fees
Goldco charges a $30 wire fee to transfer your IRA funds into the Precious Metals IRA. There are no precise details on Goldco's site whether it covers shipping, insurance, or tracking fees.
---
Goldco Security
Goldco only works with IRA-approved depositories and custodians to secure each client's gold and silver. Although Goldco doesn't list all its partner facilities online, it's closely affiliated with Delaware Depository. All of the facilities under the Delaware Depository's ownership are fortified, constantly monitored, and have strict access requirements. Delaware Depository also carries $1 billion in insurance from Lloyd's and consistent auditing reports.
If you have any concerns about Goldco's security standards, you can always call a customer service representative for more information. Goldco can also help clients set up an appointment to visit the gold stored in their chosen facility.
---
Goldco Customer Support
Goldco has many ways for customers to get in touch, but the most direct way to reach out is via phone support at (855) 450-1394 between 7 AM – 4 PM PST on Mondays through Fridays. People can also send general inquiries to [email protected] or customer-specific questions to [email protected]. There's also a live chat box on Goldco's website and an e-form where you can speak with a team member.
---
Goldco User Experience
Goldco makes it easy for customers to contact staff members to ask questions, make purchases, or request payouts. The mostly positive online reviews also suggest Goldco has a simple and pleasant user experience. Goldco has average ratings of between 4.5 and 5 stars on major review sites such as ConsumerAffairs, Trustpilot, Business Consumer Alliance, TrustLink, and Google Reviews. The Better Business Bureau (BBB) also awarded Goldco an A+ rating. Although there are few formal complaints against Goldco on the BBB's website, Goldco responded to everyone's issues, and most customers said they were satisfied with Goldco.
To get a feel for the average customer's experience with Goldco, take a peek at these sample reviews:
"Because of the economy I decided to move IRA from the stock market to a precious metals IRA. I had been listening to a podcast to take the gold quiz at Goldquiz.com.com, which I did and was contacted by GoldCo. I decided to choose them and the rest is history, money was move to a company to watch over my metals and I placed the order with GoldCo. I shall now see what happens. I only gave them a four stars because I don't know where this will go and how it will turn out but the people at GoldCo were very polite and professional." Harry of Iron Station, NC (ConsumerAffairs)
"While I have had a good repor [sic] with this company thru moving my IRA seamlessly to Goldco from another company the first time. My handler quit after he promised he'd be the help should I need it. Months later I had an event that caused me to have to sell some coins for money back. It has not gone smoothly. I have recieved [sic] weeks of shifted blame, bumbled, ignored paperwork, lack of attention to details, a major lack of communication with them and Equity Trust and still, after a month and a half later, the funds are still being delayed and no one knows what's Happened with the coins or where they are presently to be shipped for payout. Simone is top notch on sevice [sic] but even she has no control over distribution of product or funds. While Equity Company and Goldco go back and forth on who's at fault, or who's turn it is, the funds are delayed still. I caution you on getting your funds back. It's a very, very, long, hard road. In general, if you want your assets protected, it's in gold and silver BUT not easy to sell to get money out. Maybe buying coins and putting them at home is a better option? At least I'd know where they are and no one telling me they can't locate them presently." Teresa Gregg (Trustpilot)
"My experience working with Goldco was a pleasant one. They walked me through the process and helped answer any questions I had. I ended up rolling over a portion of my 401k into an IRA backed by silver and gold. The process went smoothly and relatively quickly. Would recommend to anyone and look forward to working with them into the future." Stacey Wayland (Google Reviews)
---
Goldco Pros Explained
Long reputation in the gold and silver industry: Compared with many of its competitors, Goldco has the longest history in the precious metals industry. Plus, the many high-profile celebrity endorsements for Goldco add credibility to its offerings.
Responsive customer service team: Goldco has many ways to reach out to its team, including phone, live chat, and email. Most customers who review Goldco report zero issues getting a timely and friendly response from their staff.
Partners with high-quality depositories: Although Goldco doesn't list all its depositories and custodians online, it only works with IRA-approved facilities with a high track record. It's also well-known Goldco prefers to work with the highly-rated Delaware Depository.
Buyback guarantee: Goldco promises to pay investors for any gold, silver, platinum, or palladium they purchase through its platform. If you choose to liquidate your precious metals at the end of your IRA, you should have no issues getting a check in the mail from Goldco.
Access to four precious metals: Goldco doesn't advertise its platinum or palladium offerings as much as gold or silver, but it can help clients interested in these two alternative metals. You'll need to speak with a Goldco customer care rep to determine your options.
---
Goldco Cons Explained
High minimum deposit: Goldco's minimum deposit is pretty steep at $25,000. IRA investors need to feel comfortable tying this amount of cash in precious metals rather than competing assets like stocks, ETFs, or bonds.
Difficult to track a portfolio's prices: Goldco has real-time precious metals price charts on their website, but there's no personalized online portal where you could track the average cost basis for your portfolio. To understand how much you're making on your investment, you'll need to keep tabs on the prices you pay for various coins and compare them with the current market rate.
No transparent fee pricing on website: Goldco doesn't publish its fee schedule online in a clear table or graph. You need to talk with Goldco's team and order additional resources to figure out how much you're going to pay per year.
Only ideal for risk-averse investors: The prices of precious metals can move significantly over months and years, but they're rarely as volatile as assets like stocks or cryptocurrencies. While precious metals may take some risk out of a long-term portfolio, they may have lower odds of outsized returns.
---
Goldco Alternatives
Goldco is one of the oldest and most respected Gold and Silver IRA providers, but there are other options. Before committing to Goldco's offerings, it's important to review other choices in the precious metals industry.
Goldco vs. American Hartford Gold
American Hartford Gold is a California-based precious metals company closely associated with Rudy Guliani and Bill O'Reilly. Although American Hartford Gold is younger than Goldco, it attracts many investors due to its comparatively low minimum deposit of $10,000. Similar to Goldco, American Hartford Gold offers access to all four precious metals, multiple IRA rollover options, and partnerships with major facilities like Delaware Depository. For more detailed info on how American Hartford Gold compares with Goldco, check out our full American Hartford Gold review.
Goldco vs. Augusta Precious Metals
Founded in 2012, Augusta Precious Metals is a Beverly Hills-headquartered Gold and Silver IRA provider. The major difference between Augusta Precious Metals and Goldco is that the latter has a minimum deposit of $50,000. Also, Augusta Precious Metals doesn't offer access to platinum or palladium. However, people who join Augusta Precious Metals enjoy "Account Lifetime Support," which includes access to a personal finance expert. Read our full Augusta Precious Metals review to learn more.
| | | | |
| --- | --- | --- | --- |
| | | | |
| Our Rating | | | |
| Annual Fees | Varies depending on custodian | $200 (waived for the first year) | $175 – $225 (waived for the first year) |
| Minimum Deposit | $25,000 | $50,000 | $10,000 |
| Trustpilot Rating | 4.8/5.0 | N/A | 5.0/5.0 |
| BBB Rating | A+ | A+ | A+ |
| BCA Rating | AAA | AAA | AA |
| TrustLink Rating | 4.8/5.0 | 4.9/5.0 | 5.0/5.0 |
| Information Kit | Physical Kit | Physical Kit | PDF |
| Verdict | Best For Customer Service | Best For Transparency | Best For Low Minimum Purchase |
| | | | |
---
Who is Goldco Best For?
Goldco is an excellent company for conservative investors who want to add a sizable amount of physical precious metals to their long-term savings. Although Goldco's minimum requirement isn't the highest in the industry, it's still a significant commitment at $25,000. Anyone who opens a Gold or Silver IRA with Goldco needs to feel comfortable putting a large proportion of their holdings in physical metals. If you're OK committing at least $25,000 to a precious metals investment, then Goldco has one of the longest track records in the industry and high ratings for security and customer service.
---
Goldco FAQs
Choosing to invest with Goldco can be a difficult choice, especially if you're new to precious metals. Take a look at these FAQs if you're still wondering whether this company is right for you.
Who Owns Goldco?
The real estate investor Trevor Gerszt launched Goldco in 2006 and still serves as the company's CEO. Goldco is a privately-owned business.
Is Goldco Trustworthy?
Goldco has over a decade of experience in the precious metals industry plus many prestigious accolades (e.g., BBB's A+ rating and a slot on Inc.'s 5000 list). Most online reviewers give Goldco glowing reviews, and the company only works with high-quality partners like Delaware Depository.
Do I Own The Physical Precious Metals in A Goldco IRA Account?
You own the literal precious metals you purchase with your Goldco IRA account. You can order or liquidate all of your gold or silver coins once you reach retirement age.
What Sets Goldco Apart From Its Competitors?
Some people feel more comfortable with Goldco because of its long history compared with other brands. Not many precious metals IRA providers have a track record extending to the mid-2000s, which gives Goldco extra credibility. Also, Goldco is one of the few Gold IRA providers that explicitly "guarantees" it will buy back any precious metals purchased on its website.
Can I See How My Investment Is Performing With Goldco?
Currently, Goldco only has daily charts for precious metals like gold and silver on its website. So, the only way to track your precious metals performance over time is to record your purchases in a separate spreadsheet and track the daily prices of gold and silver. You can also call Goldco's toll-free representatives for help assessing the value of your holdings.
Where Does Goldco Store My Precious Metals?
Goldco works with professional depositories and custodians such as Delaware Depository to store the precious metals in your IRA account. When you speak with a Goldco agent, you can choose from dozens of custodians throughout the USA to store your precious metals.
Do Contributions On A Goldco Account Work The Same As A Regular IRA Account?
Contributions work the same for a Goldco IRA as a standard IRA account. For instance, you can only purchase up to $6,500 per year with a Goldco IRA if you're using a Roth or traditional IRA.
What Are The Tax Advantages Of A Goldco IRA Account?
Similar to contributions, the tax advantages of a Goldco IRA are similar to your standard account. Just keep in mind Goldco can help you shift a few pre-existing IRA to a Roth Gold or Silver IRA. With a Roth IRA, you don't get the tax deductions for your initial gold or silver purchases, but you don't pay taxes to redeem after hitting retirement age.
How Can I Make A Withdrawal From My Goldco?
Goldco lets customers withdraw their physical precious metals or take a cash payout without penalties once they reach 59 ½. Whether you want billions or dollar bills, you need to call a Goldco customer service representative to initiate your withdrawal. You should get tracking info once the gold, silver, or check goes in the mail.
How Does Goldco Make Money?
Goldco makes most of its money charging a slight premium on the precious metals it offers. This extra fee is known as a "spread," and it's a standard feature in all financial markets. No matter which gold or silver product you purchase through Goldco's services, the company will charge slightly above the spot price for these metals.
Where Is Goldco Headquarters?
Goldco's headquarters is as follows: 
24025 Park Sorrento, Suite 210 
Calabasas, CA 91302
Do I Pay The Shipping On My Goldco IRA?
Goldco doesn't advertise "free shipping" like other precious metals brands, so some variable rates may apply. Be sure to speak with Goldco's staff to see how shipping fees will affect your portfolio's purchasing power.
How Do I Rollover Funds From Another Account Into A Goldco IRA Account?
If you have a pre-existing IRA with at least $25,000, you can set up a wire transfer by contacting Goldco at (855) 450-1394. A customer service rep should tell you all the info you need to fund your account. Typically, it takes about two weeks for an IRA rollover into Goldco to finalize.
Key Highlight: Exclusive gold buyback program
Minimum Investment: $25,000
Metals Available: Gold and silver bullion and coins, palladium and platinum
Ratings: 4.8/5.0 over 200 reviews (TrustLink); 4.8/5.0 over 450 reviews (BBB) and A+ rating with BBB
---
Final Thoughts
If you're interested in a company with a ton of experience in the precious metals market, Goldco is an excellent name to consider. Although the minimum deposit of $25,000 is high, this company has a solid reputation in the industry for dependability and security. Goldco also offers access to rarer metals like platinum and a "Buyback Guarantee." If you're still unsure whether Goldco is a "go" for your portfolio, the next best step is to call the company directly or request a free info guide.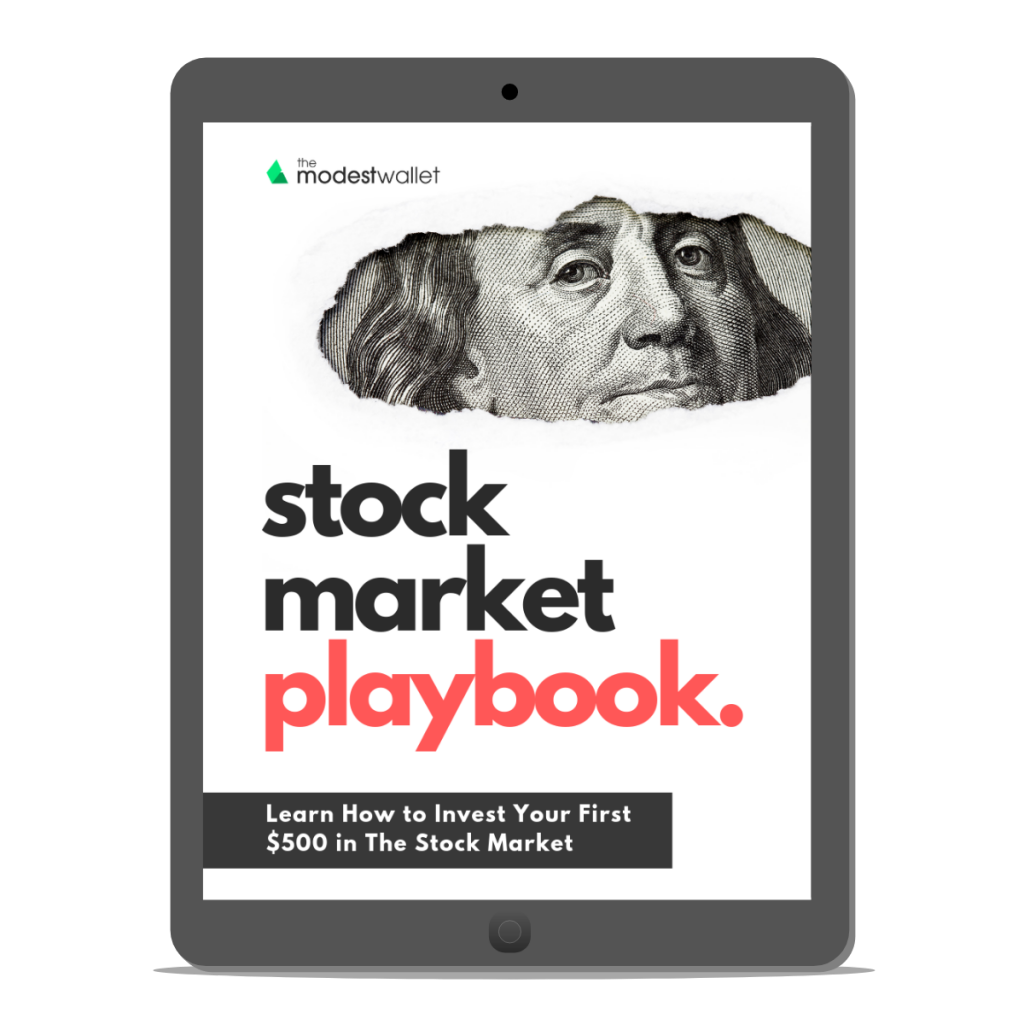 Get our free Stock Market Playbook to learn how to invest your first $500 in the stock market.
Plus our best money tips delivered straight to your inbox.

Eric Esposito is a freelance writer, editor, and cryptocurrency enthusiast. Although it took him a few years to grasp the Bitcoin revolution, Eric has become a crypto convert and long-term "hodler." Besides crypto investing, Eric is interested in helping others understand how to safely stack sats with passive income opportunities.