Many or all of the products featured on this page are from our sponsors who compensate us. This may influence which products we write about and where and how the product appears on a page. However, this does not influence our evaluations. Our opinions are our own. Here is a list of our partners and here is how we make money.
The information provided on this page is for educational purposes only. The Modest Wallet is a financial publisher that does not offer any personal financial advice or advocate the purchase or sale of any security or investment for any specific individual.
Is Motley Fool's Rule Breakers the best stock picking service on the block these days? With a consistent record of return almost double the S&P 500 and some pretty big wins — the Investment Team famously tagged Tesla as a worthy buy when conventional media dismissed the stock as overvalued. It's certainly in the running.
But whether or not the Rule Breaker's investment service makes sense for you is another question entirely. In this guide, we'll dig into the details of this popular investment tool to discover what all the fuss is about.
on The Motley Fool's website
Quick Summary: Motley Fool Rule Breakers is a service offered by The Motley Fool focused on offering stock research and recommendations on high-growth stocks. Investors are encouraged to buy and hold stocks for at least 3-5 years.
---
What Is Motley Fool Rule Breakers?
Motley Fool Rule Breakers is a stock picking service focused on high-growth stocks in high-growth industries. Members receive monthly recommendations, complete with a detailed assessment from The Motley Fool's own analysts.
As of today, the service claims over 100,000 subscribers and has outperformed the market every year since its creation.
In addition to suggestions on high-growth stocks, subscribers also receive access to educational content and market research tools to help implement Motley Fool investment principles and develop a well-rounded portfolio.
---
How Does Motley Fool Rule Breakers Work?
In keeping with its mission to make investing accessible, Motley Fool Rule Breakers makes signing up a straightforward exercise.
To sign up, navigate to the Motley Fool website and click the "Our Services" banner. Next, select ''Motley Fool Rule Breakers" from the list of subscription plans and enter your personal information and payment details. Motley Fool will then prompt you to create a password that you'll use to log in and access your content.
You'll also need to answer a series of questions designed to assess your investment experience, financial goals, and risk appetite:
Do you have experience investing in stocks?
Do you have a brokerage account?
What do you hope to get out of your Motley Fool membership?
Which types of stocks are you most interested in?
How frequently do you plan to invest?
Motley Fool will use your responses to provide investment information, but don't worry if your goals change over time. You can always adjust your preferences in your profile settings.
Based on your answers to the signup questionnaire, Motley Fool Rule Breakers will identify high-growth stocks recommendations. You'll receive emails with recommendations on stocks to purchase monthly, as well as quarterly and annual suggestions.
---
Motley Fool Rule Breaker Features
Motley Fool Rule Breakers comes with many features out of the box. From two new stock picks every month to sell alerts, there is something here for everyone.
Two New Stock Picks Each Month
Similar to Motley Fool Stock Advisor, Motley Fool Rule Breakers releases two new recommended picks each month. Analysts tend to focus on newer companies but may also highlight previously recommended companies on an upward trajectory.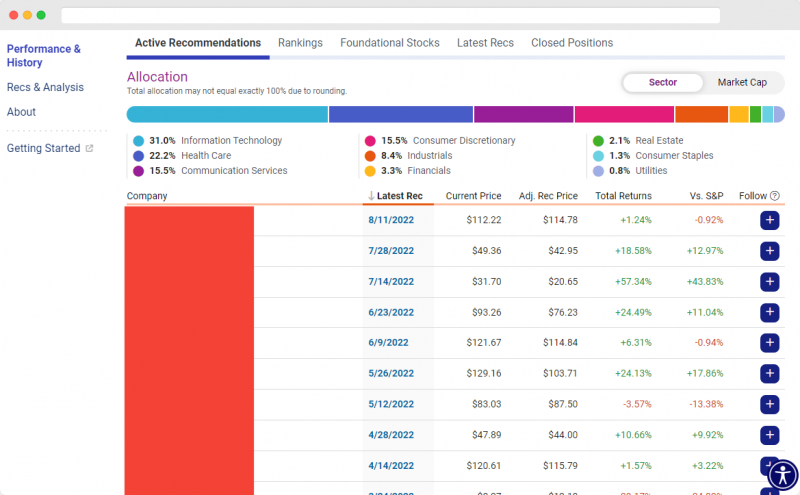 Best Stock Buys Now
This list of five stocks includes companies the Motley Fool believes investors should consider due to their potential for excellent performance over the long-term.
Starter Stocks
A selection of 10 stocks recommended for newer investors due to a track record for stability and long-term growth potential.
Access to Previous Stock Picks
Members have access to all previously issued recommendations in the "Recs and Analysis" section of the client dashboard.
Sell Alerts
When the Motley Fool analysts decide holding a stock might lead to a loss, the company issues a sell alert notifying members that it may be time to close a position. Alerts include a brief explanation of analysts' reasoning, which can be helpful when picking stocks independently. 
Rule Breakers Investing Resources
If you're just beginning your journey in retail investing or have previously only purchased stocks through a managed account, you may have questions about how to stay on top of your portfolio, follow the markets, or hedge your risk.
Rule Breakers Investing Resources are your guide to understanding fluctuations in the stock market and implementing the Motley Fool investment philosophy for successful long-term growth.
Rule Breakers Performance
Rule Breakers has more than earned its reputation as an excellent source of investment guidance. Since 2004, stocks chosen by The Motley Fool have generated returns of 233.37% as of August 2022 — almost double the average return of the S&P 500 over the same timeframe.
One of the better-known examples of a great Rule Breaker pick is Tesla. The Motley Fool recommended investing in the EV company in early 2022. Those who followed the advice saw their investment increase almost 400% in value as of August 2022.
| Company Sector | Rec. Date | Market Cap | Total Returns | vs. S&P |
| --- | --- | --- | --- | --- |
| Information Technology | 07/28/2022 | $4.79B (Mid Cap) | +18.58% | +12.97% |
| Industrials | 07/14/2022 | $64.33B (Large Cap) | +57.34% | +43.83% |
| Financials | 06/23/2022 | $2.18B (Mid Cap) | +24.49% | +11.04% |
| Information Technology | 06/10/2021 | $36.77B (Large Cap) | +22.96% | +19.85% |
| Health Care | 06/25/2020 | $5.04B (Mid Cap) | +74.82% | +30.91% |
| Communication Services | 02/27/2020 | $50.36B (Large Cap) | +99.62% | +49.63% |
Motley Fool Rule Breakers Community
A set of message boards reserved exclusively for Rule Breakers members, this community allows like-minded investors to trade tips and debate the latest market analysis in real-time. 
Have a question for the Investment Team? Post in the community, and you'll likely receive a response. 
Motley Fool Rule Breakers Reports
This is a report tailored just to Rule Breaker members. Read up on analysis by the Motley Fool Investment Team of specific sectors with high growth potential and learn more about specific stock picks. 
---
Access to Other Motley Fool Premium Features
In addition to the features listed above, Rule Breakers members also enjoy access to a suite of basic investing tools, as well as educational resources intended to help new investors learn the ins and outs of trading. 
Watchlist
Add stocks you own or might like to someday purchase to a personalized watchlist to monitor your portfolio's performance or track a prospective investment.
Motley Fool Live
Tune in every weekday for live streams by the Motley Fool Investment Team. Topics range from portfolio reviews to earnings analyses and may include a Q&A with a featured speaker.
Motley Fool Stock Screener
Perhaps you prefer to invest in companies with a specific mission or are looking for just the right dividend stock priced above $50 per share. Either way, a stock screener can help you discover the best opportunities that meet your criteria.
Discussion Boards
Both new and experienced investors can benefit from the lively exchange of ideas that takes place on the Motley Fool discussion boards. Discuss the latest Rule Breakers tips, analyze market movements, or share trading strategies with a like-minded community.
Motley Fool CAPS
A community stock picking tool designed to leverage the investment know-how of the entire Motley Fool community, CAPS rates stocks based on individual investor predictions and actual performance, weighting those ratings based on each investor's accuracy.
Asset Allocator
Struggling to decide the best places to put your money? Motley Fool offers a free asset allocator tool to help you find the right mix of assets to meet your investment goals.
Simulators
If you're curious about how your portfolio might perform over time or the effect of changing the allocation of your assets, the Motley Fool offers simulator tools designed to help you visualize likely outcomes using historical data.
Podcasts
In addition to Rule Breaker Investing, hosted by The Motley Fool founder David Gardner, you can enjoy a wealth of entertaining and insightful investing guidance from a lineup of podcasts that includes Motley Fool Answers, Market Foolery, and Industry Focus. 
Video Library
Binge on over 40 hours of video content and live stream replays covering topics from dividends to earnings digests, as well as archived investment updates.
---
Motley Fool Rule Breakers Pricing
A stand-alone subscription to Motley Fool Rule Breakers will cost you $299 per year. For this, you'll receive two stock picks per month, plus lists of starter and "buy now" stocks and access to a community of other investors.
---
Motley Fool Rule Breakers Promotions
New members can get Motley Fool Rule Breakers for just $99 for the first year using The Modest Wallet's sign-up link. Be aware, however, that your Rule Breakers subscription will renew at the regular rate of $299 after the initial 12 months. Bundle your Rule Breakers subscription with the popular Stock Advisor and Everlasting Stocks services and receive a one-time discount of $200 if you purchase the Epic Bundle.
---
Motley Fool Rule Breakers Customer Support
In addition to a comprehensive online Help Center, where you'll find answers to questions ranging from "How do I reset my password?" to "What is the Motley Fool's investing style?", the company offers a dedicated telephone helpline and an email contact form.
---
Motley Fool Rule Breakers Pros
Consistent track record of market-beating performance
Transparency when a recommended stock fails to meet expectations
Instant access to a comprehensive library of educational resources
Additional stock picks to round out your portfolio from the Starter Stock and Best Buy lists
Access to an online community of like-minded investors 
Independent research and analysis presented in an accessible and engaging format
30-day, membership-fee back guarantee
---
Motley Fool Rule Breakers Cons
Highly volatile stock picks may test the mettle of newer investors
No strategies for options
Learning curve for the website, which requires extensive toggling to access different content types
---
Motley Fool Rule Breakers Alternatives
If you're not quite ready to ride the rollercoaster with Rule Breaker's high-risk, high-growth picks, you may fare better with a Motley Fool service geared toward more conservative investors:
Motley Fool Everlasting Stocks
If Motley Fool Rule Breakers focuses on individual stocks expected to generate high returns, Motley Fool Everlasting Stocks takes a broader view, aiming to help customers build a diversified portfolio of stocks, bonds, and exchange-traded funds (ETFs). Read our full Motley Fool Everlasting Stocks review to learn more.
Motley Fool Stock Advisor
Motley Fool Stock Advisor is the company's flagship offering, and its members receive two stock picks per month, as well as access to the Starter Stock and Buy Now list of recommendations. While Stock Advisor, like all Motley Fool offerings, aims to beat the market, this service looks primarily at large-cap stocks with long-term growth potential. Read our full Motley Fool Stock Advisor review to learn more.
| | Motley Fool Rule Breakers | Motley Fool Everlasting Stocks | Motley Fool Stock Advisor |
| --- | --- | --- | --- |
| Our Rating | | | |
| Pricing | $299 per year | $299 per year | $199 per year |
| Stock Picking | Yes | Yes | Yes |
| Promotion | $99 for first year (Motley Fool Rule Breakers) | $99 for first year (Motley Fool Everlasting Stocks)3 | Get 60% Off 1st Year (Motley Fool Stock Advisor)4 |
| Highlight | High-growth stock research and recommendations | Aimed to beat the market over extremely long periods | Premium stock-picking newsletters |
| Best For | Buy and hold investors (hold stocks at least 3-5 years) | Buy and hold investors (hold stocks at 5 years) | New investors looking for stock ideas |
| | | | |
---
Who Is Motley Fool Rule Breakers For?
While many of the key tenets behind the Rule Breakers investment philosophy apply to any kind of strategy, the plan's aggressive orientation may have greater appeal for:
New investors: in search of easy-to-understand investment guidance and help learning the mechanics of trading stocks.
Busy investors: who lack the time to follow the markets closely or search for under-valued stocks in niche industries.
Growth investors: with a healthy appetite for risk and the nerve to hold tight during sharp upswings and downturns.
Younger investors: who are more than 20 years away from retirement with the time to allow these high-growth potential stock picks to reach their full potential and ride out any fluctuations in the market.
Those seeking to lay the foundation for the distant future or who like to perform their own market analysis may want to look elsewhere. The price tag for an annual subscription — $299 — may also put Rule Breakers out of reach for some.
Service: High-growth stock research and stock recommendations
Pricing: $299/month (Rule Breakers)

Promotion: Rule Breakers ($99 For First Year)
---
Motley Fool Rule Breakers FAQs
We've found some of the most frequently asked questions regarding Motley Fool Rule Breakers, and here are our answers.
Is Motley Fool Rule Breakers Worth the Price?

If you're new to investing or don't have the time to track stock performance and monitor markets, Rule Breakers can be a reliable source of high-quality information and investment guidance.

If, on the other hand, you're an experienced investor with a solid understanding of the markets, you may find yourself missing the charting and technical analysis tools provided by retail brokers.
Is Motley Fool Rule Breakers Safe?

Founded in 1993 by brothers Tom and David Gardner, the Motley Fool has over three decades of experience providing investment advice and stock picks that consistently outperform the market.
 
All investment entails a degree of risk, however, and from time to time, the Motley Fool will suggest stocks that don't perform as hoped.

Rule Breakers offers stock picks and investment advice only. It is not a broker and does not connect to your brokerage account.
Does Motley Fool Rule Breakers Offer a Free Trial?

No, Motley Fool Rule Breakers does not offer a free trial. The company does, however, provide a money-back guarantee for the first 30 days of your subscription if you sign up and find the service isn't right for you.
How Do I Cancel My Motley Fool Rule Breakers Subscription?

To cancel your subscription, navigate to your account settings, select "My Account," then select "Cancel" from the dropdown menu in the same line as "Rule Breakers."  
Does Motley Fool Rule Breakers Beat The Market?

In short, yes. Since its inception in 2004, Rule Breakers stock picks have outperformed the S&P 500 for the last 15 years. Against the overall market, Rule Breakers picks have total lifetime returns of +233.37% compared to +109.74% of the S&P 500 over the same timeframe.
Does Motley Fool Rule Breakers Offer a Money-Back Guarantee?

Yes, but only for the first month of your subscription.
---
Final Thoughts
The Motley Fool Rule Breakers subscription has much to offer those accustomed to investing directly and ready to weather the ups and downs of a more adventurous portfolio. Though some might balk at the price tag, the service provides an attractive combination of guidance and education for people looking to take control of their financial futures but who lack the time or experience to analyze the markets.
---
1 Motley Fool Rule Breakers returns are 232% as compared to the S&P 500 returns of 110% as of 8/17/22. Past performance is not a guarantee of future results. Individual investment results may vary. All investing involves risk of loss.
2 Based on $199/year list price. Introductory promotion for new Rule Breakers members only.
3 Based on $299/year list price. Introductory promotion for new Everlasting Stocks members only.
4 Based on $199/year list price. Introductory promotion for new Stock Advisor members only.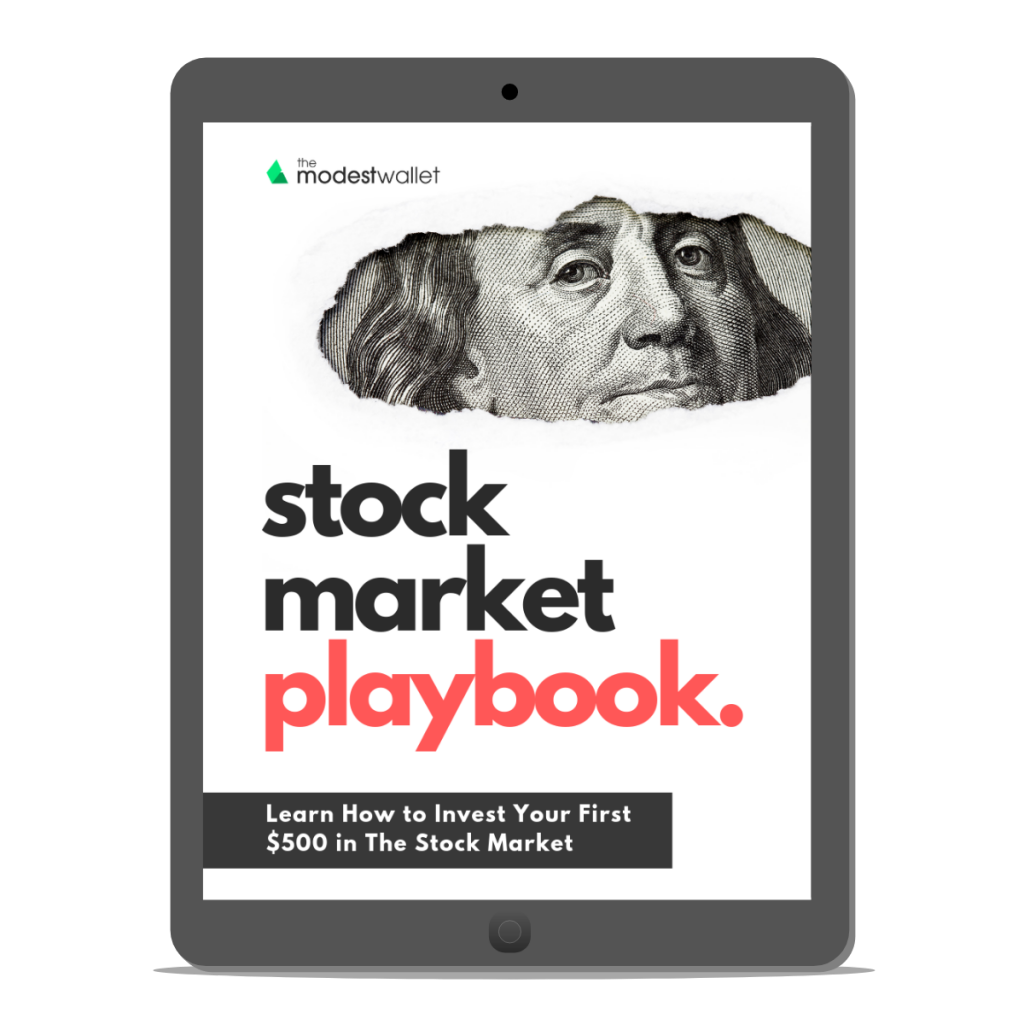 Get our free Stock Market Playbook to learn how to invest your first $500 in the stock market.
Plus our best money tips delivered straight to your inbox.

Laura Wolfe is a freelance writer covering topics including personal finance, retail investing, and FinTech. Before transitioning to writing full-time, Laura worked as a lawyer specializing in cross-border disputes. She believes in empowering individuals to make smart decisions with their money in a rapidly-evolving economy.