12 Best Investment Newsletters & Subscriptions in 2023
Many or all of the products featured on this page are from our sponsors who compensate us. This may influence which products we write about and where and how the product appears on a page. However, this does not influence our evaluations. Our opinions are our own. Here is a list of our partners and here is how we make money.
---
The information provided on this page is for educational purposes only. The Modest Wallet is a financial publisher that does not offer any personal financial advice or advocate the purchase or sale of any security or investment for any specific individual.
With the advent of zero-commission trading platforms and the resulting democratization of access to the financial markets for individual investors, more and more financial services firms are devoting time to creating content for those who need guidance when it comes to investing.
Websites, podcasts, newsletters, and other similar materials are among the most widely used by companies to inform investors about potential opportunities in the market.
In this article, we will be sharing with you our selection of the best investment newsletters and subscriptions in case you would like to have a group of professionals guiding you in the process of selecting the best investments to add to your portfolio.
TL;DR
---
Best Investment Newsletters & Subscriptions
Investment newsletters and subscriptions typically provide insightful information about the state of the market, the potential of one or more individual stocks, or the kind of opportunities that have been emerging as a result of a change in macro conditions.
1. The Motley Fool
Founded in 1993 by David and Tom Gardner, The Motley Fool has become one of the most popular and widely-followed investment newsletters in the financial industry. The two brothers claim to have beat the market for several years, delivering gains that exceed those of the S&P 500 by nearly four times. Read our full Motley Fool review to learn more.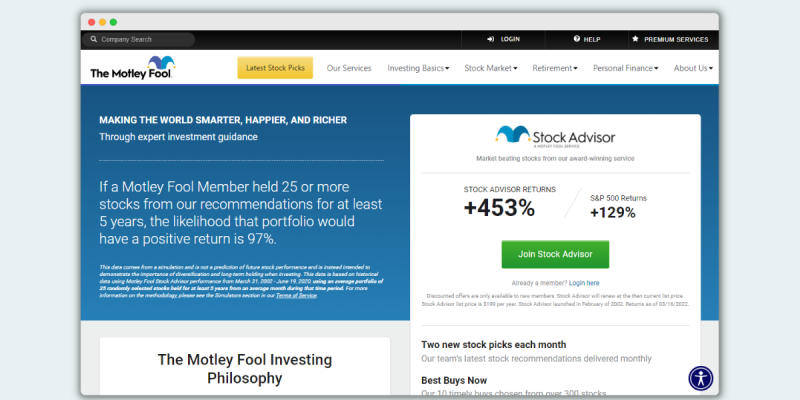 How Does Motely Fool Work?
The Motley Fool provides a subscription-based service consisting of multiple newsletters. Users can access the website and all of its content (which is quite ample) for free, but premium investment ideas are reserved for those who pay for a subscription.
Currently, the website offers the following newsletters:
There are many other sector-focused and strategy-specific newsletters. The list is long and you may want to browse it yourself to pick which one fits your needs and preferences the best.
Motley Fool Pricing
The Motley Fool charges an annual subscription fee for all these newsletters. The Stock Advisor newsletter — the cheapest — starts at $199 per year while the Rule Breakers and Everlasting Stocks subscription is $299 a year each.
The website offers bundles that start at $499 per year. These packages give investors access to a selection of these newsletters at a discount compared to subscribing to each of them separately.
Who Is Motley Fool Best For?
The Motley Fool is a good choice for investors who have a high tolerance for risk and whose portfolio is primarily stocks or if you want to focus on generating capital gains relatively fast.
Service: Stock picking services, investment newsletters and financial news
Pricing: $199/year (Stock Advisor), $299/month (Rule Breakers) and $299/month (Everlasting Stocks) and $99 (Rule Your Retirement)
Promotion: Stock Advisor (55% Off 1st Year), Rule Breakers ($99 For 1 Year), Everlasting Stocks ($99 For 1 Year)
2. Benzinga
Benzinga is a financial content website that was founded in 2010 by Jason Raznick and that caters to over 25 million readers every month. The website provides access to market news, fundamental and technical data about thousands of individual securities, and much more. Read our full Benzinga Pro review to learn more.
How Does Benzinga Work?
Most of the content that Benzinga produces is free but users may need to sign up for a free account once they have viewed a certain number of news articles or blog posts.
Moreover, the website offers three newsletters created with both traders and investors in mind:
Benzinga Options – This newsletter delivers multiple high-probability options trades for subscribers who are into day or swing trading of derivatives.
Benzinga's Breakout Opportunity Letter – This newsletter delivers one "breakout" stock for traders including ideal buy, take-profit, and stop prices for the instrument at hand.
Benzinga Stock Picks – Every month Matt Maley delivers two trade ideas. The service claims that it delivered an average 40% return in 2020. It also includes an analysis of the macro situation and other insightful information about the state of the markets.
Benzinga Pricing
All of Benzinga's newsletters have a starting annual subscription price of $97 per year. However, the website is always offering discounts and temporary promotions to new customers. In some cases, you could even get 50% off so be patient until you get a lower price if you want to sign up.
Who Is Benzinga Best For?
Benzinga's newsletters seem to be more appropriate to traders as they focus on short-term opportunities in the market — whether it is options or stock trades. Therefore, long-term investors may not find these newsletters suitable to their interests.
Service: Stock Screener, Trade Signals, Newsfeed Access, Real-Time Alerts, Watchlists, Chatroom, and more
Pricing: $27/month (Basic), $177/month (Essential), $347/year (Options Mentorship)
Promotion: 14-day trial (*Get 35% off monthly use code: WALLET35)


3. Seeking Alpha
Seeking Alpha is a community-powered platform on which investors from all backgrounds can share their ideas about an individual stock or broad topics such as macroeconomics and ETF investing.
According to the website, more than 20 million people read their content every month and they have over 7,000 contributors who are constantly producing articles and blog posts for the platform about different topics. Read our full Seeking Alpha review to learn more.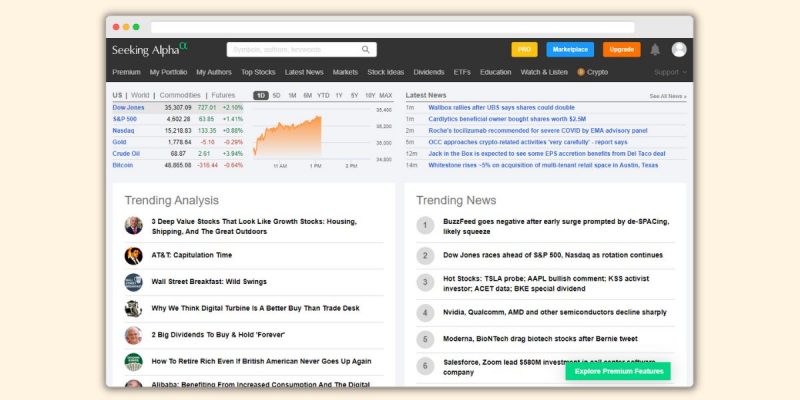 How Does Seeking Alpha Work?
Seeking Alpha offers access to a large number of sector-specific and topic-specific newsletters for users who sign up for a free account. However, most of the articles that can be read within the website require that the user signs up for a premium membership.
Seeking Alpha Pricing
The Basic (free) package of Seeking Alpha gives users access to e-mail alerts and they can sign-up for multiple investment newsletters depending on what kind of information they are looking for.
On the other hand, if the user wants to get access to more curated content and some of the advanced features available within the website, subscriptions start at $19.99 a month (Premium) and go up to $199.99 per month (PRO).
Who Is Seeking Alpha bBest For?
Seeking Alpha is a good choice for most investors as the community produces content for multiple types of financial instruments within the markets. The possibility of signing up for a free account to enjoy most of the platform's investing newsletters is a great feature that makes this service a nice alternative if your budget is a bit tight at the moment.
Service: Investing community, newsletters, stock research, ratings, scanners, and more
Pricing: $0/month (Basic), $19.99/month (Premium), and $199.99/month (PRO)
Promotion: Free to join (Basic) and 7-day free trial & 50% off (Premium)

4. Morningstar
Morningstar is a powerhouse when it comes to online financial content and analysis. The company was founded back in 1984 by a 27-year old analyst — Joe Mansueto — and progressively grew from seven employees covering 400 different financial instruments to a team of more than 8,000 people spread across 29 different countries and providing coverage to over 600,000 assets in the financial markets. Read our full Morningstar review to learn more.
How Does Morningstar Work?
A selection of Morningstar's newsletters is accessible to everyone for free. These include the following:
Morning Digest – A Monday-to-Friday newsletter covering the latest in the markets.
Advisor Digest – A curated selection of insightful information about individual stocks.
Smart Investor – Delivers top-notch reports for the week.
Stock Analyst Notes – Comments from the Morningstar team about the latest news affecting the market's top equities.
Improving Your Finances – A newsletter focusing on improving investors' personal finances.
Stock Strategist – In-depth research about companies covered by Morningstar's analysts.
Fund Spy – Insightful data and actionable content covering the investment fund's industry.
Morningstar Pricing
Signing up for a Morningstar newsletter is free and you'll only need to provide them with your e-mail address to complete the process. However, research reports and some of the content featured and promoted within the newsletters are only accessible to paid members.
Who Is Morningstar Best For?
Morningstar is perhaps more suitable to investors with in-depth knowledge about corporate finance and fundamental analysis as the research team tends to focus on those aspects of individual companies and assume that the reader understands the most basic concepts of investing.
Pricing: Free (basic tracking), $34.95/month (advanced tracking capabilities)
Available: iOS and Android
Highlight: Comprehensive investment data covering stocks, mutual funds, ETFs

5. Kiplinger
Born out of a newsletter called The Kiplinger Letter that started circulating in 1923, this website has become a go-to place for everything related to personal finance and the stock market, currently catering to over 4.5 million unique visitors every month.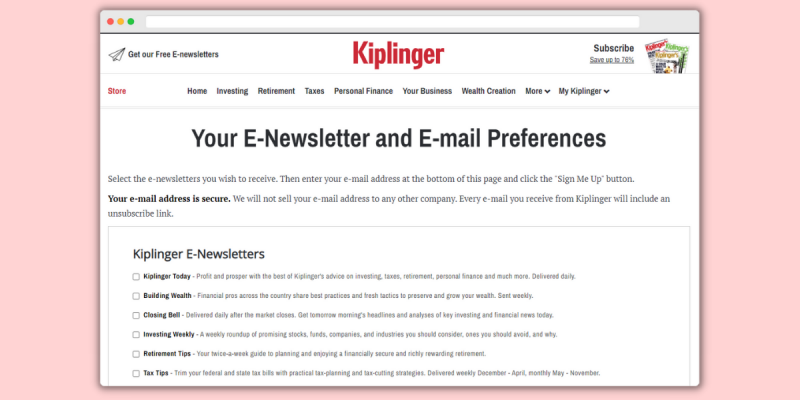 How Does Kiplinger Work?
Kiplinger offers a large selection of topic-specific free newsletters including the following:
Kiplinger Today – A daily newsletter that summarizes the best content produced by the Kiplinger team about investing, personal finance, and other financial topics.
Closing Bell – Delivers the most up-to-date news about what has happened to the markets and prepares investors for what will be coming the next day.
A Step Ahead – The Kiplinger team offers insightful information about the most relevant macro events that are shaping the market's views about the future.
In total, Kiplinger produces seven free different newsletters. Some are distributed daily and others once a week. That said, the firm also produces paid newsletters including the following:
The Kipling Letter – A compilation of weekly forecasts for the markets and politics.
Kiplinger's Personal Finance – A great source of advice for those seeking to build wealth and manage their finances adequately.
The Kiplinger Tax Letter – A cheat sheet to reduce your tax bill through advanced strategies and practical tips.
Kiplinger's Investing for Income – The team's curated selection of the most promising fixed-income investments.
Kiplinger's Retirement Report – A handbook of the most successful retirement strategies and tips.
Kiplinger Pricing
The newsletters come in different price points depending on the number of issues and the amount of research that goes into creating them.
The Kipling Letter – $49 for 52 weekly issues
Kiplinger's Personal Finance – $19.95 for 12 monthly issues
The Kiplinger Tax Letter – $38 for 26 biweekly issues
Kiplinger's Investing for Income – $49 for 12 monthly issues
Kiplinger's Retirement Report – $29.95 for 12 monthly issues
Who Is Kiplinger Best For?
Kiplinger has something for almost every type of investor. For example, if you are a beginner, The Kiplinger letter can be a great guide to navigating the markets and understanding what is going on from a macro standpoint.
There are also some great resources for prospective retirees and seasoned professionals who might be looking for the most insightful information on what to expect from the markets and the US political landscape in the coming years.
Service: Free and paid newsletters
Pricing: From $19.95 per month
Promotion: None

6. Mindful Trader
The Mindful Trader is a stock-picking service launched by Stanford graduate Eric Ferguson, who built an automated system that identifies opportunities within the stock and options market.
According to the website, Eric's system would have produced average annual returns of 143% and an average account drawdown of 28% based on back-tests.
The service was launched in 2020 and Eric writes a newsletter called The Mindful Trader Newsletter where he shares how the system is doing for those who have not yet opted to sign up for his service.
How Does Mindful Trader Work?
A stock-picking service, like the one The Mindful Trader offers, provides subscribers with potential opportunities found within the market. Eric's system identifies ideal trades and he shares those ideas with his subscriber base by providing the following details:
Date and time
Ticker symbol
Entry price
Take-profit price (target)
Stop price
Typically, Eric's system will generate one to three trading signals per day.
Mindful Trader Pricing
The Mindful Trader charges $47 per month to sign up for his stock-picking service and users can sign off at any time. This will include real-time stock trade alerts, tutorial videos about Eric's strategies, and regular e-mails about the performance of the trading system.
However, the newsletter is free.
Who Is Mindful Trader Best For?
Services such as this are good for people who want to engage in day or swing trading but who do not have a working system that guarantees an elevated win rate. If the system is good and the person understands the basic risk management strategies employed to limit losses when trading, the rewards could be quite appealing.
Service: Data-driven swing trade alerts and newsletters
Pricing: $47/month
Promotion: None

7. Trade Ideas
Trade Ideas is an AI-powered trading signals service that was launched in 2003 amid the rise of zero-commission trading and self-directed investing.
This trading system works by using the power of AI to identify potential opportunities in the United States market. The firm claims that its servers are connected to all major stock exchanges in the country so they can monitor and spot potential trade ideas in real-time. Read our full Trade Ideas review to learn more.
How Does Trade Ideas Work?
Users can opt to sign up for the Trade Ideas system by paying a sizable annual fee or they can sign up for the TI Strength Alerts for a significantly smaller monthly subscription fee.
This newsletter will deliver five new trade ideas to your inbox every Monday.
Trade Ideas Pricing
Trade Ideas is a subscription service that charges hefty fees for signing up. According to the website, the premium package costs $2,268 per year while the Basic package costs $1,068 per year.
However, investors can sign up for the Trade of the Week newsletter for free while subscribing to the Trade Ideas' TI Strength Alerts costs $17 per month.
Who Is Trade Ideas Best For?
Trade Ideas' newsletter is a good place to start for traders who do not have a working system that they can rely on. They can use the firm's five weekly ideas to make their first transactions to learn how trading works and what kind of win rate they might expect from this service before signing up for any of their expensive paid packages.
Service: Stock Screener, Trade Signals, Simulated Trading, AI Trading, Risk Assessment, and More
Pricing: $118/month or $1,068/year (Standard); $228/month or $2,268/year (Premium)
Promotion: 15% off (1st month or year)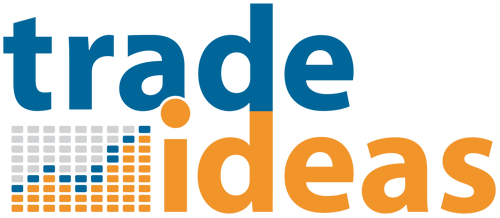 8. Zacks Investment Research
Zacks Investment Research is a pillar of the global financial research industry. This company produces relevant content about multiple different areas and aspects of the financial markets.
The service was launched back in 1978 and since then it has focused on analyzing how the market's earnings estimate revisions can impact the price of a stock as they have deemed this variable as the most impactful in shaping companies' valuations. As a result, they launched the Zacks Rank to rate the best stocks based on how earnings projections have been behaving.
According to Zacks, this system has produced average gains of more than 25% per year since January 1988.
How Does Zacks Investment Research Work?
Zacks produces a large number of newsletters and materials that track the performance and provide insightful data about a wide range of asset classes, industries, and geographies.
Zacks has made available multiple subscription bundles that offer access to their top newsletters such as the Zacks Premium, Zacks Ultimate, and Zacks Investor Collection packages. However, users can opt to sign up for one service at a time depending on what kind of content they are looking to get their hands on.
Zacks Investment Research Pricing
Zacks Premium is the most accessible package for investors who are seeking to get real-time updates on the changes made to the time-tested Zacks Rank for stocks. There is a 30-day free trial and, after that, the service costs $249 per year.
Meanwhile, the Investor Collection is a bundle that offers access to the company's top investing strategies including the Stocks Under $10 system. This package costs $495 per year or $59 per month and also comes with a 30-day free trial.
Finally, the Zacks Ultimate is the top bundle that incorporates almost every single service provided by the company. This one costs $299 per month or $2,995 per year and also offers a 30-day trial.
Individually, users can subscribe to most newsletters and services for $39 per month.
Who Is Zacks Investment Research Best For?
Zacks has something for nearly every investor. Whether you prefer to focus on fixed-income securities, stocks, cryptocurrencies, or exchange-traded funds (ETF), there is a Zacks newsletter and service for every single asset class out there.
Service: Stock Screener, Research and Reports, Newsletter and more
Pricing: Zacks Premium ($249 per year) Investor Collection ($495 per year or $59 per month) Zacks Ultimate ($299 per month or $2,995 per year) and Newsletters (From $35 per month)
Promotion: None

9. Stansberry Research
Since 1999, Stansberry Research has been serving the investment community by recommending the best assets to build different kinds of portfolios depending on the investor's risk profile, financial goals, and other similar factors.
The company offers multiple products and services primarily focused on portfolio building and management along with a selection of trading systems and sector or asset class-specific strategies.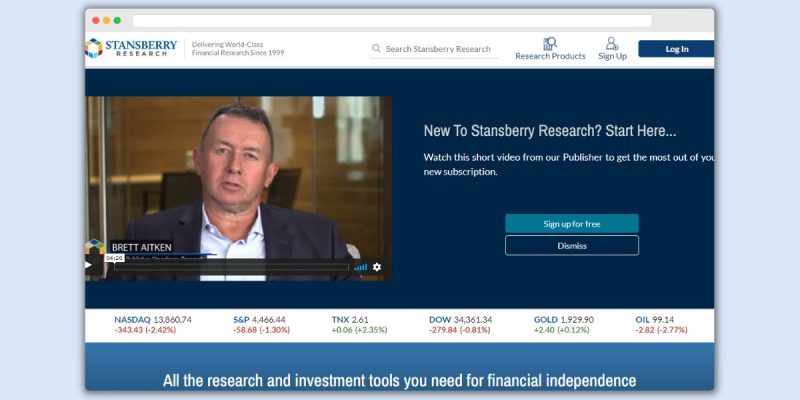 How Does Stansberry Research Work?
Stansberry's trading and investing systems are delivered in the form of newsletters containing the company's recommendations for the different portfolio solutions they offer.
The three flagship newsletters produced by the firm are the following:
The Total Portfolio – A selection of 40 investment recommendations that, combined, can build a diversified portfolio comprising different types of equities and other similar securities (mostly stocks)
The Income Portfolio – A curated selection of 20 to 30 investment recommendations for those who seek opportunities to generate a steady stream of income
The Capital Portfolio – A portfolio comprising 20 of the company's top recommendations for aggressive investors seeking to generate wealth via capital gains
These three newsletters, along with the rest of the materials produced by Stansberry, demand a paid subscription. However, there is a limited selection of free newsletters including the Daily Wealth, Health & Wealth Bulletin, Stansberry Digest, and Stansberry Investor Hour newsletters.
Stansberry Research Pricing
The cost of signing up for any of Stansberry's products and solutions ranges from $199 per year to $1,500 per year. The company also offers invitation-only bundles called The Stansberry Alliance and the Stansberry Choice.
Who Is Stansberry Research Best For?
Stansberry Research is a good alternative for investors with a high net worth who would like to receive professional tips and guidance about where they can deploy their sizable reserves either to generate income for retirement or capital gains as part of an aggressive wealth-building strategy.
Service: Newsletters and reports
Pricing: From $199 per year to $1,500 per year
Promotion: None

10. TheStreet
TheStreet is a popular financial media outlet founded by the legendary CNBC host and former hedge fund manager Jim Cramer. The publication started in 1996 and has grown to become a go-to resource for news and other insightful information about the financial markets.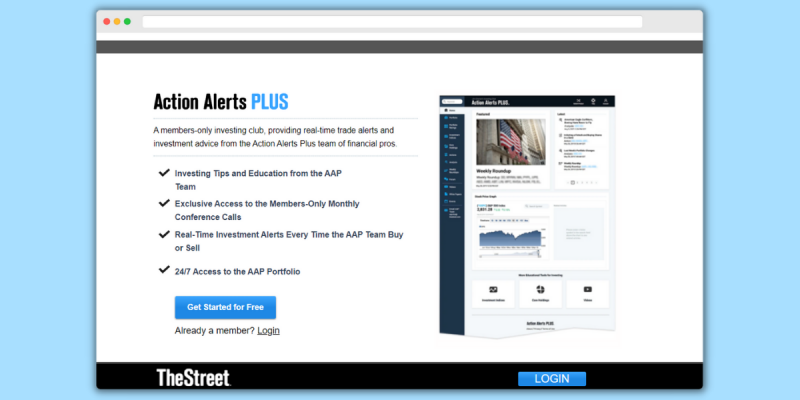 How Does TheStreet Work?
TheStreet's team delivers ideas to investors via newsletters and subscription services starting with the Action Alerts Plus package, which features a curated selection of some of the best opportunities the team has identified in the market and invested in via the Action Alerts Plus portfolio.
Meanwhile, TheStreet also offers access to ideas from top market professionals via the Real Money and Real Money Pro programs along with a newsletter called "Stocks Under $10" which provides a selection of stocks that are trading at a low price and under Wall Street's radar.
Other materials produced by TheStreet's team include the Crypto Investor, Retirement Daily, Top Stocks, and TheStreet Quant Ratings newsletters.
There is also a small selection of free newsletters available including sector-specific materials covering the tech and electric vehicle sector and daily trading ideas from TheStreet team.
The Street Pricing
There is not much publicly available information about the cost of subscribing to TheStreet's services and newsletters. The scarce information we could get points to subscriptions costing around $249.95 per year for individual newsletters such as the Stocks Under $10.
Who Is The Street Best For?
TheStreet produces content about multiple asset classes and market segments and this makes it a great choice for beginner investors who would like to build diversified portfolios of equities and even cryptocurrencies.
Service: Stock ideas and newsletters
Pricing: $249.95 per year
Promotion: None

11. American Association of Individual Investors (AAII)
The American Association of Individual Investors (AAII) is a non-profit organization that produces educational materials and provides learning opportunities to those who would like to take more control over their finances.
The Association was founded in 1978 by James B. Cloonan, Ph.D. and its mission is to empower individuals with the tools they need to build wealth by exposing their capital to the modern world's most efficient money-making machine — the capital markets.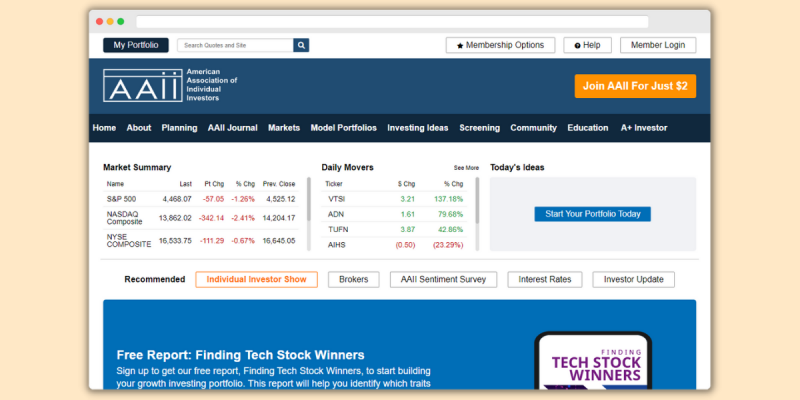 How Does AAII Work?
According to the AAII, more than two million investors have joined the association since it was launched. They offer memberships to all interested parties that include access to the materials produced by the association including a monthly journal, weekly webinars, stock ideas, and market digests.
The sign-up process can be completed online and there are multiple subscription tiers for investors to choose from depending on what kind of information and materials they would like to have access to.
This is a summary of the flagship newsletters and solutions provided by AAII:
A+ Investor – An annual subscription that gives investors access to all premium content produced by the association and to its top-notch investing tools.
AAII Dividend Investing – A newsletter that focuses on delivering ideas for investors whose goal is to generate a steady stream of income.
Stock Superstars Report – A newsletter containing stock ideas from top professionals who have outperformed their respective benchmarks for decades.
VMQ Stocks A newsletter designed with self-directed investors in mind providing them with a selection of potential value stocks trading at attractive prices.
AAII Pricing
Investors can use most of AAII's tools and top content for 30 days by paying a $2 fee.
The Basic Membership costs $49 per year and includes access to 12 monthly issues of the AAII Journal and a Free AAII model stock portfolio.
There is also a four-year AAII Membership that costs $99 for the entire period (around $25 per year) and a Lifetime Membership that costs $390 and includes all the basic AAII benefits.
Who Is AAII Best For?
The resources provided by the AAII are great for those who prefer a hands-on approach when it comes to their investments as the tools they have made available for stock-picking and portfolio building can be accessed at a relatively low price.
Service: Webinars, stock ideas, research and newsletters
Pricing: $2 30-day trial (after that subscriptions start at $49 per year)
Promotion: None

12. Finimize
Finimize is a community that connects investors and gives them the most relevant news about the financial markets every day.
The service is best understood as a mobile app that gives investors access to curated news about the most important developments of the day while it also creates the right environment to exchange ideas with other investors through online events and forums.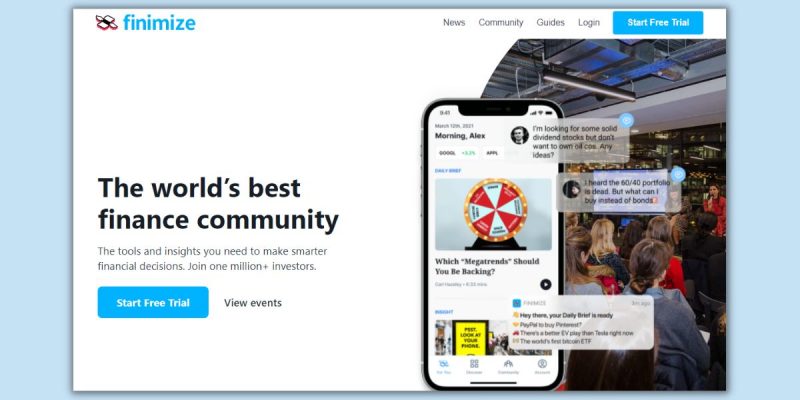 How Does Finimize Work?
Finimize is a subscription-based platform. This means that users have to pay an annual fee to access the platform and all of its resources. That said, there is a free version that offers limited content and resources.
The team at Finimize curates the most relevant financial news of the day and delivers them in an easy-to-digest way for busy individuals who have no time to dig through the details of complex media and financial reports.
Finimize Pricing
The cost of subscribing to Finimize is $79.99 per year or $11.99 per month.
Who Is Finimize Best For?
Finimize is mostly a news service that helps investors in staying up-to-date with what is going on in the market. The community side of the app is quite interesting as it helps investors in identifying great ideas shared by some of Finimize's members.
Service: Newsletters, financial education, community and events
Pricing: $79.99 per year or $11.99 per month
Promotion: None
---
What to Look for in an Investment Newsletter?
Now that we have shared our selection of top investment newsletters to consider, here's what investors should look for when they are browsing the web for the best financial content out there, especially if it is paid.
Pricing
Most investment newsletters charge a monthly subscription fee that might seem affordable at first glance. However, like any other subscription-based service, signing up for multiple newsletters can result in a costly fixed expense and even more so if you are not getting your money back in the form of tangible gains.
With this in mind, the best services are those that provide actionable content that can put money in your pocket in exchange for a relatively small sum. This comes in the form of multiple profitable trade ideas per month or a handful of home runs.
Track Record
The track record of an investment newsletter or stock-picking system is crucial to determining if paying a subscription will be worth your while. Don't trust blindly in what the website says. Most of the time, those numbers are exaggerated or at least twisted in a way that they make the service look good.
For example, companies could opt to showcase the performance of a system during a certain period during which gains exceeded the benchmark. However, if you extend that period to a lifetime, the performance might not be as good as their stats show.
Make sure you check reviews from some independent sources and actual subscribers to learn from others what you might expect from the newsletter or service tips.
Transparency
The system used by the newsletter or service to screen and identify opportunities within the market should be disclosed — at least to some extent — so you can rest assured that this is a thoroughly conceived approach.
Run from places that just tell you how much they earn but don't share even a tiny bit about their methodology.
Community
Communities increase transparency and push service providers to deliver the best of them. Access to a forum, Telegram, or WhatsApp group where subscribers can share their experiences with the service is great to keep learning and making sure that the service is delivering what it promises.
Educational Resources
Most newsletters and trading signals services cater to beginners who don't have the time or the knowledge to tackle the financial markets by themselves. Even though your goal might not be to become an expert, having access to educational resources about how investing, trading, and building a portfolio works is a plus as learning more about the markets will have a positive impact on the performance of the investment account in the long term.
---
Pro Tips to Consider from an Investment Newsletter
The idea of signing up for a newsletter written by a professional is to get the kind of insights that you won't get if you perform an assessment of the market or an individual stock by yourself.
With this in mind, the best newsletters are those that can enrich your analysis and deliver in-depth comments about the topic at hand.
Do Your Due Diligence
Regardless of how good the track record of the newsletter is, nothing justifies not doing a tiny bit of due diligence before investing in something. When it comes to trading, you can verify that the analysis being provided matches what you are seeing in the charts.
Moreover, when it comes to investing, not every analysis is necessarily accurate — otherwise, every analyst would be a billionaire. You can research the company or financial instrument first and then use the information provided by the newsletter to further enrich your research rather than the other way around.
Never Invest in What You Don't Know or Understand
It doesn't matter how attractive an investment is if you don't understand how it works from a fundamental or conceptual standpoint. Cryptocurrencies are a good example of this. If you don't understand blockchain technology or why Bitcoin is considered digital gold by many, then it might not be a good idea to invest in it, even if the performance of the asset has been quite attractive in the past.
The reason for this is that you will feel quite uncomfortable during big drawdowns and you will be more inclined to exit at a loss just because you don't have enough conviction to keep holding during what could be just a temporary fluke.
Don't Fall into the FOMO Trap
Some newsletters and trading services might try to hard-sell some of their ideas as if you might be late to the party if you decide not to put some money on it. This is one of the most important traps to avoid and it is caused by the fear of missing out — also known as FOMO.
Make sure you understand what you will be investing in, the risk, potential reward, and other similar factors involved before you commit any money to the opportunity.
---
FAQs Best Investment Newsletters
The following are answers to the most frequently asked questions we get on the topic of investment newsletters.
What Is an Investment Newsletter?
An investment newsletter is a piece of content created by a team of financial professionals to keep readers up-to-date about what is going on with the markets or to deliver some of the best ideas on deck in regards to potential opportunities in the marketplace.
How Do Investment Newsletters Work?
Investment newsletters are delivered by e-mail once the user subscribes via the company's website. There are free and paid newsletters and, in most cases, companies offer many different newsletters with each covering one specific topic or providing ideas for one type of investment — i.e. stocks, cryptocurrencies, fixed-income securities, etc.
Are Investment Newsletters Worth It?
Investment newsletters can be a great place to start when looking for potential trading and investing ideas. However, nothing replaces the good old due diligence and investors should only rely on the content provided by these newsletters to either strengthen their research or as a starting point.
Are Investment Newsletters Regulated?
Newsletters are not regulated per se. However, the entity that drafts them may, in some cases, be subject to financial laws that prevent them from giving direct advice to customers. However, most of those regulations can be dodged by smoothing the phrasing and language to make it sound as if they are not recommending investors to buy or sell something even though they are to some extent.
Are Investment Newsletters Good for Beginners?
Yes. Investment newsletters can be a great starting point if you are looking for trading and investing ideas. However, the opinions and assertions made in these materials should not be taken at face value. Investors should do independent research before committing any money to a particular investment.
Should I Invest in the Recommendations Given in an Investment Newsletter?
The decision to invest or not in a certain financial asset is entirely personal and depends on the financial goals, risk tolerance, disposable income, and other similar factors of the particular investor. Make sure that you understand what you are investing in and why before you pour money into any kind of investment.
---
Final Thoughts
Investment newsletters are a great starting point if you are looking for opportunities on the market as they are drafted by seasoned professionals who will typically deliver insightful comments to support their ideas.
However, as with many other materials produced by companies within the financial industry, they should not substitute due diligence and investors should take their time to do their research before investing in any kind of asset to avoid falling for FOMO.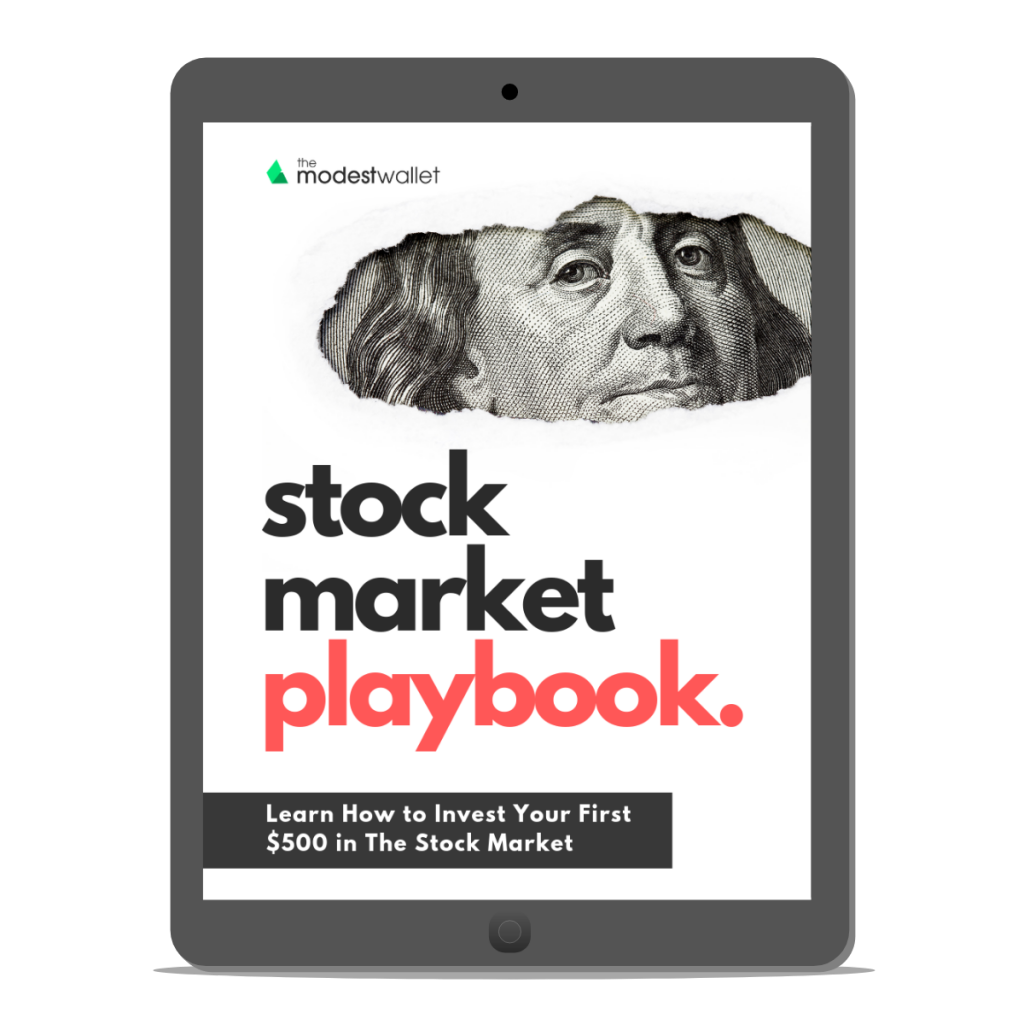 Get our free Stock Market Playbook to learn how to invest your first $500 in the stock market.
Plus our best money tips delivered straight to your inbox.

Alejandro is a financial writer with 7 years of experience in financial management and financial analysis. He writes technical content about economics, finance, investments, and real estate and has also assisted financial businesses in building their digital marketing strategy. His favorite topics are value investing and financial analysis.