Benzinga Pro Review 2023: Features, Pros, and Cons
Many or all of the products featured on this page are from our sponsors who compensate us. This may influence which products we write about and where and how the product appears on a page. However, this does not influence our evaluations. Our opinions are our own. Here is a list of our partners and here is how we make money.
---
The information provided on this page is for educational purposes only. The Modest Wallet is a financial publisher that does not offer any personal financial advice or advocate the purchase or sale of any security or investment for any specific individual.
Want access to leading market research, a convenient stock screener tool, and real-time alerts on breaking news that affect your investments? Benzinga Pro just might be what you need.
Benzinga Pro is a subscription-based service that gives investors access to cutting-edge stock research and news.
But is Benzinga Pro the right stock screener for you? Is it worth the money?
In this Benzinga Pro review, we'll investigate all of the service's features and show you how they stack up to the competition. We'll also discuss the platform's pros and cons so you can determine if it's the perfect market research tool to help take your investing to the next level.


Bottom Line: Benzinga Pro is a subscription-based financial news and research platform. They provide access to newsfeeds, real-time alerts, sentiment indicators, watchlists, a community chat, and more.
| | |
| --- | --- |
| Pricing | |
| Platform | |
| Features and tools | |
| Ease of use | |
| Customer support | |
---
What Is Benzinga Pro?
Benzinga Pro is a stock market news and research platform that provides investors with insights into the latest market trends. The company was founded in 2010 by Jason Raznick as a way to empower "the individual investor by keeping them one step ahead."
With Benzinga Pro, traders can get access to stock screeners, market data, analyst ratings, and other essential investment information. The platform also has a built-in social community so you can connect with other investors and share trading ideas.
---
How Does Benzinga Pro Work?
Benzinga Pro works on a subscription model. If you want to use the platform, you first need to sign up for an account and pay for a membership.
To get started with Benzinga Pro, do the following:
Navigate to the Benzinga Pro website;
Click the menu button;
Press 'Login';
Switch to the 'Sign Up' tab and
Enter your personal details and create a password for your account.
Benzinga Pro offers all new investors the option to complete a free two-week trial period before their paid subscription begins. But you'll still need to choose a subscription plan and enter your payment details to activate the free trial. Your credit card won't be charged until after your trial is over, and you can cancel your subscription without penalty before the trial ends.
---
Benzinga Pro Features
Subscribers to Benzinga Pro get access to a wide range of investing-related features. Here's what you can expect if you make an account.
| | |
| --- | --- |
| Service | Stock Screener, Trade Signals, Newsfeed Access, Real-Time Alerts, Watchlists, Chatroom and more |
| Pricing | $37/month (Basic), $197/month (Essential), $457/year (Options Mentorship) |
| Plans | Free, Basic, Essential, and Options Mentorship |
| Mobile App | None |
| Promotion | Save 35% off monthly (**use code WALLET35) |
| Best For | Intermediate and experienced investors who want access to all the latest market news and data |
| Support | Email ([email protected]) and Live Chat |
Stock News Alerts
Benzinga Pro's primary feature is its customizable real-time market news alerts. You can opt to receive email or browser notifications for any alerts that you opt into on the platform.
There are dozens of types of alerts that you can activate, including alerts on different asset classes (e.g., stocks, bonds, forex, and commodities). You can also opt into alerts about new IPOs, insider trades, dividends reports, and analyst ratings so you can stay one step ahead of the markets.
Stock Calendars
Stock Calendars are a unique feature from Benzinga Pro that helps you keep track of all the stock market's most important events.
With these calendars, you can quickly and easily see when different stocks plan to release dividends or when they'll have earnings calls. You can also check out dates for other market events, such as SEC filings, IPOs, stock splits, mergers, and acquisitions.
The primary benefit of Stock Calendars is that they let you find the information you need with minimal hassle. They also let you filter your calendar results based on several factors, such as whether a given stock is in your portfolio or if it has an analyst buy rating. As such, Stock Calendars is a powerful tool that can streamline market research with the push of a button.
Chat Room
Benzinga Pro's Chat Room is a built-in social network that provides a convenient place for investors to chat about market trends. The company's Chat Room feature is available to all investors, and it's marketed as a place for "traders of any level."
There are multiple Chat Room channels, including the Benzinga Pro Lounge, Benzinga Crypto, and Benzinga Pro Day Trading, all of which serve investors with different trading interests. That said, the Options Inner Circle channel, which is led by investing guru Nic Chahine, is only available for Benzinga Pro Options Mentorship subscribers.
Movers
Movers is a nifty feature from Benzinga Pro that makes it easy to see the market's biggest gainers and losers in real-time.
With this feature, you get an up-to-the-minute feed of the market's gainers and losers, which you can filter by market cap, stock price, session (regular, after hours, pre-market), time frame (e.g., an hour or a week), and sector. This lets you quickly find the largest market movers in certain sectors without the need to do hours of stock research.
Real-Time Newsfeed
On the lookout for breaking market news? The real-time Newsfeed from Benzinga Pro is worth checking out. This Newsfeed provides you with a stream of market news from outlets like Benzinga Signals, Partner Links, and Benzinga Wire.
Benzinga Pro subscribers can also use the firm's Advanced Newsfeed feature, which lets you filter news alerts by sources, stock price, and categories. You can also set up desktop notifications for new headlines that match your pre-set criteria to ensure that you never miss an important piece of market insight.
Signals
With Signals, Essential, and Options Mentorship, subscribers can get real-time information about stock price spikes, options activity, block trades, and price highs and lows. This feature clues you into any unusual activity on the stock market so that you're always one step ahead of other traders.
When you first open Benzinga Pro's Signals dashboard, you'll get a full list of all of the market's recent activity. To sort through all the information, Signals also includes several filters, such as shares outstanding, market cap, and price/earnings ratios, to help you find the news that's most important to you.
Options Activity
If you're looking to master options trading, Benzinga Pro's Options Activity tool should be on your radar. This feature serves as a second Signals-like tool that's designed specifically for options traders. It offers real-time updates about unusual activity in the options markets, including large block trades at or near the bid.
The Options Activity tool lets you filter real-time data based on your Watchlists or various financial and technical criteria. That said, this feature is only available if you have the Options Mentorship subscription or if you pay for the Options Activity add-on ($27.97 per month).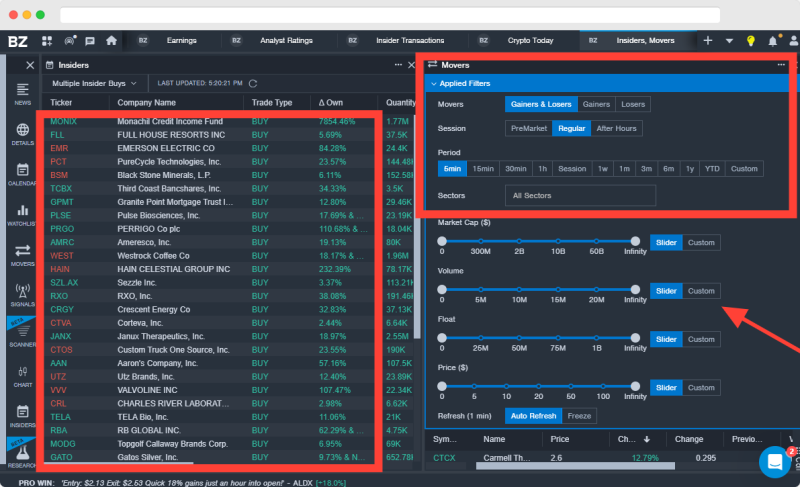 Stock Screener
The Benzinga Pro Stock Screener is a straightforward way to quickly search for and identify potential investment opportunities. It lets you filter securities using either technical metrics or fundamental stats so you can find stocks that meet your pre-set criteria.
Additionally, you can manually refresh Benzinga Pro's Stock Screener whenever you want the most up-to-date information available. You can also add custom filters to the Stock Screener tool so that you only see the stocks that offer the most potential growth for your portfolio.
Scanner
A new analysis tool available with a Benzinga Pro subscription, the Scanner is a more user-friendly alternative to the company's Stock Screener tool. It offers many of the Stock Screener's features but in a pared-down format for quicker market analysis.
The Scanner lets you search for stocks in real-time using pre-set filters like market cap, price change, volume, and shares outstanding. It also lets you choose between refresh rates of 10 seconds, 30 seconds, or one minute so you can decide how quickly your Scanner dashboard updates with new information.
Security Widget
Security Widgets are a tool from Benzinga Pro that lets you quickly access a security's news, financials, press releases, and price charts all in one place. It's available within your Newsfeed whenever you click on a stock's ticker.
In addition to financials, news reports, and key stats, the Security Widget also gives you access to customizable charts. This charting tool is a bit simpler than what you'd get at other platforms like TradingView, but it still offers dozens of indicators and drawing tools for technical analysis.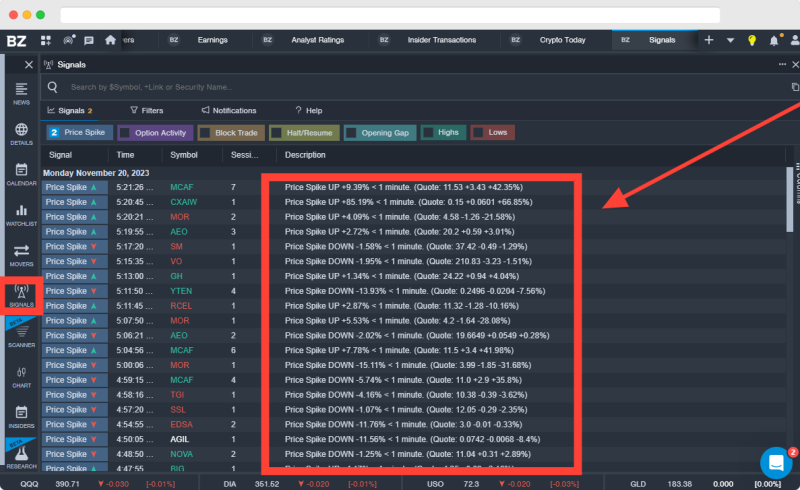 Audio Squawk
Benzinga Pro Audio Squawk is a premium feature for Essential and Options Mentorship subscribers that gives you a real-time audio news broadcast of breaking market trends.
These broadcasts are available from 6:00 am to 6:00 pm (Eastern Time) each business day so you can get an audio live stream of key headlines in stock market-related news. Some of the many topics discussed on Audio Squawk include economic data releases, market rumors, Wall Street analyst opinions, earnings reports, and critical breaking news.
Watchlist
Watchlists is a popular Benzinga Pro feature that makes it easy to keep track of your favorite stocks. When you use Watchlists, you can create customizable lists of the stocks in your portfolio or the stocks that you're interested in trading.
All watchlists on Benzinga Pro update in real-time to give you a quick snapshot of how a given asset is performing. You can also create custom Watchlist alerts for breaking news about the tickers on your lists, or you can get a daily email digest of how market news affected your assets.
Furthermore, the company lets you filter out other Benzinga Pro features using the tickers on your Watchlists. For example, you can opt to see only Stock Calendars or Newsfeed information about the stocks in your Watchlists. Doing so ensures that you get even faster access to the trading information that matters most to you.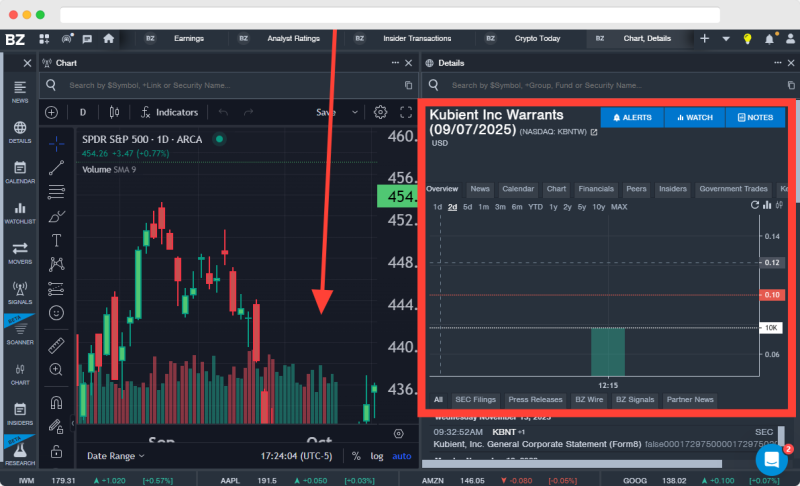 ---
Benzinga Pro Prices & Fees
Investors can choose from three different subscription plans for Benzinga Pro. Here's what you need to know about each option before you sign up.
Basic
Benzinga Pro Basic is the platform's entry-level subscription package. It includes:
Watchlist alerts
Nasdaq Basic delayed price quotes
Movers
Scanner
Newsfeed access
Key stock stats
Details tool
Calendar suite
In-platform support chat
A Basic subscription with Benzinga Pro costs $37 per month or $30.58 per month if you pay the subscription annually.
Essential
For investors who want even more market data and analysis tools, Benzinga Essential is worth considering. This plan includes everything you get with the Basic plan, plus:
Nasdaq Basic real-time quotes
Newsdesk chat
Signals (not including options activity)
Sentiment indicators
Audio Squawk
Benzinga Pro Essential costs $197 per month when paid monthly and $166.42 per month when paid annually.
Benzinga Options Mentorship
Benzinga's Options Membership is a solid option for investors who want additional educational tools as well as access to analysis on options trading. This subscription includes everything in the Essential plan, plus:
Options Inner Circle Chat Room
Trading mentorship from Nic Chahine
Additional educational resources
Regular Market Overview with Nic Chahine
Exclusive webinar sessions
Options Activity Add-On
The Benzinga Options Mentorship subscription costs $457 per month if you pay monthly and $381 per month when you pay annually.
---
Benzinga Pro Promotions
To help investors see the benefits of Benzina Pro, the company offers a 14-day free trial to all new subscribers.
Any new subscriber is eligible for this promotion. However, you have to enter your credit card details to activate your free trial. Your payment won't be processed until your free trial ends, and you have the option to cancel your subscription before your card is charged.
---
Benzinga Pro Customer Support
If you have a question about your Benzinga Pro account or if you need help accessing certain features on the platform, the company maintains an extensive list of online help pages.
Additionally, Benzinga Pro subscribers can access email-based support for their questions. The company also has a live chat feature that you can use to get quick answers to your subscription questions or concerns.
---
Benzinga Pro Pros
Exceptional real-time news alerts about stocks that matter most to you
Access to a built-in social network to connect you with like-minded traders
Powerful stock screener and scanner tools
Fully customizable platform to suit your investing needs
Security Widget provides comprehensive data about thousands of equities
Stock Calendar makes it easy to track major market events
Extra features available for options traders with Benzinga Options Mentorship
---
Benzinga Pro Cons
Very expensive subscription plans
Limited charting tools
Minimal support for ETFs, mutual funds, commodities, and crypto
The basic plan doesn't provide real-time market quotes
No brokerage integrations are available
The platform interface can be a bit overwhelming at first
Options trading tools require an extra fee or a Benzinga Options Mentorship plan
---
Benzinga Pro Alternatives
Not convinced that Benzinga Pro is right for you? Here are two alternative stock screener and charting tools to check out:
Benzinga Pro vs. Trade Ideas
Trade Ideas is a powerful stock screener and charting tool that's popular among advanced and professional traders. It's one of the oldest market research and analysis tools available, and it's well-known for its plethora of exceptional features.
Some of the most popular features of Trade Ideas include the platform's AI-powered entry and exit signals, its simulated trading function, and its collection of educational resources. Trade Ideas also has a top-of-the-line charting terminal that supports simultaneous charting, dozens of technical indicators, and brokerage integrations, so you can trade right from your charts.
When compared to Benzinga Pro, Trade Ideas' subscription packages are a bit more expensive. However, Trade Ideas offers substantially more functionality for investors who are primarily concerned with charting and technical analysis. Read our Trade Ideas review to learn more.
Benzinga Pro vs. TradingView
TradingView is another industry-leading charting platform that provides quality tools for technical analysis of stocks, ETFs, forex pairs, commodities, and even cryptocurrencies.
Although it's primarily a charting tool, TradingView also offers a built-in social community, a stock screener, brokerage integrations for in-chart trading, and simulated paper trading. The company also has a super sleek mobile app, and it has an extensive set of educational resources.
TradingView is one of the few stock screener and charting platforms that offer a free subscription alongside its paid plans. Additionally, TradingView's paid subscriptions are affordable, especially when compared to Benzinga Pro's. However, TradingView doesn't offer as much functionality for real-time news alerts and other analyst-derived information. Read our full TradingView review to learn more.
| | | | |
| --- | --- | --- | --- |
| | | | |
| Our Rating | | | |
| Pricing | $37/month (Basic), $197/month (Essential), $457/year (Options Mentorship) | $118/month (Standard), $228/month (Premium) | $0/month (Basic), $14.95/month (Essential), $29.95/month (Plus), $59.95/month (Premium), $239.95/month (Expert), $419.95/month (Elite), $599.95/month (Ultimate) |
| Stock Picking | Yes | Yes | Yes |
| Promotion | 14 day free trial (*Get 35% off monthly with code: WALLET35) | 15% Off (First Month or Year) | 30 day free trial |
| Highlight | Powerful stock screener and scanner tools | Auto-trading capabilities and brokerage integration | Large social community of active traders |
| Best For | Intermediate or experienced data driven investors | Intermediate to advanced active traders | Active traders looking for a social twist |
| | | | |
Compare Benzinga Pro
Find out how Benzinga Pro stacks up against the competition.
---
Who Is Benzinga Pro For?
Benzinga Pro is ideal for the intermediate or experienced investor who wants access to all the latest market news and data in one place. The customizability of Benzinga Pro and its plethora of financial and technical information makes it a sure bet for high-volume traders and people who want to stay one step ahead of the markets.
That said, Benzinga Pro's high subscription fees and complex user interface mean that it's not ideal for first-time investors. The platform's limited support for ETFs, mutual funds, commodities, and cryptocurrencies also suggests that it's best for traders who are primarily interested in buying and selling stocks.
---
Benzinga Pro FAQ
Here are our answers to some of your most frequently asked questions about Benzinga Pro:
Is Benzinga Pro Free?
Access to Benzinga Pro requires a paid subscription plan, and there is no option for a free membership at this time. However, Benzinga Pro offers a two-week free trial for new subscribers so you can decide if it's worth the money. You can also access limited market news for free on the regular Benzinga platform, but this doesn't include stock screener tools.
Is Benzinga Pro Worth the Price?
Benzinga Pro can be worth the price if you're a high-volume and experienced investor who wants access to leading stock market data. Although the platform is pricey, Benzinga Pro's stock screeners and its treasure trove of information on global equities are second to none.
Is Benzinga Pro Safe?
Since Benzinga Pro is simply a market research tool, the company never has access to your money. That said, there are risks involved with investing, particularly if you're a day trader. So, while Benzinga Pro simply provides you with market data, it's important that you know what you're getting into before you start using the platform to inform your trading decisions.
Does Benzinga Pro Offer a Free Trial?
Benzinga Pro offers a 14-day free trial to all new subscribers. You must provide your credit card details when signing up for the free trial, but you won't be charged until the trial period ends. Additionally, you can cancel your trial at any time before your card is charged if you're not happy with the platform.
Service: Stock Screener, Trade Signals, Newsfeed Access, Real-Time Alerts, Watchlists, Chatroom, and more
Pricing: $37/month (Basic), $197/month (Essential), $457/year (Options Mentorship)
Promotion: 14-day trial (*Get 35% off monthly use code: WALLET35)
---
Final Thoughts
Benzinga Pro is a solid solution for investors who want unlimited access to real-time market data and industry news. Additionally, the company's comprehensive set of features, including its Screeners, Stock Calendars, Newsfeeds, and Chat Rooms, are all excellent tools that can help experienced investors fine-tune their trading performance.
But Benzinga Pro's charting platform is limited, so it leaves something to be desired for traders who like to visualize market trends before opening new positions. The company's subscription plans are also pricey, which means that they're not great for investors who want to keep costs at a minimum.
That said, if you're willing to pay more for quality market research, news, and data, you'll be hard-pressed to find a higher-performing platform than Benzinga Pro.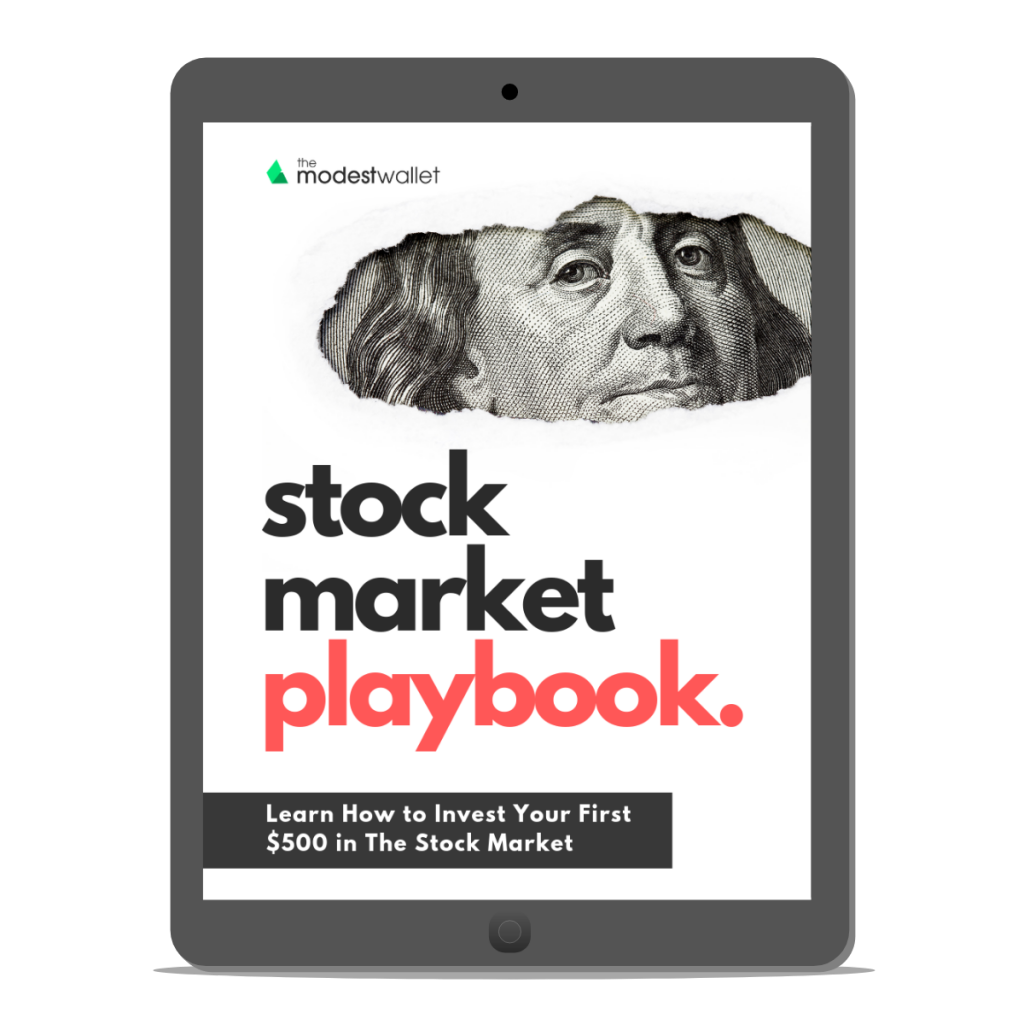 Get our free Stock Market Playbook to learn how to invest your first $500 in the stock market.
Plus our best money tips delivered straight to your inbox.

Gaby is a freelance writer and self-employed business owner with a personal interest in all things finance-related. She has a passion for educating others on how to make the most of their money and loves writing about everything from taxes to crypto.